Now Available
New CD & Book Offers
Order From:
Al Maxey
P. O. Box 135
Alamogordo, NM 88311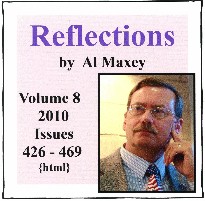 The 2010 Reflections CD. The CD of all the Reflections articles from the past twelve months is now available for purchase on a very special autographed CD for only $10. This includes all shipping costs. Please send either cash or, even better, a check made out to "Al Maxey." This may be ordered in either HTML or WORD formats. Just specify your format preference when ordering. The CD will be mailed out to you the very same day your order is received. NOTE: You may also order any or all of the previous seven volumes of Reflections on CD. These are only $10 per CD. Just specify which year(s) you want (2003, 2004, 2005, 2006, 2007, 2008 or 2009). SPECIAL --- Because a great many new readers have subscribed this past year who might wish to have the entire set of these Reflections on CD, those purchasing all EIGHT Reflections CD's may do so for a discounted price of $50 for the set, and they will additionally receive FREE the 2010 two volume audio sermon set (seen below).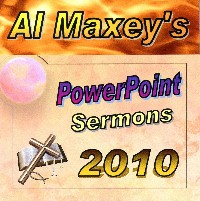 The 2010 PowerPoint Sermons CD. There are 45 complete PowerPoint sermons on this CD: all of which are lessons that I presented here on Sunday mornings during 2010. The 2007, 2008 and 2009 CDs were each very well-received, and I believe you will find the 2010 presentations even more dynamic. There are also nineteen MS Word handouts on this CD, which are full outlines of the sermon, with a questions page, which were used in our small group studies. I believe you'll find all of this material very interesting and useful. The cost is only $15, which also covers shipping. For a list of all the sermon titles for the 2010 CD, as well as for each of the previous years' CDs (which are all still available), Click Here.
The Maxey Debates CD. This popular CD, containing seven complete debates, is also still available for purchase. Click Here for price and ordering information. [NOTE: This CD also contains the Maxey-Broking Debate on Patternism, which one author and church historian has characterized as "probably the most powerful and convincing refutation of legalism published in the 20th century."] You won't want to miss out on an opportunity to have these important debates in your personal library.
Study of Revelation CD. This six month study includes all of my handouts for the adult class I taught, twenty-four PowerPoint presentations (dramatic picture slides on every passage within Revelation), my debate on the nature of man and final punishment, and all of my Reflections articles dealing with topics in the Book of Revelation. For price and ordering information Click Here.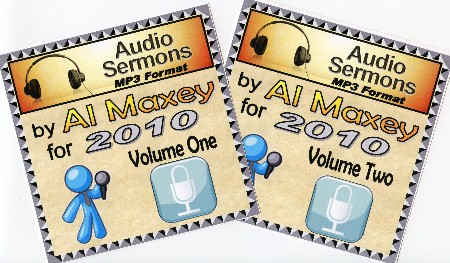 The 2010 MP3 Audio Sermons CDs. This is something new for 2010. In this two volume set there are preserved 45 of my Sunday Morning sermons, each recorded in MP3 (128 kbps) format. These sermons are approximately 30 minutes in length, and are high quality recordings made during the Sunday morning assembly of the Cuba Avenue Church of Christ in Alamogordo, New Mexico. They serve as the perfect companion to the PowerPoint presentations that go along with each one. This special two CD set sells for $30, but, as a SPECIAL BONUS, those ordering this set will receive absolutely FREE of charge the 2010 PowerPoint Sermons CD (mentioned above). The $30 price also includes all shipping costs. For additional information, and the titles of all the sermons on these two CDs, just Click Here. They're formatted to be listened to on computers, newer car CD players, DVD players, and high quality portable CD players.
***************************
Published Books
Down, But Not Out
A Study of Divorce and Remarriage
in Light of God's Healing Grace
A 193 page book by Al Maxey
Also Available on KINDLE

One Bread, One Body
An Examination of Eucharistic
Expectation, Evolution and Extremism
A 230 page book by Al Maxey
Also Available on KINDLE
***************************
May our God richly bless you all this coming year, and may His matchless grace be upon you! Also, I sincerely thank you for your continued prayerful support of this ministry! May our Father continue to use it to touch hearts and change lives in 2011, bringing more and more precious souls to Freedom in Christ Jesus.