REFLECTIONS
by Al Maxey
Issue #157 ------- November 10, 2004
**************************
Real works are the natural products
of faith taking its next step.
Paul Goodman (1911-1972)

**************************
Obedience of Faith
Our Response to God's Gracious Gift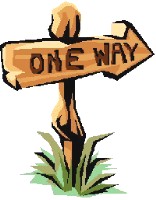 At the completion of the last Passover meal our Lord shared with His disciples, and following His washing of their feet, Jesus engaged in a rather lengthy dialogue regarding some of the critical events soon to occur, as well as several central truths relevant to the kingdom of God. After stating He would go to prepare a place for them, and that He would come again to receive them to Himself, Thomas (often characterized as the "doubting" one) asked, "Lord, we don't know where you are going, so how can we know the way?" To this sincere question Jesus responded with that well-known statement, "I am the way, the truth, and the life. No one comes to the Father except through Me" (John 14:6). "Hence, He is able to save forever those who draw near to God through Him" (Heb. 7:25). Our Lord, who inaugurated a "new and living way for us through the veil" (Heb. 10:20) into the great heavenly Holy of Holies of the Almighty, has become the eternal One Way of salvation; the perfect Path unto the Father. Thus, "let us draw near with a sincere heart in full assurance of faith" (Heb. 10:22).
How is man to find this Way? If indeed Jesus is "the way," then the key to finding life is in finding Him. "In Him was life, and the life was the light of men" (John 1:4). "God has given us eternal life, and this life is in His Son. He who has the Son has the life; he who does not have the Son of God does not have the life" (1 John 5:11-12). Jesus, "the true light" (John 1:9), came to enlighten us as to the gift of life extended through God's grace. The apostle Paul, near the end of his life and ministry, told the young evangelist Timothy that "God has saved us and called us with a holy calling, not according to our works, but according to His own purpose and grace which was granted us in Christ Jesus from all eternity, and which has now been revealed by the appearing of our Savior Christ Jesus, who abolished death, and brought life and immortality to light through the gospel, for which I was appointed a preacher and an apostle and a teacher" (2 Tim. 1:9-11).
Like Paul, you and I must be about the business of proclaiming this gospel of grace; without such proclamation, most men will likely perish in the darkness, never having perceived that greater light leading to life. "How then shall they call upon Him in whom they have not believed? And how shall they believe in Him whom they have not heard? And how shall they hear without a preacher?" (Rom. 10:14). Paul solemnly charged Timothy, and us as well: "Preach the word" (2 Tim. 4:2). For "faith comes from hearing, and hearing by the word of Christ" (Rom. 10:17). Paul informed the Roman brethren that he had been "set apart for the gospel of God" (Rom. 1:1), and that he had "received grace and apostleship to bring about the obedience of faith among all the Gentiles, for His name's sake" (vs. 5). This is an extremely important passage; it is central to our true understanding of the theology of salvation by grace through faith.
There are many who deny the place of obedience in the "way of salvation." Dr. Robert Morey, for example, wrote, "Salvation is by grace alone, through faith alone, apart from obedience to any of God's commands" (Campbellism and the "Church of Christ"). He further wrote, "While obedience to God's Law has a role to play in the assurance of salvation, it has no role to play in the way of salvation" (Are The "Church of Christ" Churches A Cult?, p. 14). This view of the place and purpose of obedience to the Lord is a very common misconception of the "Faith Only" advocates. Indeed, they are so insistent that faith alone is what saves us that they will frequently characterize any obedience on the part of believers as an attempt at a "works based salvation." I believe they display a woeful, and also very dangerous, lack of insight into the biblical doctrine of salvation by grace through faith.
Few genuine disciples will deny that salvation is by grace through faith. Such is simply an undeniable fact. "For by grace you have been saved through faith; and that not of yourselves, it is the gift of God; not as a result of works, that no one should boast" (Eph. 2:8-9). Salvation is a gift. Few would deny that reality either. "For all have sinned and fall short of the glory of God, being justified as a gift by His grace through the redemption which is in Christ Jesus" (Rom. 3:23-24). "For the wages of sin is death, but the free gift of God is eternal life in Christ Jesus our Lord" (Rom. 6:23). A free gift is not something one must work for so as to earn. Thus, few discerning disciples proclaim salvation by works of merit. This leaves some wondering, therefore, exactly where and how in the justification and salvation process obedience comes into play. Because of this seeming conflict of purpose, some are left confused. As a result, too many gravitate to one of two theological extremes: 1) grace only, faith only, to the exclusion of ANY acts of obedience by men, or 2) grace and faith regarded as incomplete and inadequate in and of themselves to effect salvation; the deficit being filled by our works of obedience. In my view, both doctrines are false!
It is my studied conviction that the Scriptures teach a harmonious relationship between faith and obedience in the salvation process. Neither excludes the other; indeed, they are absolutely dependent upon one another for the ultimate completion of man's acceptance of the gift of salvation. A couple of passages which proclaim this quite convincingly, in my view, are to be found at the very beginning and at the very end of Paul's powerful epistle to the saints in Rome. He boldly declares himself to be "called as an apostle, set apart for the gospel of God" (Rom. 1:1). Through Jesus Christ, Paul declares, "we have received grace and apostleship to bring about obedience of faith among all the Gentiles, for His name's sake" (vs. 5). At the very end of this epistle, Paul again returns to this theme. In his Benediction, he refers to his "gospel and the preaching of Jesus Christ," which "has been made known to all the nations, leading to obedience of faith" (Rom. 16:26). This rather interesting phrase employed by Paul is variously rendered in the versions and translations:
"obedience of faith" --- NASB, HCSB, McCord, NWT, ASV, RSV

"obedience to the faith" ---KJV, Phillips

"bring to obedient faith" --- NAB

"the obedience that comes from faith" --- NIV

"lead men to faith and obedience" --- NEB

"believe and obey Him" --- LB

"obedience inspired by faith" --- Williams

"obey and have faith" --- CEV
As one can quickly perceive, there is a major difference of opinion among scholars as to whether Paul refers to an obedience to the faith, or whether he refers to an obedience of faith. These are very different realities. Is it obedience TO "the faith" (a body of doctrine) of which Paul speaks, or is he referring to an obedience OF faith (that which motivates one to evidence an obedient spirit)? One's theology will be affected by one's interpretation. The legalists and patternists tend to opt for the former (following the rendering of the KJV), whereas those who are more grace oriented tend to embrace the view that Paul speaks of one evidencing an obedient spirit BECAUSE OF one's faith in the Lord Jesus Christ. Thus, is one's obedience compliance to a body of doctrine, or is one's obedience evidence and demonstration of one's faith? The perceptive student of the Word will quickly see this is not a minor distinction.
There is no question but what the New Covenant writings will at times refer to that body of teaching concerning Christ Jesus and His message as "the faith." The brother of our Lord wrote, "Beloved, while I was making every effort to write you about our common salvation, I felt the necessity to write to you appealing that you contend earnestly for the faith which was once for all delivered to the saints" (Jude 3). There is also no question but what we are to submit ourselves to this body of doctrine: "And the word of God kept on spreading; and the number of the disciples continued to increase greatly in Jerusalem, and a great many of the priests were becoming obedient to the faith" (Acts 6:7). It should be pointed out, however, that this is an entirely different grammatical construction in the Greek than is found in Romans 1:5 and 16:26, although the KJV translates them as though they were the same. This is incorrect. Luke speaks of one being obedient "to the faith," whereas Paul seeks, in his ministry to the Gentiles, to bring about an obedience "of faith." Not only is there a difference in Case, in the Greek grammatical construction of the text, but the definite article, which is present in Acts, is missing in Romans. This is significant, and it is entirely lost to the reader by the error of the KJV in translating both phrases exactly the same. The Acts 6:7 text, mentioned above, "would have been peculiarly apposite in support of the interpretation contended for (in the KJV in Romans 1:5), were not pisteos in the text now before us anarthrous, so as to suggest subjective faith, rather than 'the faith delivered to the saints'" (The Pulpit Commentary, vol. 18, p. 6).
Dr. Kenneth Wuest, the noted Greek scholar, states that "as to the meaning of these words (obedience of faith), scholars differ. Some say that it means obedience to the Faith, the Christian system of belief, as in Acts 6:7 where a great company of the priests were obedient to the faith. Others say that obedience is the obedience which springs from and is produced by faith. Vincent defines it as 'the obedience which characterizes and proceeds from faith'" (Wuest's Word Studies from the Greek NT, vol. 1 -- Romans, p. 16-17). Although some seek to interpret the construction in Romans 1:5 and 16:26 as though it was exactly the same as the construction in Acts 6:7, the reality is -- it is not. They are entirely different. Paul's mission, as he perceived it, was to bring people to the point of saving faith, which faith, in turn, if genuine, would motivate one to express and evidence that saving faith in appropriate fashion.
One could easily draw a parallel with repentance. Matthew 3:8 reads, "Therefore bring forth fruit in keeping with repentance" (cf. Luke 3:8). Paul told King Agrippa that his proclamation of the gospel contained the message that his hearers "should repent and turn to God, performing deeds appropriate to repentance" (Acts 26:20). It was repentance Paul sought to instill within the hearts of his hearers; the evidence of that heartfelt repentance would/should follow naturally. The same with faith. It was faith Paul sought to instill within the hearts of his hearers; the visible evidence of that faith, as expressed in appropriate actions and attitudes, would, if genuine, naturally flow from that saving faith. In Acts 2:38, for example, we see Peter responding to the question of people who had come to that point of faith and conviction. They sought out advice on how to SHOW that faith. He told them: "repent and be baptized." These would be visible manifestations of the reality of their saving faith, and this "obedience of faith" would attest to all their willingness to receive the gracious gift of the Father.
Brother Olan Hicks, a dear brother in Christ, who wrote the Foreword to my book on MDR, whose friendship I value deeply, and whose wisdom I highly respect, in his most recent News and Notes, wrote, "I do not like to see baptism encased in the phrase 'receive the gift.' This tends to cloud a very important Bible premise. 'Receive the gift' is not what God commands. Obey the gospel is what God says is essential" (November, 2004). Olan let me preview this article prior to its publication, and we corresponded about his thoughts therein. I fully understand where Olan is coming from, and I don't entirely disagree with him on this matter. I would never disparage the essential nature of obedience. However, unless we realize that obedience flows from faith, and does not stand alone as the pathway to redemption (which is a works based theology), we will have gravely missed one of the central messages of Paul (and all of Scripture, for that matter). "For Christ did not send me to baptize, but to preach the gospel" (1 Cor. 1:17). Paul's mission from God was to "preach the gospel," which, when accepted, would indeed, if that acceptance was genuine, bring about "obedience of faith" (i.e., the prescribed response of faith).
Our eternal salvation is a gift. Therefore, it can never be earned, no matter how many good works one manages to amass. "For all have sinned and fall short of the glory of God, being justified as a GIFT by His grace through the redemption which is in Christ Jesus" (Rom. 3:23-24). "For the wages of sin is death, but the FREE GIFT of God is eternal life in Christ Jesus our Lord" (Rom. 6:23). "For by grace you have been saved through faith; and that not of yourselves, it is the GIFT of God; not as a result of works, that no one should boast" (Eph. 2:8-9). Baptism, like repentance and confession, is an essential part of this response of faith that receives this free gift of God's grace. Thus, we must encase immersion in the concept of "receiving the gift." That is simply the teaching of God's Word, and it can be clearly perceived in Paul's desire to bring the Gentiles (and all who hear the gospel message) to an "obedience of faith."
"Paul has in mind the obedience that belongs to the very essence of faith. Pisteos is not the attributive genitive: obedience marked by faith; nor the objective genitive: obedience to faith; nor the epexegetical, appositional, definitional genitive: obedience which is faith -- though this is not far wrong. The subjective genitive is still nearer to the real meaning: faith renders obedience. God's gospel calls on us to acknowledge, receive, and appropriate it as what it is; and doing this by the power and the grace coming to us in the gospel, in full confidence and trust, is this essential obedience of faith" (R.C.H. Lenski, Interpretation of Romans, p. 46-47). This is the view of most scholars with respect to the phrase "obedience of faith." William Shedd, in his classic examination of Romans, characterized this phrase, in the Greek, as a "genitive of source: the obedience flows from faith" (A Critical and Doctrinal Commentary on the Epistle of St. Paul to the Romans, p. 13). It is "the obedience which comes of faith, or which faith renders" (The Pulpit Commentary, vol. 18, p. 5).
Moses E. Lard, in his commentary on Romans, wrote, "Paul received favor and apostleship in order to induce men to obey Christ, but to obey Him from belief as the principle leading to it. This is the view here held as the true one. The genitive pisteos is a genitive of source or cause. The obedience springs out of the belief as its source or moving cause. The apostle's call was not to induce the obedience without the belief, nor the belief without the obedience. It was to induce both, but the one arising out of the other" (p. 31). This is no doubt what Paul meant in Romans 15:18-19 when he spoke of "fully preaching the gospel of Christ from Jerusalem and round about as far as Illyricum" .... "resulting in the obedience of the Gentiles by word and deed." When one preaches the gospel, in which God's gift of grace is offered, the goal is to instill in the hearts of the hearers a faith that will respond to the message, thus receiving His gift of salvation. This response of faith --- this "obedience of faith" --- is manifested in the actions and attitudes prompted by, and which proceed from, one's saving faith! David Lipscomb, in his commentary on Romans, characterized it as "Obedience which springs out of faith as its moving cause. No act of obedience is acceptable to God which is not prompted by faith" (p. 22).
Is obedience essential to one's ultimate salvation? The answer is a resounding YES. But, we must understand the true nature of this obedience. It is not obedience for obedience's sake; one is not saved merely because one is obedient to laws and precepts. The essential nature of our obedience in the salvation process is as evidence and demonstration of our FAITH. We are saved by grace through faith, but if we are unwilling to SHOW our faith, then that faith is "alone," and faith alone will not bring in its wake the desired salvation. The "obedience of faith" is the willingness to manifest our faith in the manner prescribed by our Lord: repentance, confession, immersion (initially), and then through lives lived in submission to His will for us and in gratitude for His gift (thereafter). These are NOT meritorious "works" ... they simply constitute the visible response of our faith which demonstrates our willingness to receive His free gift proffered by grace and to live our lives daily reflecting His nature to those about us. These evidences, in and of themselves, earn nothing; without them, however, faith is left alone and will never receive the promise or assurance of eternal life. May each of us, like Paul, seek to share the gospel with others so as to produce within their hearts and lives this "obedience of faith."
********************
Reflections from Readers
From a Reader in Brazil:

I appreciate your work and your efforts to bring light to many questions which "darken the door" of the Lord's church. I just wanted to suggest you confirm the author's name you mentioned in the article on cultism. I believe it is Robert J. Lifton, not "Lofton." God bless and guide you.
Oooops! I apologize for spelling Dr. Lifton's name incorrectly in my article on cultism. As noted, he is Robert Lifton, MD. By the way, I would strongly urge the readers to read the chapter from his book Thought Reform and the Psychology of Totalism (chapter 22 -- Ideological Totalism) in which he discusses the eight psychological themes reflective of "the psychology of human zealotry." I made reference to three of those eight themes in my previous issue of Reflections, but I think the readers could benefit from reading this entire chapter. Simply click on the link above; it will take you to the web site where that chapter is available in its entirety. --- Al Maxey
From a New Reader in (Unknown):

I am a recovering Legalist and Cultist. Please add me to your distribution list for Reflections. Thanks!
From a New Reader in Alabama:

I was introduced to your web site by a friend of mine. Please sign me up to receive your Reflections. I am working with a little paper in North Alabama. We are starting to print Rubel Shelly's Fax of Life this week. May I publish some of your articles? Thanks!
From a New Reader in Georgia:

I don't remember how I discovered your web site, but I'm glad I did. I've forwarded your web site address to a cousin of mine that I'm trying to get out of the Non-Cooperation Church of Christ. I grew up in the "anti" movement (although there is very little movement of any kind among those folks) and preached in it for several years until I was excommunicated in 1978 for preaching too much grace. There was a witch hunt among our branch of the brotherhood and brother Carl Ketcherside estimated that as many as 50 preachers where ousted. One fellow preacher was told that someone was actually counting the number of times he said the word "grace." It's funny now, but at the time it was very difficult. Two elderly sisters came to me back then and told me they loved my preaching, but it was 90% "Jesus" and I needed to preach some negative sermons. Much of my family is still in the Non-Cooperation group and I love them very much. I just hate it that they are still in so much fear and bondage. Again, I'm thankful for your Reflections.
From a Reader in Oklahoma:

Al, I appreciate your Reflections articles so much and I hate to admit this, but I saw all eight cult distinctives you mentioned in the congregation that I attend. I grew up in the Church of Christ, but I have come to realize some of its fallacies, and in trying to correct error I have sort of been labeled an outcast, which is one of the very distinctives you mentioned. I'm not sure if I can stay with this group or not. It's touch and go almost every week.
From a Reader in North Carolina:

That was another thought-provoking article, brother; also, it is a concept that I have struggled with for years. In many ways, I believe the Churches of Christ ARE very cultish in nature and practice. I really could care less what Morey says, but Lifton and Hassan have both offered some elements I find in modern-day Churches of Christ. For example: Loading the Language, Doctrine over Person, and the Dispensing of Existence are all three employed in congregations whose leaders "lord" over them. And the churches that I know of (not just attended, but also corresponded with) exhibit controlling behaviors, the twisting of Scriptures, spiritual elitism, uniformity, doctrinal mutation, they frown on dissent, and they will shun you if you leave -- believe me, I know first-hand. And I disagree that congregations like this "are few in number ... and are dying out." I can't vouch for other parts of the country, but in East Tennessee and SW Virginia, they are growing and strong. Spiritual blindness is sad and disgusting to me (regardless of the denomination that spouts it) and I will not tolerate it! Again, that was a good article!
From a Minister in California:

Your latest article (re: Robert Morey) immediately caught my attention. As with all of your articles, it was excellent! Recently several of our members became captivated by the teachings of Robert Morey, including our deacon of education. We lost at least one brother, but far worse: we're continually battling the influence of Morey's teaching in our church because of those brothers who have bought into his theology but decided to stay with us! It's been difficult, to say the least. Thank you for this article! I'll pass it on to many in our congregation. I don't know you, but I love your heart, your writings, and your spirit. God's blessings on you and your family.
From a Reader in Oregon:

I just finished your article on Cultism. While I certainly disagree with Morey's generalization of all Churches of Christ, I do believe some of the accusations we receive are, unfortunately, warranted. And, aren't some of our own "leaders" equally guilty of the same generalizations toward other groups?! I have personally witnessed the Eight Distinctives of an Aberrational Christian or Bible-Based Group, to varying degrees, within my own local group, and it is indeed sad. It definitely makes it difficult to bring others to our assembly for fear of what they may see or hear; such destroys any effort we expend in teaching them the gospel. Also, thank you for your article on Abortion. Keep up your good work.
From a Reader in Texas:

Al, that was another thought-provoking work. Thanks! I have said for years that the "far right" factions of the Restoration heritage fall into the modern definition of "cult." And if the rest of us are not careful, we can fall into the same trap of adopting "cultic" approaches to "doctrinal" issues. Anyone who says, "It's my way or the highway," whether it be an individual or a group of those in positions of leadership, has set themselves up to be a "cultic" leader. This is also true of those who set themselves up as guardians of "the faith." Emotional and spiritual pain result when these "guardians of the faith" label and write up, without ever engaging in dialogue over an open Bible, those with whom they disagree. Dialogue educates any open-minded person who is trying to become more like Christ; monologue aimed at "keeping the faith" destroys relationships and makes a mockery of the unity Jesus prayed for before going to the cross (John 17). Jesus saves! Patternism and demands for perfect obedience condemn. Always have; always will.
From an Elder in Florida:

Al, I have really enjoyed working with the Sojourners, and, in case I forgot to mention it, thanks ever so much for that fine article you wrote on the Sojourners -- Issue #144. I told a friend of mine, with whom I've served as an elder, about your Reflections. His comment was, "I'd like to go and hear that man preach; he sure does have a way with words." He runs a prison ministry in Oklahoma and does an outstanding work. You are continually in our prayers for the great work that you do. Give our best to Shelly.
From a Reader in Texas:

Al, I want you to know how much I appreciate your teachings! I come from a varied Christian background, having attended several different denominations, but within the last 10 years choosing non-denominational churches. I had never known anyone from the Churches of Christ until moving to Texas where I have now met someone from what I would imagine is probably an extreme congregation; one outside of the mainstream. I am seeking to understand why he believes the way he does, and your articles are so helpful in showing me that not all of the Churches of Christ are so judgmental and legalistic. Thank you so much for your work and your teaching!
From a Well-Known Author:

Al, I continue to appreciate the way you approach a subject -- you do the research first and then draw conclusions. You are a good thinker, and with that approach you will benefit the church a lot.
From a Minister in Missouri:

I had the pleasure of speaking with you on the phone a couple of weeks ago. I've been to your web site and have read and downloaded many of your Bible studies and articles. I have been particularly impressed with the Bible study you constructed on Calvinism: A Study of TULIP Theology -- Examining the Five Points of Calvinism In Light of God's Inspired Word. In my opinion, you have done a great job in composing a clear, concise study that shows the many weaknesses of this man-made theology. If you would permit me, I would like to use your study as the basis for some future sermons on the subject of Calvinism and to also use it in a future adult Bible class. I believe that this subject is a very pertinent issue and needs to be addressed. Your material would be such a help to me.
From an Evangelist in Virginia:

I'm not sure how I found your web site, but I'm glad I did. We just read your Reflections article titled The Doctrine of Christ -- The Use and Abuse of 2 John 9-11. This was a great read. We have been saying this same thing for years with few willing to listen. There surely is a lot of arrogance in the minds of some preachers. It was refreshing to see that you are in the middle of this fight trying to point Christians back to brotherly love. We should find ways to resist the devil, not each other. We are in the midst of planting a new work in the central Virginia area. I would like to use your site on ours as a link or reference. Thanks!
From a Reader in Tennessee:

When I think of a cult, the Mormons and the Jehovah's Witnesses come to my mind. Both groups have been isolationists. The JWs are not permitted to read Christian literature written by other believers or even go into worship meeting places of other groups. I have one JW friend who would not attend her own mother's funeral because her mom was a Methodist whose funeral was in a Methodist church. JWs are taught that other groups are Satanic. For the most part, this behavior is not characteristic of members of the Church of Christ. Most of us are too cantankerous to let some church guru tell us what to think. In the 1960s, when I was told that one should not listen to Carl Ketcherside and Leroy Garrett, I immediately subscribed to Mission Messenger and Restoration Review. I don't need the self-ordained leadership of the Church of Christ to tell me what to believe. I will read the Bible and follow it to the best of my understanding. While I am willing to listen to the various opinions of others, ultimately it's between God and me. Hopefully, God will lead the way.
********************
If you would like to be removed from or added to this
mailing list, contact me and I will immediately comply.
If you are challenged by these Reflections, then feel
free to send them on to others and encourage them
to write for a free subscription. I would also welcome
any questions or comments from the readers. A CD
containing these articles may be purchased. Check the
ARCHIVES for details & past issues of Reflections:
http://www.zianet.com/maxey/Reflect2.htm