REFLECTIONS
by Al Maxey
Issue #188 ------- May 6, 2005
**************************
There is heard His voice in all
her music, from the moan of thunder
to the song of night's sweet bird.
Percy Bysshe Shelley (1792-1822)

**************************
Fanny J. Crosby
Songbird at Midnight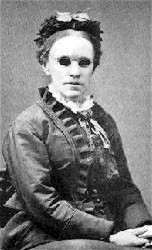 On March 24, 1820, in a little country home in Putnam County, New York, John and Marcy Crosby were blessed with their third daughter, Frances Jane. Marcy was only 20 years old at the time Frances was born. This was a strong, loving family with deep Puritan roots. The great-grandfather of this little girl, who was better known as "Fanny," had fought in the Revolution. So also had another relative of hers, Enoch Crosby, who would later become one of the heroes in the classic novels of James Fenimore Cooper. Some of Fanny's more distant relatives were noted scholastics who had helped to found Harvard College. As one author noted, Fanny Crosby was of "sturdy New England stock." A true colonial thoroughbred!
When just six weeks old, Fanny developed an eye infection. A less than competent physician sought to treat the infection by placing very hot poultices on her eyelids. Although the infection did indeed clear up, the treatment left scars on her eyes, leaving her blinded for life. She was, however, still able to detect light, thus could distinguish between day and night. When she was only a year old a second major trauma befell her with the death of her father, which left her mother a widow at the age of only 21. Forced to care for four small children, three daughters and a son, Marcy Crosby hired herself out as a maid. Thus, the children were largely looked after by the grandmother, Eunice Crosby.
Fanny developed a very close relationship with her grandmother. The two were inseparable, with the latter becoming the "eyes to the world" for the former. They would spend hours in the meadow together, with Eunice vividly describing the beauty of God's creation all around them. She also read the Bible to Fanny, and explained to her the value of prayer and a relationship with God. It was soon discovered that the little girl had a phenomenal memory and retained almost everything read to her. At the age of ten she had committed to memory, and could repeat without error, the entire Pentateuch, all four Gospels, many of the Psalms, all of Proverbs, and the entire books of Ruth and Song of Solomon. At the close of her life she stated, "The Holy Book has nurtured my entire life."
Fanny refused to feel sorry for herself because of her blindness, and she did not let it hinder her from engaging in a full and active lifestyle. She wrote, "I could climb a tree like a squirrel and ride a horse bareback." She actually thanked God for her blindness, as she felt it contributed to her greater spiritual gifts. Fanny wrote, "It seemed intended by the blessed providence of God that I should be blind all my life, and I thank Him for the dispensation. If perfect earthly sight were offered me tomorrow I would not accept it. I might not have sung hymns to the praise of God if I had been distracted by the beautiful and interesting things about me." When only eight years old she composed the following poem:
Oh, what a happy child I am, although I cannot see!
I am resolved that in this world contented I will be!
How many blessings I enjoy that other people don't!
So weep or sigh because I'm blind, I cannot -- nor I won't!

When Fanny was nine years old, the family left behind the old homestead and moved to Ridgefield, Connecticut. She would live here for the next six years, developing a very close relationship with their landlady, a Mrs. Hawley, who was of the family of the noted Senator Hawley. It was here that she also met Sylvester Main, the man who would later compose the music for many of her best loved hymns. Just a few weeks before her fifteenth birthday, on March 3, 1835, Fanny left for New York City where she became a student at the New York Institute for the Blind. She was a fabulous student and loved all of her course work ... except for one subject! About that subject she wrote:
I loathe, abhor, it makes me sick,
To hear the word -- Arithmetic!

"Fanny Crosby was very small in appearance, less than five feet tall, and she weighed no more than one hundred pounds. She was said to have been a physically unattractive person -- a long face, prominent front teeth with a gap between them, thick, wavy hair parted in the middle and pulled backward in curls that hung to the shoulders, and always the dark, rectangular glasses obscuring her sightless eyes. Yet, when she spoke, it is said that there was an unusual charisma about her, as her face lit up with an expression that gave her great charm and attractiveness" (Kenneth Osbeck, 101 More Hymn Stories, p. 239-240). Fanny was "known for her musical abilities as well as a talent for writing poetry. She had a fine soprano voice as well as being accomplished in playing the guitar, harp, piano, and organ. She was also well-versed in the great classics of music. She wrote some tunes for her texts but generally did not want them used, for she felt that they were too complicated for ordinary people to sing" (ibid, p. 239). To the end of her life -- she lived to be 95 -- Fanny would sit often at the piano and play everything from hymns to classical pieces to ragtime!
After completing her studies at the Institute, she served as one of their instructors until 1858, teaching language and history. On March 5, 1858, she married Alexander van Alystyne, who was also blind, and also a teacher at the Institute. Alexander was an accomplished musician, and was well-known in New York as an organist. A child was born to them the next year, but, sadly, it died in infancy. This was a personal tragedy of which Fanny refused to speak for the remainder of her life. Her husband died in 1902 in Brooklyn, New York, where they had spent their lives together.
Fanny J. Crosby loved the Lord. She devoted her life not only to praising Him in song, but to reaching out to others with the love of Christ Jesus. It was her desire, and fervent prayer to God, that He would allow her to touch a million hearts for Christ during her lifetime through her music. She certainly has done that ... and more! She wrote more than nine thousand hymns, many of which are among the most beloved in the church. They have been sung by, and have touched the lives of, countless millions. She also regarded the New York bowery district as her special mission field. She would spend several days each week there, and often referred to the derelicts as "her boys." Of this benevolent effort she wrote, "It is the most wonderful work in the world, and it gives such an opportunity for love. That is all people want -- love."
"Though partial to the Methodist Church, Fanny Crosby was a friend of all believers who 'loved Jesus and accepted the Scriptures.' She frequently attended the Plymouth Congregational Church in Brooklyn to hear Henry Ward Beecher, her favorite preacher. She also liked to visit the Fifth Avenue Presbyterian Church and the Trinity Episcopal Church, especially when the dynamic Phillips Brooks was guest speaker" (Kenneth Osbeck, 101 More Hymn Stories, p. 239).
Fanny's dear mother died in 1890, having lived into her 90's. At this time Fanny left her home in Brooklyn and moved to Bridgeport, Connecticut where she moved in with her sisters. It is said that this wonderful Christian woman might have been very rich if she hadn't shared almost everything she received with the poor people around her. She was known to say, "Where selfishness is, there happiness cannot be found!" She never complained, and always sought to bring cheer to the lives of others. "I have made up my mind," she wrote, "never to become a disagreeable old woman, and always to take cheer and sunshine with me." On February 11, 1915, she dictated a letter of comfort and encouragement to a grieving friend, went to bed afterward, and passed peacefully from this life during the night. Fanny had once written, "If I had a choice, I would still choose to remain blind ... for when I die, the first face I will ever see will be the face of my blessed Savior!"
Her Hymns
I think I can safely say that not a single one of us has not been touched by a Fanny Crosby hymn! She has impacted all our lives! I can still see and hear my beloved maternal grandmother, Mae Zook, who passed from this life in 1968, standing at the kitchen sink, washing dishes, singing the hymns of Fanny Crosby. Some of my fondest memories from the past are bound to the music of this great "Songbird in the Night." In 1890 she wrote, "A wonderful Savior is Jesus my Lord, A wonderful Savior to me." Fifteen years earlier she wrote, "All the way my Savior leads me; What have I to ask beside? Can I doubt His tender mercy, Who thro life has been my Guide? Heav'nly peace, divinest comfort, Here by faith in Him to dwell. For I know, whate'er befall me, Jesus doeth all things well." She never lost faith in her Lord, no matter what befell her in life.
In 1874 she wrote "Close to Thee." In this hymn she spoke of Jesus being her "everlasting portion, more than friend or life to me." The next year she penned these immortal words, "I am Thine, O Lord, I have heard Thy voice, and it told Thy love to me; But I long to rise in the arms of faith, and be closer drawn to Thee." She always had her eyes (the eyes of faith) on the goal of being home with Jesus in Heaven. "Jesus is tenderly calling thee home, Calling today, Calling today!" In 1869 she wrote, "Jesus, keep me near the cross, There a precious fountain, Free to all a healing stream, Flows from Calvary's mountain." That same year she wrote, "Praise Him! Praise Him! Jesus our blessed Redeemer!" "Redeemed -- How I love to proclaim it! Redeemed by the blood of the Lamb; Redeemed thro' His infinite mercy, His child, and forever, I am" came from her pen in 1882.
Her years working in the bowery of New York City led to the following classic hymn -- "Rescue the perishing, Care for the dying, Snatch them in pity from sin and the grave. Weep o'er the erring one, Lift up the fallen, Tell them of Jesus the Mighty to save!" In her hymn "Take the World, But Give Me Jesus," she spoke in the chorus of the "height and depth of mercy," "the length and breadth of love," and "the fullness of redemption" -- realities she sought to share with those less fortunate, and who were in need of a Savior's love! She had a great passion for evangelism, and it could clearly be seen in her hymn "Tell Me the Story of Jesus," which was written in 1880. Five years earlier she wrote "To God be the Glory," in which she urged us all to "Praise the Lord," for "So loved He the world that He gave us His Son." In 1876 she wrote, "Though your sins be as scarlet, they shall be as white as snow .... He'll forgive your transgressions, and remember them no more!" She never ceased her efforts to reach others with this marvelous message, and challenged us to embrace that same conviction in the hymn "To the Work!"
"When Jesus comes to reward His servants, Whether it be noon or night, Faithful to Him will He find us watching, With our lamps all trimmed and bright? O can we say we are ready, brother? Ready for the soul's bright home?" I believe the life of this dear woman more than adequately answered her own questions! Yes, Fanny Crosby was ready. Her lamp was trimmed and bright. She longed to see her blessed Redeemer! In 1885 she wrote, "Sing on, ye joyful pilgrims, nor think the moments long; My faith is heav'nward rising with ev'ry tuneful song; Lo! on the mount of blessing, the glorious mount, I stand; And looking over Jordan, I see the promised land." Fanny knew that "Some day the silver cord will break, and I no more as now shall sing; But O the joy when I shall wake within the palace of the King! And I shall see Him face to face, and tell the story -- Saved by grace!" She wrote this marvelous hymn in 1894. Fanny Crosby, like each of us, was saved by grace through faith. Oh what a "Blessed Assurance" is ours!! The words of her beautiful hymn, written in 1873, speak to the conviction of her heart. May we all end our days with that same assurance!
Blessed assurance, Jesus is mine!
O what a foretaste of glory divine!
Heir of salvation, purchase of God,
Born of His Spirit, washed in His blood.


Perfect submission, perfect delight,
Visions of rapture now burst on my sight;
Angels descending bring from above
Echoes of mercy, whispers of love.


Perfect submission, all is at rest;
I in my Savior am happy and blest;
Watching and waiting, looking above,
Filled with His goodness, lost in His love.


This is my story, this is my song,
Praising my Savior all the day long;
This is my story, this is my song,
Praising my Savior all the day long.

********************
Reflections from Readers
From a Reader in Alabama:

"Let Us Reason Together" was a great piece, brother Al. I hope it will reach some hearts of stone out there. We will pray to that end. May your tribe increase!
From a Reader in Texas:

Today's issue of Reflections on dialogue is a clarion call across the brotherhood -- a prayerful step toward the unity for which our Savior prayed. Although we are failing to "keep the unity in the bond of peace," I do believe there now exists a spiritual unity of believers across the face of the earth -- perhaps beyond our own understanding, but comforting nevertheless. And I regularly pray for the members of the universal, apostolic, catholic community worldwide. Along about the time Bro. Reuel Lemmons was writing editorials in Firm Foundation about coming away from legalism, I was also -- and rejoiced at every step we took. That's why I cheer so when I come across an Al Maxey. Thank you again for your dedicated work in the service of our Lord.
From a Reader in Great Britain:

I am a Methodist preacher doing research for my sermon on why Stephen was stoned to death. I wondered if you would allow me to quote your Reflections article #61 -- Why Was Stephen Stoned? -- in my upcoming sermon. I also wondered if you could give me details about the Church of Christ. I have never heard of it. Thank you!
From a Reader in Virginia:

Al, Your teaching especially hit the spot this week. We have been studying Jude, and have lately been discussing the issue of essential Christian theology vs. non-essential. It seems a delicate balance given the passion of Jude for maintaining awareness of the potential for false teachers in our midst even while recognizing our own potential for side-tracking others about the non-important.
From a Dean at Faulkner University in Alabama:

Al, You don't have any reason to know me, but I have read your thoughts in various discussion groups over the years, and for some time now have been receiving your e-mailed Reflections. While I disagree with some of your conclusions, I have learned that you research thoroughly, reason carefully, and maintain a good spirit; so I usually profit from what you write, even when I disagree. I have often thought I would like to meet you personally for a conversation and visit.
From a Minister in Florida:

Dear Bro. Al, I just got online and read your article on "Let Us Reason Together." I think it is a great article, and I appreciate it more than you know. I have been truly sickened by all the division in the Churches of Christ, a people who are supposedly striving to return to the old paths (Jeremiah 6:16). Anyway, just wanted you to know I'm thinking about you, brother. Have a good day!
From a Minister in Georgia:

Dear Al, Before I went to bed last night I clicked one more time on "Send and Receive" and got your latest study -- "Let Us Reason Together." Then, after reading it, I couldn't go to sleep! As a young man, I was a preacher in the "Non-Cooperative" branch of the Church of Christ. I was one of nearly 50 young preachers excommunicated from the pulpits around the country for preaching too much grace (reference Ed Harrell's book on Homer Hailey). I had one friend, who still preaches among them, who was told by a member that he was counting the number of times the word "grace" was used in his sermons. Two older sisters came to me after one service and told me that they loved my preaching, but it was 90% about Jesus and we needed to hear some "negative" sermons. Some of the men you mentioned in your article have dined in my parent's house. Some I know from my Florida College days. One has a niece who is one of my best friends, and who no longer is a member of the church. I grew up hearing how we had nothing to fear from discovering the truth and from having dialogue with others who disagreed with us. However, any analysis of another's views was usually written up in the brotherhood magazines without the other person being allowed to have any input. This was especially true of Ketcherside, and my friend Edward Fudge, and of course Leroy Garrett. Al, shake the dust off your feet and keep proclaiming Christ and Him crucified! Thanks for your great effort to enlighten the family.
From a Reader in Texas:

Bro. Al, I continue to receive such great joy when I read your thoughts. Having just finished "Let Us Reason Together," I am reminded of how hopeless it was to try and be "united" by PERFECT understanding of the Scriptures, and how easy it is to be united in God's purpose for us on earth. I was pleased to hear our preacher deliver a sermon where he mentioned several times that if we are expecting each other to believe exactly the same thing, we probably are never going to reach our goal. He went on to say that we have to be able to recognize the working of God in different ways in different people. I pray more of our brotherhood will come to recognize that God is at work in your work. You definitely bring edification to many!!
From a Ministry Leader in California:

Brother Al, Thank you for your article "Let Us Reason Together." As someone who was raised in the "Mainline" Churches of Christ, and who is now a part of the International Churches of Christ, I found myself guilty of some of the closed-minded thinking you described: both in the "Mainline" church and also in the International Church of Christ. I am truly gratified to see some of the walls between the "Mainline" Church of Christ and the International Churches of Christ falling down. And, as you pointed out in your last article, unity begins with dialogue. Unity must be forged between brothers and sisters. It is not something that just happens. As I have told you before, your articles have truly helped me to "blow away" some of my negative thinking, and to look at the Word of God with fresh eyes. I guess you could say that you've given me a new pair of glasses with which to read God's Word.
On a related note, when I work with people who are struggling with dependency on drugs or alcohol, the very first thing I tell them to do is to open up a dialogue with God. I tell them that I have no power in and of myself to help them, but God has all power. Daily communication with God is of utmost importance to getting and staying clean and sober. I have never seen God fail in this regard. It is only when people quit communicating with God that they slip and fall. Thank you again for your hard work. While you may have a number of folks who criticize you regularly, please consider me as one who at least attempts to build you up regularly. Thank you for not backing down or giving in to criticism.
From a Reader in California:

Al, I know that it is never easy to take the criticism of your detractors, but please never stop standing up for the Truth. You have done a tremendous work in expanding the borders of Christ's kingdom in areas where Satan does not want us to go. I agree with you that legalistic patternism is Satan's greatest tool, as it was in the first century also. May God bless your work.
From a Minister/Author in California:

Al, I can empathize with what you are going through relative to dialogue with some brethren. It is very difficult to communicate with brethren who are defending a sectarian position. Over the years I have written numerous letters to such brethren and they refuse to reply or even acknowledge they received my letters. It is unfortunate that we can't have free, open dialogue without competition and fear.
From a Reader in (Unknown):

I read your article about the "unique Son of God" from 2003 --- Reflections #26 -- A Study of Monogenes: The "Only Begotten" Fallacy --- and I was pleased and impressed with your citations and proofs. If you wouldn't mind, I would like to know what specific denomination of faith you represent and your credentials or educational background so that I may reference your work properly. I am a Muslim who is currently studying comparative religion for my own benefit, and as a Muslim I agree with the statement that Jesus (peace and blessings be upon him) was a "unique" son of God born to the virgin Mary. Your logical explanation of the matter helps to clarify, regardless of your denomination, who Jesus was, at least according to the Greek text. I like your approach on discussion, and if you ever wish to share info I would be very inclined to reciprocate.
From a New Reader in Alabama:

As the weekly religion columnist here at The Huntsville Times, I wrote last Friday (April 29) about the need for greater unity. One of my readers emailed me your April 30 discussion on dialogue (well done) and suggested I get on the list to regularly receive your Reflections. I'd like to do that, please. I'd also like to invite you to become a reader of my Soul Food column, which is available at -- www.al.com/religion/huntsvilletimes/dmendenhall.ssf. I've been writing this column for five years now. It represents the efforts of a preacher's kid (and grandkid), who is also an Abilene Christian University grad, to say something helpful, healing and thought-provoking each week. Finally, since I have your ear, let me say thank you for your online study guides which are on your web site. Two years ago I used the set on The Minor Prophets as a resource for a class I taught on Wednesday nights, and I found them a very helpful addition to the other material I've collected over the years.
I would like to urge the readers to go to the above site and become a regular reader of the weekly articles by brother Doug Mendenhall. He does an excellent job of challenging his readers to think, and I appreciate immensely his work there in the Huntsville area. If you read his article from April 29, to which he alluded above, you will see that he and I were very much on the same "wave length" ... and practically on the same day! There is a listing of his weekly articles at the above site, and I know you will want to read through them and be edified, as I was! There is also a nice picture of Doug on that web page -- I always enjoy getting to see what some of the readers look like. --- Al Maxey
From a Minister in Tennessee:

Brother Maxey, I just finished reading "Let Us Reason Together." I found it to be a wonderful article promoting the unity of the Lord's church. The timing of this article most definitely has the marks of God's providential working to preserve the unity of His church. Your statement, "Truth is better served by dialogue than diatribe," certainly resounds in my mind!
From a New Reader in Georgia:

What can I say, Bro. Maxey?! After many years of feeling empty, and that "something is not right with our faith," a friend of ours shared some articles with us from your past Reflections -- and our lives have not been the same! My husband and I both attended Harding University in the mid-1970's, and he graduated with a BA in Bible. We loved Harding, everything about it; the people, the attitude of true Christianity, and the love of God. We had such a zeal and love for the gospel. My husband is a gifted speaker, and when he preaches the Truth, it is so simple and pure, and everyone listens. But, due to some situations too disturbing to dwell on, he left the ministry as a full-time preacher. However, he still has a love for the Lord. Sorry to ramble so, but I am almost in tears, because what I have read in your Reflections articles is what my husband and I have always believed. But, do we dare say such things in our traditionalist church home today? I know you've been invited to fly out to Atlanta, and we hope you'll accept, because we all would like to meet and talk with you. Please add us to your mailing list to receive your Reflections. Thank you.
********************
If you would like to be removed from or added to this
mailing list, contact me and I will immediately comply.
If you are challenged by these Reflections, then feel
free to send them on to others and encourage them
to write for a free subscription. I would also welcome
any questions or comments from the readers. A CD
containing these articles may be purchased. Check the
ARCHIVES for details & past issues of Reflections:
http://www.zianet.com/maxey/Reflect2.htm