REFLECTIONS
by Al Maxey
Issue #566 ------- February 22, 2013
**************************
Music must take rank as the highest of the
fine arts -- as the one which, more than
any other, ministers to human welfare.
Herbert Spencer (1820-1903)

**************************
Charles Hutchinson Gabriel
The Master of Missionary Music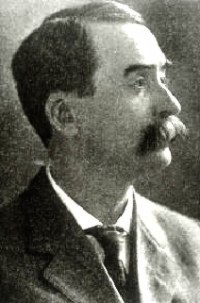 Samuel Wilberforce (1805-1873), a bishop in the Church of England and one of the greatest public speakers of his day, best known today for his fierce opposition to Darwin's theory of evolution and his debate over the same with Thomas Huxley, penned the following poem: "If I were a cassowary on the plains of Timbuctoo, I would eat a missionary, cassock, band, and hymnbook, too." Well, that missionary-become-meal most likely was carrying a hymnbook filled with the stirring music and words of Charles Hutchinson Gabriel, one of the most prolific and popular hymn writers of all time. The theme he returned to time and again in his compositions was the privilege and responsibility of sharing the Gospel, both at home and abroad. Indeed, some have referred to Charles Gabriel as the Master of Missionary Music. Of the more than 8000 hymns he wrote (writing both words and music to most) is the evangelistic classic "Send the Light," which was written in 1890, and which has inspired missionaries for generations. This would become his first hymn to achieve real international commercial success.
Charles H. Gabriel was born in a small prairie shanty on a farm in Cedar County, Iowa near the town of Wilton on August 18, 1856. He was one of seven children born to Isaac and Cleopatra Cotton Gabriel, who had moved to Iowa from Ohio in 1855. The first seventeen years of his life were spent on this farm. In addition to being a farmer, his father was also a traveling singing school teacher and organist. Thus, the Gabriel farmhouse was quite often the location for gatherings of neighbors, as well as students from greater distances, who came to sing hymns (led by Isaac Gabriel) and study music. Charles was thus exposed to music from his infancy, and although he had no formal training, he taught himself to play on the family's reed organ and piano, becoming quite accomplished on these instruments. Isaac Gabriel instilled his love of music in his children, and all the training Charles received was at the feet of his father. In later years, Charles would reflect back on these early days in his autobiography "Sixty Years of Gospel Song": "In my home we were trained so thoroughly on the Hallelujah Chorus, for instance, that we sang it from memory. Choruses from Creation, Elijah, and other oratorios were included in our repertoire."
At the age of fifteen, inspired by the many Civil War songs that he had been hearing, Charles announced to his family that when he grew up he was going to be a songwriter. His father was pleased, but it was his mother who championed this resolve and encouraged him daily to work toward this goal. Thus, during the day, as he was plowing and planting the fields, he would compose melodies in his head, and then, when the day's chores were done, he would sit down and write out the music to the melodies in his head and pen the words to these songs. "One day he told his mother that it was his supreme desire to write a song that would become famous. She wisely replied, 'My boy, I would rather have you write a song that will help somebody than see you President of the United States'" [Kenneth W. Osbeck, 101 Hymn Stories, p. 195]. Both mother and son would get their wish.
At the age of 16 his father, Isaac Gabriel, died. Charles immediately stepped up and took over his father's teaching schedule, soon becoming a successful and sought after singing school teacher. He also began selling some of his music, although during these early days he never received more than a couple of dollars for his work. Charles had also learned to play a number of additional instruments, including the violin and cornet. He came to be recognized as Wilton, Iowa's leading musician, and was put in charge of the town's band. He also wrote a number of polkas and marches which were used in parades and celebrations in the area. Charles continued writing hymns during this time as well, collecting and publishing them, in 1877, into a book titled "Gabriel's Sabbath School Songs." During the course of his life, Charles "edited thirty-five different gospel songbooks, eight Sunday School songbooks, seven books for male choruses, six for ladies' voices, ten children's songbooks, nineteen collections of anthems, twenty-three choir cantatas, forty-one Christmas cantatas, ten children's cantatas, and numerous books on musical instruction" [Osbeck, 101 Hymn Stories, p. 195].
Charles married Fannie Woodhouse, one of his neighbors, in 1876, and they had a daughter, Vera, together. Sadly, that marriage ended in divorce and Charles moved to California. In 1888 he married Amelia Moore. They had a son, Charles Jr., who was born in 1892, and who also became a song writer. He remained happily married to Amelia for the next 43 years (she died in 1931). In 1890 Charles Gabriel began working with the Grace Methodist Episcopal Church in San Francisco as their musical director. It was here that he wrote one of his most successful and well-remembered hymns: "Send the Light." In 1892 he and his family moved to Chicago so he could be closer to the major religious music publishing companies. During this time he continued traveling about the country and holding singing schools, as well as writing and publishing numerous hymns. Just a few of the thousands of hymns for which he is known even today (and he wrote the words and music to many of them, although just the music to some) are:
Glory For Me
All Things Are Ready
God Is Calling The Prodigal
In Loving-Kindness Jesus Came
He Lifted Me
Higher Ground
His Eye Is On The Sparrow
I Stand Amazed
If I Have Wounded Any Soul
Jesus, Rose Of Sharon
Just A Few More Days
Only In Thee
Only A Step
Sweet Is The Promise
The Way Of The Cross
This is just a very small sampling, but you can see that many of our most beloved hymns came from the heart and mind of this devoted disciple of Christ (NOTE: Charles also wrote a great many hymns under several pseudonyms, such as: H. A. Henry, Charlotte G. Homer, Charles H. Marsh and S. B. Jackson). With respect to the song "Glory For Me," note the following account: "The text was inspired by Mr. Gabriel's good friend, Ed Card, Superintendent of the Sunshine Rescue Mission of St. Louis, Missouri. Ed was a radiant believer who always seemed to be bubbling over with the joy of the Lord. During a sermon or prayer he would often explode with the expression, 'Glory!' His smiling face earned him the nickname 'Old Glory Face.' It was his custom to close his own praying with a reference to heaven, ending with the phrase 'and that will be glory for me!' It is said that Ed Card had the joy of singing this hymn just before his home-going with the pleasure of knowing that his Christian life had been its inspiration. This hymn has since been translated into many different languages and dialects with an estimated publication of over 100 million copies" [Osbeck, 101 Hymn Stories, p. 195-196]. His song "Higher Ground," which is extremely popular today, was sold for only five dollars! In his autobiography, Charles stated that his favorite composition was "His Eye Is On The Sparrow," which became one of the defining tunes for singer-actress Ethel Waters, who even used this as the title of her own autobiography. He also wrote the music for the well-known songs "Will The Circle Be Unbroken" (which was used by a number of artists, including the Carter Family -- with June Carter Cash and Johnny Cash doing a moving rendition of it) and "Brighten The Corner Where You Are" (which became popular among the soldiers of World War I).
One of the passions of Charles Gabriel was evangelism and foreign missions, and for a number of years he worked with the Billy Sunday and Homer Rodeheaver crusades, with many of his songs being used during these campaigns, and through which use his fame and influence spread rapidly. This also led to his association with the Homer Rodeheaver Publishing Company, for which he worked the last twenty years of his life as Music Editor. He passed from this life on September 14, 1932 at the home of his son in Hollywood, California. His ashes now reside at the Chapel of the Pines in Los Angeles. Music historian Kevin Mungons wrote, "Gabriel earned a unique place in American hymn writing because he was equally capable of crafting a great lyric or a great melody." As a teen he had hoped one day to write a song that would be famous; his mother hoped that he would write a song that would help somebody. God answered both prayers abundantly, and we are all better for it. May this great disciple of Jesus rest in peace until the day of resurrection, at which time I look forward to meeting him and thanking him face-to-face for his timeless contribution to the cause of Christ, as I'm sure many others do as well.
***************************
Special Book & CD Offers
Click on the link above for a listing of the
books and biblical studies and audio sermons
and Bible classes by Al Maxey, and for
information on how to order these items.

***************************
Readers' Reflections
From a Minister in Wisconsin:
Today I came across your web site on The Silent Centuries, and I just want to thank you for this in-depth study of the so-called "Intertestamental Period." I have never before found anything on this topic so well written and so easy to understand. I am an Assembly of God pastor, and have had all of this information presented to me through different books, papers and training, but never so concisely and clearly presented. I just wanted you to know that your efforts are truly appreciated, and that they will definitely be a great help to me in sermon preparation and presentation. May you have a great day in the Lord.
From a Reader in Alabama:
We have corresponded in the past: I'm the guy still sitting in a Non-Institutional congregation in Alabama (the Mecca for NI congregations) to keep peace in the family, although I disagree with the rank legalism that is so prevalent in this group. Sometimes I get so discouraged that I cry out to God and pray all night. Thanks for all your help in dealing with this. Thank you also for your most recent issue of Reflections ("Fashions for the Fallen"). I really enjoyed the read, and had never thought of the covering of Adam & Eve with animal skins being a type of our being clothed with Christ. Thanks for challenging my thinking. Your last paragraph in that article was great. I have heard over and over how the fig leaves were "immodest," and so God made them clothes out of skins that would cover them "from the shoulders to the knees" (never mind that the text never says this). Therefore, a Christian must wear clothes that cover them from the shoulders to the knees -- and it must cover the knees even when one sits down. Ahhh, the absurdity of legalism!
From a Minister in Tennessee:
I always enjoy your Reflections articles, but I have especially enjoyed the present one ("Fashions for the Fallen") and the prior one ("Hellbound Hussies in Pants"). I had often wondered about the phrase stating that they were naked and unashamed. Then sin stepped in. I assume that prior to that sin, it was just Adam and Eve, and then after that sin, I assume it was still just Adam and Eve. So, why the "shame"? It was still just husband and wife looking at each other! If that wasn't shameful before sin, why was it shameful after? I know of divorces that have occurred because one of the spouses thought it was sinful/shameful to look upon their naked spouse. I had a friend when I was in college who thought sex was only for having children. Once both were satisfied with the number of children they had, then no more sex (because then it would only be for pleasure, and thus sinful). The Song of Solomon was actually viewed by this woman as "a dirty book written by a dirty old man." Her marriage ended in divorce.
From a Missionary in Peru:
I would concur with all you mentioned regarding the covering provided by God for Adam & Eve. Pointing out the use of the different words in Hebrew in the text was very interesting. Thanks for that! I took Hebrew in Seminary, but didn't really keep up with it. Al, your studies are always so detailed and instructive. Truly, iron sharpens iron with your ministry! Thank you for the stimulation you provide to study further. The Lord bless and continue to use you within the denomination where God has placed you for His glory.
From a Minister in India:
Thank you for this excellent Reflections ("Fashions for the Fallen"). You have uncovered the truth beautifully. I am compiling a manuscript in my language on righteousness, and I would like to add your article to this work. But, I need your permission to do so. I request you to kindly permit me, if possible. If the Lord wills, it will be published soon.
From a Reader in Georgia:
As I read your article "Fashions for the Fallen," all I could think of was "the Emperor's new clothes," and the implications of that story. I love the spiritual perspective of "coverings," and wonder how many today clothe themselves with immodest spiritual apparel, thinking they are properly clothed, but obviously naked. By-the-way, "naked" means without clothes, whereas "neked" portrays an attitude! (LOL)
From a Minister in Texas:
"Fashions for the Fallen" is one of your best, Al. And as for "Hellbound Hussies in Pants," it reminded me of a book by John R. Rice (a Primitive Baptist) called: "Bobbed Hair, Bossy Wives and Women Preachers." My dad had a copy that I used to get a kick out of reading. Ain't we a funny bunch?!! I've been preaching in the Churches of Christ for 56 years, and should have "seen everything" by now, but we keep coming up with newer ways to miss the point! By-the-way, that thing about women having to remove the pants part of their pantsuits so as to be "acceptable" has happened often. I witnessed it in a congregation in Indiana with some teen girls who came to the assembly in pantsuits and were immediately sent to the restroom by one of the older ladies. When they came out in their mid-thigh "skirts" (the pantsuit top), she said, "Now, that's better!!"
********************
If you would like to be added to or removed from this
mailing list, contact me and I will immediately comply.
If you are challenged by these Reflections, then feel
free to send them on to others and encourage them
to write for a free subscription. These articles may all
be purchased on CD. Check the ARCHIVES for
details and past issues of these weekly Reflections:
http://www.zianet.com/maxey/Reflect2.htm