REFLECTIONS
by Al Maxey
Issue #588 ------- September 6, 2013
**************************
Because he is no competitor,
No one in all the world
Can compete with him.
Lao-Tzu (6th century B.C.)
"The Way of Life"

**************************
Pre-Pentecost Baptism Rivalry
The Jesus vs. John Converts Conflict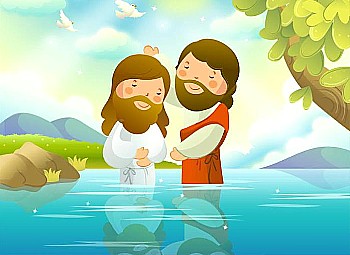 There is an interesting account recorded in the early chapters of John's gospel that one will find nowhere else in the New Testament writings. The Synoptists (Matthew, Mark and Luke) make no mention of this event whatsoever. It takes place early in the ministry of Jesus, not long before the arrest, imprisonment and execution of John the Baptist, and involves a somewhat troubling encounter between the disciples of these two individuals (Jesus and John). Had not John and Jesus both shown the depth of their remarkable character, the incident could easily have devolved into a serious schism among these Pre-Pentecost disciples which could have had negative consequences for the Post-Pentecost church. The account is described for us in John 3:22 - 4:2, and it follows the baptism of Jesus by John, the 40 days in the wilderness being tempted by Satan, the wedding in Cana, and the encounter with Nicodemus. After these events, and before Jesus entered into Galilee (the point at which the Synoptists generally begin His public ministry), Jesus spent a number of months in the Judean desert involved in a rural ministry with some of His disciples, and in the general vicinity where John was teaching and baptizing. The close proximity of these two groups led to some confusion and potential conflict among some of the disciples of Jesus and John, which is the focus of the section in John's gospel referred to above.
John 3:22-26 (NIV) -- "After this, Jesus and His disciples went out into the Judean countryside, where He spent some time with them, and baptized. Now John also was baptizing at Aenon near Salim, because there was plenty of water, and people were constantly coming to be baptized. (This was before John was put in prison.) An argument developed between some of John's disciples and a certain Jew over the matter of ceremonial washing. They came to John and said to him, 'Rabbi, that man who was with you on the other side of the Jordan -- the one you testified about -- well, he is baptizing, and everyone is going to him.'" The Message has phrased this last portion this way: "Rabbi, you know the one who was with you on the other side of the Jordan? The one you authorized with your witness? Well, he's now competing with us. He's baptizing too, and everyone's going to him instead of us." There is more about this in John 4:1-3 (NIV) -- "The Pharisees heard that Jesus was gaining and baptizing more disciples than John, although in fact it was not Jesus who baptized, but His disciples. When the Lord learned of this, He left Judea and went back once more to Galilee." Again, notice the wording of The Message -- "Jesus realized that the Pharisees were keeping count of the baptisms that He and John performed (although His disciples, not Jesus, did the actual baptizing). They had posted the score that Jesus was ahead, turning Him and John into rivals in the eyes of the people. So Jesus left the Judean countryside and went back to Galilee."
As one can quickly and easily perceive from this passage, some of John's disciples were confused, and even concerned, by what appeared to be competing ministries in the Judean wilderness. News of this possible rivalry had even reached the ears of the Pharisees, who were watching both ministries very carefully (and viewing both with growing contempt). Clearly, there was no actual sense of rivalry between Jesus and John, as they both understood the unique nature of their individual commissions. The concern is largely, if not exclusively, on the part of some of John's disciples, who, after being approached by a certain Jew who had some questions about rites of purification (perhaps perceiving the baptisms being performed by John and Jesus to be similar in some way), became upset over the growing popularity of Jesus, believing He had come into the wilderness to lure away disciples from John. They did not see Jesus and John as co-workers, but as rivals. Thus, these two ministries were quickly fostering, in the minds of some, an "us" vs. "them" mentality (a mindset even the apostles fell victim to on occasion: Mark 9:38-40; Luke 9:49-50), with which disciples of Jesus even today struggle. "This was the source of their difficulty: it was that Jesus was gaining popularity; that the people flocked to Him; that they feared that John would be forsaken, and his followers be diminished in numbers and influence. Thus, many love their sect more than they do Christ. This is not the spirit of the gospel. True piety teaches us to rejoice that sinners turn to Christ and become holy, whether they follow us or not" [Albert Barnes, Barnes' Notes on the Bible, e-Sword]. "The sight of growing crowds with Jesus and the dwindling crowds with John stirred John's followers to keenest jealousy. What a lifelike picture of ministerial jealousy in all ages" [Dr. A. T. Robertson, Word Pictures in the New Testament, e-Sword].
Although there were clearly personalities and personal loyalties in play here (I find it interesting that these disciples of John do not even refer to Jesus by name, but call Him "that man" and refer to Him throughout in the third person: reminiscent of the elder brother in our Lord's parable who referred to the prodigal as "this son of yours," when speaking of him to the father), there were also deeper theological questions. "The argument between a Jewish inquirer and the disciples of John indicates that there must have been confusion over the respective merits of Jesus and John. If both were baptizing, whose baptism was valid?" [The Expositor's Bible Commentary, vol. 9, p. 52]. Dr. Charles Ellicott observes that this is "one of those questions which in every age has arisen about external rites, and has too often been accompanied by a neglect of inner principles" [Ellicott's Commentary on the Whole Bible, vol. 6, p. 404]. People today are still arguing over this external rite and its significance, just as they engage in sectarian rivalry with one another over their various views!
What many fail to perceive, however, is that baptism is truly incidental in the minds of both Jesus and John. Indeed, in a clarifying statement in John 4:2, we are informed that Jesus Himself was not performing baptisms at all, but only His disciples. This is reminiscent of what Paul stated in 1 Cor. 1:17 -- "For Christ did not send me to baptize, but to preach the gospel." The focus of both Jesus and Paul (and John, as well) was on the message. Too often men overlook the substance to fuss and fight over the symbols and shadows. The latter are merely declarative in nature; it is the former that points to that which is truly redemptive. In this sense, both Jesus and John pointed to a redemptive reality: The Messiah and His Kingdom. The baptisms associated with both ministries were simply evidentiary acts of faith on the part of those who were hearing this message that a new dispensation was on the horizon, one that was spiritual in nature and which would come in power when the Spirit was poured out upon its citizens. The baptism performed by the disciples of Jesus "closely resembled the water baptism of John; it was a preparatory symbol, an educational rite, one that allied this early ministry of Jesus to that of His great forerunner. The water baptism of Jesus corresponded in significance with the water baptism of John. They were one and the same ordinance: predictive, symbolic, anticipatory of the baptism of the Spirit" [The Pulpit Commentary, vol. 17, p. 127]. Dr. Alfred Edersheim correctly observes that this early baptism in water was a "baptism of preparation for the Kingdom," and therefore "must not be confounded with Christian baptism, which was only introduced after the death of Christ, or, to speak more accurately, after the outpouring of the Holy Ghost" [The Life and Times of Jesus the Messiah, p. 390].
There is nothing in this passage in John's gospel record, nor anywhere in the immediate context, that even remotely suggests these baptisms performed by the disciples of either Jesus or John were salvific in purpose. They were statements of faith, not sacraments. "It will be observed that making disciples is here distinguished from baptizing them ('Jesus made AND baptized more disciples than John' -- John 4:1) -- a distinction which would be unnecessary and unnatural if they were made disciples by means of baptism. Hence this language does not agree with the doctrine of baptismal regeneration" [Dr. Alvah Hovey, Commentary on the Gospel of John, p. 110]. I believe David Lipscomb got it right when he wrote (with regard to this same passage), "Baptism was the act in which the people declared themselves the disciples of John, and the baptism of Christ stood in the same relation to Christ and discipleship" [A Commentary on the Gospel According to John, p. 55]. In other words, it was a declaration of faith -- an evidentiary act -- not some sacrament that appropriated a divine grace. It is only when we embrace the latter fallacy that disciples begin squabbling with one another over "issues" pertaining to the practice. Indeed, it was in the course of just such an argument (John 3:25) about "water rites" that these men were further distracted and dismayed by what they perceived as a ministerial slight to their own leader (vs. 26). "Aiming at the monopoly of honor and respect has been in all ages the bane of the church, and the shame of its members and ministers; as also a vying of interests, and a jealousy of rivalship and competition" [Matthew Henry, Commentary on the Whole Bible, e-Sword].
Jesus and John were not in competition with one another, and both men made a noble gesture to press home this truth. Jesus, when He became aware of the attitudes of those who were trying to put a negative spin on His and John's ministries, simply left the area to remove any further misconceptions. "When the Lord learned of this, He left Judea and went back once more to Galilee" (John 4:3). The message of grace was far too important to fall victim to those who were obsessed with promoting a sectarian agenda. The Pharisees undoubtedly saw this as a golden opportunity to make the most of a perceived rivalry between these two men and their ministries, perhaps hoping that by bringing attention to this perception they could discredit one or both men and their ministries. Rather than getting into a battle with them, or seeking to defend His work (which defense they would just twist to their own purposes), Jesus simply left the region. As for John the Baptist, when he heard about what some were thinking, he gave one of the most beautiful testimonies to the Messiah recorded in Scripture (John 3:27-36). This would be "the Baptist's final testimony regarding Jesus. This testimony is John's real subject; all else is incidental" [R. C. H. Lenski, The Interpretation of St. John's Gospel, p. 279]. Drs. Jamieson, Fausset and Brown declare that this "is one of the noblest and most affecting utterances that ever came from the lips of man" [Commentary Practical and Explanatory on the Whole Bible, p. 1032]. "These were his last words publicly spoken and recorded. ... The answer which the Baptist made may be said to mark the high point of his life and witness" [Dr. Alfred Edersheim, The Life and Times of Jesus the Messiah, p. 392]. It was a declaration "so demonstrative of his perfect humility that it stands as a monument to him forever" [Lenski, p. 283]. John made it clear to those who were troubled that there was absolutely NO rivalry between himself and Jesus, nor between their message or methodology. Indeed, he indicated that his own work was now almost complete, and that the ascendancy of the work of the Messiah was not only expected, but should be embraced and encouraged.
Far too frequently we tend to scrutinize various men and ministries and methodologies for the purpose of pitting one against the other, or debating the comparative worth of each. When Satan can get Christians to compete with one another, and to squabble over perceived slights or differences in style and practice, he has gained another victory in his efforts to thwart the cause of Christ. "Our preacher is better than your preacher" ... "Our congregation is better than your congregation" ... "Our practice is superior to yours" ... and on and on it goes to our eternal shame. In the passage we considered from John's gospel record we beheld two leaders who rose above the pettiness and displayed a nobility of character that should inspire all leaders today. Too easily and quickly we allow ourselves to be dragged down to debate over incidentals. Instead, may we, like Jesus and John, show the people a better path to follow, leading the way by example. Let us leave behind the sectarian squabbling over inconsequential matters, and lead the people who look to us to the One to whom we look: Jesus the Messiah! Thank you, John the Baptist, for showing us how to magnify others over ourselves. May we go and do the same. Thank you, Jesus the Messiah, for showing us how to humbly walk away from the warring factions so as to focus on the message of grace. May we go and do the same.
***************************
Special Book & CD Offers
Click on the link above for a listing of the
books and biblical studies and audio sermons
and Bible classes by Al Maxey, and for
information on how to order these items.

***************************
Readers' Reflections
From a Reader in Utah:
Let me first begin by stating how much I appreciate your Reflections writings! They have truly opened my eyes and challenged some of my staunch, conservative, and unfounded Church of Christ beliefs. Your writings and books (several of which I own) have been a huge blessing to me! I'm now not afraid to study a topic (baptism, divorce & remarriage, etc.) for myself and develop my own understanding of the Scriptures, even if that newfound belief flies in the face of traditional, conservative Church of Christ beliefs. I answer to God, not a rigid belief system. With that said, I must admit that a topic on which I have always had questions is abortion. Personally, I've never had an abortion, and I have great difficulty envisioning a situation in which I could even see having an abortion as being a viable option for me. With that said, however, I have questioned the rigid, hardline teaching of some on this subject. I don't want to have doubts on this, though; I want to understand what God's Word says on it. Hopefully, you can help clear this up for me. I'd appreciate your thoughts on the subject. Thank you!
This topic is, admittedly, one that can inflame passions and generate heated debate, and no matter what position one takes, it is almost guaranteed to infuriate someone. I stated my own studied opinion of the matter, examining the Scriptures for whatever wisdom it might provide on this topic, as well as looking at the social, psychological and situational aspects of it, in Reflections #155 -- "Aborting the Miracle of Life: Does Mankind Have That Right?" I pray this study will prove helpful to this reader, as well as others who may be struggling with this subject. -- Al Maxey
From a Reader in Florida:
You're the best. I so much appreciate all your diligent study and how you edify the Body of Christ each week. You are an example to all of us. Do you have any thoughts about the doctrine of "praying Jesus into your heart"? I don't get it. As always, thank you for all you do.
From a Reader in Michigan:
I recently purchased your CD set: From Law to Liberty: Reflecting on our Journey away from Legalism and into Freedom in Christ. Wow!! What great information. I am only sorry that I had not heard about you and Edward Fudge a long time ago! I grew up in a legalistic church, but am now attending a Church of Christ here in Michigan that has come a long way. In fact, I am using your work as the material for our small group. I am so glad you are in my journey with God. Thank you.
From a Reader in Georgia:
Al, please be sure and print the title of your latest Reflections ("Simon's Sect Silencing Speech") in BOLD type in your Archives so that I can jump to it more quickly in time of need! That article was awesome, brother! It made me think of how grateful I am that I don't have to try and measure up to the purity of God. If we were responsible for even one thing in saving ourselves, it seems that we might then boast in our own ability and achievement. Thank God He took that away from us. Blessings on you, my friend.
From a New Reader in Missouri:
I have read your articles on baptism, and they have shed a lot of light on the subject. Thank you so much. Please add me to your mailing list for Reflections.
From a Reader in Texas:
Thank you, brother, for the explanation of this great truth in Acts 15:7-11.
From a Reader in Alabama:
Al, I appreciate your voice for grace and faith. You have given some much needed balance to our brotherhood.
From a Reader in Tennessee:
Thanks for all your great articles. I depend upon, and tap into, your knowledge all the time. Please keep up the good work.
From a Minister in Rhode Island:
Would you please add me to your mailing list for your weekly Reflections. Thank you. My brother, I look forward to your insights, and pray that our Holy Father will continue His blessings on your endeavors.
From a Minister in New Mexico:
In Romans 1:17, the King James Version speaks of the righteousness of God that is revealed "from faith to faith." That last phrase has always been a bit puzzling to me until a couple of days ago when I looked at the Greek. I found that "ek" means "out of," while "eis" means "into." Out of faith into faith. Out of whose faith, and into whose faith? Ahah! Out of one person's faith into another person's faith -- which describes the way the Good News of Christ spread throughout the Roman Empire. That's the dynamite that brought the explosion of Christianity: Christians proclaimed their faith to their friends and neighbors! I'm not sure what the apostle had in mind when he first wrote that phrase, but perhaps the insight suggested above has some merit. I've heard countless sermons over the past 70 years, but don't recall anyone pointing to this particular interpretation. Nor did I find it cited in any commentaries on the passage. So, I have to wonder if I'm plowing new turf.
I shared with this good friend and fellow minister, whom I have known personally for many years, my study on this phrase in Reflections #185 -- "From Faith To Faith: A Reflective Analysis of Romans 1:17." -- Al Maxey
From a Minister in California:
Just read "Simon's Sect Silencing Speech." What you wrote was boldly and (I believe) accurately stated. Grace, by definition, cannot be earned. It is either grace, or it is something else. If salvation is by grace + some human action, then it is no longer grace! Al, I agree 100% with your conclusion in your study. Long live the amazing grace of the Almighty! It alone is our hope.
From an Author in Louisiana:
Bravo to your article "Simon's Sect Silencing Speech." Last week I was taken to task because I had mentioned a Baptist congregation that had planted 14 other congregations, reaching many with the gospel, and baptizing people every Sunday for many years. I was informed by this novice preacher that "Baptist baptism" only put people in the Baptist Church, and NOT into the "Lord's Church." My reply was to quote Peter in Acts 10-11, 15. I made some of the same points that you did in your Reflections article. He replied that he would study those passages and "get back to me." I sincerely believe he is honest, and that he is seeking the truth. I pray that he starts to understand the free gift of grace accomplished by Jesus alone. Keep chopping away, my friend. The biggest tree will eventually fall if you just keep chopping!
From an Elder in Florida:
Praise God for your wonderful exposition of Gospel Truth in your article "Simon's Sect Silencing Speech." Jewish boys were fully part of the covenant family by birth from their parents before they were circumcised. Circumcision is a confirmation of the birth that had already taken place. We are children of God by faith in Jesus Christ by the power of birth from above through the Spirit of God. Our water baptism is a confirmation of the birth that has already taken place by the power of God's Holy Spirit alone. Peter's exhaustive explanation of Cornelius' conversion must be used as a divine commentary of what Acts 2:38-39 means! Peter cannot be seen as contradicting Peter. God bless you, my brother!
********************
If you would like to be added to or removed from this
mailing list, contact me and I will immediately comply.
If you are challenged by these Reflections, then feel
free to send them on to others and encourage them
to write for a free subscription. These articles may all
be purchased on CD. Check the ARCHIVES for
details and past issues of these weekly Reflections:
http://www.zianet.com/maxey/Reflect2.htm