REFLECTIONS
by Al Maxey
Issue #597 ------- November 7, 2013
**************************
Nothing worth doing is completed in our lifetime;
therefore, we must be saved by hope. Nothing true
or beautiful or good makes complete sense in any
immediate context of history; therefore, we must be
saved by faith. Nothing we do, however virtuous, can
be accomplished alone; therefore, we are saved by love.
Reinhold Niebuhr (1892-1971)
The Irony of American History

**************************
Salvation by Hope
A Study of Romans 8:24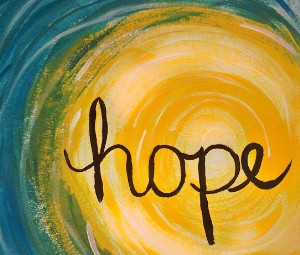 In the King James Version, Romans 8:24a is worded as follows: "For we are saved by hope." Needless to say, this has caused some degree of confusion among disciples of Christ Jesus. In what sense are we saved by hope? We often hear people say that we are saved by faith, saved by grace, saved by works, saved by baptism, and/or saved by obedience to commands. But, saved by hope?! That's one you don't often find mentioned in the "list of salvation essentials." Some will state salvation depends on getting the particulars of the "pattern of worship" correct, or that it depends on how we use the funds in our "treasury," or that it can be jeopardized by having a fellowship hall or eating in the church building or having a located preacher or using multiple cups in the observance of the Lord's Supper. But, HOPE?! In what way is this salvific? Yet, the "Authorized Version" of the Bible (the version some virtually worship as infallible in every way -- see: Reflections #88: "The Bible Used By Paul") clearly declares, "we are saved by hope."
I find it somewhat interesting, and even curious, that the legalists have never bothered to use this particular passage from the KJV as a proof-text with regard to salvation! A good friend in Georgia had a similar thought. Last month he wrote, "It hit me the other night that this particular verse has never been used by the ultra-conservative 'right' to proof-text salvation! They'll yank 1 Peter 3:21 ('baptism doth now save us') completely out of context, as you have clearly demonstrated in previous issues of your Reflections (#217 and #497), but have you ever had anyone pull this passage out and proclaim we are saved by hope?" No, I've never seen it. Perhaps they have difficulty figuring out how to make a law out of hope. If they can't impose it, regulate it, qualify and quantify it, these people typically tend to avoid it.
The bigger problem, however, is that the KJV has seriously mistranslated the text, and in so doing has suggested a false theology. The apostle Paul is not even remotely suggesting that we are saved BY hope (as though "hope" were in some way salvific), but rather he is informing the disciples of Christ that the fact of their salvation in Christ Jesus (by grace through faith) brings with it the blessing of hope; our salvation in Him instills hope in our hearts. Thus, we are saved IN hope (not BY hope). Most translations of the Bible have noticed this error in the KJV and have corrected it, including the New King James Version, which reads, "For we were saved in this hope." The American Standard Version of 1901 states, "For in hope were we saved." Most versions read similarly, although some seek to clarify it even more: "We were given this hope when we were saved" [New Living Translation] ... "We were saved with this hope ahead of us" [New Life Version] ... "We were saved, and we have this hope" [New Century Version] ... "We were saved to have this hope" [Easy-to-Read Version].
Obviously, we are not saved by hope, as is suggested by the wording of the King James Version. Commentators (even those who lived hundreds of years ago) recognized and commented upon this mistranslation. Dr. Albert Barnes (1798-1870), in his massive work "Barnes' Notes on the Bible," observed, "It cannot be said that hope is the instrument or condition of salvation." The Pulpit Commentary notes, "The dative elpidi (hope), which has no preposition before it, seems here to have a modal rather than a medial sense, for faith, not hope, is that whereby we are ever said to be saved" [vol. 18, p. 211]. As Dr. R. C. H. Lenski similarly points out, "The dative troubles many. It is not a dative of means. We are not saved by means of hope, but by means of faith. ... Hope rests on faith; faith always bears hope with it" [The Interpretation of St. Paul's Epistle to the Romans, p. 543-544]. "The KJV's 'we are saved by hope' unnecessarily makes hope encroach on the sphere of grace (Eph. 2:8)" [The Expositor's Bible Commentary, vol. 10, p. 95].
The great reality Paul seeks to share with us, however, is that as children of God we have a great hope that is sadly unknown by the rest of mankind. Prior to coming to a saving relationship with Christ Jesus, Paul declares we were "without hope" (Eph. 2:12). What a pitiful condition! What can be more hopeless than being separated from God and lost in one's sins?! However, when we accept His gift of grace by faith, and when we are immersed into relationship with Him by the Holy Spirit (1 Cor. 12:13 -- see: Reflections #353, #362, #505), we are filled with a powerful, confident expectation (hope) of countless good things to come. Each day of our lives, the Father pours forth His blessings upon us, and the promise of immortality, at the resurrection, lies ever before us, motivating us daily as we journey toward the reality of a new heavens and earth. It is this hope of which Paul speaks in Romans 8:24 (as the context clearly conveys). It is the hope (the confident expectation) of the redemption of the body at the resurrection. Death will not be the victor; we, like Jesus, shall arise, we shall be changed, this mortal flesh shall "put on" immortality, and we shall live forever in His presence. THAT is the hope that comes with our union with the Father through the Son. It is a hope the rest of mankind does not share, as Paul pointed out to the brethren in Thessalonica: "We do not want you to be uninformed, brothers, about those who are asleep, that you may not grieve as others do who have no hope" (1 Thess. 4:13).
Charles Swindoll correctly observes that the apostle Paul "used the Greek term elpis ('hope') to describe the 'assured expectation' of our inevitable future" [Insights on Romans, p. 168]. The Greek word "elpis" carries with it a far greater confidence and assurance than the English word "hope" typically conveys. "We have this hope as an anchor for the soul, firm and secure" (Heb. 6:19). It is probably better translated "confident, assured expectation," and it is a blessed assurance that fills the hearts of the redeemed which "has to do with the unseen and the future" [W. E. Vine, Expository Dictionary of Old & New Testament Words, vol. 2, p. 232]. We are saved. That is a present reality. However, there are aspects of our salvation that are yet future (such as the raising and transforming of our bodies at the resurrection, and the life we will enjoy with Him and one another in the new heavens and earth). Thus, we who are saved have been filled with a "hope" of the blessings yet to come. "Therefore, since we have been justified by faith, we have peace with God through our Lord Jesus Christ. Through Him we have also obtained access by faith into this grace in which we stand, and we rejoice in hope of the glory of God" (Rom. 5:1-2). This hope sustains us in our daily trials and tribulations as we journey through this life, for we know "that the sufferings of this present time are not worthy to be compared with the glory that is to be revealed to us" (Rom. 8:18). Therefore, "be joyful in hope, patient in affliction" (Rom. 12:12). Yes, our "endurance is inspired by hope" (1 Thess. 1:3, NIV), for we who are saved in the here-and-now are assured of what awaits us in the hereafter!
1 Peter 1:3-9 (NASB) -- "Blessed be the God and Father of our Lord Jesus Christ, who according to His great mercy has caused us to be born again to a living hope through the resurrection of Jesus Christ from the dead, to obtain an inheritance which is imperishable and undefiled and will not fade away, reserved in heaven for you, who are protected by the power of God through faith for a salvation ready to be revealed in the last time. In this you greatly rejoice, even though now for a little while, if necessary, you have been distressed by various trials, that the proof of your faith, being more precious than gold which is perishable, even though tested by fire, may be found to result in praise and glory and honor at the revelation of Jesus Christ; and though you have not seen Him, you love Him, and though you do not see Him now, but believe in Him, you greatly rejoice with joy inexpressible and full of glory, obtaining as the outcome of your faith the salvation of your souls."
Yes, salvation is by grace through faith. We, who are now "in Him," are saved. Yet, the full realization of all that this salvation assures has not yet occurred. Some of these eternal blessings lie in the future, and they are connected with the Parousia. Thus, we live in faith and hope as we sojourn here in this present world. "Now faith is the assurance of things hoped for, the conviction of things not seen" (Heb. 11:1). "There is a danger of succumbing to the weariness of the long Christian journey, but hope grasps the future and draws us thereto" [The Pulpit Commentary, vol. 18, p. 251]. The Irish poet, Oliver Goldsmith (1730-1774), wrote, "Hope, like the gleaming taper's light, adorns and cheers our way; and still, as darker grows the night, emits a brighter ray." This future "assured expectation" (hope) "is of the very essence of the Christian's life" [Dr. Charles Ellicott, Commentary on the Whole Bible, vol. 7, p. 237]. Which takes us back to the immediate context within which we find our statement by Paul in Romans 8:24. He informs us that the entire creation "waits in eager expectation" (vs. 19) for the Parousia, at which time all things shall be made new and imperishable. It is a "hope" wherein "the creation itself will be liberated from its bondage to decay and brought into the glorious freedom of the children of God" (vs. 21). Our physical bodies will be redeemed (bought back from the dust of the ground) -- i.e., raised up on the last day, at the trumpet sound, and this mortal will put on immortality. This "redemption of our bodies" (vs. 23) is the hope given those who are saved (vs. 24a). But, it is a hope not yet realized, for that day has not yet come. Thus, like creation itself, we eagerly await it, seeking to patiently endure the trials of our daily journey through this present world. "For hope that is seen is no hope at all. Who hopes for what he already has? But if we hope for what we do not yet have, we wait for it patiently" (vs. 24b-25).
"The Christian pilgrim is on the road to glory, assured that the promises of the Word and the spiritual energy provided for his 'walk' are not illusory. As he sees the dark tunnel of death ahead of him, he is confident that beyond it the road leads on to his destination, though it remains unseen. Simply because an element of our salvation -- the redemption of the body -- is held in reserve, we have a legitimate exercise of hope. If all were ours now, there would be no place for it. Since the object of our hope is not yet realized, 'we wait for it patiently'" [The Expositor's Bible Commentary, vol. 10, p. 95]. "The future bodily resurrection of believers will be the full harvest of redemption" [ibid]. "The Christian, like the rest of the creation, waits for full redemption, but consciously and aspiringly" [The Pulpit Commentary, vol. 18, p. 250]. Thus, we are a people of "hope" -- we have an expectation that is divinely assured! "Christian hope is not a mirage that mocks the heart, but is surely grounded on the work of Christ, who has revealed the character of God and His far-reaching purpose of love" [ibid, p. 251]. Those who believe (have faith) "have already received adoption, and as led by the Spirit are sons of God; but only when their mortal bodies have been quickened, and the corruptible has put on incorruption, will they possess all that sonship involves. For this they wait and sigh, and the inextinguishable hope, born of the Spirit dwelling in them, guarantees its own fulfillment" [Dr. W. Robertson Nicoll, The Expositor's Greek Testament, vol. 2, p. 650].
The great Greek scholar, Dr. A. T. Robertson, in his classic work "Word Pictures in the New Testament," stated that we who have faith in Him are thereby "saved in hope of the redemption of the body." Once this "hoped-for resurrection of our body is before our eyes, hope turns to realization" [R. C. H. Lenski, The Interpretation of St. Paul's Epistle to the Romans, p. 544]. Two of the major leaders in the Stone-Campbell Movement emphasized this same teaching: that our "hope" lies in our bodily resurrection from the grave and, at that time (the Parousia), the receiving of the gift of immortality. Moses E. Lard (1818-1880) declared that the meaning of the apostle Paul's statement to the Roman brethren is: "we were saved in the hope of deliverance from the grave; we were saved in hope of the deliverance of our bodies; but that deliverance we have not yet realized. We are therefore still hoping for it. Our bodies are not yet delivered from the grave. The event therefore is a proper object of hope. Hope ends in sight or realization" [Commentary on Paul's Letter to the Romans, p. 275]. David Lipscomb (1831-1917) wrote, "Hope looks to the future blessing of the immortal state to come" [A Commentary on the New Testament Epistles, vol. 1: Romans, p. 156]. "Christians are waiting for the redemption of their bodies from mortality and suffering. ... But, as regards the redemption of our bodies, it is future, and so is an object of hope." ... Thus, our "redemption in Christ will not be completed until our bodies are raised from the dead and glorified and are become like Jesus in His glorified and immortal state" [ibid, p. 155].
Are the children of God "saved by hope," as the King James Version says? No, we are not. However, we are saved with a hope lodged securely in our hearts that assures us of the future fulfillment of the promise of God that we will be raised from the dead, that our mortal bodies will be made immortal, and that we will live forever with Him, and with all the other redeemed of all time, in the new heavens and earth, a planet redeemed along with us from the corruption that was a consequence of man's sin (Reflections #310 -- "Paradise Regained"). It is the hope of an eternal inheritance for those saved by grace through faith; an inheritance presently reserved for us in the heavenly realm, but which will one day be realized when God sends forth His Son to claim His bride. Until that day comes, we wait eagerly for that arrival, groaning in anticipation of the realization of this wondrous hope we have in Him. Come quickly, Lord Jesus!!
***************************
Readers' Reflections
From an Author in California:
Your recent Reflections articles on "straw man argumentation" (#594 and #595) and "false dichotomy" (#596) reminded me of a discussion I had a while back with a brother who was questioning me about some of my views and was not satisfied with my answers to his questions (as my responses necessitated the use of several sentences to present my views as clearly and with as much clarity as possible). He wanted me, instead, to answer his questions with just "yes" or "no," which would have put me in a dilemma similar to someone's response to this question: "Have you stopped beating your wife?" These kinds of tactics are all about "winning" arguments and demeaning others, and not about arriving at Truth, which should be the aim of all believers.
From a Reader in Texas:
After reading your article on false dichotomy ("A 'This or That' Theology") I was reminded of the mother of a teenage daughter who exclaimed, "I would rather have my daughter on the dance floor than wrestling with a boy in the back seat of an automobile." Upon hearing this remark, another mother nearby responded, "Perhaps so, but those are not the only alternatives!"
From a Reader in Washington:
Just a note to tell you that my husband quoted from your Reflections article on "The Tears of Jesus" (#279) to our Home Group tonight. It was very enlightening about why Jesus wept. He also recommended your web site to the people in our Home Group. Bro. Al, you continue to bless so many people. May God continue to bless you. Also, please send us your two CD set: An In-Depth Study of the Epistle to the Galatians. Our check is enclosed. Thank you!
From a Minister in Oklahoma:
Thanks, Al, for sharing that video by Rick Atchley (Click Here to View). Rick's illustration was really needed by me. What a wonderful way to express "our" silliness! Thanks, as always, for what you do, keep doing, and will continue to do with God's grace.
From a Professor at the University of Tennessee:
Great job on the latest Reflections on logical fallacies in religion. Another fallacy that is frequently played in religion is "Affirming the Consequent," and it is often applied when using "Necessary Inference." For example, Christians are commanded to observe the Lord's Supper. Some Christians in Troas met on the first day of the week to observe the Lord's Supper. Therefore, the first day of the week is the ONLY "authorized" day to observe the Lord's Supper, which, of course, discounts and supersedes the observation in Acts 2 where disciples met daily "to break bread." I know: some try to make the distinction that one "breaking bread" means a common meal and the other "breaking bread" means Communion. While similar terms are used, such distinction is not absolutely clear from the language or context. Unfortunately, CENI depends largely on such logical fallacies for its support. Dr. Doy Moyer (mentioned in your last article) is a staunch proponent of this concept. However, he has recast this revered traditional hermeneutic with new terms: "command, example and necessary inference" have now been revised as "tell, show and imply," which he states are self-evident as the ONLY means of communication, and that each is apparently equal in reliability and validity. However, just because any particular individual, regardless of title or occupation, declares something "self-evident," does not make it so. Even a brief examination of communication methods would reveal that they are not equal in their reliability. I frequently return to God's exhortation to His erring people, as spoken through His prophet Isaiah, "Come, let us reason together." I find genuine, rational, objective discussion very refreshing and essential for finding the truth, especially where that truth may be obscured by tradition and opinion. Dogmatic claims that rely more on faulty logic are certainly not in keeping with God's directive for "reason."
********************
If you would like to be added to or removed from this
mailing list, contact me and I will immediately comply.
If you are challenged by these Reflections, then feel
free to send them on to others and encourage them
to write for a free subscription. These articles may all
be purchased on CD. Check the ARCHIVES for
details and past issues of these weekly Reflections:
http://www.zianet.com/maxey/Reflect2.htm