REFLECTIONS
by Al Maxey
Issue #631 ------- August 28, 2014
**************************
It came upon the midnight clear, that glorious song of old,
From angels bending near the earth to touch their harps of gold:
"Peace on the earth, good will to men from Heaven's all gracious King."
The world in solemn stillness lay to hear the angels sing.
Edmund Hamilton Sears (1810-1876)

**************************
The Saving Grace of God
A Reflective Study of Titus 2:11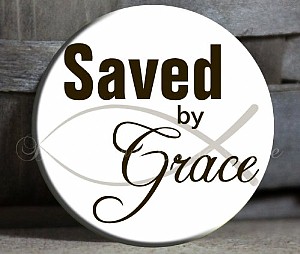 William Shakespeare (1564-1616), in The Merchant of Venice, wrote, "Therefore, Jew, though justice be thy plea, consider this, that in the course of justice, none of us should see salvation: we do pray for mercy, and that same prayer doth teach us all to render the deeds of mercy." If each of us, on the day of judgment, receive our "just deserts," none of us are going to be very happy. We all have sinned and have fallen short of the glory of God, and God would therefore be fully justified in pronouncing the sentence of death against us. "Jews and Gentiles alike are all under sin. As it is written, 'There is no one righteous, not even one'" (Rom. 3:9-10), and "the wages of sin is death" (Rom. 6:23). Our plea that day will not be for justice, but for mercy! And yet, in reality, that plea has already been addressed by God, who, motivated by His love for mankind, extended His grace to us in the gift of His Son that we might not perish, but have everlasting life. How marvelous and matchless is that divine grace! "Amazing grace, how sweet the sound, that saved a wretch like me." John Newton (1725-1807), who published this hymn in 1779 (most likely writing it around 1772), certainly appreciated this gift from above, for during his own life he had fallen far from the Lord's ideal (for more information on this man, I would refer the reader to Reflections #265 -- John Newton: A True Testimony to the Amazing Grace of God).
Both Newton and Shakespeare, each in his own way, expressed the certainty that if our salvation depends upon our own effort, our eternal destiny will not be life, but death! Thank God that "mercy triumphs over judgment" (James 2:13). Those who have accepted God's gift of grace, and who are now saved, willingly submit to the leading of God's indwelling Spirit, showing forth every day for the remainder of their lives the good works to which He has called us. Just as He rendered mercy to us, so, in the words of Shakespeare, are we taught "to render the deeds of mercy" unto others during our journey through life. The Bard of Avon, however, was not the first to convey such a concept; much the same thought was penned by the apostle Paul to Titus: "For the grace of God that brings salvation has appeared to all men. It teaches us to say 'No' to ungodliness and worldly passions, and to live self-controlled, upright and godly lives in this present age, while we wait for the blessed hope -- the glorious appearing of our great God and Savior, Jesus Christ, who gave Himself for us to redeem us from all wickedness and to purify for Himself a people that are His very own, eager to do what is good" (Titus 2:11-14, NIV). The response of the redeemed to the gracious gift of God is a life of loving, sacrificial service unto others. As Paul clearly declares in Ephesians, we are saved by grace through faith, not based upon anything we ourselves could have done, but simply because He loved us enough to send His Son to pay the penalty of sin in our place, a gift we receive by faith and which we reflect in our attitudes and actions thereafter (Eph. 2:4-10).
In this issue of my Reflections, I would like to focus our attention primarily on what Paul wrote in Titus 2:11. This is a powerful verse that brings great comfort to God's people, while at the same time raising some questions that, in light of certain sectarian teaching, need to be addressed. First, notice this passage as it is rendered in various versions:
New International Version -- For the grace of God that brings salvation has appeared to all men.

American Standard Version -- For the grace of God hath appeared, bringing salvation to all men.

Darby Translation -- For the grace of God which carries with it salvation for all men has appeared.

Easy-to-Read Version -- Godís grace has come. That grace can save everyone.

English Standard Version -- For the grace of God has appeared, bringing salvation for all people.

1599 Geneva Bible -- For that grace of God, that bringeth salvation unto all men, hath appeared.

Good News Translation -- For God has revealed His grace for the salvation of all people.

Holman Christian Standard Bible -- For the grace of God has appeared with salvation for all people.

J.B. Phillips' NT in Modern English -- For the grace of God, which can save every man, has now become known.

King James Version -- For the grace of God that bringeth salvation hath appeared to all men.

New King James Version -- For the grace of God that brings salvation has appeared to all men.

The Living Bible -- For the free gift of eternal salvation is now being offered to everyone.

New American Standard Bible -- For the grace of God has appeared, bringing salvation to all men.

New Century Version -- Godís grace that can save everyone has come.

New Living Translation -- For the grace of God has been revealed, bringing salvation to all people.

Revised Standard Version -- For the grace of God has appeared for the salvation of all men.

Wycliffe Bible -- For the grace of God, our Saviour, hath appeared to all men.

Young's Literal Translation -- For the saving grace of God was manifested to all men.

New American Bible -- The grace of God has appeared, offering salvation to all men.

New English Bible -- For the grace of God has dawned upon the world with healing for all mankind.

Hugo McCord's NT Translation of the Everlasting Gospel -- The saving grace of God has been revealed to all men.

Charles Williams' NT in the Language of the People -- For God's favor has appeared with its offer of salvation to all mankind.

The New World Translation -- For the undeserved kindness of God which brings salvation to all sorts of men has been manifested.
Many more translations and versions could be given, but these sufficiently illustrate the point that needs to be made: not all biblical and textual scholars agree on certain aspects of this passage. For example, the phrase "to all men" -- does this have reference to the appearing of God's saving grace ("appeared to all men"), or does it have reference to the bestowing of God's saving grace ("bringing salvation to all men")? As you can see from the many versions and translations above, there is significant diversity of opinion among the translators as to which of these two options Paul had in mind. There is less diversity of opinion on this among theologians, however: most feel certain, based on the grammatical construction of the text, that "to all men" should be connected with saving rather than appearing [Dr. Marvin R. Vincent, Vincent's Word Studies, e-Sword]. "'To all men' goes better with salvation than with appeared" [Ryrie Study Bible, p. 1870]. "The adjective rendered 'that brings salvation' asserts its saving efficacy. The dative 'to all men' may equally be rendered 'for all men,' thus stressing the universality of the salvation provided. Salvation is available to all, but its saving effect is dependent on the personal response of faith" [The Expositor's Bible Commentary, vol. 11, p. 440]. The truth promoted by Paul, therefore, is that by the grace of God salvation is offered unto all people. "Here is the universality of this saving grace, which is in direct contradiction to Calvin's limited grace" [R.C.H. Lenski, The Interpretation of St. Paul's Epistle to Titus, p. 919]. "God our Savior desires all people to be saved" (1 Tim. 2:4). "We have our hope set on the living God, who is the Savior of all people, especially of those who believe" (1 Tim. 4:10). "The Lord is patient with you, not wanting any to perish" (2 Peter 3:9). His saving grace is freely offered to all men; it is not limited; none are excluded. Nevertheless, it is not forced on any man against his will. "For God so loved the world that He gave His one and only Son, that whoever believes in Him shall not perish but have eternal life" (John 3:16). "Whoever wishes, let him take the free gift of the water of life" (Rev. 22:17).
Paul informs us that "grace ... brings eternal life through Jesus Christ our Lord" (Rom. 5:21). "For the wages of sin is death, but the gift of God is eternal life in Christ Jesus our Lord" (Rom. 6:23). Thus, "because of His great love for us, God, who is rich in mercy, made us alive with Christ even when we were dead in transgressions -- it is by grace you have been saved. And God raised us up with Christ and seated us with Him in the heavenly realms in Christ Jesus, in order that in the coming ages He might show the incomparable riches of His grace, expressed in His kindness to us in Christ Jesus. For it is by grace you have been saved, through faith -- and this not from yourselves, it is the gift of God -- not by works, so that no one can boast" (Eph. 2:4-9). God sent this free gift of His grace into the world in the person and teaching and work of His beloved Son: Jesus the Messiah. It was a gracious gift of salvation for all men, and it was/is received solely by faith. It is an active faith, however, not a passive one; a faith saved disciples display daily as they walk in the light with their Lord (which is precisely the point of James in the second chapter of his epistle).
Titus 2:11, in the English Standard Version, correctly states: "For the grace of God has appeared, bringing salvation for all people." Paul informs us that God's grace "has appeared." Clearly it didn't appear before the wondering gaze of "all men" (every person) on the planet, for only a few (relatively speaking) actually beheld the person known as Jesus, and only a fraction of Earth's population were witness to His saving ministry. However, that gracious gift was invested with sufficient power to bring salvation to all people, regardless of time or place or culture. This "appearance" of divine grace is a reference to the gift of God's Son. "The tense of the verb indicates a reference to the Incarnation: Christ's first appearing" [Ryrie Study Bible, p. 1870]. "The grace of God shone forth in the person of Jesus Christ of Nazareth, born in Bethlehem" [Dr. Paul Kretzmann, Popular Commentary of the Bible: The NT, vol. 2, p. 426]. It thus becomes the perfect "epistle-lesson for the festival of Christmas, for although the Christmas miracle in itself is not discussed by Paul, yet the glory of the salvation which appeared in the Babe of Bethlehem with all its consequences is here presented in a manner which makes it valuable for the entire year" [ibid]. "Scarcely a better epistle text could have been selected for Christmas Day" [Lenski, p. 919]. The Good News (the "Gospel") is all about the gift of God's grace: His Son, and what He accomplished for us by His life, teaching, death, resurrection and ascension. "The gospel is universal. It knows nothing of race, or country, or clime. It is the grace of the Father to every child. It reveals the nature of God Himself, which is love" [The Pulpit Commentary, vol. 21, p. 37].
"The entire program of redemption is rooted in 'the grace of God,' His free favor and spontaneous action toward needy sinners to deliver and transform them. In the Greek, 'has appeared' stands emphatically at the beginning, stressing the manifestation of grace as a historical reality. The reference is to Christ's entire earthly life -- His birth, life, death, and resurrection. The verb 'epephane,' from which we derive our word 'epiphany,' means 'to become visible, make an appearance,' and conveys the image of grace suddenly breaking in on our moral darkness like the rising sun. Men could never have formed an adequate conception of that grace apart from its personal manifestation in Christ: in His incarnation and atonement" [The Expositor's Bible Commentary, vol. 11, p. 439]. When we embrace this manifestation of His grace by faith, He saves us -- not by any effort on our part, but rather as a gift from the One who loves us more than we can even grasp. Paul spoke of his commission, given to him by the Lord: "the task of testifying to the gospel of God's grace" (Acts 20:24). We, who have accepted God's Son, sent to us by a merciful, gracious, loving Father, are now ambassadors of that Gospel of Grace. Thus, we preach and teach JESUS, rather than our own personal and party preferences and practices. Matthew Henry (1662-1714) correctly stated, "This gospel grace brings salvation, ... and it is open to all" [Commentary on the Whole Bible, e-Sword]. Dr. Kenneth Wuest states, with respect to the word charis ("grace"), "It is hardly too much to say that the mind of God has in no word uttered itself and all that is in His heart more distinctly than in this word. ... It is a favor freely done, with no expectation of return, and finding its only motive in the bounty and free-heartedness of the Giver. ... It is offered mercy from the Judge who stepped down from His judgment throne to take upon Himself the guilt and penalty of human sin, thus satisfying His justice and making it possible to bestow mercy on the basis of justice satisfied upon a hell-deserving sinner who puts his faith in the Savior who died for him" [Wuest's Word Studies from the Greek NT, vol. 2, p. 193-194].
Paul wrote, "All over the world this gospel is bearing fruit and growing, just as it has been doing among you since the day you heard it and understood God's grace in all its truth" (Col. 1:6). What is the "gospel"? It is the "good news" that we are saved by the grace of God, and not by anything we have done or ever could do; it is a gift of grace to all who simply believe! Having received that gift by faith, we then live our lives filled with His Spirit, evidencing this indwelling by a transformed life: one reflective of His love, mercy, compassion, and grace. This Spirit-filled walk with our Lord cannot help but be seen by those around us. When Barnabas was sent from Jerusalem to Antioch, for example, "he saw the evidence of the grace of God" (Acts 11:23). By faith they had embraced the gospel of grace, and that salvific reality was bursting forth from these devoted disciples. Barnabas did not go to Antioch to evaluate the preciseness of their practice in their worship assemblies; he went to see if these people had been saved by grace through faith, and evidence of that reality (in transformed lives) was abundant. When the Spirit indwells those who by faith receive the gift of God's grace (salvation in Christ Jesus), the evidence of the fruit of that Holy Spirit indwelling is easily recognized. Indeed, it can't be contained; it bursts forth from us. John tells us "the law was given through Moses, but grace and truth came through Jesus Christ" (John 1:17). Friends, we are no longer under law, but under grace (Rom. 6:14-15). "We are justified freely by His grace" (Rom. 3:24), and thus "we have peace with God through our Lord Jesus Christ, through whom we have gained access by faith into this grace in which we now stand" (Rom. 5:1-2). "Thanks be to God for His indescribable gift," which is "the surpassing grace God has given you" (2 Cor. 9:15, 14). AMEN!
***************************
Specials for Readers
2014 Book & CD Offers
Click on the link above for a listing of the
books and topical studies and audio sermons
and new Bible classes by Al Maxey, and for
information on how to order these items.

***************************
Readers' Reflections
From a Reader in Virginia:

Thank you, Al, for taking the time to produce and share your Reflections. I respect and admire brothers who ask and answer the hard questions, and who gracefully respond to those who react with less than graceful commentary. At seventy years of age, I am comfortable with the fact that not everything in the Scriptures is crystal clear. As a former field worker in remote Central Asia, I have learned to identify and discard the multiple cultural wrappers in which we understand and live out the Gospel. So, I stay in learning mode, and have a healthy sense of my own capacity to misinterpret or confuse Scriptural principles. Thanks again for your work.
From a Reader in New Mexico:

Some have complained about "change agents" without realizing that Jesus Christ, the Son of the Living God, was/is the greatest Change Agent of all time. He came and changed everything!
********************
If you would like to be added to or removed from this
mailing list, contact me and I will immediately comply.
If you are challenged by these Reflections, then feel
free to send them on to others and encourage them
to write for a free subscription. These articles may all
be purchased on CD. Check the ARCHIVES for
details and past issues of these weekly Reflections:
http://www.zianet.com/maxey/Reflect2.htm