REFLECTIONS
by Al Maxey
Issue #658 ------- May 8, 2015
**************************
The grand style arises in poetry, when
a noble nature, poetically gifted, treats with
simplicity or with severity a serious subject.
Matthew Arnold (1822-1888)

**************************
Mary Bridges Canedy Slade
The Poet, Protector, Pastor's Wife,
Educator and Editor from Fall River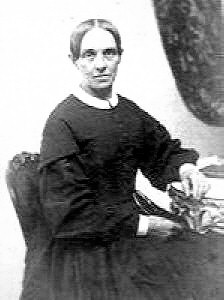 Congregational singing, when it is done well, can most definitely lift the spirits of those assembled together in Christ Jesus. I personally like the "old songs," but that is just my own preference, and I certainly understand, and respect, that there are others who like the more contemporary songs and hymns. In our own assembly here at Cuba Avenue we tend to provide a mix of both. But, I must admit, I still prefer the "old ones." They "speak" to me in ways the new ones don't. "Footprints of Jesus" ... "Beyond This Land of Parting" ... "Hark! The Gentle Voice" ... "There's a Fountain Free" ... "Who at the Door is Standing?" These, of course, are just a small sampling of the many, many hymns that "take me back" and "speak to my heart" in a very special way. A great many more could be listed. I mentioned these in particular, however, for they all have something in common: the words came from the pen of Mary Bridges Canedy Slade (1826-1882) and the music was composed by Dr. Asa Brooks Everett (1828-1875). Knowing something about the lives of those who gave us these beloved hymns can add greatly to our appreciation of these sacred selections in our hymnals, and I have provided many such biographical studies of these men and women over the years (which may be found on my Topical Index page under the heading "Biography"). In this current issue of my weekly Reflections I would like to briefly introduce you to these two individuals who have ministered to so many of us over the years through their inspiring words and music.
Mary was born on January 18, 1826 in Fall River, Massachusetts, where she would remain her entire life. This was a town made famous by one of her neighbors: the infamous Lizzie Borden (1860-1927), who was tried and acquitted for the 1892 axe murders of her father and stepmother (which murders occurred just ten years after the death of Mary). Thus, it is very possible that Mary and Lizzie may have known (or at least known of) one another, since the town was not all that large at that time, although there is no direct evidence they were ever counted as friends or associates (one wit, however, opined that living in the same vicinity as Lizzie may help explain the title of Mary's hymn: "What at the Door is Standing?"). Mary was the wife of Albion K. Slade, who was a pastor in Fall River, and she was well-known among the "church people" there as "a warm-hearted Christian woman and clergyman's wife." She was also a well-educated woman, and a school teacher by profession. For many years she served as the assistant editor of The New England Journal of Education. She wrote and published a number of books on education which were used in the training of teachers, and she also wrote many hymns for use in the church, as well as Sunday School materials for use in the primary grades. She started a children's magazine called "Wide Awake," which she continued to edit until the time of her death. Mary and her husband were also operatives of the Underground Railroad, and were thus quite active in helping slaves achieve their freedom. She died in Fall River on April 15, 1882.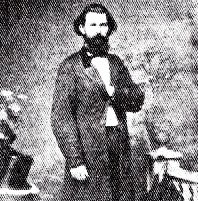 Asa Brooks Everett was born in Virginia in September, 1828. His father desired for his son to become a physician, but Asa had other plans for his life, following his older brothers (Benjamin and Leonard) into the ministry. In time, they became very well established as ministers of music, church musicians, song writers, music publishers, and even educators. Asa studied in Boston, Massachusetts for a time, and even traveled to Leipzig, Germany, where he spent four years studying musical composition. It was this European training that later caused him to adopt the honorific title of "Dr." before his name (although there is no evidence this was ever an earned degree), which explains why in many hymnals his name appears with this prefix (although in others it is missing). By 1861, Asa and his brother Leonard had established scores of singing schools and schools of musical instruction throughout Virginia. Asa Everett died near Nashville, Tennessee in September, 1875. He was inducted into the Gospel Music Hall of Fame in 1993, an honor many Gospel musicians and song writers declared to be well-deserved and long overdue.
Providentially, Asa Everett was good friends with, and took a lead in the education of, a young pastor and hymn writer with the Methodist Episcopal Church by the name of Rigdon McCoy McIntosh (1836-1899), who later went on to become head of the music department at Vanderbilt University, and then later the founder and owner of the R. M. McIntosh Publishing Company. A well-known church music historian and writer, Wayne S. Walker, is of the opinion "that McIntosh's influence may account for the number of Slade-Everett hymns that became well-known among the Churches of Christ in the southern United States. McIntosh was the music editor of the 1889 Christian Hymns, the first hymnal published by Gospel Advocate, and the first hymnal developed specifically for the fellowship of congregations that became known as the Churches of Christ." Thus, the collaboration of Mary Slade and Asa Everett came to be one of the foundations of the musical expression of that wing of the Stone-Campbell Movement which came to be known as Churches of Christ. I hope this rather brief review of these two people will help you appreciate just a little more some of the hymns that we cherish and sing.
***************************
Specials for Readers
2015 Book & CD Offers
Click on the link above for a listing of the
books and topical studies and audio sermons
and new Bible classes by Al Maxey, and for
information on how to order these items.

***************************
Readers' Reflections
From a Reader in Texas:

I just read your article "Paul and the 68th Psalm" (Reflections #657). Bravo!! I was particularly impressed with your summary of Jesus talking about those who placed their trust in the Scriptures rather than in Him. The following is something I shared on my Facebook page: "Several things have been running around in my head this past week and began coming together following the reading of Al Maxey and then our Bible class with Lanny Partain this past Sunday. Christians are a vicious group of people ready to devour those who don't agree on what God wants as revealed in the Bible. I answered an important question for myself this week because of these two gentlemen mentioned above. Why do we fight and split the oneness of fellowship Jesus prayed for? The answer is simple, and Jesus rebuked religious leaders for it in His day: We put our trust, and, yes, our very salvation, in the Bible instead of the One revealed in the Bible. I've placed my thoughts in my blog Mike's Growing Faith (my May 4th article titled 'Shall We Listen To Jesus Or Man?'), but I am only a man, so allow the Holy Spirit to have control and help you discern for yourself! I promise He won't let you down."
This brother in Christ (Michael Smith, whom I have known for a number of years) will most definitely challenge you to do some thinking as you read and reflect upon his articles. Mike has some really great insights, with accompanying practical applications, and I urge you to consider the fruit of his prayerful study which may be found in his writings. -- Al Maxey
From an Author in Florida:
NOTE: the following was sent to his mailing list;
his blog site is: The Paregien Journal

A Christian woman in Tennessee recently wrote to me that she will soon teach a class on the topic of the role of women in the church and, especially, on whether deaconesses are biblical. I sent several thoughtful articles to her, and I decided this would be a good time to share them with others as well (both men and women). I recommend you start by reading the one by Al Maxey (Reflections #299 -- "Our Sister Phoebe: Deaconess of Cenchrea"), and then read the others. Contrary to some on the far left and others on the far right, this subject is neither a simple one nor a clear one. However, in case you're wondering, I lean toward the view that Phoebe was a deaconess in the early church and that a similar role would be permissible for women today. Best wishes to you all.
From a Reader in California:

I think you nailed it in your latest Reflections!! In Psalm 68, God never intended to keep the gifts for Himself, but to distribute them to His people, and, as you noted, the word used there has that implication. Thank you so much for doing this study! My faith has been built up!
From a Reader in New Zealand:

Al, regarding your latest Reflections, you've helped me answer (at least partially) a question relating to Peter's quotation of Joel's prophecy in Acts 2. In Joel 2:28b it says, "your old men will dream dreams, your young men will see visions." However, in Acts 2:17b the order is reversed. Interesting? The LXX (Septuagint) seems to concur with the Hebrew version's order. Great article, Al. It was expertly and thoroughly researched. How anyone could ever question the integrity of your examining of the Scriptures is beyond me. God bless you!
From a Minister in Kentucky:

I have a question, and upon thinking of someone whom I could ask that would offer an answer that wasn't a "pat Church of Christ answer," you came to mind (please take no offense to that!!). I really appreciate your studies and your willingness to see things for yourself. Here's my question(s). They are over 1 Peter 3:21. Maybe the "pat answer" is correct; I'm just unsure right now. Could it be that the "like figure" or "corresponding" or "antitype" points back to verse 18 instead of verse 20? So, instead of saying that baptism saves us in the like fashion as Noah and his family, the baptism points instead to the flesh of Christ put to death and made alive in the Spirit. I guess I'm curious if in being so zealous over "water = baptism" we miss the greater "type" of death in the flesh and life in the Spirit. Perhaps there is a correlation here to Hebrews 9:13-14 where the baptism is not a cleansing for ceremonial purposes, but instead an answer of a clean conscience to serve the living God, etc., etc. Perhaps the relative pronoun "this" should point to that which it is closer to in the text, as many teach, but for now, to me, it seems as if Peter trailed off from a major point and that then this baptism points back to the main point and not a lesser or secondary point. I'd appreciate your thoughts. I will take no offense if you just say, "You're nuts!"
This brother brings out some interesting insights, and they certainly deserve consideration, especially in light of Peter's statement at the end of vs. 21, where he makes the bold declaration (which many overlook), "It saves you by the resurrection of Jesus Christ." No, this preacher of the Gospel is most definitely not "nuts," but is rather to be commended for his willingness to question some of the traditional perceptions of our past with respect to such sectarian proof-texts. I would encourage a reading of my own in-depth studies of this passage, as they raise some of the same questions and deal with some of the same concerns. They are listed below. -- Al Maxey

Reflections #217 -- "Salvation by Immersion: Reflective Analysis of 1 Pet. 3:21"

Reflections #497 -- "Critical Question on 1 Peter 3:21: Pondering the True
Meaning of the 'Pledge' of a Good Conscience as it Relates to Baptism"

Reflections #613 -- "The Filth of the Flesh: Pondering a Petrine Phrase"
From a Reader in Georgia:

"Paul and the 68th Psalm" was a good one, brother! One can only imagine the mind of Paul as he was enlightened on passages of Scripture that he thought he knew, but which became reality with the New Covenant. I'll bet it was worth every shipwreck to him!
********************
If you would like to be added to or removed from this
mailing list, contact me and I will immediately comply.
If you are challenged by these Reflections, then feel
free to send them on to others and encourage them
to write for a free subscription. These articles may all
be purchased on CD. Check the ARCHIVES for
details and past issues of these weekly Reflections:
http://www.zianet.com/maxey/Reflect2.htm