REFLECTIONS
by Al Maxey
Issue #685 ------- January 8, 2016
**************************
O ye who lead, take heed!
Blindness we may forgive,
but baseness we will smite.
William Moody (1869-1910)

**************************
"Father, Forgive Them"
Reflective Study of Luke 23:34a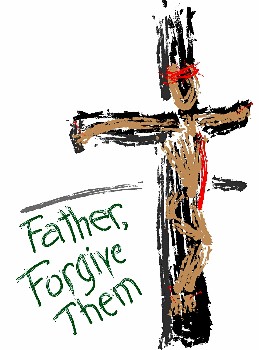 England's Tudor Queen, Elizabeth I (1533-1603), also known as "the Virgin Queen," who was considered by many the greatest monarch in English history, and was the person after whom the Elizabethan Era is named, once declared to her cousin Katherine Howard (1547-1603), the Countess of Nottingham, "God may forgive you, but I never can." This brings to mind the classic observation of the English poet Alexander Pope (1688-1744), "To err is human, to forgive divine." We humans struggle with being forgiving of others, and even of ourselves at times. We most certainly hope and pray that God will be abundantly gracious, merciful and forgiving (especially to us), but displaying those qualities ourselves unto others quite often proves far more problematic in practice during our daily interpersonal interactions. Too often our "forgiveness" is of the kind mentioned in the classic novel Pride and Prejudice by Jane Austen (1775-1817): "You ought certainly to forgive them, as a Christian, but never to admit them in your sight, or allow their names to be mentioned in your hearing." It is hard to see how such is truly the forgiveness depicted in Scripture as divinely desired for us. Yet, forgiving others, especially those who have greatly wronged us, runs counter to our baser human nature, and it requires great inner strength to overcome that nature so as to extend forgiveness to the unlovely and, in our view, the undeserving. With this challenge to our nature in view, the Anglican clergyman and Irish-born English novelist Laurence Sterne (1713-1768) rather astutely observed in his first volume of published sermons, "Only the brave know how to forgive. ... A coward never forgave; it is not in his nature." It truly takes tremendous courage of conviction and control of our human tendencies to rise to the level of a godly manifestation of Grace! Yet, this is exactly what Jesus conveyed to those gathered around the cross upon which He was dying when He uttered those astounding words, "Father, forgive them; for they know not what they do" (Luke 23:34, KJV).
As most of us know, for we have heard lessons on them repeatedly, there are seven recorded statements made by Jesus as He suffered upon that old rugged cross. In addition to the one mentioned above, they are: [1] "Truly I say to you today, you shall be with Me in Paradise" (Luke 23:43); see my study of this statement in Reflections #28a: "The Promise of Jesus to the Thief on the Cross," [2] "Woman, behold, your son ... Behold, your mother" (John 19:26-27), [3] "My God, My God, why hast Thou forsaken Me?" (Matt. 27:46); see an in-depth analysis of this statement in Reflections #150: "The Passion Psalm: Pondering the Purpose of Psalm 22:1 Spoken by Christ on the Cross," [4] "I am thirsty" (John 19:28), [5] "It is finished" (John 19:30), and [6] "Father, into Thy hands I commit My spirit" (Luke 23:46). It is generally accepted (although we have no way to know for sure) that this is the chronological order in which these seven statements were made, with the plea of Jesus to His Father to extend forgiveness being the very first of these statements, being uttered, perhaps, "while they are actually nailing Him to the cross" [John Wesley, Explanatory Notes on the Whole Bible, e-Sword], "probably while the nails were being driven into His hands and feet" [The Pulpit Commentary, vol. 16, Luke: pt. 2, p. 240]. "When, at what particular point, did He say that? It is commonly believed that He uttered this most gracious prayer just at the time when the nails were driven into those hands and feet; just then, at the moment of most excruciating pain and of intolerable shame, He opened His lips to pray for mercy on His executioners" [ibid, p. 254].
It should be noted that there are a great many questions raised by this first of our Lord's statements from the cross. Just exactly who are the "them" of whom Jesus speaks? There has been much debate over the centuries with respect to the identity of those for whom Jesus sought forgiveness from the Father. Many have also been troubled over the theological implications of asking God to forgive those who were clearly not repentant at the time. Is Jesus suggesting that God will forgive those who continue in sin, and who do so with no thought of repenting? Another concern that has been raised over the centuries is textual in nature: there is strong evidence that these words by Jesus are an addition to the text, inserted much later by some unknown scribe, and that Jesus never actually spoke them. Clearly, these are legitimate concerns that deserve a reasoned response. Let's notice the last of these difficulties first.
Dr. W. Robertson Nicoll, the noted Greek scholar and editor of The Expositor's Greek Testament, lamented, "It is with sincere regret that one is compelled, by its omission in important manuscripts, to regard its genuineness as subject to a certain amount of doubt" [vol. 1, p. 639]. The Expositor's Bible Commentary alerts its readers to the "textual problem" posed by this petition of Jesus, stating that it "may not have been in the original text" [vol. 8, p. 1044]. Dr. Bruce M. Metzger, one of the leading authorities on the Greek text, wrote, "The absence of these words from such early and diverse witnesses as" (Metzger then lists these manuscripts) "is most impressive." This leads him, as well as the group tasked with providing the USB Greek text, to conclude these words of Jesus were "probably not a part of the original Gospel of Luke ... but were incorporated by unknown copyists relatively early in the transmission of the Third Gospel" [A Textual Commentary on the Greek New Testament, p. 180]. Some believe it was "skillfully woven into the narrative later" [The Expositor's Bible Commentary, vol. 8, p. 1044], and that it may have been an attempt to provide "a divine basis" for the later similar prayer of Stephen as he too was being executed: "And they went on stoning Stephen as he called upon the Lord and said, 'Lord Jesus, receive my spirit.' And falling on his knees, he cried out with a loud voice, 'Lord, do not hold this sin against them!' And having said this, he fell asleep" (Acts 7:59-60). Was Stephen perhaps echoing two of the utterances of Christ on the cross, relying, as some suggest, upon an oral tradition passed down by those who stood nearby as He died, or was a later copyist inserting this latter statement back into the gospel narrative of Luke? We will probably never know, at least not in this life. Whether a part of the text or not, however, most would certainly concur that it is a very plausible expression of what Jesus must have been feeling as He willingly went to the cross to atone for the sins of humanity. It was, at least in part, for our forgiveness that He died, therefore it is not implausible that He might make some statement to that effect.
Such a prayer is also consistent with our Lord's teaching during His earthly ministry. In His Sermon on the Mount, Jesus commanded, "Love your enemies, and pray for those who persecute you in order that you may show yourselves to be sons of your Father who is in heaven" (Matt. 5:44-45). Jesus, the Son of God, practiced what He preached: He prayed for those who preyed upon Him, thus challenging each of us, as sons of God, to do the same in our daily walk with Him amidst those who dwell in darkness. In this way we move ever closer to that spiritual maturity reflective of the divine nature (Matt. 5:48), for we are instructed to "have this attitude in yourselves which was also in Christ Jesus" (Philp. 2:5). Indeed, we are "predestined to be conformed to the image of His Son" (Rom. 8:29), an increasing conformity of our nature to His with the aid of His indwelling Spirit (about which Paul speaks in Romans 8), which is then made manifest in the spiritual fruit we bear in our daily lives (one of which is a forgiving spirit). "Forgive one another, just as God in Christ has forgiven you" (Eph. 4:32).
We certainly know our Lord is forgiving. That is seen throughout Scripture, and perceived personally in His acceptance of us. But, as one considers the specific statement of Jesus on the cross, "Father, forgive them" (Luke 23:34), we must ask who specifically is meant by "them." Was He speaking on that occasion of mankind in general (the entire human race: past, present and future), or was His gracious plea more narrowly focused? Again, there has been considerable diversity of understanding over the centuries with respect to this question. There is a critical clue provided in the remainder of our Lord's statement: "Father, forgive them, for they do not know what they are doing." This indicates our Lord's prayer is for those who are acting out of ignorance, even though those acts may be godless in nature and harmful in their practice. Saul of Tarsus (Paul the apostle) is a perfect example of one in this condition, yet to whom grace and mercy and forgiveness were extended by the Lord. "Even though I was formerly a blasphemer and a persecutor and a violent aggressor, yet I was shown mercy, because I acted ignorantly in unbelief; but the grace of our Lord was more than abundant ... Christ Jesus came into the world to save sinners, among whom I am foremost of all. Yet for this reason I found mercy, in order that in me as the foremost, Jesus Christ might demonstrate His perfect patience, as an example for those who believe in Him for eternal life" (1 Tim. 1:13-16). What a powerful example of perfect patience, motivated by love, we perceive in His plea from the cross.
Thus, we can easily conclude that Jesus prayed for those acting out of ignorance, rather than those who were willfully and knowingly arraying themselves against the Lord. Indeed, the apostle Peter, in his second recorded sermon, informed his listeners that they had "delivered up and disowned the Holy and Righteous One ... and put to death the Prince of life ... And now, brethren, I know that you acted in ignorance" (Acts 3:13-17). They knew not what they were doing, Jesus said, even though their actions resulted in His death. "If they had understood God's wisdom, they would not have crucified the Lord of glory" (1 Cor. 2:8). In ignorance, however, lacking understanding of what they were doing, they helped crucify their Messiah, who, as He suffered on the cross, asked the Father to forgive them. What love; what mercy; what grace! This was also in fulfillment of Old Testament prophecy: "He poured out Himself unto death, and was numbered with the transgressors; yet He Himself bore the sin of many, and interceded for the transgressors" (Isaiah 53:12). "It is well that we should remember who were the primary direct objects of that prayer" [Dr. Charles Ellicott, Commentary on the Whole Bible, vol. 6, p. 356]. It was not those within the religious and secular leadership who viciously sought to protect themselves and their positions, but rather those misguided souls who failed to perceive Him as their Savior, and even those soldiers for whom this event was just "another day at work" during which they "did their duty." As they cast lots for His garments (which they were legally allowed to do), they had no clue that this particular "criminal" on the cross above them was anyone special. They acted out of ignorance. And Jesus prayed for their forgiveness! Did God answer this prayer? Yes. And powerfully. Just weeks later, thousands of these people who had ignorantly crucified their Messiah repented of that act and embraced that offered forgiveness by faith, demonstrating that faith by being baptized. And that forgiveness was spread far and wide as the Grace of God was proclaimed to those ignorant of it.
Allow me to close this study with the following quote from The Pulpit Commentary, which I hope will serve as a challenge to each of us to follow the example of our Lord Jesus: "To pray sincerely for those who do us wrong is one of the very highest points, if not actually the very loftiest, of human magnanimity. To dismiss all vindictive purpose, all resentful thought; to look at our enemy's procedure in a kindly light, and to take, as Christ did here, a generous view of it; to cherish a positive wish for his good; to put this wish into action, into prayer; by these stages we reach the summit of nobility" [vol. 16, Luke: pt. 2, p. 255].
********************

Article by Neal Griffin in Texas
(Here are some very special insights by a longtime reader
who graciously gave me permission to share it with you)
Suppose that I offer you a free gift but attach the following terms of acceptance: You must first submit to a ritual of my choosing and then live according to my dictates the rest of your life in order to receive the free gift. Would that gift still be a "free" gift? Wouldn't it rather be a contract of completion? God intended for salvation to be free. The Bible says so in several places: Romans 5:15-18, for example. As a matter of fact, it is impossible for man to gain this free gift by means of his own effort. See Matthew 19:25-26 and Titus 3:5. It is an insult to our Divine Host when we try to pay Him for His free gift. To be humbly truthful, we have nothing worthy of this free gift except the blood of Jesus. Anything we might have to offer, God already owns.
There is as much difference between a free gift and a contract of completion as there is between grace and law. Salvation is of God via His grace. To Him belongs the glory. If it (salvation) were possible on the part of man we would have "somewhat of which to boast." The Bible truth of the matter is that we have nothing of which to boast except the blood of Jesus. Jesus did the saving work, and when man points to his own efforts toward attaining salvation he does tremendously err. Is it not so that when a man works for his salvation the reward is NOT of grace but of a debt due to him (Romans 4:4)? To attach terms and conditions to a free gift is to render it a contract of completion. The misdirected people of Galatians 5 attached terms to God's free plan, and Paul announced to them, "Ye are fallen from grace" (vs. 4). This is a serious matter.
The main argument of our works-oriented brethren is presented thusly: "If I offer you $10,000 as a free gift you would yet be required to get up and receive it from my hand, but your getting up, etc., could not reasonably be called 'meritorious effort'." Their statement is true except for the fact that it comes up far short of addressing the real issue. It is pointless in relation to the question at hand. The real issue is whether or not man accomplishes salvation via meritorious effort. Let me rephrase the statement to represent their actual position: "If I offer you $10,000 as a free gift, you would yet be required to be water-baptized and to faithfully serve me the remainder of your life." If this is not "meritorious effort" there is no such thing. If this is not a work contract there is no such thing. God's salvation is a "free gift." Thus saith the Lord. It is either free or it is earned. God says it is "free."
The rich young ruler wished to be the author of his salvation by reason of his own effort. He was accustomed to paying his own way, and pride rendered him incapable of accepting the charity Jesus had to offer. Whatever other passages there are that seem to downplay this vital principle need to be resolved with the issue of free salvation. Where then do works fit into God's plan of free salvation? Some would argue that God's free salvation is wrapped up in a work plan through which man is saved, that it is a six step formula by which man gains this free gift, but God's plan of free salvation is not so burdened. It is instead wrapped up in a man ... the Man: Jesus. Salvation does not involve a "plan." It is all about a Man. To Him belongs the glory. What then is the requirement of man?
What was required of Abraham in order to be counted righteous? It was his continuing trust (faith) that God could and would do what He promised. That is what saving faith is all about. Abraham believed and it was imputed to him as righteousness. "Now, it was not written for his sake alone, that it was imputed to him; but for us also, to whom it shall be imputed, if we believe on Him that raised up Jesus our Lord from the dead" (Romans 4:23-24).
***************************
Specials for Readers
2016 Book & CD Offers
Click on the link above for a listing of the
books and topical studies and audio sermons
and new Bible classes by Al Maxey, and for
information on how to order these items.

***************************
Readers' Reflections
From a New Reader in Nigeria:

I am a Christian in one of the ultra-conservative Churches of Christ here in Nigeria. I have been reading a great deal of your Reflections articles online. To be sincere with you, I am a bit taken aback by the insights revealed therein, for they expose the falseness of what I have been taught. As I read more and more of your articles, I feel more and more sorry for myself and many of my Christian brethren here! Please, Bro. Maxey, I would like for you to include me on your mailing list. Thank you a bunch!
From a New Reader in Korea:

We did a search and recently found you and your work online, and we are loving your articles. We had grown so tired of the same old Church of Christ point of view which perpetuates thoughtless legalistic patternism. Thank God you thought to keep digging for richer meaning in the Scriptures, like the Bereans of Acts 17:11, and that you have had the courage and love to write about it and share it with others! Hugs from us here!
From a Minister in New Zealand:

Al, I thought I would share a little gem with you. Acts 8:37 has been left out of some translations and versions, but what is interesting about that conversation is that the Ethiopian eunuch asks a question about whether he may be baptized. So, what is the answer?! I like the way the Amplified Bible phrases it: "And Philip said, 'If you believe with all your heart [that is, if you have a conviction, full of joyful trust, that Jesus is the Messiah, and accept Him as the Author of your salvation in the kingdom of God, giving Him your obedience, then] you may.' And he replied, 'I do believe that Jesus Christ is the Son of God.'" It is also noteworthy that early church Fathers, such as Irenaeus, Cyprian and Tertullian cited this verse before the circulation of manuscript copies. What is particularly noteworthy, however, is that Philip says to the eunuch, "You may," NOT "You must." God bless you, brother!
As this brother noted, textual scholars largely concur that the conversation between Philip and the eunuch found in Acts 8:37 (King James Version) "is a Western addition" and not part of the original text [Dr. Bruce Metzger, A Textual Commentary on the Greek NT, p. 359]. In fact, the earliest known manuscript with this exchange included in the text dates from the 6th century. Nevertheless, there was an oral and written tradition among the early church Fathers that such an exchange did occur between Philip and the eunuch. "The tradition of the Ethiopian's confession of faith in Christ was current as early as the latter part of the second century, for Irenaeus quotes part of it in his work Against Heresies" [ibid, p. 360]. Like this brother in New Zealand, however, I believe the conversation between Philip and the eunuch, assuming it actually took place, shows the act of baptism as being reflective rather than redemptive. "Here is water; may I be baptized?" "Well, if you believe, you may; otherwise, what's the point?!" Baptism is an evidentiary act: i.e., it shows one's faith in the One who gave Himself to secure our salvation. It is HIS act that secures our salvation; OUR act simply evidences our faith: a faith which accepts that gracious gift of His death, burial and resurrection on our behalf. -- Al Maxey
From a Reader in Canada:

Thanks, brother, for your study on "The Vomit-Inducing Church" in the city of Laodicea (Reflections #684). What a great soul-searching article! It hits hard right where it should. Anyone who reads it will realize that we all need to be more on fire to carry out delivering the message that Jesus brought to the world.
From a Reader in Barbados:

Concerning the Laodicean state, both then and now, your point is very well made. There is none so blind as he who can see but prefers not to see. It appears to me, therefore, that the lukewarm professor becomes a person of a reprobate mind if urgent steps are not taken to respond positively to the pleas of the Holy Spirit. One who is not saved can be hindered from being saved if that one feels he is saved. Salvation is promised on faith, not a feeling. Thanks for your ministry to the world, and God bless you and the family of born-again believers over whom you have oversight.
From a Reader in Arizona:

I just finished reading your Reflections about Laodicea, and I find it descriptive of a great many of the churches today of which I am aware (regardless of denomination). How can so many of us in so many churches not see ourselves as being lukewarm?! Our pride has blinded us.
From a Reader in Georgia:

Man, was it good to see your new Reflections ("The Vomit-Inducing Church") in my inbox this morning!! Welcome back from your vacation and the holidays. As I read this new article I naturally went to the thought of how easy it is for the "well to do" to be at ease and thus not realize how poor they really are. But, it is also more than that. The Spirit is always at work in a Christian to move that person to do something. Scripture says that it is God who is at work in us. He rarely lets too much grass grow under our feet. It appears, therefore, that not only were the Laodiceans "comfortable," but they were also ignoring the prompting of the Spirit within them: actually refusing to engage. Not sure. Just a thought. Brother, I can't wait to see how much ignorance you stomp out in 2016!!
From a Reader in Alaska:

I finally got around to reading one of your older Reflections articles that I had recently downloaded: "The Pledge of Allegiance: Is it Appropriate for Christians?" (Reflections #370). It quickly brought to mind the contents of a recent email from my cousin in Oregon (who is a retired Church of Christ leader, although he is still doing some preaching). In his latest sermon he gave the following personal rendition of the pledge (as you similarly did at the end of your own article): "I pledge allegiance to the gospel of the Lord Jesus Christ, and to His Body, the church, for which He died; one people under God, with forgiveness and salvation for all." God bless you, Al.
My own version of the Christian pledge, to which this brother in Alaska referred, is: "I pledge allegiance to the Father of the united saints of the kingdom, -- and to the Redeemer by Whom we stand -- One Body, unified in Spirit, indivisible, with liberty and love for all." -- Al Maxey
From a Reader in Texas:

I enjoy your Reflections very much and feel you are doing a great service to the Christian community. I pray the Lord will continue to bless this ministry so that it will have an even greater impact for good, furthering our understanding of the Scriptures. Keep up the good work.
From a Reader in Texas:

"The Vomit-Inducing Church" is another excellent article! Thank you so much for sharing it with us. It reminded me of today's "pew warmers." "Church," to them, is merely a club-like fraternal situation.
********************
If you would like to be added to or removed from this
mailing list, contact me and I will immediately comply.
If you are challenged by these Reflections, then feel
free to send them on to others and encourage them
to write for a free subscription. These articles may all
be purchased on CD. Check the ARCHIVES for
details and past issues of these weekly Reflections:
http://www.zianet.com/maxey/Reflect2.htm