Updated 26 NOV 2021
The Famous Zombie Badge
Click on badge to download your own Zombie Badge
(and Area 51 Badge)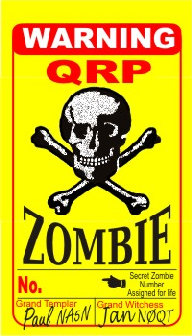 LINKS:
and Summary Sheet
SYNOPSIS
The first Zombie Shuffle in years that shows what QRP can do with with good propagation. 15M was open for some and 20M was "long" until well after sundown, giving QRPers a chance to work from NH and FL to HI and AK. A fun day on the bands, indeed. The "CQ BOO" on 20M and 40M almost sounded like Field Day at times. You still got your crummy band bonus, however.
We had plenty of new stations this year who tried QRP for the first time and were impressed, and CW Academy students (and others) that accomplished their first CW QSOs ever. Thanks to all who accommodated the QRS stations to help them have an enjoyable first few QSOs. Always nice to see new CW ops and experience the joy of QRP on the Zombie Shuffle --and of course always fun to work our old QRP Zombie friends as well.
Kudos to our bonus stations. Quite a few spent many hours on the air passing out those extra points for plenty of high scores. And working Igor, Lurch or Draq. Just too much fun, the anticipation of what Zombie name you'll hear next ... even if it took a repeat or two. That's a keeper.
Certainly more fun than the "5NN TU" contests. Thanks to all who participated and hope you all had plenty of Zombie fun in one of the most pointless and silly CW events, and QRP to boot!
72, Paul NA5N and Jan NØQT
NOTE: There was an error on the Summary Sheet effecting the 10/15M score.
It was corrected on this end for the proper scoring.
Manually calculate your score
as follows:
PER BAND:
1) Add up all the Zombie numbers and
area codes you worked on that
band.
This will be a large number.
2) Add the number of Bonus stations
you worked to the number of QSOs
you worked on that band.
This is your band MULTIPLIER
3) Multiply sum of Zombie numbers in
1) to the Multiplier in 2)
This will be an even larger number!
This is your band SCORE.
Repeat for additional bands worked.
4) Add up your band scoresfor all the
bands you worked.
5) Add 666 crummy band bonus
This is your TOTAL SCORE
Submit to NA5N with the information shown in the
RESULTS listings.