Below are some links that I have run accross that are good sources of Accessories and aftermarket parts and etc.
If you have any that you think I should add, please drop me a line at rcmedic@zianet.com.
Ever Wonder about that little bell that you see hanging under some bikes?
The Liberty Bell
Evil Road Spirits. They are the viscious little demons! Turn signals ever failed to work? Maybe your battery suddenly went dead. Chances are that "Road Spirits" have hitched a ride.
"Road Spirits" love to ride, but they can't hang in the presence of a bell. The constant ringing drives them insane, forcing them to loose their grip and fall to the ground. Ever wonder how pot holes are formed? The bell has served it's purpose.
If you pick up a bell of your own, the magic will still work. But if the bell is a gift, the power is doubled and you know that there is someone special looking out for you. When placing the bell on your bike, the closer to the ground, the better. And remember, It's not safe to pickup hitch-hikers!!

Bookmark this page!
Events Calendar
Check out the May calendar for schedule of 'Southern Route'
"Run for the Wall". For specific details please see www.rftw.org

Extreme Fairings.com

I wish to convey to every Marine, Sailor, Soldier, Airmen and the others who fight to protect our rights and our freedoms, a very humble and sincere "THANK YOU". May you be protected and comforted, and most important of all, come home safe.
This animation is for a 4-stroke engine. ...and now you know how they all really work.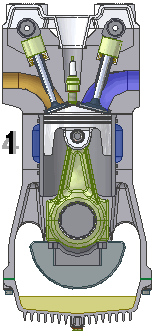 I have a truck load more links that you may find useful. If you don't see what you need, let me know, I might be able to help you out.
If you care to make a donation to help defray the cost of keeping this site up, please "CLICK" on the button below and you can make a safe and secure donation for any amount via PayPal, or you can go to the Paypal website and make a donation to rcmedic@zianet.com Thank you for your support.
Home Page
Link Exchange at iWEBTOOL.com

Sunday, January 25, 2015 19:25