REFLECTIONS
by Al Maxey
Issue #72 ------- September 25, 2003
**************************
The Northern Lights have seen queer sights,
But the queerest they ever did see
Was that night on the marge of Lake Lebarge
I cremated Sam McGee.
--- Robert William Service (1874-1958)
**************************
May Christians Be Cremated?
In Search of the Biblical Perspective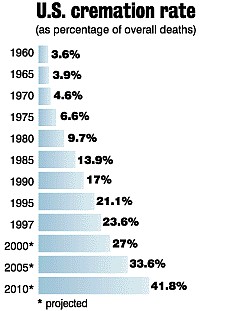 I recently received the following email from a reader in Las Vegas, Nevada --- "Brother Al, what are your thoughts regarding cremation of the righteous dead? In Scripture we read of the wicked dead being burned, but we don't find that regarding the righteous. I have always believed it is okay for anyone to be cremated. Have I missed any of God's teaching on this subject? Thank you for having me on your mailing list. I am thankful that God has placed you here in my time so that I may learn from your writings. Keep those Reflections articles coming!"
Over the years I have had many people ask me about the practice of cremating the bodies of the dead. Some have even wondered if the practice is sinful, and if it would cost them their salvation if they requested their bodies be cremated after death. Since this is an issue that does trouble some brethren, it behooves us to examine it more closely in an effort to determine the mind of our Father with regard to the disposition of the deceased.
Cremation is a term that "refers to the practice of disposing of the deceased by means of burning" (The International Standard Bible Encyclopedia, vol. 1, p. 812). There were typically two different forms of cremation employed: (1) Partial cremation, in which the flesh and organs were consumed, but not the bones. The bones were preserved for later burial with one's ancestors. (2) Complete cremation, in which both flesh and bones were reduced to ashes. These would then later be interred or scattered at a special location.
Many ancient peoples practiced cremation, and they did so for a wide variety of reasons. Some cremated the bodies of the dead for religious reasons, others did so out of practical necessity (such as certain island peoples who simply did not have the land necessary to accommodate the burial of their dead). The Greeks, the later Romans, the Hindus of India, the Zoroastrians of ancient Iran, just to name a few, were peoples and nations who believed in and practiced cremation. Some ancient, primitive tribes used the ashes of the dead as fertilizer for the crops, believing their departed ancestors continued to live, and impart life, through the crops grown. Many in India long to be joined with the sacred river Ganges, and since a dead body could not be thrown into the water, they would scatter their ashes on the sacred waters instead, thus becoming one with it.
"In contrast to its wide usage among the Greeks and Romans, cremation is not described as normal practice in the Bible. Bodies were cremated only in exceptional cases" (Holman Bible Dictionary, p. 216). "Among the early Hebrews cremation was the exception. It was regarded as appropriate only for serious offenders. The historian Tacitus noted that the Jews bury their dead rather than burn them" (ISBE, vol. 1, p. 812). The rabbis believed cremation was too closely linked to paganism and idolatry; they also believed cremation to be a direct violation of the Torah, according to their interpretation of Deuteronomy 21:23. Many Jews still adhere to that conviction, although this is changing among Reformed Jews. "The injunction of the Torah makes it clear that man must return 'to the dust.' Cremation is, therefore, prohibited under traditional Jewish law; Reformed Judaism, however, does not object to it" (The Complete Book of Jewish Observance, p. 329).
Although there are no specific references to cremation in the New Testament writings, there are several places in the writings of the Old Testament where one may find mention made of the burning of the bodies of the deceased. Cremation "is not unknown in the sacred writings; its occurrence, however, is rare and exceptional" (Guy N. Woods, Gospel Advocate, January 7, 1982, p. 21). Let's notice briefly each of these occurrences.
Genesis 22 --- God commands Abraham to offer up his son Isaac "as a burnt offering on one of the mountains of which I will tell you" (vs. 2). After killing his son with a sacrificial knife, the body was then to be consumed with fire on the altar. Of course, this is not an actual case of cremation, since the commanded event never occurred (except in the heart of Abraham). Nevertheless, it is a case where a form of cremation was ordered by God.
Joshua 7:25 --- This is the account of Achan and his family, who were executed and cremated because of their sin of secreting away some of the spoils from the capture of the city of Ai. "And Joshua said, 'Why have you troubled us? The Lord will trouble you this day.' And all Israel stoned them with stones; and they burned them with fire after they had stoned them with stones." This was in fulfillment of the warning issued in Joshua 7:15. Being consumed with fire was a special punishment reserved for the very wicked. "If there is a man who marries a woman and her mother, it is immorality; both he and they shall be burned with fire, that there may be no immorality in your midst" (Leviticus 20:14). "Also the daughter of any priest, if she profanes herself by harlotry, she profanes her father; she shall be burned with fire" (Leviticus 21:9). "Now it was about three months later that Judah was informed, 'Your daughter-in-law Tamar has played the harlot, and behold, she is also with child by harlotry.' Then Judah said, 'Bring her out and let her be burned'" (Genesis 38:24). See also the prophecy in Isaiah 30:33 where an allusion is made to the cremation of the wicked. However, "these and similar cases provide no guidance in the normal disposition of those from whom life is gone" (Guy N. Woods, Gospel Advocate, January 7, 1982, p. 21).
Judges 11:29-40 --- There is considerable debate as to whether or not Jephthah literally carried out his vow to the Lord. Some say he did, others say it was carried out symbolically. It is, admittedly, a difficult passage. The vow was: "If Thou wilt indeed give the sons of Ammon into my hand, then it shall be that whatever comes out of the doors of my house to meet me when I return in peace from the sons of Ammon, it shall be the Lord's, and I will offer it up as a burnt offering" (vs. 30-31). Well, what came out first to meet him was his daughter! Verse 39 tells us that he "did to her according to the vow which he had made." If, therefore, he offered her up as a burnt offering to God, then we have a case of cremation.
1 Samuel 31:11-13 --- The reference to the partial cremation of Saul and his sons is omitted from the parallel passage in 1 Chronicles 10:11-12, which leads some scholars to question whether it actually occurred or if it was a scribal addition to the text of 1 Samuel. Most biblical scholars, however, believe the cremation of these men to be historical fact. Saul and his sons had been killed in battle by the Philistines, who took their bodies and hung them on the wall of the city of Beth-shan. "Now when the inhabitants of Jabesh-gilead heard what the Philistines had done to Saul, all the valiant men rose and walked all night, and took the body of Saul and the bodies of his sons from the wall of Beth-shan, and they came to Jabesh, and burned them there. And they took their bones and buried them under the tamarisk tree at Jabesh, and fasted seven days." This partial cremation was perhaps "to avoid risk of infection from the quickly decomposing bodies" (The Expositor's Bible Commentary, vol. 3, p. 800).
2 Kings 23:20 --- During the reforms of King Josiah of Judah, he tore down the altars in the land which had been erected to false gods and executed the idolatrous priests. "And all the priests of the high places who were there he slaughtered on the altars and burned human bones on them; then he returned to Jerusalem."
Amos 2:1 --- This passage (and also Amos 6:10) is often used to suggest God's disapproval of the practice of cremation. "Thus says the Lord, 'For three transgressions of Moab and for four I will not revoke its punishment, because he burned the bones of the king of Edom to lime." It was the fiendish spirit here evidenced that was being condemned, not cremation per se. These people had taken the ashes of their enemies and used that ash to make mortar to build citadels and pagan temples for themselves. It was a callous desecration of the dead that reflected a godless spirit.
Amos 6:10 --- This passage is part of an indictment of those who are "at ease in Zion," and who thus will be led away into captivity. While their city is being besieged, however, the situation will become so desperate, the bodies of the dead so abundant, that proper burial will not be possible. Burial usually took place outside the city walls, but this would not be possible during a siege. Therefore, "one's uncle, or his undertaker (literally, this is a word meaning "the one who burns him"), will lift him up to carry out his bones from the house." In such circumstances, cremation became a necessity, and was usually carried out by a relative or loved one.
"Passages sometimes cited to oppose the practice of cremation are Amos 2:1 and 6:10, but a correct exegesis indicates that it was not the method of disposal of the bodies under condemnation, but, in the first, the callous desecration of the body of the king of Edom by Moab; and, in the second, the deplorable conditions during the siege of Samaria. The burden of disposing of the dead fell directly upon members of the family" (Guy N. Woods, Gospel Advocate, January 7, 1982, p. 21).
Daniel 3 --- Nebuchadnezzar erected a large golden idol and decreed, "whoever does not fall down and worship shall immediately be cast into the midst of a furnace of blazing fire" (vs. 6). Of course we all know the account of Shadrach, Meshach and Abed-nego. They refused to worship the idol and they were cast into the fiery furnace. The intent was a living cremation, however the Lord preserved them in the midst of the fire. Certainly not what happens to most who face a fiery furnace! Indeed, when the Lord pours out His wrath on the day of judgment, the wicked will not fare as well. "For behold, the day is coming, burning like a furnace; and all the arrogant and every evildoer will be chaff; and the day that is coming will set them ablaze .... And you (the righteous) will tread down the wicked, for they shall be ashes under the soles of your feet on the day which I am preparing" (Malachi 4:1,3).
"Christians followed the precedent of the Jews with respect to disposal of the dead. The early Christians, following the example of Jesus (e.g., Matthew 9:24; John 11:11), spoke of the deceased as being asleep (1 Corinthians 15:6,18,20; 1 Thessalonians 4:13-15; cf. Daniel 12:2). Early memorials referred to the deceased as asleep in Jesus. It seemed quite inappropriate to incinerate the body referred to as being asleep. The early Christian expectations of the Lord's early return and NT examples of the dead being raised (e.g., Acts 9:40) contributed to their reluctance to cremate the deceased. Unlike the Greeks, who regarded the body as a prison of the soul, both Hebrews and Christians saw it as the integration of human personality" (ISBE, vol. 1, p. 812). Thus, since their hope of immortality was connected to the resurrection of the body upon the return of Christ on that last day, they sought to preserve the body as best they could, rather than destroy it.
It was partly because of this strong Christian hope in a future bodily resurrection to life that some believers, and "heretics," were burned at the stake. "Although martyrs were sometimes burned with the intent of lessening the Christians' confidence of resurrection, it did not deprive them of this hope. If possible, they would gather the ashes or bones of the martyrs and bury them. They were confident, however, in the affirmation that the manner of death and disposition of the corpse would not affect the resurrection, because of God's omnipotence" (ISBE, vol. 1, p. 813). Brother Guy N. Woods observed that in death the body "begins its return to its original elements. Whether the return is the slow disintegration of the body through the processes of decay or is achieved in seconds by fire, the result is the same -- the return of the body's elements to their original state. In the resurrection, these 'building blocks' will be re-assembled; in either instance the effort will be the same. Bodies which have returned to the dust long centuries ago do not today exist in bodily form any more so than do those immediately consumed by fire; in both instances, the elements are in the universe awaiting the call of Deity at the Last Great Day. Undoubtedly, the elements of many bodies have become parts of trees, which in turn have been sawn into lumber and converted into timber, later to be burned; these too, will be brought forth by the Divine Hand, and reconstituted into the resurrection body. He who by matchless power spoke into existence the elements which make up our bodies will have no difficulty in bringing together again these separated elements" (Gospel Advocate, January 7, 1982, p. 21).
As far as I can determine, cremation is nowhere condemned in God's Word, although it has been used at times to depict great contempt for an enemy or for the wicked. It is also a figure employed in Scripture to represent the utter, final, and eternal contempt for all who array themselves against God and His people. In light of my study, therefore, I find no personal reason to advise one to avoid choosing cremation over burial, and, indeed, in light of expense, it might actually be better stewardship to choose the former over the latter. Brother E. Claude Gardner, the President Emeritus of Freed-Hardeman University, wrote, "Voluntary cremation is a matter of personal preference. It is neither right nor wrong" (Firm Foundation, September 2003, p. 26). He went on to point out, however, that "it appears to be less costly for cremation than the traditional way," and that many feel "it is a more environmentally friendly means." He additionally noted, "Others think it provides more flexibility than a regular funeral. The time for a memorial can be more flexible." These are certainly all factors to be considered.
Perhaps brother Guy N. Woods summed it up best when he wrote, "We are taught in the New Testament, largely by example, to exhibit proper respect for the dead and to deal with them in dignified and respectful fashion. Cremation, as today practiced, in no way opposes these premises. We believe that the matter is an aesthetic problem, not a biblical one; and that it will be resolved on emotional and philosophical grounds rather than moral ones. It violates no New Testament principle" (Gospel Advocate, January 7, 1982, p. 21).
********************
Reflections from Readers
From a Reader in Maryland:
With regard to your Musings on Music --- Amen, brother! Thank you!
From a Minister in Texas:
Al, After preaching on this subject using the traditional "play versus sing" argument for 20 of my 35 years of preaching, I decided, a long time ago, to switch rather than fight, but for reasons that may not at the first be obvious. Back in the late 80's I had the opportunity to teach and preach all over the country of Ghana, West Africa. Interestingly enough, most of my preaching was done in "other" churches, primarily Pentecostal, with an occasional Anglican church thrown in as well. I sang in all of those assemblies, not once concerned that there was an instrument playing in the background. My particular purpose was to use these opportunities to share the gospel of Grace with those that I know God loved. No brethren in the churches of Christ there had any objection, but rejoiced that the Word was being shared. In sharing these experiences here in the States with at least 25 different congregations of the churches of Christ, I never heard one objection to my mission approach. Maybe we are more "liberal" than we think. Reflections #71 was informative and well thought out. God bless you!
From a Reader in Michigan:
Dear Al, I have been running a nursing home ministry for 16 years in which I conduct church services every Sunday morning for the residents, most in wheelchairs. For the last 7 or 8 years a Seventh Day Adventist lady has been playing piano for me, while my home congregation is definitely a cappella. So, I've been going both ways for some time now. You're right, this is purely a hermeneutical issue.
From a Minister in Kentucky:
Dear Bro. Al, Thanks for your Reflections on instrumental music. I appreciate your comments and have basically come to the same conclusion over the past couple of years. I think it is bad exegesis to use silence as a command, so I throw out that argument. When someone says it is "entertainment," then my question is, "What makes it entertainment? The instrument, or the heart of the one listening to the instrument?" I think this fits in well with your comment on the LOVE of money being the root of all evil; it was not the money itself. Thanks for your dedication to the Scriptures!
From a Minister in New Mexico:
My hat's off to you, Al!! This is absolutely the most wonderful, prolific expression I have ever heard regarding the issue of instrumental music!!! I too cringe at the thought of expressing this view to my brothers. What you said, however, is the absolute truth, and many of us as ministers of the Gospel in the Churches of Christ know it. But we also know it is a dangerous thing to utter too loudly because it might just get you fired!!! But Al, remember the Lord's words in Matt 5:11-12. So rejoice and be glad. You will certainly take some flak for this.
Many in the Churches of Christ are rethinking the music issue. Our worship can, and should be, the most edifying thing we do. However, many times it's not. We have discounted music, we have called it an entertainment "dog and pony show!" But, just think of how much more edifying our worship assembly would be if we incorporated music. Just think of how much more effective we could be by making our worship service the most edifying experience possible. The larger churches that have organized praise teams are doing a cappella right. Walking into their assembly is like walking into Heaven. I advocate we show people a piece of Heaven with our music. I appreciate very much your sharing this most biblical view of music! May God use this article in a powerful way.
From a Reader in Texas:
Another great article, Scripturally supported. For those who tirelessly search for a "list" of what is and isn't acceptable to God (including musical instruments), I suggest they check the following Scriptural lists for a truly "acid" test! (Col. 3:5-14, Matt. 15:19-20, Mark 7:18-23, Gal. 5:19-23).
********************
If you would like to be removed from or added to this
mailing list, contact me and I will immediately comply.
If you are challenged by these Reflections, then feel
free to send them on to others and encourage them
to write for a free subscription. I would also welcome
any questions or comments from the readers.
The Archives for past issues of Reflections is:
http://www.zianet.com/maxey/Reflect2.htm