Here you will find issues of Hadrosaur Tales published during 1995 and 1996. Below each listing is a link to one or more places where the product may be purchased.


---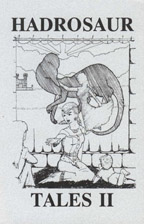 Hadrosaur Tales 2 was dubbed "Hadrosaur Tales: The Next Generation." This collection features all new poetry and stories including "The Odyssey of the Penelope Anne" by Ken Goldman and "Epilogue" by D.F. Lewis.




Order Hadrosaur Tales 2 exclusively at Clarkesworld Books.


---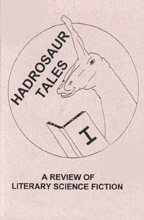 Hadrosaur Tales 1 has four original short stories. The settings range from the present to the far future. This one's unique in that every author is a professional scientist. Unfortunately, this issue is out of print. However, there is an Adobe Acrobat e-book version available. The e-book comes on 3.5-inch PC-formatted floppy disk.

"Loved your stories!"
Ray Bradbury, in a letter to the editor and authors regarding HT 1



Order the e-book from Hadrosaur
---
---
Continue shopping!
Follow the links to other sections of the bookstore!
Hadrosaur Tales: hadrosaur@zianet.com
---
Take me back to: