Here you will find issues of Hadrosaur Tales published during 1997 and 1998. Below each listing is a link that will allow the issue to be purchased from Hadrosaur Productions via Paypal.



---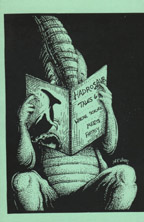 On the cover of Hadrosaur Tales 6 is a creature that is both and neither unicorn or dragon. You are invited to join him as he explores new worlds and finds the unexpected. What if Native Americans conquered Europe? What if the stick that Jesus used to stir water into wine still existed? What if the clone of your brother's murderer was dating your daughter? These and other questions await on the pages of the sixth volume of Hadrosaur Tales. This issue features the talents of Wesley Lambert, Robert Collins, Ruth Berman and many other talented writers.




Order issue: $4.00 (plus shipping)



---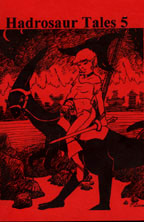 Hadrosaur Tales 5 features a journey through time. The hadrosaur, creature of science and creature of fiction, invites you to voyage from the distant past into the distant future. These stories and poems begin in the time and dinosaurs and weave their way through the crusades then into the present and beyond. In this issue lies stories from the dark places of the imagination. You will meet Johnnie Beaufort, a man about to travel through time for a horrifying purpose. You will travel to Saturn's moon, Titan, where a corporation manipulates humanity's future. This much and more await you.

Hadrosaur Tales 5 features the talents of Keith Allen Daniels, Lenora K. Rogers, Wayne James and many other writers.




Order issue: $4.00 (plus shipping)



---

Hadrosaur Tales 4 features nine original stories by such talented authors as D.F. Lewis, David B. Riley, and Thomas Harrison. "The Taming of the Old Woman Who Lived in a Shrew" by Rhys H. Hughes is a true delight. The issue also features poetry by Jennifer B. Crow, Mike Rasmussen, Jim Dunlap, Walter Zimmerle and Mildred Zeigler.

"Small press champion David L. Summers returns...recommended."
Mini-Review of HT4 from Dragonshpere.




Sorry! We are sold out of this issue.

---

Hadrosaur Tales 3 features "The Martian" written by James Maxey, editor of Pursuit Magazine. The issue also includes the delightful story, "The Coffee Plot" by Shelley Moore -- Do you know what you're drinking in your morning cup of coffee? This issue also features fiction by Paula L. Fleming, Deborah Hunt, and Mark Rich along with poetry by Gary Every, Walter Zimmerle, and Elizabeth Barrette.

"Well produced book containing a collection of five tantalising tales and three poems..."
Mini-Review of HT3 from Dragonsphere, published in London.



Order issue: $4.00 (plus shipping)

---
---
Continue shopping!
Follow the links to other sections of the bookstore!
Hadrosaur Tales: hadrosaur@zianet.com
---
Take me back to: