REFLECTIONS
by Al Maxey
Issue #213 ------- October 9, 2005
**************************
There is always a certain meanness
in the argument of conservatism.
Ralph Waldo Emerson (1803-1882)

**************************
Daniel Sommer
Father of Ultra-Conservative
Church of Christ Watchdogism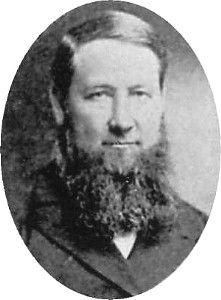 Historians of the Stone-Campbell Movement are agreed that one of the most controversial figures in the history of this faith-heritage is without a doubt Daniel Sommer. His impact upon this religious movement within American church history is unquestioned, as is the tremendous negative force of that impact. Daniel Sommer was a militant who left a legacy of legalistic wrangling and divided congregations. Bro. John Waddey, in one of his articles in his periodical Christianity Then and Now, made this observation, "The long shadow of Bro. Sommer still affects many in our brotherhood. Most of the ultra-conservative splinter groups that have arisen owe their genesis to the influence of this man." Bro. Steve Wolfgang, in his master's degree thesis for Butler University (submitted in 1975), has made the insightful observation that "one who can understand Daniel Sommer has taken a major step toward a better understanding of the conservative religious psychology generally and of the Churches of Christ in particular" (p. 142).
There is a genuine fascination on the part of many scholars with the psychology of religious exclusivism. It is a very militant mindset, and was very apparent in the life of Daniel Sommer. In much more recent years, the term "Sommerism" has come to be "a label attached to nearly every idea which some brother thought to be extreme" (Cecil Willis, Truth Magazine, Oct. 8, 1970). He has been called the "Father of Extremism" within Churches of Christ, and to this present day for one to be labeled a "Sommerite" is very rarely regarded as a compliment. In the readers' section of Reflections #210 a reader from the state of Michigan wrote, "Al, I read Goebel Music's book ("Behold the Pattern") several years ago. What an embarrassment to our Stone-Campbell heritage. You'd almost think Daniel Sommer had written it!"
Daniel Sommer was born in Queen Ann, Maryland on January 11, 1850 to parents who were German immigrants. They were members of the Lutheran Church, though only nominally, and had Daniel sprinkled as an infant. He entered school at the age of seven, but attended only sporadically. At the tender age of nine he began doing construction work on jobs near his family home, and in 1862, at the age of twelve, he left school to work fulltime. Daniel was no stranger to poverty and hardship, but these difficult times helped form his character. He was a man afraid of nothing, and regarded himself as the best woodsman in Maryland. "He was no ordinary man by any count. Burly as an ox, he could lift with one hand what most men could not lift with two" (Dr. Leroy Garrett, The Stone-Campbell Movement, p. 389).
Since Daniel's parents were only nominal Lutherans, at best, there was apparently no great concern when he chose to affiliate himself with the Methodists in 1864. A couple of years later the whole Sommer family moved to Hartford County, Maryland, and there the adolescent Daniel went to work for a man named John Dallas Everett, who happened to be associated with the Stone-Campbell Movement. Everett spent a considerable amount of time in study and conversation with the young Sommer about spiritual matters. A few years later, in 1869, Daniel Sommer was baptized during a meeting held by A.T. Crenshaw of Middletown, Pennsylvania. This was just three short years after the death of Alexander Campbell, one of the pioneers of the movement.
That same year, Sommer decided to enter Campbell's school -- Bethany College, which was located in West Virginia. This school was founded in 1840, and was one of the most highly regarded schools for higher education in the movement. Sommer attended from 1869-1872, during which time the school was directed by the son-in-law of Alexander Campbell -- William Kimbrough Pendleton. During his three years at Bethany College Daniel Sommer began to formulate his personal theology, and he clearly detected that the movement had some very diverse thinking within it. Although exposed to the full spectrum of that theological diversity, he soon gravitated toward the ultra-conservative wing of the restoration movement. "Sommer became disenchanted with both doctrinal and social trends he saw emerging among the part of the Movement that would become the Disciples of Christ" (The Encyclopedia of the Stone-Campbell Movement, p. 692). These views were just too "liberal" for Sommer. Instead, he found the conservative views of the preacher Benjamin Franklin (1812-1878) far more to his liking.
Bro. Larry Miles, from Kentucky, in his study of the life and times of Daniel Sommer, wrote, "It was while a student at Bethany that Sommer began what others would call being a 'watchdog' for the brotherhood. If he saw what he deemed a deviation from the apostolic order, he felt compelled to attack it." One of his biographers actually suggested he had a "schizophrenic doctrinal personality" (Matthew C. Morrison, Like A Lion: Daniel Sommer's Seventy Years of Preaching, p. 159). There were times when he could be rather tolerant of others and affirming, but then he could also be extremely narrow-minded and dogmatic. Toward the end of his life he became far more characterized by the former, but in his early years, while at Bethany College, and through much of his ministry, he was most definitely of the latter mindset. Indeed, some have called him a theological "ax man."
As an early example of this militant intolerance, consider the following account which occurred while he was still a student at Bethany College. The ladies of the church there decided to raise some money so they could make some improvements to the building (new curtains, painting, etc.). An elder in the congregation, Bro. C.L. Loos, favored the plan and encouraged it during one of his talks before the assembled members. Thus, the women organized a Ladies Mite Society. The "hat" would be passed among the congregation during their assemblies so that each member might contribute "a mite" to this project. Sommer did not believe this was something that should be happening "in the church." His opportunity came when he was asked to speak at one of the Sunday evening assemblies (there was a tradition of having the students take turns speaking at the evening service).
Sommer took full advantage of that opportunity. He preached his sermon that night on Psalm 1, and at the close of the lesson he blasted the Ladies Mite Society from the pulpit. This caused a huge uproar at the school, and his popularity declined as a result of his attack on these women, but his comments achieved the desired effect -- within days the ladies disbanded their group and abandoned their project. Although he had gained the disfavor of a great many for his effort, it nevertheless left him with a sense of power and purpose. Many years later, in his Apostolic Review, Sommer recalled the incident -- "I denounced publicly the first deviation from apostolic simplicity that I found among the 'disciples,' and I have been acting on the same principle ever since" (Feb. 2, 1937).
It was while a student at Bethany College that Sommer first met the popular restorationist evangelist Benjamin Franklin. He was in West Virginia conducting a series of meetings, and Sommer managed to get permission to miss his classes at the college so he might meet and spend time with Franklin. They soon became close friends; a friendship that lasted the rest of Franklin's life. Before his death in 1878, Franklin in essence conferred upon the young Daniel Sommer (who was only 28 years old) the mantle of spokesman for the ultra-conservative wing of the so-called restoration movement. Franklin advised him to occupy "the most radical ground" possible, and to stand in bold opposition to all innovations and digressions in the church whenever and wherever they happened to appear (Morrison, Like A Lion, p. 87).
In 1872 Sommer left Bethany College and began preaching in Baltimore, Maryland. It was at this time that he began to write for Benjamin Franklin's American Christian Review. Two years later he moved to Kelton, Pennsylvania. In 1880 he moved to the state of Ohio, preaching first at Reynoldsburg, then four years later moving to Richwood, where he compelled the church there to abandon their use of instrumental music. In 1894 Sommer moved to Indianapolis, Indiana. It was here that he would live for the remainder of his life, serving as both the evangelist and one of the elders of the North Indianapolis Church of Christ. Although this was to be his "home church," Sommer spent the bulk of his time traveling. He kept numerous speaking engagements throughout the country, holding meetings and engaging in debates in many locations. In spite of his many decades preaching, "he was nonetheless always uneasy in the pulpit" (Dr. Leroy Garrett, The Stone-Campbell Movement, p. 389). Indeed, he once lamented that he had spent many years in the ministry before he ever earned the kind of money he had made while cutting cord-wood for 75 cents a cord (Daniel Sommer, A Record of My Life).
On January 28, 1873 he married Kate Way. They had seven children, one of whom died in infancy. Daniel and Kate had a long life together, being married for 51 years before she passed away on May 31, 1924. Three years later, on July 8, 1927, he married Esther Letitia White. She died less than four years later, on April 5, 1931, at the age of seventy. Sommer's views caused much turmoil in the Movement, and this even spilled over into his own family (more about this later on in the article).
"Though Sommer was a powerful preacher, without doubt his greatest influence was through his writings. Through writing, he could reach thousands. For more than half a century, Daniel Sommer visited in the homes of thousands of brethren through his journals, tracts, booklets, and his dozen or so volumes. Being a man of strong convictions, and articulate in expressing these convictions, he by his efforts made great contributions to the spiritual conscience of multitudes of his brethren" (Cecil Willis, "The Saga of Daniel Sommer," Truth Magazine, October 1, 1970). In 1856 Benjamin Franklin established a periodical which he named the American Christian Review. Sommer wrote his first article for Franklin's paper in 1872. This publication, "under Benjamin Franklin's editorship, had been one of the most important journals in the Stone-Campbell Movement after Alexander Campbell's death" (The Encyclopedia of the Stone-Campbell Movement, p. 693). The historian Louis Cochran wrote that this journal "was to play a significant role for twenty years in shaping the thought of the Movement" (Captives of the Word, p. 142). He also observed that among the more conservatively inclined brethren of the Movement, it clearly provided "the loudest voice" (ibid, p. 158).
After Franklin's death in 1878, however, this publication declined in subscribers and influence under the leadership of a series of other editors. It was during this time that Daniel Sommer began his own editorial work. In 1883, along with L.F. Bittle, he established the monthly paper known as the Octograph (based on his conviction that there were only eight writers of the NT documents). Three years later, in 1886, he purchased the faltering American Christian Review. As to why he purchased this paper, he wrote, on March 17, 1887, "One of our purposes was to save the enterprise of Benjamin Franklin's grand life from ruin; another was to occupy a position in which we could do the greatest possible good, and in order to do this our purpose was to lift the Review out of its entanglements." One of those "entanglements" was that the paper was owned, at the time Sommer purchased it, by Edwin Alden, who was not even a Christian, but who was merely using the paper as a medium for advertising. Later that year Sommer changed the name of the paper to the Octographic Review. In 1914 he changed the name to the Apostolic Review. It remained thus until his death in 1940, at which time the publishers changed it back to the original American Christian Review. It finally ceased publication in 1965.
The Address and Declaration
Daniel Sommer was a man well-known during his time for some very extreme positions regarding the nature and labor of the Lord's church. Although he served for many years as one himself, he was strongly opposed to the "located preacher" system. He was known to refer to such men as "hired imported pastors." Sommer was not alone in his disgust for this practice. Austin McGary, who was the founder of the religious paper Firm Foundation (which is still in publication), was in full agreement with Sommer on this particular point. On March 9, 1915 Austin McGary wrote the following to Daniel Sommer -- "You call the Bible College of today a 'preacher factory,' and it is. It is a veritable 'pastor' factory. And the devil is right now knocking at the door of every church in the land with his 'pastor' system under his arm ... The Bible Colleges are the incubators of the one-man 'pastor' system." Sommer felt a far better alternative to "located preachers" was the practice of "mutual edification" (which some sarcastically regarded as "more mutual than edifying"). Instead of a "paid hireling," the men of the congregation would assume the responsibility for the preaching and teaching.
Daniel Sommer was convinced that the "tide of liberalism" was swiftly rising, and he was determined, single-handedly if need be, to stem that tide. Thus, he became the voice of ultra-conservatism within the Movement, and his voice was heard loudly and persistently. He went after the digressives, liberals and innovators with a passion, and insisted that they could not be tolerated in the church, and that "the faithful" must distance themselves from all such godless men and women. "Sommer was one of the first to advocate separation of those who opposed instrumental music and church-supported missionary societies from churches that would not abandon such practices" (The Encyclopedia of the Stone-Campbell Movement, p. 693). Yet, in his extremism one sees the glaring inconsistency that far too often characterizes such militant radicals. "While he himself was bitterly opposed to societies, Bible colleges, the pastor system, and instrumental music, he was grossly impatient with those who opposed other innovations of which he approved, such as Sunday schools and multiple cups for the Communion" (Dr. Leroy Garrett, The Stone-Campbell Movement, p. 389).
This call for division among brethren was perhaps heard most powerfully and dramatically at the Sand Creek church, located in Shelby County, Illinois, on Sunday, August 18, 1889. Since 1873, large numbers of brethren had been gathering each year to this site for several days of fellowship, and also to hear some of the more prominent preachers in the land. On this particular Sunday there were said to be six thousand gathered to listen to Daniel Sommer. He preached for an hour and forty minutes on the condition of the church, as he saw it. Sommer charged the "innovators" with being the ones who were dividing the church. He had repeatedly asked them to cease their use of such innovations, and they had refused to bow to his demands, so they were the ones to blame when he pulled "the faithful" away. Such, by the way, has always been the reasoning of the militant ultra-conservatives. They will split the church a hundred different ways, and then blame the division on those who refused to submit to their legalistic whims.
Following his lengthy sermon, during which he blasted the "liberals" for their many "sins," a prepared document was read to the assembled crowd by elder Peter Warren. This powerful document, whose chief author was Sommer himself, is known as the Address and Declaration. It is an obvious play on the "Declaration and Address" which was authored and published in 1809 by Thomas Campbell and was a platform, contained in thirteen propositions, for unity among all believers. Sommer's "Sand Creek Manifesto," however, was just the opposite. It was a call for division. Larry Miles, in his study of Sommer's life, noted that this day "will go down in our history as a day when the lines of demarcation were drawn." Dr. Leroy Garrett seems to agree -- "The date was Sunday, August 18, 1889, and while it is risky to attempt to pinpoint the origin of any church, this would be a suitable date for the beginning of the Churches of Christ" (The Stone-Campbell Movement, p. 392). Sommer was determined to lead the faithful away from the larger body of Disciples of Christ, and he came to refer to those loyal to his own plea as the "Church of Christ," whereas all others were the "So-called Christian Church." He was condemned for this in the Christian Standard -- "Daniel Sommer is trying to get control of some of our congregations, and form a distinct religious body. He would thus start a new sect. Its bond and union would be its opposition to certain methods of Christian work done by us." Thus, Sommer's followers came to be referred to as "anti brethren," since they were opposed to so many things. Sommer also frequently insisted that his people were the "only Church of Christ in town." With extremism always comes exclusivism.
The matter effectively was brought to a head by one statement in particular on this occasion. Sommer declared, "In closing up this address and declaration, we state that we are impelled from a sense of duty to say, that all such innovations and corruptions to which we have referred, that after being admonished, and having had sufficient time for reflection, if they do not turn away from such abominations, that we can not and will not regard them as brethren." The words had been uttered! "For the first time in its history a substantial segment of the Stone-Campbell Movement made a test of fellowship and a bond of union over issues that had generally been considered matters of opinion" (Dr. Leroy Garrett, The Stone-Campbell Movement, p. 392). Daniel Sommer was devoted to division, and on May 24, 1892, wrote in his Octographic Review, "The Sand Creek Declaration is being adopted, and those who will not do right are purged out as old leaven. In course of a few years the Church of Christ will be entirely separated from the Christian Church. Then there will be no more fellowship between them as there now is between the Church of Christ and any other branch of sectarianism. Hallelujah." In other words, Praise God for this division of His people!!
This was a significant moment in the history of our Movement, "for a fire that no man could put out had been set ablaze by a relatively obscure man in Illinois named Daniel Sommer" (Louis Cochran, Captives of the Word, p. 205). The reaction to Daniel Sommer's "Address and Declaration" was forceful. Perhaps it is stated best in the words of J.C. McQuiddy, "Well for our part, the Advocate needs no second call to express its sentiments on this momentous matter. The Sand Creek manifesto was manifest folly, and the Advocate emphatically denies any sympathy with Sommerism (whatever that is), Sand Creekism, Sand Lotism, or any other partyism in religion" (The Gospel Advocate, June 30, 1892). However, in spite of such opposition by noted leaders in the Movement, "by 1895 there were 200 to 500 Sommerite churches in the North, according to Joseph Franklin, which, he believed, should have been called 'the Church of the Antis' rather than the Church of Christ" (Dr. Leroy Garrett, The Stone-Campbell Movement, p. 392).
David Lipscomb was not impressed with Daniel Sommer in the least. Indeed, he regarded Sommer as a sectarian. In a letter to Sommer dated in 1893, Lipscomb wrote, "You turn me off!" Lipscomb sought dialogue with Sommer, but the latter refused, which is another common trait among legalistic factionists. "Sommer's refusal to allow free discussion in his journal rankled Lipscomb, who always had an open policy in the Gospel Advocate" (ibid, p. 395). This trait, sadly, still exists among a great many of the "Anti" brethren today. They learned well from their founding father. When "liberals" and "digressives" seek to have responsible, respectful dialogue with these "anti" men and women, whether it be in person, on their discussion groups, or in their journals, they find very quickly that there is a closed door policy. Though most all brethren welcome dialogue with others in the One Body, the legalistic ultra-conservatives will almost always flee from dialogue with all who differ with them. Yes, it "rankled" David Lipscomb, and it "rankles" good brethren even to this day.
The Rough Draft for Christian Unity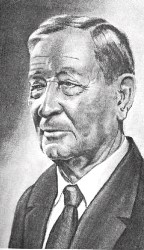 There is a bit of good news here, though. With old age Daniel Sommer began to mellow out somewhat. His heart softened toward those he had for decades berated from the pulpit and in his journals. In his later years he actually began to reverse his position, and began working for unity among believers, even in the face of diversity of practice and conviction. This was a tremendous change for Sommer, and it was not always favorably received by his former factionists, or by his family (he was disfellowshipped by his own son). "Sommer's later moves alienated him from some of his followers, even his own family. His son D. Austen Sommer started a rival publication, and his wife gained control of the Apostolic Review and refused to allow him to write for it" (The Encyclopedia of the Stone-Campbell Movement, p. 693). Sommer was beginning to realize that he should not be trying to force his opinions upon the rest of God's people. He also began to realize that building walls, rather than building relationships, was not the will of the Lord. Thus, during his "golden years," Daniel Sommer reversed the course of his life and began seeking to restore relationships with other believers, relationships he had spent the bulk of his life seeking to destroy.
"The thing that turned many of his own people against him, including some of his family, may well have been the noblest act of his volatile life. It was the publication of a unity document after the order of Haggard, Stone, and Thomas Campbell, called 'The Rough Draft.' Its theme was: 'If we can search out the things we can agree on, and unite on them, and work together, we'll have unity!' In listing the items 'necessary to a New Testament Church,' Sommer now, at age 83, showed an attitude far different from Sand Creek. He made Bible colleges, orphan homes, Sunday Schools, and several other issues matters of individual opinion" (Dr. Leroy Garrett, The Stone-Campbell Movement, p. 394). This "Rough Draft" was first published in the June 21, 1932 issue of his Apostolic Review, and, as mentioned, it met with much opposition from those within the ultra-conservative faction Sommer had spent a lifetime developing. One of his most vocal critics was W. Carl Ketcherside, who later repented and also joined in the growing effort to proclaim liberty in Christ and unity with all true believers regardless of differing personal preferences and practices.
Sommer also began to participate in various Unity Meetings that were being held around the country among the various factions of the Stone-Campbell Movement in an effort to unite them once again in sweet fellowship. James DeForrest Murch and Claude Witty were the primary leaders of this effort during those years (the 1930's and 1940's). Sommer was often found speaking at these events, calling his former factionists to unity with all of God's children. In his "Rough Draft" Sommer wrote, "Brotherly love is as much a command as 'repent and be baptized,' and, if exercised, would be the solution of many problems. 'Come let us reason together,' means reason, not quarrel." Sadly, it was a matter of "too little, too late." Daniel Sommer's "Rough Draft," his proposal for Christian unity, "was largely ignored by the Churches of Christ as a whole. Either they were suspicious of him or did not know how to handle gestures toward unity, or both. It is, after all, difficult for a lion to assume the role of peacemaker" (Dr. Leroy Garrett, The Stone-Campbell Movement, p. 394).
Sommer spent the latter years of his life grieving over the division in the church and his role in that dismembering of the One Body. He characterized it in some of his later writings as "a divided and disgraced brotherhood," and gave the cause as men seeking to "strain certain scriptures." One of his own statements "provided an ominous epitaph to his own life: The strainers have all come to grief sooner or later" (ibid). Although Sommer had personally sought a new direction, he could not, in the final years of his life, overcome the decades of division caused by his legalistic wrangling. To his own sense of shame, he left a legacy of schism in the One Body of Christ, and it is this for which he will largely be remembered. Daniel Sommer "suffered a stroke at age 90 during a train trip from Indianapolis to a preaching appointment. Put on a return train home by a conductor who recognized him, Sommer lingered on for a few days, then passed away on February 19, 1940. He is buried in Crown Hill Cemetery, Indianapolis, Indiana" (The Encyclopedia of the Stone-Campbell Movement, p. 694).
Final Reflection
Beloved brethren, there are lessons to be learned from the life of Daniel Sommer. Few question his zeal or love for the Lord. He spent his life devoted to promoting his vision of God's will for the church. Unfortunately, for the bulk of his life he had failed to grasp God's purpose! Ignorant of His grace, and the freedom one has in Christ Jesus, he proclaimed a religion of rigidity, and perhaps did more than any other individual during the early years of our faith-heritage to bring about deep divisions. Like the apostle Peter, who wept bitterly after denying Jesus Christ, Sommer spent the latter days of his life lamenting his years of misguided maliciousness. Sadly, he was unable to undo the harm he had inflicted upon the church, and the fruit of his labor is still evident in the rigid, legalistic, patternistic wing of the Churches of Christ. Sommer sowed his seed well, and the tares that have grown up all around us today are the tragic result of his decades of devotion to division.
Many men and women within our faith-heritage today, myself included, are seeking diligently, and daily, to counter the effects of this man's teaching. It is difficult work, and the opposition at times is fierce, but somehow I think Sommer would applaud our efforts, as would brother Ketcherside, who also came to his senses later in life. Although much damage was done by these few men, yet our Movement is not beyond repair, and the vision of our fathers in the faith is still just as valid. May God help us all to abandon these foolish, feuding factions, and may He guide us to the point of recapturing the vision of One Body united in the Lord Jesus Christ. To the Sommerites of today, I issue this plea: Let us reason together; let us dialogue; let us tear down the walls that divide us; let us all truly be One Family to the glory of our Father. I personally am willing to begin that responsible, respectful dialogue with any one of you for the purpose of ending the years of separation between spiritual siblings. Please, let me hear from you!
********************
Down, But Not Out
A Study of Divorce and Remarriage
in Light of God's Healing Grace
by Al Maxey
ISBN: 1-4137-8993-5
Order Your Copy Today
Also Available Thru: Amazon.com, Borders,
Barnes & Noble, Grace Centered Magazine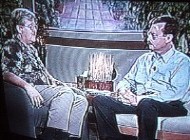 This past week I was privileged to appear on the television program "Face to Face" on KVBA-TV here in southern NM. This is a 30 minute weekly program during which the station manager (on the left) interviews some local figure. This particular broadcast was devoted to a discussion of my new book Down, But Not Out. The station manager had read it and was very complimentary. He also asked several rather insightful questions that generated a good dialogue between us on divorce, remarriage, and God's Ideal for this covenant relationship. He has invited me back on January 11 to discuss the book further. Please keep this program in your prayers, that God may use it to touch many lives.
********************
Reflections from Readers
From a Reader in Texas:

Al, Keep up your writing! I am leaving for Africa this week, and will be carrying some of your Reflections with me to use at the Ghana Bible College in Kumasi, Ghana. I will also be spreading the word about your web site at the college computer coffee shop. We have also purchased 20 acres of land in western Ghana near several villages. On that land we will be building a primary and secondary school, along with a medical clinic specializing in neo-natal care. We should have the primary school building up by the end of December, and it should be operational by the next school year. I am working on this effort full time now. Please keep us in your prayers.
I applaud this dear brother for his sacrificial labor among the people of Ghana. He has made many trips over there, and has many more planned, and is devoted to sharing Christ Jesus with these precious souls. I sent him a copy of my book Down, But Not Out, and he will be taking it with him to place in the library at the Ghana Bible College. I pray that it will prove helpful to the students in their study of God's Word. Please keep this evangelistic work among the people of Ghana in your prayers! --- Al Maxey
From a Reader in Tennessee:

Brother Al, I have begun reading your book Down, But Not Out, and it is "chock full" of good thoughts. Thanks! I wish you well in your work, and long life and good days. You are making a valuable contribution to the cause of Truth. The best to you and your dear wife!
From a Minister in India:

Dear Brother Al, Your article on "Water and Spirit" is wonderful. I am unable to express my joy after going through the article. Thank you so much! I would request you to write a commentary on the entire New Testament. The future generations deserve a book like this from you! God bless you!
From a Minister in Barbados:

Al, I continue to be amazed by your Reflections, and by the insight that certainly must have proceeded from the Holy Spirit. John 3:5 has been in my focus recently, and I was excited to see the "water" theme come up in this most recent issue of your Reflections. My only disappointment is that you have given me more positions with which to grapple, and yet I am not any nearer a resolution. I expected that you would have given me a definitive conclusion, but, like you so honestly and humbly admitted, for you the jury is still out. It is likewise with me! My focus recently, however, has been that of position #3, which makes reference to the "water" in which an unborn life is enclosed in the womb. I must also agree that position #6 answers quite a number of my questions. But most of all this email is to let you know how much I appreciated your honesty. You gave six positions at the end of which you said that you are still undecided. Seems to me that we grapple with a host of scholars who feel they must show that they have all the answers, especially to the most difficult questions. Often in their quest to demonstrate their own brilliance they lead many down the wrong path. I now feel assured that you have not been cut from this cloth. Your articles continue to be informative and thought-provoking. Thank you so very much, and may God continue to richly bless you and your family.
From a Doctor in Kentucky:

Al, Thanks so much for this article on being born of "water and spirit." Though you certainly preach to a more progressive crowd (via the Internet and the pulpit), you will no doubt take some hits for this last article. You and I both know how the legalists behave, and when they read this issue of Reflections they will really get "fired up." I appreciate your stand for Truth; this was a very scholarly treatment of the subject.
From an Elder in Texas:

Bro. Al, "Born of Water and Spirit" is an excellent essay and well-presented. Your first proposition seems to make the most sense to me. As you state, washings of/with water were certainly nothing new to the Jew (including Noahic Jewish tradition) as a symbolic cleansing. Jesus spoke of the coming Kingdom of God to the Jews. I don't think it inconceivable that He may have spoken to others regarding what would later be post-Pentecostal baptism, but there is certainly no written proof of that. The preparation of an extension of the Jewish teaching regarding external cleansing by water to the internal spiritual cleansing by faith as an operation of the grace of God, as expressed in #1, seems to me a logical conclusion (although it is not explicitly indicated in Scripture).
From a Minister in Kentucky:

Brother Al, I want to thank you sooooo much for taking the time to respond to my recent request by sending me a link to each of the Reflections articles in which you had addressed the issue of instrumental music. They were well-written and full of rich, thought-provoking arguments. My mind was stretched and my heart encouraged. My wife recently commented that she really thinks every congregation should have a 13 week mandatory course on reason and logic. I tend to agree with her. Have you ever thought about putting something together like that? It would be a perfectly wonderful challenge for your great mind! Your logical thinking skills are superb -- you just need to pass on the methodology to others. Concerning the articles in which you addressed instrumental music -- I wholeheartedly concur. Our church family is non-instrumental by choice and tradition. Well, I know you are busy, but I just wanted to say thank you. May God continue to bless your ministry in His Holy Word!
From a Reader in New Mexico:

Al, I have a question for clarification on your last article: "Born of Water and Spirit." The third interpretation of the passage in question views water as the same as a fleshly birth. Is this referring to conception or physical birth? If physical birth, would that mean an unborn child cannot enter into heaven? Are those who die before birth, from complications, death of the mother, or an abortion, thereby condemned? You indicated you found this third view compelling, but it does not seem to fit your grace-centered viewpoint. By the way, I have enjoyed the "grace-centered" sermons you have given recently, especially the one three weeks ago about the nature of true repentance.
Thanks for your kind, encouraging words, brother. I appreciate them .... and also you!! As for your question regarding position #3, some have indeed wondered that very thing. That is why a few have proposed the amendment that "water" may be a reference to the Jewish "drop" (referring to semen). This would move back the "born of water" to the point of conception, rather than leaving it at the point of actual emergence from the womb. Others, however, suggest that the expression "born of water" does not necessarily specify a moment in time (neither the moment of birth, nor the moment of conception), but rather refers to the entire birth process, during the majority of which the fetus is surrounded by the amniotic fluid. Thus, from the "drop" of conception to the emerging of the child from the watery womb is considered a "birth by water." Needless to say, none of the six positions presented in my article (and there are other lesser theories that were not even mentioned) are devoid of difficulties. Each theory has strong points and weak points, and therefore each theory can easily be argued either for or against. This, in large part, is why many scholars have found it rather difficult to dogmatically assert one view over any one of the others. As for unborn children being lost by virtue of not having experienced a live birth, I don't believe Scripture anywhere teaches such a doctrine! --- Al Maxey
From a Reader in Alabama:

Dear Al, I appreciated your lengthy discussion concerning the interpretation of John 3:5. For several years I have held a view similar to the good doctor in Kentucky and lean toward the third interpretation given in your article. Your conclusion stated my position totally. Thanks again for your insight on things pertaining to the Christ.
From a Minister in California:

Brother Al, What do you think of this interpretation? -- Nicodemus, being a Pharisee, and trained since birth to be a legalist, obviously had trouble with the concept of God's grace and what John the Baptist was trying to teach people. While Nicodemus could probably get his brain around the concept of being baptized as a legalistic act of repentance, he had lots of trouble with understanding the concept of doing things in the right "spirit." Jesus then goes on to describe the spirit as something that you can't grasp with your hand, like the wind, but you can definitely see its effects. He's using an earthly metaphor (the wind) to describe a spiritual concept, as Jesus was prone to do on many occasions. Basically, Jesus is trying to teach Nicodemus about serving God with one's heart, and not just one's actions. I think we can try to read more into this than what is there, but I see this as a basic teaching in which one's deeds (John's baptism of repentance -- "water") and heart ("spirit") must work together: a concept that a "dyed-in-the-wool" legalist would struggle with.
From an Elder in Oklahoma:

Brother Al, Thank you for studying and speaking out on some difficult issues. I appreciate your honesty and scholarship. As others have said, whether I agree with you or not, you always make me think. By the way, I usually agree with you! Keep up the good work. God bless you in your studies, insights, writing, teaching, shepherding, and especially your searching after Him in your life.
From a Reader in Florida:

Al, You are doing a great job with your Reflections, and they are having an effect on me. I am also sharing your Reflections with other people. I have even shared them with some of the members of the church where I attend. The elders did not like that too much!! They want us all to read Wayne Jackson's materials. Thank you for the love that you have for God and His people, and thank you for all the great work you are doing for the Lord.
From a Reader in Kentucky:

Al, I actually feel like you are a real person with a personality, and not just someone I get articles from. I love your Reflections, and have copied many of them to give to our ministers, and also to my husband, who is one of our five elders (our congregation is approximately 600 members). Our congregation has actually been living out what you have been writing about over the past year, and I'm pleased to tell you we are united in Christ and have found the freedom that is necessary to empower the Body. I applaud your love for the Truth and your willingness to share it with others. Please keep up the good work. I can't wait to meet you in Heaven!
********************
If you would like to be removed from or added to this
mailing list, contact me and I will immediately comply.
If you are challenged by these Reflections, then feel
free to send them on to others and encourage them
to write for a free subscription. I would also welcome
any questions or comments from the readers. A CD
containing these articles may be purchased. Check the
ARCHIVES for details & past issues of Reflections:
http://www.zianet.com/maxey/Reflect2.htm