REFLECTIONS
by Al Maxey
Issue #219 ------- November 6, 2005
**************************
We never repent
of having eaten too little.
Thomas Jefferson (1743-1824)

**************************
Acceptable Fast of the Lord
The Religious and Spiritual Fasts
Perceived in Isaiah 58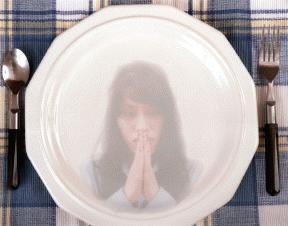 The people of Israel, during Old Testament times, as well as into the early New Testament times, were an extremely "religious" group. They placed tremendous emphasis on ritual, ceremony and tradition. Over the course of time, however, the externals of religious practice had become the totality of their experience (at least for most of them); they had lost sight of the spiritual side of their relationship with their God. Outwardly, they appeared to be a people devoted to God. Their love of ceremony made them visibly appear to be righteous to the casual observer (Isaiah 58:2). The problem was: they loved the ritual, but not God or one another! They loved the system of religion that they had formulated over the centuries. "They act so pious! They come to the Temple every day and are so delighted to hear the reading of My laws -- just as though they would obey them -- just as though they don't despise the commandments of their God! How anxious they are to worship correctly; oh, how they love the Temple services!" (Is. 58:2, Living Bible). "Such empty externalism reappears in every age and culture!" (The Expositor's Bible Commentary, vol. 6, p. 322).
"Never was a louder cry against the hypocrisy, nor a more cutting reproof of the wickedness, of a people professing a national established religion, having all the forms of godliness without a particle of its power" (Adam Clarke, Clarke's Commentary, vol. 4, p. 216). Isaiah 58 deals primarily with just one area of religious practice: Fasting (although vs. 13-14 deal with Sabbath observance). It can be broken down into several key areas: The religious fast versus the spiritual fast, and the results of each. In the former depiction we get a much closer look at what was really occurring behind the externals of their ritual; we also see the perspective of the religious participants themselves. In the latter we perceive what God really expects of His people, not only then, but now!
In this current issue of my weekly Reflections we'll examine, in skeletal form, the nature of both these fasts as perceived in Isaiah 58. The "fleshing out" of the study will be left to the reader, as sometimes the best appreciation of a text comes from our own individual reflection. I pray that this format in this present study will prove beneficial to each of you. May we all truly increase our focus upon the spiritual aspects of our relationship with the Lord and one another, rather than becoming distracted by the legalistic and ritualistic roadblocks in our journey to our heavenly home!
The Religious Fast
The Jews undoubtedly observed the fast "correctly" with regard to the many external requirements. The outward form of their fasting was most likely correct in virtually every particular of legal precept. After all, the people of Israel had become experts at religious observance. They could dot the "i's" and cross the "t's" with the best of them. But notice what else was going on:
"In the days of your fasts ye find your pleasures" (vs. 3c). The fast (as well as the Sabbath -- vs. 13) had become a day of idleness and the pursuit of pleasure, rather than a time to draw closer to God.

"...and you drive hard all your workers" (vs. 3d). Since work was suspended on these days, these people made their employees work all the harder to make up for the "lost day!"

"Your fasting ends in quarreling and strife, and in striking each other with wicked fists" (vs. 4a). "Fasting undertaken as a duty can produce an edgy, irritable community" (The Expositor's Bible Commentary, vol. 6, p. 323).

"Do not hide yourself from your own flesh" (vs. 7d). They were "evading a duty to your kinsfolk" (NEB) ... "turning your back on your own" (NAB) ... "hiding from relatives who need your help" (LB). They were turning away from the pressing needs of their own brethren; their "family." The Jews were "one united whole ... they formed one family, owing to one another mutual love" (Keil & Delitzsch, A Commentary on the Old Testament, vol. 7, part 2, p. 389). This they were not doing!

"Remove the yoke from your midst" (vs. 9c). They were oppressing one another, and placing yokes of bondage (both physical and spiritual) upon one another. "Now therefore why do you put God to the test by placing upon the neck of the disciples a yoke which neither our fathers nor we have been able to bear?" (Acts 15:10). See also: Matt. 23:4; Gal. 5:1.

"Remove from your midst ... the pointing of the finger and the speaking of what is hurtful" (vs. 9d). They were to refrain from "speaking words in anger out of thy mouth" (vs. 13; or: "idle words"). "Stop making false accusations and spreading vicious rumors" (vs. 9d, LB). "The utterance of things which are injurious to one's neighbor" (Keil & Delitzsch, p. 391). This is "a reference to character assassination" (Expositor's, p. 323).
God looked well beyond the "correctness of the externals" and saw the "corruptness of the internals!" The form may have been right, but their hearts were all wrong! The Jews themselves, however, could not see beyond the fact that they had engaged in a fast; "we humbled ourselves" (vs. 3ab). They bowed their heads and reclined on sackcloth and ashes (vs. 5). But they had only fasted and humbled themselves externally ... the heart was untouched! In verse 5 God makes it clear to them that this was not the kind of fast that He had in mind, and that if they thought it was acceptable unto Him, they were sadly mistaken. Because of their externally correct/internally corrupt observance, they experienced the following:
"'Why have we fasted,' they say, 'and You have not seen it? Why have we humbled ourselves, and yet You have not noticed?'" (vs. 3ab). God answers the question for them in vs. 4b -- "You cannot fast as you do today and expect your voice to be heard on high." The Living Bible renders it this way: "This kind of fasting will never get you anywhere with Me!"

They were spiritually ill and wounded. Verse 8 speaks of "healing and recovery."

They were in spiritual darkness and gloom -- Vs. 10cd; vs. 8a.

They had turned away from the spiritual guidance of the Lord -- Vs. 11a.

Their needs were not being satisfied; they were like a scorched, parched garden -- Vs. 11bde.

They were spiritually weak -- Vs. 11c.

Their lives and relationships were in ruin; without foundation; crumbling around them -- Vs. 12.
The Spiritual Fast
In verse 6, after examining the fast in which the Jews were engaging, God redefines the concept of "fasting." "Is not this the kind of fasting I have chosen?," says God. The Lord then presents a list of several things to His people which He considers to be true signs of "the spiritual fast."
"Unbind the chains of injustice" (vs. 6b). The acceptable fast of the Lord is to set free those whom we have held captive to our acts of injustice upon them. "Release those whom we have unjustly oppressed, and free them from the oppression that makes their lives bitter to them" (Matthew Henry's Commentary, vol. 4, p. 338). An ancient Jewish Rabbi once observed, "not eating is a natural fast, but abstaining from sin is a spiritual fast."

"Undo the bands of the yoke ... and break every yoke" (vs. 6ce). "Remove the yoke from your midst" (vs. 9c). "It was for freedom that Christ set us free; therefore keep standing firm and do not be subject again to a yoke of slavery ... For you were called to freedom, brethren" (Gal. 5:1,13). The Jews were placing heavy burdens (both physical & spiritual) upon one another. The acceptable fast of the Lord is to free one another from those burdens.

"Set free those who have been crushed (bruised, broken, shattered)" (vs. 6d). This was the self-proclaimed ministry of Jesus (Luke 4:18). We must either: (a) stop afflicting others in such a way as to crush them, or (b) stop those who are so afflicting and shattering the lives of others. "Satisfy the needs of the soul that is afflicted" (vs. 10b).

In vs. 6 the Septuagint includes the phrase, "Tear up every unjust account," or "tear up every accounting (record) of injustices done." Paul wrote, "Love ... keeps no record of wrongs" (1 Cor. 13:5).

"Share your food with the hungry" (vs. 7a). "Give bread to the hungry from thy heart" (vs. 10a). "Come, you who are blessed of My Father, inherit the kingdom prepared for you from the foundation of the world. For I was hungry, and you gave Me something to eat; I was thirsty, and you gave Me drink; I was a stranger, and you invited Me in; naked, and you clothed Me; I was sick, and you visited Me; I was in prison, and you came to Me" (Matt. 25:34-36).

"Bring the homeless poor (or: homeless and afflicted) into your house" (vs. 7b). The NAB reads, "Sheltering the oppressed and the homeless."

"When you see the naked, cover him" (vs. 7c).

You are family! Meet the needs of your brethren! "Do not hide yourself from your own flesh" (vs. 7d).

The acceptable fast of the Lord is to cease from strife and self-centeredness (vs. 4a, 9d, 13).
When one observes the spiritual fast of the Lord God, he or she will experience the following positive benefits:
"Your light shall break forth like the dawn" (vs. 8a). "Your light shall rise in the darkness, and your gloom shall be as the noonday" (vs. 10cd). When you commit yourself fully to the Lord, and give yourself entirely to doing His will, "He will bring forth your righteousness as the light" (Ps. 37:6). "But the path of the righteous is like the light of dawn, that shines brighter and brighter until the full day" (Prov. 4:18). "You are the light of the world. Let your light so shine before men that they may see your good works, and glorify your Father who is in heaven" (Matt. 5:14,16). You will become a beacon to those in darkness.

"Your recovery (healing) shall spring up speedily" (vs. 8b). Some ancient Greek and Latin versions read, "And the scar of thy wounds shall be speedily removed."

Righteousness shall go before us, and the glory of God will stand guard behind us (vs. 8cd). Much like the full armor of God (Eph. 6:10f), we are surrounded and protected and vindicated.

"Then you shall call, and the Lord will answer; you shall cry for help, and He will say, 'Here I am'" (vs. 9ab). The result of fasting acceptably is that God will both hear and respond.

"The Lord will continually guide you" (vs. 11a).

"The Lord will satisfy your needs" (vs. 11b).

"The Lord will renew your strength" (vs. 11c).

"You will be like a well-watered garden; like a spring whose waters never fail" (vs. 11d). God will cause you to be fertile and productive; a fruit-bearing vineyard.

"You shall be called Rebuilder of broken walls, Restorer of houses in ruins" (vs. 12). They will rebuild on the "age-old foundations" (vs. 12). The Lord continually commands His people to "Build up! Build up!" (Is. 57:14; 62:10). Those who offer the acceptable fast of the Lord are builders, not wreckers, of the Body of Christ. See: Rom. 14:19-20; Eph. 4:16.

"You shall find your joy (delight) in the Lord" (vs. 14a). There is great joy and happiness in living acceptably before God.

"He shall bring thee up to the good places of the land, and feed thee with the heritage of Jacob thy father" (vs. 14bc). There is an inheritance awaiting those who offer unto their God the "acceptable fast."
********************
Down, But Not Out
A Study of Divorce and Remarriage
in Light of God's Healing Grace
by Al Maxey
ISBN: 1-4137-8993-5
Order Your Copy Today From
The Publisher: (301) 695-1707
Also Available Thru: Amazon.com, Borders,
Barnes & Noble, Grace Centered Magazine

********************
Reflections from Readers
From a New Reader in Tennessee:

Al, I read your book Down, But Not Out. I believe that you have solved the critical questions surrounding these mystery passages of Scripture! I love to read "leading edge" thinkers. Please add me as a subscriber to your Reflections. Thanks!
From a Reader in Missouri:

Dear Al, I wanted to tell you I enjoy your Reflections so much! They keep me encouraged. I am also so happy that you are receiving such a great response from your book Down, But Not Out. Isn't it great to know that you are reaching so many, and that hearts are being changed, and that those suffering from divorce can finally feel they can be forgiven?! Even though I have not had to suffer the cruel judgments of the brethren, since my own divorce many years ago was counted as "Scriptural," this topic has still always been close to my heart since I was quite young.
From a Reader in New Mexico:

Bro. Al, As always, I look forward to each and every one of your Reflections, but, brother Al, I have to tell you that the email from the one-cup minister in Missouri made me more than happy! In truth, I am elated. Praise the Lord!! It seems he has now become one of the Lord's soldiers. His email was like being present at a baptism. I am still smiling!! Having just returned from the October Men's Higher Ground Climb near Ruidoso, and a most pleasant visit with Coy Hunt, one of your fellow elders in Alamogordo, I was thinking what a blessing it would be if you could come up in February! Please consider it! I know there will be at least three brothers there that will want to thank you in person for writing Down, But Not Out. You see, all of the brothers I find in pain from a divorce, or with marriage problems, receive from me a gift copy of your book, as it helped me so very much! I love you, brother, for all you do for His kingdom and His children. Continue to be strong and courageous in Him!
From a New Reader in North Carolina:

Al, Your book Down, But Not Out has opened my eyes!! Now I'm reading through your published debates on divorce and remarriage. I thank God for giving you, and your LOVE, wisdom and spirit, to the church to combat our dogmatic and often ridiculous views of Scripture. May God richly bless you and your family! Also, please add me to your Reflections mailing list.
From a Minister in California:

Al, you low-life snake and godless reprobate! That response from your critic was a beauty! When you incite the wrath of people like that, you know you're doing something right! I write as a former legalist. I used to devour such publications as "Contending for the Faith" ... now I read them for a good laugh, and a reminder of how grateful I am for God's grace and mercy toward me. As always, your most recent Reflections -- "Salvation by Immersion" -- was another excellent article (as well as Reflections #83 -- "Preaching to Spirits in Prison"). I've preached at this present church for about 13 years and have never actually preached on the subject of baptism until just a few weeks ago when I preached three Sundays on the subject, including the same conclusion as yours on the 1 Peter 3:21 text. (We teach and promote Jesus Christ rather than some "step-program" leading to a sense of salvation.) I wish I'd seen your work (Issue #83) earlier, as it cleared up some things in my thinking. Thank you for your ongoing ministry to us!
From a Reader in California:

Brother Maxey, As usual, I enjoyed your latest Reflections article, and I give thanks to God for your wisdom and ability and willingness to tell it like it is!
From a Reader in Oklahoma:

Thanks, brother Al, for a most enlightening Reflections article in which you provided light on 1 Peter 3:21. It is my prayer that many will come to have a better understanding because of your teaching on this!
From a Reader in Arkansas:

Al, Keep up the good work! I intend to send a copy of your article "Salvation by Immersion" to the pastor of my boss. He is a pastor in the Baptist Church and has been studying this very topic lately.
From a Reader in Tennessee:

Bro. Al, Great article! You really explored a lot of different angles on this verse (1 Pet. 3:21). When discussing baptism with my denominational friends and relatives, I'm careful how I use this verse, and try not to make it say what it doesn't: baptismal regeneration. Al, thanks so much for your efforts. Since reading your articles I'm really starting to ENJOY my walk with Christ, instead of living in fear that I'm not keeping a legalistic check list!! Thanks, brother!
From a Reader in Kansas:

Al, I enjoy your writings so much! God has truly blessed you with great research skills, a love of studying, and the ability to communicate in written form. I print off your Reflections and read them as I ride my exercise bike or walk on the treadmill. I still have many back issues to go through. So, thanks so much for helping me develop mentally, spiritually and physically.
From a Reader in Florida:

Al, Your Reflections continually enlighten and encourage countless readers -- including me. Thank you so much for sharing your knowledge and insight on so many subjects! I read with great interest Issue #204 -- Indwelling and Empowering -- relating to the Holy Spirit's interaction with our lives. I was raised in the Churches of Christ and never worshipped with any other group of believers until I was in my 30's. I only read religious books and materials written by members of the Church of Christ. I thought that we were the "one, true church." In 1975 there was a split in our congregation, and I began an intense, prayerful, and prolonged study in the Word of God on many subjects, including the Holy Spirit. I was amazed at how wrong I had been in so many of my beliefs. My life was radically transformed! I wrote a book -- A Closer Walk -- that was published in 1982, which tells of that period of my life. It was written to show that God still talks to, walks with, and leads His children today. It would be an honor and privilege to send you a complimentary copy of my book. Again, I am so thankful to have been introduced to your weekly Reflections. I often tell others about your writings, sometimes email your articles to others, and also encourage people to check out your web site.
From a Minister in Tennessee:

Bro. Al, Another great study! In the past year or so I have come to the conclusion that the subject of importance in 1 Peter 3:20-21 is not baptism, but "by the resurrection of Jesus Christ." That is where the emphasis is found. If I put the point of emphasis anywhere else, I miss out on what the resurrection of my Lord did for me.
From a New Reader in (Unknown):

Thank you SO MUCH for submitting this article on our beloved sister Rosa Parks. Most importantly, if anyone has followed this story over the years, they would have come to know she is a believer in Christ Jesus. She has demonstrated this in her own humility, her courage, and her strength many a time. As an African-American, I truly appreciate brothers and sisters in Christ like you who are cognizant of their surroundings, the issues, the politics, etc. Yet, we truly understand this world is not ours, but our authority is only in Him. Let us preach the Lord, from the hamlet to the White house, from the ghetto to the chateau, to the villages and to the slums. Buff Scott, who told me about your Reflections in his newsletter, has a penchant for picking good web sites to share with his readers and fellow believers! Thanks again for your article.
From a Reader in Texas:

Al, I just read your tribute to Rosa Parks. If not the best article you have written, it is one of the best, in my opinion! I am one who believes you can preach a sermon without opening the Bible. Your article is a good example. Al, you wrote the following: "It should be pointed out that although Rosa Parks was active in civil rights efforts, it was largely directed in positive efforts. She had no intention of causing any problems or starting a 'movement.' She just wanted to see all people treated equally, and for all to enjoy the same freedoms." I believe the same could be said about another "movement" motivator. He did not want to cause trouble, He only wanted to set things right. Jesus was sent by God to redeem human souls. Maybe, just maybe, Rosa Parks was sent by our Father to redeem human dignity. They both were sent to teach the LOVE of GOD. I would ask our Father to bless Rosa, but that would be asking for something that has already happened.
From a Reader in Texas:

Thank you so much for writing the article about Ms. Rosa Parks. I have admired her since I was old enough to know anything about the courageous stand she took. She was truly a woman of conviction, courage, and peace. Thank you again for writing such a wonderful article about her.
From a Minister in California:

Thanks, Bro. Al, for this wonderful tribute to a wonderful lady. I grew up as deep in the south as one can live -- Northwest Alabama. We had a view of Martin Luther King, Jr. as a communist dupe and an all around trouble maker. It was not until many years later, while attending a lecture at Pepperdine by Fred Gray, Jr. (King's attorney and an elder in the church in Selma), that I really saw King in the correct context and developed an appreciation for the entire civil rights movement. I just wanted to thank you for your tribute this morning.
From a Reader in Oklahoma:

Thanks so much, Bro. Al, for paying tribute to such a great person. This verse came to me in response, "This is how we know who the children of God are and who the children of the devil are: Anyone who does not do what is right is not a child of God; nor is anyone who does not love his brother" [1 John 3:10].
From a Reader in (Unknown):

Al, I enjoyed your tribute and your thoughtfulness in honoring Rosa Parks in your Reflections. I look forward to reading all of your articles and consider you a voice of reason among our brethren. If only they would all take to heart what you have to say! Blessings to you!
From a Minister in New Mexico:

Dear Al, I just finished reading Issue #215 of your Reflections -- Embracing Another Gospel. It was excellent, and very worthwhile. After serving in World War 2, I graduated from one of our Christian colleges, and began preaching in 1948. I was as legalistic as the next guy, thinking WE were the only ones who had the gospel, and that all my neighbors had a one way ticket straight to the everlasting fire! I was indoctrinated to believe that everyone outside of OUR fellowship was lost. It took me about ten years to realize that something was wrong with the doctrine I was preaching. So, instead of preaching only the passages we were forced to memorize in college, I began to read the holy Scriptures for myself in their context, and a whole new enlightened world opened to me.
From a Reader in Kansas:

Bro. Al, I just read Reflections #3 -- Restoring the 1st Century Church? -- and I agree with your views. For years I've heard Church of Christ members speak about the "Restoration Movement." I'm at the point, however, that I'm not sure the RM is, or even has been, a valid concept. Promoting a movement, as if it was God ordained, doesn't seem to be what the Lord has in mind. Movements tend to be divisive, and the RM is no exception. The congregation I attend promotes Jesus Christ, not a movement. I've been told by many members of the Church of Christ that the "Restoration plea" must be shared with others! So, whatever happened to sharing the Gospel?! I do appreciate all that Bro. Campbell and his contemporaries did to promote unity. However, as for myself, I see the promotion of unity as being a part of the gospel and doctrine of Christ. I pray for unity in the brotherhood daily. My hope is that one day brethren will stop fighting and start uniting, so the world can be changed one person at a time. Okay, I'll get off my soap box.
From a Doctor in Alabama:

I'm never sure whether I ought to feel proud that the civil rights movement began in my home state, or ashamed that it had to begin here! Fortunately, due to the courageous efforts of people like Rosa Parks, the state of Alabama has come a long way since that day fifty years ago when racial discrimination was written into the law. Sadly, we still have a long way to go. Though the Jim Crow laws are no longer on the books, and the racial animosities of the past have begun to fade, it would be dishonest to claim that Alabama has become a paragon of racial harmony. Sure, there are many places in America where the racial tensions are far worse than they are here. But Alabama is still a long way from Martin Luther King's vision of the "promised land" where white children and black children join hands, and where men are judged not by the color of their skin, but by the content of their character. We're heading in that direction, but we're not there yet. I hope and pray that I'll live to see the day when we enter that promised land.
From a Reader in Missouri:

Al, I don't know if the problem is on my end or yours, but I would like to continue to receive your Reflections. I seem to have been bumped off your mailing list somehow in October. You have been a tremendous encouragement to me. I feel like I have learned more from you than I did from 4 years at Harding. Thank you very much!
Special Note to Readers: These Reflections get mailed out to many thousands of readers each week. In fact, I've had close to 30 new subscribers in just the last couple of days. I do my best to maintain the mailing list, which means dealing with address changes, etc. Each mailout I send will have about 10-12 "bounces" of the article (which I am told is extremely good in light of the number I send out). There may be any number of reasons why an article is "undeliverable." Sometimes I am informed by the "bouncing" source that a reader's email box is full, and thus no additional emails can be placed in there. This may mean the person is on vacation and hasn't checked their account in a while. Sometimes there is a problem with the person's server. On one occasion, AOL was down for maintenance, and every person with an AOL account "bounced." Sometimes a person changes email addresses and doesn't tell me. After an address bounces 3-4 times in a row, I remove that address from my mailing list, assuming there is some significant problem with that address. Therefore, if you notice that you have not received an article for a considerable length of time (and I mail them every 5-7 days), you might be "bouncing," or you may have been removed. You can always check the Reflections Archive to see if you have missed any articles, and if you have you may read them at that site (they are all there). If your account is having "bouncing" problems, you may need to contact your server to see why they are rejecting these mailouts. It may just be a simple communications problem between your server and mine that can be corrected in a matter of seconds, or you may need to adjust your SPAM settings. Some accounts will not accept an email that is over about 95 kb, so you may need to adjust your settings there as well. --- Al Maxey
From a New Reader in Virginia:

Al, Please add me to your Reflections subscription list. I came across your web site "Googling" some info on Romans 1:17, and it hit on your article "From Faith to Faith" (Issue #185). Great stuff. In fact, I've enjoyed looking at your material too much! It's Friday morning, and I'm only half done working on my sermon because I spent an entire day reading through your web site! Keep up the good work.
From a New Reader in Belgium:

Brother Al, I doubt that you will remember me, but the Honolulu Church of Christ, along with the Pearl Harbor Church of Christ and others, helped to supported me and several other folks in Hilo, Hawaii during the 1960's. Later, in the 1980's, I knew you at the Kaiserslautern Church of Christ in West Germany, where you were preaching before your six year stint in Honolulu, where you worked with many people I respected and loved. I now live in Brussels, Belgium. Edward Fudge has recommended to his readers your recent article on Rosa Parks. I lived in Montgomery, Alabama during the early years of the Civil Rights Movement, and am interested in your article both from my personal perspective and from a historian's perspective. Please send me a copy, and also add me to your mailing list for Reflections. I read several of your articles when I was living in Okinawa.
From a Minister in Barbados, Caribbean Islands:

Al, I told you some time ago that I appreciated your honesty and balance. Today that appreciation has grown immeasurably, because you took time out to recognize the contribution of a simple, but courageous and beautiful, lady. I refer to your article on Rosa Parks. Your conclusion is so appropriate. By "her act of refusing to stand, she stood up for all Americans," but, I add, not only Americans, but for all of the world's disadvantaged, particularly those who are excluded by unjust civil laws as well as uncaring practices in their countries. Thanks again, Bro. Al, and keep on writing so that the flag of justice will always have that breeze that causes it to fly high and vigorously for all to see. There is no doubt in my mind that several like yourself are already flying high the Gospel message of the cross of Jesus Christ. I am sharing your articles with others and they are in agreement that you are giving much food for thought. Thanks be to God who has blessed you with such a gift. You are truly blessed.
From a New Reader in Kentucky:

Dear Al, Please include me on your mailing list for Reflections. I am a Licensed Professional Clinical Counselor and work with the -------- Church of Christ in ---------, KY as their Family Life Minister. Your goal of greater unity is so in tune with the nature of God and His revealed Word. Keep allowing God's Spirit to oversee everything you write. Thanks!
From a Minister in California:

Bro. Al, Very few people have stood so tall while sitting down. While seated on a bus, Rosa Parks towered over a nation. What a remarkable woman! Thank you for dedicating a Reflections to this icon of peaceful resistance to injustice. What amazes me about Ms. Parks is how youthful she seemed at 92!
********************
If you would like to be removed from or added to this
mailing list, contact me and I will immediately comply.
If you are challenged by these Reflections, then feel
free to send them on to others and encourage them
to write for a free subscription. These articles may all
be purchased on CD. Check the ARCHIVES for
details and past issues of these weekly Reflections:
http://www.zianet.com/maxey/Reflect2.htm