REFLECTIONS
by Al Maxey
Issue #288 ------- February 13, 2007
**************************
Such is the irresistible nature of truth
that all it asks, and all it wants,
is the liberty of appearing.
Thomas Paine {1737-1809}

**************************
Conjoined to Bear Fruit
Reflecting on Romans 7:4-5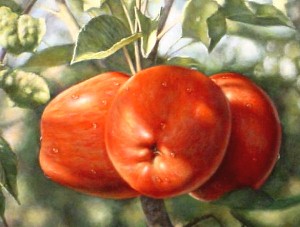 A dear brother in Christ, and a minister of God's gospel of grace, from the great state of Missouri, recently wrote asking, "Bro. Maxey, Someday would you do a Reflections article on the meaning of bearing fruit in the context of Paul's comments to the brethren in Rome in Rom. 7:4-5? I am interested in understanding the meaning of "bearing fruit for God" [vs. 4] and "bearing fruit for death" [vs. 5]. Perhaps other Reflections readers would like to know too!"
The inspired Scriptures are filled with references to the people of God bearing fruit. We immediately think of the "fruit of the Spirit," of which Paul speaks in Gal. 5:22-23. These are all relationship building qualities, whereas the many "works of the flesh" [vs. 19-21] serve to undermine and destroy such relationships, both horizontally and vertically. Our Lord most certainly expects us to produce within our daily lives the qualities of love, joy, peace, patience, kindness, goodness, faithfulness, gentleness and self-control. The apostle Paul further urged the Colossian brethren to "bear fruit in every good work" [Col. 1:10]. The author of the epistle to the Hebrews states that godly discipline, when properly perceived and accepted, "yields the peaceful fruit of righteousness" [Heb. 12:11]. Jesus said, with regard to the nature of both good and bad people, "you will know them by their fruits ... good trees bear good fruit; bad trees bear bad fruit" [Matt. 7:16-17]. John the Baptist urged those who came to hear his teachings to "bring forth fruit in keeping with repentance" [Matt. 3:8; Luke 3:8], and James, the brother of our Lord, declared that "the wisdom from above ... is full of mercy and good fruits" [James 3:17]. And on and on we could go throughout the inspired writings of both old and new covenants.
In this current issue of my weekly Reflections, however, we shall narrow our study to the teaching of Paul in Romans 7:4-5. Admittedly, Rom. 7:1-6, which forms the immediate context of the two phrases in question, is a passage that has proven quite perplexing to many disciples who have sought to interpret it. Some disciples feel it constitutes "NT Law" with respect to marriage, divorce and remarriage. I disagree, and have provided a rather extensive exegesis of the text in the following article, which was written three years ago this week: The Law of the Husband [Issue #106]. I would strongly encourage the reader to take just a few minutes to examine this study before proceeding, as it will set the context for what follows. For those readers who may not be able to access this previous study, let me share the following four paragraphs from that examination of Romans 7:1-6.
********************
In order to truly perceive the passage under consideration in this issue of Reflections, one must place it within its epistolary context. In the chapter preceding it, for example, Paul discussed at length the fact that Christians have been set free. In Christ Jesus, one is no longer enslaved under Law, but abides in grace; no longer is one dead in his sins, but is spiritually alive; no longer are we slaves of lawlessness, but now servants of righteousness; no longer under the curse of death, but heirs of life everlasting. The apostle Paul proclaims the good news of a changed relationship, with its attendant blessing -- freedom. He seeks to illustrate this marvelous message of grace in a variety of ways, but one of the more stunning and memorable is found in our text: Romans 7:1-6. I would urge the reader, at this point in the study, to pause and read this passage in as many different translations as you can. Take a moment to reflect carefully and prayerfully upon Paul's words. Let them sink in and speak to you.
Paul informs the saints in Rome, and, through the divine preservation of this text, us as well, that mankind had at one time been bound to the Old Law by covenant. This state of being he likens to a woman who is bound for life to her husband by virtue of a covenant of marriage with this man. Before this woman could "legally" join herself to another in a new covenant, the previous covenant must be terminated; the first union must be severed in some way. Under ancient law and custom, the woman was left with little legal recourse aside from the voluntary dismissal by the husband (where he would issue her a certificate of divorce) or his death. Either would sever the legal bond. In Paul's illustration, however, the former is not even considered. This is because GOD, in His covenant with mankind, had no intention of "backing out of" HIS commitment to the covenant. Thus, in the illustration of Romans 7:1-6, the option of the man putting away the woman is not even considered. This is a binding covenant upon the woman that ONLY DEATH will bring to an end. There is a point to this limitation, of course --- like Paul's illustration, mankind is only freed from his covenant under the Old Law, and made available for a New Covenant relationship, by a death!
"Therefore, my brethren, you also were made to die to the Law through the body of Christ, that you might be joined to another, to Him who was raised from the dead, that we might bear fruit for God. For while we were in the flesh, the sinful passions, which were aroused by the Law, were at work in the members of our body to bear fruit for death. But now we have been released from the Law, having died to that by which we were bound, so that we serve in newness of the Spirit and not in oldness of the letter" (Romans 7:4-6, NASB).
By sharing in the death of Christ Jesus, we experience liberation not only from sin and its curse of death, but also liberation from enslavement to law; not just to the Old Law (the Mosaic Law), but to any system of law by which men seek justification and redemption. Our approach to God is not through the courts, so to speak, but through the cross. Those who, in evidence of their faith, are "baptized into His death" (Romans 6:3), are then raised to "walk in newness of life" (Romans 6:4). It is through our new union with Christ Jesus, having shared in His death, that we enjoy this new covenant relationship. Our bondage is passed; freedom has come!
********************

In Romans 7:4 the apostle Paul speaks of those who are now liberated, having been conjoined with Christ Jesus, as being persons with the potential of "bearing fruit for God," whereas previously their reality was that the fruit borne was ultimately "for death" [vs. 5]. The question is -- in light of both the immediate and epistolary contexts, what is the spiritual significance of these two statements? In what sense do those free in Christ bear fruit for God, and in what sense do those lacking this liberation, who are still enslaved to a system of law, bear fruit for death? The key to a valid interpretation, I believe, lies in perceiving these two statements in light of their relationship, or lack thereof, to either law or liberty. By one we are ennobled, by the other we are enslaved. There is life in one, death in the other. "What fruit did you have then in the things of which you are now ashamed? For the end of those things is death. But now having been set free from sin, and having become the slaves of God, you have your fruit to holiness, and the end, everlasting life" [Rom. 6:21-22, NKJV]. When bound to a system of law, living as transgressors of law, we bore only the fruit of inevitable death. However, when we were set free from enslavement to law, and consequently to sin and death, we were joined together with our Great Liberator, and by His grace enabled to bear fruit that reflects the glory of God Himself in our lives. The fruit we bear for God is the fruit of holiness; the fruit of His Holy Spirit. The fruit of our own effort, however, under a cruel taskmaster (law), is certain death. "By works of law no flesh will be justified in His sight" [Rom. 3:20]. It is apart from law, united with Christ, that we bear fruit for God, rather than bearing fruit for death.
Prior to our union with Jesus, we all lived as transgressors. The law served to spotlight our imperfection and failure. The bar was placed so high that no man was capable of actually measuring up. Only One ever did so -- Jesus -- and then He removed the bar. We now measure up in Him. "We, who believe in Christ, have, in consequence of our union with Him, received the gifts and graces of the Holy Spirit; so that we bring forth that fruit of holiness unto God which, without this union, it would be impossible for us to produce" [Adam Clarke, Clarke's Commentary, vol. 6, p. 82]. Jesus declared, "I am the vine, you are the branches; he who abides in Me, and I in him, he bears much fruit; for apart from Me you can do nothing" [John 15:5]. The fruit that God seeks from us cannot be produced apart from an intimate relationship with His Son Jesus Christ. It is only by the enabling and empowering of His Holy Spirit that we are transformed from within into the fruit-bearing branches that produce to His glory and His honor. All self-effort apart from Him is doomed to failure; it neither glorifies God nor lays hold of life. It is fruit borne of self; fruit that leads only to death. Thus, fruit for God is produced only by those who turn from the law to the Lord.
This is exactly why legalism is such a deadly philosophy. Those who embrace it will die. "If you are led by the Spirit, you are not under law" [Gal. 5:18]. "It was for freedom that Christ set us free; therefore keep standing firm and do not be subject again to a yoke of slavery" [Gal. 5:1]. "You have been severed from Christ, you who are seeking to be justified by law; you have fallen from grace" [Gal. 5:4]. When we are united with Him, we are set free from our subservience to law. We are now free to bear fruit for God, resulting in holiness and life eternal, rather than enslaved to a system of law that ultimately leads only to death. All the fruit we seek to bear in compliance to a system of law can never, ever bring forth life. Thus, our effort only produces our destruction. That being said, there is no question, however, that the fruit to be borne within the Christ-centered life is that of good disposition and good deeds. These are not produced to effect one's salvation, but rather to evidence one's faith and gratitude. "For by grace you have been saved through faith; and that not of yourselves, it is the gift of God; not as a result of works, that no one should boast. For we are His workmanship, created in Christ Jesus for good works, which God prepared beforehand, that we should walk in them" [Eph. 2:8-10]. Having died to the curse of seeking justification by meritorious works done under law, we now show our thankfulness for the gift of salvation by our heartfelt service to God and our fellow man. In so doing, we bear fruit for God. As the noted NT Greek scholar Dr. William G. T. Shedd rightly observed, "Faith in atoning blood is fruitful of good works" [A Critical and Doctrinal Commentary on the Epistle of St. Paul to the Romans, p. 175].
Dr. Paul E. Kretzmann, who has produced a splendid commentary on the Bible in several volumes, declares, "The result of this wonderful union is the bringing forth of fruit unto God, the fruit of good works, which are done to the praise and honor of God. ... It is the resurrected Christ who through the Holy Spirit works all good things in the Christians, bringing forth splendid fruits of sanctification" [A Popular Commentary of the Bible: The NT, vol. 2, p. 85]. "The fruits of our union with Christ consist in those 'good works which are by Jesus Christ to the praise and glory of God.' Good works are the united product of Christ and the believing soul, and so we rejoice in them as the fruit of that spiritual union existing between the Savior and the soul" [The Pulpit Commentary, vol. 18, p. 202]. The secret of fruit-bearing for the Father is to be found in UNION with the Son. "The gist of it all is: you have done with the law and assumed a new spiritual life in Christ -- see that you make this a reality!" [Dr. Charles Ellicott, Ellicott's Commentary on the Whole Bible, vol. 7, p. 230].
"What Paul would make plain is the fact that being under law left us worse than barren as far as fruit of good works that are pleasing to God is concerned. The great delusion with reference to the law is that the law produces good works. That is why we have so many legalists! They think it is fatal to relinquish the law, fatal to the production of good works. The opposite is true: it is fatal to good works to cling to the law, for the law never produced a single good work. This entire seventh chapter of the epistle to the Romans was written to expose the fallacy of relying on law as a producer of good works" [R. C. H. Lenski, The Interpretation of St. Paul's Epistle to the Romans, p. 450]. The fruit that pleases God is a life filled and led by the Holy Spirit, producing within us not only the fruit of the Spirit in daily action, but producing within us the very image of the Son of God. Thus, united with Jesus, we serve in the newness of the Spirit of the Lord, not in the oldness of the letter of the law. Under law we merely bore fruit unto death; under grace, and in Christ, we bear fruit for God. The former was religion, the latter is relationship. The former is the absence of true life, the latter is the abundance of life. "The law restrains, but the Spirit inspires" [Pulpit Commentary, vol. 18, p. 195]. May we be inspired and led by His Spirit into union with the Lord Jesus Christ, for only in Him do we truly bear fruit for God. All our actions apart from union with Him only lead to one sad fate: death. May those still enslaved to law awaken to their folly, and may they turn to the Lord to experience the freedom to bear fruit for the Father.
***************************
Reflections on CD
www.zianet.com/maxey/offercd.htm
***************************
Down, But Not Out
A Study of Divorce and Remarriage
in Light of God's Healing Grace
by Al Maxey
Order Your Copy Today
www.zianet.com/maxey/mdrbook.htm

***************************
Web Sites, Blogs, Newsletters
of Reflections Readers
Tim Archer
John Clayton
Larry Tittle
Todd Uebele
Each week I'll provide a few such sites from the readers.
Please send me your site address if you wish to be listed.
An appearance on this list does not necessarily imply my
endorsement of the site content, nor does it imply these
readers are necessarily in full agreement with me.

***************************
Readers' Reflections
From a Minister in India:

Beloved Brother, Thank you very much for beautifully explaining the Word in your article "A Scandalous Faith." I have never preached a sermon on this passage. Now I have to!! Your study was so simple, but so very powerful. You are absolutely correct in what you said.
From a Minister in California:

Brother Al, I often find myself intellectually stimulated by your Reflections articles. This particular article on Jesus' healing of the woman with the bleeding disorder, however, left me humbled and chastened. Our Lord's honoring of this woman's "Scandalous Faith" sheds so many rays of light on the grace and mercy of our Lord Jesus that it's hard to even begin describing just how many lessons this passage teaches! I am once again reminded of our Lord's desire to behold bold faith in action. One could list example after example of Christ praising someone's faith, especially those who didn't "deserve" to be healed. Thank you for this extremely challenging lesson. Once again, Jesus leaves me "dazed and confused." His wisdom is so far above mine! It seems to me that a huge portion of Christ's mission was to make that which is unclean, clean. How amazing!
From a Reader in North Carolina:

"A Scandalous Faith" is a touching and compassionate article, Brother Al. It teaches us the power in getting close and staying close to God, His Son and His Holy Spirit. As I was reading it, the wonderful song "He Touched Me" kept running through my mind. And even though this woman touched our Lord, we know that He can touch us and make us whole if we but reach out to Him. Keep on keeping the faith, my brother!
From a Minister in California:

Brother Al, Your recent discussion of the seven Noahide Laws reminded me of an impression I have had for some time. Paul's reference in Romans to those who "by nature" understood principles of right and wrong has led me to suspect that this inherent sense of right and wrong may well be traceable back to the Garden of Eden when Adam and Eve ate of "the tree of knowledge of good and evil." To me, "by nature" seems to imply a source other than direct, specific teaching.
From a Reader in Texas:

Dear Brother Al, I found your article concerning the unclean woman most interesting. Since it is stated that the woman's daughter was 12 years old, and since the mother had been bleeding for 12 years, I believe the problem was caused by a bad childbirth situation.
This sister from Texas presents a most interesting theory: suggesting the woman with the "issue of blood" may have been the mother of Jairus' daughter (and thus, perhaps, the wife, or ex-wife, of Jairus). This would certainly address the question of why the number twelve is used with respect to both females in this account. Most scholars feel that number links the two accounts in some way, but I had never come across the idea that this woman may have been the young girl's birth mother. This also raises interesting questions about Jairus, and how her "uncleanness" may have impacted his position as a synagogue leader. How very interesting it would be if Jesus Christ "raised up" and gave "new life" to both of these women who had been removed, under different circumstances and different times, from Jairus' life!! It is all purely speculation, of course, but it certainly makes for a most fascinating and moving story if true (although the fact that the young girl's "mother" is clearly mentioned in Mark 5:40 and Luke 8:51, 56 seems to suggest rather strongly that these are two separate individuals. Even then, however, it is entirely possible this second woman mentioned may have been Jairus' second wife, and not the actual birth mother of the young girl. Then again, the woman now made clean could have traveled on with Jesus to the home, been restored to Jairus and society [both secular and religious], and then stood there as the daughter was restored to them both! A true "happy ending" -- a family restored! There is just a great deal we don't know, and never will, but it would definitely make an interesting novel for some author gifted with the ability to write Christian fiction, such as Francine Rivers). --- Al Maxey
From a Minister in Texas:

Dear Bro. Al, Thanks so much for a really great study on the "parenthetical miracle" of the healing of the woman with the "issue of blood." I had decided to preach on this very miracle this past Sunday evening, but then decided at the last minute to speak on something else. I'm so glad that I did, because now my lesson will be enhanced by your study. I am in my 50th year of preaching, and I do some writing too, but not like you do. I also have a small book coming out soon called "Simple Times - Simple Faith." It is the story of the Churches of Christ in Dixie in the 40's and 50's as seen through the eyes of a southern preacher's kid (me). I will send you a copy.
From a Minister in Missouri:

Brother Al, Your article "I Bring A Sword" was another wonderful issue of Reflections. As I began my own journey from law to grace, I was finally excited about Jesus Christ. I wanted to share my excitement and renewed love for Christ with all of my One Cup brethren. I just knew that it would lead to a mass exodus from law to grace, love and acceptance of others. It didn't take me long to realize that it doesn't work that way. As I have shared the grace and love of Christ with many of my legalistic brethren in the One Cup fellowship, it seems that I am surrounded by the "sword of division" now more than I ever was before. I used to only have to worry about the attacks of Satan. Now I have to worry about attacks from my own brethren as well. What a shame!
Also, would you please deliver my following letter to the reader in Reflections #286 whose location was "withheld by request," and who was forced not to trim her hair lest she be sinning: --- Dear Sister, As a member of the One Cup brotherhood, I want to express my deepest apologies on behalf of the One Cup brethren for the way in which you and others like you were treated over the hair issue. It is unfortunate that so many of our brethren would rather push people away over their own opinions rather than accept people for who they are out of simple love and service to Jesus. I hope that you are serving the Lord wherever you go to church, and please know that there are some in the One Cup brotherhood who are centered on grace and love, and not law and judgment. God bless you, sister!
********************
If you would like to be removed from or added to this
mailing list, contact me and I will immediately comply.
If you are challenged by these Reflections, then feel
free to send them on to others and encourage them
to write for a free subscription. These articles may all
be purchased on CD. Check the ARCHIVES for
details and past issues of these weekly Reflections:
http://www.zianet.com/maxey/Reflect2.htm