REFLECTIONS
by Al Maxey
Issue #294 ------- March 26, 2007
**************************
Be what you wish others to become. Let
yourself and not your words preach for you.
Henri Amiel {1821-1881}

**************************
Marshall Keeble
Evangelist Extraordinaire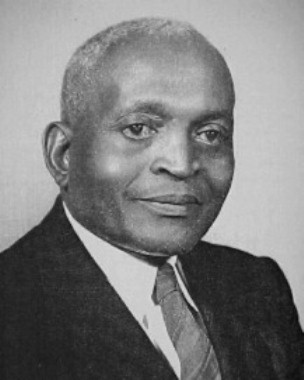 Just three weeks ago today (Monday, March 5), as the entire planet appeared to wait breathlessly for the latest raunchy piece of gossip with respect to the death of Anna Nicole Smith, a dear lady, who had lived 108 years on this earth, fell quietly asleep in the Lord. There were few, if any, news flashes sent throughout the world. The people of the planet didn't pause in their personal pursuits to contemplate the life and death of this woman. Indeed, few even noticed. Many of you probably weren't even aware of her passing, for she passed from this life much as she had passed each day of her life: in the background; satisfied merely to be known as a humble servant of others and of her God. This faithful disciple, this worthy woman and devoted wife, was Laura Catherine Johnson Keeble, the helpmate of one of our Lord's most effective, endearing evangelists: Marshall Keeble. She was born on August 6, 1898, being the seventh of ten children (3 boys, 7 girls). Luke, her father, worked in an iron foundry, and her mother, Susan, was a nurse/midwife. In later years she wrote, "It seems that caring for others was a part of me. Because there were so many people in my family, growing up I never knew what it was like to eat a whole apple by myself until I was grown and gone from home." Throughout her life she excelled at putting others first.

A tribute to this magnificent lady, and a report on her funeral service, may be read in the current edition of The Christian Chronicle [April, 2007]. Around 350 people gathered in Nashville, Tennessee for the two-hour service at which several persons eulogized this magnificent woman who possessed such a deep, abiding faith. Dr. Jack Evans, who serves as the current president of Southwestern Christian College in Terrell, TX, told those gathered, "Sis. Keeble was not just the widow of the greatest preacher since the days of the apostles, she was also a great woman in herself. She made her own mark." Bro. David Jones, who serves as minister at the Schrader Lane Church of Christ in the city of Nashville, indicated Sis. Keeble "fully understood the challenging implications of her decision to marry such a widely known church leader. She understood that she would remain in the shadows most of the time, yet she didn't try to make him serve beyond his capacity. She didn't try to do anything beyond simply helping him, as the Bible says --- 'be a helper fit for him.' He married the right woman!" "Fred Gray, an elder at the Tuskegee, Alabama congregation, and a one-time attorney for Martin Luther King, Jr., as well as Rosa Parks [Reflections #218], remembered, 'Laura Johnson Keeble was a woman who stood in the gap and built a bridge --- one between seniors and young people, between the saved and the unsaved'" [Christian Chronicle, April, 2007, p. 3]. Sister Keeble (this was how she preferred to be addressed) was baptized in a Mississippi creek at the age of fourteen, and she spent the remainder of her life in service to her Lord. "Be glad with her, all you who love her; rejoice for joy with her, all you who mourn for her; for thus says the Lord: Behold, I will extend peace to her like a river" [Isaiah 66:10, 12].
If Sister Keeble could speak to me right now, she would probably say, "Okay, you've said more than enough about me. Move along now and talk about Marshall. Tell your readers what he did for Jesus!" By way of illustration, in a 2003 interview with the Associated Press she clutched in her hands a photo of her late husband, saying lovingly, "Ain't he a dandy? He loved to dress and go preach. He'd say, 'Come on, Mama. Let's go to church.'" So, Sister Keeble, although we pay tribute to your wonderful life of service and devotion, we shall indeed "move along" and focus our remaining thoughts on the man with whom you spent 34 memorable years: Marshall Keeble, who not a few suggest may well have been the greatest evangelist among Churches of Christ of the 20th century.
Marshall Keeble was born on December 7, 1878 on a farm near Murfreesboro, Tennessee. He was the son of Robert and Mittie Keeble, who were former slaves. When he was just four years old, his family moved to the city of Nashville. He attended the Bellview and Noles schools until the seventh grade, and then left school to help support the family. His formal education never went beyond the seventh grade, although in the latter years of his life, due to his great accomplishments, both socially and religiously, as well as in the field of Christian education, he was awarded an honorary doctorate degree. His first real job, after he had quit school, was working in a bucket factory, where he spent up to ten hours a day for a mere 40¢ per hour. He was baptized in 1895, at the age of seventeen, by Preston Taylor at the Gay Street Christian Church in Nashville. At that time he had long since left the bucket factory, and was working in a soap factory. The year after Bro. Keeble was baptized, he married his first wife, Minnie Womack, who was the daughter of a very prominent black preacher in the Churches of Christ by the name of S. W. Womack [d. 1920]. Bro. Womack, along with Bro. G. P. Bowser [1874-1950], had previously withdrawn from the Gay Street Christian Church to pursue what they felt was a "purer form of worship," establishing a group that came to be known as the Jackson Street Church of Christ, "which became a base for launching Churches of Christ among African Americans in the twentieth century" [Encyclopedia of the Stone-Campbell Movement, p. 15].
Marshall and Minnie purchased a grocery store in Nashville and settled into their new life together. He also acquired what was known as a "huckster's wagon," and while Minnie ran the store he would sell produce from this wagon around the streets of the northern sections of the city. They did so well that they were soon able to purchase a second store. Under the tutelage of his father-in-law, however, Marshall soon began to develop an interest in preaching. In fact, a year after his marriage to Bro. Womack's daughter, Keeble preached his first sermon at the Jackson Street Church of Christ. By the year 1914, he had become so popular as a gospel preacher that, at the encouragement of a number of preachers in the area, he began traveling about as an itinerant evangelist, holding meetings in tents, arbors, barns and even in some church buildings, while Minnie stayed at home and ran the stores. Keeble never looked back, spending the next 54 years of his life preaching the gospel all over this great nation, and even overseas (making several trips to Europe, the Holy Land, and Africa). His focus was evangelism, however, and he never in all that time served a congregation as a located minister. He declared that he did not have the time to devote to a located ministry, as he preferred spending all of his time, each and every day, preaching the Word to the lost, rather than attending to the affairs of an assembly of the saved.
Bro. Keeble was successful beyond anyone's expectations! It was not unusual for him to baptize as many as a hundred people in a single gospel meeting. Although exact records were not kept, it has been estimated by his biographers that in his lifetime he may well have baptized as many as 40,000 people. He is also said to have established close to 250 congregations. Keeble's great appeal was his "down-home" quality to proclaiming the Word of God. He spoke simply, but powerfully. He was a master of using yarns and contemporary parables to relate eternal truths to his audience, many of whom were poor and uneducated. Yet, even though he spoke in the language of the common black laborer of his day, often butchering the English language, his messages had the ability to hold enthralled even the top scholars of his day. Keeble was an absolute genius when it came to knowing his audience. He had the uncanny ability to connect with virtually anyone, whether they be former slave or university scholar. He spoke in barns, and he addressed the faculties of major universities. And he was the same man before both groups! And they adored him!
"From the very beginning of his career Keeble proved a master of the English Bible and of human psychology" [Encyclopedia of the Stone-Campbell Movement, p. 442]. Don Haymes, one of this man's biographers, wrote, "Keeble is an unlettered, largely self-taught, creative genius, and a master of two things: the plain words of the English Bible and human psychology." Less than a year before his death, Marshall Keeble declared that one of his great role models in life had been Booker T. Washington. "He done a lot to help me," Kebble stated. "I got lots outta how he made his points. Any man who can make things simple is a great teacher." Bro. Keeble was definitely able to make the message simple, and yet his teachings were profound, moving men and women to accept the Lord by the tens of thousands.
Part of his appeal, and certainly a factor in his effectiveness, was his directness with his audience ... what some characterized a bold bluntness. Keeble didn't mince words; he told it like it was. And yet he was so skilled psychologically that people were rarely ever offended by such "in your face" preaching and teaching. "No one in his time and place possessed more formidable psychological and rhetorical weapons than Keeble, or wielded them more effectively" [Encyclopedia of the Stone-Campbell Movement, p. 442]. One of his contemporaries summed up the approach of this great evangelist well by saying, "Keeble preached it hard." "Yet Keeble delivered his hard, uncompromising message with elegant wit and unalloyed love; his parables, carefully couched in the images and idioms of his audiences, conveyed his practical guidance for everyday life and his truly evangelical call to share in the hope of heaven" [ibid]. Yes, he preached it hard, but his love for those to whom he preached was evident in every word and mannerism. He genuinely cared about those who were lost, and they knew it ... and they responded.
Keeble was also not reluctant to "tell it like it was" to the "big name" white preachers and scholars. At an address before a large assembly at Abilene Christian College on Feb. 23, 1950, for example, Keeble several times lit into them in order to get them to lighten up a bit. "I think sometimes the trouble with the church is we carry too long faces in order to appear sincere. That don't count," he told them. Later he chided the group for showing too little emotion during his talk. "You know, I would like to have a few 'Amens.' Little as you think of it, we are retarding the progress of the church trying to be quiet, trying to be up-to-date and modern, and the preacher don't know when he has said anything that suits anybody. We are afraid we will go sectarian!" In other words, he wanted to see some sign of life among his listeners, not just corpses propped up in a pew. Keeble later referred to them all as being like blocks of ice in a refrigerator, and yet by the end of the speech he had melted their hearts. In that same speech Keeble said, "I am in sympathy for the gospel preacher in the Church of Christ. Why? Because he stands up to preach in a Frigidaire. The congregation sits out there ... good pious brothers just looking like a cake of ice looking at him. When I find one trying to freeze me, I don't look at him no more. I want to say a word to the young gospel preachers. When you see someone trying to freeze you, you do like you do with your modern Frigidaire --- turn on your defroster. That's right. That's right. I've got a defroster on you all this evening; that's the reason you're smiling and encouraging me. You started in here freezing, but I have you defrosted." Keeble could "defrost" the coldest audience, leaving them warmed by the message of God's love for them. Those who sought to "freeze out" this poor, uneducated black man, soon warmed to him. Yes, Keeble knew his audience; he knew how to touch souls for Christ. He had an ability that few have ever equaled.
"His doctrine reflected the prevailing conservative understandings of white Churches of Christ concerning the boundaries of the church and baptism" [ibid]. In other words, Keeble, theologically and doctrinally, would be what might best be characterized today as ultra-conservative. The Church of Christ church was the only church! Being in a "denomination" was a sure ticket to hell. He regularly challenged and castigated by name all other groups from the pulpit, a practice known as "denomination bashing." And he did so without apology! Just for the record, I disagree 100% with such tactics, and feel they are out of place in our efforts to reach others with the good news of God's grace. I certainly respect Keeble as a brother, minister and fellow human being, but have no use for his choice of tactics. Keeble was also completely focused on getting people into the waters of baptism, and he had absolutely no use whatsoever for anyone who was unimmersed. He accused such people of seeking to be "dry cleaned." Keeble often told his audiences, "The devil wants you dry, so you'll burn better!" Needless to say, such tactics got the attention of the people.
Sometimes his bravado caused a few in the crowd to challenge him publicly. He never seemed to lose his cool, however. In the above mentioned speech at Abilene Christian College in 1950, he related the following incident. "I tell you what happened to me. I was holding a meeting once at a place and there was a colored man that happened to have finished college, had some advantage of me intellectually, and he knew that he had it because you could tell from our discussion in the language that I was using that I was short, and by the verbs that I was splitting and the adjectives that I was bursting. He could tell that I was unprepared intellectually to stand before him and he attempted to take advantage of me. And here's what he said. When I quoted Acts 2:38, he got up right in the audience and asked me, 'What is the Greek on that?' He knew that I knew nothing about Greek. 'What's the Greek on that!!' Well, I stood there puzzled; didn't know exactly what to say about it, and didn't want the cause of Christ to suffer, but he had me. This thought came to me, and I was proud of it. I said everybody in this audience that knows Greek, lift their hands. I looked around and I saw nobody's hand up. I turned around to this great preacher and I said, 'What's the need of discussing Greek? Ain't nobody out there knows it.'" Apparently that silenced his critic.

By the way, for those who have never heard Bro. Keeble preach, you are missing out on a truly unique experience, one that you can enjoy through the medium of your own computer. There is a web page that contains several of his sermons, and I would encourage you to go there and listen to a few of them. You will be moved. The location of Marshall Keeble's audio sermons is: www.oldpathsmedia.org/Speakers/Keeble/Marshall/
Not everyone was enamored with brother Marshall Keeble. Some, especially some black brethren, "accused Keeble of accommodating to white racist policies of segregation and discrimination" [Encyclopedia of the Stone-Campbell Movement, p. 441]. He was often called an "Uncle Tom" ... some suggesting he had "sold out" to the whites, becoming their "boy." Yes, it is true that Keeble tried to stay clear of racial issues, and chose not to use the pulpit to address the racial problems current in society. He did not speak out against segregation or discrimination against the blacks. Rather, he sought to uplift the spirits of his people as they struggled under oppression, and to soften the hearts of the whites with the love of Christ so that they might change from the inside out. Keeble had not sold out ... he merely sought to address the problem from an entirely different perspective. As with Jesus and Paul, Marshall Keeble did not come preaching social militancy, but spiritual transformation. Change hearts, and you will change society. Although some misunderstood what he sought to accomplish, and how, others perceived his purpose clearly. Bro. Reuel Lemmons [1912-1989], with whom I was privileged to spend some one-on-one time in Red River, New Mexico just a few months before his passing, made the following observation in one of his editorials in his publication Firm Foundation -- "Keeble did far more to break down any racial barriers that existed than anyone then alive; traveling for seventy years among blacks and whites alike, equally loved by both, preaching the gospel of peace." Nevertheless, in the words of one of his many biographers, "he did not escape the suffering that is promised to all of those who proclaim God's good news in every age or the humiliation imposed on every American of African descent in his time and place. He preached with guns pointed at his head, and he also preached while being struck with brass knuckles and rocks, never dropping a syllable." Here was a man who, in this respect, truly evidenced the very spirit of Jesus Christ in the face of his tormentors.
Bro. Keeble was also well-known for his debating skills, and held numerous debates throughout the nation. Interestingly, his very first debate was with his very own father, Robert Keeble, who had joined a religious group known as the "Do-Rights." This first debate was over the issues of washing feet and the contents of the cup in the Lord's Supper (the "Do-Rights" substituted water for grape juice). Over the course of four nights in May, 1922 in Birmingham, Alabama, Keeble debated a holiness preacher on the topics of water baptism and the Holy Spirit. Two years later, in Paducah, Kentucky, he debated yet another holiness preacher on the Holy Spirit and the use of water in the cup of the Lord's Supper. On January 24-26, 1928, in Jackson, Tennessee, he debated G. T. Haywood on questions relating to water baptism, miracles, and the Holy Spirit. He debated an Adventist in Denver, Colorado in 1932 on the church and the Sabbath. Another such debate was held in Muskogee, Oklahoma that very same year. And on and on his debates went over the years. One biographer wrote, "Marshall was highly successful in the field of debate. It was said that all of his opponents, after facing Keeble, retired from the debating arena. None of them ever came back for a second try."
Not too many years after Marshall Keeble began laboring as an itinerant evangelist, he started coming to the attention of some rather wealthy and powerful white church members and leaders who desired to finance his preaching efforts. In the year 1918, for example, at Oak Grove, Tennessee, he baptized 84 persons in a single gospel meeting. This phenomenal success got the attention of one of the locals -- N. B. Hardeman [1874-1965], who was the influential president of nearby Freed-Hardeman College. His greatest benefactor, however, was a Nashville multi-millionaire by the name of A. M. Burton [1879-1966], who was the founder of the very successful Life & Casualty Insurance Company. Bro. Burton fully funded Marshall Keeble's travels throughout the nation, and later throughout the world, as he proclaimed the gospel message. This he did willingly, and without complaint, from 1920 until Keeble's death in 1968. Only eternity will show the full extent of the return on that financial investment. Praise God for men like A. M. Burton!!
Bro. Keeble also did a lot of writing for a number of brotherhood journals such as Gospel Advocate, Firm Foundation, Christian Echo, and many others. From 1939 to 1950 he served as the editor of the Christian Counselor, which was a monthly journal for blacks published by the Gospel Advocate Company. This very same company published his autobiography in 1962. It had the creative title -- History of My Life: Mule Back to Super Jet with the Gospel. Bro. Keeble was also very active in Christian education, especially (and primarily) among the blacks. The Nashville Christian Institute opened its doors in 1940 as an adult night school. When Keeble became its president in 1942 (a position which he held for 16 years) he expanded the focus of this school, offering daytime classes for black children. The institute ultimately became a reputable K-12 school in Nashville.
Marshall Keeble and his first wife Minnie enjoyed 36 wonderful years together, and they had five children. Sadly, his wife, and all five children, preceded him in death. Two of their children died in infancy. Their son, Clarence, died when only ten years old (he was electrocuted when he touched a high voltage wire on a utility pole in their front yard). Their daughter died in 1935, and their final son, Robert, died in 1964. His wife Minnie passed away on December 11, 1932. Not too long afterward, he met a young woman from Corinth, Mississippi by the name of Laura Catherine Johnson, who was twenty years his junior (in fact, at the age of 35, she was beginning to wonder if she was destined to die an "old maid"). Keeble always said that it disgusted him to see a preacher "flirting around with a woman," so he never spent more than five minutes alone with Laura Johnson prior to their marriage, and much of his courtship was done via letters. He and Laura were married on April 3, 1934 by B. C. Goodpasture [1895-1977], a good friend and fellow minister of the gospel. It was reported by those present that Keeble almost broke up the wedding by his many "Amens" during the message. Their honeymoon, which Sis. Keeble laughed about much later in a 2003 interview, was a three month tent revival Marshall held in California! What a romantic!! Marshall and Laura never had any children together, but the new Mrs. Keeble became a devoted mother to his surviving children, and to his grandchildren. In fact, after Keeble's daughter Beatrice died in 1935, Sister Keeble took in and raised the two young daughters as her own. She also frequently kept up to a dozen girls at a time in her home during the years that Marshall served as president of the Nashville Christian Institute. Thus, Sis. Keeble, although never having children of her own, was known as "Mama" to many!
Brother Marshall Keeble, after decades of faithful service to his heavenly Father, passed from this life 39 years ago. His funeral was held in the city of Nashville on April 20, 1968 with over 3000 people in attendance to pay their respects to this servant of God. The message was delivered by B. C. Goodpasture. He was laid to rest in the Greenwood Cemetery. One biographer noted, "In his lifetime he worked to overcome many obstacles for African Americans, both in education and preaching the gospel he loved. He broke many of the cultural barriers that separated black and white people. In 2000 the Christian Chronicle named Marshall Keeble the most influential preacher among Churches of Christ in the decade of the 1940s. Perhaps it could be said that Marshall Keeble was the most influential preacher of the gospel of Jesus Christ in the 20th century." The Encyclopedia of the Stone-Campbell Movement states: "Marshall Keeble was the most widely known black evangelist in twentieth-century Churches of Christ. His efforts helped produce a generation of leaders who provided crucial guidance to the body in the late twentieth century" [p. 441]. Thank God for Bro. Marshall Keeble, and for Minnie Keeble and Laura Keeble. May our Lord raise up many more like them as leaders among His people.
***************************
Reflections on CD
www.zianet.com/maxey/offercd.htm
***************************
Down, But Not Out
A Study of Divorce and Remarriage
in Light of God's Healing Grace
by Al Maxey
Order Your Copy Today
www.zianet.com/maxey/mdrbook.htm

***************************
Readers' Reflections
From a Reader in Texas:

A Special Request -- Brother Al, I would like to ask your many readers to please pray for a family here in East Texas. Last Wednesday a Texas State Trooper was tragically killed in the line of duty. He is distantly related to me. His funeral service was in Longview, and my sister and I took our mother. I don't know when I have been so touched by a funeral. It was a beautiful service and a true tribute to his life -- a short 29 years. The preachers who conducted it spoke of him as a truly outstanding, solid young Christian man. The tragedy is not only his death, but that he left behind a wife, 3 young boys (all pre-school), and his wife is expecting their 4th child (a little girl). My heart just breaks for her and those children. Both preachers talked about what a fine husband and father Todd was -- always striving to do what God expected of husbands and fathers. At the end, one of the preachers said, "We will let Todd close our service," and they read a prayer he had written in his personal journal. Well, I lost it!! It was a really beautiful prayer; so centered on his life with God and his devotion to his family. Tears just flowed down my cheeks. Anyway, this young wife and her children need all the prayers they can get. So, please ask your readers to pray for this family. Thank you!
From a New Reader in Oklahoma:

Brother Al, If you would, please include me in your mailing list for Reflections. I'm 52 years old and have been a member of the mainstream Churches of Christ for 38 years. When I was younger I was very conservative and narrow-minded. But somewhere along the line of time I opened my heart and mind and have challenged my own previous beliefs and traditions. I first heard your name about a year ago on an Internet discussion site when a brother who disagreed with me accused me of being a "Maxey disciple." Huh??! "What is that?" I asked. I never got an answer. Then a couple of days ago, on that same discussion group, a new member to the group figuratively stood beside me against another brother (who is of the Non-Institutional position). I emailed this brother that stood with me and thanked him for his support. We then started emailing back and forth. I learned that he was formerly of the One Cup position. Having never met someone from that group, I began asking him questions. His father is a preacher; his uncles are elders. I asked him how his family viewed his decision to become "mainstream" Church of Christ (for lack of a better way to put it). His response was that they had told him he was "bound for hell."
I asked him how he came to change. He asked me, "Have you ever heard of Al Maxey?" I told him, "No, I had not." Then it dawned on me. I remembered being called a "Maxey disciple." I then related that whole scenario to him. He responded, "Oh yeah! The NI's can't stand Al Maxey, because he chews 'em up and spits 'em out!" He mentioned your books and writings. I stated that I had just finally, through him, learned your first name, and asked him for more information about you. Last night he gave me the link to your web site. I spent from about 11:00 p.m. last night until the crack of dawn this morning poring over your many Reflections. I never even noticed the passing of time!! As for being labeled a "Maxey disciple," my response to that now is -- I had never heard of this Al Maxey before, but after studying his writings it sounds better than marching lockstep with a legalist!! Of course, we both know that my only real desire is to be Christ's disciple. I truly look forward to reading more of your work, brother. Thank you and God bless you!
From a Reader in Kentucky:

Bro. Al, I sent a friend of mine in Tennessee (who has been divorced and remarried) a copy of your book Down, But Not Out. She says she thinks she may have crossed paths with you when you were living in Europe. Anyway, she was so thankful that I had shared your book with her, and she said she couldn't put it down! Here are her comments to me: "I have felt that way about God's grace all along, but I could never have explained it so eloquently as Al did. I wish every Christian could read this book!! Those case studies that he gave in his book are all very evident around here, unfortunately." Well, I just wanted to share that with you, and to let you know that I have shared your book with four other friends as well, and plan to share it with even more. Thanks again for your concern!
Thank you so much for your support and promotion of my book on this terrible trauma that affects so many people all around us. Those hurting truly need God's grace, not the condemnation of His people! I just recently heard from the publisher that it is still selling well, and for that I give thanks to God. Not everyone is thrilled with my grace-centered approach to this topic, however. By way of example, a legalistic preacher for an ultra-conservative congregation of the Churches of Christ in Gallipolis, Ohio -- a man by the name of Daniel Douglas -- recently wrote to the members of the Contending for the Faith Internet discussion group the following comments about my book: "Brethren, Imagine sending the following book to family and friends, or any other precious soul! Could not this new book by Al Maxey, recommended by Hicks, be retitled with something like the following? --- 'How to Contract an Unscriptural Marriage, or Remain in One, and Feel Good About It' --- or: 'Feeling Good About Being Lost' --- or: 'How to Disregard the Teaching of Jesus on Divorce and Remarriage, and Convince Others to do the Same' --- or: 'How to Be Up While on this Earth, Down in the Lake of Fire, and Out in Outer Darkness in Eternity.' I do not know the content of the book, but a recommendation by Olan Hicks, a preacher of the devil's doctrine, goes a long way in proving that it is full of error! Let us combat error and those who bring it!" [message #4047]. Isn't it interesting, not to mention troubling, that Danny Douglas has no clue as to the contents of my book, a fact which he himself admits, yet still boldly proclaims it "full of error." Welcome, my friends, to the weird, wacky world of legalistic "logic." --- Al Maxey
From a Reader in Texas:

Hi Bro. Al, Just a quick note to let you know that I just finished reading your article "Sin That Leads Unto Death." Outstanding! It is packed with info that I had not considered, and it really clears up some thoughts for me personally. Thank you! I print out your Reflections and take them to work. As soon as I finish reading your studies, I then pass them on to friends here. One of them has requested that you please add her (and also her husband, who is a minister in the Church of Christ) to the mailing list. The address is enclosed. Thanks for the great work you do through your weekly Reflections. Between your studies and Bobby Valentine's blog site, I'm getting plenty of quality reading time!
From a New Reader in Hawaii:

Dear Bro. Al, May I be so bold as to ask to be put on your mailing list for Reflections? I spend so much time looking for your articles that I might as well get them from the source! I am assuming, of course, that you still do emailings of your studies. All is well here in Hawaii, and I am now the Family Minister in Kailua. Thank you for making your work available!
From a Reader in Indiana:

Bro. Al, Thank you for answering my question on "sin unto death" in your last issue of Reflections. Yes, I did indeed find your article very helpful. My first reading of it was at 1:00 o'clock in the morning, but I have read it through again today at a far more reasonable hour and I see even more clearly what you were saying. This is a very difficult passage, but I believe you captured the essence of it in your article. You put so much time and effort into your work, and I really appreciate you! Thank you.
From an Elder in Arizona:

Bro. Al, As some others have said to you, I also think you have an uncommon gift, and it personally gives me joy, and I know it is a joy to God, as your gift gives Him much glory! As for the "sin unto death" that we are not to pray for, I have long thought that it referred to when a Christian loses his faith and no longer believes in the death, burial and resurrection of Jesus Christ and the indwelling of the Holy Spirit. When such a man or woman reaches this point, there is nothing at all to pray for. Any conversation one tries to have with them proves futile, as there is no longer any common ground for a discussion. It is sort of like your attempts to dialogue with the patternists. Their beliefs are based on law, yours (ours) are based on faith. Thus, there is no real meeting of the minds. When belief in God, Jesus, and the Spirit is no more, there is simply no common ground any longer, thus prayers for them are futile.
From an Elder's Wife in Colorado:
[Who also happens to be my beloved mother]

Dear Al, I just read your last Reflections and want to say Thanks a Zillion Times for your analysis of the "sin unto death" and the "sin not unto death." Maybe I appreciated this article so much because you think like I do, or is it that I think like you do?! The quote from the prophecy of Jeremiah about not praying for those people because God would not respond on their behalf is to me one of the most frightening thoughts in Scripture!
From an Elder in Missouri:

Brother Al, Once again, that was a very well thought out and balanced examination of a very difficult passage of Scripture. You also dealt with the context, which is extremely important in all biblical studies. John is clearly talking about fellowship and self-examination. He also uses the words "hereby we know" [KJV] as a way of giving assurance. As you rightly said, we can know we have eternal life now, not in some distant by and by. Yet, we are to be concerned for our brethren and their spiritual welfare. For a long time I viewed the passage along the lines of the 3rd view you mentioned. However, as time has gone by, and I have continued to study John's writings, I have focused more and more on the attitude of the person being what is "unto death," rather than any specific sin. Clearly, God will forgive any specific act of which one truly repents, and for which there is true contrition of heart. I agree that this "sin unto death" is any sin committed with an attitude of heart that ignores and shuts out the warnings of God and His Word with respect to that sin. I recently had a conversation with a young man during which he examined his own life and stated that he knows the things he is doing, and the lifestyle he has chosen, are sinful, but, in his very own words he said, "I am not going to change!" That is "sin unto death!" I pray often for brethren who sin out of ignorance, or who sin out of a difficult struggle with sin that seems to always invade their lives, but who sincerely (it seems) repent and attempt to walk the true path. Their attitude of heart seems to suggest "sin not unto death" -- they want to do what is right, but are weak and stumble. I try to assist them in their walk without judging them. I am thankful we have a Judge who has felt our infirmities and knows the hearts of all men. I am thankful that I am not that judge! I continue to read your articles, and when I read this one, I just had to respond. This first epistle of John is perhaps my favorite book in the Bible, and this particular passage has been the subject of many questions from people I have known over the years. May God continue to bless you in your efforts, Al.
From a Ministry Leader in California:

Brother Al, Your article on "Sin That Leads Unto Death" really struck a chord with me, as it relates directly to the ministry that I lead (addiction recovery). I believe there is an aspect of sin that we address in our efforts to help people be delivered of the sin of addiction -- i.e.: the concept of enslavement. Yes, it is possible to commit a sin and not be enslaved to it. For example, one may become drunk while not becoming an alcoholic. For that person, repentance of that incident is in order, and it is usually not that difficult to do, especially with brothers and sisters in Christ helping them. There is a point, however, when one may become enslaved. When one becomes enslaved to a sin, the consequences are so severe that death (both physical and spiritual) may well be the inevitable outcome. Another aspect of this concept is progressiveness. Just as our "enslavement" to Christ Jesus and His mission has a progressive impact on us (positively), so also does enslavement to some besetting sin. While I certainly don't profess to completely understand the mind of our dear brother John in this passage, perhaps he may be writing about this concept.
Good observation, brother! I certainly see some parallels between the habitual practice of sin and the concept of progressive enslavement. Those persons who habitually do anything that tends toward their harm, whether physical or spiritual or both, are truly enslaved. Furthermore, for those disciples who may not yet be "too far gone," the prayerful intervention of caring, concerned Christians may well be just what is needed for them to extricate themselves from a growing enslavement. In other words, they are at a very, very critical point that demands the utmost urgency on the part of those who would "snatch them from the fire." And therein lies the great worth of the type of ministry you provide, brother. I applaud you for what you are doing to rescue lives from death, glorifying our Father in the process. --- Al Maxey
From a Reader in Alabama:

Bro. Al, I have now ordered nearly 400 of your tracts on the Holy Spirit, and just sent 60 of your tracts to an evangelist in Nigeria, Africa who had requested them. That particular order was funded by Christian friends in the city of Huntsville.
From a Youth Minister in Oklahoma:

Brother Al, I was just studying your last Reflections article about John's teaching on the "sin unto death." I was particularly struck by the penitent attitude that seems to make all the difference between the two eternal outcomes: death and life. And isn't that a totally consistent theme throughout the entire Bible?! If we are forgiving, then we are forgiven. If we confess our failings, then we can be freed from them. In other words, if we deny self, then our hearts are thereby open to receiving the indwelling of heavenly guidance. However, when we firmly plant self on our heart's throne, then God will not forcibly depose us, and the result is that we have no life through Jesus Christ. In point of fact, we have left no room for Him. Which brings me to my conclusion: there is only one true sin; indeed, there has always only been one -- replacing God on the throne of our heart. Choosing to remove ourselves from that throne, and allowing Jesus to reign there, leads to eternal life. Refusing to do so is "sin unto death." Sometimes, when we are straining the gnats of our theology, we miss the point that all God really wants is our hearts. God bless you, Al.
From a Reader in Jakarta, Indonesia:

Hi Al, I have just read your series titled A View of the Versions, and found it to be very good. Thank you! As an ex-JW I had been somewhat indoctrinated to study the New World Translation. In the eight years since leaving them I have read from a number of different versions. I now prefer the King James Version, but am not a KJV fanatic by any means -- i.e., I don't view it as being any more inspired than any other version or translation. It is just my preference. For ease of reading, though, I like the New-KJV. Still, many KJV fanatics condemn the NKJV as "heresy." I'd be interested in hearing your opinion on the NKJV.
I haven't done a formal study of the NKJV yet, but I do own a copy, and have also used it quite a bit over the years. Thus far, I have been rather impressed with it, and have not yet, in casual use, found anything within it with which I would take great exception. I'm sure it has its strengths and weaknesses, just like any other version or translation, but at this point I would have no problem recommending it to others. --- Al Maxey
********************
If you would like to be removed from or added to this
mailing list, contact me and I will immediately comply.
If you are challenged by these Reflections, then feel
free to send them on to others and encourage them
to write for a free subscription. These articles may all
be purchased on CD. Check the ARCHIVES for
details and past issues of these weekly Reflections:
http://www.zianet.com/maxey/Reflect2.htm