REFLECTIONS
by Al Maxey
Issue #301 ------- May 14, 2007
**************************
What is there in the vale of life
Half so delightful as a wife, When
friendship, love, and peace combine
To stamp the marriage bond divine?
William Cowper {1731-1800}

**************************
Al & Mary Maxey
Sixty Years Together
June 9, 1947 - June 9, 2007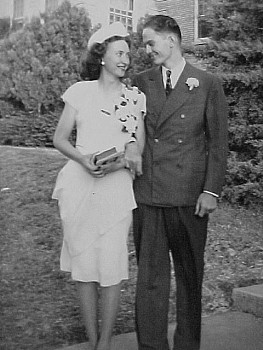 The great reformer Martin Luther [1483-1546], in his now famous work Table Talk, observed, "There is no more lovely, friendly and charming relationship, communion or company than a good marriage." I have been unbelievably blessed to have witnessed firsthand the truth of this insightful statement. In just a few days my parents will celebrate their sixtieth wedding anniversary. I thought Shelly and I were doing well with our 34th coming up in July, but this pales in comparison to the loving commitment evidenced by my mom and dad. The Jewish Talmud states that "a wife is the joy of a man's heart," and I can personally attest to the fact that in the heart of my father there are very few things that bring him any greater joy than having known the love of this precious woman who became his wife. They are inseparable, and would have it no other way.
The picture that appears on the left was taken on their wedding day. They are standing in front of Zellner Hall on the campus of what was then known as Abilene Christian College. This was the dormitory where my mother, Mary Zook, was living at the time. They were married on June 9, 1947 in one of the parlors of Zellner Hall. They had wanted to be married on the 11th of June, as that was the wedding date of my mother's parents, but the hall had already been booked for another wedding on that day. So, they moved it up two days. My dad, Al Maxey (for whom, obviously, I was named, although the name predates us both; actually he is the 3rd and I am the 4th), was a veteran of the Navy. After his discharge from the service he enrolled at ACC where he met my mother. My dad came from a long-standing and well-known family in Texas (the Maxeys are actually a part of Texas history, and there is a Maxey Museum in Paris, Texas), and my mom was from good German stock. Therefore, as one might well imagine, there was a bit of "culture shock" on both sides as these two fell in love.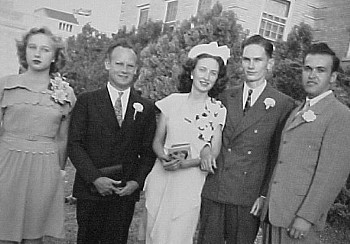 In the picture to the right, also taken in front of Zellner Hall right after their wedding, one can see the members of the wedding party. The man who performed the ceremony was Dawemen Newton, a friend of my parents, and who was at ACC finishing up his Master's degree in Bible. The maid of honor was Evelyn Simmons, who was from Fayetteville, Arkansas and a good friend to my mother. The best man was Blanton Brown; he and my dad were good friends.
After finishing at ACC, my parents moved to Fayetteville, Arkansas to continue their education at the University of Arkansas. It was there that I was born on March 2, 1949. My sister, Rosemary (who lives in Missouri), came along almost two years later (January 3, 1951) in Searcy, Arkansas. We would be their only two children (see picture below). After Arkansas, the family moved for a couple of years to the Dallas - Ft. Worth area. About 1954, however, my parents decided to move to New Mexico, and they settled in Farmington (in the northwest corner of the state). My parents were devoted to the field of education, and both were well-educated -- my mom got her Master's degree, and my father, in addition to the Master's degree, also received his Education Specialist's degree. My mother became an elementary school teacher in Farmington; her expertise was as a reading specialist. My father began as a high school English teacher, but soon moved into school administration, serving as both a principal and a superintendent. They loved working among the Navajo Indians, and this is where they spent the largest portion of their time. In fact, they have retirement from three states (New Mexico, Arizona and Colorado). My sister and I both graduated from high school at Shiprock, New Mexico, being among the few Anglos in a predominantly Navajo school system. They lived and worked at several locations on the Indian reservation during the course of their careers.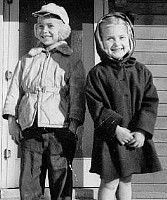 There were a few significant departures from the reservation life, however. My dad served as the Superintendent of Schools in Moriarty, New Mexico for a while, and this turned out to be quite providential. There was a young girl who was a member of the Church of Christ there named Shelly Cavasos. My parents decided, while I was still in the military, that she would make a good daughter-in-law (they often wrote and told me about her). They were definitely right! A year after I got out of the service we were married, and I hope one day we too can celebrate that 60 years mark! For a time my mom and dad also lived in Mescalero, New Mexico, working among the Apache Indians. My father was a principal at one of their elementary schools, and my mother was a teacher. They also spent a few years in Managua, Nicaragua, where my father served as the head of the American schools in that country, and had an office located in the American embassy there. I was in Vietnam at the time, and we lost track of one another for a few months; neither of us knowing for sure how to contact the other. I wrote letters to the embassy there, and one day they were finally delivered. It almost gave them heart failure, though. They had no idea how I was or where I was, and then they saw this Marine, in full dress uniform, coming up to their door. They just knew it was the notification I had died in action. Instead, he was just delivering my letters!! I think I aged my poor parents considerably during my two tours of duty in Vietnam!
After long, distinguished careers in public education, my parents retired a number of years ago and are now enjoying their golden years in Cortez, Colorado. They have a beautiful home, a loving dog named Shadow, and many friends and loved ones. My father has served the Church of Christ in Cortez for many, many years as one of their elders. He is still very actively serving in that capacity, and my mother has on occasion taught ladies classes there. You can find one of those classes in a special issue of my Reflections [Issue #271], to which I would refer you (it also contains some more recent pictures of my mom). There is a tribute to my dad on his 80th birthday (with some current pictures) at the end of the article in Reflections #267, and there is yet another tribute to them both, with pictures, in a Special Issue from a couple of years back.
I personally cannot ever remember a time when my parents were not involved in the work of the church. No matter where they lived or what they were doing, God always came first. They not only told my sister and me about the Lord, they walked with Him before us. They led by example, and I can assure you that I would not be where I am today, or who I am today, had it not been for them!! They were, and still are, one of the most devoted couples I have ever encountered. I can remember when we lived out at Naschitti, New Mexico -- just a little school and trading post on the reservation -- we would drive 40 miles one way just to attend the little church in Gallup, New Mexico (where I was baptized). My parents never let distance or inconvenience stop them from assembling with the saints. My dad also was very active in preaching and teaching wherever and whenever he had the opportunity (and still is). I still have very fond memories of my father preaching to a gathering of Navajo Indians, while an interpreter stood next to him translating the message into the Navajo language.
During the second weekend of June, Shelly and I, and my sister and her family, along with the many grandchildren and great-grandchildren (as many as can come) that we have presented them with, will descend on Cortez, Colorado to honor this wonderful man and woman, from whom we are privileged to have descended. I'm really looking forward to being together with them, and worshipping with them that Sunday. It will be a little taste of heaven! Mohandas Gandhi [1869-1948] once said, "The ideal that marriage aims at is that of spiritual union through the physical. The human love that it incarnates is intended to serve as a stepping stone to divine or universal love." That ideal of marriage, that spiritual union through the physical, was epitomized in Al & Mary Maxey, a man and woman in Christ I am proud to call mom and dad.
***************************
Reflections on CD
www.zianet.com/maxey/offercd.htm
***************************
Down, But Not Out
A Study of Divorce and Remarriage
in Light of God's Healing Grace
A 200 page book by Al Maxey
Order Your Copy Today
Publisher: (301) 695-1707
www.zianet.com/maxey/mdrbook.htm

***************************
Reflections on the Holy Spirit
A Newly Published Tract by Al Maxey
Order Copies From:
J. Elbert Peters
1701 Jeannette Circle, NW
Huntsville, Alabama 35816
(256) 859-3186
jepeters65@knology.net

***************************
Readers' Reflections
From a Reader in Oregon:

Dear Bro. Al, Thank you for your thoughts and reflections. I find your weekly Reflections very helpful as I seek a better understanding of God's precious Word. Please keep them coming! Also, please find enclosed a check for your Reflections on CD and your Debates CD. God bless you.
From a Reader in Nebraska:

Dear Bro. Al, It's been a long time since I studied Greek under Eugene Clevenger and J. W. Roberts, so I may be fuzzy on this subject. But, as I recall, we found there were three voices in Greek grammar: Active, Passive and Middle. Active and Passive are similar to English, but the Middle voice in Greek depicts the "subject acting upon itself." I like your conclusion with regard to the passages in question (Matt. 11:12 and Luke 16:16). "Taking the kingdom by force" is a sorry translation if there ever was one!
This reader is absolutely correct with respect to the force of the middle voice in Greek. In reviewing my comments on the above mentioned passages in my previous article, I don't believe I conveyed this force as clearly as I could have. Indeed, my comments could very easily be misconstrued as active in nature, rather than middle, even though I had identified the terms as appearing in the middle voice. I knew what I meant to say in my examples; it just didn't end up that way on paper!! The concept of the middle voice in the passages involved would convey the idea that the kingdom of heaven was forcefully advancing itself, and that forceful men were themselves laying hold of it and entering it. Frankly, in reading over my comments with regard to voice, I don't believe I conveyed this adequately. Even though I did use the words "itself" and "themselves" in my examples, I really didn't do so in a way that would clearly convey the true force of the middle to the reader, and, indeed, my comments sounded far more like the active voice in my examples. I apologize for the confusion. Also, I appreciate this dear reader catching this inadequacy of expression and explanation on my part, and calling it to my attention. To make matters even worse, my undergrad and grad school Greek professor just happens to be subscribed to my Reflections. I can just imagine him slashing away at my article with his red ink pen!!! --- Al Maxey
From a Reader in Virginia:

Brother Al, Each one of your articles of late has provided a much needed sense of normalcy in the chaos. Al, I am curious about the attempt by a couple of your readers to use the Amos passage to try and prove their point that God disapproves of instruments. I'm curious because such people so easily discount Psalm 150. Every time that I quote this psalm to such people, I get the following response: "That is the Old Law; it is no longer applicable under the Law of Christ." It really stuns me that they would then turn right around and use the "Old Law" to try and proof text their way into forbidding the use of instruments in worship. Al, please keep those Reflections coming! I appreciate your work, and I appreciate you, brother!
This dear brother in Christ, and good friend, is an officer in the U. S. Navy. The "chaos" to which he refers is the fact that he is about to be deployed to a ship at sea. Please keep him and his family in your prayers. As for his comments -- he is right on! The Amos passage, first of all, has no bearing whatsoever on the use of instruments in worship to God. Even first year Bible students know this. Therefore, it is very, very rare that anyone appeals to this passage as a proof text. Such an appeal is ludicrous, and most people recognize that fact. It is indeed interesting though, is it not, that these people who so quickly cast out all the many examples from the OT writings of God's approval of instruments in worship (saying we are not under the "old law" any more), are so quick to try and employ part of that "old law" to bind prohibitive law upon the church today. You can't have it both ways. If they are going to appeal to OT statements as binding precedent for today, then, in like manner, we can appeal to many, many statements of divine approval of instruments as equally binding precedent under that same covenant. By appealing to the Amos passage, they, in effect (although they don't seem to realize it), destroy their own argument. The reality is: there are many statements of divine approval of instrumental accompaniment to worshipful singing and praise in both OT and NT documents, and yet there's not one single, solitary sentence anywhere in the Bible that even HINTS at divine disapproval. If there is, then I again challenge them to simply produce it. We are waiting ... and have been for years and years and years!! --- Al Maxey
From a Reader in [Unknown]:

Good Morning Brother Al, I really appreciate your research, study and insights that you share with your readers. I have passed along many of your articles to others. Two of my all time (more contemporary) heroes in the faith are Carl Ketcherside and Leroy Garrett. You have not quite made it to "hero status" yet, but you are well on your way!! Many blessings to you this day!
From a Reader in Texas:

Dear Brother Al, Just a short note of encouragement to you for the work you do and the lives you lift up with your writings! What a blessing to us all to have you in our midst. You are a real breath of fresh air. Your love of the One Body and what it means to love as our Lord loved, are the things I admire about you the most, I think. Keep up the fine work you are engaged in, and Soldier On, General.
From a Minister in Kansas City:

Brother Al, I have really enjoyed reading your Reflections. I appreciate the insights and also the scholarly approach which you apply to the Word of God. I am a minister at a One Cup, Non-Sunday School Church of Christ located in Kansas City. I am personally struggling mightily with the legalistic and very exclusivistic doctrine of our group! I am trying to share my newfound freedom in Christ in baby steps with others, but also want to be very careful in my efforts to do so lest I drive a wedge between myself and the brethren. Please remember me in prayer!! Thanks again for your labors!
From a Reader in [Unknown]:

Al, I'm going to cut through all of the philosophical fluff and, as the Scriptures tell us to do, "speak frankly with you" man to man. The reason that God doesn't allow women to be in positions of leadership over the men of the congregation (like you suggested in your article on Phoebe) is because (1) Women are naturally inclined to be impressionable and gullible; easily swayed and led into false teaching, (2) Women have an unquenchable lust for power and control, and (3) Eve was deceived and sinned first. I could go on and on, but possessing a "gentle and quiet spirit," and taking care of their husbands and children, is their only purpose. Satan knows this all too well; too bad we don't.
Ahhh, yes! The old "keep 'em barefoot, pregnant and in the kitchen where they belong" mindset. --- Al Maxey
From a Reader in Alaska:

Bro. Al, I really appreciate your work. Thank you, and may God bless you! Also, we are hoping to see you next winter when we take our annual trip "outside."
From a Reader in Georgia:

Dear Bro. Al, Today I received a copy of the latest issue of The Spiritual Sword (a local preacher sent it to me). The theme of this issue was "Wolves in Sheep's Clothing." I read it all, and some of it twice or more. Tonight, I am actually sick at my stomach. The entire approach of this publication is venomous, hate driven, and arrogant. Al, what has happened to us (Churches of Christ)?! How could a movement like ours, founded on the unity of all believers, lose touch with the person of Jesus Christ so utterly? How can so many precious people be kept in such captivity? I am in tears now after reading this publication!! It hurts so much to read such a mistreatment of God's Word. It is as though the New Testament is being treated as some codified writing handed down by a distant god who dares us to make a single mistake so that he can swat us down like the insects we are. Al, I don't know that kind of God. I worship a God who wants with all His heart for me to love Him with all my heart. Is it any wonder that I know of so many in the ultra-conservative Churches of Christ who are afraid, unhappy, guilt-ridden, and who do not know the peace that comes from our Father? Fear breeds suspicion, hate and paranoia. This is all clearly present in these writings by the authors of The Spiritual Sword. God help us -- this is terrible!! I am so very sad right now because of this legalistic mindset in the church. I will spend time in prayer tonight on their behalf.
********************
If you would like to be removed from or added to this
mailing list, contact me and I will immediately comply.
If you are challenged by these Reflections, then feel
free to send them on to others and encourage them
to write for a free subscription. These articles may all
be purchased on CD. Check the ARCHIVES for
details and past issues of these weekly Reflections:
http://www.zianet.com/maxey/Reflect2.htm