REFLECTIONS
by Al Maxey
Issue #352 ------- June 20, 2008
**************************
No man has a right to make a test of
fellowship of anything which God has
not made a condition of salvation.
T. B. Larimore {1843-1929}

**************************
Theophilus Brown Larimore
A Champion of Unity and Harmony
within the Stone-Campbell Movement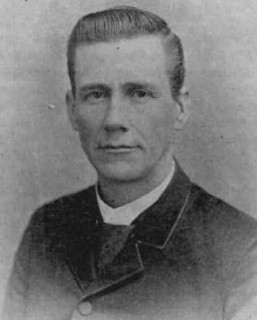 Born into abject poverty in Jefferson County, east of Knoxville, Tennessee on July 10, 1843, Theophilus Brown Larimore would nevertheless rise to become one of the great shining beacons of the Stone-Campbell Movement, leaving behind a rich legacy of tireless effort to bring disparate disciples together in sweet fellowship rather than the partisan wrangling that was, and still is, so woefully characteristic of our movement. He was a champion of unity in diversity and acceptance of others regardless of differences in perception, preference and practice. As a result, he was both loved and hated by his contemporaries in the movement and his fellow leaders. John Waddey, a legalistic preacher for a small group of factionists in Surprise, Arizona, wrote, "All change agents cite the example of Bro. T. B. Larimore as they seek to persuade conservative brethren to sit silently while they work to change the church and capture congregations, church buildings and schools" [Christianity: Then & Now, August, 2005]. John Waddey, not surprisingly, has completely failed to perceive the true spirit of Larimore and what he sought to accomplish, as well as the type of change that many within our movement seek to bring about today -- i.e., the very same change of attitude toward brethren promoted by the teaching and life of Bro. T. B. Larimore.
Not very much is known of his parents, although Larimore had a very close relationship with his mother for a great many years. It appears that his father might have passed away early, as T. B., his siblings and his mother moved to Sequatchie County, Tennessee in 1852 when Larimore was only nine. His schooling was very sporadic at this time (only 10-12 weeks a year) as he had to work six days per week on a farm to help support the family, for which he was paid a mere four dollars per month. At the age of 16, T. B. Larimore entered Mossy Creek Baptist College in Jefferson City, which he attended from 1859-61. He would walk many miles each way from his home to the college, and this he did every day while he attended school there. While at the college he became increasingly interested in religious studies, but at that particular point had pretty much failed to find any kind of positive experience (in an organized/institutionalized setting) that was spiritually satisfying to him. Nevertheless, he vowed to do his best to live righteously before His God as long as God granted him life on this earth.
When the Civil War began, Larimore entered the Confederate Army where he served as a scout. In the fall of 1863 he was captured by troops from the North, but was later released after taking an oath that he would never return to combat. He, his mother, and his siblings then moved to Hopkinsville, Kentucky, and it was here that an elder in the Christian Church, Enos Campbell, studied the Bible with him and eventually led him to a deeper relationship with Christ. He was baptized on July 10, 1864 -- his 21st birthday. He decided to enter Franklin College, located near Nashville, Tennessee, and begin training for the ministry. This institution was operated by two great leaders within our movement: A. J. and Tolbert Fanning, who had a tremendous influence on the young Larimore. In fact, he often declared in later years that Bro. Tolbert Fanning was one of the best teachers he ever had. Larimore also began doing some preaching during this period of time, developing a great love for evangelism (which was to become the primary focus of the remainder of his life). He graduated from this school in 1867, and was chosen to deliver the valedictory address at the graduation ceremony.

After graduation from Franklin College, Larimore moved to northern Alabama and began teaching school and preaching. He preached for several communities in that area of the state. He also met and fell in love with a young woman by the name of Esther Gresham (pictured at left), who was from the city of Florence, Alabama. They were married in 1868. Esther owned a prime piece of land near Florence, and on January 1, 1871 he opened a school on that property, naming it Mars Hill Academy (which later, as the school grew and prospered, was renamed -- Mars Hill College). Mars Hill would remain open for quite a few years, training hundreds of young men to preach the gospel (although other academic areas of learning were also taught). Although a number of good textbooks were employed, T. B. Larimore was convinced that the two best for his students were the Bible and Webster's Dictionary. He felt that if his students knew these two, then they were truly educated. His pupils came to be known as "Larimore's Boys," and quite a significant number of them went on to become some of the most beloved and respected evangelists in the Stone-Campbell Movement. "In 1875 and 1876 Larimore edited an irenic and short-lived paper titled The Little Angel. Though he spent several months each year in evangelistic work while running Mars Hill Academy, Larimore finally closed the school in 1887 to be able to devote full time to evangelism" [The Encyclopedia of the Stone-Campbell Movement, p. 453].
T. B. Larimore loved to preach the gospel message. It was his passion! Local work -- serving as a paid minister for an established congregation -- was not really something he cared for, although he served a number of congregations in this capacity. His true calling was to travel about the nation holding gospel meetings, and these tended to be rather lengthy events. For example, he conducted a meeting in Sherman, Texas which lasted from January 4 to June 7, 1894. During this five month meeting he preached twice every day and three times on Sunday, baptizing 254 people. Another such event occurred in Los Angeles, California, where his meeting lasted from January 3 to April 17, 1895. Again, he preached twice every day and three times on Sunday, and he baptized 120 persons. He would preach wherever and whenever presented with an opportunity, whether it be in a church building, a schoolhouse, a log cabin, or under a brush arbor. Nine weeks into one particular meeting he was asked in a letter from a friend how he was holding up under such a grueling schedule. He wrote back, "You are anxious to know how I am holding up. I am well. Nothing can be better for me than to preach twice every day and three times on Sunday, unless it is to preach three times every day and Sunday too." This same friend was curious how Larimore found enough topics to preach on, to which T. B. replied, "Exhaust Bible themes and thoughts and truths at this rate, after a while? Yes, when swallows drink the ocean dry!" [C. Leonard Allen, Distant Voices, p. 156-157]. He believed, and rightly so, that there was sufficient truth in the Scriptures to provide a lifetime of preaching ... even at 2-3 sermons a day!
A significant part of the evangelistic effectiveness of Bro. T. B. Larimore was his demeanor from the pulpit, as well as his personal interaction with those to whom he sought to share the Good News of salvation by grace through faith in Jesus Christ. Bro. H. Leo Boles, a noted spiritual leader in our movement in his own right, in a biographical sketch of this great evangelist, wrote the following: "Brother Larimore was kind and gentle in his manner and very pleasing in his address. It was not his style or disposition to engage in controversy or to be offensive in his preaching. Larimore chose his subject and presented it in a simple, straightforward way without turning aside to notice any religious error. He preached the truth with earnestness and clearness and said little or nothing about any of the popular religious errors of the day. He was an eloquent speaker, with music and charm in the well-chosen phraseology with which he clothed the thoughts which he gleaned from the Book of God. All who heard him loved him and felt that it was good to hear him" [Gospel Advocate, c. 1932]. Another brother in Christ, who was in attendance at one of his meetings, wrote, "On his face there was a settled expression of goodness and melancholy which touched the hearts of the people with a feeling of sympathy and love. There was an indescribable and irresistible pathos in his voice, manner, and general appearance that melted audiences to tears, moving hearts long hardened by sin to repentance at the appeal of the gospel" [ibid]. Bro. Rubel Shelly, in his book In Step With The Spirit, observed, "A while back I was reading of a man who was led to Christ by a gentle soul named T. B. Larimore. The man in question had been to hundreds of church services and to dozens of evangelistic meetings before Larimore came and preached in the town. So someone asked him, 'Why did you respond to the gospel under Brother Larimore's preaching when you hadn't before?' His answer is a rebuke to some of us and our methods. 'From other preachers I'd learned I was going to hell,' he said, 'but they seemed pleased that I was. From Larimore I learned I was going to hell, but I could tell it broke his heart to have to tell me so!'"
Emma Page (1855-1943), who was born on a plantation close to Donelson, Tennessee, was a student of Charlotte Fanning, and she later became a rather successful teacher, writer and editor. For many years she edited a column in Gospel Advocate called the "Children's Corner," where she gave out advice to the youth of her day. She was quite taken with the life and work of T. B. Larimore, and, along with Fletcher Douglas Srygley (Larimore's primary biographer), worked on and published three books containing the letters and sermons of Larimore. When T. B. Larimore's first wife, Esther, died in 1907, she began showing even more interest in Larimore, and they were eventually married on January 1, 1911. She remained at his side for the remainder of his life, chronicling their life and travels together, which was then published in book form under the title: Our Corner Book: From Maine to Mexico, From Canada to Cuba. Years later she released the book: Life, Letters and Sermons of T. B. Larimore. She passed away in 1943 and is buried next to her husband in Fair Haven Cemetery in Santa Ana, California. (She and T. B. are pictured at right.)
The fame of T. B. Larimore grew year by year, and he began to come to the attention of a great many people within the Stone-Campbell Movement. Clearly, he was a force to be reckoned with, as he was having a tremendous impact upon the people of North America through his extensive evangelistic travels. People began to write about him, and those who were fussing and feuding over the "issues" of the day would seek to get him to endorse their positions. To the credit of this great evangelist ... he absolutely refused to take sides. Although his own personal views were somewhat conservative in nature, he nevertheless believed it improper and unbiblical to elevate his own views to the level of divine law. They were opinions, nothing more ... and should never be made tests of fellowship or conditions of salvation. He would often say, "No man has a right to make a test of fellowship of anything which God has not made a condition of salvation." He firmly believed that brethren could differ on any number of "points of conviction" and yet remain united in fellowship. One of his favorite passages, often employed, was: "Behold, how good and how pleasant it is for brothers to dwell together in unity!" [Psalm 133:1]. Larimore taught that it was far more important to embrace all the saints and evangelize all the sinners than it was to fuss and fight over party preferences. A dentist who actually knew T. B. Larimore very well relates the story that "there was this train engineer that would get terribly upset over a dog that continually came to bark at his big engine. He would stop the train and throw coals of fire at the dog! Then Larimore would declare, referring kindly to those who wanted him to preach either for or against organs or missionary societies, 'I don't have time to stop and throw coals of fire at dogs!'" [Dr. Leroy Garrett, Restoration Review, March, 1980, vol. 22, no. 3].
Don't misunderstand -- Bro. Theophilus Brown Larimore spoke out boldly on the issues of his day, and wrote extensively on them (his pleas for unity appearing in such publications as Gospel Advocate for many years), but he absolutely refused to endorse one side or the other. Rather, his position was that we should all learn to love one another more, and squabble and separate over our preferences less. Needless to say, this utterly infuriated some leaders on both sides. Some blasted him as a dreaded liberal; others regarded him as a closet conservative. Some on both sides of a number of issues refused to fellowship him since he wouldn't take a vocal stand for either position. Larimore did take a stand, but it was squarely in the middle where he hoped all brethren could come together and have unity in spite of their differing views. He said, "I must love my brethren, and never refuse to fellowship them -- ANY OF THEM -- simply because we do not always understand all questions exactly alike." On another occasion Larimore wrote, "Shall I now renounce and disfellowship all of those who do not understand these things exactly as I understand them? They may refuse to recognize or fellowship or affiliate with me, but I will never refuse to recognize or fellowship or affiliate with them. NEVER."
In the view of T. B. Larimore, the musical instruments issue was strictly a matter of "opinion." As were the issues of missionary societies and paid located preachers, just to name a couple more "biggies" of the day. They simply did NOT rise to the level of fellowship or salvation issues, to his way of thinking. Therefore, he refused to take one side in the squabble over another, although he himself did have an opinion on these matters, as well as a personal preference. Nevertheless, in the month of July, in 1897, one of Larimore's former students at Mars Hill -- an Alabama evangelist named Oscar Pendleton Spiegel (1866-1947) -- penned: "An Open Letter to T. B. Larimore," which was published within the pages of the Christian Standard. Although this piece was filled with praise for Bro. Larimore and his evangelistic work, it nevertheless contained an urgent appeal to T. B. to take sides in the warfare being waged. Spiegel urged, "You owe it to yourself, your family, your friends, your Savior and your God to speak out on some matters now retarding the progress of the cause of Christ." He demanded that Larimore take sides on four key issues that were then facing the movement: instrumental music, missionary societies, attendance at "cooperative meetings," and salary contracts for located preachers. "In many letters and sermons," as well as his articles, "Larimore made his conviction and practice clear. 'My earnest desire,' he wrote, 'is to keep entirely out of all unpleasant wrangles among Christians. ... I propose to finish my course without ever, even for one moment, engaging in partisan strife with anybody about anything'" [Allen, Distant Voices, p. 156]. John Waddey states in his above mentioned article that Larimore "pitched his tent with the conservative brethren of the Churches of Christ rather than with the progressives of the Disciples of Christ." In point of fact, this is not true. He continued to write for both the Gospel Advocate (a publication of the Church of Christ wing of the movement) and the Christian Standard (a publication of the Christian Church wing) throughout his later years. He was even still listed among the recognized preachers in the Disciples Yearbook up until just four years before his death. When someone once asked him which particular wing of our historical movement he belonged to, T. B. boldly responded, "I propose never to stand identified with one special wing, branch, or party of the church" [Distant Voices, p. 156]. This resolve he maintained throughout his life.
"In a Ph.D. thesis on this divisive period of the Movement's history, Douglas A. Foster notes that T. B. Larimore did not take sides on the organ and society issues because he considered them opinions. While one has the right to his opinions, Larimore believed, he does not have the right to impose them on others" [Dr. Leroy Garrett, The Stone-Campbell Movement, p. 452]. "Larimore was among the first of a long line of preachers and scholars among Churches of Christ who had a broader view of fellowship. ... Some scholar would do well to do a thesis on these free spirits in early Churches of Christ history. It would serve to show ... that the church also has a non-sectarian side to its heritage. ... It is significant that while these leaders suffered abuse for their more open views, they always loved the church and did not leave. If the spirit of Larimore and these men had prevailed, the history of Churches of Christ would have been different" [ibid]. Sadly, what came to dominate for much of the past century was an exclusive, sectarian spirit, and our movement has suffered greatly as a result.
The legalists and sectarians among us, of course, perceive the spirit of Larimore quite differently. Indeed, not a few of them almost regard him as a traitor to the cause of Christ. John Waddey goes so far as to question whether "Larimore's actions reflected a proper spirit for a Christian soldier in the face of hostile enemies" [Christianity: Then & Now, August, 2005]. In Waddey's view, Larimore should have been "contending for the faith" by stomping the "liberals" at every opportunity. "We must ask, if every member of the conservative churches had responded as did Larimore, what would have been the result? Would we even exist today? Would all have been swept into apostasy? Do our modern change agents think such would have been the preferable course? Is that what they want for today?" [ibid].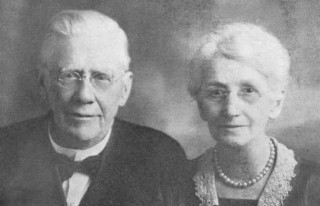 Though "tossed up on tongues" for daring to promote a more open fellowship among disparate disciples in the Stone-Campbell Movement, and for daring to suggest that the "weighty matters" on both sides were NOT fellowship or salvation issues, but mere matters of personal opinion and/or conviction, T. B. Larimore never compromised his principles. He spent the rest of his life seeking to embrace and unite all of his many brethren, choosing to do this by calling them to lay down their weapons of sectarian warfare and simply come together to proclaim the grace of God to a lost and dying world. I wish I could say that he was successful in this effort, but, sadly, we know that he wasn't. The Devil's hold on the hearts of the religionists of Larimore's day was strong, and the fratricidal feuding continued. However, in the midst of this strife a beautiful spirit beamed forth the love of the Lord for all to see. That light finally went out on March 18, 1929 when Larimore died due to complications from a hip fracture. He was buried in Santa Ana, California. Thank God for T. B. Larimore, and may our Father raise up more like him. They are desperately needed today!! (The last picture taken of T. B. and Emma together appears to the left.)
***************************
Reflections on CD
www.zianet.com/maxey/offercd.htm
***************************
Down, But Not Out
A Study of Divorce and Remarriage
in Light of God's Healing Grace
A 200 page book by Al Maxey
Order Your Copy Today
Publisher: (301) 695-1707
www.zianet.com/maxey/mdrbook.htm

***************************
Reflections on the Holy Spirit
A Published Tract by Al Maxey
Order Copies From:
J. Elbert Peters
1701 Jeannette Circle, NW
Huntsville, Alabama 35816
(256) 859-3186
jepeters65@knology.net

***************************
Readers' Reflections
From a Minister in New Mexico:

Brother Al, I finally got around to getting a copy of your book Down, But Not Out. I haven't even read it all yet, but am thinking this will be a great book for our teen group to have and use in class. How better to prepare for what they are beginning to face in the real world? Your Introduction alone is priceless!! Therefore, I contributed to your retirement and called the publisher and ordered two dozen copies. I also did a little advertising for you on one of the Restoration Movement Internet discussion groups.
From an Elder in California:

Dear Bro. Al, I want to once again thank you for your diligence in giving our brethren the courage to emerge from the legalistic mindset that has held them captive for so long ... and that includes ME, brother!!
From a Minister in New Mexico:

Bro. Al, Would you please add me to your email distribution list for your weekly Reflections? One of our church members forwarded me a copy of one of your recent articles and I really appreciate your grace-focused perspective. It is also nice having you as a "neighbor" here in southern New Mexico. I look forward to hearing more of your insights in future Reflections.
From a Reader in Louisiana:

Dear Bro. Al, I want to thank you and Shelly for all the hard work you accomplish for the Lord so well. You have turned many, many people away from the old patternistic method of worship! What a relief to turn to the grace of God and realize that His Spirit resides in us at all times to guide our lives! May God bless you indeed, and please know that your service is invaluable!! I always look forward to your Reflections.
From a Reader in Texas:

Brother Maxey, I am happy that your vacation went so well. I look forward to another year of your insightful Reflections. I truly appreciate your taking the time to write them. I come to a better understanding of the Bible with each issue I read. Thank you, Bro. Maxey, and may you and Shelly be blessed.
From a Minister in Mississippi:

Dear Bro. Al, I'm so glad you had a great time of relaxation and renewal, however it is great to have you back and writing again. You have influenced me more, or at least as much, as any other author in my journey from tradition to Truth. Words just seem inadequate to express my appreciation and gratitude for your ministry. God bless you and your wife, and thank you for all you do!!
From a Minister in Tennessee:

Dear Brother Maxey, I am so thankful you and your beloved wife had a nice vacation -- a renewal -- and that you are again busy with your thoughts and writings. I enjoy reading and studying your materials and conclusions, and I am profited when I am challenged to examine my own faith and practice. I keep a file and folder of all of your writings, and I often go back to them for study and meditation. Best wishes to you and Sis. Maxey. I hope and pray your work will go well, and that you both will be kept safe from harm, and that you will enjoy long lives and good days in His service. Thank you for helping me along my journey.
From a Reader in Texas:

Dear Bro. Al, I just read your latest Reflections article "Examining Eucharistic Expectation." I cannot even begin to describe the comfort I get from knowing that I am not alone in my thinking on this matter. I am also deeply honored that you chose to include a quote from my email to you within your article. As usual, Al, you did an excellent job of "laying out" the Truth about what the Bible really says on this topic. You clearly exposed the additions and mutations that have for so long been used by so many in the church; by the legalists who impose false laws and restrictions on those who simply strive to follow the inspired, holy Scriptures. Al, you're doing a good work, and, from reading the responses of your many readers, I believe you are helping a lot of people come to a better understanding of God's Word. I very much appreciate what you do, and I pray that you may have continued success in spreading God's true message.
From a Minister in Virginia:

Bro. Al, Finally I have found someone who thinks as I do regarding the Communion. The last paragraph of your article expresses exactly how my church family and I feel and believe we should celebrate this meal together. It should be a simple breaking of bread together as we remember our Lord. Here where I preach we don't worry about church dogma. One of my very close friends for years was the late Jerry Falwell. We shared many a moment discussing how wonderful it was simply to serve Christ, rather than stressing over the many particulars of how we approached the Lord's Table.
From a Reader at Oklahoma Christian University:

Bro. Al, It is amazing how many people I know who share this same viewpoint of the Lord's Supper!! This last year I was fortunate enough to partake of the first true Lord's Supper I believe I have ever observed. A group of friends gathered at my house, and my wife and I prepared a full meal for them (including bread and wine ... and also grape juice for those who weren't fond of wine). We began the meal by breaking the bread and offering a prayer of thanksgiving to God for what He has done in our lives through Christ, and then we ended the meal with another prayer and everyone drinking of the wine/grape juice. The meal itself was one of fellowship with fellow believers, and was the closest thing to what I believe Christ intended for this time of remembrance of Him that I could conceive. We've since celebrated the Lord's Supper this way several times with both friends and family, and each time it was a memorable and meaningful experience of thanksgiving unto God and fellowship with other Christians. As always, Al, thanks for your thoughts, and for the way they always provoke thoughtfulness and examination among believers.
From a Reader in North Carolina:

Glad to see you are back to form, Bro. Al. Hope your vacation was peaceful and blessed. You've given me a lot to think about with this new article on the Lord's Supper. Thank you very much for that!!
From a Minister in Arizona:

Bro. Al, Good material in your latest Reflections. I would really have liked to have seen some interaction in your article with Dr. John Mark Hicks' book "Come to the Table: Revisioning the Lord's Supper," however, which is a rich and valuable study of the Supper. Blessings on you, Al.
From a Minister in Oklahoma:

Brother Al, What a wonderfully refreshing article!! For much, much too long the Lord's Supper has been abused, misused and confused to the point of becoming just another part of the "required assembly" on Sunday. Recently, I attended a "house church" in another state. When the Lord's Supper was served, all gathered at the dinner table, and each one (children and all) took a piece of bread large enough to require several bites to consume, and they each shared what it meant to them. Then each one (the children also) took a glass, large enough to contain several swallows, and again expressed gratitude for it as it affected them personally. At first, alarm bells sounded in my old "that's not the way we have always done it" mind, but then a calm came over me as I began to realize that this was more likely what the early church experienced than our traditional "pinch and sip in silence" approach. I came away feeling like I had been some place special -- in the presence of the Father. What an experience!! Oh, that we could take this approach to the Supper every time. Once again, Brother Al, welcome back from vacation ... I need the meat!!
From a Minister in California:

Brother Al, Great job with your study: "Examining Eucharistic Expectation." I'm with you. Jesus did it simple -- we, on the other hand, have complicated it terribly. We need to go back to simple, and no one can say it any simpler or any more clearly than you said it in your Reflections. It's relationship, not ritual, that really matters!! This past Passover (2008) I was privileged to participate in a complete Passover Seder at the invitation of a friend and neighbor who is a Messianic Jew and also a member of a Messianic Jewish congregation up in Sacramento. Some 200+ Messianic Jews celebrated their heritage and their Messiah for nearly 3 hours. There was music, singing, dancing, eating, and a whole lot of spontaneous joy. To be perfectly honest, it did not remind me very much at all of our own very watered down "Communion Service." The symbolism, depth, history and significance of each part of the Seder was moving, especially from the viewpoint that the Messiah has come ... and He is Jesus!! It was a real spiritual highlight of my life.
From a Reader in Texas:

Bro. Al, I passed along your current essay regarding the Communion to our pulpit minister. His reply to me was as follows: "Thanks for the Maxey article and the links to his material. He is dead-on right as far as our Communion time and the Lord's intent for this feast and the church's complete distortion of this celebratory meal. This article, as well as his others on this topic, will come in handy for me in the coming weeks as I prepare for this sermon series on the Lord's Supper."
From a One Cup Reader in Texas:

Brother Maxey, This issue of Reflections ["Examining Eucharistic Expectation"] has hit a chord with me. What you address in this article is exactly what has been on my mind the last year or so. Understand: I am in a One Cup Church of Christ, so that explains a lot of my heritage! I do not agree with the views of this group on a good many issues, and thankfully there are a number within our fellowship here who are like-minded, and we are coming out of that belief system and beginning to question our practices. It is hard to undo decades of indoctrination and live in the freedom of Christ, but we are moving in that direction, thanks be to God's Spirit. Your article conveys exactly my own thoughts on the Lord's Supper. I have just been too afraid to speak out on this for fear of the reaction of others. However, now I plan to share this article with others, and perhaps this will open some lines of communication so that we can take a prayerful look at what we are doing. Is it law or relationship? I believe relationship is the key ingredient in eating and drinking this meal together -- the relationship between individual believers and Christ, and the relationship between believers within the local body. Thanks so much for writing on this, and may God bless you richly in your service to Him.
From a Minister in Washington:

Brother Al, I would like to subscribe to your Reflections, if you don't mind sending them to a Disciples of Christ minister. I very much enjoyed your article on the Lunenburg Letter [Reflections #115]. In fact, I have Campbell's quote of who is a Christian hanging on the wall of my church office. Thank you.
********************
If you would like to be removed from or added to this
mailing list, contact me and I will immediately comply.
If you are challenged by these Reflections, then feel
free to send them on to others and encourage them
to write for a free subscription. These articles may all
be purchased on CD. Check the ARCHIVES for
details and past issues of these weekly Reflections:
http://www.zianet.com/maxey/Reflect2.htm