REFLECTIONS
by Al Maxey
Issue #399 ------- June 15, 2009
**************************
War is barbarism. It is only those who have
neither fired a shot, nor heard the shrieks and
groans of the wounded, who cry aloud for blood,
more vengeance, more desolation. War is hell.
Gen. William Tecumseh Sherman {1820-1891}

**************************
Daniel Webster Whittle
Powerful Testimony of God's Grace
in the Life of a Civil War Veteran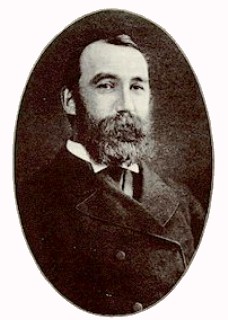 On November 22, 1840, Daniel Webster Whittle was born in Chicopee Falls, Massachusetts. As one might gather from his name, his parents were great admirers of the noted American statesman Daniel Webster (1782-1852) who was such a strong advocate for our God-given freedoms, and the personal responsibilities that came along with this divine blessing, that he could often be found speaking out boldly against anyone or anything that sought to limit our liberties. In a speech delivered on June 3, 1834, for example, Webster declared, "God grants liberty only to those who love it, and are always ready to guard and defend it." Eight years earlier, in a speech given in Boston, he stated, "It is my living sentiment, and by the blessing of God it shall be my dying sentiment --- independence now and independence forever!" It was such a man as this that inspired that young couple in Chicopee Falls to bestow upon their child the name Daniel Webster, perhaps in the hope that he too, like his namesake, would one day become a bold, fearless leader in the cause of freedom. Little did they know just how right they would be!
Daniel and his three brothers were raised in a home where their mother sought to instill strong Christian principles within them, although, as with many young men, it took some time for these to bear fruit in their lives. In Daniel Whittle's case, it would be several years later, and in the face of a great personal crisis, that his mother's loving actions would finally bring about the result she had for years prayerfully sought. In his late teen years and early twenties, Daniel worked as a cashier for a Wells Fargo bank. During this time he also met a young woman -- Abbie Hanson -- who would later become his wife. In 1861 he joined the Army and was commissioned a 2nd Lieutenant. In the summer of 1862, his unit was ordered South, and he and Abbie were quietly married the night before he left (August 22, 1862). Leaving the next day, he would not see her for over a year ... a hardship many young couples would experience during the so-called Civil War (as, indeed, many have experienced in all wars). His mother was especially troubled by her son's departure for combat. Years later he would write, "My dear mother was a devout Christian, and parted from me with many a tear, and followed me with many a prayer. She had placed a New Testament in a pocket of the haversack that she'd arranged for me." On a personal note, this reminds me of what my own grandfather (Alfred H. Maxey, 2nd --- I am Alfred H. Maxey, 4th) did for me when I got orders to go to Vietnam. He gave me a small, pocket-sized NT and Psalms in which he wrote a special message to me. I kept that with me throughout my service in Vietnam, and it still has a special place on my desk today. As I went into harm's way, my beloved grandfather wanted God's Word to go with me --- the same desire Daniel Whittle's mother had for him.
Whittle would serve honorably throughout the Civil War, acquiring at the end the rank of Major. He was with General Sherman as he led his troops to the sea; was wounded at Vicksburg; became Provost Marshal on General Howard's staff. His short career while in the U.S. Army was rather distinguished, and he faced many challenges that come with war -- including a wound that led to the loss of his right arm and a stay in a POW camp. It was here that Daniel truly began to awaken to the spiritual needs in his life. He later wrote, "We had many engagements, and I saw many sad sights, and in one of the battles I was knocked out, and that night my arm was amputated above the elbow. As I grew better, having a desire for something to read, I felt in my haversack, which I had been allowed to keep, and found the little Testament that my mother had placed there. I read right through the book --- Matthew, Mark, Luke, to Revelation. Every part was interesting to me, and I found to my surprise that I could understand it in a way that I never had before. When I had finished Revelation, I began at Matthew, and read it through again. And so for days I continued reading, and with continued interest; and still with no thought of becoming a Christian, although I could see clearly from what I read the way of salvation through Christ."
The Holy Spirit had laid the foundation for an event that would now transform his life. Whittle wrote, "While in this state of mind, yet still with no purpose or plan to repent and accept the Savior, I was awakened one midnight by the nurse, who said: 'There is a boy in the other end of the ward, one of your men, who is dying. He has been begging me for the past hour to pray for him, or to get someone to pray for him, and I can't stand it. I am a wicked man, and can't pray, so I have come to get you.'" Whittle protested, saying that he too was a wicked man and unable to pray for another. To this the nurse responded, "I thought sure from seeing you read your Testament that you were a praying man. And you are the only man in the ward that I have not heard curse. What shall I do?! There is no one else for me to go to. I can't go back there alone. Won't you get up and come and see him at any rate?" Whittle continued, "Moved by his appeal, I arose from my cot, and went with him to the far corner of the room. A fair-haired boy, only seventeen or eighteen, lay there dying. There was a look of intense agony upon his face as he fastened his eyes upon me." The boy admitted to Whittle that he had been raised in the church by Christian parents, but had acted wickedly while in the army. Now that he was dying he was afraid, and needed someone to pray for him. It was at that point that Daniel Whittle said he dropped to his knees beside that bed and not only prayed for this boy, but also for himself and his own sins, asking the Lord to accept them both. "When I arose from my knees, he was dead. A look of peace was upon his face, and I can but believe that God, who used him to bring me to my Savior, used me to get his attention fixed upon Christ and to lead him to trust in His precious blood. I hope to meet him in Heaven."
After the Civil War, Major Whittle moved to Chicago, Illinois where he went to work for the Elgin Watch Company, serving as their Treasurer. Soon Daniel and his family came in contact with the well-known evangelist Dwight L. Moody (1837-1899). They became the very best of friends [Whittle's daughter May (1870-1963) even married Moody's son William], and in due time Major Whittle (he was almost always referred to by his rank and last name) made the decision to leave secular work and devote his life to evangelism, proclaiming God's grace and liberty in Jesus. In those days, evangelistic campaigns (at least the far more successful ones) were noted for both their preaching and singing. Thus, Major Whittle teamed up with the Christian hymn writer and singer Philip P. Bliss [see my tribute to this saintly man in Reflections #283]. Their first gospel meeting was held in Waukegan, Illinois, on March 24-26, 1874. It was during this meeting that Philip Bliss sang one of his most famous hymns -- Almost Persuaded -- which had a tremendous impact upon the crowd.
The fame of the preaching/singing team of Major Daniel Whittle and Philip P. Bliss grew and grew, until finally it was requested they bring their evangelistic ministry to England. Moody urged them to accept this invitation, and so they agreed. Their plans were to hold a meeting in Chicago, at Moody's congregation, shortly after Christmas of 1876, and then leave for a preaching tour of England. Unfortunately, Philip P. Bliss and his wife were killed in a tragic train wreck just a few days after Christmas (the account may be read in the above mentioned issue of Reflections). Major Whittle went immediately to the scene of this great tragedy and remained there for three days searching for any sign of personal effects. He would later lament, "We found nothing! They have gone, as absolutely and completely gone as if translated like Enoch." The fire following the train wreck left no sign of either Bliss or his wife. The following year (in 1877), Major Daniel W. Whittle wrote/edited The Memoirs of Philip P. Bliss, which is the primary reference source on the life of this great man. Following the death of Philip Bliss, Major Whittle teamed up with singer/musician James McGranahan, and then later with George O. Stebbins. In association with these two men, Whittle made several evangelistic trips to Europe, and they also traveled extensively across America preaching the Gospel. Numerous men and women found freedom in Christ through their work.
In addition to being a powerful proclaimer of Truth, Major Whittle was also quite an accomplished hymn writer. Some of his hymns are still sung today in countless Christian congregations throughout the world. Such beloved classics as "There Shall Be Showers of Blessing," "I Know Whom I Have Believed," "There's A Royal Banner," and "Why Not Now?" all came from the inspired pen of this talented brother in Christ, uplifting the souls of saints years after his own passing from this life. D. L. Moody observed, "I think that Major Whittle has written some of the best hymns of this century!" Of his hymns, Major Whittle declared, "I hope that I will never write a hymn that does not contain a message --- there are too many hymns that are just a meaningless jingle of words; in order to do good a hymn must be founded on God's Word and carry the message of God's love."
This man, who was the recipient of God's grace years before as a wounded soldier in a POW camp, spent the remainder of his life proclaiming that divine grace and love, and has become an example for us all. He passed from this life on March 4, 1901 in Northfield, Massachusetts, where he's buried -- awaiting the resurrection. May our Father raise up more men like Major Daniel Webster Whittle. In our present difficult times, we desperately need such brave warriors of the cross.
I know not why God's wondrous grace
To me He hath made known,
Nor why, unworthy, Christ in love
Redeemed me for His own.


I know not how the Spirit moves,
Convincing men of sin,
Revealing Jesus thru the Word,
Creating faith in Him.


But "I know whom I have believed,
And am persuaded that He is able
To keep that which I've committed
Unto Him against that day."

***************************
Down, But Not Out
A Study of Divorce and Remarriage
in Light of God's Healing Grace
A 200 page book by Al Maxey
Publisher: (301) 695-1707
www.zianet.com/maxey/mdrbook.htm

***************************
Readers' Reflections
From a Minister/Author in Tennessee:
Brother Al, I have said for years, "You mean you can eliminate in a church building, but you can't eat in it?" Makes no sense! Many years ago, someone came up to Bro. Gus Nichols saying that a congregation up the road from 6th Avenue Church of Christ in Jasper, AL (where Bro. Nichols preached for over 60 years) had a kitchen in the church. He responded, "A kitchen in the church? Who baptized it?"
From an Elder in Florida:
Dear Brother Al, That was a great article on the unholy love affair we have with the "church building," making it into a "sanctuary" -- a "holy place." One of my pet peeves about church buildings is the way these buildings absorb so much of a congregation's financial and spiritual energy, leaving very little for things that are of greater importance. I have often been disheartened by the number of times elders and preachers will not even give a hearing to the pleas of mission-focused efforts for assistance, all because they are "in a building program." Even on the mission field itself, it is amazing how we blindly follow a mission methodology that severely limits the growth of the indigenous church in the field because we have conveyed to them that a "church" must have a "building" in which they can "conduct worship services." And all this for something that is not even mentioned in Scripture!!
From a Minister/Author in Arizona:
Amen, Brother Al, on your Reflections article regarding our "sacred edifices." Amen, Amen!!
From an Elder in New Mexico:
Dear Brother Al, Great article! Thank you for sharing yourself with the rest of the Body of Christ!! Blessings and peace to you!
From a Reader in Arkansas:
Brother Al, I have been reading your Reflections for a couple of months now. I just wanted you to know that I enjoy them and really learn from them. I just finished reading one of your back issues -- Breakfast on the Beach (Reflections #189) -- and loved it! Thank you for all your hard work.
From a Reader in Nevada:
Dear Brother Al, Thanks for this issue of Reflections. I have thought and taught for years that Satan's most effective weapon against the spread of the Kingdom is the "church building." In the early 1950's my Dad preached in Lamar, Colorado. The "parsonage" was a little three bedroom apartment located in the basement of the church building. One Sunday, a couple showed up for "worship." They just happened to be old friends of my parents (whom they hadn't seen for years). Mother invited them to lunch, which they readily accepted. After "church," Mom opened the door to the stairs for them. They were immediately met with the delicious smell of pot roast. The couple suddenly remembered a "pressing need" that forced them to have to decline lunch and get on the road. Being a "smart a--ed" 7th grader, I said, "If you think eating in the church building is bad, you ought to see what else my parents do here." I was grounded for a year or so!!
From a Reader in New Mexico:
Bro. Al, Regarding the subject of "church buildings," when we were on a guided tour of Mexico City a good many years ago, we were taken through an enormous cathedral there. After climbing a long flight of steps, we got into the building and were almost blinded by the light reflecting off of all the gold that covered just about everything in sight. One individual in our group said that he wished he had something like that at home "to worship in." Another person in the group remarked rather loudly, "This is the most disgusting sight I've ever seen! The steps coming up here were covered with beggars! Why couldn't the cost of this display have been used to really serve God by helping the needy?!" I'm sorry that I didn't shout an "AMEN" at the time!
From a Minister in California:
Brother Al, Your recent Reflections article "Hallowed Halls of Worship" was right on target. I've been reading recently on the Law of Attraction and the power of our subconscious mind. It has helped me put into perspective the issues you have been discussing. A negative mental focus, such as that of the legalistic patternists, is destructive in that it produces lives filled with anger, bitterness, hatefulness and spitefulness. That negative focus attracts negative people and experiences. "As a man thinketh in his heart, so is he." So these people fight, spit and gouge over such non-issues (to God) as church buildings, worship services, kitchens, classrooms, instruments, multiple cups, and much more. On the other hand, a positive mental focus attracts positive people and experiences. When we focus on things that are true, noble, right, pure, lovely and admirable, our lives automatically attract these types of people and experiences. The Law of Attraction is always in force: we are never not attracting something. "Whatsoever a man sows, that will he also reap." Religion is simply the negative result of man's negative efforts, but relationship is the positive result of our focus on God in us. Keep up the great work, brother. Lots of people are looking to you for a positive light that they are just not getting where they're at. God has brought you here for just such a time as this!! Expect the best.
From a Minister in Georgia:
Brother Al, I agree that far too much emphasis is often placed on our edifices. As to the early church only meeting in homes, upper rooms, or maybe under trees on occasion, what is your take on James 2:2, where the text says they had a "synagogue"? I doubt that they had rented a synagogue from the Jews, so am wondering if they might have had a place/building set aside for the specific purpose of meeting together.
The Greek word sunagoge, which conveys the idea of "an assembling or gathering together," may refer either to a physical location of such gatherings or to the gathering itself (with no specific place or physical structure in view). The Jews assembled for the purpose of study and edification. In time this word was transferred to the building itself (much like church buildings in earlier days in America were characterized as "meeting houses"). It is a mistake, however, to assume that since James employed the term that he thereby signified some specific structure for said assemblies. He more likely merely had reference to the gathering itself, irrespective of any location. "The term sunagoge need not be taken literally as an indication that the Jewish Christians were still meeting in synagogue buildings" [Expositor's Bible Commentary, vol. 12, p. 178]. This source points out the fact that Jewish Christians, after leaving the synagogues, continued to refer to their assemblies as a sunagoge (a gathering together; a congregating). Indeed, this is the word (an intensified form --- episunagoge) used in Hebrews 10:25 where the saints are told not to forsake their assembling together. Clearly, the edifice is not the issue. Bro. Guy N. Woods, in his commentary on James, declared: "Sunagoge, in the apostolic age, meant: (a) a congregation assembled, or (b) the place where the assembly took place. It seems quite obvious, from the context, that it is the first of these meanings -- a congregation assembled -- which is intended here" [p. 107]. --- Al Maxey
From a Reader in California:
Dear Brother Al, I always appreciate you and your writings, as well as the fact that you're really making head-roads against faithless, churchy religion. I thank God for you, and I pray that you will remain strong and humble.
From an Elder in Missouri:
Brother Al, Amen and Well-Done on your article "Hallowed Halls of Worship." Jesus did NOT shed His blood and die for a structure made of stone and mortar!! How far we have come from the simple concept of the Ekklesia, the called out Body of Christ. I am troubled when a song leader will try to get the assembly quiet by singing the song "The Lord is in His Holy Temple." This is a very lovely song -- BUT, the Lord's temple is NOT the building!! I actually heard an old time gospel preacher pray in a public prayer for God to "remove the encumbrance" of our church buildings so that His work could go forward. Yes, I personally have seen first hand how the cost of our buildings (construction, upkeep, etc.) has hindered the preaching of the gospel. I have seen the support of mission works and evangelists withdrawn so that some addition could be made to the church building (such as a gymnasium). The greatest growth I have seen in congregations, both numerically and spiritually, has been in those locations where the people met in homes or various other locations -- a growth rate that dramatically slowed when a building was erected.
From an Elder in Texas:
Bro. Al, Your excellent discussion of church buildings reminds me of what I heard someone once say about those brethren who forbid eating in the church building. He observed that all of these brethren have restrooms in their church buildings, thus suggesting that they view it as okay to let food out of one's body in the "sacred place," but do NOT view it as okay to put food into the body in that same "sacred place." Now, try and figure that one out!!
From an Award-Winning Author in New Mexico:
Bro. Al, My husband (a retired surgeon) and I have been on your mailing list for some time, and we love reading your articles. I have been in house churches in the past, and thus know they are what "church" is all about. I loved seeing the Holy Spirit's freedom to move among those present; to hear what He had to say through men, women or children, and to come away feeling fulfilled and eager for the next meeting. Although we hunger for something more, we are presently assembling in a building. Our congregation is probably more progressive than most within the Churches of Christ, but we still sit there Sunday after Sunday looking at the backs of our brothers and sisters, listening to a man preach from the pulpit -- men only allowed to speak from that pulpit and serve in any way in public -- and it hurts my heart. We really love the people here, and know that many of them feel the same frustration we do, but since most of them have never been in any other group than the Church of Christ they have no idea what they're missing! As for us, we don't know where else to go! Thank you for your wisdom, Al. Feeling the way you do, how do you manage to stay with the Church of Christ?!!
From a Prison Minister in Texas:
Dear Brother Al, A brother in Christ just forwarded me your article on church buildings. Your concept of worship is identical to a series I preached back in 1976 ... which led to my being fired. Yet, all I tried to do was simply show them that worship is not confined to what we do in the church building. Well, you can imagine the uproar that ensued over that. "Heresy! Heretic!" Yes, your article brought back some memories of my past dealings with legalists!!
From a One Cup Minister in Missouri:
Bro. Al, Thank you for that very good article on church buildings. Not only was I shouting "AMEN" throughout, but I was enjoying the humorous vision of the "hell bound cookie eaters." This topic of church buildings has been on my mind a lot over the last several years. It bothers me that so many people build doctrines about something that is never even mentioned one time within the New Testament writings --- not to mention the huge amounts of money that go into these buildings every year. I'll never forget the Church of Christ where I was married. My wife to be and I selected some songs that were very meaningful to us. However, because they had instrumental accompaniment, we weren't allowed to play them. The elders admitted that using instruments for a wedding was not wrong, but doing it inside the church building just "might be." To this day, I wish we had found a way to pay for the use of a different facility so that our wedding could have been everything we wanted it to be. Last, let me give a loving word to those who're leaving a legalistic fellowship: Let's not be afraid to communicate with one another. I realize that we have been conditioned to keep our beliefs to ourselves in order to avoid castigation. I still deal with this very fear myself. However, I believe that we've got to learn to trust each other. We must be able to rely upon our brethren, particularly those who have gone through, or are going through, the same things we are. We cannot travel the road from bondage to grace all alone. We need the comfort, direction and wisdom from others on that same road. The apostle Paul tells us that very thing in 2 Cor. 1:3-7. I hope that we will learn to trust and rely upon one another, instead of trying to realize God's grace all alone.
From a Reader in Texas:
Brother Al, You've nailed it!! Jesus said, "For where two or three are gathered together in My name, I am there in the midst of them" [Matt. 18:20]. VERY simple, isn't it? There's no mention by Jesus of a building or "sanctuary." It could not be any simpler. It never ceases to amaze me how we can take such a simple concept and complicate it with religious duties and activities to the point of utter ridiculousness. Thanks for your article "Hallowed Halls of Worship," brother ... I could not agree more!!
From a New Reader in Virginia:
Dear Brother Al, I just happened to come upon your Reflections web site while researching (of all things) what "emerods" meant in 1 Samuel. I was captivated by your article on that topic -- Reflections #135 -- and so I went on to read more of your studies. I am a deacon in the Southern Baptist Church who is, admittedly, very traditionally oriented and resistant to change!! Nevertheless, I regard your Reflections articles as truly being messages from the Lord Himself. After reading your most recent issue -- "Hallowed Halls of Worship" -- I became thoroughly convinced that it was directed by the Spirit right at me! I had spent a lot of time this morning complaining about the noise within the sanctuary from people greeting and talking to one another prior to the worship service. I see now, after reading your study, that I was wrong!! Brother Al, there are very few people who know me that believed my mind could ever be changed by anything anyone ever said. Yet, the Spirit through you has done so!! Thank you for opening my eyes and helping me to see more clearly on this matter. Also, I would like to be added to your mailing list, and look forward to reading future issues of Reflections.
From a Reader in Colorado:
Dear Brother Maxey, I have come to believe that our church buildings are the devil's way of changing our focus from our mission to maintaining a building! People insist, "If only we have a nice comfortable church building, then people will be influenced to come to it, and then we can convert them." I think the question here is: Convert them to what? It seems too many have thought that their building would actually have more drawing power than anything else they could possibly offer.
From a Reader in California:
Bro. Maxey, Your recent Reflections -- "Hallowed Halls of Worship" -- was simply brilliant!! You summed up the root of our many troubles with your following two statements: (1) "Take a close look at the long list of things the disciples of Christ have fought and fragmented over during the past centuries. You will find that at least 90% of them deal with what transpires within a building during the course of just a couple of hours a week." (2) "When we stand before God in judgment one day, it will not be to answer for what we did in some structure on a Sunday morning." I believe that last statement of yours to be one of the most profound you have ever made!! Al, that is IT in a nutshell! One would think that the eternal truths you have revealed in this simple study would be apparent to many, and that it would serve to open their eyes! Unfortunately, so many cannot see the truths right in front of them because they are prisoners of the "holy" church building. Please continue to hammer this point home with simple language and reason, brother. You are spreading good seed, and hopefully enough of it is falling on the fertile soil of your many readers' hearts.
From a Reader in Alabama:
Dear Brother Maxey, Would you please add me to your mailing list for Reflections?! I am a long time "lurker" on your web site, and normally visit your site to read your articles. I recently purchased a new computer and the default search engine is Windows Live, and, sadly, the first listing to appear on that search engine when I typed in "Al Maxey" was the despicable web site belonging to Darrell Broking and Daniel Denham. I am saddened and appalled by the vitriol that spews forth from these people. Therefore, I felt compelled to lift you up in ardent prayer for the "peace that passes understanding," and that you might be kept safe by God from these individuals. I live and worship in Athens, Alabama, and so am very familiar with how it feels to be labeled a "liberal." Keep the faith, brother!
From Darrell Broking in Pensacola, FL:
Al, You do know, don't you, that "stop, drop and roll" won't work in hell -- too bad for you!!
From Daniel Denham in Newport News, VA:
Al, As Bro. Cline would phrase it -- in hell you and your ilk will be "hopping from brick to brick looking for a cool spot," but to no avail.
********************
If you would like to be removed from or added to this
mailing list, contact me and I will immediately comply.
If you are challenged by these Reflections, then feel
free to send them on to others and encourage them
to write for a free subscription. These articles may all
be purchased on CD. Check the ARCHIVES for
details and past issues of these weekly Reflections:
http://www.zianet.com/maxey/Reflect2.htm