REFLECTIONS
by Al Maxey
Issue #404 ------- July 21, 2009
**************************
There is nothing nobler or more admirable
than when two people who see eye to eye
keep house as man and wife, confounding
their enemies and delighting their friends.
Homer {c. 8th Century B.C.}

**************************
Thou Excellest Them All
In Praise of a Worthy Woman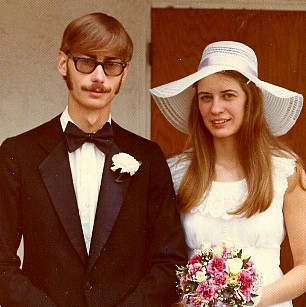 Exactly 36 years ago this day (July 21, 1973), in the city of Albuquerque, New Mexico at the North 4th Street Church of Christ, where my wife's father, Don Cavasos, would later serve as one of their elders, Shelly and I were married. The picture that appears at the left was taken not long after the ceremony as we made our way to the reception area. I was 24 years old, and she had just turned 20, and we had both just finished our Sophomore year at Eastern New Mexico University (this four year gap being explained by the fact that I had spent four years in the military, two of those years being with Naval Air combat forces in the Mekong Delta of Vietnam). During my final year in the armed forces I received several letters from my dear mother and father (my dad was the Superintendent of Schools in the city where Shelly had graduated from high school, and my parents were members of the same congregation where Shelly's family attended) in which they "sang the praises" of this beautiful young girl, insisting that I just HAD to meet her when I got out of the Navy and returned to my studies at ENMU (I had finished my Freshman year prior to enlisting). Needless to say, I took some intense, good-natured "ribbing" from my friends over this, and yet there was something within me that was looking forward to seeing for myself if this girl was as special as my parents seemed to think.
I was released from active duty, and transferred to the reserves, on August 18, 1972 (four years to the day after having volunteered so that I might serve my country, something I felt very strongly that I really needed to do: a decision that I have never regretted for even a single day since). Therefore, I packed my few belongings in my 1970 Camaro and headed for New Mexico, where I had already been accepted back into the university I had previously attended. Since I had a couple of weeks before classes started, and the dorm in which I would be staying was not yet open, I went to visit my parents. That very first Sunday back at my parent's home I rode with them to the church building where they attended, and it just so happened that they arrived at the same time as Shelly and her parents (who parked right next to us). I must say, it was an awkward moment as my parents introduced her to me, and I must have turned several shades of red. She was one of the most beautiful young women I had ever seen in my life, and I knew immediately that I didn't stand a chance with her!! I could certainly see what my parents had seen in her, but I simply could not conceive in my mind that this girl would ever take a second look at me. Thus, I dismissed from my mind any thoughts of trying to get to know her.
During that first semester we both dated other people, and really didn't have much to do with one another. We would see each other here and there on campus, and at church services and functions some (although I was not really into the "Christian scene" at this time, having just come from several years in the service where I had completely turned my back on God, during which time I had not lived anything even remotely resembling a Christian lifestyle). During this semester I was still pretty wild (doing a lot of drinking), although I did take my studies seriously and made almost all A's. There were a few times, however, that I drove her back to the town where our parents lived (3 hours away), as I had a car and she didn't. During these times we got to know each other a little better, but it never went any farther than that. I will have to admit, however, that a part of me was still very much interested in her, but a bigger part kept saying, "You are simply not good enough for her!" I listened to this part of me! She was the model of a Christian young woman, and she took her faith very seriously. She lived it. I didn't. Thus, I knew that there was nothing in me, given the way I was living (which some of her friends knew only too well), that would attract her to me.
To this day I can't really tell you what changed, but sometime in early January, as the second semester began, I had this overwhelming desire to ask Shelly out on a date. I went through several days of absolute agony and sheer terror as I sought to build up sufficient courage to call her. I actually felt sick to my stomach, as I just knew she would laugh and turn me down, and I would be crushed and humiliated!! I had no reason to think she would even consider going out with me, and I tried repeatedly to "reason" my way out of this "irrational desire" to call her. WHY was I doing this to myself?! Was I a glutton for punishment? Well, the day finally came that I got up the nerve to call her! We talked for a few minutes, and then I took the plunge -- I actually asked her if she would like to go to a movie with me. How I kept from passing out at that moment is beyond me!! And then came her answer, which I couldn't believe -- she said YES!! We went to see the movie "Butterflies Are Free," starring Goldie Hawn and Edward Albert. Prior to picking Shelly up, I made a life-altering decision to "clean up my act." I went and got a haircut (I had been letting it grow long), got some new clothes, and decided that it was time to begin taking life a bit more seriously (especially the Christian part). I knew that if there was ever going to be a second date, or beyond, I would have to become greatly transformed. At that point, I was not the kind of person Shelly needed to be with. Why she said YES I didn't know, but I did know that I had been given a chance to perhaps turn a corner in my life, and I was determined to give it my very best shot.
To make a long story short, Shelly Jeanne Cavasos and I grew to love one another, and we discovered that we truly enjoyed one another's company. Six months after that first date we were married, and I can honestly say that I am thankful to God for the precious gift He has given me in this wonderful woman. I know there have been times I have disappointed her over the years by my attitudes and actions, but she has stood faithfully beside me the whole way, and I owe everything I am and have to Shelly. If not for her, I shudder to think where I might be today. God has used her, as well as a few other people along the way, to transform me from what I was into who I am. I don't know how much longer God has for me on this old earth, but whatever time He has allotted I pray will be spent with her. Together we have brought into this world three wonderful sons, and they in turn have given us eight grandchildren (with a ninth on the way). I am blessed beyond anything I ever expected or deserved. In the gift of Shelly I have truly experienced God's GRACE. Thank you, Lord, for loving me and not giving up on me, and may I live in such a way in the years to come that I never disappoint either You or her!!
*************************
FACEBOOKING --- You may or may not be familiar with this particular term, but if you are into social networking via the Internet, you know of the growing global community of friends and family that has been denominated Facebook -- www.facebook.com. This is a site where individuals may set up a "space" where they can share personal pictures and videos, as well as the many daily happenings in their lives, and those who have been invited into their space may see all this information and interact with them in "real time." It is a wonderful opportunity to maintain instant communication with one's friends and family all over the world. Shelly and I recently discovered this medium (we both have our own individual Facebook page), and we are connecting now with people we had lost contact with for decades! Also, a growing number of my Reflections readers are now connecting with me on here, and it is a genuine pleasure to see their pictures and learn of their daily journeys (both the joys and the challenges) with the Lord. If you're a "Facebooker," then we invite you to come to our little corner of cyberspace so that we may get to know one another better, and encourage each other during the journey ahead. We have placed a lot of pictures on there of our family, and pictures of places we have lived and worked in the past. We pray this will help us all to draw closer together within the Family of God.
GREAT NEW BOOK --- I would like to inform all my readers of a fabulous new book that has just been published. It is titled A Call to Unity: A Critical Review of Patternism and the Command-Example-Inference-Silence Hermeneutic. The author is Dr. Barry L. Perryman, who is the Assistant Professor in the Department of Animal Biotechnology at the University of Nevada, Reno. Barry has been a great supporter of my work over the years, and I was honored when he asked me to write the endorsement that appears on the back cover of his new book (as I was additionally honored by the fact that he has quoted from my Reflections within the body of his book). I hope each of you will purchase a copy of this book ... and perhaps additional copies to give to others as a gift. It is a must read!! The price is only $6.95 per book, plus an additional $2.00 for shipping and handling. To order your copy, you may contact the author by phone at (775) 624-1296 or (307) 335-8885, or by email at bperryman1296@charter.net. Checks and credit cards are accepted.
***************************
Down, But Not Out
A Study of Divorce and Remarriage
in Light of God's Healing Grace
A 200 page book by Al Maxey
Publisher: (301) 695-1707
www.zianet.com/maxey/mdrbook.htm

***************************
Readers' Reflections
From a Minister in New Zealand:
Brother Al, Thanks so much for your Reflections. They've been a great help for me while ministering to a small congregation (about 40) here in New Zealand. God bless you, brother.
From a U.S. Navy Officer in Japan:
Dear Brother Al, I have just come off a 0200 - 0700 watch, so am not too sure how coherent I will be, but I wanted to drop you a quick note to thank you for yet another in-depth, thought-provoking Reflections ("Praise Him With Dancing"). I cannot help but wonder, though, how many people will type up an angry response to you just from the title itself, let alone the content!! Anyway, although I have not been all that great at keeping in touch of late, I just want you to know that I really appreciate your articles, and I appreciate you for continuing to send them out across the world! They always offer a safe harbor in a storm ... and with the weather out here, that is needed quite often! Again, I can already picture in my head the flak you will receive for this article, but please Keep on Keeping on, brother, and Thank You.
From a Law School Dean in Georgia:
Brother Al, Thanks for adding me to your mailing list at my request. With respect to the article "Praise Him With Dancing," having taught Law School for more than 30 years (but never Constitutional Law), I tell my students, when I bump up against a Constitutional Law problem in another course, that "Con Law always reminds me of the question, 'How many angels can dance on the head of a pin?' Having grown up within the Church of Christ, I always knew the answer to that question: Angels don't dance!!"
From a Reader in New Mexico:
Brother Al, I just finished reading your Reflections article on dancing. YEA!!! Good For You! When I needed another credit in PE in college, I looked for a "Folk Dance" class. It was usually "Square Dancing," and since I knew my left foot from my right, I could follow the caller's instructions, and so got an "A" for the class. I remember one lady saying she refused to take part in such a class because it was "against her religion." A large black lady came back at her, "Honey, my husband's a Baptist preacher, and I dance every time the Spirit moves me!!" My own personal feeling about Square Dancing is that if anyone can follow the caller's directions, remembering which foot is left or right, and still have time for lewd thoughts, then they're better at multi-tasking than I ever was!! Have a great day, and tell us how many people write to "disfellowship" you over this particular article!!
Actually, and this was somewhat surprising to me as well, the response has been 100% favorable to my recent reflective analysis of dancing. The times they are a changin'. --- Al Maxey
From a Reader in Oklahoma:
Brother Al, Thank you for this good and needed article on dancing! I have often used Psalm 150 to show people that God actually enjoyed instrumental praise and dancing. I have also often used the example of David dancing mightily before the Lord to demonstrate God's approval. Instruments of music in worship were even commanded by God. Of course, the Pharisaic answer is always that this was under the Old Covenant ... but now, under the New Covenant, God disapproves of BOTH. Doesn't Malachi 3:6 say, "I the Lord do not change"?! Although I would not personally urge any Church of Christ congregation to begin using instruments, nevertheless I refuse to condemn those that choose to do so! And, concerning dancing, you are right -- each Christian must examine his own heart to make his own decision accordingly.
From a Pastor in Florida:
Brother Al, Great article on dancing!! A few years ago, one Sunday morning, during our song service, there was an elderly man on oxygen sitting close to the front of the auditorium, and during one of our more energetic songs, he placed his oxygen tank down in the pew, stood up in the aisle, and began to dance all by himself. There was nothing perverted or sexual about his dance; rather, it was very encouraging to the rest of the church and me. To see this elderly man so moved by the music being played and the singing that he wanted to dance was truly, I believe, a sign of the Holy Spirit causing sincere joy to overflow and express itself through controlled movement. I say controlled, because I do not believe the Spirit causes people to go out of control. Nevertheless, I was greatly encouraged by this, and I will never forget it. I only wish I could inspire all of our members to be as joyful as this fellow was that day. Some of them do clap their hands and so forth, but I have yet to see another one dance. Anyway, great article!!
From a Reader in Oklahoma:
Bro. Al, Your Reflections on dancing was very interesting. Not surprisingly, I had never heard any positive teaching on the subject of dancing! In my younger days (much younger) I attended many parties where there was drinking and dancing (I repented of that long ago, by the way). Some of the girls I danced with were very proper, and nothing but friendship was expressed. Then there were the other girls! And you are right -- dancers know the difference!!
From a New Reader in Indiana:
Brother Al, Please add my email address to your subscription list for Reflections. Your articles have been previously forwarded to me by several others, and I have really enjoyed reading them. Thank you!
From a Reader in [Unknown]:
Brother Al, Congratulations on making the top of the list of all the Church of Christ blog sites. Please keep up the good work ... it is needed and beneficial.
From a Reader in New Mexico:
Brother Al, This is great! It is surprising how web sites with good content get passed around the globe, not just around town. You may never know the full impact of some of your Reflections articles, but you can bet that God is really using them to be sure that others will get the message. Keep up the great work.
From a Minister in Georgia:
Hello Dear Brother Al, One time you sent me the link to an issue of your Reflections in which you proposed an alternative to the old traditional CENI (command, example, necessary inference) hermeneutic. I benefited greatly from that particular article, but cannot remember where it is. Will you send me that link once again? Thank you for all the great work you are doing for our Master!!!!
That would be Reflections #126 -- Suggesting Another Hermeneutic: Inquiry into an Interpretive Methodology. --- Al Maxey
From a Reader in Texas:
Bro. Al, Thank you for your latest issue of Reflections -- "Praise Him With Dancing." I haven't been a reader that long, but I must tell you that I find myself looking forward to your weekly writings! I think it is because you are boldly tackling subjects that have needed addressing for a very long time now!! The main reason I am responding this week, however, is that I want to express to you that I really feel that all these fanatical, vicious attacks on your writings are just clear evidence of the global power of your ministry! Keep asking, and seeking answers to, the tough questions that we all have. Keep up the good work, brother. You are appreciated!!
From an Elder in Florida:
Brother Al, If Jesus Himself put music (the Greek sumphonia = "praise with many instruments; a harmony of sounds; concert of instruments") and praise-dancing "in the father's house" [Luke 15:25], then, in my judgment, this is pretty much of a death blow to one particular segment or sect within the Body of Christ. Praise be to the Lord that YOU model and identify with the Body of Christ at large that is so much vaster than any one historical movement, cult, sect or denomination, each of which pretty much declare the same thing: "WE, and WE ALONE, are the sum total of the Body of Christ on earth to the exclusion of all other sincere believers who have refused to confess allegiance to our particular extra-biblical dogmas!"
From a Reader in Tennessee:
Dear Bro. Al, Thanks for your weekly Reflections. Living in Middle Tennessee, the Buckle of the Bible Belt, one sees many little congregations of the Churches of Christ as one drives around. I had recently read your article Unity or Uniformity? --- Reflections #200 (dated July 21, 2005) -- and it occurred to me that most every county within our state has a congregation called "Unity" ... and yet these little gatherings are the result of a division within a nearby congregation over some petty perceived pattern!! How the Lord must grieve, and the Devil laugh!!
From a Reader in Colorado:
Brother Al, Your last Reflections ("Praise Him With Dancing") was very timely. It was waiting for me in my inbox yesterday when we returned from Salt Lake City where we attended the Buddhist Obon Festival. This festival honors their deceased ancestors, and we attended at the request of dear friends who had lost their son (who was the childhood playmate of our daughter) to cancer when was just forty years old. On Saturday evening there was great Japanese food and street dancing. The dances were very symbolic, and even though these dances were explained to us by our friends, I'm sure that we only scratched the surface of their true, deeper meaning. The women were dressed beautifully, and the whole thing was very graceful. Interestingly, their Sunday service was held at the graveyard. Please keep up the good work, brother!
From a Missionary in Papua, New Guinea:
Brother Al, My father-in-law passed along your article regarding the Matthew 19:24 passage ("Needling Your Camel"). Would you please add me to your regular mailing list?! I also wanted to let you know that I have linked your article to my own web ministry -- Money Help For Christians. Over the last several months I have been doing a blog on personal finance from a Christian perspective. Theologically, people are all over the place with their interpretations regarding Jesus' view of money. One of the passages most frequently misunderstood is the Matthew 19:24 passage. Most people think that if something has been said enough times, then it must be true. Thus we get the most common explanation (as you mentioned) of the "needle's eye" as being a gate through which a camel must kneel to enter. This just shows that many people are uncomfortable with the text. Thus they seek the easiest and most convenient explanation. Anyway, I just wanted to thank you for your meticulous and honest approach to this particular text. I also want to thank you for your writing ministry!
********************
If you would like to be removed from or added to this
mailing list, contact me and I will immediately comply.
If you are challenged by these Reflections, then feel
free to send them on to others and encourage them
to write for a free subscription. These articles may all
be purchased on CD. Check the ARCHIVES for
details and past issues of these weekly Reflections:
http://www.zianet.com/maxey/Reflect2.htm