REFLECTIONS
by Al Maxey
Issue #411 ------- September 6, 2009
**************************
That country is the richest which nourishes the
greatest number of noble and happy human beings;
that man is the richest who, having perfected the
functions of his own life to the utmost, has also
the widest helpful influence, both personal and by
means of his possessions, over the lives of others.
John Ruskin {1819-1900}

**************************
The Apollos of the West
The Life of John Allen Gano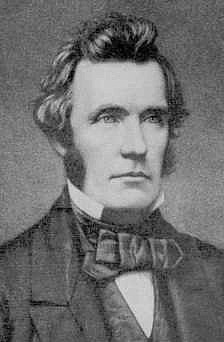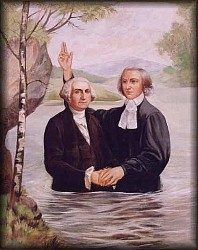 John Allen Gano was born in the little village of Georgetown, Kentucky on July 8, 1805. His father was Gen. Richard M. Gano, who was born in New York City, NY on July 7, 1775 and who later distinguished himself as a leader in the War of 1812, and his mother was named Elizabeth (maiden name: Ewing). She was born in Bedford County, Virginia. Her father, Caleb Ewing was killed by lightning not long after her birth, therefore her family decided to pack up all their belongings and move to Kentucky. There she met and married Richard in 1797. Over the next fifteen years this couple produced seven children: four daughters (Mary, Margaret, Cornelia, Eliza) and three sons (John, Stephen, Richard). It is their son John who is the focus of this current issue of Reflections. On April 9, 1812 Elizabeth died in Georgetown, KY of consumption. John's father had also died around this time, thus leaving these seven children orphans. They were each parceled out to various relatives, and John Allen was raised up in the household of an uncle, Capt. William Hubble (also a prominent figure in the War of 1812). John's paternal grandfather, John Gano (for whom he was named), was a famous Baptist preacher who served as the personal Chaplain to Gen. George Washington during the Revolution, and who immersed him into Christ during this time (the event being immortalized in a painting [see above] that now hangs at William Jewell College in Liberty, MO). This great figure in history is buried in Frankfort, KY in the same cemetery where Daniel Boone lies.
John Allen's son, Gen. Richard Montgomery Gano (1830-1913), became quite famous in his own right. John Allen Gano baptized his son in 1840 (the boy was only ten) in the North Elkhorn River in Union County, Kentucky. Richard married Mattie Welch, a descendant of Barton W. Stone, one of the founding fathers of our movement, in 1853. They would have 12 children together. Three of their sons became lawyers, and the firm in Dallas, TX of "Gano, Gano and Gano" would become one of the most prestigious law firms in all of Texas. The oldest son (who would be John Allen's grandson), William Gano, was Chairman of the Board of "Southwestern Christian College in Denton, Texas, and assisted in writing the legal charter for Gunter Bible College and for Childers Classical Institute, which eventually became Abilene Christian University" [The Encyclopedia of the Stone-Campbell Movement, p. 348]. John's son Richard served with distinction in the Civil War. After the war, he left the military and entered the ministry, stating, "I laid down my sword of steel and took up the Word of God as the weapon of my warfare." During the last forty years of his life he ministered for the Lord Jesus Christ in the city of Dallas, Texas. The congregation with which he served the longest (over 30 years) is today known as the Highland Oaks Church of Christ (with a membership of over 1500 souls). It is reported that he personally baptized more than 6800 people during his years of ministry (which included meetings held in Tennessee and Kentucky, as well as Texas).
But, back to John Allen Gano (who, by the way, as one additional side note of interest, was a direct ancestor of Howard Hughes, the eccentric billionaire). After he was sent to live with his uncle, John Allen began to pursue his education with great fervor. During the next several years he studied at several of the best schools and under some of the most noted instructors. He became proficient in both Latin and Greek, as well as in mathematics, science and many other branches of higher education. In March, 1823, he began his studies in law under Judge Warren, and in 1826, after he had passed his examination, he was licensed to practice law. At this point he was determined to devote the rest of his life to this career, as it was truly his favorite area of study. However, God had different plans for John Allen Gano. Though he was living in Kentucky at the time, he decided that he would relocate to Texas in order to practice law. As he was traveling through the south he was suddenly attacked by a violent hemorrhage of the lungs, a condition that threatened to end his life. He called upon the Lord to deliver him, promising that if he was allowed to live he would become a devoted Christian and begin seeking to do God's will (something he had never quite "gotten around to" previously because of his educational and career pursuits).
God did spare his life, and so John Allen Gano decided to make his way back to Kentucky where he began searching among the various religious groups for some message of Truth from God, however "he was bewildered amidst the various and conflicting parties of the day" [James Challen, editor, Ladies' Christian Annual, vol. 6, no. 10, October, 1857]. It appeared that everybody had their own version of what constituted Truth, and each sect was in conflict with the others. In utter disgust, John walked away from them all and resolved to return to his former resolve to pursue a legal career, although he later admitted that such rebellion against the God who had shown him mercy troubled him greatly. In the months that followed he struggled greatly within himself, desiring to serve God, but appalled by the religious squabbling he witnessed in the various groups of the day. Early in the summer of 1827 he happened to attend a Gospel Meeting in Georgetown, Kentucky where such men as Francis R. Palmer, Thomas M. Allen and Barton W. Stone were speaking. Over the course of this lengthy meeting, John Allen found the Truth he was seeking, recognizing that these men were seeking to bring people into union with Christ Jesus rather than into uniformity with church tradition. On July 10, 1827 he was immersed into Christ by Thomas M. Allen.
It was not long thereafter that John Allen determined to spend the remainder of his days proclaiming the Gospel to all those around him who would listen. However, he was determined to preach a different message than he perceived was being promoted at that time by the religious leaders around him. He determined to reject all sectarian or party claims and simply proclaim Jesus; bringing people into a relationship with Him, rather than into compliance with human creeds and traditions. "His religious belief did not lead him, however, to reject those who might differ with him in reference to many questions still mooted, growing out of his rejection of human articles of faith. He was led to love every Christian: all who bore the image of the Savior, no matter what may have been the difference of opinion in matters purely speculative. He had early learned practically at heart to make a distinction between faith and philosophy, knowing that a person may be in error in regard to the latter, but sound in reference to the former; a lesson, we think, that older scribes would do well to consider" [James Challen, ibid]. Something my dear brethren would do well to consider today as well.
Needless to say, this life choice made by John Allen Gano did not go over well with his siblings, who were still staunch Baptists!! His sisters were so distressed by what their brother had done that they sent word to a well-known Baptist pastor seventy miles away to come and "win brother John back to the one true church of his fathers." Pastor Jacob Creath, Sr. rode 70 miles on horseback to meet with John, at which time he pleaded with him, by the love that he still felt in his heart for his grandfather, Chaplain John Gano, to return to the church of his beloved, departed grandfather. John placed his hand upon the New Testament writings and said, "Elder Creath, if you will show me in this book where it says, 'deny yourself, take up your cross, and follow your grandfather,' I will follow mine throughout my life. But I read it to say, 'Follow Christ,' and I am determined to follow Him until death, even if it separates me from all the kindred I have on earth." The elderly pastor spent over twelve hours talking with John, and it is reported that he was so impressed with this young man that he returned the next day so that they might continue their discussion of spiritual matters. In the end, Jacob Creath, Sr., the man who rode 70 miles to win back John Allen Gano to the Baptist Church was instead won over by the persuasive spirit of John Allen Gano!! Creath soon thereafter publicly took his stand against religious partyism, endorsing the thinking of the young Gano and his fellow reformers!!
On August 24, 1826, the church meeting in Georgetown, KY unanimously endorsed John Allen as a minister of the Gospel of Jesus Christ, commending him to the work of the Lord and to "exercising his gift as a preacher wherever Providence might lead him." Gano immediately began preaching and holding meetings throughout central Kentucky. In October, 1827 he married Mary Catherine Conn, the daughter of Capt. William Conn, of Bourbon County, Kentucky. Through this union he and his wife inherited a 500 acre bluegrass estate in Centerville, KY. For the remaining 60 years of his life he lived on this estate, farming and importing shorthorn cattle from England. Again, God was looking out for him. As a result, he became a wealthy man, "and therefore he never accepted any financial remuneration for his preaching" [The Encyclopedia of the Stone-Campbell Movement, p. 347]. His estate became the hub from which he would spread throughout the area (at times even into distant states) preaching the Gospel and planting congregations of believers in Jesus Christ. His message of reform and non-sectarian Christianity did not go over well with those still steeped in their "Us/Them" mentality, therefore he experienced much criticism and persecution from these religious leaders. However, the more he was hounded, the more successful were his efforts to bring about reform, as his critics, by their harsh attitudes and actions, were simply demonstrating the validity of his teaching. People were watching, and they were waking up, and they were changing!
John Allen was a powerful preacher of the Word who loved reaching out to the people around him with the good news of freedom in Christ. He longed to extend his travels for the Lord to even greater distances, but his wife was in rather poor health, so he restricted his preaching excursions to an area where he could easily reach her if needed, and so he could spend as much time with her as possible. It is reported that after preaching a meeting he would ride his horse "day and night to reach his family, his wife being during this time much afflicted. Drenched with rain, benumbed with cold and sweltering with heat, he still labored on, cheered with the hope of winning souls to Christ, and the rewards which await the faithful" [James Challen]. "His energy and zeal, his courage and perseverance, know no bounds. ... He has a fine and graceful form, a commanding and eloquent oratory; a face at once benignant and intelligent ... and a heart deeply impressed with the importance and grandeur of the themes he handles" [ibid]. His eyes were said to be large, and "often suffused with tears when speaking of the Savior's love" [ibid]. He was also noted as a great peacemaker, and was frequently called to travel many miles to make peace between warring brethren. As for his benevolence unto others, it was "proverbial," according to one who knew him well. God had blessed him with financial gain, and he shared it liberally with others in need. "He was one of the most successful evangelists in Kentucky. A powerful and eloquent exhorter, and celebrated for his melodious voice. He came to be known affectionately as 'The Apollos of the West.' He baptized more than 10,000 persons during his sixty-year ministry" [The Encyclopedia of the Stone-Campbell Movement, p. 347]. "It is unlikely that any father-son team (his son had baptized 6800 people) in the history of the Stone-Campbell Movement baptized more people into Christ" [ibid, p. 348].
John and his wife, Mary Catherine, had eight children together, two of whom died in infancy, and one, a daughter (Fanny), died shortly after her marriage at the age of 18. This devoted servant of God came to the end of his days on his estate in Kentucky on October 14, 1887 at the age of 82. His last words were, "I am almost home!", following which he passed from this life with a smile upon his face. What a tremendous example he has left us in his attitudes and actions. His opposition to sectarianism, and his willingness to embrace all those as brethren who are in relationship with the Lord Jesus, should inspire each of us in our own lives. May we all labor tirelessly, enduring the inevitable persecution that will arise from those with factious spirits, to bring about the prayer of our Lord and Savior: "May they all be one ... that the world may believe that Thou didst send Me" [John 17:21].
***************************
Down, But Not Out
A Study of Divorce and Remarriage
in Light of God's Healing Grace
A 200 page book by Al Maxey
Publisher: (301) 695-1707
www.zianet.com/maxey/mdrbook.htm

***************************
Readers' Reflections
From a New Reader in South Africa:
Brother Al, Thank you so much for your Reflections! For quite some time now I have been feeling so spiritually empty over the very matters about which you have been writing. These "issues" have simply not made any spiritual sense to me for a very long time. Yet, to dare to talk about them with my fellow brothers and sisters in Christ had begun to cause a lot of consternation for me. Now, though, I feel so much better after having read several of your articles on the Internet. You've aptly articulated my thinking on these "issues" (which really are NON-issues) to which the Churches of Christ traditionally adhere. Brother, please add my name to your subscription list for your weekly Reflections. God bless you!
From a Reader in Tennessee:
Brother Al, I am writing this to you from my cell phone during today's worship service. We have just finished three songs that have left me in tears. The first song, a contemporary song you could hear on any Christian radio station, spoke to my heart and gave me comfort during what is a particularly difficult time in my life. My eyes began to well up with the thought that my Savior knows my heart so well that He knew I needed that song at that very moment. But it didn't end there. The next song convicted my heart and made me rethink the way I've been handling a personal situation, and it gave me the answer I've been praying for. In thanksgiving, I went from merely singing to singing with all my might. The third song was an old song called "I've Found Jesus." While singing as loudly as I could, it occurred to me, for the first time during this assembly, that this music that touched my heart so powerfully is accompanied by guitars, keyboards, drums, a choir, videos, and even a highly animated sign language interpreter! It was at this point that I looked around at the 1500+ brothers and sisters standing around me singing with all their might in true thanksgiving that they had "found Jesus." Some were smiling, some were crying (as I was). My tears were prompted, in part, by the shame I felt for all the years I spent "killing" Christians, like Paul did. I killed their enthusiasm and their hope by judging their motives and condemning their sincere heartfelt worship. I thank God that He had mercy on me, just as He did on Paul.
From a Minister in Missouri:
Brother Al, Nina Simone, the late African-American singer, sang, "I wish that I knew what it meant to be free!" Brother, if I could speak to her today I would tell her!! Thanks to God's patient grace in allowing me to come into contact with men like yourself, I am free indeed!!
From a Reader in Texas:
Brother Al, Thank you so much for the many spiritual blessings you give to all of us as you continue to write and share your Reflections!!
From a Reader in Alaska:
Brother Al, Thanks for your thought-provoking articles. I am glad your web site is gaining a wide readership!
From a Reader in Nevada:
Brother Al, May God bless you with the peace that passes understanding, and may all of your prayers be answered!! I pray that your work will continue with you at the helm. I always enjoy your Reflections, and I really appreciated the one that came today ("God Hates Lamb Chops"). I hope to come through your part of New Mexico after the first of the year, and if so I want to meet you and tell you in person just how much I appreciate all your work!!
From a Minister in Louisiana:
Brother Al, Just read "God Hates Lamb Chops." I love your humor! It speaks true to my heart. You speak reasonable things, not the nonsense of the legalists who strain at trying to make God's beautiful words of love into hateful laws that no man could ever live up to. Thank You for your ministry!!
From a Reader in New Mexico:
Bro. Al, What a super teacher you are!! God has blessed you with an understanding of the Bible that the vast majority of Christians (like me) totally miss. Reading your Reflections each week, and hearing your classes and sermons, has opened the flood gates for me to finally see the Light our loving God intended for us to see in His inspired writings. We are so blessed to have you lead us in the pathway to our heavenly home! Al, I never thought I would ever live to actually see freedom in Christ displayed here, but through your God-guided messages ... it is happening! May God richly bless you and Shelly.
From a Reader in California:
Brother Al, My nine-year-old daughter and I were reading the newspaper this morning. She was looking at the list of churches and their labels. She pointed to the non-denominational section and asked me, "Daddy, is our church non-dimensional?" I chuckled and said, "Absolutely, baby! Our church is not constrained by time and space in any way whatsoever!" I thought you'd get a kick out of that.
From a Reader in California:
Dear Bro. Al, Another great lesson!! -- your tongue-in-cheek "God Hates Lamb Chops." It is similar to Revelation 8:1 ("When he opened the 7th seal, there was silence in heaven for about half an hour"), which proves that men get to heaven 30 minutes before women!! I just want you to know that I pray for you and Shelly daily.
From a Reader in Texas:
AMEN Brother Al Maxey!!! I'm still laughing!!! God hates lamb chops??!! Wow!! Thanks for yet another excellent Reflections. Humor aside, however, it always comes down to the same thing, doesn't it? -- our HEARTS. The condition of our hearts is the most important thing no matter what we are doing (and that especially includes studying the Scriptures). If we will each genuinely listen with our hearts, I think most of us will agree that the passage you dealt with in Amos most certainly applies to our own nation today. May we never forget that the Bible is truly a living book. Thanks once again, brother, for your ministry. As always, I look forward to the next issue of Reflections. Keep up the good work!
From a Reader in Ottawa, Canada:
Brother Al, Lamb chops? Veal? Couches? You definitely got my attention!! I knew, as I began your article, that it was tongue-in-cheek, and that it was leading to some spiritual reflection, but I wasn't sure where you were going with it until you later revealed your intention! Great article, brother! It should serve as a wake up call for all who read it. Thanks again for the heartfelt concern you visibly express in each article!
From a Minister in Maine:
Dear Brother Al, I have taken the liberty of forwarding one of your previous articles to one of the brothers in the --------- congregation, as they are struggling over the issue of whether or not to rebaptize someone who comes to them who was baptized outside of the borders of the Church of Christ group. My wife and I are praying that common sense will prevail there, but at present I am having my doubts! Thank you for your Reflections!!
From a Minister in New Mexico:
Brother Al, While so many are on the topic of baptism, I want to illustrate a thought. I was "immersed into Christ" by my mother!! She "immersed" me in stories of the faith of Bible heroes, and of later missionaries. She taught me all our Savior commanded. She surrounded me in the love of Christ. My mother plunged me into thoughts about God and the gift of His Son, and instilled within me the desire to be obedient to His will. All immersions in water are truly RE-baptisms, in the sense that those plunged into the water have already been plunged into faith. Immersion in water is a wonderful metaphor, but immersion in faith, as our response to God, is what saves! May God bless you and all your family.
I sought to convey much the same concept a little over a year ago in Reflections #353 --- Immersed by One Spirit: Reflecting on 1 Cor. 12:13. It is a difficult concept for some to grasp, and I have had a few legalistic patternists fly into a frenzy over it, but if one will truly do some careful, prayerful reflection on this, I believe they will see it has much merit. --- Al Maxey
From a Reader in Mississippi:
Brother Al, Every time I get your latest article I think, "That one is the best yet!" Your article "Cool Cats With Questions" (Reflections #409) said just what I have been thinking for so many years. Yes, let's associate with the group where we fit in best, but let's not eternally condemn every other group just for being different. I grew up in a very conservative Church of Christ home, but within our community was a Presbyterian Church that was one of the oldest congregations in our part of the state. Every Christmas they had a play that was the highlight of the year, and folks from the various churches all around came and enjoyed fellowship together. Even I got to participate, and for two years in a row I was the angel. My mother made me a wonderful angel outfit, and it was a thrill for me to be in that play! It is truly one of the most wonderful memories of my entire childhood!! We did not do those things where I went to church, but I can remember the warmth in my heart and the feelings I had as a child during that special time. Now, fast forward to today --- I live in the same state, but not in that same community. This type of activity (Church of Christ families taking part in such a play with the "denominationalists") would be condemned. At the very least, there would be sermons preached and articles written about it. While in some places the Church of Christ has become far less legalistic, in other areas it just becomes more and more legalistic, and, as it does, membership declines while distrust, depression and apathy increase ... and Satan rejoices. Once again, Bro. Al, my thanks for everything you do to help all of us as we struggle with our past and our future.
From a Reader in Texas:
Brother Al, I have not written in a while, but I faithfully read your articles every week. "God Hates Lamb Chops" makes such a powerful argument that any legalist should be able to understand it, if he/she will just have an open mind. Through the years I have taken so many friends with me to our church assemblies who simply could not understand our argument for not using instruments. As I tried to defend "our position," I actually convinced myself that it was ridiculous to put one's very salvation on the line just because one did or didn't use instrumental accompaniment to singing. I have seen so many of our young people leave because they didn't have a place in our fellowship to express their God-given talents with instruments in praise to Him. I am so thankful that I have lived long enough to see many of our congregations incorporating instrumental music into their services. Some have felt pressure to drop the name "Church of Christ" in order to do this, but it has been well worth it to see young people flocking to these congregations! I personally no longer attend a "Church of Christ" church. In this town we only have legalistic and ultra-legalistic congregations. I now attend a non-denominational church whose minister is an ex-Church of Christ preacher (the associate minister is a former Baptist). And yes, I feel secure in my salvation because it rests in Jesus Christ, not in the Church of Christ. Bro. Al, you make my week, week after week! Please keep up your ministry of writing that makes you so unique!! The aroma of Christ follows your articles!!
From a Reader in Washington:
Brother Al, I haven't responded in a while, but just got the urge today. I was raised in the Churches of Christ in Nebraska, baptized at the "Scriptural age" of 12, and every time the church building doors were open, we were there! I can remember hearing my dad talking with others about whether it was okay to listen to the "Herald of Truth." Folks back then weren't referred to as "Christians," they were referred to as "members of the church," and, of course, they were talking about the ONLY church -- the "Church of Christ" church. Not only was it a sin to have instrumental music in the building, but if you had an instrument at home, you couldn't play a hymn on it!! I was fast becoming a card-carrying legalist. Of course, I didn't study the Bible much ... didn't need to -- I was born with all the right answers! It wasn't until I had spent a period of time away from the Lord (about ten years -- some of it wearing baggy greens in Vietnam) that a light started to come on in my head: there was a huge hole in my heart. It was around that time that the NIV came out, and it was the first time I was able to read the first eight chapters of Romans and actually understand what Paul was talking about. It didn't take me long after that to realize that "The Church" (our group) was NOT the one found in Scripture. After 26 years as members of the "Church of Christ," my family and I left. We, along with about 30 others, formed the Eastside Christian Fellowship, which now meets in a Jr. High building. We have no baptistery, but just yesterday we baptized nine souls in the river! God doesn't live in buildings, He lives in people's hearts, as you have said so many times! Bro. Al, please know that you are dearly loved and appreciated. Also, I have really enjoyed the pictures you place on Facebook.
From a Reader in Mississippi:
Dear Brother Maxey, First of all: Thank You! Thank you for your service to God: for your insight and courage in presenting the Gospel to this world. As the son of a minister in the Churches of Christ, I know how difficult that can be. I also want to thank you for challenging me to think -- to think about my beliefs in ways that are sometimes different than the traditional stance of the Churches of Christ. Blindly accepting what someone else has taught you, without searching Truth out for yourself, doesn't lead to faith ... it leads to ignorance! I came across your Reflections articles by accident several months ago, and it has been the most rewarding "accident" I have ever experienced!! Actually, it was a reference to you personally by an individual who was attacking you that led me to seek out your articles for myself. This person was labeling you a "change agent," and was saying that you and "your kind" should just leave the Church of Christ, since you obviously did not like it anyway! I know you must get criticized quite often by these "defenders of the faith" for your beliefs and convictions, but the thing I find most fascinating is the attitude and tone of these attackers who claim to be proclaiming the TRUE Word of God. Their writings are typically filled with contempt and even HATRED for anyone who disagrees with them, which is so contrary to the teachings of our Lord. However, I am finding that the ones they are attacking (like you) almost always respond to them in a loving manner. To me, this shows where their heart really is. They're far more concerned with following man-made traditions than in following the example of Jesus Christ. Bro. Maxey, one more "Thank You" must be given, and that is for your service to this country. Men like you who are willing to go into combat to protect the freedoms of this nation and what it stands for should be given far more praise than you receive!! May God continue to bless you as you serve Him.
From a Reader in Florida:
Brother Al, Thanks so much for your last Reflections on instrumental music and the misuse of the Scripture in Amos 6:5. I've long had a problem with the teaching that a cappella in the worship assembly emphasizes "mutual edification," whereas the use of instruments to accompany singing takes all that away. We women are encouraged by these people to sing in the worship service, but isn't singing "mutual edification" ... and aren't we women not supposed to be teaching men?! Ooops! Believe it or not, I have actually been rebuked publicly for "teaching men" while singing along with the rest of the congregation because some of the men could hear my voice!! I love to sing, and I don't mean to sing loudly, but our congregation was small (about 20 people), and so it is easy to hear my voice. When I tried to sing more quietly, I was then rebuked for not singing (they said they couldn't hear me)!! Needless to say, I am now no longer with that particular Church of Christ. But, unfortunately, I have found that most of the Churches of Christ here in my area have the very same mentality. I find it odd that they call themselves "conservative," yet they take liberties with the interpretation of the Scriptures that I would tremble to take! Please keep up the good work, Al. I found you and your writings three years ago when I truly needed you most. You helped me get out of an abusive church and on the road to a healthy relationship with God once more!! Thank you!!
From a Reader in Missouri:
Bro. Al, I have been reading your Reflections for almost five years now, and I've often thought about writing to you. Even better, I've wished I could meet you and just talk with you about what's been going on in my life. I grew up in the Churches of Christ; my mother's side of the family goes back at least six generations in this fellowship. Of course, I was fed on the standard line that WE were the "only true church." I swallowed that thinking and, like most everybody else, just assumed it was true. Later I attended York College and Oklahoma Christian University, and I began to think and study for myself, and as a result began to have problems with some of the things I had swallowed and just assumed to be the truth. Over the next 40 years I gradually began to get away from the legalistic thinking that I had been indoctrinated with. I started seeing that there just possibly might be more than one way of looking at some things, and that it did not always have to be "OUR way" or NO way. Gradually I began moving away from that old idea, which I never really totally believed anyhow, that finding the "one true church" or being a "true Christian" was linked to the name on the sign above the door of a church building. I learned to tell the difference between what God actually said and what was just traditions of men. I had heard about the "law of silence," and I want to thank you for clearing that one up so well. What you teach on this makes so much sense; I don't see how I missed it all of those years, or how anybody misses it now. I also appreciate so much how your writings have cleared up so many other things I had been battling over. You came along at just the right time (which shows how the Lord was working all this out). In fact, back around 2004, somebody who knew all of this change was going on in my thinking, and who knew about my personal struggles with it, told me about your Reflections. Wow! Talk about coming along at the right time! It was amazing how often you would come up with a lesson that was exactly what I was wrestling with at the time!! You have no idea just how much you have helped me to "get my head on straight." Thank You for bringing your ministry into my life! Keep up the great work!
From a Reader in the U.S. Navy:
Dear Brother Maxey, I am at a loss for words -- for once! I have recently discovered you and your writings, and am stunned in a very positive way. It is as if God has answered my prayers!! Please allow me to explain. I am now a 44-year-old husband and father of three. At 19, while in pursuit of a wife, I was baptized into a hardline, conservative Church of Christ in Florida. Blinded by love, and a true desire to find "the truth," I accepted their doctrine without ever fully understanding it. For the next 25 years I was a loyal and faithful "defender of the faith," and a persecutor of all who opposed US. I had become totally sucked into the "WE are the only ones" mentality. Although I have raised my family within this faith, about 8 or 9 years into it I began to realize that some things were wrong; they just didn't add up. However, in the interest of marital harmony, and my foolish idea that these doubts might have been Satan testing my faith, I concealed my true feelings and kept quiet about my objections. I have lived to regret this.
In September, 2006 it all came to a head. I had been teaching formal ballroom dancing and performing for hospital charities and nursing homes. Although my church had always taught against any and all forms of dancing, I never accepted their view as "Gospel," but rather a matter of opinion. After a television appearance, I was immediately summoned before the elders, and ... well, it was not pretty! I left that congregation, but they planned to "mark" me publicly. It was only after I invoked the 1984 Oklahoma case of Marian Guinn vs. the Church of Christ in Collinsville, OK that they relented and released their grip on me. I was in tatters. My faith was shattered. However, something far more profound began to happen!! I began to wonder how such devout "Christians" could turn on one of their own and consume them with such viciousness, and I wondered -- could such persons be wrong about other things as well? For the first time in my life, I stood on my own two feet. I didn't need to ask Bro. So-and-So what he thought. I could now actually think for myself. This life changing event finally forced me to confront so many issues I had been pondering in my heart over the years.
In December, 2008 I told my wife that I was done with the Churches of Christ!! I told her that after careful research I could no longer accept their claim to be the original church of 33 A.D. and the exact replica of the early church of the apostles. She and my older daughters were devastated. It created a serious fracture in our marriage, though she has continued to love and accept me. She turned to her fellow Christians for support, and the calls and letters soon poured in urging me to return to the fold and not abandon my salvation. Though she agreed that the elders of our former congregation overreacted and were wrong in their treatment, she still believes all of their basic doctrines. How could she not? She was born into it; it is all she has ever known.
I tell you all of this to say: I am relieved to know that I am not insane or crazy, and that there are other Christians (like you) who actually believe and teach some of the things I have felt in my heart for many, many years! I thought I was the only one. Now I know that there IS room for diversity of opinion. I never knew so many people held similar beliefs as my own. As a young man, when people left OUR group, I just wrote them off as "erring brethren." May God forgive me! I had thought during this past year that I would have to leave the "Church of Christ" in order to ever find a sense of peace. However, now I realize that even though I may indeed have to leave the denomination known as the "Church of Christ," I am still IN, and always will be IN, His universal One Body (Church) ... no matter which group of disciples I choose to associate with. Bro. Maxey, if I were a millionaire I would give my entire fortune to you for the peace of mind your Reflections have given me!!! You've managed to capture and explain my feelings about so many things. It is as if you were in my head and writing my own thoughts down -- but in a much more eloquent and educated manner. I cannot thank you enough!!
It is my hope and prayer that my wife and I may now reach a mutually acceptable way of raising up our youngest daughter (who is ten). Perhaps Luke 9:49-50 will show my wife that this "THEY are not one of US" mentality was condemned by Jesus 2000 years ago, and that condemnation is just as relevant today! Thanks be unto God, my wife has actually begun reading your Reflections!! You have changed my life, Bro. Al, and you have helped me avoid a sure disastrous ending to my marriage. Although I ask that you withhold my name, feel free to use my correspondence in any way you like. Again, Thank You for allowing me to express my joy and my new found confidence in Christ.
**************
Special New Book --- There is a new book out that I think many of you may find worthy of your consideration. It is by Charles Simpson and is titled "Inside the Churches of Christ." The subtitle of this new book is -- "The Reflection of a Former Pharisee on What Every Christian Should Know About the Nondenomination Denomination." Click Here to order your own copy, and also to read more about it. "It contains many dozens of quotes from Church of Christ practitioners from all over the USA, which accurately reflect the theological philosophy prevalent within this faith. It also discusses fundamental differences between the theology of the Churches of Christ and that of other protestant denominations. Written by a fifty-year member of the Churches of Christ, it offers an opportunity for self-examination rarely available to members of this brotherhood." This book will give us all something to reflect upon! --- Al Maxey
********************
If you would like to be removed from or added to this
mailing list, contact me and I will immediately comply.
If you are challenged by these Reflections, then feel
free to send them on to others and encourage them
to write for a free subscription. These articles may all
be purchased on CD. Check the ARCHIVES for
details and past issues of these weekly Reflections:
http://www.zianet.com/maxey/Reflect2.htm