REFLECTIONS
by Al Maxey
Issue #638 ------- November 13, 2014
**************************
Witnesses are weighed not counted.
Latin proverb

**************************
Christ's Spirit-Saint Witnesses
Reflective Analysis of Acts 5:32 and its
Misinterpretation and Misapplication
by the Saved-by-Obedience Legalists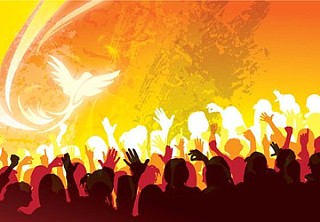 Let me begin this present study by emphasizing once again (although some will undoubtedly continue to misquote and misrepresent me on this matter) that I firmly believe God expects His children to be obedient to His will. Jesus even instructed the disciples to pray, "Thy will be done on earth as it is in heaven" (Matt. 6:10). Submission to His will for our lives is a vital aspect of our daily walk with Him "in the light," although we each fall far short, due to human frailties and flaws, of our Father's perfection. Thank God for the covering, cleansing gift of grace we have freely and fully received from the blood of the Lamb. All our acts of obedience combined are, at best, filthy rags in His sight, yet in love He clothes us in garments of purest white! Amazing Grace! Yes, you and I, who love the Father and the Son, and who are filled with His Spirit, seek to live according to His will; we seek to be obedient to that will, as best we perceive it. Yet, none of us do so perfectly (or even close to perfectly); nor does God demand such. Our salvation is not based on our obedience: it is not knowledge-based or performance-based; our salvation is a gift of love from a gracious God to those who are willing to accept it by faith -- i.e., it is faith-based! Then, as His children (the redeemed; the saved), we gratefully seek to live in accordance to His will for our lives. Obedience, therefore, is not a requirement to BE saved, but rather a response of those who ARE saved! Sadly, many disciples have been so deluded by the dogmatisms of legalism, and the pernicious precepts of patternism, that they have no concept of or appreciation for this liberating truth. Thus, they continue to seek His acceptance by rigid compliance with and obedience to countless religious rules and regulations, believing that in this way they shall somehow on the last day just barely manage to slip through the narrow gate into heaven. What a pitiful existence!
In an effort to justify this belief, they manipulate many passages of Scripture: twisting them this way and that so as to "prove" their doctrine that one's salvation is conditioned on a certain level of personal obedience to divine demands (i.e.: Law). In so doing, they have made a mockery of grace and have tarnished truths that, when properly perceived, liberate us from such legislation. Indeed, some of their attempts at exegesis of certain texts is so far removed from the original intent of the author that one is left puzzled as to how they could have missed the meaning so dramatically. One such passage is Acts 5:32b, which states that the Lord God has given the Holy Spirit "to them that obey Him" [KJV, ASV]. From this they assert: obedience to God is a prerequisite to receiving the Holy Spirit. If you obey you will be given the Spirit. No obedience = no Spirit! Of course, they don't provide a list of all the commands one must obey to receive the Spirit, but, when pressed, they will declare it really comes down to one: baptism in water! That is the act of obedience required. Of course, the purists will mention "belief, repentance and confession," but these are just the steps leading to the "biggie" = baptism. Once you come out of the water you have then, and only then, "obeyed the Gospel." And it is only then that you are given the Holy Spirit. Thus, they reason from Acts 5:32b, God gives the Holy Spirit "to them that OBEY Him." This, they declare, proves we are saved by obedience: by something men DO in compliance with divine directive!
Let's take a closer look at this passage: examining both the actual wording and the context (both of which are important). The King James Version and the American Standard Version both refer to the Holy Spirit "whom God hath given to them that obey Him." The last part of this phrase is worded somewhat ambiguously, thus leading to some confusion among interpreters as to when this obedience took place. The conviction of some, as noted, is that the impartation of the Spirit was based upon a person's prior obedience, and the wording of these two versions does lend itself somewhat to that interpretation (although the wording is just ambiguous enough that other views could also just as legitimately be advanced). What really doesn't come out clearly in the above two renderings, however, is that two different verb tenses are being used in the Greek. A reader in Georgia wrote me recently, observing, "I'm no Greek authority, but it appears to me, as I looked at this passage, that the tenses don't seem to match up. 'Has given' seems to be past tense, while 'who obey Him' seems to be present/future tense. I'm confused a bit on what this actually means." This reader is very perceptive. The phrase "has given" (or "gave," which many translations use) is indeed in the aorist tense in Greek (which tends to suggest that which occurred at some point in the past). On the other hand, the phrase "to those who are obeying" is a participle in the present tense (which suggests continuing action in the present). What this passage is literally saying is that these are men and women living in daily compliance with God's will for their lives, as best they understand it, and who are serving as living witnesses to His gift of grace. And how are they able to do so? In part, by the power of the indwelling Holy Spirit whom God gave to them, and who also serves as a witness to this glorious Good News.
Look at the context! The apostles were testifying to the people about what God had done for them through Jesus the Messiah. They were witnessing to this Truth in the streets, in the temple, and wherever and whenever they had opportunity. This infuriated the Jewish leaders, and they demanded these disciples of Christ cease their teaching. However, "Peter and the other apostles replied, 'We must obey God rather than men.' The God of our fathers raised Jesus from the dead -- whom you killed..." (Acts 5:29-30). Here is the "obedience" of which the context speaks: they were being daily obedient to the call of their God to be witnesses to the Good News. And this obedience was not for the purpose of receiving the Holy Spirit, or for the purpose of being saved; it was a commitment on the part of saved, Spirit-filled disciples to the proclamation of the Good News regardless of the attempts by some to stop them. We then come to Acts 5:32 -- "We are witnesses of these things, and so is the Holy Spirit, whom God has given to those obeying Him." The Lord has called us to be His witnesses to the world of His love and grace, and we who are obedient to this calling have at our side (as a fellow witness), and within us (as a source of strength, encouragement, comfort and guidance), the Holy Spirit.
This passage has absolutely nothing to do with how or when one is saved, or how and when one receives the Holy Spirit. It is simply a statement of fact: when Spirit-filled men and women share the Good News, they are not alone -- with them, and within them, is God's Spirit. I believe Dr. F. F. Bruce summed it up well: "For they were not only heralds of the good news, but witnesses as well, and not simply witnesses on their individual initiative, but witnesses under the direction of the Divine Witness, the Holy Spirit. ... In these words we mark again the apostolic community's consciousness of being possessed and indwelt by the Spirit to such a degree that they were His organ of expression; we also mark a noteworthy agreement with the words of Jesus reported in John 15:26f -- 'But when the Comforter is come, whom I will send unto you from the Father, even the Spirit of truth, which proceedeth from the Father, He shall bear witness of Me: and ye also bear witness, because ye have been with Me from the beginning'" [Commentary on the Book of Acts, p. 122]. Let us all pray that those bound to law will come to understand, and begin witnessing with us to the truth of, our freedom in Christ Jesus: a liberation that is ours as a gift of grace and of divine love! It is a far better message, and one very much needed; let us, therefore, go forth as witnesses of this.
***************************
Specials for Readers
2014 Book & CD Offers
Click on the link above for a listing of the
books and topical studies and audio sermons
and new Bible classes by Al Maxey, and for
information on how to order these items.

***************************
Readers' Reflections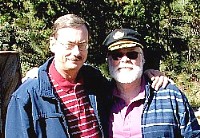 A Special Thanks goes out to my long time friend Dr. Don Givens, a fellow minister and author with whom I served a number of years in Hawaii, and with whom I have been as close as a brother for well over 20 years. A few days ago he gave a much appreciated endorsement to my new book From Ruin To Resurrection on his Facebook page. He gave the link to my book and wrote: "This book by a Bible scholar and long time personal friend is astoundingly enlightening, very informative, and amazingly easy to understand. We must always seek the biblical TRUTH, rather than being blindly bound to human traditions. Al Maxey, in my judgment, is a genuine Bible scholar who is always seeking to grow toward a better understanding of God's divine Word. I recommend From Ruin To Resurrection highly: it will help you grow in the grace and knowledge of our Lord Jesus Christ, although it may disturb you and shake up your brain if you are bound to human traditions! Get a copy of this new book NOW, as this book answers so many questions sincere brethren have about the afterlife. It is the BEST discussion of this topic." Again, thank you, Don, for your kind words and gracious endorsement. Love you, brother!
From a University Professor in Texas:

Al, I would like to order your two CD set on Revelation: A Reflective Study, for which my check is enclosed. I continue to enjoy your provocative thoughts on the Scriptures. The very best to you, brother!
From a New Reader in Arizona:

Brother Al, please add my email address to your mailing list. I stumbled upon your Reflections either by accident or by providence (not sure yet which, but I am leaning toward God's loving guidance). Your writings are truly having a profound yet positive effect on my spiritual life. Thank you!
From a Reader in Alabama:

I found it, I found it!! I found the list of commands one must obey to be saved!! All 1050 of them!! (LOL) How about that?! It is given at this web site: 1050 NT Commands. At the top of the page these people write: "There are 1,050 commands in the New Testament for Christians to obey. Due to repetitions we can classify them under 69 headings. They cover every phase of man's life in his relationship to God and his fellowmen, now and hereafter. If obeyed, they will bring rich rewards here and forever; if disobeyed, they will bring condemnation and eternal punishment." Thought you would like to see these!! (LOL) Enjoy your vacation, my brother!
From a Reader in Michigan:

Al, your article on "Theological Situationism" (Reflections #637) is a terrific study! It really gets me when people use the term "situation ethics" as if it were a pejorative. How could the principle of "love over law" ever be questioned?!
From a Minister in Hawaii:

Aloha, Al. Your recent article reminded me of Norman Geisler's book titled "Christian Ethics: Options and Issues," wherein he breaks down "Ethical Absolutism" into three varieties: "Unqualified," "Conflicting," and "Graded." It remains the best work of its type that I have seen on Christian ethics after reading widely on the subject. Your take in your article appears to be closest to what Geisler calls "Graded Absolutism." Mahalo for the way you bless so many of us!
From a Reader in Texas:

Brother Al, I haven't written in awhile, although I always read your Reflections and thoroughly enjoy them. You are the voice of reason and intelligence that I can always depend on when in doubt that there are any such leaders left! I really enjoyed this latest article on situation ethics, as it brought back memories of many sermons I've heard in the past where "situation ethics" was condemned completely. Once again, Al, you nailed it for me! May you have a blessed and safe journey on your vacation. I will miss your articles, but can't think of anyone who deserves time off more than you and your wife.
From a Reader in Georgia:

"Theological Situationism" was a great essay, brother! As I was reading it, I kept thinking of what else I would say on this topic, but as I continued reading your piece you hit every one of those points and more! A lady in my Bible class asked some question that I cannot remember, but, as I recall, I answered her with Matthew 22:37-40. I said, "If you are doing that, then you are safe, regardless of your theology." It really is just that fundamental. You did good, bro. Keep up the great work!
From a Reader in Arkansas:

Hang on to your shield, Al, for there will be some sharp rocks tossed your way on this one ("Theological Situationism"). Common sense must prevail, however. Legalists always paint themselves into a corner with no way out except tracking through the sticky mess they have made. May the Lord bless and keep you and yours always.
From a Minister in Texas:

Al, thanks for your latest article on theological situationism. I am surprised that you did not include my favorite passage about relativism: Romans 14. This is the chapter that speaks to me most about what God thinks about what we think. Unity over opinion; love over arguments; honoring God rather than ourselves. While some may consider this chapter more about theological dos and don'ts, I see it as a template for Christian living. Focus on serving God, and help rather than hinder others who are simply trying to do the same, no matter their party affiliation. I was amazed and discouraged as I read a recent article about the new Pope's call for unity across denominational lines. His call was amazing (walk with fellow Christians), but the response to his plea was discouraging. There were Christians demonizing a billion Catholics and their leader. Where do we get the idea it is okay to call people trying to serve God the "anti-Christ," the "devil," and "false teachers"? Is that really what the later writers of the NT meant? I do not read it that way.
In my opinion we all live in a world of theological situationism. Everything we do, teach, and believe is embedded in our own culture. Our context is everything. Drinking is demonized, while overuse of prescription medicines is rationalized. Marital infidelity is forgiven, but gay marriage is the unforgivable sin. Abortion is okay, but capital punishment is not. This list goes on and on, but the bottom line is that we all understand God's will for this world in different ways. I am sure there are godly ways of dealing with every situation in the world, and that just might be simply letting the love and Spirit of God move us to serve the world using whatever talents we each have. Perhaps if we really put our faith in God, as opposed to ourselves, these divisive issues and moralistic questions would become irrelevant to our service. Thanks for your thoughts in this latest issue of your Reflections.
From a Reader in Georgia:

Wow! This article ("Theological Situationism") caused me to go get another cup of coffee! Very thought provoking. It is hard to imagine how Rahab, who was celebrated in both OT and NT writings, could be condemned by the legalists. It seems to me there are greater "rights" than "wrongs" at times. I guess we each have to make our own decisions and then allow God to deal with us as He so chooses. But, to condemn another for making a tough choice just demonstrates the arrogance and haughty attitude from which such condemnation is derived.
From a Minister in California:

I really enjoyed your article ("Theological Situationism"). I often think of those Christians who have had knives placed at their throats and then asked if they are Christians. To tell the truth would mean immediate physical death. To lie would allow the life of that Christian to be extended so that he/she might bear more fruit. Would such a lie be justified by the principles of "situationism" (just as one might lie to protect the lives of others)? Or, is there honor and glory unto God when one refuses to deny his/her faith under such circumstances? Said another way, is God disappointed with those who take such a stand even in the face of death?
Was the Lord disappointed when Peter denied Jesus? I think we would all agree that He was. Yet, this devoted disciple, at the end of his life, found the strength to stand for his faith, even at the cost of his own life. I pray that if a situation arose where my own life was at risk, I would have the strength of faith to die for my convictions. On the other hand, do I have the right to make that same decision for someone else, thus causing their lives to be forfeited? I do not believe I do. There are situations and circumstances where I personally believe we are justified in taking steps that might under normal circumstances be considered wrong/sinful (such as lying). I would not, however, impose this conviction on others, as this is an area where each one must decide their own course of action. If such a choice is purely self-serving, then we may well have much to answer for one day. Yet, if our choice is others focused, with the goal of doing what we truly believe would achieve the greatest good to the glory of God, then I am convinced our God will not be displeased with our choice. -- Al Maxey
********************
If you would like to be added to or removed from this
mailing list, contact me and I will immediately comply.
If you are challenged by these Reflections, then feel
free to send them on to others and encourage them
to write for a free subscription. These articles may all
be purchased on CD. Check the ARCHIVES for
details and past issues of these weekly Reflections:
http://www.zianet.com/maxey/Reflect2.htm