REFLECTIONS
by Al Maxey
Issue #665 ------- June 26, 2015
**************************
If we had no winter, the spring would not be
so pleasant: if we did not sometimes taste of
adversity, prosperity would not be so welcome.
Anne Bradstreet (1612-1672)

**************************
Pondering Prosperity Theology
Profiting Materially by Living Spiritually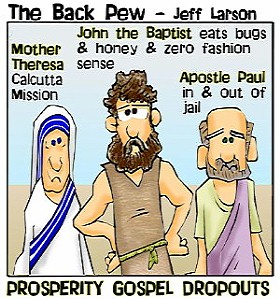 Edward Everett (1794-1865) may be a name most of you have never heard, yet in his time he was one of the most powerful men in America. He served for a number of years in both the U.S. House of Representatives and the U.S. Senate, was Governor of Massachusetts from 1835-1839, was Secretary of State in the administration of Millard Fillmore (the 13th President of the United States), was President of Harvard University, and ran unsuccessfully for Vice-President of the United States in 1860. He was a powerful and persuasive lecturer and orator, and is perhaps best known to us today as the man who delivered the speech immediately preceding President Abraham Lincoln's Gettysburg Address on November 19, 1863. A few years before his own address at Gettysburg, in his work "The Mount Vernon Papers," Edward Everett made the following rather insightful observation: "The days of palmy prosperity are not those most favorable to the display of public virtue." Rather, he surmised, it was "in hard, doubtful, unprosperous, and dangerous times" that the patriots of a nation rose up and displayed their true character and resolve, as was true of those he and Lincoln would honor that day at Gettysburg. I agree with Everett on this, and stated as much in 1976 during my final oral exams for my Master's Degree in Theology. One of the professors "grilling" me that day asked, "Under what conditions does the church experience the greatest growth: governmental acceptance or opposition?" The professor expected me to say the former; I chose the latter. A good-natured debate ensued, during which it became obvious we were considering different types of growth: he was thinking of numerical growth, I was thinking of spiritual growth. Thus, in a way, we were both right (a point he conceded).
Any student of church history is aware that over the centuries the church of our Lord God (those "called out" by grace through faith) have experienced times of great acceptance as well as times of great affliction. There were times when being a Christian was viewed favorably by society, and there were times when society sought to exterminate them from the face of the earth. There were times when disciples of Christ Jesus prospered materially in benevolent societies, and there were times, under malevolent societies, when they were left destitute. There has always been a tendency, and this is just part of our human nature, to believe we have our God's favor during prosperous times, but that He must be upset with us during times of persecution. In other words, it is God's intention that we all prosper materially, and when we aren't prospering materially (in the things of this world), then it is OUR fault in some way (our faith isn't strong enough, or we have sinned against Him), and we are being punished by having this promised prosperity taken away. Prosperity = good; poverty = bad. In what has come to be known today as "Prosperity Theology" (sometimes referred to as the "Prosperity Gospel" and/or the "Health & Wealth Gospel"), the Scriptures have come to be viewed as a type of contract between God and man: "Give Me the glory and I'll give you the goods." "Praise Me and I'll prosper you!" Finances are tied to faith: the more you display the latter, the more you receive the former. This message is especially popular today among a number of charismatic televangelists (Joel Osteen, Kenneth Copeland, etc.) who have gained quite a following by proclaiming the Good News of Prosperity for the "faithful of God" (which "faithfulness," of course, is best exhibited by sending "seed-faith" contributions to these televangelists), which is certainly "good news" for them, and if prosperity doesn't descend upon you in a reasonable time ... "Well, uh ... I guess your faith wasn't strong enough. Try again with a bigger donation!"
Prosperity theology basically assumes that if one is not prospering physically, emotionally, materially, financially, etc., then there is something wrong with that person spiritually. God wants you to prosper in every area of life, and if you are NOT doing so, then the problem is with YOU. In support of this theology, several passages of Scripture have been employed as "proof texts." For example, Jesus said, "I came that they may have life, and have it abundantly" (John 10:10). Of course, this theology understands this promised "abundance" to refer largely to the things of this life, rather than the blessings and riches of that greater life that we find spiritually and eternally in Him. In Philp. 4:19, Paul says, "God will meet all your needs according to His glorious riches in Christ Jesus." Glorious riches will be ours as He meets ALL of our needs. Hard not to get excited about that. John prayed, "Beloved, I pray that in all respects you may prosper and be in good health, just as your soul prospers" (3 John 2). And, of course, these proclaimers of prosperity love Malachi 3:10 -- "'Bring the whole tithe into the storehouse, so that there may be food in My house, and test Me now in this,' says the Lord of hosts, 'if I will not open for you the windows of heaven, and pour out for you a blessing until it overflows.'" Abundance of blessings shall be ours!! Awesome! And all we have to do is send our tithe to the televangelist! Oh yes, they love this passage!
A theology that sees prosperity as good and adversity as bad has failed to consider that our God uses both to enrich the lives of His children, for it truly takes a degree of both to bring about spiritual and emotional balance. Solomon wisely sought to instill within us this balanced perception of our circumstances when he wrote, "In the day of prosperity be joyful, but in the day of adversity consider: without question, God has made the one as well as the other" (Ecclesiastes 7:14). Sometimes our greatest blessings, and our richest experiences and understandings, come from times of want, rather than from times of plenty. Material/financial wealth is not always the source of ultimate happiness, as men are too often led to believe; indeed, such can easily become more curse than blessing. In the same chapter as the above quote, Solomon states, "It is better to go to a house of mourning than to go to a house of feasting, for death is the destiny of every man, and the living should take this to heart. ... The heart of the wise is in the house of mourning, but the heart of fools is in the house of pleasure" (Ecclesiastes 7:2, 4). Days of adversity are just as important to the development and enrichment of our character as days of prosperity, and indeed may be more so! Thus, God provides us with both. To suggest that times of affliction, oppression and disappointment in our journey through life are signs of God's disfavor, reflects a woeful failure to grasp the true nature of our Father's purpose for His children, and the ways in which that purpose is realized through His providence.
The apostle Paul was apparently physically afflicted in some way, and the nature of this "thorn in the flesh" (2 Cor. 12:7) is the source of some serious speculation (see my study of this in Reflections #254). Paul several times "pleaded with the Lord to take it away" (vs. 8), but God refused, for He had a positive purpose for allowing this affliction to beset His servant Paul. Therefore, Paul was forced to change his perspective of his circumstance: "Therefore I delight in weaknesses, in insults, in hardships, in persecutions, in difficulties. For when I am weak, then I am strong" (vs. 10). In the previous chapter (2 Cor. 11) Paul lists a great many difficulties and afflictions he experienced in his service to the Lord (and this list was penned only halfway through his ministry, thus it would increase significantly, and in severity, before his execution), including floggings, beatings, imprisonments, sleepless nights; "I have known hunger and thirst and have often gone without food; I have been cold and naked" (vs. 23-29). A gospel of personal prosperity? Health, wealth and material comforts? This was hardly what Jesus Himself promised this devoted man! Jesus told Ananias, as He sent him to minister to Saul in Damascus, "I will show him how much he must suffer for My name!" (Acts 9:16). Indeed, Jesus has forewarned His disciples, "In this world you will have tribulation" (John 16:33). Our Lord hasn't promised us that we wouldn't be cast into the fiery furnace of afflictions, but that He would be the fourth figure in the midst of the flames with us (cf. Daniel 3), and that He would bring us to ultimate victory with/in Him over all the fiery furies of the dark forces of our evil foe (Eph. 6:10ff).
The apostle Peter informed his fellow disciples, and he spoke from personal experience, "Beloved, do not be surprised at the fiery ordeal you are suffering" (1 Peter 4:12), and "let not him feel ashamed who suffers as a Christian" (vs. 16). Peter's two epistles are filled with encouragement to disciples facing great affliction, and I did an entire series of Bible classes on 1st & 2nd Peter in which I emphasized this aspect of his message to believers (Encouragement for the End Times). A "gospel of prosperity"? Good news of personal prosperity for the faithful? Good health and great wealth? I guess all those listed in John Foxe's "Book of Martyrs" didn't get the memo! I suppose their faith just wasn't up to par, otherwise they would have "prospered," right?! Our Lord has promised to see us successfully through the storm and to the fair haven of the heavenly harbor on the far shore; He did not promise us smooth sailing through this earthly life. Indeed, just the opposite. Yet, through the storms of life He will minister to our needs. As the Lord informed Paul, who sought relief from his own personal affliction, "My grace is sufficient for you" (2 Cor. 12:9). Thus, we should not spend our days overwhelmed with anxiety about the physical and material aspects of life, but rather focus on living for Him and in the sufficiency of His grace. God is not unaware of our circumstances, and He will provide for us that which is needed to achieve our purpose in life. This is essentially the message of Jesus in His Sermon on the Mount: "Seek ye first the kingdom of God, and His righteousness; and all these things shall be added unto you" (Matt. 6:33, KJV; cf. Luke 12:31).
That last phrase has become yet another "proof text" of those who promote Prosperity Theology. There are even some within our own faith-heritage (that wing of the Stone-Campbell Movement which is denominated "Church of Christ") who are suggesting this theology. I received an email from a brother-in-Christ in Idaho last week who wrote, in part, "Al, what do you think is the essence of Matt. 6:33? Is Christ saying that if we put Him first that we will always have food and clothing and shelter? My minister mentioned this recently, and I challenged him to reconsider. I was a student many years ago at York College when a popular preacher came through, and his lesson to us was on this topic. He said that if we put Christ and the church first in our lives, we would never have to worry about having plenty for ourselves and also enough left over for others. After his lesson, I asked him what he thought about all the Christians who were starving in Africa (Biafra) at the time. He said, 'They must not be putting Christ and the church first!' I would really appreciate your point of view on this!" Yes, our Lord has promised to see to our needs, but I think we sometimes confuse that with our own personal wants. What you and I think we may need, and what our God knows that we need, may not always be one and the same! Paul was convinced that he needed to have his "thorn in the flesh" removed; God felt otherwise, and thus "met his need" by refusing to remove his affliction. As hard as it is for us to understand at times, personal prosperity is not always what we need. It may be true that some eternal purpose is fulfilled by our suffering for His cause, and by remaining faithful, even though it may lead to death (Rev. 2:10)!
In The People's New Testament with Explanatory Notes, Dr. B. W. Johnson, in commenting on our Lord's statement in Matthew 6:33, opines, "The promise is made that if we seek first the kingdom of God and His righteousness, all earthly wants will be supplied" [p. 45]. This is simply not true! But, what about Psalm 37:4, some might ask? David writes, "Delight yourself in the Lord and He will give you the desires of your heart." If the Lord is your delight, will your desires be to prosper in the things of this world?! Is your desire for an abundance of earthly possessions? Jesus spoke of those who left houses and farms and families for Him (Matt. 19:29), rather than following Him so that they might acquire such things. Even Jesus, our great example, acknowledged, "the Son of Man has no place to lay His head" (Matt. 8:20). He was hardly promising prosperity in the present age for those who followed Him. If the desire of my heart is to delight in the Lord and His will for my life, as David suggests in his psalm, then my focus will not be upon the material things of this earth, but rather upon His kingdom and His righteousness. John Wesley (1703-1791) got it right, in my view, when he wrote, "Whosoever seeks this first, will soon come to seek this only" [Explanatory Notes on the Whole Bible, e-Sword]. The people of the world, Jesus notes, "run after" (earnestly seek/pursue) such material things (Matt. 6:32), but His "disciples must live lives qualitatively different from those of people who have no trust in God's fatherly care and no fundamental goals beyond material things. Instead, they are to replace such pursuits with goals of far greater significance" [The Expositor's Bible Commentary, vol. 8, p. 181]. "Such faith kills care" [Dr. W. Robertson Nicoll, The Expositor's Greek Testament, vol. 1, p. 127]. It is hard to be filled with anxiety over the things of this life when our faith and focus is on Him, His kingdom, and His righteousness, which is ours as a gift of grace through faith in His Son.
"The faith Jesus taught was not an intricate ritual to get what one desired; His teaching of faith meant obeying God's will with the assurance that God would ultimately fulfill the best interest of His children. In the Gospel tradition, that kind of faith grows only in the context of an intimate relationship of love between the heavenly Father and His children; the kind of relationship Jesus had with His Father and modeled for His disciples in His relationship with them" [Dr. Craig S. Keener, A Commentary on the Gospel of Matthew, p. 236]. Jesus was not necessarily calling us to relinquish all material possessions or all earthly comforts (indeed, He often blesses us with such), but rather calls "all would-be disciples to a radical lifestyle relinquishing dependence on possessions!" [ibid, p. 234]. Similarly, it is not money that is the root of all evil, but rather "the love of money" (1 Tim. 6:10). That which we seek first, that which constitutes our heart's primary desire, must NOT be the things of this world. Our Father "will give you what He deems best for you" [Dr. Albert Barnes, Notes on the Bible, e-Sword].
There may be times when we have much, and times when we have little or nothing. There may be days of prosperity, and there may be days of adversity. Both come from the hand of God, and in both circumstances He stands with us, enabling us to fulfill our role in the execution of His purpose! Our attitude should be that of the apostle Paul: "I have learned to be content whatever the circumstances. I know what it is to be in need, and I know what it is to have plenty. I have learned the secret of being content in any and every situation, whether well fed or hungry, whether living in prosperity or in want. I can do everything through Him who gives me strength" (Philp. 4:11-13). I really like the way The Message has paraphrased this text: "Actually, I don't have a sense of needing anything personally. I've learned by now to be quite content whatever my circumstances. I'm just as happy with little as with much, with much as with little. I've found the recipe for being happy whether full or hungry, hands full or hands empty. Whatever I have, wherever I am, I can make it through anything in the One who makes me who I am."
Jesus, in His statement in the Sermon on the Mount, is providing us a principle for how to properly perceive and prioritize the things of this life. What is of primary importance? It is the kingdom of our God and His righteousness. Focus on this, and leave all the rest in the hands of your gracious Father. "He knows our needs and in His own way will supply them" [H. Leo Boles, A Commentary on the Gospel According to Matthew, p. 170]. And, if it accomplishes some eternal purpose for us to experience poverty rather than material prosperity, then praise God we are counted worthy to suffer privation for His cause and to His glory. After all, "the kingdom of God is not a matter of eating and drinking, but of righteousness, peace and joy in the Holy Spirit" (Rom. 14:17).
***************************
Specials for Readers
2015 Book & CD Offers
Click on the link above for a listing of the
books and topical studies and audio sermons
and new Bible classes by Al Maxey, and for
information on how to order these items.

***************************
Readers' Reflections
From a Reader in Mississippi:

Dear Brother Maxey, I enjoy your weekly Reflections very much, and would like to purchase your CD titled "Reflections: The Complete Collection." I would also like to have the CD of your "Law to Liberty" study, as well as a signed copy of your book on baptism: "Immersed by One Spirit." My check is enclosed for these materials. Thank you!
From a Reader in Georgia:

As for your article "That Cat Who Won't Scat" (Reflections #664), my first thought was, "So many cats, so few recipes!" (LOL) On another note, I would have liked to have been sitting within hearing distance as "they" debated what would and what wouldn't be included in the "official canon" of the Bible. This is especially true with the NT book of Hebrews. One has to wonder how a book got included in the canon whose author is unknown. I wonder if the identity was hidden, rather than truly being unknown!
There has been some speculation among scholars over the centuries that Hebrews may have been written by a woman. Bleek and Harnack, for example, strongly promote the view that Priscilla was the author (with possible help from her husband Aquila). Thus, it is assumed by some that the identity of the author (i.e., a woman) was intentionally removed so as to help facilitate its acceptance by church leaders who tended to believe women should remain silent in the presence of their "spiritual superiors." My own view, as most know, is that the book was most definitely not written by the apostle Paul, but more likely written by Apollos. I have dealt with all of this in Reflections #128: "The Authorship of Hebrews." -- Al Maxey
From a Reader in California:

As the owner of both cats and dogs, I can attest to the accurateness of your observations in your last Reflections. The dogs are definitely more emotionally "needy" than the cats! One thing that you alluded to, and your quotes from the Book of Baruch back this up, is that the Jews finally learned that God hates idolatry. For most of their history, idolatry was the sin that plagued them most. After their captivity, however, God finally broke them of this sin. They got into other sins, but idolatry was not one of them. Thank you so much for your Reflections ministry! I always get a feeling of joy whenever I see these written blessings in my inbox!
From a Reader in New Zealand:

I'm a bit of a cat man myself. Interesting article! It reminded me of the Canaanite woman in Matthew 15:21-28. The great persistence of her faith has always impressed me: "Yes, Lord; but even the dogs feed on the crumbs which fall from their masters' tables."
From a Reader in California:

Cats are definitely smarter than dogs! After all, you are never going to see a bunch of cats tied up to a sled and pulling it through the snow!
From a Reader in California:

Well, big cats (lions) are mentioned in the Bible! But I do think there is great theological significance to the absence of any mention of cats in Scripture: by the "silence" on the subject, CENI "logic" tells us that God does NOT approve of them!! (LOL)
I had several people write to point out that lions are mentioned in Scripture, and lions are "cats." One person also pointed out that a "leopard" is mentioned in Jeremiah 13:23, and a leopard is also a "cat." I wrote back and suggested: "Cats are to lions/leopards, what dogs are to wolves/coyotes." Yes, they are similar, but the Greeks and Hebrews did have separate words for these animals, and they did not equate them in their writings. As for "silence being prohibitive," CENI's so-called "law of silence," I suppose this means that all legalistic patternists, who happen to be cat owners, had better get rid of their cats or face the wrath of God! Okay, we'll probably be hearing from them on this one ... unless a cat's got their tongue!! -- Al Maxey
From a Reader in Tennessee:

"Fancy that: a cat that won't scat, acting as a hat, along with a bat. Upon the idol's head there wasn't a rat, for that would make the cat, acting as a hat, very fat." Okay, you probably think that was corny, but Dr. Seuss has obviously influenced me! (LOL) That was an interesting article, Al. Thank you!
From a Reader in Texas:
[NOTE: This reader and his wife made a trip to our
area and attended our Sunday morning adult class &
worship assembly on June 14 & June 21. It was so
good to spend time with them and get to know them
better. The following is a letter he sent to me and to
the brethren here at Cuba Ave. Church of Christ
after their visit. His words are greatly appreciated,
though only a portion of that letter is shared here.]

Al, it was so good to be with you in person these past two weeks, and I left filled with the love of God. When I woke this morning (Monday, June 22), the thoughts below were on my heart for you and those with you at the Cuba Avenue church. Use them as you wish, or not at all, but I felt the need to share. I am so proud of you, and said so to your own dad yesterday morning before the worship assembly. God has blessed you with a fearless heart to help those of us who are so weak. As the arrows from Satan pierce you almost daily because of the great studies you share with us, please know that our God knows of the good you are doing, even when you are challenged by those who would have you live in fear. Keep looking for those truths you can present to us so that we can have the joy of Christ!
To the Cuba Avenue Church of Christ
Alamogordo, New Mexico

My wife and I enjoyed being with you all these past two Sundays, and I am writing to you because of the thoughts that came to me as I was driving away from your building yesterday morning (Sunday, June 21). We visited with several people during our time with you each Sunday, yet I am confident that most of you left the building unaware of just how much of an encouragement you were to both of us, and especially to me. I grew up with a very legalistic view of what it was to be a Christian, but several years ago I wrote a preacher friend of my grandfather, who had been an elder, telling this preacher that I was probably "lost forever," but I simply could no longer believe the things I had been taught. He introduced me to the writings of your preacher/elder Al Maxey, and I believe the Holy Spirit has been working on me since to do more study for myself and to learn much more about a true relationship with God. My study has led me to realize that I am not a prisoner, but a free man in Christ. Over the past ten years I have decided not to sit back and simply accept the condition of slavery that I was subjected to in the church I grew up in, for there was nothing but artificial joy in that. My life had been one of fear, due to the possibility, even probability, that I would not be "good enough" to hear the words on the Day of Judgment, "Welcome, My faithful servant." Your preacher/elder, Al Maxey, helped me become a free man in Christ, and I came to recognize the freedom you all are now aware of and enjoying at Cuba Avenue. I also detected a sadness in many of your hearts, which has also been in my heart for several years now, for those who simply cannot see the freedom and true joy available to them. I have seen, as have you, way too many people over the years leave congregations because of things occurring when they come together each week that they think are "sinful."

As my brothers and sisters in Christ, I want you to know that I have been praying and hoping for years to one day see a local family of believers finally turned in the direction you are now heading, and I left yesterday feeling that it was God who brought me to you so I could actually see that all is not lost, and that a great revival is happening in the church fellowship of my youth (i.e., the "Churches of Christ"). Now that I have been encouraged by actually seeing a congregation of my brothers and sisters turned in the direction of freedom, I will now start praying for the church of my dreams: where fear is replaced with joy, and where everyone moves together in the unity of purpose, doing good. The challenge before you is not to live in fear of those who may leave you, or how you will fill the empty seat beside you. Do not fear the budget needs of the congregation. Do not fear what others think about your freedom. Do not fear the almost endless list of things Satan will throw at you because of the direction you are taking, but instead allow the Spirit to guide you in doing more and more GOOD for those around you.

I will leave you with a statement I heard come from Al Maxey's mouth in his class on "The Church" yesterday morning when he was discussing the history of the Communion over the past 2000 years. He said something to the effect of: "This is where we have been; what is next for us?" I wish I could remember his exact phrase, but in essence: the future of who you become is up to you! I mentioned how hard it is for me to live as a free man in Christ because I lived so long as a slave. Your greatest challenge now may be making sure your children do not grow up as slaves, but rather as free men and women in Christ. I will also promise a lift in your hearts as you forget the past of trying to be "the perfect church" on Sunday morning, and look forward instead to the good you can do as His church every day. Brothers and sisters, be determined to raise up a generation of free men and women who never knew of those things that once suppressed our joy! May God richly bless you as you move forward, and thank you once again for allowing God to bless me through you these past two Sundays!
********************
If you would like to be added to or removed from this
mailing list, contact me and I will immediately comply.
If you are challenged by these Reflections, then feel
free to send them on to others and encourage them
to write for a free subscription. These articles may all
be purchased on CD. Check the ARCHIVES for
details and past issues of these weekly Reflections:
http://www.zianet.com/maxey/Reflect2.htm