REFLECTIONS
by Al Maxey
Issue #693 ------- April 25, 2016
**************************
The way to bliss lies not on beds of down,
And he that has no cross deserves no crown.
Francis Quarles (1592-1644)

**************************
The Redeemer's Redemptive Restraint
"He Could Have Called Ten Thousand Angels"
Matthew 26:53-54 and Ray Overholt's Hymn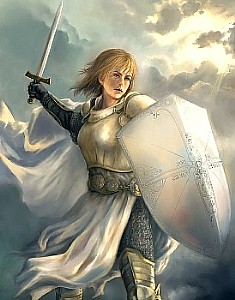 Simone Weil (1909-1943), the rather eccentric French philosopher who was born to agnostic Jewish parents, but who later embraced Christianity and adopted an ascetic lifestyle, opined in one of her works, "The very idea of redemption implies a spiritual necessity." When I first came across this statement I could not help but think back to the Garden of Gethsemane and the excruciating stress of the spiritual necessity entrusted to Jesus. The redemption of mankind required, and indeed necessitated, a significant sacrifice that only deity could provide. That point in time had come for the offering of the ultimate blood sacrifice to atone for sin once for all, so that all who believe in Him and trust in His gracious gift could, through that offering, receive the gift of eternal life. It was a gift of grace, a display of divine love, yet, as that redemptive event drew ever nearer, it brought an unimaginable amount of physical, spiritual and emotional suffering upon the One who faced the spiritual necessity of that cruel cross.
The agony of Jesus as He anticipated the cross, as well as the agony experienced on the cross, is clearly portrayed in the gospel accounts of John and the three Synoptic writers (Matthew, Mark and Luke). Jesus told His disciples, in the hours prior to His arrest, "My soul is deeply grieved, to the point of death" (Matthew 26:38), after which He "fell on His face and prayed, saying, 'My Father, if it is possible, let this cup pass from Me; yet not as I will, but as Thou wilt'" (vs. 39). Jesus clearly struggled with what He was being called to face on our behalf, becoming "very distressed and troubled" (Mark 14:33). "And being in agony He was praying very fervently; and His sweat became like drops of blood, falling down upon the ground" (Luke 22:44). Jesus "offered up both prayers and supplications with loud wailing and tears to the One able to save Him from death" (Hebrews 5:7). Adding to His distress was the fact that He "knew all the things that were coming upon Him" (John 18:4). This was due not only to His foreknowledge, but also because it had been foretold by the prophets of old that the Messiah must suffer and die (the "suffering servant" prophecy of Isaiah 53 being among the most moving). Although Jesus, in His humanity, sought release from this redemptive necessity, yet He knew only too well, as God's Son, that this event had been foreordained and foretold, and He must therefore not retreat from this necessity, for "how then shall the Scriptures be fulfilled that it must happen this way?!" (Matthew 26:54).
When considering the sufferings of our Savior, the question will inevitably enter the minds of many disciples, "Could Jesus have opted out of this redemptive event? Did He have the ability, and the freewill, to choose? Could He have refused to go through with it?" We are most certainly thankful that Jesus did offer Himself on the cross, for our very salvation was secured thereby. But, could He have chosen NOT to? This has been debated for centuries. Some teach that Jesus did not possess freewill; that He had NO ability to choose in this matter. Others argue, however, that if He did not possess the freedom to choose, then this made Him merely a puppet in the hands of God and, as such, diminishes the power of that sacrifice on the cross. It is essential, they say, that He went to His death willingly, by His own choice and determination, thus submitting His will to that of the Father. Submission and obedience imply the freedom to choose not to submit and obey. Jesus, "being found in appearance as a man, humbled Himself by becoming obedient to the point of death, even death on a cross" (Philippians 2:8; see also: Hebrews 5:8). All of this suggests an ability to make a choice. Thankfully, Jesus always made the right choices. Yet, such would be utterly meaningless if He was being maneuvered from above by a divine manipulator. Hebrews 2:18 declares, "He Himself was tempted in that which He has suffered." How is one truly "tempted" if he or she has no freedom of choice? The reality is: our Redeemer was "tempted in all things as we are, yet without sin" (Hebrews 4:15). Jesus could have chosen differently, but He never submitted to that temptation: He always chose rightly. The possibility of choice therefore, as Jesus faced the cross, makes His sacrificial submission all the more precious!
Jesus informed His disciples, as He prepared them for His impending death, that He was in control of the events that would soon transpire, and that nothing would occur outside of His personal consent. "I lay down My life -- only to take it up again. No one takes it from Me, but I lay it down of My own accord. I have authority to lay it down and authority to take it up again" (John 10:17-18). Jesus was not being controlled or manipulated by anyone; He was in complete control of His own fate -- even when it came to the cross. His choice, though, was to submit to the will of the Father in this and all other matters. Yes, Jesus could have stopped His execution; He had that power. He freely chose, however, NOT to. I once heard someone describe our Lord's choice as being "self-surrender under the influence of higher purpose." The Pulpit Commentary rightly notes: "Voluntariness was an essential element in His work of atonement" [vol. 15, pt. 2, p. 558]. Jesus freely and willingly "submitted to death, not because He could not, but because He would not, contend with it" [Matthew Henry, Commentary on the Whole Bible, e-Sword]. Peter sought to contend with it when he drew his sword and chopped off the ear of Malchus, the slave of the high priest (Matthew 26:51; John 18:10). Jesus stepped in, however, saying, "Do you think I cannot call on My Father, and He will at once put at My disposal more than twelve legions of angels?" (Matthew 26:53). Had Jesus desired to resist this event, He could easily have summoned the heavenly host to clear the area of all opposition. He possessed that authority. A "legion," by the way, was approximately 6000 foot soldiers and several hundred horsemen (although the number of both varied at times), therefore what need did Jesus have of one man with one sword when He could have appealed to the Father to immediately send forth well over 72,000 angels, any one of whom could have easily dealt with the matter at hand. "This is the consciousness with which Jesus goes into His death: at any moment, at His simple word, the sky could blaze forth with a tremendous host of mighty angels, whose swords could annihilate all these or any other enemies of His. How silly, then, for Peter to flash his little human sword!" [R.C.H. Lenski, The Interpretation of St. Matthew's Gospel, p. 1052].
There is an interesting and instructive passage in the Old Testament writings that has some relevance here. The king of Aram, who was warring against Israel, sent a rather large military force to capture the prophet Elisha. This unnerved Elisha's servant, who believed they were doomed. But the prophet responded, "Do not fear, for those who are with us are more than those who are with them" (2 Kings 6:16). "Then Elisha prayed and said, 'O Lord, I pray, open his eyes that he may see.' And the Lord opened the servant's eyes, and he saw; and behold, the mountain was full of horses and chariots of fire all around Elisha" (vs. 17). If such a large angelic force was available to a prophet of God, certainly this host of heaven was also available to the Son of God. Did Jesus actually consider calling forth these angels? His statement to Peter most certainly suggests He could have called for them, and that they would instantly respond, and this statement to Peter also suggests He was aware of their presence and of His authority to issue that call. Although the divine side of our Redeemer was completely committed to God's will, we know that the human side of Jesus struggled with what was about to happen. Thus, it is quite probable that the consideration of such a plea was present in His mind, although He chose not to act upon it. Burton Coffman, a well-respected leader in Churches of Christ, wrote in his commentary on this text that the statement Jesus made to Peter "strongly suggests that He had considered that very possibility and rejected it. But the very fact that He had thought of it (else, He could not have mentioned it) raises the speculation of 'How close did the Lord come to such a decision?' ... Admittedly, these are deep waters; but the Lord's mention of the twelve legions of angels and the possibility of their rescuing Him shows that such a termination of His earthly mission had been contemplated by Jesus. Only His redeeming love for man enabled Him to reject it."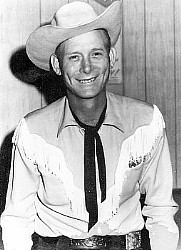 Yes, "He could have called ten thousand angels to destroy the world and set Him free. He could have called ten thousand angels, but He died alone for you and me." These are the words of the chorus in the hymn "Ten Thousand Angels," which was written in 1958 or 1959 (there is some disagreement) by Ray Overholt (who also composed the music for this hymn). Let me conclude this brief discussion of our Lord's comment recorded in Matthew 26:53 by introducing to you the man who put the truths of that passage into words and music, thus giving us one of our most beautiful and moving church hymns. Ray was born July 24, 1924 and grew up on a farm near Middleville, Michigan. From a very early age it was obvious that this boy had a great love and passion for music. He managed to save up two dollars with which he bought himself a guitar and then taught himself to play. By the age of ten he had written his first song: "The Lonesome Cowboy." As a young teen he began to sing and play his songs throughout the Grand Rapids area, which was near his family's farm, and became quite well-known in Michigan as "the singing cowboy." He soon had his own radio program and also a TV show called "Ray's Roundup" which appeared Monday through Friday on WOOD-TV at 6 p.m. This was primarily a show for kids. He would sing and play his guitar, and he also had a side-kick: "an old codger named 'Shorty' who would spin tall tales" for those watching the show. His guests on the show were quite impressive, and included such persons as Ray Price and Hank Williams. Overholt also played nightclubs with his band "The Grand River Boys," and soon adopted the "bar lifestyle" of drinking and smoking.
Ray was not a Christian, nor was he a "churchgoer," but many who loved him had said they were praying for him, asking God to lead him to a faith in Christ Jesus. Ray would later state that one evening, as he was performing in a nightclub, it suddenly entered into his heart and mind that this lifestyle was not where he needed to be. He needed to make some changes. He decided to start by writing a song about Jesus. Here is the account in his own words: "One day I thought to myself: I've written secular songs, I'd like to write a song about Christ. I opened the Bible. I knew a little about it from my mom. I began to read how Jesus in the Garden of Gethsemane told Peter to put away his sword. Jesus told Peter that He could ask His Father and He would send twelve legions of angels. I didn't know at the time that would have been more than 72,000 angels. I thought a good title for a song would be 'He Could Have Called Ten Thousand Angels.' The more I read about Jesus, the more I admired Him for what He had done. I was playing in a nightclub in Battle Creek, Michigan, when the Lord impressed me to write the song. I wrote the first verse and put it in my guitar case. I then told the club that I was quitting. I finished the song and sent it to a publishing house, which reluctantly agreed to publish it. Some time later I found myself singing at a small church. I sang 'He Could Have Called Ten Thousand Angels.' Following my singing, a preacher spoke a message that gripped my heart. I knew I needed Christ. So I knelt there and accepted as my Savior the One whom I had been singing about."
One biographer commented that it was rare indeed to find a song writer "who had been led to Christ by his own song, but such was the case with Ray Overholt." The writer continued, "From that moment on, Overholt's life purpose changed, and for the next nearly 50 years he spread to others through his music the message that he'd accepted." Ray continued to be a prolific writer and singer of country music, though his focus was greatly transformed and he never missed a chance to inject his faith into his work. His songs have been recorded by hundreds of famous singers: Kate Smith, Loretta Lynn, Janie Fricke being just a few. Oddly, shortly after writing his hymn about the ten thousand angels our Lord could have summoned, he sold the rights to that song for a mere $25 to the Lillenas Publishing House "so that others could share in its message too." But the sales began to rise rapidly, reaching into the millions. In a gesture of grace, the company returned to Ray full songwriter's rights, thus allowing him to receive royalties on this song, which he then used to fund his gospel ministry in song.
Over the years, Ray suffered a number of physical afflictions. He suffered a major heart attack which required him to undergo triple bypass surgery. He also lost one of his legs, and eventually lost his sight as well. Yet, he never lost his passion for sharing Jesus, and continued his ministry of song to the very end of his life, with his wife Millie (they were married 52 years) right at his side every day. Following his death she stated, "He did love his ministry. We always enjoyed going everywhere he was sent. He was always a happy person. He always said he wanted to sing until he came home, and he did that." His son Ron wrote, "He loved what he did. He loved people." He won countless awards and received numerous honors, including induction into Michigan's "Country Music Hall of Fame" and the "Gospel Music Association's Hall of Fame." No matter how much praise was heaped upon him, though, "he remained humble," said his son, who described him as a simple, compassionate, family man. Ray Overholt passed from this life, suffering a massive heart attack, on September 14, 2008, dressed in his finest, getting into a van to go to his next gospel concert. His funeral was held in Battle Creek, Michigan, and was officiated by Pastor Travis Davis (the husband of Ray's granddaughter Becky). May the "singing cowboy" rest in peace until that day when all God's singers worship before the Throne!
***************************
Specials for Readers
2016 Book & CD Offers
Click on the link above for a listing of the
books and topical studies and audio sermons
and new Bible classes by Al Maxey, and for
information on how to order these items.

***************************
Readers' Reflections
From the Daughter of K. C. Moser:
[See my tribute to him in Reflections #392]

Good Morning, Bro. Maxey. I hope you are having a good day. I was just rereading some of the messages to you in the Readers' Reflections section of your past articles, and the statement that you are "dangerous" (Reflections #690), which was made by one of the legalistic cult members/ministers of our tradition, made me think of a statement made to me about my dad. This person wanted me to know that "only time will tell the damage my dad's teaching has done to the church!" I'm glad you are taking some time off to renew. The kind of negative stuff you have to put up with will actually make you physically ill. It was killing my dad until he also took some time off (at the order of the doctors at the Mayo Clinic). Just saying! I love and respect you, Al.
From Bobby Valentine in Arizona:

Greetings from the Land of Saguaros and Scorpions. The year is 1938. A year of chaos in the world as Europe tumbled toward war. Orson Wells frightened Americans with The War of the Worlds. African American Joe Louis defeated the Nazi fighter Max Schmeling in an epic take down. And C. R. Nichol published God's Woman. This legendary debater, college president, Gospel Advocate columnist, mentor to Foy Wallace, Jr., announced to the brotherhood that it had completely sold out to culture toward women!! Churches were following CULTURE in restricting women in far more ways than Scripture, and thus had left the "pattern" of women in the Bible. Nichol was one of the "soundest" and "most conservative" preachers in Churches of Christ. In my newest blog post I explore C. R. Nichol's epic book "God's Woman: The Place of Women in Social and Religious Life as Revealed in the Bible," which stands as a silent challenge to all in Churches of Christ even today.
From a Reader in Indiana:
[The following is a continuation of the discussion that I had
with the "Reader from Indiana" in the Readers' Reflections
section of my most recent article: Reflections #692. Thus,
I would suggest a reading of that previous exchange first.]

Al, surely you would say that faith and repentance are conditions we must meet. Does that mean you believe our salvation is earned?!
I think where this reader is getting somewhat confused is in thinking faith is something one DOES. It is an inner conviction, just as repentance is an inner determination. Both are nonsubstantives: they are of the heart and mind; not readily visible to those around us. Both may be present within a person before any outward, visible manifestation is witnessed. Indeed, they must be present before any outward, visible manifestation occurs, otherwise those outward acts have no genuine, godly motivating basis. Just as Jesus says that it is from out of the heart one performs such deeds as adulteries, murders, slanders, etc. (Matt. 15:19), so also do one's godly and righteous deeds flow from genuine convictions already present within that disciple's heart and mind. God's gift of grace is for those who inwardly already possess the faith and determination to leave one thing so as to pursue another (turning from the world and turning toward the Lord = repentance). These convictions of heart and mind are very much real and genuine before any acts occur which SHOW the reality of said genuine inner convictions (see Reflections #602: "Union of Faith and Repentance: Defining Duo of Demonstrative Discipleship"). Salvation is by grace through faith; it is not based on anything man DOES, no matter how good those deeds may be. Yet, as Eph. 2:8-10 states, when that inner conviction is truly within us, and when it is genuine, and when this inner reality is perceived by our God, He bestows His gift of grace: which results in our cleansing and acceptance, and such believers saved by grace will then bear fruit in keeping with that inner reality. If repentance is genuine, we will "bear fruit in keeping with repentance" (Matt. 3:8; Luke 3:8), just as we also show (James 2) the reality of our inner faith by various evidentiary acts (baptism being merely one of many). Nothing in the "showing" is salvific in nature; rather, it validates and demonstrates that which is already accomplished: our salvation by grace through faith. Our good deeds then follow salvation, they don't facilitate it. -- Al Maxey
From a Reader in Texas:

Al, thank you so much for sending the book I ordered from you (Down, But Not Out) to my buddy in ------. Now, if I can just get him to read it. With regard to the person who wrote you from Indiana, who has probably done nothing but hardened his legalistic doctrines through the years, I would ask your permission to send you a short essay I wrote. It has been inspired by your articles through the years, but certainly started initially with my dad who, like you, examined the Scriptures honestly and changed his legalistic upbringing. Best to you in your struggles with your health problem, and thank you for the wonderful articles through the years!
From a Reader in Barbados:

I could not help but focus on your very last paragraph in your article titled "Supposition and Opposition: Stephen's Assessment of Moses and Conflict Among Hebrew Brethren" (Reflections #692). That paragraph was such a fitting climax to the issue presented. And as if that were not enough counsel on how leaders should proceed, even when convicted regarding the leading of the Holy Spirit, the short but incisive prayer at the end of your article says it all for me: "May God grant us the courage and conviction to lead His people to freedom and a better grasp of grace, and may He also grant us the wisdom to know when and how to do so most effectively." I say "Amen" to that prayer and to my personal prayer for you that God would grant you many more years to continue to do what to my mind He has called you to do. I really do admire your honesty and humility. I believe that they are two critical qualities in servant leadership.
From a Reader in Georgia:

I have often made the mistake of thinking that God was working in me and on me so that I might effect some positive change in/for others, when in fact it was me that He was attempting to change. Sounds like that may have been happening to Moses as well. God can be sneaky like that, huh?! Also, perhaps all the quarreling going on between Hebrew brothers is an indication that the "Church of Christ" group may have had much earlier beginnings!! (LOL) Love ya, brother!
From a Reader in Mississippi:

Let me congratulate you on your completion of 9 weeks of daily radiation treatments. I pray that the report you get in May will be that your cancer is in remission and that there is no further need for treatment. I also want to thank you for providing a lot for me to think about and chew on. I enjoy that you are willing to devote more than a word or two when thinking about Christian issues, for so many seem to feel that even "tweets" are too long. I have grown to hate the Internet expression "TL;DR" (Too Long; Didn't Read) as it indicates not only a shallowness on the reader's part, but also a demand that the writer be shallow as well. Thus, I sincerely thank you for taking the time to consider in great depth matters that require in-depth treatment.
From a New Reader in Texas:

Dear Bro. Maxey, I would very much appreciate receiving your Reflections via email. I have read much of your writings online, and I can say that I truly appreciate your understanding and defense of grace! There has never been a time when its understanding and appreciation were more greatly needed by the church.
From a Reader in Colorado:

I just read your article "Supposition and Opposition," and I can see so many ways in which my life has been changed by what you, as well as a few others, have offered on different subjects (such as baptism). I just recently completed a lengthy article by one of your critics: he was supporting the accepted view of the traditionalists on baptism. In his attempt to defend that position he dealt with several things, one of which was Cornelius in Acts. I felt like I had been beaten up emotionally and spiritually by the time I finished that article! He used the story of Cornelius as a proof text for his ideas, and by the time he brought his article to a close he had Cornelius being "baptized in water for the forgiveness of his sins." It was very evident that his teaching jumped all around, but never dealt with, Acts 10:43, which clearly states, "Whosoever believes in Him shall receive remission of sins" (KJV). Does this man think I'm stupid enough that he could just leave out verse 43 and then tell me something that isn't true and actually think I would believe it?!
From a Reader in Tennessee:

I just finished reading the latest Reflections. It was excellent. I taught Sunday school classes in the Church of Christ for about 30 years, was a deacon in three congregations, and an elder in another for about a year. I ended up leaving this denomination, however, and went down the street to the Presbyterian Church. Recently, one of the members who had been in my Sunday School classes died, and so my wife and I went to her funeral. I went up to two of my former Bible class students to speak to them and both turned their back and would not say a word. Shouldn't we all act toward one another with love? I believe that is what Jesus said. Al, what you are saying in your writings is just what God said to me as a teacher. I have always tried to teach others based solely on HIS teaching as I understand it. I pray for your full recovery and that it will be quick. I am also sorry about the loss of your mother. Mothers are so special to us boys! May God bless you.
From a Missionary in Vanuatu:

I still really appreciate your Reflections, Bro. Al. I saw where you were having a bit of bother with the prostate (kind of like when a woman is a "bit pregnant"). I pray that you are able to get this taken care of successfully, and that the Lord continues to give you the ability to serve in His kingdom through your Reflections. God bless you, brother.
********************
If you would like to be added to or removed from this
mailing list, contact me and I will immediately comply.
If you are challenged by these Reflections, then feel
free to send them on to others and encourage them
to write for a free subscription. These articles may all
be purchased on CD. Check the ARCHIVES for
details and past issues of these weekly Reflections:
http://www.zianet.com/maxey/Reflect2.htm