REFLECTIONS
Articles Archive -- Topical Index -- Textual Index


by Al Maxey


Issue #729 ------- August 24, 2017
**************************
If anybody understands God's ardor for His
children, it's someone who has rescued an orphan
from despair, for that is what God has done for us.
God has adopted you. God sought you, found
you, signed the papers, and took you home.
Max Lucado [b. 1955]

**************************
Our Adoption by God the Father
The Apostle Paul's Eschatological Intent in a
Soteriological Statement to the Saints in Rome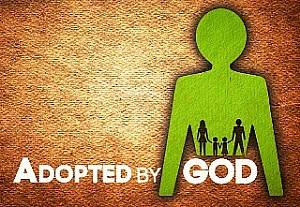 We are all familiar with the concept and practice of adoption, for it is known in virtually every society. Although there are varying customs and laws associated with this practice throughout the world and at various times throughout history, the basic concept is rather constant: it is the choosing of a child, who is not your offspring biologically, for inclusion into your family, and the raising of that child as your own. This is truly an act of self-sacrificial love, one that reflects the very nature of our divine Father. In light of the latter, I find it interesting that one of the synonyms for this term is "election." We are the children of God by divine selection; we are the "elect" of God due to His gracious choice, just as a child is chosen/selected by human parents to be a part of their family, even though that child was not theirs biologically. Little wonder, then, that adoption is a concept employed in the Scriptures to illustrate our immersion into a familial relationship with God the Father. By this divine act of election, this act of grace and love, we become a vital part of His Forever Family. Although Jesus may well be said to be, on at least a human level, the "only begotten" child of God through the impregnation of Mary by the Spirit, He is nevertheless not the only child of God, for such we are by means of adoption into the Father's household! "How great is the love the Father has lavished on us, that we should be called children of God! And that is what we are!" (1 John 3:1). "God sent His Son, born of a woman, born under the law, to redeem those under the law, so that we might receive adoption as sons. And because you are sons, God has sent the Spirit of His Son into our hearts, crying, 'Abba, Father!' So you are no longer a slave, but a son; and if a son, then an heir" (Galatians 4:4-7). "Even before He made the world, God loved us and chose us in Christ to be holy and without fault in His eyes. God decided in advance to adopt us into His own family by bringing us to Himself through Jesus Christ" (Ephesians 1:4-5). "You are all sons of God through faith in Christ Jesus" (Galatians 3:26). We are the chosen ones, the elect of God the Father. We are His beloved, pre-selected children: a free gift of grace we receive by faith! "So we praise God for the glorious grace He has poured out on us who belong to His dear Son" (Ephesians 1:6). "Furthermore, because we are united with Christ, we have received an inheritance from God, for He chose us in advance" (Ephesians 1:11). Therefore, as His beloved sons and daughters, by means of this marvelous action of adoption, we have "an inheritance that can never perish, spoil or fade - kept in heaven" for us, just waiting for our arrival (1 Peter 1:4).
This all seems rather clear and straightforward; it is easily grasped, for we are familiar with the concept and practice of adoption. However, there is a statement made by the apostle Paul that has troubled some disciples, for it seems, at least at first glance, to convey a somewhat contradictory concept than that presented above. The troubling passage is found in Romans 8, which is a powerful chapter detailing the awesome power of the indwelling Holy Spirit to transform our lives and conform them to the likeness of Jesus Christ. It is one of my favorite chapters in the New Covenant writings. Yet, it has a few "surprises" theologically with which some seem to struggle. In verses 18-25 of this chapter, Paul speaks of the contrast between our present sufferings in this life and the glorious future the Lord has prepared for His children. It is a future glorification and emancipation that not only we humans long for, but which the creation itself earnestly desires and for which it groans in anticipation (figuratively speaking). Thus, "we ourselves," just like the whole of creation, "groan inwardly as we wait eagerly for our adoption as sons, the redemption of our bodies. For in this hope we were saved. But hope that is seen is no hope at all. Who hopes for what he already has? But if we hope for what we do not yet have, we wait for it patiently" (vs. 23-25). Do you see what has troubled some? In the previous passages noted above, the teaching seemed clearly to be that we are the adopted children of God right now, yet in Romans 8:23 Paul just as clearly states that our "adoption as sons" is something for which "we wait eagerly." It is something for which we all groan in anticipation of receiving, which we hope for, but which we do not yet have in our possession. There seems to be a huge contradiction here, right?! It behooves us, therefore, to take a closer look at what Paul is saying in Romans 8:23.
A few days ago, I received an email from a minister in which he wrote, in part, "Al, I was wondering if you had an article on God's adoption? I had a sermon I wanted to preach, and almost did, until I looked at Romans 8:23. I don't know how I've missed this over all these years that I have been preaching! I thought we were adopted as God's children when we were buried with Him in baptism. But when I read Romans 8:23, and the surrounding context, it certainly looks like our adoption has not yet happened, and won't until the resurrection! Al, I know you are busy, but if you've done some work on this, I would really appreciate a reference to where that work is. I think what has slowed me down is: if this is the way it really is, then what other teachings might be affected? And, do our people really understand God's adoption?! Anyway, thanks for taking the time to read this, and thanks for all you do - consistently!" As a companion study to this passage, since there is a bit of a connection, I would suggest a reading of my study on Romans 8:24, for the King James Version has done a tremendous disservice to disciples of Christ by its horrendous rendering of a phrase in that verse ("Salvation by Hope: A Study of Romans 8:24" - Reflections #597).
With regard to this brother's statement, I would personally hesitate, based on my study, to assert that our adoption is acquired at the point of baptism in water. That, once again, tends to elevate this particular act of faith to a sacrament. I would suggest it is by faith that we received this gift of adoption into the Family of God. Nevertheless, this minister's question is a valid one: regardless of the time, place and methodology of our adoption, is our sonship something we already have, or is our adoption by the Father still future? There are many passages, as noted above, that affirm rather forcefully that we are indeed now His children: His beloved sons and daughters; a gift of grace we receive here and now by faith. Yet, the apostle Paul, just as clearly, or so it seems, told the saints in Rome that this adoption is a reality not yet seen or experienced, and is a blessing we "wait for eagerly," as does all of creation, which will receive renewal at that same time. Although this appears to be a contradiction in Paul's teaching (Paul, by the way, is the only NT writer to use the Greek word for "adoption": "huiothesia," which appears only 5 times: Romans 8:15, 23; 9:4; Galatians 4:5; Ephesians 1:5), it really is not a contradiction at all. It is merely our failure to perceive that adoption is a process. Even in our own secular societies, we understand that even though we may have selected, chosen a specific child to adopt, and may have filled out some of the paperwork, and may even have the child living in our home, there is still a period of time that will pass before the adoption is finalized. We still view the chosen child as a son or daughter, and relate to them as such, yet we also realize that the fullness and finality of that adoptive process may still be weeks, months, or even years in the future. A very similar situation is the betrothal process of the Jews during the time of Christ. The wedding festivities and feasts are in the future, yet the betrothal state is one in which the couple is viewed as husband and wife (they are even called such - i.e., Joseph and Mary). The fullness of that blessed state, however, is future. Thus, we need to realize that "Adoption as God's act is an eternal process of His gracious love" [The International Standard Bible Encyclopedia, vol. 1, p. 55].
God, from the beginning of creation, "elected" His children: His chosen ones. That calling goes out to all, and those who embrace that grace by faith are welcomed into His Family. Thus, by His grace and our faith, we ARE, even now, His adopted sons and daughters. Yet, the FULL and FINAL blessings of our sonship have yet to occur, for, as Paul states in our text, they are tied to our bodily resurrection on that last day. The same is true with the church, the bride of Christ. We are already His beloved bride (we are betrothed to Him), but it is only at His return that His bride (the church; the redeemed of all time) is escorted by Him to the Father, and the wedding feasts then begin. Paul does not deny the fact that we are NOW both the bride of Christ and the sons/daughters of the Father. Neither does he deny that there are blessings inherent in both states that are still future, and for which we eagerly wait. In Romans 8:23, Paul tells us that the full realization of our adoption, and the full experience of its divine blessings, will occur at the coming of the Lord and the bodily resurrection and redemption of our physical bodies. It is then that we gain the inheritance "reserved in heaven" for us; it is then that the fullness of sonship, what we have longed for eagerly as we live our lives in this earthly realm, will be experienced. The Spirit of God at present indwells us, and is transforming us, and is encouraging our hearts and minds with the assurance that we are His children and in a blessed relationship with God. "You have received a spirit of adoption as sons by which we cry out, 'Abba! Father!' The Spirit Himself bears witness with our spirit that we are children of God, and if children heirs also: heirs of God and fellow heirs with Christ" (Romans 8:15-17). We are His heirs by virtue of being adopted as His sons, yet that inheritance awaits us, as Peter notes! Thus, there are aspects of our adoption, our sonship, that are future! When will this fullness be realized? At the coming of the Lord, at the resurrection, when our bodies are raised, redeemed from the grave, and transformed. THEN that which we now possess in part will be possessed in full. It is this of which Paul speaks in Romans 8:23.
Dr. James Strong, in analyzing this passage, wrote, "In Romans 8:23, the 'adoption' of the believer is set forth as still future, as it there includes the redemption of the body, when the living will be changed and those who have fallen asleep will be raised" [The New Strong's Expanded Dictionary of Bible Words, p. 1423]. "In the eschatological aspect, the entire creation will benefit from the adopted one receiving the deliverance of his body from decay and death (Romans 8:23)" [Wycliffe Bible Encyclopedia, vol. 1, p. 27]. Dr. Joseph Henry Thayer, in his Greek-English Lexicon of the NT, informs us that the Greek word for adoption, as it is used by Paul in his epistle to the brethren in Rome, "also includes the blessed state looked for in the future life after the visible return of Christ from heaven; i.e., the consummate condition of the sons of God" [p. 634]. The Greek scholar Dr. Kenneth S. Wuest concurs: "They have already received adoption, and as led by the Spirit are sons of God; but only when their mortal bodies have been quickened, and the corruptible has put on incorruption, will they possess all that sonship involves. For this they wait and sigh, and the inextinguishable hope, born of the Spirit dwelling in them, guarantees its fulfillment" [Wuest's Word Studies from the Greek NT, vol. 1, p. 139]. "The future bodily resurrection of believers will be the full harvest of redemption" [The Expositor's Bible Commentary, vol. 10, p. 95]. "The adoption of Christians is not yet fully realized, for adoption is spoken of in Romans 8:23 as something in the future. It is the redemption of our body, and we are still waiting for it; it can be completely attained only at the general resurrection. The thought closely resembles that of 1 John 3:2 - 'Beloved, now we are children of God, but it has not appeared as yet what we shall be. We know that, when He appears, we shall be like Him, because we shall see Him just as He is.' Our sonship will then be perfected" [Dr. James Hastings, Dictionary of the Apostolic Church, vol. 1, p. 42]. The apostle John, right after the above quote, continues, "And everyone who has this hope fixed on Him purifies himself, just as He is pure" (1 John 3:3), which is precisely how Paul continues: "...waiting eagerly for our adoption as sons, the redemption of our body. For in hope we have been saved" (Romans 8:23b-24).
"There is an eager longing for the fuller enjoyment promised. We are already adopted children, but rather in expectation than in realization. When the full adoption comes, we will not have these poor, frail, dying bodies, subject to weakness, sinfulness and decay" [Dr. B. W. Johnson, The People's New Testament, vol. 2, p. 43]. "The adoption process will be finalized when God restores all creation, giving His children resurrection bodies" [Holman Bible Dictionary, p. 21]. This is one of the reasons, quite frankly, that the Good News is tied so intimately to the coming resurrection of our physical bodies (a truth some so-called "Gospel" preachers and teachers are denying; some even suggesting it all happened back in 70 A.D.). Luke informs us that when Paul went forth with the Good News, "he was preaching Jesus and the resurrection" (Acts 17:18). Some didn't like it then, and some don't like it now. In fact, Paul was amazed that some brethren in the city of Corinth were doing this very thing: "How can some of you say there is no resurrection of the dead?!" (1 Corinthians 15:12). The Message nailed it here when they have Paul saying to these people, "If there's no resurrection, everything we've told you is smoke and mirrors, and everything you've staked your life on is smoke and mirrors." Our Christian "hope" is not in a maybe, it is in a certainty, and the Spirit within us affirms that truth to our hearts and minds, giving us a confident expectation of what is to come: a resurrection reality that we, and all of creation, await eagerly. Yes, we are sons and daughters of the Father; we are the elect, the chosen, the adopted. We are also heirs, even though that aspect of our sonship remains at present reserved for us in heaven. But, take heart, be filled with hope, there's a great day coming! A "great gettin' up morning," when hope is realized! I can't wait!! "Meanwhile, the joyful anticipation deepens. ... These sterile and barren bodies of ours are yearning for full deliverance. That is why waiting does not diminish us, any more than waiting diminishes a pregnant mother. We are enlarged in the waiting ... and the longer we wait, the larger we become, and the more joyful our expectancy. Meanwhile, the moment we get tired in the waiting, God's Spirit is right alongside helping us along!" (Romans 8:22-26, The Message).
***************************
Specials for Readers
2017 Book & CD Offers
Click on the link above for a listing of the
books and topical studies and audio sermons
and new Bible classes by Al Maxey, and for
information on how to order these items.

***************************
Readers' Reflections
From a Reader in Tennessee:

Bro. Maxey, I came upon your writings a few years ago and have enjoyed keeping up with your Reflections articles. I wish you health and prosperity, and that the Lord would bless you for many years to come. I grew up in a little town in northwest Tennessee, and I went to a Church of Christ with my parents. I was brought up with a legalistic view of the Bible, and was often told that OUR church was the ONLY true church! I expounded these views to my classmates, for which I am now regretful. After I gave my life to Jesus and was baptized, I always had a fear that if I died while there was something in my life I had failed to ask forgiveness for, that God would send me straight to hell. Legalism had me in its grip. When I was 23, I met my future wife, who attended a Baptist church. I started going there with her, and I felt a love from those Christians that I had never felt before. Eventually I realized that Jesus had given me a free gift (salvation) that I did not have to pay for; that no amount of working could earn. For that gift I am eternally grateful, and my desire is to serve Him every day. Also, I am glad that I don't have to pray in King James English (thee, thou, thine, etc.). It has taken me a long time to shed the mindset of legalism. I want to thank you for helping me over the years to see through the dogmas of the legalistic church in which I had been raised. There are many fine people there, but the Devil surely seemed to be working overtime among that bunch. The last time I spoke with my parents, I asked my mother when she thought I had lost my salvation. She said, "When you joined that Baptist church." I understand the source of this narrow mindset much better now because of your studies. I look forward to your new Reflections, and I hope to support you in the future in this ministry. Thank you, again!
From an Elder in Mississippi:

With reference to the "King James Only" viewpoint, which you mentioned in your article titled "Moses and the Lively Oracles" (Reflections #728), I have known some Baptists who hold to this view. Way back in 1966, when I was selling Bibles door-to-door in Ohio, I was often asked if I had the "Saint James Version." I have come to wonder why in the NT "Jacob," the brother of our Lord, is called "James." I have wondered if maybe the translators of the work known as the "King James Version" made this change intentionally in order to honor their king.
This reader is not the first person to wonder why the name "Jacob" is rendered "James" in some versions of the Bible (such as the King James Version). There has been considerable speculation over the centuries. There is a brief article on the Internet that deals with this question very well, in my view. The article is titled: "Is James' Name Truly Jacob?" This didn't start with England's King James, however, for several English translations prior to his day rendered the name "Jacob" as "James." It dates back at least to John Wycliffe, who put that name in his translation of 1380. Tyndale did the same in 1534, Cranmer did it in 1539, as well as several other translations that predated the KJV. Since calling Jacob "James" goes back to a time before King James of England was even born, the bigger question might be: "Why was this error in translation never corrected in the newer versions of that time?" and "Why did King James himself allow this error to remain in his 'authorized version'?" These are the types of questions to which we today may never receive a fully satisfactory answer. -- Al Maxey
From a Reader in Oklahoma:

Your latest article, "Moses and the Lively Oracles," brought to my mind the first time I read something other than the KJV. I was stuck in a hospital bed recuperating from a serious motorcycle accident in 1976. The preacher at our church came to visit me, and he brought a copy of the NIV. It was so new that they had not yet translated the whole Bible. When I got to Romans, I was blown away! It was the first time I was able to read Romans and understand what Paul was saying. I have never gone back to the KJV, except maybe to compare different translations on a particular verse or topic. The church where we attend here in Oklahoma uses the ESV, which I also like. Heck, I even like reading some from The Message. Thanks for all you do, Al. Love you, brother.
From a Reader in Colorado:

"Moses and the Lively Oracles" was a good article, Al. Your comments on the KJV Only crowd prompts me to share with you an experience my wife and I had while living in Oregon 15 years ago. We attended church in a neighboring town (about 19 miles away) and every Sunday morning we would have the same car pass us like we were standing still (and we were doing the speed limit). The irony of the whole thing was that the car had a bumper sticker which read: "King James: God's ONLY Authorized Version." I never really knew, until I read your article, what that was all about. I developed the habit every Sunday of watching for that car in my rearview mirror, and my wife and I would laugh as we shook in the wake of the air currents that swirled about us as he flashed past. We always commented: "Yep, he's got the right version, but he apparently has never read it." Maybe he was just always late for church! Anyway, I thought you might get a chuckle out of this story.
From a Reader in Unknown:

Many years ago I was one of the speakers at a Christian college lectureship. Almost immediately after I spoke that day, a brother challenged me because I did not use the KJV. He held that it was the only "inspired" translation of the Bible. Over the years since then I have feared that many of our brethren probably have that very same conviction.
From a Reader in Texas:

Dear Brother Maxey, I have not written to you in quite some time, but I read your Reflections every week. I have been trying to do some studying, and am seeking a better understanding of Matthew 7:21-23. I don't fully understand what Jesus is saying here, and I was just wondering if you have ever done a Reflections on this passage. Again, I appreciate all you do to help Christians have a better understanding of the Scriptures. Have a blessed day.
I directed this brother-in-Christ to a couple of articles I have written in which I address various aspects of that teaching by Jesus (which is part of His Sermon on the Mount). Those articles are: "What Is Jesus Looking For? A Comparative Assessment of Followers as Seen in Matthew 7:21-23 and Mark 9:38-41" (Reflections #502) and "Delusional Discipleship: The Tragedy of 'Lord, Lord'-ism" (Reflections #718). -- Al Maxey
From a Reader in North Carolina:

Al, your recent comments on the KJV reminded me of an article on the humorous Christian web site (The Babylon Bee) titled "Apostle Paul's King James Bible Up For Auction." Sometimes the best way to deal with the KJV Only legalists is with humor! As for me, I'm not going to make a bid on this until they also offer the apostle Peter's ASV and the apostle John's The Message. Unconfirmed rumors from multiple anonymous sources have stated that Luke always read and quoted from the NIV. The writer of the gospel of Mark used the Tyndale Bible and commentary. Nobody has yet been able to confirm the version the anonymous writer of Hebrews used. Too funny!! I'm sure, though, that the KJV Only crowd will see blasphemy and not humor in this above mentioned satirical piece. Have a blessed week, Al, and please keep your Reflections articles coming!
From an Elder in Michigan:

Thank you, brother Al, for your ability to make things clear to us based on your knowledge of the Scriptures. Your Reflections have changed my life!! I have the good fortune of having been "raised in the Church," although that fortune is also a curse in some ways. Those years of dogmatic legalism are so embedded that one has to work a lifetime to finally realize how simple the "Good News" really is. Thanks, and please continue on with us!!
From an Author in Arizona:

I want to Thank You for your Reflections article "Moses and the Lively Oracles." I especially liked what you wrote in the 5th paragraph (which begins "Throughout the Scriptures..." and ends with "...as had the KJV"). That paragraph is absolutely beautiful, Al, and absolutely factual. You're sounding more and more like me all the time!! I don't know if that's good or bad, but I guess we'll both just have to live with it!! Blessings, brother!
From a Reader in Arizona:

Al, this is just a quick note to inform you of the passing of brother Wayne McDaniel here in Arizona. I met Wayne via your weekly Reflections, and I know that he sent you emails on a very regular basis. He was a huge fan of your writings, and we often discussed your Reflections and the GracEmails of Edward Fudge. Wayne left this world with a very strong desire to meet you in person; a desire that will now have to wait until the resurrection. Thank you for your service to the Lord, Al.
This is really sad news. This dear Christian man will be greatly missed. We also rejoice with him, however, as he now rests safely in the arms of the Lord awaiting that "Great Gettin' Up Morning." Wayne and I communicated almost weekly via emails and phone calls. We were also friends on Facebook. We had never met in person, though. In his last email to me (which is the very first one published in the Readers' Reflections section of my last mailout) he indicated he was going to make a trip out to see me for a few days in December or January. I wrote back and told him that I would love to meet him. The Reflections (#728) in which that email appeared was mailed out on Monday morning, August 14. Wayne died of a massive heart attack later that afternoon. It came as quite a shock. Wayne had been teaching an adult class at his congregation in Arizona on the Gospel of Luke. These were being videotaped and placed on his Facebook page, and they are still there to watch. In fact, he taught his class the day before his death. May God bless and comfort the family and loved ones of this dear disciple of Christ. -- Al Maxey
********************
If you would like to be added to or removed from this
mailing list, contact me and I will immediately comply.
If you are challenged by these Reflections, then feel
free to send them on to others and encourage them
to write for a free subscription. These articles may all
be purchased on CD. Check the ARCHIVES for
details and past issues of these weekly Reflections:
http://www.zianet.com/maxey/Reflect2.htm