Radiant Gemstones

Welcome to Radiant Gemstones. We offer a selection of fine jewelry , including pendants and rings featuring custom-faceted gemstones, and earrings with faceted stones. All of our jewelry features natural gemstones.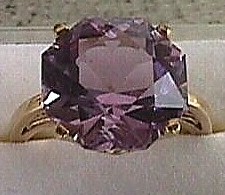 Our featured items are jewelry made with custom-faceted stones. These are stones I have cut myself, from the natural rough gem material, using faceting designs chosen for their brilliance and beauty. The angles for facet placement are critical to ensure the brightest possible stone. Most stones found in a jewelry store are faceted overseas by people who cut for speed and weight, and the resultant stone is often lifeless. Some of our beautiful faceted stones are set in 14 karat gold rings which can be sized to fit. Other stones are set in 14 karat gold pendants. Chains to enhance your pendant are available separately.
All of our pieces with custom faceted stones are one-of-a-kind. We can also help you design your own one-of-a-kind ring or pendant.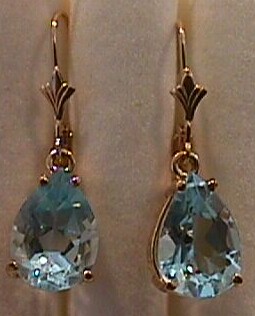 The earrings also are set in 14 karat gold, as posts or as leverbacks. (Note: I don't cut the stones for the earrings; it's not cost effective.) The stones are available in round, oval, rectangular or emerald cut, pear, heart, or triangle shapes. The sizes range from 2mm up to 10mm depending on the stone. Our stones are arranged by birthstone month, although most people now feel comfortable wearing their favorite stone regardless of the month designation. Some earrings can be set in less expensive gold filled settings or in sterling silver. Single earrings are also available.


Garnet, the birthstone for January, is often a deep red stone, but can come in many other colors such as the rich pink of raspberry rhodolite or the orange-brown of hessonite.



Amethyst is the birthstone for February, but everyone loves the purple hues of this stone, which can vary from pale to dark.


Aquamarine is usually a pale blue or blue-green. Our custom-faceted stones are mostly from Nigerian material and demonstrate the very finest colors of this March birthstone.


Silver sapphire and silver topaz are beautiful and affordable alternatives to the traditional April birthstone of diamond.

Emerald is the exquisite deep green birthstone for May, and is one of my favorites.

The birthstones for June are pearl or alexandrite. The latter has become extremely expensive, but we have some lovely fresh-water pearl necklaces and bead earrings.

July's birthstone is ruby, a beautiful deep red. Larger sizes are available by special order.


Peridot is the August birthstone. Its lovely yellowish-green color is subtle but striking. Some peridot is also found here in New Mexico.

Blue sapphire is the birthstone for September. Again, larger sizes are available by special order, as are other colors (yellow, pink, orange.)

October's stone is pink tourmaline. Tourmaline comes in a multitude of other colors, including greens and blues and is another of my very favorite stones.


For November, we have citrine. This variety of quartz comes in several shades from pale yellow to deep golden (also called Madeira citrine.)


Zircon and blue topaz are the birthstones for December, with blue topaz being available in many more sizes and shapes. It can vary in color from light "sky" blue to a medium "Swiss blue" to a very rich, dark "London blue." We have selections in all these colors.

Other gems. Some of the newest and most beautiful stones are not known as birthstones. These include tanzanite and chrome diopside.




E-mail to Karen,



Webdesign by
Russ Kleinman