REFLECTIONS
by Al Maxey
Issue #222 ------- November 27, 2005
**************************
Tell me what you eat, and
I will tell you what you are.
Anthelme Brillat-Savarin (1755-1826)

**************************
Consuming Christ
Eating His Flesh, Drinking His Blood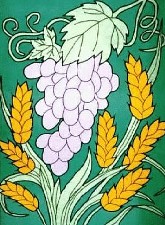 A dear Christian brother from the beautiful state of Oklahoma recently requested, "If you ever run out of anything to write about, how about giving us your insights into the teaching of our Lord in John 6:53f. Many think Jesus is talking about the Lord's Supper in this passage. I think they probably miss His point, somewhat." I'm sure we have all heard communion comments in which a disciple quoted this passage and then made application to consuming the elements (the bread and wine) placed upon the Lord's Table. Indeed, in my own experience, it is one of the more familiar passages cited prior to the partaking of the Lord's Supper.
Jesus informed the Jews that day in the synagogue in Capernaum (vs. 59, cf. vs. 24), "Truly, truly, I say unto you, unless you eat the flesh of the Son of Man and drink His blood, you have no life in yourselves. He who eats My flesh and drinks My blood has eternal life, and I will raise him up on the last day. For my flesh is true food, and My blood is true drink. He who eats My flesh and drinks My blood abides in Me and I in him" (vs. 53-56). This particular passage has greatly confused people down through the centuries, and has led to some rather bizarre theories, including the idea, among some early pagans, that Christians were cannibals, having stolen the body of Jesus from the tomb, hidden it away, and then consumed it in some hideous ritual. This statement even confused the Jews who actually heard this whole teaching from the lips of Jesus Himself on that occasion. "The Jews therefore quarreled among themselves, saying, 'How can this man give us His flesh to eat?'" (vs. 52). "Therefore many of His disciples, when they heard this, said, 'This is a hard saying; who can understand it?'" (vs. 60). "As a result of this many of His disciples withdrew, and were not walking with Him anymore" (vs. 66).
It is common practice to equate the eating of His flesh and the drinking of His blood to the consuming of the bread and wine of the Lord's Supper. After all, during the final Passover meal with His beloved disciples, our Lord "took bread, gave thanks and broke it, and gave it to His disciples, saying, 'Take and eat; this is My body.' Then He took the cup, gave thanks and offered it to them, saying, 'Drink from it, all of you. This is My blood of the covenant, which is poured out for many for the forgiveness of sins'" (Matt. 26:26-27). The apostle Paul repeated this teaching in his letter to the Corinthian brethren (1 Cor. 11:23-26). To many disciples, therefore, it seems a logical leap from the teaching of John 6 to the consuming of the elements within the Lord's Supper. But, is this really what Jesus had in mind when He spoke to the Jews in Capernaum that day? Or, was there something else He sought to convey to these Jews assembled with Him in the synagogue?
Let's not overlook the fact that when Jesus said, "Whoever EATS My flesh and DRINKS My blood" (vs. 54, 56), this is phrased in the Greek Present Tense. In other words, this is something He envisioned the Jews being able to do right then, and not something exclusively reserved for future disciples. This statement was clearly made prior to the shedding of His blood on the cross, and prior to the establishment of the new covenant church. Thus, the Lord's Supper had not been instituted. Nevertheless, He speaks of them needing to consume (Present Tense) His flesh and His blood. In John 6:58, when He informs the Jews, "The one eating this bread will live forever" (see also vs. 57), He once again uses the Greek Present Tense. Therefore, He was not necessarily looking to a future event, but simply describing what these Jews needed to accept right then. This, of course, would not have been the Lord's Supper. The use of "the present tense is noteworthy, since it refers to present possession and its continuance" (R.C.H. Lenski, The Interpretation of John, p. 492).
The Greek word translated "eat" (vs. 54, 56, 57, 58) is trogo, which means "to crunch, eat, take food, partake of a meal." The Greek word used in verse 53, however, is a different one. It is the word phagomai, which suggests a "devouring, consuming; a feasting upon." This particular word is used in the Aorist Tense, indicating something that occurs at a specific point. In other words, at some particular point, these Jews were to "devour" this divine Bread of Life. They were to "feast upon" the Faithful One of God. They were to consume the Christ; masticate the Messiah! Again, this was something they were to do then, and not a looking forward to the time of the Lord's Supper in the church of Jesus Christ. Such a forward look would have had no real spiritual significance for those Jews that day in Capernaum. Jesus obviously had a much more immediate meaning in mind.
The Greek word which is translated "drink" throughout the text of John 6 is pino. It means "to drink, imbibe." It should be noted that it appears as an Aorist in vs. 53, but in the Present Tense elsewhere in the passage. Thus, its grammatical presentation is consistent with that of its companion word "eat" (discussed above). "In the protasis the two verbs 'eat' and 'drink' are properly aorists, because only one act of reception secures life" (Lenski, p. 492). This would certainly tend to argue against a future event where this life must be time and again secured by some action (as per the Roman Catholic view of the Sacrament of the Eucharist).
As previously noted, our Lord's discourse that day in Capernaum was a difficult one for many of the Jews to digest. Indeed, it led to quite an argument among them. In John 6:41 we find them "grumbling about Him" because of His teaching that He was the Bread from heaven. However, in John 6:52 we discover this grumbling has become far more heated. "The Jews therefore began to argue with one another, saying, 'How can this man give us His flesh to eat?'" The Greek word that is used in vs. 52 "represents a more vigorous demonstration of their difficulties" with the teaching of Jesus than the Greek word employed in vs. 41 (Pulpit Commentary, vol. 17, p. 267). The problem was: their minds were simply not operating on the same spiritual plane as the mind of Christ; their focus was carnal. "Those who are carnally minded are apt to put a wrong sense upon the words of life, to their own undoing, yet the Lord does not alter His words to meet the moral difficulties present to their minds" (ibid, p. 280). The Jews "took literally the figure of eating His flesh. Unless one has spiritual perception, spiritual truth makes no sense whatsoever" (The Expositor's Bible Commentary, vol. 9, p. 77). The discourse of Jesus with Nicodemus (John 3) is another good example. Paul faced this same challenge with the Corinthian brethren -- "And I, brethren, could not speak to you as to spiritual men, but as to carnal" (1 Cor. 3:1), for "a natural man does not accept the things of the Spirit of God; for they are foolishness to him, and he cannot understand them, because they are spiritually discerned" (1 Cor. 2:14).
The incredulous Jews that day in Capernaum "seemed to be unable to rise above the natural. Our Lord's words were clear enough. But the sneering legalist exclaims, 'Eat His flesh!? It is absurd! How can a man give us His flesh to eat?!'" (Dr. H.A. Ironside, Addresses on the Gospel of John, p. 262). Bro. David Lipscomb wrote, "The Jews in the grossness of their nature could not perceive the spiritual truths and so murmured over the impossibility of the truths" (A Commentary on the Gospel According to John, p. 101). I like the way Bro. Larry Deason (a subscriber to these Reflections) stated it in his book: "The Jews, being contentious, are non-receptive toward Jesus and His teaching. They were evidently displeased with the whole sermon. Therefore, being the literalistic materialists that they were, they rejected Him and grumbled against Him. It was not the hardness of the discourse that caused the disciples to find fault; rather, it was the hardness of their hearts!" (That You May Have Life, p. 176-177).
Part of the difficulty these literalistic, materialistic, spiritually immature Jews had that day was somewhat understandable in light of the prohibitions of God's Law with respect to drinking blood or eating flesh in which the blood still remained. This was a practice absolutely abhorrent to them! Not perceiving the figurative nature of our Lord's discourse regarding the "flesh" and "blood," they naturally took His words to be literal, and in so doing totally missed the point He sought to convey by these very striking figures. There are at least seven passages in the Pentateuch alone which strongly condemn consuming blood --- Gen. 9:4; Lev. 3:17; 7:26-27; 17:10-14; 19:26; Deut. 12:15-25; 15:23. God makes it very clear in these passages that anyone who consumes blood will be "cut off from among the people." The consequences, therefore, were very severe! When this sin was committed, it had to be atoned for -- see: 1 Sam. 14:31-35. Such consuming of blood was perceived as a sign one had fallen from a relationship with God and turned to idols (Ezekiel 33:25). We see this abhorrence persisting even into the Christian era, with "abstaining from blood" being one of the decrees issuing forth from the Jerusalem Council in 50 A.D. (Acts 15:20, 29). Therefore, we can perhaps better understand why the Jews that day in Capernaum, taking the teaching of Jesus literally, were greatly offended, with some withdrawing from Jesus altogether and refusing to walk with Him any longer (John 6:66). Like too many unperceptive disciples even today, they had completely missed the point of Jesus' message, being much too disposed to legalistic, literalistic thinking.
This viewpoint of the Jews in Capernaum, believing Jesus to be referring to a literal consuming of flesh and blood, has actually been given a name in theological circles. It is characterized as the Capernaitic Mode, which false belief still persists among those disciples who believe that the literal flesh and blood of Jesus can be, and should be, consumed by His followers in some manner if they are to receive eternal life. Such a carnal perception eventually led to the much debated and denounced Roman Catholic eucharistic doctrine of Transubstantiation. For those readers who would like to trace this development in greater depth, I would refer you to Reflections #114 --- The Lord's Supper: A Brief Historical Overview.
Jesus, of course, was not referring to a literal eating of His actual body and blood. Such would have served no logical purpose, and would indeed have been abhorrent both to man and God. In marked contrast to any type of Capernaitic consuming of the flesh and blood of Jesus (which would include some forms of sacramentalism), our Lord's intent was a spiritual consuming of His flesh and blood. It is a consuming accomplished by faith. Martin Luther (1483-1546) wrote, "The eating and drinking is nothing but believing in the Lord Jesus Christ, who gave His flesh and blood for me. ... Therefore the eating is done with the heart and not with the mouth. ... Therefore you see plainly that these words are not to be understood of the Sacrament of the Altar." Actually, Jesus was simply seeking to convey to His hearers that day the glorious truth that by taking Him into their very being in an intimate way, they would become recipients of life itself. "'Eating and drinking' is the best possible figure to express the assimilation of one body by another, whereby life is transferred from the eaten to the eater" (Larry Deason, p. 177).
Jesus, in His Sermon on the Mount spoke of those "who hunger and thirst for righteousness," and stated they would be filled (Matt. 5:6). In John 7:37 He issued this invitation, "If any man is thirsty, let him come to Me and drink." Although water is the far more common substance for consumption given in such statements, the significance of blood in John 6 is clear. The life of the flesh is its blood (Genesis 9:4). "The life of the flesh is in the blood" (Lev. 17:11). Jesus uses all three of these words (life, flesh, blood) in His discourse to the Jews that day, and they should have made the spiritual connection. Jesus Himself was the bread sent from heaven that "gives life to the world" (John 6:33). Those who ate the manna in the wilderness later died, but this bread (i.e., Jesus: the bread of life) would bring eternal results. "I am the bread of life; he who comes to Me shall not hunger, and he who believes in Me shall never thirst" (John 6:35). Coming to Jesus in belief/faith is specified as the very means of satisfying this spiritual hunger and thirst. By faith they would consume the bread of life, and in so doing have life.
Some of the Jews had trouble with the figure of bread (John 6:41), and grumbled. But, when Jesus evolved His discourse from bread to flesh/blood, they went crazy (John 6:52). His point, however, was that in His human incarnation (having come in the flesh), the LIFE of mankind had come to dwell among them (John 1:4), and in His shed blood (His atoning sacrifice as the Passover Lamb of God) LIFE won the victory over death. Unless we make the reality of His life and death our own, we have no life!! Thus, the eating of the flesh and drinking of the blood of Jesus is simply to internalize the benefit of His life and death, making it a part of our very being! This is not done through eating the elements of the Lord's Supper (although such partaking symbolizes this reality to some degree), but is done by faith in Him. This active, obedient faith in Him, which motivates us to live for Him in our daily walk, submitting to His will for our lives, is not only personally transforming, but life-giving.
David Lipscomb wrote, "The germs of eternal life are implanted in the heart through faith in Christ Jesus. These germs need to be treasured and cultivated that they may bear fruit in the resurrection" (Lipscomb, p. 100). "To make His will our will and to live according to His will is to eat of His flesh and drink of His blood -- make His life our life. To do this is to eat His flesh and drink His blood" (ibid, p. 101). He summed it up this way: "Unless they made His life their life, they would have no life!" B.W. Johnson, in The People's New Testament with Notes, said, "The Bread of Life, our Crucified Lord, is appropriated (eaten, made our own) by faith" (p. 352). Dr. H.A. Ironside observed, "To eat of the Bread of life is to receive Him in faith. When we recognize in faith that His precious blood poured out on the cross has atoned for our sins, then we are eating His flesh and we are drinking His blood. As we feed in faith upon the body and blood of Jesus Christ, we lose our appetite for everything that is unholy. That same precious body and blood will be our meat and drink through all the days to come, and when we get to yonder glory we shall still be occupied with Him, the Lamb that was slain" (p. 264-265).
"As eating and drinking receive food to be assimilated in the body, so believing receives Christ with the atonement made through His sacrificial flesh and blood. But the figure is less than the reality, for bodily eating only sustains life already present, while spiritual eating (or believing) expels death, bestows life, and sustains that life forever" (Lenski, p. 494). "To eat and to drink means to be spiritually joined to Jesus, the Son of Man. Our souls embrace Him and His sacrificial death in faith and trust, and He embraces us" (ibid, p. 496). "Eating and drinking denote the reception of this death and sacrifice by faith" (ibid, p. 497). "It is a figure of belief, for no one will eat what he cannot trust to be edible. To eat a meal implies that it is nourishing, wholesome, and real. This verse introduces the concept of Jesus' vicarious death, the sacrifice of His body for the sins of the world" (The Expositor's Bible Commentary, vol. 9, p. 77).
"The life of Christ is the nourishment of the real life of man. ... 'Eating of the flesh,' then, would mean acceptance of His humanity, of the manifestation of the eternal love in the Son of Man; and 'drinking His blood' would mean entire mental assimilation also of the terrible culmination of His mission in violent, sacrificial death. ... The 'eating' and 'drinking' are therefore phrases which portray the very intimate and very close form of that contact with, and dependence upon, the incarnation and the sacrifice of the Son of God. ... This life is received through faith. Our Lord uses the terms 'eating His flesh' and 'drinking His blood' as interchangeable with believing in Him" (The Pulpit Commentary, vol. 17, p. 281).
Is there any connection at all with this teaching of Jesus in John 6 and our present observance of the Lord's Supper; the eating of the bread and the drinking of the fruit of the vine? If there is, it is ONLY in the most remote possible sense. Yes, we do eat the bread and drink the contents of the cup in remembrance of His sacrificial giving of His flesh and blood at Golgotha, but these repeated reminders of His gift in no way impart LIFE to the participants, but rather are memorial celebrations by those already possessed of that LIFE by having consumed Christ by faith. "There is no hint that Jesus was at this point instituting a sacrament or that the celebration of the Eucharist carried with it intrinsic saving power" (The Expositor's Bible Commentary, vol. 9, p. 78). "We must now answer the question whether this discourse deals only with the spiritual eating of faith, or with the oral sacramental eating in the Lord's Supper. We reply: only with the former" (Lenski, p. 502). "It is inconceivable that Jesus should urge upon these unbelieving Galileans a sacrament not yet instituted and urge upon them the sacramental eating of which no one could know until the institution had taken place" (ibid). Dr. Ironside correctly noted in his book, "Sacraments do not give life!" (p. 264). Adam Clarke declared, "This can never be understood of the sacrament of the Lord's Supper" (Clarke's Commentary, vol. 5, p. 563), even though this has been the official interpretation of the Catholic Church for centuries. "From the time of the synodical epistle of Pope Innocent I (417 A.D.), the Latin Churches have interpreted the passage, 'Except you receive the Eucharist, you have no life in you'" (Pulpit Commentary, vol. 17, p. 268).
"Our Lord does not, as some imagine, refer here to the Lord's Supper, (1) because this ordinance had not then been instituted, and the Jews could not possibly have understood His reference to it; (2) because it is not true to say that every one who partakes of the Lord's Supper either has or shall have eternal life; (3) and Roman Catholics, who insist upon this interpretation of the text, are not consistent, by denying the cup to the laity, though 'drinking His blood' is expressly declared to be as essential to life as 'eating His flesh'" (ibid). For the sake of accuracy, however, it should be noted that in recent years the cup has been restored to the laity in many places. Also, many Catholic theologians will insist that the partaking of either bread or wine has the power to impart the grace of life. Nevertheless, I believe those who view John 6 as supportive of a sacramental eating and drinking in the Eucharist are mistaken.
As an interesting side note, archaeologists have identified Tell-Hum as the site of ancient Capernaum. In their exploration of that site (photos of which may be found on the Internet), the ruins of an ancient synagogue have been found and excavated. This may well have been the very synagogue where Jesus had the above discourse with the Jews. To make it even more interesting, a stone block was found in the synagogue upon which was engraved a pot of manna. Jesus and these Jews might literally have had this carving in their view as He spoke that day of the manna in the wilderness, and how HE was now the Bread of life come down from heaven! It is my prayer that some that day perceived the spiritual significance of His message ... and that disciples of Christ today, as well as all genuine seekers, may perceive the need to eat the flesh and drink the blood of God's precious, beloved Son in simple, trusting faith, for "he who eats My flesh and drinks My blood has eternal life, and I will raise him up on the last day" (John 6:54).
********************
Down, But Not Out
A Study of Divorce and Remarriage
in Light of God's Healing Grace
by Al Maxey
ISBN: 1-4137-8993-5
Order Your Copy Today From
The Publisher: (301) 695-1707
Also Available Thru: Amazon.com, Borders,
Barnes & Noble, Grace Centered Magazine

********************
Reflections from Readers
From a Reader in Texas:

Bro. Al, I have just read your book Down, But Not Out, and it is a real jewel; an excellent book indeed; a virtual reference book on the subject. The chapter on the meaning of the Greek words is especially outstanding and very useful. I wish that I had the financial resources to put it into the hands of every Christian!! I do want to order two more autographed copies from you, however; one for my son and one for my grandson. My grandson has just moved to Texas for his first local preaching work. Thanks! I'll have the check in the mail today.
Thank you for this order, brother, and also for your encouraging words about my book. From the emails, letters, and phone calls I'm receiving, and also from what I am hearing through the "grapevine" about sales through the publisher, and through various book stores and outlets, it appears to be doing well. I have also been informed that Down, But Not Out is being sold by book dealers and distributors in England, France, Italy, Germany and several other nations as well. What has truly thrilled me is that it is being received by a great many more than just those in Churches of Christ. Many are perceiving this work for what it truly is: simply a non-partisan presentation of the biblical evidence, spotlighting God's marvelous grace to heal. I was informed, for example, that a Methodist church here in New Mexico has ordered a large quantity of the book to be used in its own divorce recovery program. Others are ordering it for their church libraries, or to distribute to the members as a text for upcoming Bible classes on the topic of MDR. Several of you are ordering the book to give as Christmas presents. A lawyer practicing in one of the southern states is using it as an aid in his work with those who come to him seeking a divorce. A prison minister informed me that he is using the book in his work with the state prison where he serves to assist in the healing of inmates and their families. I just pray that this work will, in some small way, be utilized by our heavenly Father to help facilitate the healing of those who are down, but not yet out! May God bless it to this end, and to His glory. --- Al Maxey
From a One-Cup Minister in Missouri:

Brother Al, I am through with our legalistic fraternity! My focus now is to preach Jesus to the lost and reconcile myself to my brothers and sisters from whom I have been estranged for too long due to my blindness caused by this wretched system I was in! Thank you!!
From a Reader in Mississippi:

Dear Bro. Al, Thank you so much for your ministry! You have encouraged me to leave legalism, and to embrace God's grace, by your teachings, as have the teachings of certain others in my life, as well. The Churches of Christ have struggled so much with legalism over the years. Keep up the good work, and God bless you in your ministry! Anyway, I was reading your article "Born of Water and Spirit" (Issue #212), and I was really encouraged by all of your analysis of the passage. I will go back and study it again as I have time. Love you, Al! Keep up the great work!
From a Minister in California:

Dear Brother Al, Thanks so much for your work on the article about selection of shepherds. As others have said, you brought up a number of points I'd given very little thought to in the past. My grandmother used to get up about 4 a.m. and study her Bible for three hours before cooking breakfast. She was quite a scholar. Probably 35 years ago, when discussing this with me, she said those who are gifted as shepherds are shepherding people in the church already ... with or without the title of "elder." The process of selecting elders was simple (and you stated this in your article) -- just recognize the men among you who are already filling the role of shepherd. There is so much wisdom to that approach, but it seems far too simple for our fellowship. I think the underlying issue has a lot to do with our wanting to control the process that rightfully belongs to the Holy Spirit. I hope you have a wonderful Thanksgiving holiday period.
From a Doctor in Alabama:

Bro. Al, Thank you for taking great care to present sound scriptural arguments for the positions you take, while also giving other perspectives a fair hearing. When you are forced to point out and correct error, you do so with meekness and respect. You seek to gently persuade through reason and scriptural evidence, rather than trying to browbeat others into submission. Even on the rare occasions when I disagree with you, I still have the utmost respect for you because of your attitude -- even your harshest words are "seasoned with salt." Attitude matters! When will the ultra-conservatives learn that you can't save anyone by throwing stones at them?! Don't they realize they are just driving people farther away? I hope you and your family have a wonderful Thanksgiving. Of the many blessings I have to be thankful for, your Reflections rank pretty high on the list. The work you do is greatly appreciated. Have an extra slice of pumpkin pie -- you've earned it!!
From a Reader in Colorado:

Brother Maxey, I really enjoy reading your web site and its excellent studies. Our congregation is currently seeking new elders and deacons, and I have really appreciated your Reflections articles on these subjects lately.
From a Reader in Texas:

Brother Maxey, After going through this elder selection process, the biggest problem I have seen is the average member does not really get involved in it. The qualifications of an elder go much deeper than the Scriptures. The check list is a guideline. A person can look qualified, yet be controlling at home or insensitive to his wife. At church, though, he is on his best behavior. Then when he becomes an elder it gets much worse. I have experienced this in my own family -- the attitude of two controlling elders spiritually impacted all my children, one of whom no longer attends the Churches of Christ. My point is simple -- when members sit on the sidelines and don't get involved in the selection process, families will suffer. It's imperative that the right men with the right heart are chosen.
From a Minister in Kentucky:

Good thoughts, Bro. Al. At the end of your article on shepherd selection, you mentioned giving the congregation a period of time to address any Scriptural concerns regarding someone put forward as an elder. I agree, but I think I would take it one step further. I once heard an elder say that if any of the members of the congregation have a Scriptural objection about some man put forward to serve, then those members should raise those objections with the future elder present to hear them. If the members aren't willing to do this, then that elder said the objections don't get heard. I like that!
From a New Reader in New Mexico:

Al, Please add me to the distribution list for your Reflections series! I ran across one of your past entries titled "Not Inclined to Immerse" (Issue #176) as I was looking for various viewpoints on the Internet. I started reading the article with a good dose of skepticism, expecting to find it only interesting enough to warrant a scan. I ended up reading the entire article. Then I came to the end and started reading the comments by your readers, only to find the Church of Christ mentioned several times. Then I realized the article is from a Minister/Elder of the Churches of Christ. Imagine my surprise! I grew up in a small Church of Christ; quite near Alamogordo, in fact. I just wanted to let you know that I appreciate the effort you have put into modern day studies which have the ability to challenge, yet not condemn, tradition.
From a Reader in Georgia:

Bro. Al, I just finished reading your last article -- Shepherd Selection. Al, I believe that one is one of the very best you have written. It was excellent. I especially liked your concluding remarks. Although I support the idea of elders appointing elders, I agree that there is real danger in an eldership perpetuating itself. I also really liked your perspective about elders needing to be looking for more elders. Unfortunately, too many elderships typically wait until their number drops to some critical level before they start looking. I have wondered for some time why an eldership does not have a training program for potential elders. You tangentially touched on such with your thought about putting candidates into leadership roles to see how they performed and how the people responded to them. That was really good! I completely agree that potential elders should already be filling the role even without the "formal title."
From a New Reader in New Zealand:

Firstly, would you sign me up to receive your Reflections?! As the email address will indicate, I am a Pastor here in New Zealand. I have just discovered your Reflections (thanks to "Google"), as I did an Internet search for ideas for "the woman caught in adultery," and appreciate your insights on this (Issue #104). I went back to look at a couple more of your articles from your archives and discovered the one you had done on the movie Chocolat (Issue #198). I also was impressed by this movie, and have used it for a youth group movie night. The discussion that followed our showing of the movie was one of the best we have had. I focused the evening on Matthew 23, where Jesus berates the religious order for their apparent holiness when they do not act in accordance with God's will, etc. It was an incredible session, and while my adult leaders focused on issues of disparity with the story, like how an unwed mother could not represent Christ, the teens found many parallels with Jesus' message, and really gained a lot from the evening. In spite of the flack I received from a couple of parents for using this movie, it was well worth it. The young people bought into the whole message better than any sermon or talk could ever have done.
********************
If you would like to be removed from or added to this
mailing list, contact me and I will immediately comply.
If you are challenged by these Reflections, then feel
free to send them on to others and encourage them
to write for a free subscription. These articles may all
be purchased on CD. Check the ARCHIVES for
details and past issues of these weekly Reflections:
http://www.zianet.com/maxey/Reflect2.htm