HOT TWISTED LOVE!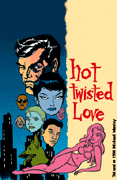 48 pp, b&w
$2.95 US
$4.25 Canada
Mature readers

What do cartoonists know about "love," you ask? Plenty, Baby! They have loved more women, drunk more booze, smoked more cigs, broken more hearts, and told more tales than any 10 Navy Seals put together!
Mike Manley has again gathered some of comicdom's best. Their soft pink hands have once again labored hard to bring you torturous and titillating tales from the heart by:
Mike Manley, Bill Wray, Hilary Barta, Kieron Dwyer, Dave Cooper, Bret Blevins, Mike Vosburg, Pete Krause, Jason Armstrong, Richard Howell, Chris Garbutt, Nick Bertozzi, John Heebink, Phil Hester, Ande Parks, Scott Cohn, and Ricardo Villagran. Buy one for your sweetheart!