the Collection of the Geode Kid
A Short History of the Collection at
the Basin Range Volcanics Geolapidary Museum: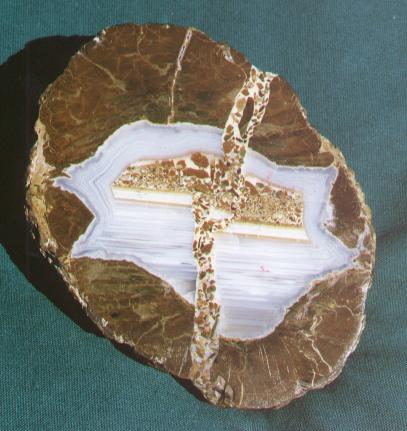 Our collection of thundereggs (lithophysae) is the largest and most complete, for variety of locations, in the world. The quality of the specimens displayed are the best from each location, selected from tens of thousands we have cut over 46 years of collecting. Over 100 locations of flawless specimens show how different each are from one another, so much so that a seasoned collector can identify, by sight, exactly where each egg came from.

---

Split and shifted by earth-faulting, this specimen was completely recemented with silica.

---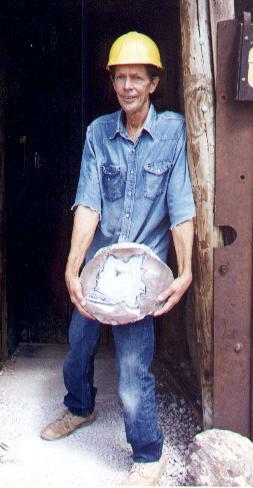 I started collecting for variety of locations when, at age 15, I noticed that each deposit produced thundereggs uniquely different from site to site, and sometimes at different points in a single deposit. Through the years, I and my partner, Christopher Blackwell, researched geologic maps in college libraries nearest the areas we planned to prospect. By knowing the formations thundereggs occur in-- the presence of rhyolite as an immiscible component in perlite-- we greatly enhanced the success of our prospecting.

---

A large lithophysa from the Never Again Mine, Deming, New Mexico.

---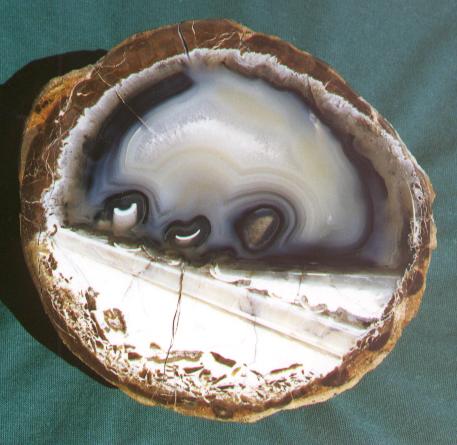 The collection of the Geode Kid has been donated to the world-class Deming Luna Mimbres Museum in downtown Deming, New Mexico, so as to guarantee, in perpetuity, the educational context in which it is organized.

---

Diastrophic event recorded as an angular unconformity in the opal layers of this specimen from Rockhound State Park, near Deming, New Mexico.

---







Contents:
Home-page of the Basin Range Volcanics Geolapidary Museum
What Are Thundereggs (Lithophysae)?
Where To Find Thundereggs (Lithophysae)
How To Dig Thundereggs (Lithophysae)
How To Determine Proper Orientation for Successful Cutting
Baker Thunderegg Basics
Where To Find the Basin Range Volcanics Geolapidary Museum and Rockshop

---

You can e-mail us at
geodekid@zianet.com

You can snail-mail us at
Basin Range Volcanics Geolapidary Museum
6235 Stirrup Rd SE
Deming, New Mexico 88030

---
---

For more information,
please refer to my book, The Formation of Thundereggs
by Robert Colburn, aka "Paul, the Geode Kid."

---
This web page was created by Carlton J Donaghe and Bill Boomhower
All contents copyright © 1997 Robert Colburn. All rights reserved.