What Are Lithophysae ?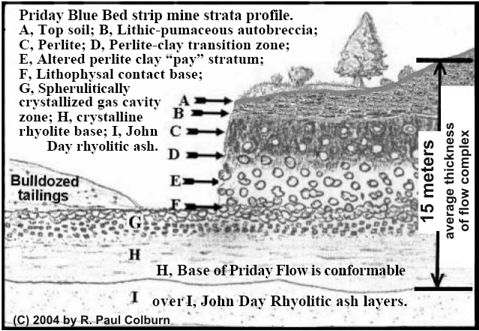 Commonly known as thundereggs, the geologic word for the name of this species of nodule is lithophysae (Greek for "rock bubbles"). In Germany and France, the term is spelled lithophyses. This species of nodule only occurs in rhyolite-perlite lava flows and domes. Lithophysae are spherulites that happened to develope gas cavities wherever the external pressure was low enough to allow dissolved gas to expand a cavity. Spherulites (solid rhyolite nodules) are considered duds by miners and collectors and are discarded.
The glassy perlite that they formed in decomposes to kaolinite and /or other clays when it loses alkali and silica. Spherulites and lithophysae are hardened by the silica (weathered from the perlite). Aqueous solutions of silica are carried to the cavities and deposited as agate, quartz, and sometimes common opal or jasper.
There is a common error of terms among collectors and rockhounds. Somehow, thundereggs became a word that meant solid nodule. Although geode does mean a hollow nodule, thundereggs can be either solid or hollow. Thunderegg is an American Indian name. The Indians believed that these nodules were missiles cast by the Thunder Gods living in the volcanoes of the Cascade Mountains in Oregon. Thundereggs can be solid or hollow, and if they are hollow, then they can correctly be called geodes.
Thundereggs are only found in rhyolitic lavas. As an illustration of different species of nodules, there are also the famous Brazilian agates. These are amygdaloids, which form in gas cavities in andesitic and basaltic lavas. Amygdaloid means almond-shaped. Many are round or teardrop-shaped. They do not have a rhyolitic shell like thundereggs. There are also sedimentary nodule species know as septarian nodules or concretions.

---

The gases initially coalesce near the center, then follow the radial crystallization pattern outward, forming a star-shaped core.




The progressive stage in the opening of a cavity in lithophysae is captured in these specimens, as controlled by the pressure of depth in the deposit from which they came.






From above left, at 8 feet deep, no cavities can develop. To its right, the specimen at 7' degassed to form a small crescent. From there, the specimens were dug from 6', 5', 4', 3', 2', and at the surface.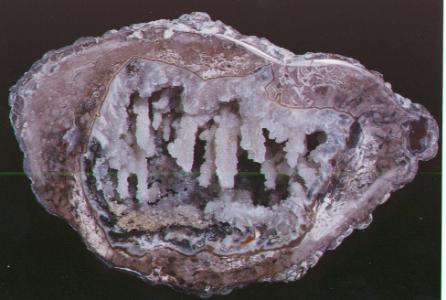 Over millions of years, the deposit is exposed to weathering and diagenesis-- the breaking down of the perlite to clay and silica. The silica is transported to the cavities within the waiting lithophysae, and is deposited as opal, agate, and/or quartz. If these nodules fill only partially, leaving a cavity, they-- like any hollow nodule-- are called geodes.

---



Contents:
Home-page of the Basin Range Volcanics Geolapidary Museum
Where To Find Thundereggs (Lithophysae)
How To Dig Thundereggs (Lithophysae)
How To Determine Proper Orientation for Successful Cutting
The Collection of the Geode Kid
Baker Thunderegg Basics
Where To Find the Basin Range Volcanics Geolapidary and Museum and Rockshop

---

You can e-mail us at:
geodekid@zianet.com

You can snail-mail us at
Basin Range Volcanics Geolapidary Museum
6235 Stirrup Rd SE
Deming, New Mexico 88030

---
---

For more information,
please refer to my book, The Formation of Thundereggs
by Robert Colburn, aka "Paul, the Geode Kid."

---
This web page was created for the Geode Kid by Carlton J Donaghe and Bill Boomhower
All contents copyright © 1997 Robert Colburn. All rights reserved.