Where to find Lithophysae: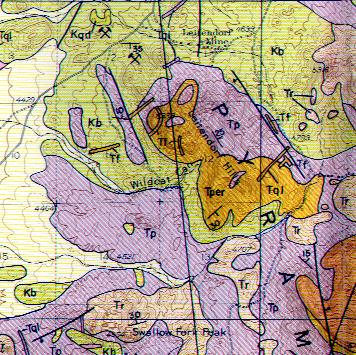 Lithophysae are only found in perlite or its decomposed clay product. Perlite often has a cogenetic rhyolite associated with it, which is essential when using geologic maps. A geologic map is usually a topographic map with an overlay of various colors used to indicate different rock formations. The legend boxes at the side of the maps provide short descriptions of the formations that correspond to the matching colors.

---

Excerpt from the Pyramid Mountain, New Mexico, map, located near Lordsburg, NM.

---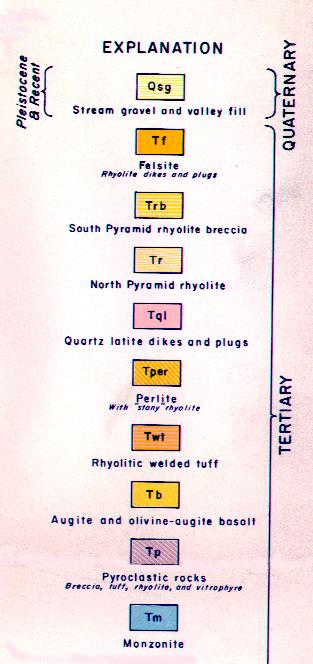 For example, when searching for lithophysae, we know that they occur in rhyolite deposits, so go first to the legend boxes. Look for the rhyolite first. Some maps lump all types of rhyolite as one. Better maps will indicate types of rhyolite, whether they are ash, tuff, or flow rock, with the latter being the best refinement. A few will even indicate perlite, and these are the absolute best. Letters below the legend boxes will read, for example, "Tvr," which means "Tertiary volcanics, rhyolite." Tertiary refers to the age of the rock, an age at which almost all collectible lithophysae occur.
Above and left are examples of a geologic map excerpted from the Lordsburg, New Mexico quadrangle.
Note that "Tper" in the legend box at left is a Tertiary perlite, which indicates an excellent site to prospect for thundereggs.
Geologic maps are usually found, some for sale, in the libraries of any major college of the state you are in, or by ordering a catalog of maps from the very fine people at the U.S.G.S. at 1-800-HELP MAP or 1-800-USA MAPS.

---
Legend from the Pyramid Mountain, New Mexico, map

---

Contents:
Home-page of the Basin Range Volcanics Geolapidary Museum
What Are Thundereggs (Lithophysae)?
How To Dig Thundereggs (Lithophysae)
How To Determine Proper Orientation for Successful Cutting
The Collection of the Geode Kid
Baker Thunderegg Basics
Where To Find the Basin Range Volcanics Geolapidary Museum and Rockshop

---



You can e-mail us at
geodekid@zianet.com

You can snail-mail us at
Basin Range Volcanics Geolapidary Museum
6235 Stirrup Rd SE
Deming, New Mexico 88030

---
---

For more information,
please refer to my book, The Formation of Thundereggs
by Robert Colburn, aka "Paul, the Geode Kid."

---
This web page was created for the Geode Kid by Carlton J Donaghe and Bill Boomhower
All contents copyright © 1997 Robert Colburn. All rights reserved.