REFLECTIONS
by Al Maxey
Issue #259 ------- August 3, 2006
**************************
The church: it is eminently the timid
institution, and the heads and pillars
of it are constitutionally and by principle
the greatest cowards in the community.
Henry David Thoreau (1817-1862)

**************************
Churches of Christ in Crisis
Reflecting on a Movement's Decline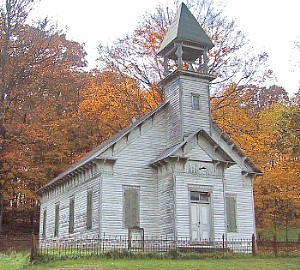 To the extent that what Henry David Thoreau says is true, and I fear that in far too many cases his harsh characterization of a community's Christians is "spot on," the inevitable result is ineffective ministry and declining membership. The apostle Paul declares the church of God to be "the pillar and support of the truth" [1 Tim. 3:15]. The first of these two words -- Greek: stulos -- describes a strong, stately pillar, like the massive, ornate columns one sees upholding the ancient Greek and Roman temples. They are designed to last; to endure the ravages of time; to be immovable. To those who overcome, the ascended Jesus promises: "I will make him a pillar in the temple of My God, and he will not go out from it anymore" [Rev. 3:12]. James, Cephas and John were regarded as pillars of the Lord's church in Jerusalem [Gal. 2:9]. The second word -- Greek: hedraioma -- simply refers to a firm foundation. Whereas many build upon shifting sand, the people of God must build upon the solid rock (firm foundation) of Jesus Christ. Then, when the storms of life come against them, they will remain standing [Matt. 7:24-27]. "According to the grace of God which was given to me, as a wise master builder I have laid the foundation, and another builds on it. But let each one take heed how he builds on it. For no other foundation can anyone lay than that which is laid, which is Jesus Christ" [1 Cor. 3:10-11]. Although some will viciously attack Truth, or simply fail to uphold it in the face of such attacks, "nevertheless, the firm foundation of God stands!" [2 Tim. 2:19].
If the Lord's church proves to be "timid" in a community, as Thoreau suggests, it is no better than a covered lamp or tasteless salt, and "is good for nothing anymore" [Matt. 5:13]. "For God has not given us a spirit of timidity" [2 Tim. 1:7]. This is the Greek word deilia, which speaks of a cowardly, fearful, easily intimidated person; one who continually cowers in the face of opposition or some great challenge. Jesus, in John 14:27, commanded, "Let not your heart ... be fearful" (same root word). Rather, we should "speak the word of God with boldness" [Acts 4:31], even praying for such a spirit of confident witness [vs. 29]. The apostle Paul urges his brethren, "Pray for me, that utterance may be given to me, that I may open my mouth boldly to make known the mystery of the gospel ... speaking boldly, as I ought to speak" [Eph. 6:19-20]. There is absolutely no place for cowardice in one's daily walk with Christ Jesus. Indeed, for the cowardly there is but one ultimate fate -- "The cowardly (same root word as above), unbelieving, abominable, murderers, sexually immoral, sorcerers, idolaters, and all liars shall have their part in the lake which burns with fire and brimstone, which is the second death" [Rev. 21:8].
As initially noted, failure of the church to rise to the challenges before it will inevitably lead to evangelistic ineffectiveness and spiritual infirmity. The body will become atrophied; it will waste away, becoming little more than an irrelevant enigma within its own greater environs. The church of our Lord Jesus deserves a better fate than this. Yet, in too many locations, the church is very clearly in decline. This is seen throughout the many faith-heritages of Christendom, with some more affected than others, and Churches of Christ are no exception. Our movement too is experiencing an alarming attrition rate; a wasting away of its human assets. Many lament this condition, often wringing their hands in despair. Preachers are often removed and replaced at an alarming pace, all under the assumption that the decline is their fault; "the church would grow if they were doing their job." Others seem simply resigned to this "new reality;" hoping to cope and awaiting some miraculous rebound. Bro. W. N. "Bill" Jackson, just by way of a singular example, placed an article titled "Preparing for a Smaller Brotherhood" in the April, 1990 issue of The Christian Worker. The title really says it all. Although we must be realists, we must never become defeatists.
Realistically, we, the children of God, know that as the end draws ever nearer the effectiveness of the church to impact the world about it will diminish, and the numbers of those who are willing to remain faithful and true in the face of tribulation will decrease dramatically. Scripture foretells this very plainly, but perhaps nowhere quite as stunningly as in Revelation 11. Prior to the Parousia, Satan is released and the powers of this present darkness assert themselves ever more ominously throughout the earth. As the darkness intensifies, the elect of God experience increasing distress. The forces of evil appear to be triumphing, and Rev. 11:4f portrays a world filled with rejoicing over the apparent demise of those godly witnesses who had spoken out against their godless excesses. Jesus Himself alludes to the fact that were He to delay His return too long, few if any would be left for Him to claim [Matt. 24:22]. Therefore, the question has been asked repeatedly by the people of God, "When the Son of Man comes, will He find faith on the earth?" [Luke 18:8]. The answer, of course, is an emphatic Yes. The people of God, the church, will still be here; "the gates of Hades shall not overpower it" [Matt. 16:18] ... and yet, it will evidently be only a remnant that remains. Therefore, we perceive the necessity to unite as One Body in Jesus Christ, to live in loving harmony with our spiritual siblings, to encourage one another daily, stimulating one another to love and good deeds, and to hold fast the confession of our hope without wavering ... "and all the more, as you see the day drawing near" [Heb. 10:23-25].
Is the Lord's One Body in decline at this point in time and history? Well, that depends upon one's focus. Numerically? -- yes, the church is in decline (and by the term "church" I refer to all God's redeemed ones the world over, not just the membership of any one faith-heritage exclusive of all others). This decrease in the number of those willing to live for Him, however, is no real surprise to students of the Word. Such diminishing of genuine faith upon earth, not just a professed faith (which is shallow and worthless), has long been prophesied. We today are simply seeing its fulfillment. Spiritually? -- It is my conviction the Lord's One Body is experiencing an increase of "upward mobility." His people, though decreasing in number, are increasing in the strength of their faith and devotion. The remnant in Christ Jesus, at His return for them, may accurately be described as being: In Quantity: LOW ... In Quality: HIGH.
Prior to receiving my Master of Arts degree in April, 1976, I was required to go through a series of written and oral exams that lasted several days. Everything I had studied, both as an undergraduate and as a graduate student, was "fair game" for this extensive examination. I remember one of my written questions, which came from an Associate Professor of Theology at the state university I attended, was as follows: "Under which condition does the church grow best: within a permissive society or an afflictive society?" I chose the latter. During my oral exam [which took place in a small room with about a half dozen of these professors, including the Chairman of that Review Committee, who is a subscriber to these Reflections and a dear friend and mentor] the prof who had asked the above referenced question informed me I had answered incorrectly; he then asked why I had answered as I had. I said the issue really revolved around what one meant by the "growth" of the church. If one meant numerical growth (which the professor did, but did not clarify in his question), then my answer was not correct. If, however, one understood "growth" to refer to spiritual increase, then, I argued, my response was valid. He agreed, and amended my score.
Thus, whether one regards the church today to be decreasing or increasing is largely a matter of personal perception and focus. In reality, it is doing both. Though we would all like to see greater numerical growth, we must realize that the numbers are in God's domain. Our responsibility is to be faithful to our calling, striving to grow in faith. If we do, God will bless us. That may be with increased numbers; it may not be. Either way we are blessed. "So the churches were being strengthened in faith, and were increasing in number daily" [Acts 16:5]. Our focus should always be on the former, while leaving the latter to God. If numerical increase is His intention, it will happen. If not, it won't. Let's not "whittle on His end of the stick," as an old-timer once wisely advised me. The apostle Paul summed it up well, stating, "I planted, Apollos watered, but God was causing the growth" [1 Cor. 3:6]. In the early years of the church's existence, God brought about a phenomenal growth; this young plant grew up and filled the earth. In the last days, however, He has informed us that when the testimony of His witnesses has accomplished the purpose He intended, He will release Satan for his "little season," and the church will be ravaged. "The beast that comes up out of the abyss will make war with them, and overcome them and kill them. And their dead bodies will lie in the street ... And those who dwell on the earth will rejoice over them and make merry" [Rev. 11:7-10].
Brethren, let us NOT become discouraged over what we are witnessing in the world today. We were long ago warned of it by our Lord. It is not going to be pleasant, but we are already "more than conquerors through Him who loved us" [Rom. 8:37]. Hear the words of Jesus -- "In the world you will have tribulation, but take courage; I have overcome the world" [John 16:33]. In light of such promised affliction, but in view of such comforting assurance, this ought to motivate us to greater faithfulness. Peter, as he looked to the end, had these words of advice: "Since all these things are to be destroyed in this way, what sort of people ought you to be in holy conduct and godliness, looking for and hastening the coming of the day of God. ... according to His promise we are looking for new heavens and a new earth, in which righteousness dwells. Therefore, beloved, since you look for these things, be diligent to be found by Him in peace, spotless and blameless, and regard the patience of our Lord to be salvation" [2 Pet. 3:11-15]. The church universal is being afflicted; the beast is unleashed upon it. However, a bright new day is about to dawn. Take courage; be ever faithful; the victory is already won! "And after the three and a half days the breath of life from God came into them, and they stood on their feet; and a great fear fell upon those who were beholding them. And they heard a loud voice from heaven saying to them, 'Come up here.' And they went up into heaven in the cloud, and their enemies beheld them" [Rev. 11:11-12]. Satan's celebration is only for a season; the celebration of the saints will be forever!
Up to this point, our focus has been upon the universal One Body of God in Christ Jesus: His precious, blood-bought church. As I have pointed out many times over the years in my teaching, this entity should not be perceived as consisting of a loose conglomeration of groups, nor does any one of those groups have the right to regard itself as being "in its earthly fullness" (a statement I have actually heard) the "one, true church" to the exclusion of all other groups. The universal One Body is made up of redeemed individuals who are simply and only in Christ Jesus. Those who are united with God's Son have been numbered together with all others who are also united with Him -- they are numbered together in a body of believers known to us as "the church." There is only "one body" [Eph. 4:4], and it is the Lord's, not ours. It is this church of which we have been speaking thus far.
Not all within the One Family are identical in every respect, however. Brothers and sisters quite frequently are dissimilar. They at times have differing preferences and perceptions. Sometimes, one may actually enjoy something that another may not. One disciple may be convicted that eating meat that had been previously offered to an idol is unacceptable to God; another disciple may have no problem with such meat whatsoever. One may regard one day above another, and yet have a spiritual sibling who regards every day alike. One may prefer a cappella, another may have no problem with instrumental accompaniment. Sister White may believe the fruit of the vine should be fermented and should be consumed from a single cup, whereas Sister Black may feel unfermented grape juice in multiple containers is perfectly acceptable. Brother Gray may regard Sunday School as an unnecessary innovation, while Brother Green feels it is a vital aspect of the work of the church. And on and on and on and on. The reality is: You don't have to be my twin to be my brother. We are still One Family if we are sons and daughters of the Father. Therefore, there are local assemblies of disciples throughout the world that may differ dramatically from one another in hundreds of particulars of personal preference and practice, and even in traditions of their faith-heritage. There is nothing wrong with this as long as we don't allow these differences to divide us.
Unfortunately, that is exactly what we have done! The One Family of God has, over the centuries, been fragmented into many hundreds of squabbling sects, each of which have further fragmented into countless feuding factions. Each one of these, to their eternal shame, have then tended to arrogantly declare themselves, and their group alone upon the face of the entire planet, to BE the fullness of that "One True Church." This sad separation of siblings into sectarian camps has truly been one of Satan's greatest victories over the church! That we perpetuate it is to our eternal shame! The solution is NOT to force a merging of all these many groups within Christendom into ONE massive group with uniformity of practice and perception; rather, the solution is to bring the individual members of God's scattered family to the realization that our unity, harmony and oneness is to be found in a Person, not a pattern. It's okay to be different; it is NOT okay to be divided. It is okay to worship together with those who share our particular convictions; it is NOT okay to condemn those who do not. Frankly, dear brethren, we ourselves are proving to be some of Satan's greatest helpers in bringing about the decline of the universal church of Jesus Christ, and this we do by evidencing a sectarian spirit. Brethren, we can do much better than this! We must do better than this. Time is growing very short; His return is near. Thus, in the words of Peter, What sort of people ought we to be?! How we each answer that may well determine our eternal destinies.
I am a resident of New Mexico, but my citizenship is in the United States of America. Being a part of the former does not exclude me from inclusion in the latter. I'm sure the other states in the Union are very nice. In fact, I have lived in some of them, and traveled in most. But my preference has always been for the Land of Enchantment -- New Mexico. Does that make me better than those who reside in Texas? New York? California? Of course not. We're different in many ways; our cultures and traditions differ; even our accents when we talk vary dramatically. However, we are One Nation Under God. It would be the epitome of folly for me to say, "New Mexico IS that One Nation in its fullness and entirety!" You'd laugh in my face if I made such a statement. And I would deserve your scorn! Patrick Henry, one of our early, distinguished patriots, in a speech at the First Continental Congress (Philadelphia, October 14, 1774), stated, "I am not a Virginian, but an American." What was he saying here? Yes, he was indeed a Virginian; he was from Virginia, after all. However, this man wanted people to know that his citizenship was broader than just a particular part of the whole. He was not just a Virginian, he was also, and more importantly, an American.
It literally thrills my heart to hear someone addressing the diverse elements of our One Nation by beginning with these words, "My fellow Americans." Red, yellow, black, white; cowboys and corporate executives; valley girls and Bostonian debutantes; north and south; Republicans and Democrats ... in spite of countless differences, we are still "One Nation Under God." I love New Mexico and will work to improve my state, just as you might for Utah or Tennessee. Love for one's heritage does NOT invalidate one's citizenship in that One Nation. Brethren, my association is with the historical group known as "Churches of Christ." This is my religious heritage, and I am very much in love with my brothers and sisters in this fellowship of believers. However, my true membership is in a Body much vaster than any one particular group sharing a particular history and certain traditional practices and perceptions. My membership is in the One Body universal; the One Church of our Lord Jesus Christ. I am a member of that great One Body, but I labor with that segment of Christendom, that faith-heritage, known as Churches of Christ. I personally do not equate the latter with the former, as too many of my brethren seem to do.
I have said all of that to say this -- I am deeply in love with the fellowship with which I have been associated all my life. My parents are within the Churches of Christ, as were their parents. My dad is an elder in Colorado. Both of my grandfathers were elders. My wife's family are part of this same heritage. Her dad was an elder for many years. I truly care about these people among whom I have freely chosen to remain and work. Their challenges are my challenges; their hurts, my hurts. Like many other fellowships within the Body of Christ Jesus, Churches of Christ are also experiencing a decline. The causes may vary somewhat from group to group, but all are being challenged to some degree. Thus, whereas some causes and solutions may be the same for various faith-heritages, some will clearly be unique to each individual fellowship. Churches of Christ are in decline. Although some congregations are clearly prospering, for which I give thanks, the sad reality is: a good many more are not. This concerns me, and it leaves me wondering why.
Part of the answer, of course, is the already discussed diminishing of genuine disciples of Christ that is clearly portrayed in Scripture as occurring in the last days. I personally believe we are in those last days, thus it is not surprising at all that numbers are going down. We were told they would. On the other hand, I am concerned that some of that decline may be our fault, rather than the fulfillment of biblical prophecy. It is this aspect of our decline that troubles me the most. If we are part of the problem, then there is no reason we can't also be part of the solution. It's tragic enough that the pathway to salvation is so narrow and few choose to travel in that way; it is an even greater tragedy when we either willfully, or inadvertently, drive some of these few remaining life-travelers away from that path. This aspect of our decline needs to be addressed by concerned members of the Churches of Christ. Thankfully, this is happening.
Brother Don Petty, a devoted disciple of Christ with the Webb Chapel Church of Christ in Dallas, Texas, has been doing research for several years now on the growing decline being evidenced in our fellowship. Don, who is now in his 60's, has labored many years on the foreign mission field and has a fervent love for the Lord, His people, and for those who are lost in the darkness of this sin-hardened world. You may learn much more about this brother and his work for the Lord God at his Mission Learning Center. In his years of intensive research he has talked extensively with leaders in Churches of Christ throughout the world. University professors, missionaries and located ministers, church leaders and "regular" members from all walks of life have been consulted, all with the goal in mind of seeking to determine the reasons for our decline in Churches of Christ and what might be done to reverse this troubling trend.
I have been privileged to have correspondence with Bro. Don Petty of late, and he has been very gracious with regard to some of my own research in these weekly Reflections. In fact, he recently sent a copy of my article "Help Thou Mine Unbelief" [Issue #250] to an individual who wrote back, "I like Maxey's message. He has been wrestling with some of my issues. He is a good writer and cites his sources. I like that. Thanks for sharing." Again, these Reflections are proving to be one method, among many, of helping to counter the decline among us -- one fainting heart at a time! May the Lord continue to use them in such a manner to His glory and to the strengthening of His people.
Don has prepared two documents thus far, with a third, and probably final document in the series, currently being prepared. I have both documents in my possession and appreciate the hard work that has gone into putting this information together for our examination and reflection. The desire of Bro. Don, as well as the elders at Webb Chapel, is that this information be distributed so as to generate thought and action. In the preface to the first document, which is dated March 25, 2006, Don wrote, "This paper was presented and explained to the seven elders of the Webb Chapel church of Christ, seeking their blessing on the work. Their inputs were accepted and incorporated in the work. The elders prayed for the distribution and proper handling of the information contained in this paper. God heard these godly men pray that the effort may bring glory to His name and that the church may benefit from the work. I add my own encouragement to you that you use this information to do all you can to help make the church grow, turning around the decline of members at a rate of about 10 per day during the last three years." Below are the two documents currently available, with a brief description of both. I will be happy to send either or both of these documents to any reader who requests them.
Reasons for the Decline --- MS Word file (98 kb). 25 pages. 225 reasons were submitted, and are listed. There are 10 conclusions drawn from these many reasons submitted. Bro. Petty writes, "The purpose of this work is to provide information to anyone interested in trying to end the decline of the membership of the church of Christ and help start an increase in membership of our fellowship. These reasons listed here are in most part good things to ponder to stem the flow of people from our number. Some sound more like specific complaints than actual reasons. Some of the ones who were complaining have actually moved membership from one congregation of the church of Christ to another, but at the core of the complaint/reason, whichever it is, there lies a cause of discontent, questioning, concern, misunderstanding, or just a lack of belief. All the issues raised here might help some one of us figure out something to do to build up the body to its strength of times past. And that is my prayer and hope for this work."

Solutions to the Decline --- MS Word file (101 kb). 26 pages. This document contains 194 ideas, proposed by people over the past few years, for addressing the problem at hand. The document is dated July 1, 2006. Bro. Petty wrote, "This effort was done at no cost to the brotherhood, but as a mission effort of the Webb Chapel church with the prayer and hope that the 'decline' could be ended and an 'incline' be restored." Don wrote that they were distributing this document "as widely as possible with one purpose: Our prayer to God is that it might be used well to help us all keep our children and all others from leaving the church, and that still others may be added to the narrow Way, that is Christ." There is also a four page Appendix at the end of this document encouraging brethren to view our nation as a mission field. I think you'll find it interesting.

Implementing the Solutions --- This document is currently being compiled, thus is not yet ready for distribution.
In an email, Bro. Don Petty writes, "I pray that God will bless your reading of, and any subsequent use you may make of, this information. Please spread the information as widely as you can. There is no charge of any kind, and I am not copywriting the information in any way. It is done with the interest of the church at heart and for the glory of God. I pray it does good." I truly appreciate Don's attitude here. It is the very same one I have taken with regard to my own studies provided in these weekly Reflections. They are freely offered for any and all to use as they see fit, and with the hope that they might help facilitate, in some small way, greater understanding and unity among the people of God. I thank Don for his hard work in providing this research to those within our faith-heritage.
As one might imagine, when reviewing the thoughts, concerns and suggestions of a good many people from widely different backgrounds and locations, few readers will find themselves agreeing with everything contained in such a compilation. I found some of the suggestions in the above documents very insightful, and very helpful in seeking both causes and solutions to the decline in our movement. Others I found to be little more than a reflection of sectarian bias. Others who study these documents and ponder the points proffered may see it differently. Obviously, a detailed review of every "reason" and "solution" provided in these two available documents is well beyond the scope of this present issue of Reflections. However, I would like to make just a few observations on each. More detailed contemplation I leave to the individual readers as they study the documents for themselves.
Reasons for the Decline
One of the primary reasons given for Churches of Christ being in rapid and very noticeable decline at the present time in our history is that we have seemingly lost sight of one of our major reasons for being. In other words, we have, to a large degree, ceased being evangelistic and/or mission-minded as a fellowship. We have become more focused inwardly than outwardly. That is a recipe for certain failure, and it is being evidenced in our numerical decline. I dealt with this problem in some depth in Reflections #240 -- The Missional Church. When any movement becomes more absorbed with itself than those on the outside, it is doomed. Bro. Don Petty writes, "We heap onto ourselves the socials and fellowships, the comfortable elaborate buildings, and the easy 'compartmentalized' ministries that we can do in a short amount of time." Thus, he is led to lament, "The brotherhood is looking inward, not to the lost." He has a point.
Another reason listed in this document is that the members of Churches of Christ, who at one time were well-known for being quite knowledgeable in the Scriptures, no longer seem to be as well-versed in the Word as in times past. Bro. Petty observes: "We have quit studying and have let others, inside the church and outside, influence our beliefs, not knowing what the Lord says on the primary points of doctrine." I have long lamented the fact that far too many of my brethren have simply settled for what I call "hand-me-down truth." Unwilling to think for themselves, they simply regurgitate the views of their forefathers, assuming: "If it was good enough for my Daddy and Grandpa, then it is good enough for me." A people who refuse to examine everything both carefully and prayerfully, truly making their faith their very own, are a people destined for disillusionment and decline. In almost all of my weekly Reflections I have intentionally challenged virtually everything for the express purpose of making my brethren THINK. To do otherwise merely perpetuates the party perceptions of the past. It is time for us to once again become a people known for our knowledge and practical application of the Scriptures, rather than being known for mindless parroting of patternistic pablum!
Another reason for our decline is placed squarely at the feet of poor leadership. We have replaced shepherds among sheep with executives in a board room. It's no wonder the flock is being fleeced and fed upon, the shepherds are too busy in the board room deciding the price of wool and what color to paint the sheep gate to nourish, guide and protect the sheep. Decline is inevitable when leaders don't lead, but rather lord. The document also pointed to the matter of congregational relevancy within the community. "People leave the church because their congregations refuse to change -- thus becoming irrelevant to their world." If we become so busy "doing church" that we can no longer truly relate to the needs of our communities, we are destined for decline. Another reason mentioned is: "We are seen as mean, dogmatic, elitist, unwelcoming. True or not, it is the outsider's perception of us." As the document states: "We decline when we attack each other, and we decline when we argue over issues that are not salvation-related." Reason #88 sums it up well -- "People outside our fellowship think we are petty, sectarian, judgmental, and ridiculous and want nothing to do with our issues. Our Jesus could be attractive, but our issues, doctrines, actions, get in the way."
Here are some additional quick reasons listed in the document: "Our 'sectarian' ways have cost us over the years." --- "Our trivial, selfish battles over style instead of substance have caused seekers to seek elsewhere." --- "We've become fixated on numbers instead of hearts." --- "Too many were converted to the Church of Christ and not Jesus Christ." --- "Our lack of love for those not in the Churches of Christ." --- "Our lack of knowledge about God's grace." --- "We have bound our members to 'opinions' of morality and 'rules' of tradition, instead of to the sound doctrine of Scripture." --- "We have shifted our personal responsibilities to the ministers - youth, education, evangelism." --- "Some are driven away from the church fellowship by leaders 'binding' on them traditions or customs that should not be bound." --- "Low enthusiasm is caused by legalism." Well, there are a great many more reasons listed, but I will leave them for those who may be interested in studying the entire document for themselves.
Solutions to the Decline
When seeking solutions to our decline, four concepts surfaced time and again throughout this document: Elders, Education, Evangelism, Edification. Elders need to truly be shepherds of the sheep, not a board of directors; we need to be doing a better job of educating our members, young and old, in the truths of God's Word; we all must be reaching out to those about us who are lost; we must be daily encouraging and building one another up, rather than tearing one another down over petty personal preferences and the particulars of party parameters. Deficiencies in all four of these areas are leading to a dramatic decline in Churches of Christ. Solutions may be found when disciples responsibly address the failings in each of these areas and work together for reform. It's easy to blame others for our decline, but pointing fingers doesn't solve the problem ... indeed, it's part of the problem. As this document notes, "Cease blaming others ... and accept the fact that we got too busy navel-gazing and fighting others who disagree with us."
Again, notice just a few of the many solutions given in this document by those surveyed: "Treat each other with love and forbearance and gentleness as God has commanded, so that we may show others we are His children." --- "Stop displaying an attitude of hostility, anger, and even hatred toward brothers who hold a different opinion on some issue." --- "Raise awareness among our brethren about the principles of faith by using the Internet, or any other modern way of communicating ideas." --- "Be slow to make judgments against others." --- "Search for yourself the Scriptures." --- "Lose the 'holier than thou' attitude, turning everyone we contact to Christ and the Word of God, instead of to ourselves, and our doctrine, and our church." --- "Good brotherhood writers should publish articles/books on the basics of church doctrine in readable and learnable ways." --- "Stop sacrificing depth (understanding) for breadth (numbers)."
On pages 12-13 of this second document, a brother in Christ by the name of Dennis Thompson, who is also a member of the Webb Chapel Church of Christ, provided some observations that I thought were extremely insightful. He listed four steps that he is convicted would lead to a solution to the problem of our decline in Churches of Christ. Those four steps, in the words of Bro. Thompson, are:
"Hold fast to the doctrine of Christ and the Bible, but realize that fewer things are to be recognized as 'doctrine' than what we were taught 30 years ago. I don't think it's a case of 'sliding doctrine,' as some have called it -- it's a case of some making doctrine where there really shouldn't have been any. ... In other words, we should very carefully consider what traditional items have been elevated to the status of doctrine and eliminate those from that status. What I or any other individual likes or dislikes in, say, a worship service is irrelevant. (The fact that 'we've always done it that way' is also irrelevant. 'Decently and in order' is highly subjective and overused, especially if used to prohibit some particular activity someone finds out of place.) ... Therefore, I offer the first step in growing the church to be this: When we decide that a 'different' way of worshipping our God (as long as it's not sinful or a violation of God's law) is to be tolerated in forbearance, we'll have taken that first step. When we realize that our worship to God is in the heart of the worshipper first and foremost, then most other items become second-class events, and the way and/or order in which we do them is not important. Once we realize that, then perhaps our minds and hearts will be open to those who are 'different' from our 'grown-up-in-the-CofC' brethren."

"We need to decide to treat 'church' as an all-encompassing, life-changing, Christ-centered way of thinking and living, not as a country club. That is, it must permeate our every moment, not just be segregated into an hour or so a week."

"We'll grow when we recognize that the Christian way of life that we're experiencing offers the only true hope of the eternal life to come, and the only true happiness we experience now."

"We'll grow when we realize that the world needs this hope of salvation and peace in their lives. It's not enough to just answer the skeptic (though we need to be able to do so). It's not enough to just 'preach Jesus,' though we need to know Him. What's required is that this knowledge is transformed into a much deeper knowledge that without the sacrifice of Jesus Christ and His resurrection we have absolutely no hope of escaping hell. We'll grow when we realize our neighbor is in that predicament. We'll grow when we can convince people that true happiness and absolute peace that passes understanding are theirs if they will but surrender their lives to the fact that they need that free gift that awaits them, and that the pleasures this world offers are fleeting, transient, and will never lead to true happiness, either in this life or the life to come."
I thought Bro. Dennis Thompson did a good job of taking the focus off us, and placing it upon Him. The solution to our decline is, quite frankly, becoming more Christ-centered and grace-oriented. We have preached tradition long enough; it's time to return to Truth. Law is no longer the basis of our relationship with deity, and the more we declare it, the more we decline! To grow, we must elevate grace. It is also time for differing brethren to engage in loving, respectful dialogue, rather than seeking out public debate. Where the latter is promoted, decline is the inevitable end result. Seekers are wanting to be part of a family of faith, not a feuding faction. Let's lead them to a holy Jesus, not a "holy jihad." Although, as the end draws near, more and more will succumb to the darkness, and fewer and fewer will stand tall in the light, nevertheless we will still be able to reach a few here and there, rescuing them from the darkness, if we will but lift high the Light of this world: Jesus, the Son of the Living God. Therein is our Great Solution!
***************************
Reflections on CD
www.zianet.com/maxey/offercd.htm
***************************
Down, But Not Out
A Study of Divorce and Remarriage
in Light of God's Healing Grace
by Al Maxey
Order Your Copy Today
www.zianet.com/maxey/mdrbook.htm

***************************
Readers' Reflections
From a Noted Author/Lecturer:

Bro. Al, Our 280 seminars in 41 states (with about 2000 counseling appointments), and doing our DVDs, have forced me into a restudy of marriage, divorce and remarriage, and your book Down, But Not Out has been recommended to me. Would you send me a copy with a bill? Thanks! I am currently writing a trilogy on the subject, and look forward to hearing from you.
From a Missionary in Columbia, South America:

Dear Al, Please send me all three volumes of your Reflections on CD. The check is enclosed. If there is an extra charge for postage to a foreign country, please let me know. I surely do enjoy getting your Reflections. I get a lot of good out of your articles, and I treasure them very much. Some of the problems up there are different than ours down here, but many of your articles are a gold mine for us here too. Thank you for being a channel of blessings to us in Columbia. God bless you!
From a New Reader in Tennessee:

Bro. Maxey, I would be very interested in receiving your e-mailed Reflections. I found your web site quite by accident while searching for articles on the pros and cons of different Bible translations. I have found your Bible class materials and debates enlightening and spiritually uplifting. I am a member of the Church of Christ, but find the "Berean spirit" sorely lacking where I attend. This makes your insights and scholarship all the more meaningful.
From a Minister in New Jersey:

As usual I read your most recent Reflections article ["Men's Business Meetings"] with great interest and sincere approval. I have spent the majority of my Christian life in small congregations, some with elders and some without. I agree with you as to the problems with this model, and also think the suggestions you make are worthwhile. Your 5th suggestion, especially, gets to the root of the matter. I am not sure the problem is really with any particular "system" as much as it is with "the people in the system." Some kings were godly and some were not -- it was the heart of the men that made the difference, not the system. God did not (as far as is recorded) establish the synagogue, but He still worked within the system. Some synagogue rulers had godly hearts and became disciples of Jesus. Others did not and crucified Jesus. The early Christians continued meeting in the synagogues until they were kicked out. My personal observation has been that it is not so much whether we have elders in a congregation that is significant, but whether we have godly elders! The same with MBMs ... it seems the problems revolve around those wanting to exercise more authority than responsibility. Keep up the great work, Al.
From a Minister in Missouri:

Al, the congregation I am currently working with consists of three men and their wives, a young mother, three teen boys, and three older women (and my wife and me). Fifteen people total. So, do you think we should be trying to establish an eldership from among this small group? Your thoughts would be appreciated.
Naturally, every congregation presents its own unique challenges to those who seek to work with them. Your work is truly a mission effort, thus it seems to me you are more in the planting phase there. That effort will probably need to grow and mature some before greater structure and leadership become critical. The apostle Paul planted congregations, but did not appoint elders until later (and even then, only in some of those locations). The goal of working toward the development of godly shepherds should even now be presented to the group, however. Further, you need to determine just exactly where those three men are in their personal spiritual development. Are there potential elders among them? Actual elders? It also doesn't hurt to begin early with those teen boys -- instilling within them a desire to order their lives in such a way that they too may serve as shepherds one day. However, in a group as small as yours, among families that may well have known one another most of their lives (as is often the case in a small rural setting), there may be little real need for the type of organizational structure and practical functionaries found in larger groups. That point will very likely come, however, as you all continue to grow and mature. You can never begin too soon to prepare for that eventuality. And, yes, if two or three of those men are at the point spiritually to serve the group as their shepherds, then by all means they should be serving in that capacity. A shepherd is a shepherd, regardless of the size of his flock. --- Al Maxey
From a Reader in New Mexico:

Bro. Al, I read your Reflections and always really enjoy reading what your readers have to say. Also, you really do a good job on your articles. Even though I do not often respond to them, please know that I do read them and enjoy them. They get me to thinking, and also praying. God bless you and Shelly.
From a Reader in Indiana:

Al, I read your article on MBM and thought it very good. I have forwarded it to friends who were interested in what your conclusion might be, and they also found it very helpful. I had never seen that part in Acts 15 about "leading men" like Silas. Very interesting! One thing you said gave me pause for thought. You mentioned that we are a theocracy, not a democracy. I remember reading in various history books what it was like politically in the Middle Ages to be under a pope for governmental rule, and that this was a theocracy. Frankly, it was a very poor form of government; one subject to much abuse. Not a very appealing form of government. What is your answer to this?
When men become involved, even a theocracy can become unappealing! A "theocracy," by definition, is simply a reference to "the rule of God." The church is under One Head -- the Lord! It always has been; always will be. It is not administered by committees or governed by democratic vote. It certainly isn't overseen by a Pope in Rome. God has spoken (the inspired Scriptures), it is our duty to comply in every aspect of our lives. He has provided shepherds to guide the sheep in that effort at daily compliance. These men are to be living examples of God's rule in a surrendered life, not enforcers of their own rule upon the lives of others. When men submit to their King, a theocracy is a marvelous and appealing form of governance; when they begin to elevated themselves and their own views (under the guise of being subservient to Him), it is an appalling form of governance. --- Al Maxey
From a Reader in Arkansas:

Bro. Al, While I worked at Harding I had the opportunity to overhear a student complaining about her Bible professor. He had assigned them to write a passage of Scripture from memory as part of a test. He marked her down on her paper because she did not include the proper punctuation when she quoted the passage. He claimed that this was a "blatant lack of respect for the holy Word of God." As a Bible professor, one would think he should have known that the punctuation was all added later by men. When we get this nit-picky, is it any wonder we are characterized as "strict legalists"?
From a Reader in Texas:

Hey Bro. Al, This is late on the women's retreat issue, but I still wanted to write. My wife is a professional psychologist and counselor, and she mentioned how very helpful these retreats have been to some of the women who have confided in her. She never mentions details, of course, but tells me that these get-togethers for women are often great growth experiences for them, especially for some of the younger women.
From a Minister in Indiana:

Al, I really enjoyed your article about MBM, and found especially helpful the thoughts you offered at the end of the article concerning how to approach resolving the need for leadership even where there are no men qualified to be shepherds. I noted in your article how often the comment was made by your readers concerning a teenaged saint and a saint with 50+ years of walking with the Lord. I feel compelled to note that we have a lot of those 50+ year veterans in small congregations where qualified shepherds cannot be found. What does this say about their walk with the Lord?! Have they not surrendered to His transforming Spirit? How is it that they have walked 16 times longer with Jesus than the apostles did, and yet they still cannot be counted on to care for their brethren as shepherds? Perhaps the teenaged new convert's vote should count more than the vote of one who has proven to have such an unyielding heart.
From a Reader in Colorado:

Al, I just finished reading your last article, and it reminded me of a situation here a few years ago. One man insisted that all names submitted for consideration as new elders be put before the congregation and "voted on." Another fellow asked, "And would my 14 year old daughter, who has just been baptized, have the same voting 'right' as the current elders?" The first fellow said, "Absolutely!" The father of the girl replied, "Well, that scares me to death! The mind of a 14 year old girl is a frightening thing!" So say any of us who have raised one!! Men's business meetings have been on my husband's "no-no" list [he's been an elder here for many years] for a very long time. I think he was probably the main influence in getting congregational meetings started here.
From a Minister in Kansas:

Brother Al, One Cup man here. Great job on MBM. Over the years I've seen more than one brother stomp out of a business meeting. At the congregation I attend we do NOT have men only meetings. When a decision needs to be made (we do not have regularly scheduled meetings here), the whole congregation comes together and discusses the best biblical course of action to follow. We are presently developing men to fill the role of shepherds of our congregation, and that day is not far off. Even after they are installed, however, we will continue to have congregational meetings. Women have been pushed aside for much too long when it comes to "business meetings." I know several sisters who are well-read in the Scriptures and who give far more to the work of the church than many men do. Women are a very valuable asset to the local church, and we men need to encourage, rather than discourage, them! May God bless all those who are seeking liberty in Christ.
From a Minister in California:

Al, Let me see if I have this straight -- Even the loudest legalistic patternists quietly reserve for themselves the right to innovate (e.g., MBM) when it suits their needs, while self-righteously denying that right to anyone else. In other words, they set the rules, decide which rules they want to follow, and when they want to follow them, while crucifying everyone else who rejects their list of rules. Sounds a whole lot like the time Jesus issued His most scathing rebuke ever to the Pharisees for exactly the same thing -- passing rules for others, yet not following those same rules themselves [Matt. 23:2-4]. Some things just never change!!
From a New Reader in [Unknown]:

Bro. Al, Please add me to your mailing list for Reflections. My daughter sent me the article on "Men's Business Meetings," and I'm in the midst of reading and thinking through that article. I have found men's business meetings to be divisive and a way for bullies to run the church. Thanks for your study.
From a Reader in West Virginia:

Bro. Maxey, I read your article on "Men's Business Meetings" with great interest, since I currently attend a small congregation which does not have elders. Your guidelines and suggestions for an alternative to MBM will work -- in fact, we are currently following these very guidelines in our congregation! Thanks for a good article!
From an Elder in Missouri:

Brother Al, Once again you have presented an insightful and balanced study of this topic (MBM -- which, in my view, is a terrible practice). But, until I read your last Reflections, I had never seen nor heard of a viable alternative. I really like your suggestions, but in retrospect, cannot think of a single congregation I have worked with that would have welcomed such a process. It seems the MBM is so entrenched in our heritage that our minds cannot easily see another way. As happens too often, we cannot get away from "the way it has always been done." Perhaps as we mature spiritually we can see a better way! May it be so! I would like to see the process you describe in action; it certainly deals effectively with the dangers of the MBM, and also prepares the congregation and its leaders for the kind of godly leadership that the body truly requires. Thank you for your study. I will file this article away against the day I may need it, or so as to have it to share with someone in need.
From a Reader in Texas:

Bro. Al, When I left on vacation two weeks ago today, I was looking forward to reading your response to the question of the MBM concept. I really wanted to see where you would go with this topic, knowing the high quality of your research in these types of studies. Upon returning from our vacation today I found your Reflections on the MBM waiting for me, and I had problems getting the car unloaded because of my desire to read what you had written! Al, your study was excellent, and pointed out the problems and suggested some solutions. I pray that God will continue to bless your work, both in the local congregation there and also here on the World Wide Web. Al, you have been a source of real encouragement to me, as you have to many others ... especially in Churches of Christ. Grace to you and peace!
********************
Special Request
The Ghana School Project

I don't often do this, but I have been rather impressed with the work being attempted and accomplished in the African nation of Ghana. A genuine effort is being made by a good number of brethren to enrich the lives, both physically and spiritually, of the people in a particular region of this country. One of the forces behind this effort is a Reflections reader by the name of Gordon McElvany of the Grace Fellowship Church of Christ in Corpus Christi, Texas. He may be reached at: tantex@intcomm.net for additional information concerning this work. The people of that area in Ghana, Africa are impoverished, both spiritually and materially, and in need of help. These brethren are attempting to reach them with the love of Christ, and also with the gospel of Christ. But, they could use your help. Gordon has made several trips there, and will be going again next year with a group from ACU. He has put together an information file [MS Word -- 28 kb] on the nature of the work, and the nature of the need, and I would be happy to send this file to any of you who request it. Just ask for the "Ghana School Project" file. I know that any amount of help, even if it is only a word of encouragement or your prayers, would be appreciated. --- Al Maxey
********************
If you would like to be removed from or added to this
mailing list, contact me and I will immediately comply.
If you are challenged by these Reflections, then feel
free to send them on to others and encourage them
to write for a free subscription. These articles may all
be purchased on CD. Check the ARCHIVES for
details and past issues of these weekly Reflections:
http://www.zianet.com/maxey/Reflect2.htm