REFLECTIONS
by Al Maxey
Issue #309 ------- July 30, 2007
**************************
Blessed indeed is the man who hears
many gentle voices call him father.
Lydia M. Child {1802-1880}

**************************
James Donald Cavasos
Dec. 25, 1928 -- July 22, 2007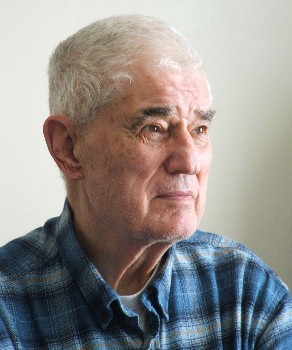 President Abraham Lincoln [1809-1865), who was a distant relative of my wife, once wisely observed, "Love is the chain whereby to bind a child to its parents." When a home is filled with love, the outcome can easily be seen in the lives of the children who go forth from it to establish their own homes. Don and Dorothy Cavasos, my wife's parents, were two of the finest people I have ever known. I first met them 35 years ago (in August, 1972) when I was discharged from the Armed Forces. I went to Moriarty, New Mexico, where my dad was the Superintendent of Schools, to spend a couple of weeks before returning to the university I had previously attended (I had taken a four year break to serve my country). That first Sunday back we all went to the Moriarty Church of Christ, and that is when I first laid eyes on Shelly. Eleven months later we were married. In the months and years that followed I came to love and appreciate her family tremendously. She has four brothers and three sisters, and they were (and still are) one of the most loving families on earth. If you've ever watched the television series The Waltons, then you know exactly what the Cavasos family was like. This family would come to play a huge role, along with my own loving parents (and several other significant people and events), in shaping who I was to become in life. I owe them a debt of gratitude I can never even begin to repay.
On Saturday, July 21, 2007, Shelly and I celebrated 34 years of marriage. We thought back fondly to that day long ago when her father walked her down the aisle in Albuquerque, NM and handed her to me. The following morning, Sunday, July 22, 2007, we assembled with the congregation where we have just recently completed nine years of service. When we got home we received the news -- while we were assembled with the Lord's people, her dad had passed quietly from this life. This past week has been a difficult one in many ways. We miss him terribly. And yet, we rejoice with him, for he was one of the most faithful, devout Christian men you could ever hope to find. He had served the Lord many, many years as an elder in the church, and was always willing to share his faith with whomever would listen. His health had been deteriorating, however, since the day his beloved wife, Dorothy, died on February 2, 2005. Many times he would softly say, with tears in his eyes, that he just wanted to "go on home" so he could be with the Lord and Dorothy. They had been married for 55 years when she passed away, and he just couldn't imagine life without her. [Please note my tribute to Dorothy Jean Cavasos.] I took the above photo of Don at Thanksgiving, 2005. He had just been talking of Dorothy, and of wanting to "go on home." The look in his eyes says it all.
Don was a "Christmas baby," being born on December 25th. How interesting that he was born on the day the earth celebrates the incarnation of our Savior, and he passed from this life early Sunday morning, the day of our Lord's resurrection from the dead. Jesus said to Martha, the sister of Lazarus, "I am the resurrection and the life; he who believes in Me shall live even if he dies, and everyone who lives and believes in Me shall never die. Do you believe this?" [John 11:25-26]. Don, to his eternal credit, believed this glorious truth with all his heart. This blessed hope filled his soul and provided the focus of his life. Oh, how he loved to sit and talk about God's Word. I have spent many an hour sharing and discussing ideas with him, and listening as he shared stories of his journey of faith with me. He loved to preach and teach, and his lessons were fascinating to his audience. He had a true gift when it came to holding people's attention. As a spiritual leader, a shepherd of the Lord's flock, he had a tender, loving heart for God's little lambs, but he could present a most fearsome front indeed to those who dared to threaten them in any way. He would give a stranger the shirt off his back and his last dollar, never expecting anything in return. He was a prince among men.
My father-in-law was also a very patriotic man. God, family and country were of paramount importance to him, and he gave himself fully to each. He served two decades in the U. S. Air Force, retiring from that branch of the Armed Forces after a distinguished career, which included a tour of duty in Vietnam. After returning to civilian life, Don became an architect, and he was a good one. A good many of the beautiful homes in Albuquerque, New Mexico were designed by him. I can still picture him at his drawing board working on those plans, and yet when we would come over he would always push them aside, open his Bible, and say, "Look at what I found when I was reading the Bible this morning!" While delivering a set of house plans one day, he stumbled upon a crew shooting a movie near Santa Fe, NM. After visiting with them for a while, they decided to cast him in one of the major roles in that film (he played Newt Hale). The movie was a western titled "A Gunfight," starring Johnny Cash and Kirk Douglas. Johnny and June Carter Cash became friends with Don and Dorothy (even exchanging recipes). When you look up this movie on some of the European web sites (they really like our westerns), Don is listed in the credits as "an American movie star." He always got a kick out of that. Shelly also appeared in this movie as an extra, as did three of her brothers.
Don was also an accomplished artist. Shelly and I have several of his paintings hanging on the wall in our den. He loved to paint the Indian pueblos of the southwest, and his work is highly prized. His wood carvings were also quite amazing, as was his jewelry (several pieces of which I have). He was a man of many talents. I can remember occasions where he would pick up a guitar and begin singing western songs. He loved the songs by The Sons of the Pioneers, and he could sound just like them. When he completed a set of house plans, he would often do a painting of what the home would look like. These unique, one-of-a-kind, paintings were so exceptional in quality that frequently the home owners would hang them prominently within their newly completed homes. He loved going that "extra mile" for his clients, and he "never knew a stranger" (one of his most memorable qualities).
If there was ever a man who truly exemplified "love of family," it was Don Cavasos! There is no doubt at all that, if he could, he would have loved to have had all of his children and grandchildren and great-grandchildren living under the same roof with him. There were times, when Shelly and I were still newlyweds, that it seemed to me at the time that Don's house was nothing but "pure chaos." There were a zillion kids running all over the place and a thousand people talking and shouting at the same time. And yet, there were Don and Dorothy right in the middle of it all ... smiling, as if this was a foretaste of heaven. They loved it.
This past Friday morning (July 27), a large number of friends and family from all over gathered at the Riverside Church of Christ in Albuquerque, New Mexico (the congregation where he had served as an elder) to remember the life and celebrate the victory of Don Cavasos. A group of singers from the Montgomery Blvd. Church of Christ sang a good many of Don's very favorite hymns. Mark McKenzie, the minister at Riverside, and a good friend to our family, gave the eulogy. I preached my father-in-law's funeral sermon, and then later did the graveside service at the National Cemetery in Santa Fe, New Mexico. Don has left a marvelous legacy of love, service and faithfulness. He touched all of our lives in a very special way. He is now at rest; his journey through this life is completed. We weep over our loss, but rejoice over his gain. He has won the victory. Thank God that in Christ Jesus the grave is not the "end of the story." We shall see Don again!
***************************
Reflections on CD
www.zianet.com/maxey/offercd.htm
***************************
Down, But Not Out
A Study of Divorce and Remarriage
in Light of God's Healing Grace
A 200 page book by Al Maxey
Order Your Copy Today
Publisher: (301) 695-1707
www.zianet.com/maxey/mdrbook.htm

***************************
Reflections on the Holy Spirit
A Published Tract by Al Maxey
[cost: 73¢ per tract, plus postage]
Order Copies From:
J. Elbert Peters
1701 Jeannette Circle, NW
Huntsville, Alabama 35816
(256) 859-3186
jepeters65@knology.net

***************************
Readers' Reflections
From a Doctor in Alabama:

Brother Al, I just wanted to let you know that this may very well be the best issue of Reflections ever. Your discussion of "The Circumcision Party" was superb, and the reflections from your readers (especially the bonus testimony from the Filipino preacher, as well as your words of advice in response to the request from the minister in South Carolina) were all wonderful. I wish every Christian could read this particular issue of Reflections ... especially all the legalistic partisans out there! Keep up the excellent work.
From a Reader in Texas:

Excellent article, Brother Al. Very well-written, and with a godly spirit. Keep up the good work, brother!
From a New Reader in Oklahoma:

Dear Brother Al, Thank you for your reasonable and scholarly approach to the Scriptures. I respect your opinions greatly, and would like to subscribe to your Reflections. God bless you and your ministry.
From a Reader in [Unknown]:

Bro. Al, Another great article, and one which is very much needed. We do need to be more like Paul, confronting those who pervert the gospel with their legalism. "Unless you sing without musical instruments you cannot be saved." "Unless you observe the Lord's Supper with only one cup you cannot be saved." "Unless you are circumcised you cannot be saved." Sounds very similar, doesn't it?!
From a Reader in Texas:

Brother Al, Your last issue of Reflections couldn't have been more timely, considering the large sums of money being raised by the Waterview Church of Christ in Richardson, Texas to "educate" the entire brotherhood on the value of our long-term traditions (specifically: a cappella singing). Such legalism does not breed love, unity or freedom in Christ Jesus. Bro. Al, your Scripturally-backed words have great power, and they are providing many of us with the motivation and the message we so desperately need to effectively reach out to our brothers who, like we used to be, are currently buried within a prison of burdensome falsehoods. You will be vilified, "churched," defrocked, decried, disfellowshipped, and railed against. But, please do not let them sway you in the slightest. God will close the mouths of the lions and quench the fires built all around you, just as He did for Daniel and his companions. There is a deep fear that rages in the hearts of these legalistic partisans that if your message should ever be widely received among their people (which is increasingly happening), it would cost many of them their jobs. They would lose their power over the congregations in which they now teach and preach. They are afraid of you, Al; thus, they attack you. How sad.
From an Elder in Missouri:

Bro. Al, Your last Reflections article was very good. It was clear and to the point. I believe a critical question we all need to be asking ourselves is: "What right do I have to reject someone the Lord accepts?" I have come to realize that the apostle Paul's thoughts in Romans 14-15 about accepting one another and not judging one another are central to the grace message. This is why the church grew so fast in those early days. Their focus was on getting people connected to the Savior, and then allowing that relationship to grow over time. Far too often we tend to insist that those whom we baptize must become fully mature overnight. Rome was not built in a day; neither does a disciple grow to maturity in that same period of time. I am very thankful that I was allowed to make mistakes and hold on to some "doubtful judgments" when I was a babe, and that I was not tossed out on my ear. I was allowed to grow and mature, and was accepted while doing so. Bro. Al, keep up the good work.
From a Minister in Kansas:

Bro. Al, Thank you for pointing out the deception of Buster Dobbs. Our family used to take Firm Foundation back when Bro. Reuel Lemmons still edited it. It was a much better paper back then. Since the change in this paper, I have run across such blatant misrepresentations repeatedly, and so I have stopped reading it. I first discovered this deception when this paper would quote writers from other journals to which I also subscribed. Remembering those particular articles from which they quoted, I would go and check them, because what they quoted just didn't sound right. Sure enough, Firm Foundation misrepresented people, often pulling their comments completely out of context. For this to have happened one time might have simply been a blunder, but to do it time and again demonstrates either very low cognitive ability, or a willful intent to deceive in order to bolster one's position. From what I have observed, it appears to be the latter. I've pointed this out to people, but, sadly, many brethren just shrug it off and continue to read (and swallow) what is written. Far too many people, unfortunately, are afraid to specifically identify these factious, dishonest, deceitful "brethren," even though there is serious biblical warrant for them to do so! That is why I appreciate so much your courageous forthrightness.
From a Minister in Arizona:

Dear Brother Al, I would completely agree with you that legalism and partyism are despicable. However, do you personally feel that liberalism and partyism are likewise despicable? I can't recall you railing against liberal partyism. But, perhaps you do.
As I stated at the end of the second paragraph of my previous article, "Brethren, let's be blunt -- partyism is partyism, regardless of the issue!" Whether the issue is "liberal" or "conservative" in nature is totally irrelevant. Partyism is taking that issue and making it the rallying point for a group of disciples. Embrace the issue and you are welcomed into the party; refuse and you are shunned. If a group insists that praise teams and instruments must be used in the Sunday morning assembly, and to reject such usage is a soul-damning sin, that is a "liberal" form of legalistic partyism. And, yes, this is just as despicable in the eyes of our God as those who insist that a cappella singing is the only expression God will accept, and that to reject such is a soul-damning sin. Both are equally despicable, for both seek to bind the preferences and perceptions of mere men upon all others as divine decree, when, in point of fact, the Lord has bound neither. Let's be honest, though. Most "liberals" do NOT seek to bind their personal preferences upon the rest of humanity as conditions of fellowship and salvation. As a rule, they are more than willing to let others follow their own convictions, as they themselves seek to do. For the most part, it is the opposite end of the theological spectrum that seems to feel compelled to bind their own perceptions and preferences upon the remainder of humanity as conditions of fellowship and salvation. Therefore, by virtue of this fact, most of my "railing" is against those who seek to fragment the Body of Christ over their scruples, rather than those who merely seek to live free and allow others to do the same. But, your point is indeed well-taken. So, when and where "liberals" begin to behave as "conservative legalists," I'll be sure to "rail against" them as well. By the way, if you happen to have any specific, confirmed examples of the latter, please share them with me. I'd appreciate hearing about them. --- Al Maxey
From a Reader in Oklahoma:

Brother Al, There are a good number of people (whom I won't identify) that I have had countless conversations with about partyism and legalism -- all without any success. They are firmly convicted of the absolute correctness of their various opinions. Does this not fall under the admonition of Jesus Christ to "shake the dust off of your feet" and move on? I can appreciate the need to stand firm for Truth, but I'm sure that you also see the need for discernment in just how far one should go in trying to deal with these legalists. By the way, let me just add that you are doing a service by keeping us informed of legalistic happenings and identifying the culprits. May the Lord richly bless you and your work.
I would agree that a point comes when we must shake the dust from our feet with certain persons who are so hardened by their legalism that they have truly passed that point of no return. With regard to these, we will most likely never be able to turn them away from their plunge to eternal perdition. However, by exposing their error to their followers and fellow travelers, many of whom are not as hardened as they, we do have some faint hope of reaching these other sheep who are blindly following their deluded shepherds and fellow wanderers, thereby redirecting these priceless souls off of that road to destruction. It is for these precious sheep, who are being led astray, that I continue to expose the fatal direction of those determined to deceive them. --- Al Maxey
From an Elder in Oklahoma:

Dear Brother Maxey, I found myself captivated by the email from the young brother in your article "Dear Heretic ... Help!" I found myself at that same crossroads about ten years ago. At that time I was blessed to be around a Christian friend who was a wonderful student of the Bible. In our study together, he helped me shake free from my bondage to religious dogma and man-made traditions. About a year ago I began to really examine the Scriptures in-depth in light of various things that had been written within the Spiritual Sword, Firm Foundation, and other such publications. In my research I came across a man in New Mexico by the name of Al Maxey!! I have to admit, I was captivated by what you have to say. I have read nearly half of your Reflections articles from your archives, and it is my desire to read and study each of them. I find myself challenged, and even convicted, by your studies. Bro. Al, I am so appreciative of your efforts for Christ's church. You have given me understanding and hope. Please continue to fight the good fight against legalism with your Reflections. Along with God's Word, they are my beacon. I am grateful for your spirit of love, your scholarship and your understanding. I am proud to be your brother.
From an Author/Lecturer in Kentucky:

Dear Bro. Al, Your recent Reflections article titled "Dear Heretic ... Help!" was absolutely awesome. I could relate to this poor guy so much, but, praise God, I found what he is looking for -- or, rather, Who he is searching for. In my lectures and videos I often say that there is a difference between having a relationship with the Book and having a relationship with the Author. When we have a relationship with the Book, our lives become all about the do's and don't's, which results in a legalistic relationship ... and this is what this young brother has, and it is what he is seeking to find release from. When I read his letter I could feel his pain, and I actually hurt for him. He is in such bondage, and I really believe he knows it. Much like abused children, however, he is afraid to leave the one(s) to whom he is in bondage. Al, I applaud you for trying to open the eyes of the Body of Christ. I've always said that my mission in life is to convert the church, and that is exactly what I believe you are doing as well.
From a Presbyterian Pastor in Mississippi:

Pastor Maxey, I just wanted to say a word of thanks for the materials you have made available on the Internet. Your background studies on The Minor Prophets have especially proved to be a very helpful resource to me. I noticed on your web site that you have also posted some history lessons on the Intertestamental Period -- The Silent Centuries -- and I look forward to examining this research of yours in my spare time. Thank you again for your work, and for making it available to others throughout the world.
********************
Special DVD/Workbook Offer --- There is a dear Christian lady residing in Kentucky, who also happens to be a faithful reader and supporter of my Reflections ministry, who has for many years been a well-known speaker and teacher at a number of regional ladies' events and retreats. Her name is Teresa Kimbel. Her husband is a well-respected attorney in the area, as well as an elder in the Church of Christ within their community. At the behest of many, Teresa has placed one of her most beloved series on DVD, and that DVD series (with accompanying workbook) has just been released. It is titled Becoming A Woman Of Peace. I was privileged to be a part of the reviewing process prior to release, and also appear on the back of the workbook endorsing this very significant series of lessons. I highly recommend it to congregations for special ladies studies in particular, although all disciples of Christ will be benefited by her insights. For additional information on this series, as well as on the author, and for ordering information, check out the web page at: www.womanofpeace.org. If you would like to contact Teresa for further information on this excellent series, her email address is: tbkimbel@bellsouth.net.
********************
If you would like to be removed from or added to this
mailing list, contact me and I will immediately comply.
If you are challenged by these Reflections, then feel
free to send them on to others and encourage them
to write for a free subscription. These articles may all
be purchased on CD. Check the ARCHIVES for
details and past issues of these weekly Reflections:
http://www.zianet.com/maxey/Reflect2.htm