REFLECTIONS
by Al Maxey
Issue #400 ------- June 22, 2009
**************************
What a grand thing, to be loved.
What a grander thing still, to love.
Victor Hugo {1802-1885}
Les Miserables

**************************
The Gift of Love
What Really Matters in an
Increasingly Hostile World?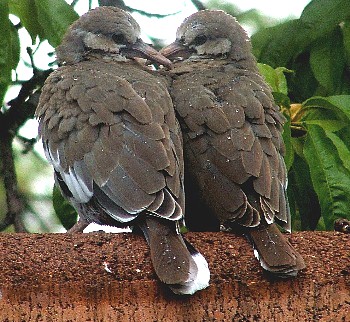 It was Tuesday morning. June 9th. Around ten o'clock. It was a bit chilly outside for southern New Mexico -- somewhere in the low 70's; overcast and rainy. Atypical for this time of year in the "high mountain desert." I had just talked with my parents, who had moved down here from Colorado just a few weeks earlier. Their new house is located just a few blocks from our own (walking distance), and it is really fabulous having them so close to Shelly and me in their golden years. This day (June 9th) was their 62nd wedding anniversary, and I had called to let them know that Shelly and I would be picking them up and taking them out to a nice restaurant for lunch. Our treat!! As I walked back into our bedroom, I happened to glance out of the bedroom window and saw these two little doves (pictured at left) huddled closely together on our fence, beaks crossed lovingly, just about five feet from our window. Quickly grabbing my digital camera, I was able to capture this precious moment in time. This pair of doves have lived within our backyard for several years now, and I have named them Priscilla and Aquila. In fact, four years earlier (May, 2005), on this same fence, I captured another precious moment with this loving pair (which you can see by Clicking Here). As you may know, doves mate for life, and they are especially devoted to one another during the span of their years together. Thus, I found this scene, which was presented to me just outside of my window on June 9th, particularly moving in light of my parents' celebration (on this day) of 62 years together.
As I watched these two little birds, I thought about the environment in which they live. They've got no roof over their heads, and no shelter from the ravages of nature. Living, as we do, in the foothills of the Sacramento Mountains, there are bobcats and coyotes nearby, as well as hawks circling overhead, that would love nothing better than a "light snack" of these two birds. Yet, in the face of such daily, deadly threats, they rest confidently in one another's loving embrace. Together they face the world and whatever it may bring. Brethren, I have to admit that at times I feel maybe these little creatures know the Creator far more intimately than you and I. We can learn from them ... and should. They trust. They love. They live ... as one. Seems to me they know His will better than many of us.
In virtually every culture, both ancient and modern, the dove has held a special place in the hearts of the people. To the early Egyptians the dove was a symbol of innocence. The Chinese regarded it as representative of peace and long life. The early Greeks and Romans believed it was a perfect figure for love and devotion to family. Indeed, it was intimately connected to Aphrodite and Venus, the goddesses of love. In a great many cultures, doves are employed in some way in wedding ceremonies, since they depict so well God's desire for males and females to mate for life and provide loving care to one another even in the face of great difficulties. Little wonder that the dove, in Scripture, is used to represent the Holy Spirit, and that it is accepted by God as one of the sacrifices upon His altar. King Solomon described the love of his life as having "eyes like doves" [Song of Solomon 1:15] -- "Let me hear your voice, O my dove, for your voice is sweet and your form is lovely" [2:14]. "My dove, my perfect one" [6:9]. Yes, when one thinks of a dove, one thinks of love (even the words themselves, at least in English, are similar).
As one contemplates Priscilla and Aquila in the above two pictures I have taken, one might also be led, as I was, to consider the many "one another/each other" passages found throughout the inspired New Covenant writings that speak so poignantly and powerfully of the importance of our interpersonal relationships. This is especially true within our families, and also, in a far deeper sense, within the Family of God (the church). We are admonished to love, serve, be at peace with, be devoted to, encourage, build up, accept, comfort, and care for one another, just to name a few [for a more in-depth study of this subject, I would refer the reader to Reflections #170 -- "One Another" Relationships of the New Covenant Church]. These are all qualities that facilitate deeper relationships, and they are qualities that can be discerned in the interaction of some of God's smaller, though no less beloved, creatures -- such as doves.
I'm completely convinced that love is a gift from God to His creation (and the creatures within this creation). And I'm not just talking about His love for us (which is certainly a gift beyond compare), but love itself. God IS love [1 John 4:8, 16], and He desires US to possess and evidence this divine trait within our own lives, and in our dealings with others. Therefore, "as He is, so also are we in this world" [vs. 17]. "If we love one another, God abides in us, and His love is perfected in us" [vs. 12]. "Beloved, let us love one another, for love is from God" [vs. 7]. He has given us the gift of love, and we know that "every good thing bestowed and every perfect gift is from above, coming down from the Father..." [James 1:17]. Brethren, how can we possibly look at the above two pictures and fail to perceive LOVE? How can we look at the above pictures and fail to perceive GOD?! "For since the creation of the world God's invisible qualities -- His eternal power and divine nature -- have been clearly seen, being understood from what has been made" [Rom. 1:20]. Yes, even in these two little doves cuddled together on a fence, one clearly sees God.
I wonder, however -- do others see God IN US?! Husbands and wives, what do those observing you perceive? What message do you send out by your attitudes and actions toward one another? Are you nest building or nest hopping?! Christians, what do those observing you perceive? What message are you sending out by your attitudes and actions toward one another in the Family of God? We live in a hostile world, an environment that would love nothing better than to "make a light snack" of us. We certainly do not need to be contributing to that evil by afflicting and assaulting one another. "Through love serve one another. For the whole Law is fulfilled in one word, in the statement, 'You shall love your neighbor as yourself.' But if you bite and devour one another, take care lest you be consumed by one another" [Gal. 5:13-15]. If the two little doves in my picture were plucking out each other's feathers and attempting to eviscerate the other, it would not be a picture evidencing the love of God. So, what "picture" do WE present to the world when we do the same to our brethren in Christ? We certainly do NOT display the love of God. We display the spirit of this world.
Yes, sometimes tiny doves know more about God and His love than self-professed, but greatly deluded, disciples. Doves cuddle, disciples condemn; doves cross beaks, disciples cross swords. Too frequently, too many of us fail to perceive and practice the most basic Truth in this universe: we were created to reflect the very nature of our Creator --- LOVE. Doves seem to "get it," why don't WE?! When the people of our Lord's day were struggling with countless anxieties, Jesus urged them, "Look at the birds of the air" [Matt. 6:26]. Yes, there is much we can learn from them ... and need to learn from them!! There is an old maxim I came across several years ago: "Preach the Gospel -- if necessary, use words!" Frankly, the picture of Priscilla and Aquila sitting quietly on a fence in a loving embrace, while the storm raged around them, is better "preaching" than many of the pitiful, prideful pontifications I've heard from pulpits. When you see two doves KISS (as in this picture), maybe their message to this poor preacher (me) looking out the window at them, as well as to others who view this photo, is: Keep It Simple Stupid; the will of God is not all that complicated! Thank you, Priscilla and Aquila, for taking me aside and explaining to me the way of God more accurately [Acts 18:26].
**************************
Archive of My Audio Sermons

A good many of you over the years have asked me if I would ever consider making my weekly sermons available to the public via the Internet. I am personally not familiar with the technology required to make audio copies of my messages each Sunday morning available to those on the Internet who might like to listen to them. However, one of the deacons here IS skilled in that area, and he has recently decided to create a new, updated web page for our congregation. You may find this new web site by clicking on Cuba Avenue Church of Christ. This new site is very much a work in progress (so the old web site is therefore still up and running), thus it is far from completed. However, as part of the new site, my Sunday morning sermons are now online, and one may click on them and listen to them in their entirety. Also, this deacon is attempting to place each new sermon on the web site within a few hours after it has been delivered. To find the sermon archive, click on Sermons. When this page loads, click on either the words MP3 Download or I-POD Download, depending upon which format you desire. This will bring up a list of months going back to January, '09. Click on the month you desire, which will bring up the Sunday morning sermon titles for that month. Then just click on the sermon you want to hear. I pray that each of these lessons will be uplifting to you. NOTE: The PowerPoint presentations that I prepare to accompany each of my sermons will be made available at the end of 2009 for each of the audio messages in the sermon archive. Information on acquiring that special CD can be found by Clicking Here.
**************************
Speaking at the Tulsa Workshop
Tulsa, OK -- March 24-27, 2010 -- Web Site

For decades now, one of the finest annual gatherings of disciples of Christ Jesus has been the International Soul-Winning Workshop held in Tulsa, Oklahoma. Many thousands from around the world have flocked to this location to be richly edified and encouraged in their walk with the Lord, as well as better equipped in their efforts to win precious souls to the Lord Jesus. Quite a few of my readers have asked me to inform them regarding when and where I would next be speaking or teaching at such an event, as they would like the opportunity to visit with me "in the flesh." Well, I've been asked to be one of the speakers/teachers at the 2010 Tulsa Workshop, and I have accepted. Next year's theme will be Our Journey: Pressing on to the Goal. Obviously, this workshop is still in the early stages of planning, but in coming months, as a schedule is developed, I will keep you informed. I hope each of you will make plans now to attend this great event, and Shelly and I look forward to seeing a good number of you there!! It will be a time of fantastic fellowship and spiritual renewal for all.
***************************
Down, But Not Out
A Study of Divorce and Remarriage
in Light of God's Healing Grace
A 200 page book by Al Maxey
Publisher: (301) 695-1707
www.zianet.com/maxey/mdrbook.htm

***************************
Readers' Reflections
From a Reader in Australia:
Bro. Al, It has been a while since I last wrote to you, but that doesn't mean I have not continued to read your Reflections. I also continue to pray for you and Shelly daily. You continue to be my valued friend, and you are greatly appreciated. I know that with the size of your readership you must receive a great many emails, so I have reduced my level of emails to you so that they won't become a burden. However, Al, please be assured of my continuing prayers. Also, please do not become disheartened by the jibes constantly thrown at you by a handful of critics. You are doing a lot of good for the kingdom through your challenges, and you are building up the faith of many. Keep it up!!
From a Reader in New Delhi, India:
Bro. Al, I wonder what Darrell Broking's and Daniel Denham's concept of hell is?! "Hopping from brick to brick looking for a cool spot"?! I believe those who find themselves there will be utterly burned up ... or am I wrong on this? And why would they wish you to be in hell?! As Christians, shouldn't we wish that no one goes there? Jesus and Paul tell us to love even our enemies. If we are to suppose that you are their "enemy," shouldn't they love you? Nevertheless, I see something very encouraging in their continued comments to you -- at least it shows that they are reading your articles!! Thank you so much, Al, for your Reflections.
From a Reader in Mississippi:
Dear Bro. Al, You don't know how happy I was to see your latest Reflections in my Inbox!! I hope that your vacation was wonderful, and that you and Shelly got some much needed R&R. However, you probably have no idea just how much many of us look forward to your messages each week, and just how much we miss them when you're away!! Also, I was greatly disturbed and saddened by the messages you received from Broking and Denham. These emails are SO SICK that I actually wondered if they could be sent from some "hacker" who was pretending to be them -- surely no one claiming to be a gospel preacher would send such an email. It sounds far more like something a 13-year-old would send. What is most distressing about their messages to you is the obvious GLEE they feel over their assumption that hell awaits you!! How sad that many of these people are in for a surprise at the resurrection when their own judgment against others will be poured out upon them. Please, Heavenly Father, help us never to have this attitude towards others, and forgive each of us who were raised in the Churches of Christ who HAVE had this attitude in the past. Again, Al, we are so glad you are back home and back online with your studies!
From a Reader in North Carolina:
Dear Brother Al, What a powerful article on Daniel Whittle! Little did I know of this great man of faith until now. To think of how much he endured, and yet still he remained strong enough in faith to not only become a powerful preacher, but to pen some of my favorite hymns, is truly inspiring! Thank you so much for this great article, and welcome back from vacation -- we missed you.
From a Minister in Tennessee:
Dear Bro. Al, 'Bout time you got back in the saddle again. Seriously, I hope you and your wife had a super vacation break, but we, your loyal readers, have missed you! I really enjoyed your article on Daniel Whittle, and also the readers' comments -- except for those last two at the end. Do Broking and Denham think they're being coy or funny, or are they just plain mean-spirited? I am trying to be civil here, but their remarks are just simply STUPID. Their brand of religion is completely unattractive to anyone who uses even 1% of their brain cells. Brother Al, it is no wonder their numbers are dwindling. This tepid air of legalism, for which they are gasping, will choke them in the end. Please keep up the good work for Jesus, Al. You know, it really doesn't matter whether Broking or Denham or their minions ever agree with you. The fact is: you are changing lives through your sound reasoning from the gospel. That's what counts in the end.
From a Minister in Tennessee:
Dear Brother Al, I trust you enjoyed your vacation. I really missed seeing your Reflections. Good to read this one on Daniel Whittle. I also got a really good laugh out of the letter where one of your readers spoke of being grounded for a year or more!! I had to shake my head, though, at the pathetic emails from Broking and Denham. As a Christian female comedienne often states during her act: "Bless their little hearts!!" Their repeated statements do more harm to them than they ever do to you. Sadly, they seem to feel that they're "contending for the faith" by their actions. Such may indeed be the "faith" of Bill Cline and company, but it is not the one I read about in the Bible. Keep up your excellent work, brother!
From a Reader in Arkansas:
Bro. Al, Several of the comments from your readers on "church buildings" were hilarious!! "We can't eat in a church building, but we can eliminate in one!" That one was especially good. I'll laugh for days!! Thanks for sharing these priceless gems!
From a Reader in Texas:
Brother Al, I liked your article on Daniel Webster Whittle. My being a singer made my interest all the greater here. Keep up the good work, brother! I am sharing some of your Reflections (as "forwards") with some of my friends, but I leave it up to them whether or not they want to get on your mailing list. However, I always find the reading worthwhile.
From a New Reader in Idaho:
Dear Brother Al, Please add me to the mailing list for your Reflections. I just read your analysis of the King James Version (Reflections #88 -- The Bible Used By Paul). I have a friend who is a "KJV Only" advocate, and so I had been studying online to find what I could that might support such a position. I was constantly shaking my head and raising my eyebrows (and, yes, even laughing) as I read the fanatical articles of these people. These articles seemed to be written by unstudied, bitter people who must have taken their views from parents and pastors, NOT from legitimate study! I needed something factual, and the "KJV Only" crowd just don't cut the mustard. So, thank you for your very thorough and organized portrayal of the many flaws of their view.
From a New Reader in Alabama:
Brother Al, Thank you so much for allowing God to use you for such great good unto others. I recently came across your Reflections article about the Holy Spirit (Reflections #204). I was raised up within a Church of Christ that did not share these beliefs, and I never did feel their teaching was either complete or correct. Currently, I am with a different church family. One of the events that helped bring about my own spiritual growth was attending a Walk to Emmaus. I also receive Edward Fudge's GracEmails. I would appreciate very much receiving your weekly Reflections, if you would be so kind as to include me on your list of recipients. I thank God often for those of you He uses to further His kingdom. May He continue to bless your efforts.
From a Reader in Georgia:
Bro. Al, Wow!! I really enjoyed your historical study of Daniel Webster Whittle. It is always interesting to hear about the spiritual walk and journey of those in our past to whom we look as revered, inspiring figures. However, I'm really writing to respond to the statements by Darrell Broking and Daniel Denham. That was some pretty vicious vitriol targeted at someone (you) who is ostensibly their brother. I have people with whom I disagree, and who I may not like, but I will never go so far as to wish "Hell fire" upon them -- or on anyone else. With these two guys and you it's almost like some kind of weird Cain & Abel scenario -- they seem convinced that their "sacrifice" unto God is more acceptable than their brother's, and yet they become angry with and vicious toward any who choose to peacefully offer something different. Strangely, in their minds, they're in the reverse role of ABEL (with the "acceptable" sacrifice) wishing to kill CAIN (you and the "liberals") for differing with them. Honestly, if they genuinely thought their sacrifice/worship was far more "acceptable" to God, would they not feel pity and sorrow for those who were offering that which they viewed as "unacceptable," rather than anger and bitterness?! Oh well, I suppose if I were you, my response to them would be, "I forgive you!" ... although something tells me that this response would not be well-received by them either.
********************
If you would like to be removed from or added to this
mailing list, contact me and I will immediately comply.
If you are challenged by these Reflections, then feel
free to send them on to others and encourage them
to write for a free subscription. These articles may all
be purchased on CD. Check the ARCHIVES for
details and past issues of these weekly Reflections:
http://www.zianet.com/maxey/Reflect2.htm