REFLECTIONS
by Al Maxey
Issue #687 ------- January 22, 2016
**************************
But what am I? An infant crying
in the night: an infant crying for the
light: and with no language but a cry.
Alfred, Lord Tennyson (1809-1892)

**************************
The Baby-Holding Hymnist
Life and Work of Carrie E. Breck and
Her Collaboration with Grant C. Tullar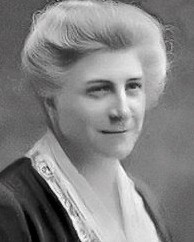 It was exactly 161 years ago today (January 22, 1855) that a baby girl was born in the little New England town of Walden, Vermont. Her name was Carrie Elizabeth Ellis, and she was a direct descendant of Col. Timothy Ellis, an officer in the Continental Army who was a decorated veteran of the Battle of Ticonderoga during the Revolutionary War. Eight years later, in 1863, the family left Vermont and moved to Vineland, New Jersey where she would spend the majority of her life. Carrie had very little formal education (only attending primary school), yet it became obvious to those around her (both family and friends in the community) that she had a talent for creative writing, especially poetry. A local couple, who were donors to the community literary society for youth, took note of Carrie and decided to sponsor her in the hope of encouraging her talent. It would certainly bear fruit in the years to come. Perhaps also inspiring this young girl was an older resident of this same community who was a very well-known American song writer: Henry Clay Work, perhaps best known for his Civil War songs. He wrote "Marching Through Georgia" and the classic favorite "Grandfather's Clock." In fact, Carrie would later write, "I distinctly remember his pleasant, kind-hearted wife allowing me to thrum on their little melodeon with my childish fingers." All of these influences would work together to help motivate and mature the talent of the young Carrie Ellis who, though young, often wrote both verse and prose for local religious publications.
Carrie was brought up in a very strong Christian home, according to Charles H. Gabriel, an author who knew Carrie personally. In 1916 he wrote, "Her parents and grandparents were God-fearing people. And she cannot remember when Bible reading and prayer were not her daily home custom" [The Singers and Their Songs]. He characterized her as "kind-hearted, charitable and sympathetic" [ibid]. According to some public records, she married a local farmer, Frank A. Breck, on May 28, 1883 (although some sources place the date at 1884). According to the New Jersey census of 1905, they had five daughters together. Frank and Carrie, and their daughters, were members of the First Presbyterian Church in Vineland, NJ where they were very active members. During this time she continued to write her religious poetry, although she did so without ever neglecting what she considered her greater calling: to be a devoted wife, mother and Christian. It is reported by some, and she herself admitted, that she often wrote her poems (many of which were later set to music, becoming popular hymns of the church) while sitting and holding her babies. Carrie wrote, "It was a great joy to me, and as opportunity offered, I penciled verse under all sorts of conditions -- over a mending basket, with a baby in arms, and sometimes even when sweeping up or washing dishes, my mind moved to poetic meter" [Kenneth W. Osbeck, 101 More Hymn Stories, p. 87]. The picture below shows her with one of her daughters.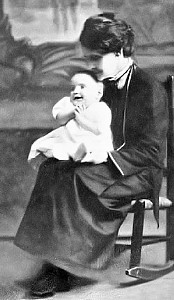 In 1914, Frank and Carrie moved across the country to Portland, Oregon. They would remain here until her death twenty years later on March 27, 1934. She is buried in the Rose City Cemetery, Portland, OR. She was "not particularly robust in health, and had to take frequent rests," according to one biographer, yet she never let this physical weakness deter her from her inspirational writing. During her life she wrote a great many hymns (one online Cyberhymnal lists 375 hymns bearing her name -- sometimes she wrote under the name Carrie E. Breck, while other times she wrote under the name Mrs. Frank A. Breck). Some who knew her well, however, like Joseph Conyer, stated that she had penned "over twelve hundred hymns and over two hundred other poems and articles for papers and magazines." Most place her published poems in excess of 2000, a good many of which were set to music and are beloved hymns of the church even to this day. Yet, "interestingly, it was said of Carrie Breck that 'she could not carry a tune and had no natural sense of pitch, but she had a keen sense of rhythm and loved music'" [Osbeck, p. 87]. Her spiritual gift was composing the words, the composing of the music she gladly left to others who were in possession of that special gift from above.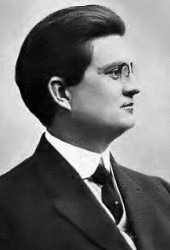 One of those individuals who set a number of her poems to music was Grant Colfax Tullar (1869-1950), and their collaboration would produce a number of hymns that many of us have sung for years! Some of their most successful and beloved works are: "Shall I Crucify My Savior?" ... "Nailed To The Cross" (aka: "There Was One Who Was Willing") ... and perhaps their most famous: "Face To Face." The apostle Paul inspired the words to this poem in 1 Cor. 13:12 -- "For now we see through a glass, darkly; but then face to face." Carrie longed to see her Lord "face to face," and to know Him in a way only possible on that great day! The chorus of that hymn reads: "Face to face I shall behold Him, Far beyond the starry sky; Face to face, in all His glory, I shall see Him by and by!" Although completely tone deaf, Carrie had penned an inspiring poem, and the story of how this poem found its way to being joined with the melody composed by Grant Tullar is quite remarkable. It is, in the words of one writer, "a testimony to how God is continually working behind the scenes to bring together people, circumstances and blessings for the spiritual enrichment of His church." It is also a moving testimony of how God can take both physically weak and spiritually weak individuals and transform them and utilize them to create something truly beautiful and inspiring. We are all broken and fallen beings, yet God's grace and mercy and love can lift us up to heights we never imagined. Such was the dark journey of Grant Tullar, yet God was preparing a man for ministry (even when that man had no clue what God had planned for his future). Notice the following remarkable story of this man, and how God prepared him for the moment when He would unite his music with Carrie Breck's poem.
Grant Tullar was born on August 5, 1869 in Bolton, Connecticut. His mother died when he was only two years old, leaving him, along with eight older siblings, in the care of his father, who was a disabled and impoverished Civil War veteran. The father, unable to provide for these children, parceled them out to various family members, thus splitting up the siblings. Grant, viewed as a difficult child, was passed from family to family, and finally to a man who wasn't even a family member. This man would severely abuse the young boy. It got so bad that Grant ran away before he had even reached his teen years. He lived on the streets, or wherever he could find shelter, supporting himself as best he could. Some compared his early years to the Dickens' character Oliver Twist, and similarly he and several other abandoned or runaway teens shared a hovel, while indulging in any number of vices and vagrancies while trying to survive on the streets. Grant soon became little more than the town drunk, and at a particularly low point, in a drunken stupor, at the age of only 18, he decided to end his life by jumping overboard from a ferry into the icy water. An old man saw what he was about to do, and this man pleaded with Grant to reconsider. For some reason, the concern and compassion of this old man reached through the effects of the alcohol and touched something in the heart of this young man on the verge of suicide. It was at that very moment, Tullar later confided, that he determined in his heart to seek God and find a way out of the darkness, drunkenness, despair and debauchery if God would still have him!
The answer, of course, is that God had never given up on Grant Tullar, but rather was preparing him for a life of ministry in which he could reach out to others who were where he himself used to be. To make a long story short, Grant, who only had about six months of schooling at this point in his life, although he had taught himself to read and write, found (or, rather, God placed in his life) some benevolent church members who saw something in this young man and decided to reach out to him. They sponsored him at Hackettstown Academy where he very quickly began to show great scholastic promise, especially in singing and music, at which he was a natural (especially on the organ and piano). At the age of 19 he attended a Methodist camp meeting and accepted Christ Jesus. Soon afterward he decided to train for the ministry, and some time later even pastored a small Methodist church. His true gift from God, however, was music, and he quickly came to the attention of some of the better known traveling evangelists who sought him out as their song leader for their crusades, during which he was also able to relate well to those attendees who were "from the streets." In 1893, Grant entered into a partnership with Isaac H. Meredith, and they founded the Tullar-Meredith Publishing Company, "which successfully published an unusual quantity of sacred music, including many of Tullar's original texts and tunes" [Osbeck, p. 87].
It was in 1898, however, that the Lord brought together Carrie Breck and Grant Tullar, although not literally face to face, in a remarkable collaboration that led to the now famous and inspiring hymn "Face To Face." The account of how this hymn came to be is recorded in Tullar's little book "Written Because..." He was working with an evangelist during a busy gospel meeting in Rutherford, New Jersey, and a number of them had gone to the local pastor's home for supper one evening. As they all sat around the table, the pastor's wife, knowing how much Grant loved jams and jellies, passed him the jar of jelly, which at that point had very little jelly left. Grant wrote, "As I started to help myself I said, 'So, this is all for me, is it?!' At that instant, 'all for me' as a theme for a song thrust itself upon my mind with such force that I placed the dish again on the table without taking any jelly, and excusing myself, went to the piano and wrote the melody and a few verses, the first one beginning: 'All for me the Savior suffered, All for me He bled and died.' The pastor asked if he might sing it at the service that night before I preached. He told the people the story of its writing, and declared he had found the secret of getting Mr. Tullar to write good songs -- 'Don't feed him too much jelly!'" The next morning, as Tullar sat down and prepared to work on the words of the song a bit more, the postman came and delivered a special letter to him from Carrie E. Breck who had heard he was there working with a crusade. She said she had written a poem that had come to her and wanted to know if he could put it to music. "As I started to read it," Grant wrote, "I discovered that it exactly fitted my music written the night before! No word of her poem nor my music needed to be changed!" That hymn was/is "Face To Face," which for years after still was referred to lovingly as "The Jelly Song." As one author would later remark, "God had brought together writer and musician, words and music to become a song that was destined for many a hymn book, and to bring many a blessing." God took two people and transformed them, bringing them together to produce a work that would impact millions. Thank God for Carrie and Grant, and praise God that He never gives up on any of us, for we are all truly works in progress to His glory!
***************************
Specials for Readers
2016 Book & CD Offers
Click on the link above for a listing of the
books and topical studies and audio sermons
and new Bible classes by Al Maxey, and for
information on how to order these items.

***************************
Readers' Reflections
From a Minister in New Zealand:

Thanks for your exhaustive analysis of Acts 8:37 in Reflections #686 ("Conversion Conversation Challenge"). I was thinking: even if that exchange wasn't in the original text, there was certainly excitement in the eunuch's question to Philip in vs. 36, for he had already made the decision in his heart as Jesus was being preached to him. The fact that he readily accepted baptism is not a surprise as he had been to Jerusalem and was reading Isaiah and thus would be familiar with Jewish baptisms (washings) and proselytizing. It would appear that he saw it as an evidential tangible declaration of his new found faith. On a different matter, I have been doing some research on different versions of the Bible, and it is quite revealing. The RSV (1946 edition) translates Romans 16:7 thusly: "Greet Andronicus and Junias, my kinsmen and my fellow prisoners; they are men of note among the apostles, and they were in Christ before me." The NRSV (1989), however, has omitted "men" from their translation (a word not in the Greek text), for they now realize that Junia was a woman! It shows how watchful we have to be, and how we must not assume certain things for the sake of our tradition! God bless, brother.
I would agree that the act of manifesting one's faith in a visible manner (such as baptism in water) would not have come as a great surprise to one who was familiar with the various practices of Judaism, as this eunuch from Ethiopia most certainly would have been as a Jewish proselyte. I also like your descriptive phrase with which you characterized baptism in water as "an evidential tangible declaration" of his faith in the person and work of Jesus Christ. It was his faith that embraced the free gift of God's grace (salvation), and it was his baptism, and even his confession (if such confession occurred), that visibly evidenced that faith. Sadly, too many have too often taught that our salvation is based on the latter rather than the former. I believe that is false teaching. As for your comment about Romans 16:7, I did a study of that text in Reflections #201 ("Andronicus & Junias/Junia: A Reflective Analysis of Romans 16:7") and agree that the person in question was a woman, and that she was regarded by Paul as being "outstanding among the apostles." -- Al Maxey
From a Minister in California:

Al, please send me your PowerPoint Sermons CD for 2015. Thanks so much. My check is enclosed.
From a Minister in New Mexico:

I am reading your new book "From Ruin To Resurrection," and it is really opening my eyes to the truth of what the Bible teaches on this subject. To supplement this study, I would like to order your two CD set of the audio recordings of your 20 week Bible class study titled "The Nature of Man and His Eternal Destiny." Thank you!
From a Reader in [Unknown]:

Good afternoon, sir! Please, I have a question on one of the qualifications of the elders. If one who has met all the qualifications except that his four children are not all yet baptized (two are grown and are Christians and are faithful, but the other two are still young and not yet baptized), can that man be appointed as an elder? I would be grateful for your response. Thank you for your time, sir.
This question comes up quite often, as do a number of other questions with regard to "legal aspects" of these "qualifications" (which, frankly, I perceive to be qualities far more than qualifications). I dealt with this particular question in Reflections #132 ("The Children of Elders: Must They Be Baptized Believers?"). For my studies of the various other "issues" pertaining to those serving as shepherds of the flock of Christ, see the list under the heading "Elders" on my Topical Index page. -- Al Maxey
From a Reader in Georgia:

Hey Brother Al, I'm just getting back from a work convention in Dallas, so just got around to reading "Conversion Conversation Challenge." It's a good thing CENI wasn't born back in the day! No telling what the NT manuscripts would look like! It is interesting to muse about just how important faith was in the scribal community: so important that they would even write it back into the text of the Scriptures. While I agree that this is not right, it is nonetheless telling of just how important the element of faith was in understanding what was necessary to be saved. Also, I felt sorry for the reader in Oklahoma who wrote to you wanting to be removed from your mailing list because of the collision of his personal beliefs with the Truth being presented in your writings. From personal experience I know that it is a very uncomfortable thing to have one's long-held beliefs challenged. I hope, however, that this person will reconsider, or that, at the very least, God won't quit working in his/her life. I wonder at what point any of us can relax and assume that we already know it all?! Blessings, brother!
********************
If you would like to be added to or removed from this
mailing list, contact me and I will immediately comply.
If you are challenged by these Reflections, then feel
free to send them on to others and encourage them
to write for a free subscription. These articles may all
be purchased on CD. Check the ARCHIVES for
details and past issues of these weekly Reflections:
http://www.zianet.com/maxey/Reflect2.htm