REFLECTIONS
by Al Maxey
Issue #702 ------- August 29, 2016
**************************
"It was because of the problems I saw as a teenager
that I saw the need for justice. I decided then that a
lawyer should be able to make a difference. I went to
law school, passed the bar, became a lawyer, and
destroyed everything segregated that I could find."
Fred David Gray (b. 1930)
Speech at Lipscomb University, June 11, 2015

**************************
Black, White and Gray
A Tribute to Fred D. Gray, Attorney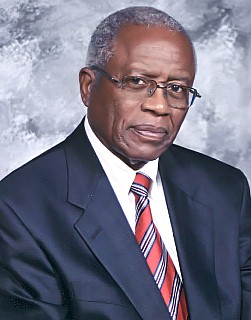 It is very likely that many of you have never heard of the Alabama lawyer named Fred David Gray, but I can assure you that in one way or another your life, and our society in general, has been dramatically and forever affected and even altered by this man and his work. Thus, in this issue of Reflections I want to briefly share with you a tribute to Fred David Gray: a man who early in life realized the power of a godly man or woman to address and transform a society that has lost its way. These men and women are modern day Hebrews 11 servants of the Lord, and we would do well never to forget their contribution to pushing back the Darkness that all too easily can engulf us and ultimately destroy us. Can one man or woman make a difference? Absolutely, as you are about to discover in this reflective and respectful look back over the life of this devoted servant of God and man who dared to provide leadership during a time it could easily have cost him his life. Yet, he never faltered in either faith or focus, resulting in a society forced to examine itself in light of The Light.
Fred David Gray was born in the Washington Park section of Montgomery, Alabama on December 14, 1930 to Abraham (who died while Fred was just a toddler) and Nancy Jones Gray. Fred's parents were devout Christians, and they were all members of the Holt Street Church of Christ. His mother's dream was for Fred, her youngest son, to become a Gospel preacher, and for a time he would do just that, but God clearly had other work for Fred to do, as we shall soon note. Fred was a very gifted child, something the family, as well as others, perceived early in his life. At the age of only 5, Fred began school in the first grade class taught by his aunt. When Fred completed the seventh grade, his mother urged him to attend the Nashville Christian Institute, which was a school established and run by Churches of Christ for African Americans (since few of the Church of Christ colleges would allow Blacks to enroll). As expected, Fred stood out from the crowd as one of the most exceptional students at NCI, and was even chosen to be their student representative assigned to the evangelist Marshall Keeble, thus becoming one of Keeble's "preacher boys." Fred spent much time being mentored by Keeble (who at the time was the school's president), and accompanied him on a number of his fundraising and preaching tours. To learn more about the life of this great evangelist, I would refer you to my tribute to him in Reflections #294 ("Marshall Keeble: Evangelist Extraordinaire"). By observing and working closely with Keeble, the young Fred Gray perfected his speaking skills, which would serve him well in the decades to come as he became the voice of the victims of racial oppression and discrimination. The years Fred Gray spent in this school were formative for him, and he still holds a special place in his heart for it. "Whenever legendary civil rights lawyer Fred Gray comes to Nashville, Tennessee, he drops by the intersection of 24th and Batavia. That spot was once home to the Nashville Christian Institute, a K-12 school for African-American members of the Churches of Christ once banned from Lipscomb University and other Church of Christ schools. Long closed, the school is never far from Gray's mind" [USA TODAY, June 2012, "Churches of Christ Aim to Mend Longstanding Racial Divides," by Bob Smietana]. NCI closed its doors in 1967, transferring all its assets to Lipscomb University.
Fred Gray finished his studies at NCI early, and enrolled in Alabama State College for Negroes at the age of 16. After his graduation from this college, Fred, at the encouragement of one of his professors, entered the Case Western Reserve University School of Law in Cleveland, Ohio where he received his Juris Doctor degree. He had to go out of state to attend law school, for at that time no law school in Alabama would accept Black students. After his graduation, Gray passed his bar exam and set up a law office in Montgomery, Alabama. Fulfilling his mother's dream, he also accepted the position as the minister for the Holt Street Church of Christ, where his family had long been members. Commenting on his mother's dream for him to become a preacher, Fred stated, "At an early age she said that I would baptize dogs and cats and anything else I could catch." In 1956, Fred married Bernice Hill, and they would have four children together. In 1957, in addition to his law practice, Fred agreed to serve as the preacher for the Newtown Church of Christ in Montgomery, a position he held until 1973, when he and his family moved to Tuskegee, Alabama. Within a year of moving there he was able to help organize and facilitate the merger of the city's Black and White Churches of Christ. Fred Gray was determined to put an end to racial segregation wherever he found it; indeed, it would become his mission in life, as he believed he was called by God to this task. In a recent speech delivered at Lipscomb University, he reflected, "It was because of the problems I saw as a teenager that I saw the need for justice. I decided then that a lawyer should be able to make a difference. I went to law school, passed the bar, became a lawyer, and destroyed everything segregated that I could find." He not only sought to accomplish this in his faith-heritage (Churches of Christ), but also in his city, state and nation! He had become a man with a mission, and he was not going to be deterred in this godly cause!
Shortly after finishing law school and returning to Montgomery he became acquainted with political activist Jo Ann Robinson, who had personally suffered various acts of abuse motivated by racial discrimination on buses operated by the Montgomery bus system. Indeed, Gray himself had experienced some of this. These two, along with E. D. Nixon, who was head of the local chapter of the NAACP, made a commitment to bringing change to the bus system. Shortly thereafter, in March of 1955, a 15 year old girl named Claudette Colvin was arrested for refusing to surrender her bus seat to a White person. Fred Gray took her case and was able to defend her against criminal charges. However, he was not satisfied with this alone; one thing he and the other Black leaders decided was: "The next time a situation like this occurs we are going to be prepared to go on and do more than just dispose of the criminal or quasi-criminal aspect of it." They were going to take on the whole injustice of discrimination in the bus system. As Gray later noted, "That opportunity presented itself with Ms. Parks." Fred Gray and Rosa Parks were actually friends at this time. Rosa Parks was a seamstress who worked near Gray's law office. He wrote, "So every day for lunch period she would usually walk down to my office and we'd sit down and share our lunches together and talk about things from the bus situation, to the youth situation, to the fact that everything was segregated, to what a person should or should not do in the event they were arrested similar to what Claudette Colvin was. I knew then that if the opportunity presented itself she would probably not give up her seat." And she didn't. On December 1, 1955 she was arrested for refusing to give up her seat to a White person, and Fred Gray took her case. For a tribute to this brave young woman, please read Reflections #218 ("Rosa Parks: Leading Lady of Liberty").
With the start of the Rosa Parks trial, the Montgomery Bus Boycott began, and it would last for 381 days. Fred Gray also represented the Montgomery Improvement Association during this boycott, which ended when the Supreme Court agreed that a segregated bus system was against the law. Gray was thus on his way toward winning case after case against segregationist policy and practice. He would become the racists' worst nightmare! He became friends with Martin Luther King, Jr., and even represented him in some of the legal cases filed against him. For example, when King was charged with tax evasion in 1960, Gray was able to get King acquitted, even though the jury was all White. When Alabama outlawed the NAACP in 1956, Gray took the case, and, although it took several years, he was able to get the organization operational again in Alabama by Supreme Court order. Gray was able to get court ordered police protection for the participants of the now famous Selma to Montgomery march. It was Fred Gray who was able to get Auburn University to desegregate, in spite of Gov. George Wallace's famous "Stand in the Schoolhouse Door." In 1963 Gray filed the Lee v. Macon County Board of Education case, which four years later resulted in all the schools of Alabama being ordered to desegregate. According to an article in The Encyclopedia of Alabama, "Lawsuits filed by Gray helped desegregate more than 100 local school systems, as well as all public colleges and universities in his home state." It is reported that the person Fred Gray sued more than any other was George Wallace, the openly racist Governor of Alabama. Many years later, as Gray was writing his autobiography ("Bus Ride to Justice"), he met with George Wallace, who, it is said, apologized for his racist past. Fred stated that he believed his repentance was sincere.
Another very famous case that was taken on, and won, by Fred Gray was the class-action lawsuit against the very controversial, and deceptive, federal Tuskegee Syphilis Study that was conducted from 1932 to 1972. It was an infamous clinical study (more of an experiment on African American "lab rats") of "Untreated Syphilis in the Negro Male." Over 600 impoverished Black men were deceived into taking part in this study under the guise of receiving free health care from the federal government. In reality, these men were never given any treatment, even though the cure was available, and were simply observed to see the effects of the disease on them. When this was discovered, Fred Gray took the case and sued both Alabama and the U.S. Public Health Service. The case was settled in 1975 for $10,000,000 and medical treatment for those "lab rats" still living, and their descendants who were affected. Also resulting from the lawsuit was the establishment of the federal Office for Human Research Protections (OHRP), various federal laws protecting human research participants, and a public apology from President Bill Clinton in 1997, which Gray had encouraged the President to make, for the government's role in this horrific experiment. Fred Gray was willing to take on anyone and anything, fearlessly, to see justice prevail for those being oppressed. When asked by a student at David Lipscomb University recently if he had ever been afraid while working on these high profile cases, he replied, "I have been concerned about my safety from time-to-time, but I did not let that concern keep me from doing what must be done."
When asked by another student at Lipscomb what he thought of the situation in Ferguson, Missouri, Fred Gray indicated it was a step back for our nation. He went on to say, "I think we have made tremendous progress as a country since the days of the civil rights movement. We were able to remove all segregation laws at the time. Now, it doesn't mean that all of the problems are solved, but we have to keep working with them. The most disappointing thing to me is that while we have changed the laws, the mindset of some people remains the same. It will take young people like you to continue to make positive change in our society. You can't change it all with legislation. You can't change everything by demonstrations. Sometimes people need to decide to do the right thing because it is just the right thing to do. Write your own story, because if you don't someone else will write it for you." In 2012, David Lipscomb University awarded Fred Gray an "Honorary Doctorate of Humane Letters" at the 32nd annual Thomas H. Olbricht Christian Scholars' Conference. How ironic that this honor should be bestowed upon a man who decades earlier had sued this very institution over its racial policies!
In 1970, Fred Gray and Thomas Reed were elected to serve as representatives in the Alabama Legislature: becoming the first African Americans to do so since the Reconstruction. In 1996 the American Bar Association awarded Gray its "Spirit of Excellence Award." The National Bar Association elected him as their president in 1985. In 2002 he became the first African American president of the Alabama Bar Association. Fred Gray also remains active in the church, serving as an Elder with the Tuskegee Church of Christ. He also, in his mid-80's, continues to practice law in Tuskegee. In 2014, the movie "Selma" was released, and the part of Fred Gray was played by Oscar winning actor Cuba Gooding, Jr. Shawn Michael Howard portrays Fred Gray in the 2001 movie "Boycott." There are countless other honors bestowed and victories won that we could list, but we simply don't have the time or space in this article. I would hope this brief tribute to this man might encourage the reader to do further reading and reflection on his life and work. What an inspiration Fred Gray is to us all, and he serves as a living reminder of what one godly man or woman can do when they fearlessly and selflessly seek to take a bold stand for what is right, regardless of the cost. Thank you, Fred Gray, for your example; may each of us dare to "go and do likewise."
***************************
Specials for Readers
2016 Book & CD Offers
Click on the link above for a listing of the
books and topical studies and audio sermons
and new Bible classes by Al Maxey, and for
information on how to order these items.

***************************
Readers' Reflections
From a Reader in Arizona:

Al, I really appreciate your conclusions about doctrinal bondage, which you shared with us at the end of your recent Reflections ("Kidnappers and Slave Traders" - Issue #701). I forwarded it to our elders and preachers here at Northwest Church of Christ. Paul's encompassing affirmation in Galatians 6:14 should be received by everyone who claims Jesus as Savior and Lord. By the way, -------- has for the past ten months been driving nearly an hour each way to pray with several of us on Mondays at 8 a.m. This brother in Christ and I would never have come to know each other if you had not published my email address in your publication last August. Would you please share that information again? Also, let them know that all who would like to come and pray with us are welcome! That contact info is: Wayne McDaniel in Phoenix, Arizona. My email is: wayne7282@gmail.com.
From a Reader in Texas:

"Kidnappers and Slave Traders" was a very interesting article, and the sudden twist (in application) at the end of your article was a true surprise! At 84 years of age, I remember the days of segregation very well, and when I was immersed into Christ in 1962 there were still Black congregations. I preached my first sermon at a Black church in Houston. We still have segregation today: it's called "White flight" to the suburbs. I remember the "block busters" -- a White person would buy a house in an all White neighborhood and then sell it to a Black family, who would then move into the neighborhood, thus causing Whites to flee. My grandmother never moved, and she always told me that her Black neighbors were the best she had. Your article brought back many memories.
From a Physician in Tennessee:

I grew up in the Churches of Christ, but have become disenchanted with this group. I still have some "Church of Christ" ways in me due to my upbringing. For the last several months my wife and I have been attending Christ United Methodist Church. This is a new experience for me! This congregation has the Communion each Sunday in a small room for those who want to partake of it weekly, and then once a quarter it is observed during the Sunday morning service by the entire congregation. The bread is broken and you are given a piece of it, which is then dipped in a goblet filled with fruit of the vine. Yet, I was raised to believe that one is to drink the fruit of the vine, and to do so as a separate item from the bread. What are your thoughts on that issue? I agree with you that the Communion is a very personal act reflecting a spiritual relationship with God. I've read your writings off and on over the years, and I think you have some good insights on several issues, especially the Communion. Thanks!
I have done a great deal of study over the years on this event (Lord's Supper - Communion - Eucharist), and have sought to share that information with others in my writings. A lot of the fruit of that study is contained in my book "One Bread, One Body: An Examination of Eucharistic Expectation, Evolution and Extremism." As a result of the study I have done, I have found that a very simple memorial has become a rather cumbersome monstrosity of rules, regulations and traditions bound as Truth. The event itself is very simple in purpose and practice, yet men have made it extremely complex, and it has become almost unrecognizable as a result of all the meddling by men. Jesus intended it to be a simple reminder for His people of who He is and what He accomplished for us. He never regulated it in any way (as we are prone to do), but merely asked us to remember Him "as often as" we partake of the elements. Nothing is ever mandated with respect to methods, thus these are areas left to our judgment. Traditions will vary widely within the Family of God, but the spiritual significance of the event itself is constant, and that can be perceived and experienced regardless of these many traditional variants. Form and frequency vary, and there is absolutely nothing wrong with this fact. Again, I have dealt with this extensively in the above mentioned book, and would encourage those interested to take a careful and prayerful look at the information presented therein. [NOTE: After writing this brother, I received the following email several days later] -- Al Maxey

Thank you, Al. I ordered and read your book on Kindle, and had previously read several of your Reflections articles on the Lord's Supper. I am still not convinced that dipping the bread in the fruit of the vine is correct, but think that most of my beliefs on this are due to my upbringing in the Churches of Christ. I totally agree with you that the Supper is an inward reflection and remembrance of Christ and His death, burial and resurrection. I may be too hung up on Jesus giving the disciples bread and then wine, saying "drink" this in remembrance of Me. I guess technically one is drinking the wine after the bread is dipped in it. Please don't mistake me for a one cupper, because I'm not. Thanks for your help. I enjoyed your book and gained some additional insight from reading it.
From a Critic in San Francisco:

Mr. Maxey, I just came across, and read, your article titled "The 'Days' of Creation: Literal or Figurative?" (Reflections #56). What you wrote is just more of the same revisionist bulls--t offered up to explain a fairy tale! But hey, it's a free country, so believe what you wanna believe and have the courtesy to allow others to live freely.
From a Reader in Georgia:

It is difficult to appreciate how anyone could accept slavery as anything other than a total depravity, but then I didn't live during that time. Thank goodness! Reading your comments this morning in your article ("Kidnappers and Slave Traders"), I thought of Paul's admonition in Galatians 5, where he told us not to be burdened again by a "yoke of slavery." Slavery to anything seems contrary to free will and God's design for mankind.
From a Reader in Arkansas:

Brother Al, I applaud your article on slavery. In addition to all you mention in that study, the Lord's "Golden Rule" (aptly named) also destroys slavery in one stroke. It is hard to imagine any action which would so violate the Golden Rule as the enslaving of another human being! God bless you.
From a Reader in Missouri:

Brother Al, what a tremendous and uplifting article on the biblical record of the history of slavery put in its proper perspective. Thank you for your powerful Scriptural teaching. May the Lord bless you and keep you in the good work of the Lord, for world history cannot be seen in its true light apart from biblical truths and principles.
From a Missionary in Peru:

Thanks for your recent Reflections on "Kidnappers and Slave Traders." I think the majority are unaware that slavery in Roman times was not really "racist" or "race-based," as was the case in our own country toward the colored races. Most of the slaves in NT times would have been just as "white" as their masters. Historian Murray Harris wrote a book about what slavery was like in the 1st century Greco-Roman world, and he says that in those days slaves were not distinguishable from anyone else by race. Thus, the attempt by many to equate slavery in NT times with the race-based slavery during the 17th, 18th and 19th centuries cannot hold water; the two are poles apart. Many folk reading the account of Paul sending Onesimus back to his master Philemon, must have pictured Onesimus chained in a corner and/or continually beaten by his master. There is a danger in not really grasping the difference between these two types of slavery. May the Lord continue to bless and expand the influence of your ministry to the glory of God!
From a Minister in New Zealand:

Hi Al, I trust you are doing well. I was thinking about these verses (to conceal or reveal: Matthew 13:10-16, and the stumbling block of Acts 11:14) and how people can be blinded if they have a preconceived and patternistic mindset. In Acts 11, for example, it could be assumed that Cornelius was lost until he was immersed in water. I note that you have dealt thoroughly with this passage in several of your Reflections articles, so I only wanted to add some thoughts. The words of the angel of God, I believe, were simply to give this God-fearing man new information and enlighten and illuminate his already existing faith. The situation is similar to that of Apollos, just different levels of understanding in a transitional time period. The desire to baptize them was simply in keeping with Jewish practice, and even some of the rituals from the Gentile world. This illustrates again the need to properly perceive and investigate all things thoroughly, as you have done. By the way, I just recently came across a work by Dana and Mantey titled "A Manual Grammar of the Greek New Testament." You may already be aware of it. It is certainly worth a look, particularly their dealings with "eis" and "kai." It can be Googled online and read on a PDF file. God bless you, Al.
The sacramentalists absolutely love the Acts 11:14 passage, but their "take" on its meaning and application is simply inconsistent with the remainder of Scripture, and even Peter's understanding of that incident, as I have shown in the studies I have written on this event. I would especially refer the readers to Reflections #472 ("Cornelius and Balaam's Ass: Was this Godly Centurion as Damned as a Donkey prior to his Baptism?"), Reflections #587 ("Simon's Sect Silencing Speech: Reflective Study of Peter's Proclamation to the Jerusalem Council in Acts 15:7-11"), and Reflections #158 ("God's Plan for the Unenlightened: Pondering the Parameters of Divine Acceptance of Human Response to Available Light"). How one can maintain the legalistic, patternistic, sacramental view of baptism in water after examining this evidence is hard to grasp. As for the Greek grammar by Dana and Mantey, that was one of the textbooks and reference works we used when I studied Greek at the university I attended. We kept it handy (as we did a few other textbooks) in both our undergraduate and graduate level courses on Greek (I studied Greek for three years, taking every course the university offered). I still have a couple of copies of this book in my personal library (one at home, one in the office). -- Al Maxey
********************
If you would like to be added to or removed from this
mailing list, contact me and I will immediately comply.
If you are challenged by these Reflections, then feel
free to send them on to others and encourage them
to write for a free subscription. These articles may all
be purchased on CD. Check the ARCHIVES for
details and past issues of these weekly Reflections:
http://www.zianet.com/maxey/Reflect2.htm