Visit the Rest of The PPDRDG by Returning to the Site Map and Picking Another Page!
The PPDRDG Office of Prying and Censorship Presents
"Postage Stamps of Diego Garcia, Page 1"
1969
See Page 2 | See Page 3 | See Page 4 | See Page 5
(arranged, more or less, in chronological order)
See proof that the webmaster really is the President for Life!
This is where we ask for your help! If you have pictures of any postage stamps or other postal stuff from DG, PLEASE send it to be added to these pages.
The REAL BIOT Postoffice - ON THE ISLAND and NOW ON-LINE! For ALL your Postage Needs, Contact:
http://www.biotpostoffice.com/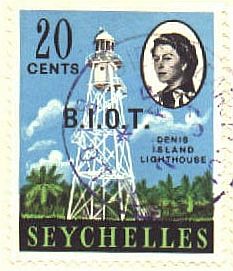 First Known Stamps! These are From Kirby Crawford, who was with the team that visited the island for a year in 1968 (Click Here for that page)... Kirby writes: "Here's a couple of scans of stamps that I mailed from the plantation in July of '69 to my mother in Cumberland, Wisconsin. To mail letters then, you just walked over to the tally house, picked up the cancellation stamp and canceled your own letters, left them in the box until the Nordvaer would come in from Mahe. Best Regards, Kirby C."
Editor's Note - in those days, BIOT used stamps from the colonies of the Seychelles, Aldabra, etc., and simply superimposed the logo "B.I.O.T." on them.











Visit the Rest of The PPDRDG by Returning to the Site Map and Picking Another Page!
Want to use something from this site? See the TERMS OF USE.
This, and everything else I write and every photo I produce is copyrighted by Ted A. Morris, Jr.