Basin Range Volcanics Geolapidary museum
Home of the Baker Egg Mine
Agate nodules and crystal geodes, the finest in rarity and quality in the world!
Located two miles before Rockhound State Park on Rockhound Road (Highway 143)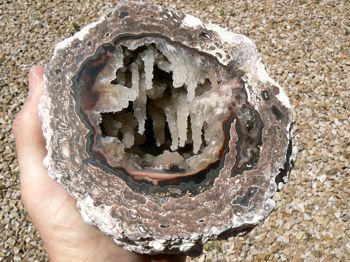 6235 Stirrup Rd SE
Deming, New Mexico 88030
(575) 546-4021
Contents:
What Are Thundereggs (Lithophysae)?
Where To Find Thundereggs (Lithophysae)
How To Dig Thundereggs (Lithophysae)
The Collection of the Geode Kid
How To Determine Proper Orientation for Successful Cutting
Baker Thunderegg Basics
Where To Find the Basin Range Volcanics Geolapidary Museum and Rockshop

Contribution to Petrochemical-mineralogical Characterization of Alteration Processes within the Marginal Facies of Rhyolitic Volcanics of Lower Permian Age, Thuringian Forest, Germany


---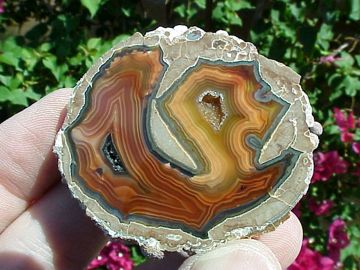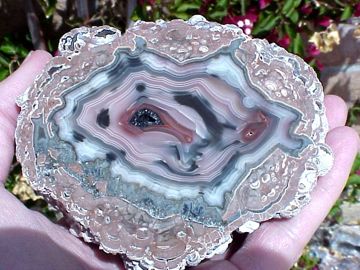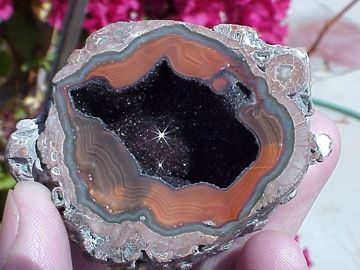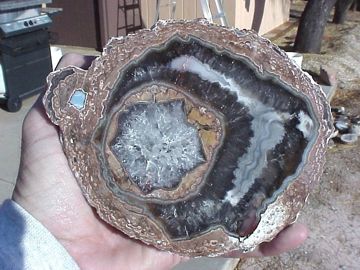 ---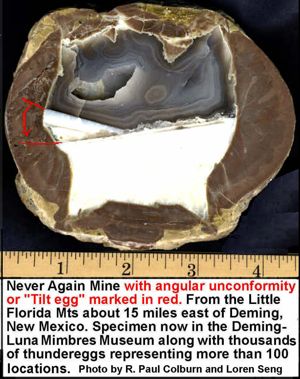 Detailed descriptions of rare and bizarre formations are provided with many of the specimens in the museum collection. In addition, we have a shop with fine thundereggs from many of the locations in the museum for sale-- geodes, nodules, and agate from New Mexico and the Western United States.

---
---
You can e-mail us at
geodekid@zianet.com

You can snail-mail us at
Basin Range Volcanics Geolapidary Museum
6235 Stirrup Rd SE
Deming, New Mexico 88030

---

For more information,
please refer to my book, The Formation of Thundereggs
by Robert Colburn, aka "Paul, the Geode Kid."

---
This web page was created for the Geode Kid by Carlton J Donaghe and Bill Boomhower
Updated 1/31/2007
All contents copyright © 1997 Robert Colburn. All rights reserved.
You are visitor number



since January, 1998