REFLECTIONS
by Al Maxey
Issue #452 ------- August 20, 2010
**************************
The first duty of a university is to teach wisdom,
not a trade; character, not technicalities.
Winston Churchill {1874-1965}

**************************
Listening When Money Talks
Visionary Views of Dr. Royce Money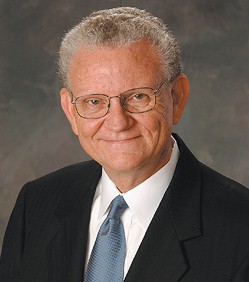 I would love to be able to say that I know Dr. Royce Money personally; that he and I have spent many hours together discussing all manner of things of interest to us both. Regretfully, that's not the case. To my knowledge, I have only met the man one time. I was preaching for the Honolulu Church of Christ, located just a mile from Waikiki Beach, and Dr. Money visited one Sunday morning. Although I spoke with him briefly after the assembly, and remember him being very friendly and even complimentary of my lessons that morning, the feeling that has stayed with me the strongest was how nervous I was to be teaching and preaching with such a noted figure in the audience.
I have a tremendous amount of respect for Dr. Royce Money, who has recently retired (May 31, 2010) as Abilene Christian University's 10th President, a position which he held for 19 years. He has now transitioned into the role of ACU's Chancellor. During his tenure as the President of this great institution of higher education (from which both my parents received their undergraduate degrees; in fact, they met and were married on the old ACC campus, which you may read about in my tribute to my parents in Reflections #301), ACU has won international acclaim as one of "America's Best Colleges" (according to U. S. News & World Report -- which publication ranked them #1 in 2009 for "innovative leadership" in the 16 state western region of our own nation)! I am sure most people would agree that Dr. Royce Money (known to many individuals as "The People's President") had a great deal to do with this tremendous success in achieving academic excellence. For this the faculty, staff and students of Abilene Christian University (past, present and future) will be forever grateful, for this beloved man has laid a foundation of greatness that will endure for generations to come.
In a message that he sent to the faculty and staff of ACU, after the announcement of his retirement, he wrote, "We are excited about the future of ACU and believe its best years are still ahead. Our 21st Century Vision has been successfully launched --- even in challenging times --- and we are well on our way to becoming the premier university for the education of Christ-centered, global leaders." Dr. Money speaks of having "vision," something the people of God have always needed if they are to be viable and relevant to the world about them. Too many disciples of Jesus Christ have a tendency to spend their time looking backward, rather than forward --- seeking to replicate the practices of those who lived in centuries past, rather than blazing new spiritual trails into the century that is before us. Although Truth itself remains constant, its expressions and applications do not; indeed, unless these are flexible enough to change with the changing times, they are doomed to increasing irrelevance and ultimate extinction. This is a great challenge facing the people of God today, and one Dr. Money recognized many years ago! In his Inaugural Address some 19 years ago he stated, "Changing in order to advance, while at the same time advancing the changeless, demands the wisdom of Solomon and the persistence of Job. Even the God we serve is both ever changing and never changing. If we are to be people with a purpose, if we are to make a difference, it is imperative that we learn what must change and what must not change."
Something else that Dr. Money stated in his Inaugural Address, and I really appreciate this statement, is that "ACU is not for sale. Not to the right or to the left." As always, there are many factions and schisms that would love to sway a major university like Abilene Christian to their own narrow perspective, but Royce Money, thank God, was determined not to allow this to happen. He declared in that address that this was especially true with regard "to sectarian spirits who set themselves up as standards of orthodoxy." These would primarily be the legalistic patternists (the ultra-conservative rigid religionists of our movement) who have long sought to bully the Body of Christ into submission to their every theological whim. ACU has refused to be bullied by these sanctimonious sectarians, and I thank Dr. Money for having the spiritual fortitude to stand up to them (for which he has repeatedly been subjected to the fullness of their fury). I know of one pathetic soul who has even gone so far as to threaten to sue ACU and some of its leaders for "corrupting" the hearts and minds of his kids by their "liberalism." Good grief! It would all be almost laughable, if not so sick. A few years ago I happened to be one of the speakers at a regional Christian Leadership Conference. On one of the panels with me was a noted professor from ACU. In the course of our visit with one another in a holding area before the scheduled panel began, the topic of this individual and his antics came up. It was quite enlightening to hear the lengths to which this sectarian was willing to go in order to try and destroy the good being done by Abilene Christian University. Unfortunately, Satan has always had such toady servants, which makes me all the more thankful for and appreciative of faithful servants like Dr. Royce Money, who simply will not tolerate such nonsense from such individuals or groups. May the Lord raise up more like him to lead us into/in the future, for such devilish detractors will always be with us.
In the Spring/Summer, 2010 issue of ACU Today, which is a publication published three times a year by Abilene Christian University, there is a fairly significant section devoted to a reflective review of the almost two decades of Dr. Money's presidency. I found this piece to be especially enlightening and encouraging, as it was filled with a number of excerpts from speeches he made over the years that reflect key elements of his vision for the journey ahead, not only for ACU, but also for the people of God. It is his comments to this last group to which I would like to devote the remainder of this present Reflections. On page 52 of this latest issue of ACU Today there appears an excerpt from Dr. Money's speech "On This Rock" at the ACU Lectureship on February 23, 1993. At the beginning he declares, "I come to you tonight with a heavy burden on my heart for the church. As we seek to be the church that belongs to Jesus Christ, I see hindrances along our way that impede our progress. ... I want to be honest with you tonight and discuss some issues and problems and challenges we face in our fellowship that are not easy or pleasant to discuss. But we must." The following points are from his speech, and were listed on page 52 of ACU Today [Spring/Summer, 2010]:
We must stop being influenced by radical voices on either side.
We must realize that unity does not mean uniformity of belief.
We must determine the essentials of faith apart from traditions,
customs, comfort and personal preference.
We must realize in dealing with those who differ with us, both
within our fellowship and beyond, that tolerance and a certain
level of fellowship is not the same as total endorsement of
another's views.
We must learn how to handle diversity in a charitable way.
Namely: worship styles.
We must mark those who cause division among us.
We must decide what is the driving force behind the
restoration of New Testament Christianity.
We must make some decisions about the role of the
Christian colleges.
We must rediscover that in our allegiance to Christ, the
bride wears the name of the Groom.
We must realize that the enemy is Satan and not each other.
We must determine what the real issues are regarding the
role of women in the church.
We must decide on the way Scripture should be interpreted.
We must realize the powerful dynamics of change.
We must rededicate ourselves to search relentlessly for
truth, which is revealed in the Scriptures.
I would love to see each of these items become a focal point, as well as a catalyst, for reflective dialogue among responsible disciples. Each of these fourteen points is so theologically weighty and spiritually meaty that it would occupy the hearts and minds of those truly seeking God's will for quite some time to come. Those more interested in merely perpetuating party perceptions, preferences, precepts, practices and paradigms, however, will quickly "pooh-pooh" any attempt by any person to take any of these points seriously. They know only too well that all their teaching and tradition would very quickly come under close scrutiny by sincere, seeking souls, and they dare not allow this. It would spell the doom of their dogma and would topple their traditions from their elevated place of lordship over the saints. Yet Dr. Money wisely, and rightly, begins each one with the phrase "We must..." These matters are not optional; they are essential. This is especially so if we are truly interested in being the church in the world about us, rather than just perpetuating religious rituals inside of "sacred structures" a few hours a week.
I have dealt with a great many of these matters over the years in my Reflections and my books, as well as in my preaching and teaching and speaking engagements. Further, I shall continue to do so for as long as God allows me to continue being a voice for Him. Many of you can probably call to mind specific writings of mine that deal with many of the above items, and for those who may be new readers I would urge you to check out my Reflections Archives site and catch up on these in-depth studies. I would also ask that each of you -- in private study, or in Bible classes, or in small groups -- examine each of these challenges given by Dr. Royce Money. Spend some time in careful, prayerful reflection upon them ... and then seek to put the truths perceived into action. It is time for us all -- together -- to climb out of our religious ruts and step boldly into our future. The Spirit will lead us ... are we ready to follow?!
***************************
Down, But Not Out
A Study of Divorce and Remarriage
in Light of God's Healing Grace
A 193 page book by Al Maxey


One Bread, One Body
An Examination of Eucharistic
Expectation, Evolution and Extremism
A 230 page book by Al Maxey


Order both books from Publish America at:
www.publishamerica.com or (301) 695-1707


SIGNED COPIES may be ordered directly
from the author at a reduced price. Click on
the two book titles for details on how to order.

***************************
Readers' Reflections
From a Reader in California:
Bro. Al, Wow! What an inspiring tribute to Emily Tubman! As wonderful as were her good works, the happiness she received in return must have been awesome. I hope that we have wealthy brethren today who will be inspired by her example to excel in generosity in the promotion of the Lord's work.
From a Reader in Arkansas:
Brother Al, Well done! I enjoy and benefit so much from your biographies. I have learned about so many good folk via these articles of yours. I especially remain indebted to you for your article on Horatio Spafford -- Reflections #331 -- which you wrote and mailed out just before I visited Jerusalem. I requested of my tour guide that he take me to The American Colony, which was a really great experience! This past June, on my trip there, I made a special request of my guide to visit Spafford's grave so that I could place a small stone on the tomb, which, as you know, is a Jewish sign of respect. Unfortunately, the cemetery authorities were not allowing any visitors in at the time. I hope that changes in the future. I pray that you will keep mixing in such biographies of notable folk in your weekly writings. God bless you.
From a Deacon in Virginia:
Dear Brother Al, I really enjoyed your Reflections article on Mrs. Tubman because it brought back such wonderful memories of my grandmother. She grew up in an orphanage in North Carolina and was never wealthy during her life, yet she gave herself in service to others. She raised five beautiful Christian children (among them my mother). She would feed the homeless (who were then known as "hobos") on her back porch, and provided care for anybody she met who had any need. She would spend time every week cleaning the Baptist church building --- a huge one that extended over two square blocks --- and never received any money for doing it. And you would never find even a speck of dust there when you came into that building! Bible study and prayer were as much a part of her home as eating and sleeping. I feel so blessed to have grown up with this kind of Christian influence in my life, and am saddened for all the children who live without the benefit of Christian mothers and grandmothers. God bless you, Bro. Al. Your Reflections really touch my heart and help me focus on what is truly important.
From a Reader in Texas:
Brother Al, I just wanted to let you know how much I enjoyed reading the article on Emily Tubman. I have included this article of yours on my own web site, with a link back to your web site, as I feel that she is someone who we can all look to as an example to emulate. While the article really does not have much to do with the overall content of my own web site, she is such an outstanding example of a Christian woman from 150 years ago that I wanted to have the article available for my readers. May God continue to bless you and your ministry, my friend.
From a Reader in California:
Al, Al, Al ... First, you mention that Emily Tubman was baptized by a Baptist preacher, and then you tell us she associated with the Christian Church rather than the Only True Church (the "Churches of Christ"). Further, you mentioned that "liberal" Rubel Shelly in the readers' comments section, who failed in his article to unabashedly condemn Ann Rice. Al, Al, Al ... you are sure to be skewered for this article, my friend. Skewered!! Seriously, it was a very interesting article about a lovely lady! Thank you!
From a Reader in Connecticut:
Dear Brother Al, What a great Reflections on the life of a truly saintly woman!! How refreshing to be reminded that in the midst of all the rancorous debate among our brethren it is the simple, kind, meek and giving spirit that really makes a difference in all of our lives. Perhaps that is why our Lord Jesus said love is the greatest commandment of all.
From a Reader in Oklahoma:
Brother Maxey, Thank you for your fine analysis of the inductive and deductive methods of study. I have experience in both of these, with the latter causing some of my worst sins as a former "Pharisee" within the ultra-conservative Churches of Christ. Thanks to thinking brothers (and sisters) like you, however, I've evolved into a serious Christian who has at last learned about our God's love, mercy and concern for those who are lost. My experience also includes 30 years working as a chemist, where I learned about and made use of the inductive approach, which influenced my study of the Scriptures! Your book Down, But Not Out (along with the books by Bro. Olan Hicks) helped me understand God's mercy for divorced Christians: that divorce is not "the unpardonable sin." You guys have saved a lot of second marriages from being utterly destroyed by the legalists! May God bless you, Bro. Maxey, as you continue to influence people everywhere to be reasoning thinkers, rather than legalistic parrots.
From a Reader in Arizona:
Dear Brother Al, I really want to read your new book One Bread, One Body. Enclosed is my check for a signed copy. I love your Reflections, and I also loved your book Down, But Not Out. It is by far the best book out there on the subject of divorce! Keep up the great work.
From a Reader in Louisiana:
Dear Bro. Al, I purchased the book "Father, Make Them One: A Prayer of Jesus" by Michael Stinson, and I can honestly say that this is the best book on this particular topic that I have ever read! Incidentally, I was very impressed with the Foreword also, which happened to be written by one of my very favorite persons (Al Maxey). I truly hope many people will decide to purchase this little book. It's inexpensive, but quite valuable. I hope you and Shelly are doing well. I thoroughly enjoyed talking with you on the phone recently!
The above mentioned book has been published by One Body Press (and it may be purchased from that web site). It is 165 pages long and sells for $11.95. The author honored me when he asked me to write the Foreword to this work, as well as by quoting from a number of my writings throughout his book. One Body Press is one of the arms of One Body Ministries, a great group of disciples who have a vision and mission to help bring to reality the prayer of Jesus in John 17. I urge you all to support this work any way you can, and especially through prayer! Michael sent me a free copy of the book, and wrote, "I really do appreciate all your help with this book! It would not be the book it is without your input, both in the book itself and in my own early writing days! You've had a tremendous impact on me, Al, and I am very much appreciative." --- Al Maxey
********************
If you would like to be removed from or added to this
mailing list, contact me and I will immediately comply.
If you are challenged by these Reflections, then feel
free to send them on to others and encourage them
to write for a free subscription. These articles may all
be purchased on CD. Check the ARCHIVES for
details and past issues of these weekly Reflections:
http://www.zianet.com/maxey/Reflect2.htm