REFLECTIONS
by Al Maxey
Issue #508 ------- October 25, 2011
**************************
Music must take rank as the highest
of the fine arts - as the one which, more
than any other, ministers to human welfare.
Herbert Spencer {1820-1903}

**************************
Albert Edward Brumley
The Dean of Gospel Songwriters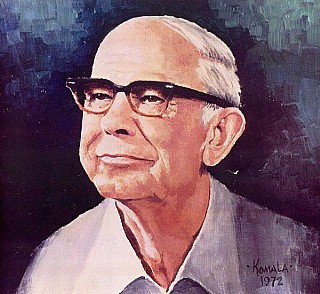 Sometimes genuine greatness has rather humble beginnings! That was most certainly the case with one of the greatest gospel songwriters who ever lived. He wrote over 800 gospel and sentimental songs, and it has been conservatively estimated that these have been printed well in excess of 15 million times in sheet music and hymn books. This man was inducted into numerous halls of fame, and his music was recorded by some of the best known names in the music industry, including --- Elvis Presley, Ray Charles, Loretta Lynn, Aretha Franklin, Ray Stevens, Roy Acuff, Johnny Cash, Merle Haggard, George Jones, Opry star Bill Monroe, the Blackwood Brothers, and the Boston Pops Orchestra. The Gospel Music Association stated that this individual was one of only five persons within the entire USA whose contributions directly affected 20th century gospel music! The Smithsonian Institution, in a study of gospel music, wrote that this gifted man was the "greatest white gospel songwriter before World War II." Who was he? His name was Albert Edward Brumley, a dirt-poor, painfully shy, "skinny kid," with only a 10th grade education, who at the time he wrote his greatest song was picking cotton in Oklahoma. The story of how God used this young man to His glory is one that will truly inspire you.
Albert Edward Brumley was born on October 29, 1905 near Spiro, Oklahoma, which was in Choctaw Indian Territory. Albert's parents, William Sherman and Sarah Isabelle (Williams) Brumley were poor sharecroppers on a cotton farm. They'd come to Oklahoma during the Land Run of 1889. William and Sarah were hard workers, and had very strong religious beliefs. Although they put in long days working the fields, their evenings were spent focused entirely on family, with plenty of Bible stories and music (William was a good fiddle player). They enjoyed socializing with their friends and neighbors, and were very involved with other Christians. Young Albert grew up helping work the fields, and although he attended public school in nearby Rock Island for a number of years, he never completed his studies (attending only through the 10th grade). He was a very "skinny kid," and would constantly wear bib-overalls with a necktie, which caused him to stand out from the others. He played baseball during his school years, and could always be seen playing first base with his bib-overalls and tie on!! As one might expect, this caused him to be the focus of some rather cruel jokes from his classmates. Albert was a very simple person who enjoyed his home life. He was a good cotton picker, and he loved to sing (it is said that he had "a rich bass voice").
In 1922, one of the traveling singing school instructors came through the area where the Brumleys lived and Albert attended it. This exposure to a musical education "set me afire," Albert would later write, and it was from that moment he made the determination to spend his life in this vocation if he could possibly find a way to do so. He wrote his first song at this time, while still just a teenager ("I Can Hear Them Singing Over There"), but it would be several years before it was accepted for publication. In 1926, at the age of just 21, Albert decided to take a huge leap of faith, and he left home to pursue his dream! He left Oklahoma with only the clothes on his back and $3 in his pocket. He paid 50 cents of that to buy a bus ticket to Hartford, Arkansas where he had hopes he would be able to enroll in the Hartford Musical Institute. When he arrived in Hartford, Albert looked up Eugene Monroe Bartlett, who was the director of this prestigious institute, and also the owner of the Hartford Music Company. He introduced himself, and then said, "Mr. Bartlett, I hear that you'll teach a fella how to sing and how to write music. I've come to learn." Bartlett asked him if he had the $5 for the tuition, to which Albert responded, "No, sir!" He asked if he had money for room and board. He said, "No sir, Mr. Bartlett. I don't have any money period." Eugene Bartlett looked him up and down for a few moments, then told him he could stay in his house free, and that the tuition would be free also. That began a friendship between these two that would last for the rest of Bartlett's life (he died in 1941). Albert would remain a student at this institute until the year 1931.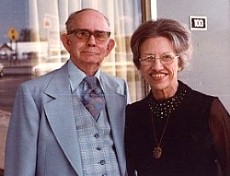 During his years at the institute, Albert managed to earn a little money by teaching singing schools throughout the region (Arkansas, Oklahoma and Missouri). He also toured as the bass singer and piano player with the Hartford Quartet. It was during one of the breaks in his schooling, while he was back home with his parents in Oklahoma, and while picking cotton for them out in the field, that Albert wrote his most famous hymn: "I'll Fly Away." This was in 1929 (although the hymn would not be published until 1932). He later stated, "I was dreaming of flying away from that cotton field when I wrote it." While conducting one of his singing schools in Powell, Missouri, Albert met and fell in love with a young lady named Goldie Edith Schell. She also was very interested in gospel music, and would later write that she knew almost immediately upon meeting Albert Brumley that "he would be a great songwriter, and I just wanted to help him." Albert left the Hartford Musical Institute in 1931 and married Goldie that same year. The couple settled in Powell, Missouri, where they would remain, raising their six children (Bill, Al, Bob, Tom, Jack, Betty) on the banks of Big Sugar Creek.
After they were married, it was his wife Goldie who finally encouraged him to try and get some of his songs and hymns published. He enjoyed writing them, but had not really tried to get them before the public. At her encouragement, he started with "I'll Fly Away," and was surprised to see it accepted. This opened the door for a great many more to come (over 800 in all). A few of his beloved hymns are: "Jesus, Hold My Hand" ... "If We Never Meet Again This Side Of Heaven" ... "This World Is Not My Home" ... "I'll Meet You In The Morning" ... "Salvation Has Been Brought Down." He also wrote the hit single for Ray Stevens titled "Turn Your Radio On," as well as the song made famous on the Grand Ole Opry stage by Roy Acuff titled "Nobody Answered Me." Early in their marriage, Albert worked in his father-in-law's general store, where he earned a dollar a day!! Not long after that he went to work as a staff writer for the Hartford Music Company, earning a wage of $12.50 per month. Albert also worked for the Stamps Baxter music publishing companies for a time before starting his own company in Powell, Missouri called Albert E. Brumley and Sons Music. He also started Country Gentlemen Music. He became so successful at these ventures that in 1948 he was able to purchase the Hartford Music Company.
Albert and Goldie Brumley were very involved in the work of their Lord, and were members of the Church of Christ. Albert was always concerned that his hymns be biblically accurate, and to help him in this quest he would frequently consult with his father-in-law, Joe Schell, who was a serious student of the Scriptures. For example, when he was working on "Salvation Has Been Brought Down," Albert read the words to Joe as he had originally written them: "salvation will be brought down." Joe said, "Albert, salvation has already been brought down," so Albert changed the words of the hymn from "will be" to "has been." Albert also recognized the value of using the right words and phrases to convey his thoughts within his hymns. Thus, he collected several English books and taught himself better grammar! He always had a couple of reference books nearby when he was writing: Roget's Thesaurus and a rhyming dictionary. It is said that Goldie was the "perfect wife for an immensely talented, creative, and slightly eccentric musical genius." One of his biographers wrote, "To say Albert Brumley was unorganized is polite. His habit of working on multiple songs was a source of frustration for himself and everyone around him. He could never remember where he left the last song he was working on. He constantly wrote ideas and verses on scraps of paper, which occasionally ended up in the wastebasket and had to be retrieved. No amount of filing or office space could remedy the problem, so Goldie proved to be the 'walking filing cabinet.' The absent-minded composer could have solved the problem by setting up an office somewhere away from the family home, but Albert wouldn't have any part of that. He insisted on working at home, probably because he wanted to test new songs on Goldie."
All of Albert Brumley's sons followed him into the music business, and a couple of them became rather well-known entertainers. They also ran his music companies following his death. In 1969 Albert established the Albert E. Brumley Sundown to Sunup Gospel Sing in Springdale, Arkansas (now simply known as the Albert E. Brumley Gospel Sing), which is said to be the largest such event in all the country. He received numerous awards in his life, including induction into the Nashville Songwriters Hall of Fame, the Gospel Music Hall of Fame, and the Oklahoma Music Hall of Fame. Albert Edward Brumley "flew away" from the toils of this life on November 15, 1977 and is buried at the Fox Church of Christ Cemetery near Powell, Missouri. God richly blessed us all by sending such a wonderful Christian hymn writer our way!
***************************
Special CD Offers
Down, But Not Out
A Study of Divorce & Remarriage
in Light of God's Healing Grace
(A 193 page book by Al Maxey)
Also Available on KINDLE

One Bread, One Body
An Examination of Eucharistic
Expectation, Evolution & Extremism
(A 230 page book by Al Maxey)
Also Available on KINDLE

***************************
Readers' Reflections
From a Reader in Kentucky:
Brother Al, I appreciate the thinking you do on so many difficult and challenging subjects! It is good for us to think, and also to examine what we believe, and your Reflections articles really do this! God bless you.
From a Reader in Canada:
Dear Brother Al, GREAT article on Acts 22:16. With your permission, I will copy it and post it on my Internet blog site!!
From a Reader in Georgia:
Dear Brother Al, Thank you for delving into this verse. It was extraordinarily timely and helpful. I hope you don't mind, but I have been using your recent studies on baptism to help stomp out ignorance!
From a Minister in Texas:
Brother Al, What an excellent exposition and exegesis of Acts 22:16, which I too once made a pivotal "proof" of the importance of baptism as related to salvation! I am somewhat ashamed that I never did all of the grammatical work of examining the structure and verb forms in this passage; but, even more than ashamed, I am disappointed that only just now is it crystal-clear as to its theological consistency with the biblical doctrine of salvation by grace through faith in God's Son, whose blood sacrifice indeed, and entirely, "paid it all." Further, it is really sad that I had to learn this truth from a heretic such as you!! -- but, that's another discussion for another time!! (big grin). Brother, thank you for your research and thoughtful analysis of this passage. It was outstanding scholarship, coupled with a passion for Truth over tradition!!
From a Reader in Georgia:
Dear Brother Al, I just wanted to say that I REALLY admire the courage you have shown in your recent studies on water immersion!! I believe you are right on the mark. There is a funny attribute about facts -- they tend to hang around forever. Keep on keeping on, brother. You are doing soooo much good!!
From a Reader in Washington:
Dear Bro. Al, Maybe I should have been a doorgunner in Vietnam instead of a helicopter pilot! We have been having a very similar discussion in our "private group" on Facebook about this very subject. I had tried, without cussing, to explain exactly what you said in your article "Wash Away Your Sins," but I just can't explain it as well as you did. Love ya, bro.
From an Elder in Texas:
Dear Brother Al, How stark the contrast between the external ritual ceremonial cleansing/baptism required by the Law and the internal spiritual/conscience cleansing of baptism required by faith in Christ as God's perfect sin offering through His marvelous grace!
From a Minister in Tennessee:
Brother Al, Doesn't it all come down to this: In what (or whom) do I place my faith?! If my faith is centered in the sacrificial death of Jesus, where He purchased my salvation with His blood, where else should it be placed? As I see it, the danger is that we will allow baptismal regeneration to take the place of salvation by grace through faith. Maybe that explains why the baptistery, rather than the cross, has become the focal point in our teaching about salvation. How much more harmonious with the teachings of the NT it would be to see the marvelous act of baptism as a symbol of what Christ actually did at the cross (Romans 6)! His blood, not water, is what paid the price for my sin! Keep challenging us to think, Al. May God bless your important work!!
From a Doctor in Kentucky:
Brother Al, I so appreciate you and the work that you are doing!! I just finished your latest Reflections article: "Wash Away Your Sins." The timing of your article could not have been better! Like you, I was in the "theory one" camp for many years. About 9 years ago, however, I started worshipping at Southeast Christian Church in Louisville. We are, as far as I know, the world's largest church that can trace its heritage back to the Stone-Campbell Movement. With over 20,000 in attendance each weekend, I can proudly say that we're in the "theory two" camp!! This past weekend, 686 people were immersed into Christ at this grace-oriented Christian Church. This came as a response from last week's appropriately titled sermon: "What Are You Waiting For?," which was followed by Sunday's sermon: "Believe and be Baptized." I just wanted to share with you how "theory two" played out in our church just a couple of days ago. I haven't been in ANY "theory one" churches that have ever had this kind of life-changing results!
From a Reader in California:
Dear Bro. Maxey, I have begun to read with interest the back issues of your publication: Reflections. They are very challenging to my thought processes concerning my understanding of the Scriptures because of my nearly 25 years within the CENI Churches of Christ. I am truly embracing these challenges, and I love the fresh motivation to delve into God's Word! I just finished reading issue #507 ("Wash Away Your Sins"), and I'm going to search the archives for your studies concerning the other "proof-texts" on the issue of baptismal regeneration. Thank you so much!
********************
If you would like to be removed from or added to this
mailing list, contact me and I will immediately comply.
If you are challenged by these Reflections, then feel
free to send them on to others and encourage them
to write for a free subscription. These articles may all
be purchased on CD. Check the ARCHIVES for
details and past issues of these weekly Reflections:
http://www.zianet.com/maxey/Reflect2.htm