Two years ago, I ended the letter with "Even with that, all around, its just been a great year. We must be getting set up for something…" Well, I've decided to get a job as a psychic on TV, because I was right! Even so, I deeply apologize for not inflicting an annual Christmas Letter on you last year. I have no excuse for not making the time to do so, but with everything that was happening, the letter writing became OBE (overcome by events), and I just never did get a round tuit. So, I'll try better this Christmas, and cover the last 2 years as quickly and painlessly as possible.
Here's a picture of Greg and Rebekah getting married on the icecap at Thule AB, Greenland, March 15, 2002: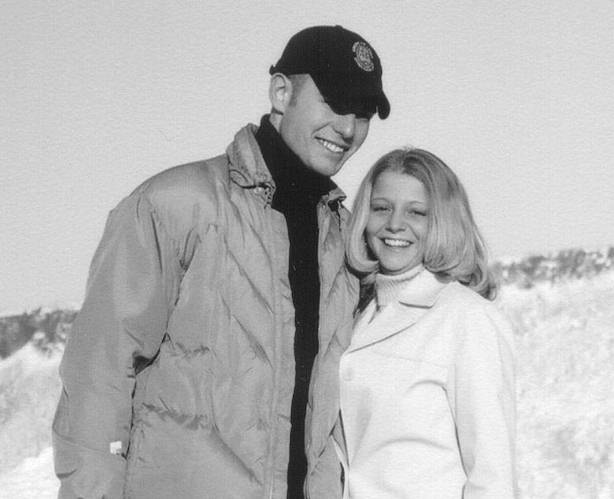 Greg completed his TDY in Bosnia, and his tour in England in May 2001, and asked for an assignment to Thule Air Base in Greenland! He said that he wanted to go to the worst possible place the Air Force can send a young airman -- and he got his wish! But, as luck would have it, Thule turned out to be a dream tour - he met a wonderful girl (remember, in Greenland there is a pretty girl behind every tree). Rebekah is also in Air Force Security Forces, and they were married in March 2002. They took their vows from the Danish Representative, standing out on the ice with most of the base looking on in 20 below sunshine. It was the first wedding within 900 miles of the North Pole that anyone could remember. While they were there, they also almost single handedly defeated the invasion of Green Peace anti-star wars protestors (who showed up in one of their ships). They managed it so professionally that it never made the news, and in the process earned them each an Achievement Medal. They came back to the States in July 2002, and are currently assigned at Schriever AFB in Colorado Springs. Their biggest gripe is that they haven't yet been assigned to the same shift, meaning that one works nights and the other days. I guess the new Air Force has all sorts of new problems – in "my" AF, there just weren't any married couples in the same squadron! No, no. Not allowed. They managed to come down to visit us from Greenland in May 2002, and again after they got up to the Springs, so obviously the AF is giving them entirely too much time off! They report they are doing fine -- they've got a new truck, a new car, a dog, and a real nice apartment. So another lesson we can learn from this is that the AF is paying a lot better than it did in my day! They are doing real well professionally too. Greg was selected for Staff Sergeant the first time, and Rebekah was named an "outstanding performer" during a recent ORI! But most importantly, they've got each other, so they are very happy.

Greg and Cathy while he was home on leave in May 2001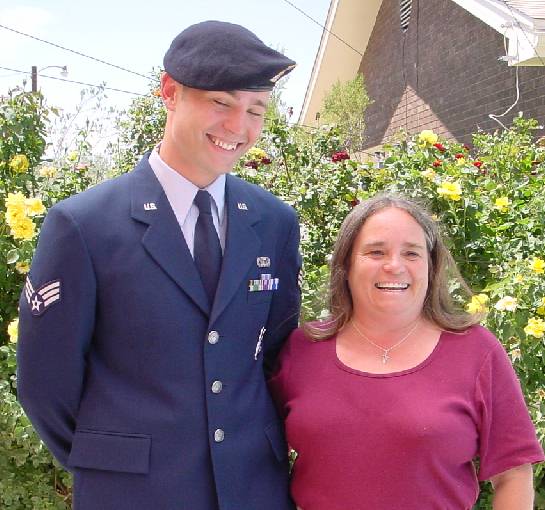 On to Chris, Janna, and Geoffrey: Upon graduation from New Mexico State University in 2001, Chris was selected for lodging management training by the US Army. This was quite an honor, as the Army only selects ONE person a year for this position. His training location was Fort Leonard Wood in central Missouri. So he and Janna packed up and moved out there in the summer of 2001, and Chris completed his 18 month program in 12 months!
In the last letter I reported that Janna was due in July 2001, but unfortunately that pregnancy wasn't meant to come to completion. But, they gave it the good old college try the next time, and Janna gave birth to our first grandson, Geoffrey Allan Morris, on November 7, 2001.

Here's a picture of Geoff & Me, May, 2002: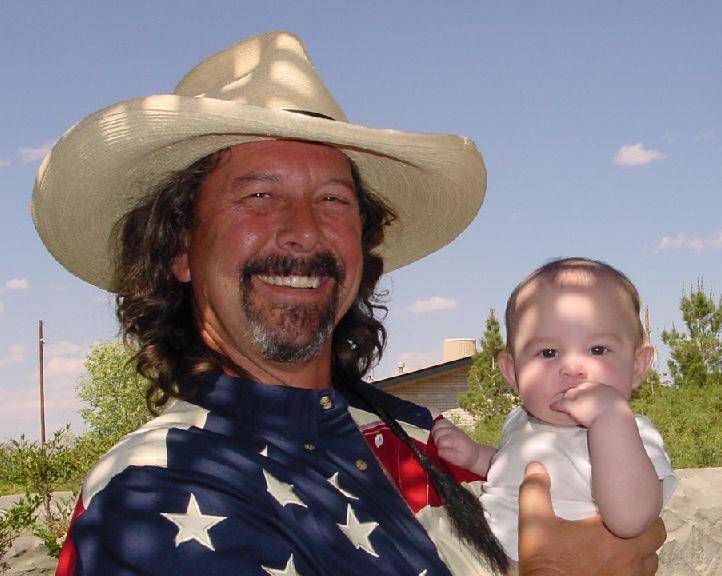 Geoff was born in Rolla, Missouri. My Dad and I drove out to be with Janna for a week toward the end of the pregnancy, as Chris was scheduled for a class back east on her due date. The idea was if she went into labor, Chris would just come home, and Dad and I would be there to take care of things in the meanwhile. As luck would have it, the day Dad and I rolled in, the doctor decided it was Janna's time. So Chris cancelled his trip, and we all got to be there when Goeff was born! Janna seemed to take the whole thing in stride, but of course Chris, Dad, and I were like all new fathers – nervous, sleepless, and very proud of Janna and in love with the newest Morris clan member.
Cathy missed the trip as she was still working and going to college part-time, so she and I drove out over Christmas vacation in 2001 to see the new baby. It turned out to be a family reunion, as Uncle Greg flew in from Greenland too! Chris arranged for us to stay in a DV "cottage" that was bigger (and much nicer) that the first house Cathy and I owned! Anyway, it was a real nice family Christmas. Cathy and I also got to visit with Eric in Oklahoma on that trip. He's doing great, and has become a real Okie, and roots for OU in all their games.

Cathy and Geoff in Missouri, Christmas, 2001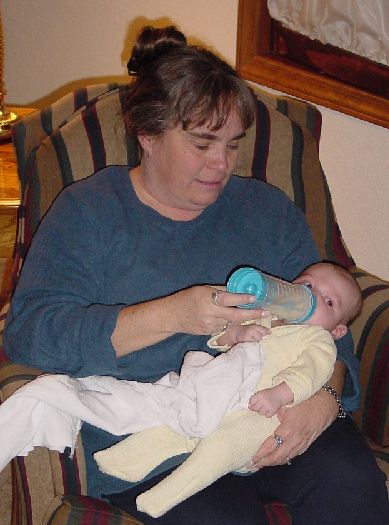 Actually, over the past couple years we've been really lucky and seen the boys and their families several times. Greg came out in May 2001 en route from England to Greenland, and we brought Eric out several times. And we've been able to see Geoff several times, as the kids brought him out to Las Cruces this year in February, May, and while they were passing through on their way to Yuma in September.

The really scary thing about Christmas 2001 was that we almost lost my Dad. He had a diverticulum burst in his colon, and bled internally for a day before passing out from blood loss. Fortunately, for all it's faults, the City of Las Cruces has top notch first responders and firemen, and they got his to the hospital in time to save his life. Even so, they had to give him 14 units of blood to stabilize him. Remember that a grown man only comes with 10! Anyway, after a few days they put him on a ward, and things looked stable, so Cathy and I took off for Missouri. As soon as we got there, of course, his bleeding started all over, and he had to have an emergency colostomy, and it took another 12 pints to save his life that time! It was a very, very tense time for Mom, of course, and my sister Kerry was a real trooper, looking after Dad AND Mom!

Well, after he got out of the hospital, Dad decided he didn't like carrying a bag of manure around with him all the time, so he did all the right things to get healthy, and in July he got his intestines reconnected to his normal plumbing fixtures, and is doing just fine now.

Dad wasn't the only one to get hospitalized. When Chris and Janna brought Geoff back to New Mexico to have him christened in May 2002, he got the flu and couldn't keep anything down, and wound up in the hospital for a couple days on an IV. But he recovered, and is doing great!

Back to Chris. After completing his stint in training, he was offered the job of lodging manager at Yuma Army Proving Grounds, and they moved out there in September. The base they are stationed at is about 30 miles north of Yuma, so is considered remote, and they got half of a duplex on base, and get to shop the commissary and PX. Chris is still the workaholic, but it pays off in improvements at work – I was amazed at how many new projects he's completed when I stopped by for a visit in October on my way out here to San Diego.

But the other big news with them is that they apparently couldn't wait to provide Geoffrey with a brother, and so Janna is expecting another boy in January!

Chris, Janna, Geoff, Mom & Dad, and Cathy and I, September, 2002!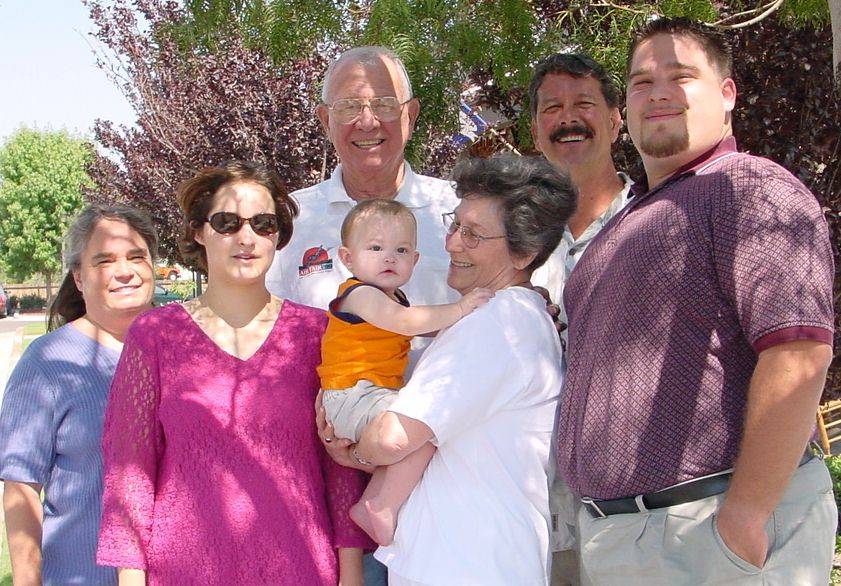 Cathy is now a full-time college student at New Mexico State University. She started taking summer and evening classes a couple years ago, and liked it so much she got a leave of absence from the school district, and started going full time last summer. She's studying to become an elementary school teacher, and is doing great. She's completed 62 credits, and her GPA is 3.7 which puts her in the top 10% of the university, and so she's been designated a "Crimson Scholar" which doesn't pay anything, but gets her in to register before the crowd. She should graduate in December 2004, and then I can retire and she can be the breadwinner! Or maybe we'll become Californicators.

The thing is that she is getting to experience college as a bachelorette. The city "reorganized" the staff in 2001, and shortly thereafter my bosses and I stopped seeing eye-to-eye on things I consider important, like efficient stewardship of taxpayer funds, the acceptable level of corruption in city government, and ethics in general (they have none). Basically, I found I could no longer work for a bunch of crooks and liars, and so started a job search, cut my hair and shaved, and was offered the perfect job this fall. So, after 7 years as an Airport Manager, I'm now in a new line of work. I got hired by General Atomics Aeronautical Systems, Inc., here in San Diego California as a "Lead Field Engineer". I work in the Predator Program Office – you've probably heard about the RQ-1 Predator unmanned aerial vehicle (UAV) on the news as the Air Force uses it to hunt for al Qaeda and the terrorists overseas. I'm still "drinking from the fire hose" in learning the job, but starting to catch on. Basically I'm a logistics coordinator for the deployed company teams supporting operations overseas half the time, and team leader in some hell hole halfway around the world half the time. It is real interesting work. It is my first experience with private industry, and I'm amazed everyday at the new things I get to see and learn as the company builds, markets, supports and operates these aircraft. The best part is that my fellow team leaders are all retired military and we all share that bond, sense of mission orientation, and willingness to live in tents. So vastly different from working for local government. I miss my friends and co-workers at the Airport, but am really glad I'm here.

Since Cathy and I have been living together steadily since 1993, and had sort of gotten used to each other in the process, it was real hard to leave home again for another "remote". But we'll get to see each other several times a year. Cathy came out to visit in October, and we met over at Yuma for Thanksgiving with Chris and Janna. I've got 10 days off for Christmas and so will go home for a while, and we'll go up to see Greg and Rebekah in Colorado. Turns out that San Diego isn't as far away from everything as it seems. The big plus is that my good buddy from our tour on Diego Garcia in the late 80s, Rick Hausvik, has a big house and has rented me a room. Cheap (it must be because I'm such a great conversationalist). He and his wife Deb and son Chris have made me feel right at home, and will look after my stuff and car while I'm off helping kill terrorists.

Anyway, I love the job, and am looking forward to my first deployment, which should be in late January. Wish me luck, and look for me on CNN!

There are several other things that kept me busy this past couple of years. Shortly after the terrorist attacks, I was contacted by some Hollywooders about making a movie about Diego Garcia! They'd seen the news about the bombers operating out of there and wanted to make a movie about the early days of building the base. Sort of a cross between MASH and McHale's Navy. Anyway, I actually spent several months working on the screenplay, and wrote the first act (an American movie has 3 acts) before the thing fell apart last winter. Everything in Hollywood seems to be highly leveraged, and the money part of the project didn't gel. But it was a lot of fun while it lasted and one of these days I'll sit down and write the rest of the movie. Or maybe a movie about writing a movie. What else will I have to do in the tent during the sand storms there in the deserts of central Asia?

Maybe National Public Radio will interview me again! After the terrorist attacks, interest in my web site about Diego Garcia really picked up as the USAF used DG for B-1, B-52, and B-2 bombing missions against the Taliban. Then one day, NPR called and wanted to interview me about the darn place. So if you want to hear the interview, you can link to the NPR web site from my site, which starts at http://www.zianet.com/tedmorris. During the war, I spent a lot of time passing messages to folks out there, and communicating with the people on the island. So they did me a favor and chalked up some bombs for me and the rest of the Morris boys!

In other news, my sister is doing well after getting a divorce last year, and seems a lot happier than she's been in years. Jessie and Jon, her kids, are both going to NMSU and doing great. My Mom and Dad are doing fine too, now that Dad's all hooked back together. Mom has been an absolute rock for Dad. Cathy and I will celebrate our 25th anniversary up in Colorado with Greg and Rebekah. Basically, now that I'm packing up for an extended stay in the 4-Star Tent Cities of Central Asia, the kids are settled into their new locations (at least for the next few months), and Cathy is surrounded by her animals and able to do something she really loves (going to school), the Morris clan is as happy and content as it could be. Of course it will be hard for you to catch us all in one place, but you can always visit us as we wander around the world where ever we wind up being at the time.

That's about all the news, so I'll close and try to get this to Cathy so she can get it in the mail sometime this holiday season.


Meanwhile, we wish you and yours a very Merry Christmas and a Happy New Year.