We've survived another year and it's time for the annual form letter! It has been a relatively eventful year, so here goes...
Cathy got her "Read 180" program running smoothly, but this year she really wanted to return to a traditional classroom. So she got a job teaching 6th grade at another school, taking over a "broken" class in a really rough area of the county. With her usual skill, she got those kids (and their parents) straightened out in no time, and is having some real success in turning around the class. How does she do it? By caring and giving Fs when the kids deserve it - which shocks the parents enough to get the kids to do their studying! Almost all parents care, it's just that some (many?) teachers in underprivileged areas won't make the hard choice to deal with the issue. To me, Cathy's bravery is awesome, given the cultural differences in that area.
Chris, Janna, Geoff and Connor made some major changes this year as well. Chris completed his MBA, and was hired as the Regional Director for lodging for US Naval Forces, Japan, which includes all the Navy and Marine Corps installations in the Far East. He is a GS-15/O-6 equivalent - not bad for a kid who turns 30 this month. They came through this past August on their way to Yokosuka Naval Station, which is south of Tokyo, mainly to drop off their minivan and cats for us to take care of until they return in 3-5 years. They live on base, just a 5-minute walk to Chris' work and a 10-minute walk to the boys' school. Chris says the savings in gas and utilities will allow him to keep paying his mortgage on the house in Atlanta, but asks if anyone needs a nice place back there to let him know! Janna and the boys are doing great and settling in to on-base life, even learning a little Japanese. They seem to spend most of their spare time in Yokohama at the big park and shopping area, and have already started to fill their apartment with Japanese souvenirs!
Greg, Rebekah and Kirsten had an interesting year too. Greg is the Training NCO for his Security Forces Squadron at Hurlburt Field in Florida. He took a team over for a deployment to Balad, Iraq, and they all made it home safe after getting rocketed almost daily for four months. Rebekah completed her Bachelor's Degree, and is still doing great at AF Special Ops Command Headquarters in the 'manpower' business. Kirstin turned 3 and is talking up a storm! Unfortunately, Rebekah's father passed away last month, and Cathy flew out to take care of, and really get to know, Kirstin while Rebekah and Greg went up to Ohio to take care of things. We'll be going to their place for Christmas this year again.
I'm still goofing off as a 'retiree'. I've been involved with the Chagos Conservation Trust for a while, and have contributed to some studies they have conducted regarding the conservation of those islands. As a result, this summer I was invited to attend a week-long European Union conference on climate change and biodiversity, all expenses paid! The conference was on France's Reunion Island in the Indian Ocean, and it was a very interesting trip, considering I'm not yet a believer in man-made climate change and was the only American attendee out of 600! It was very interesting to get to know some of the people there, and especially fascinating to learn how different European countries think about global issues - the old world has a long way to go before they develop a consensus on anything...
Sadly, both of our dogs died this year, so we've got two new pups, about 6 months apart. Sheila is an Australian Shepherd and Blondie is a miniature poodle. They are very smart, and extremely lively - Warning! Do not get an Aussie unless you are ready to own a bobcat on speed! The pups have filled a real void in our lives - it is amazing how important the dogs are to Cathy and me.
We had several visitors this year. Cathy's brother, Gary, came out twice. Garry Hedrick, who was on Diego Garcia with me, visited with his family, as did Anders Hansen, who lived next door to me during pilot training - they came all the way from Denmark where he flies for SAS!
Eric is still in Oklahoma and doing fine. We brought him home for visits in January and June, and he was able to see Chris who was here in June on a business trip. Mom and Dad are still going strong. Dad and I went over to a bomb squadron reunion in Roswell this fall, and we all go out to breakfast every Sunday. Kerry is doing great. Her daughter Jessie is still in Tucson and son Jon is now in Denver.
Now, for your viewing pleasure, here's the yearly crop of pictures, in no particular order...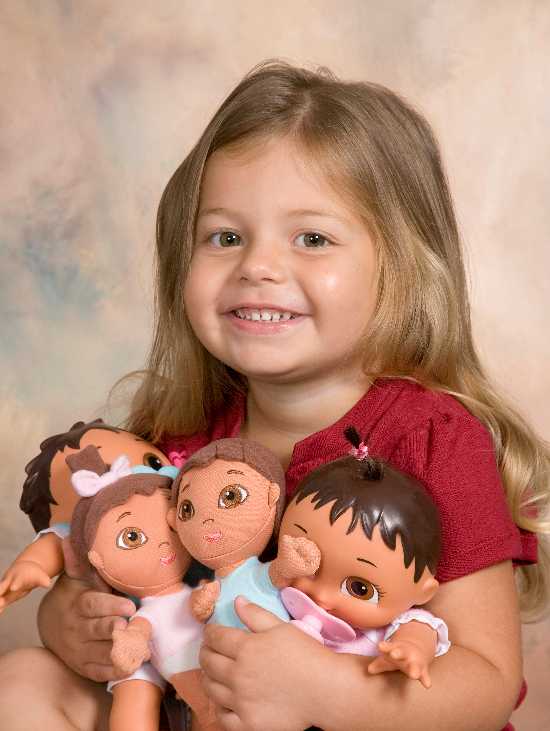 Kirstin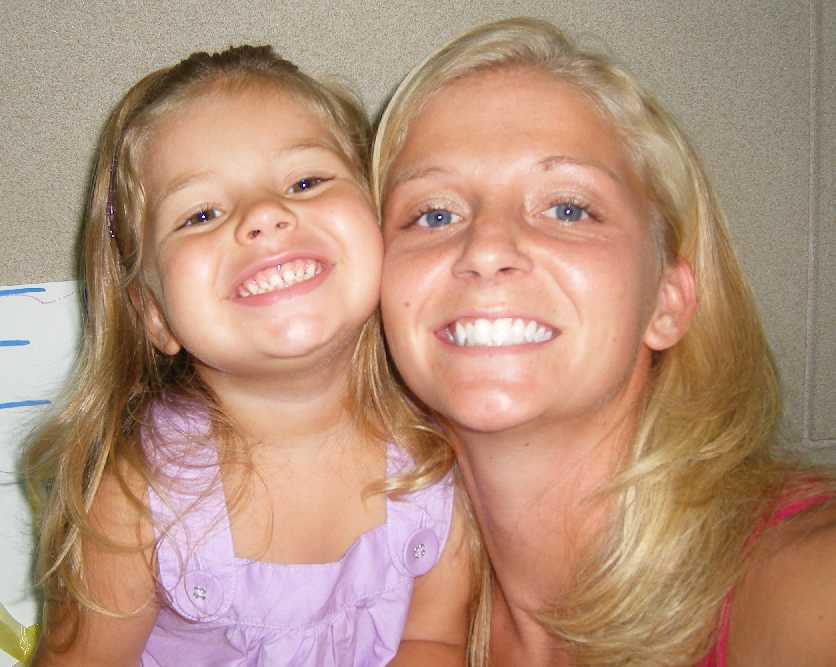 Kirstin and Rebekah make sure their teeth are clean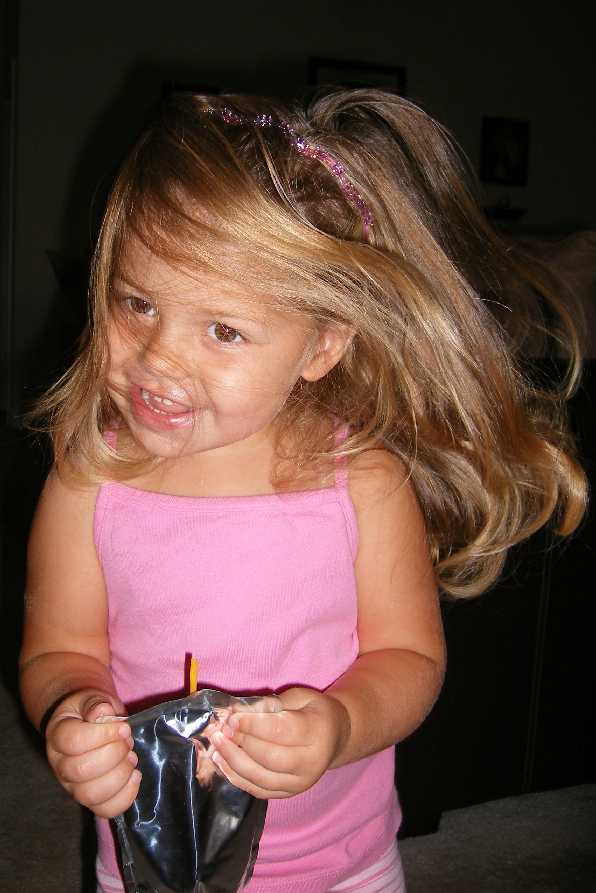 Kirstin & 2 & 1/2 years of hair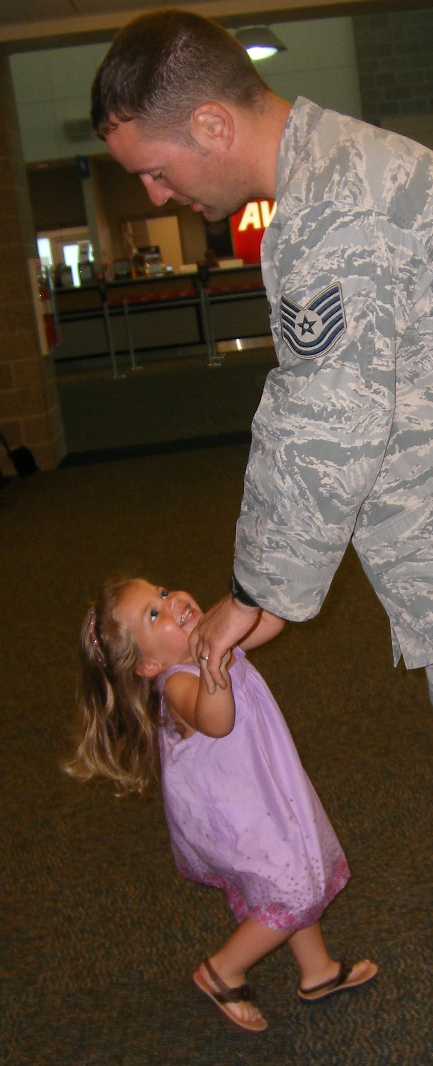 Welcome Home from the War, Daddy!!!!



Cousins. Guess who thinks she's in charge...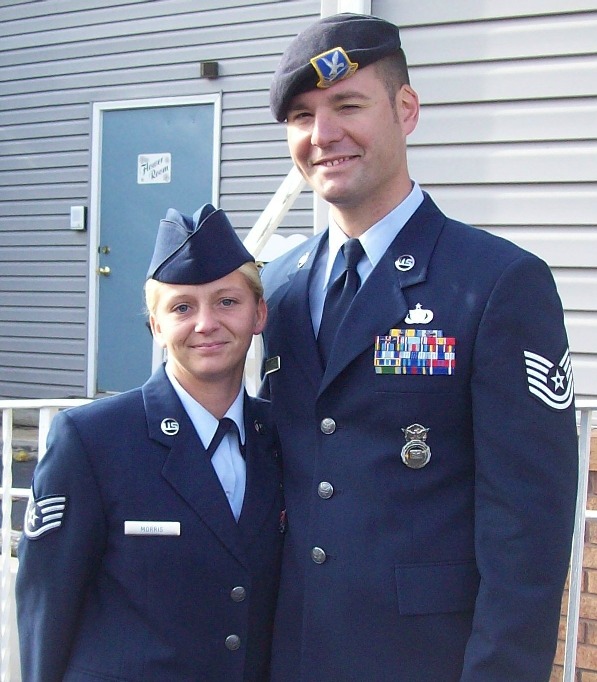 Rebekah and Greg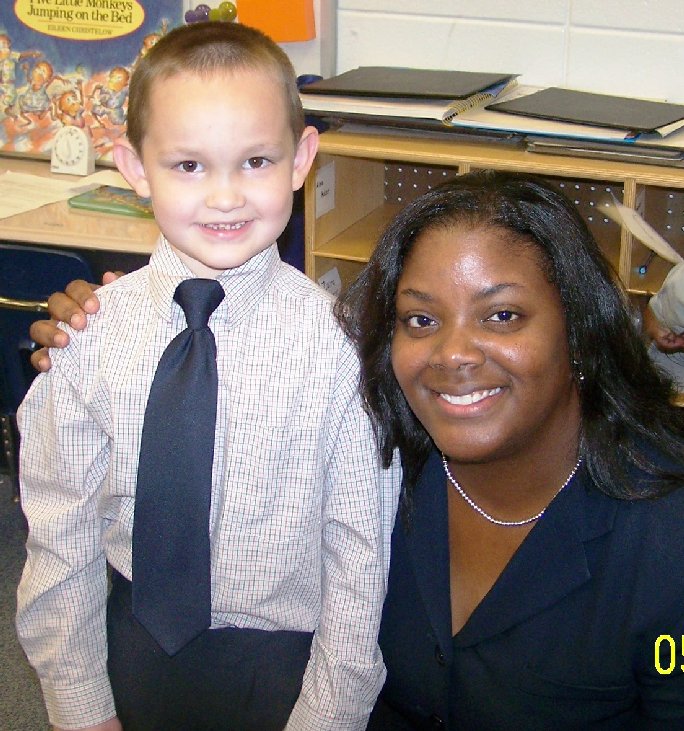 Geoffrey graduates from Kindergarden!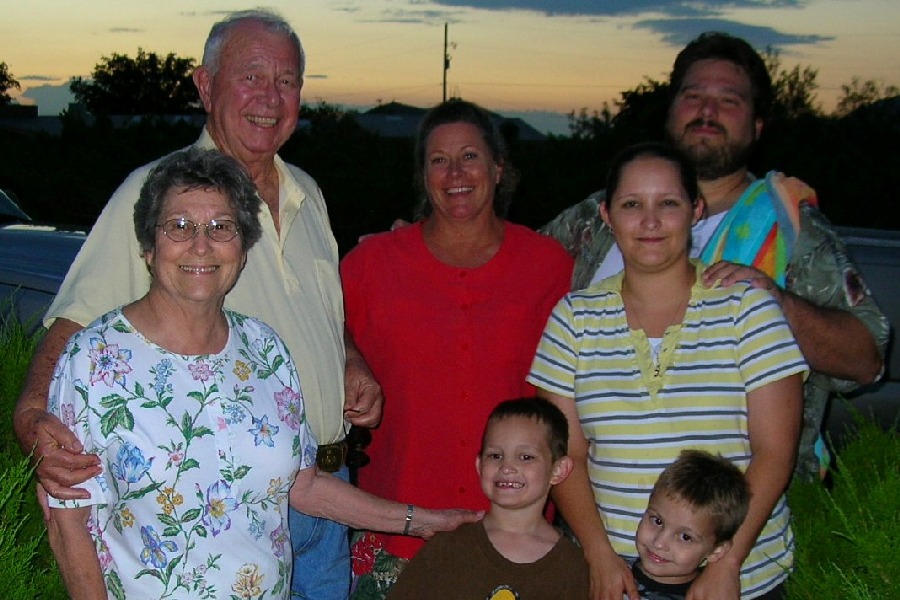 Mom, Dad, Kerry, Janna & Chris, and of course Geoffrey and Connor down front.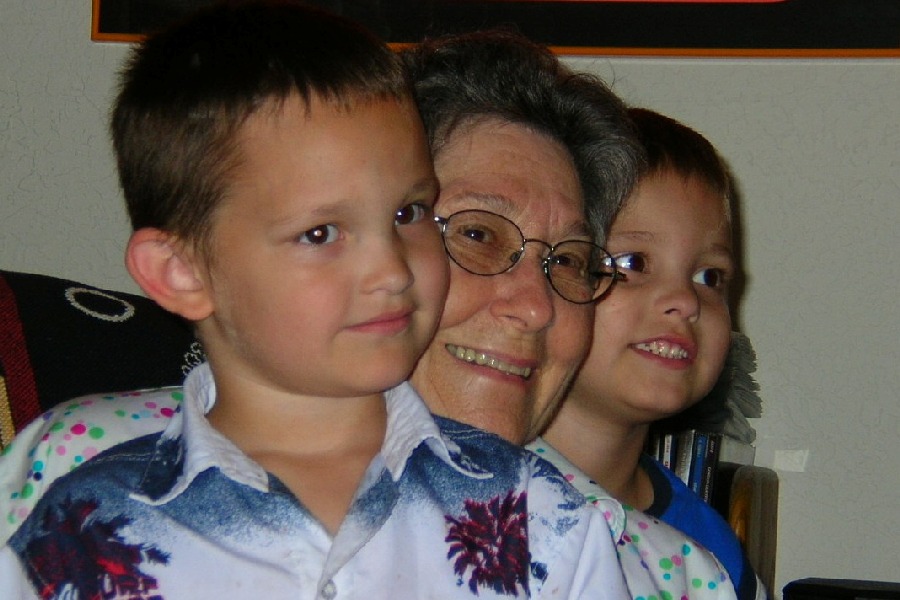 Grandma with Geoff and Connor



Grandpa with Geoff & Connor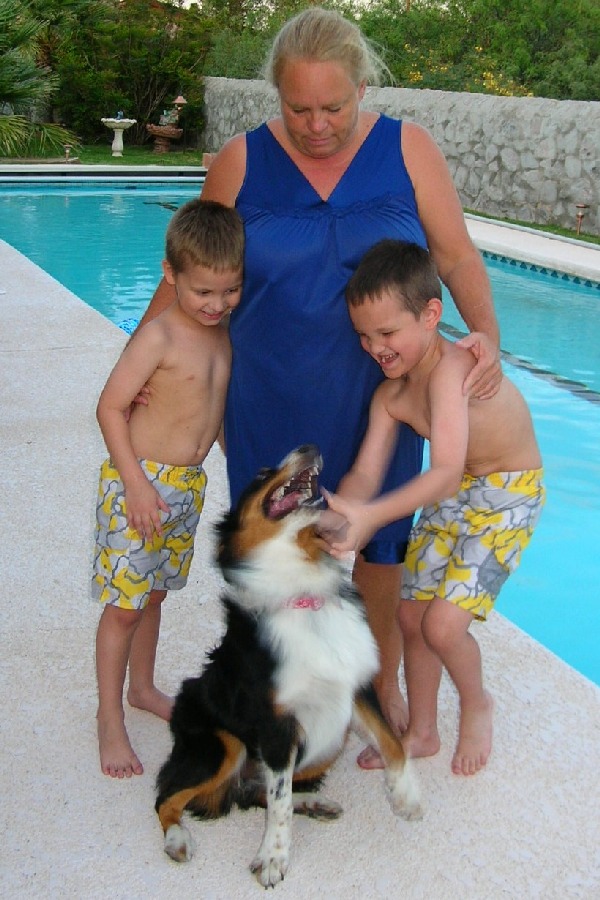 Cathy with Connor, Geoff & Sheila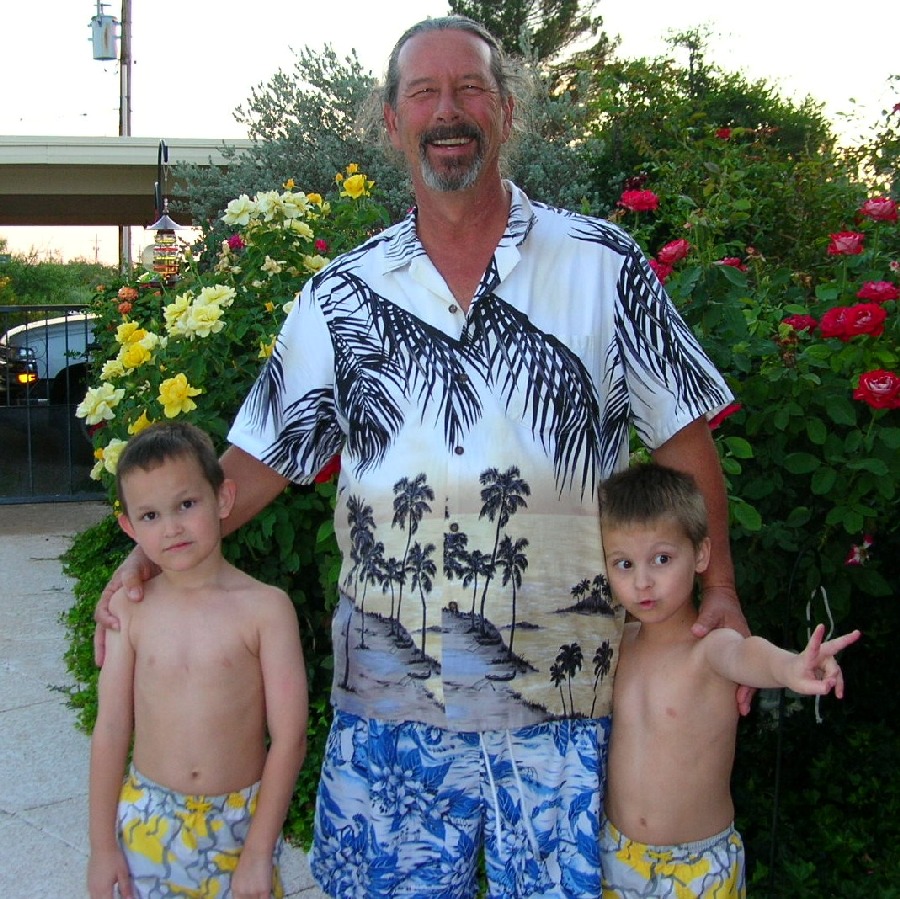 Ted with Geoff & Connor


Geoff & Connor check out an Atom Bomb to take with them to Japan...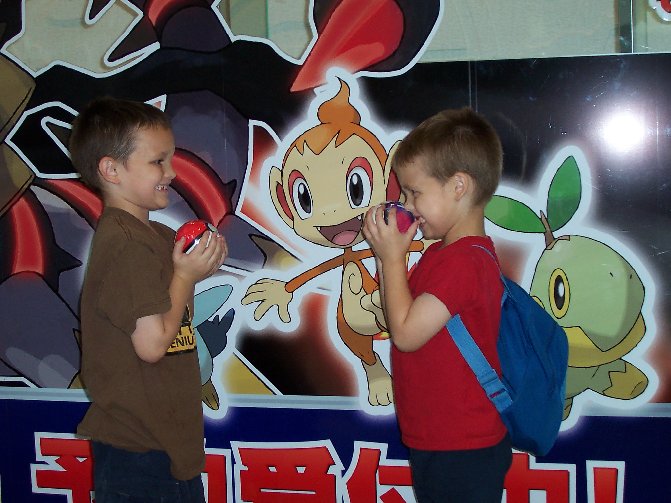 Geoff & Connor in their personal dream world - Pokemon City!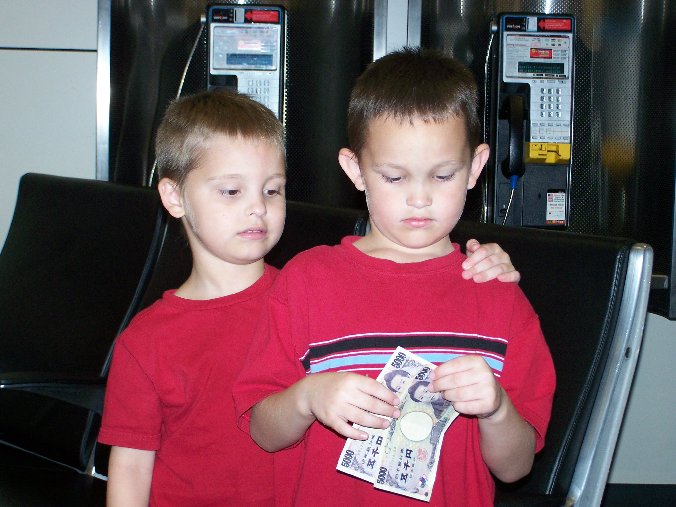 Chris didn't know he gave Geoff the equivalent of 2 $50 bills! Geoff isn't sure, but Connor's got it figured out.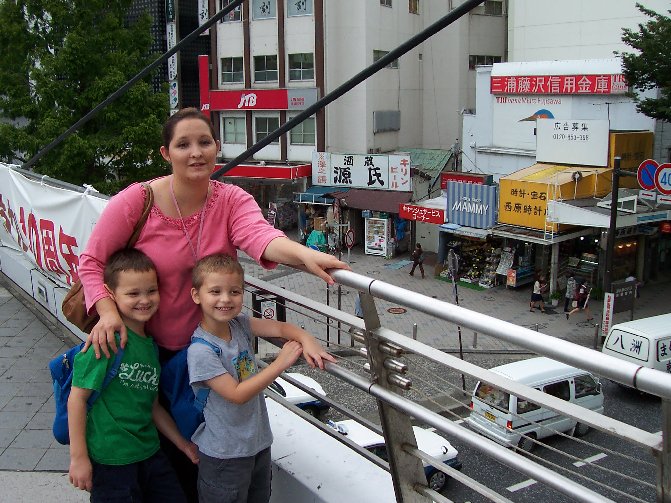 Janna with the boys on Blue Street in Yokosuka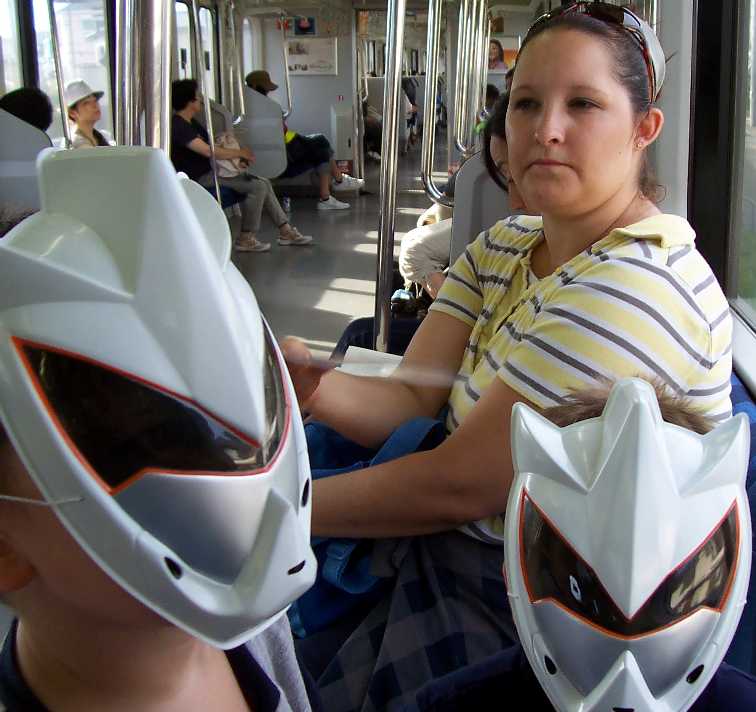 Janna is guarded in her travels by her own set of Power Rangers...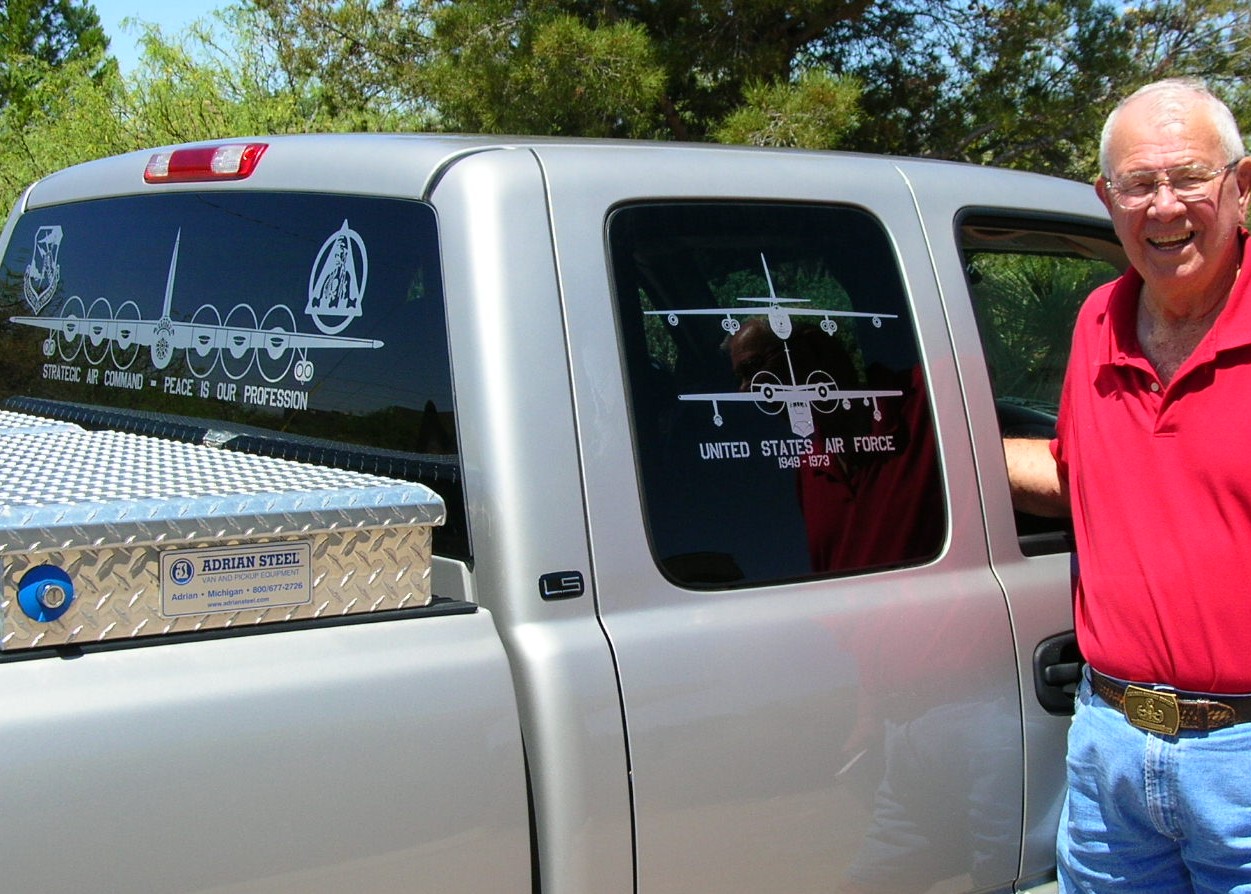 Dad with the decals I designed for his truck.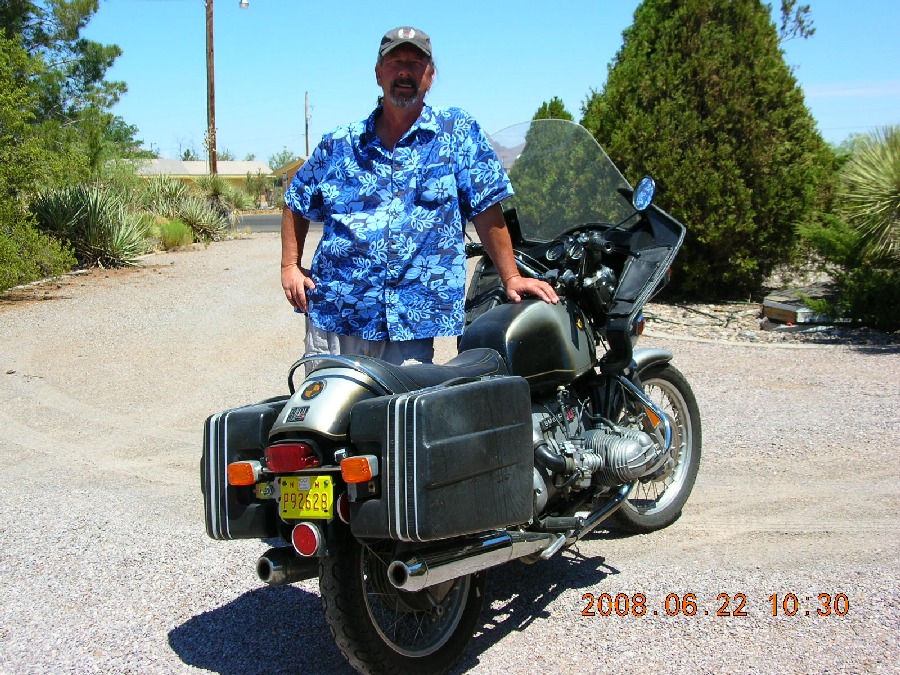 Me and my 1974 BMW R90S. Thank you Terry Boyer, wherever you are.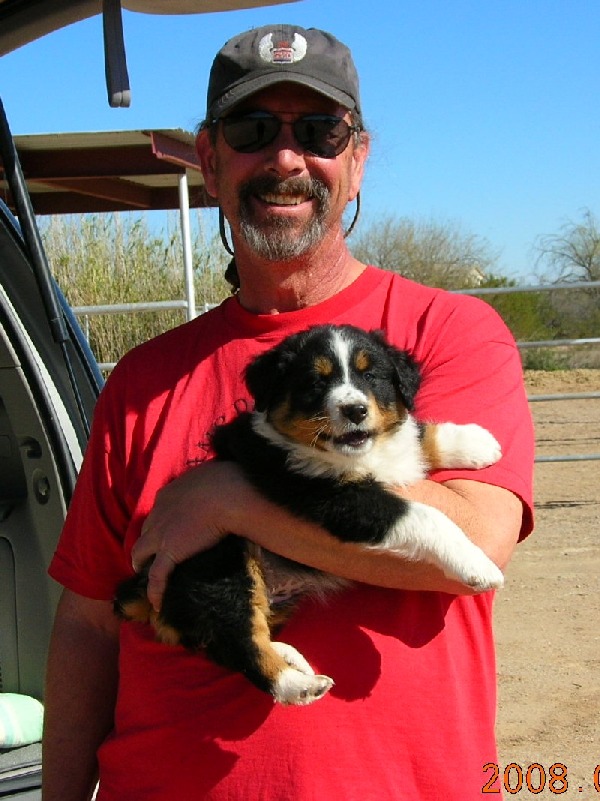 Me and Sheila. She's an Aussie. Get it?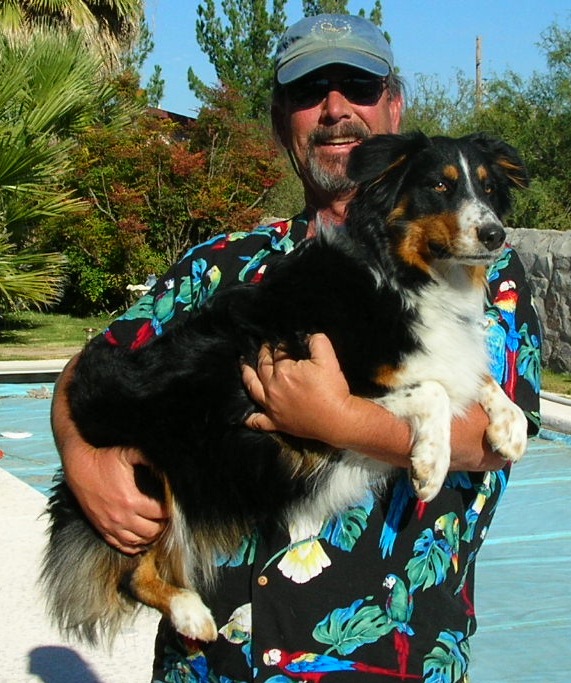 She grew a little. Here she is at 8 months.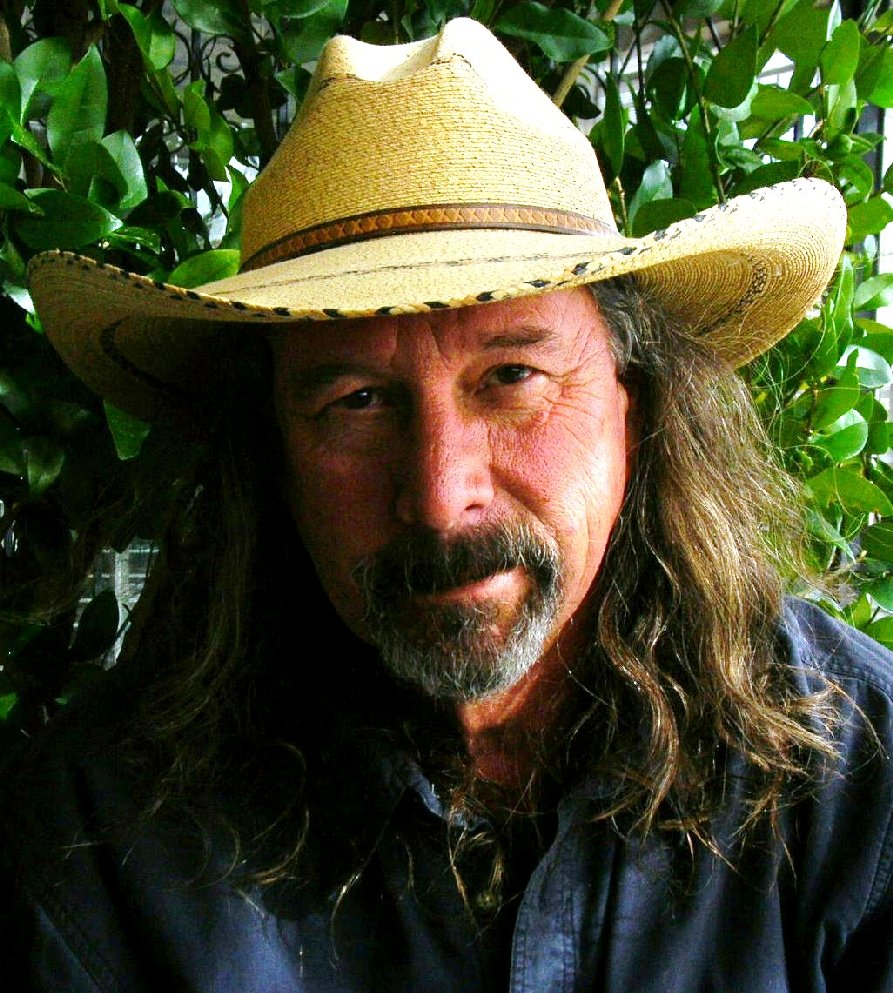 Howdy Pardner.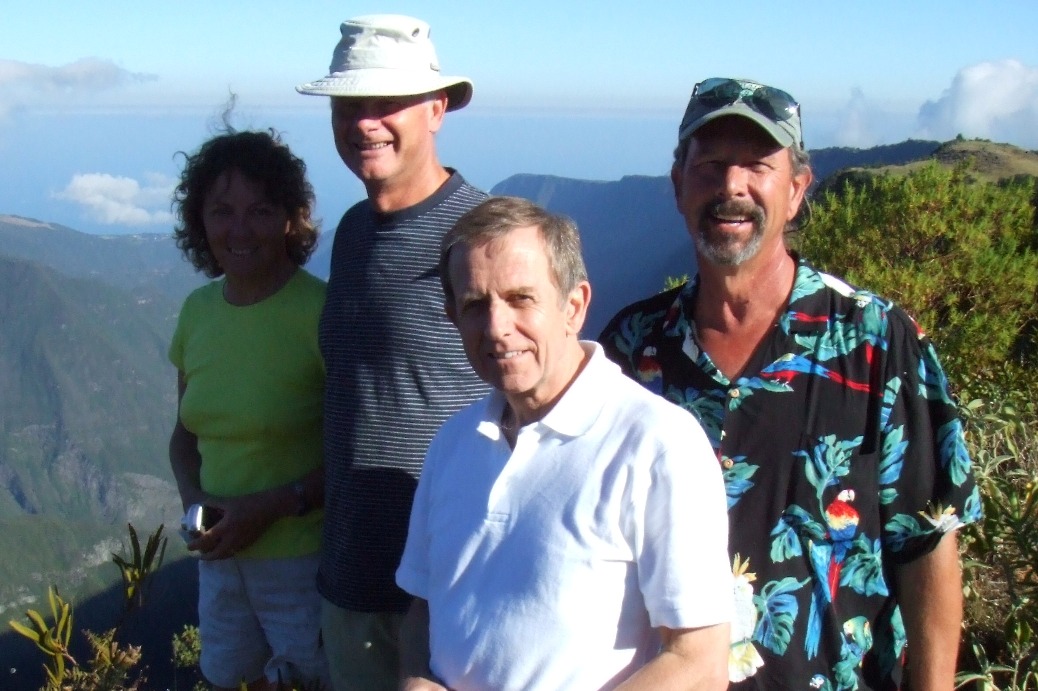 Anne and Charles Sheppard, Richard Martin, and me on Reunion Island, in the Indian Ocean. Richard and I were on Diego Garcia at the same time.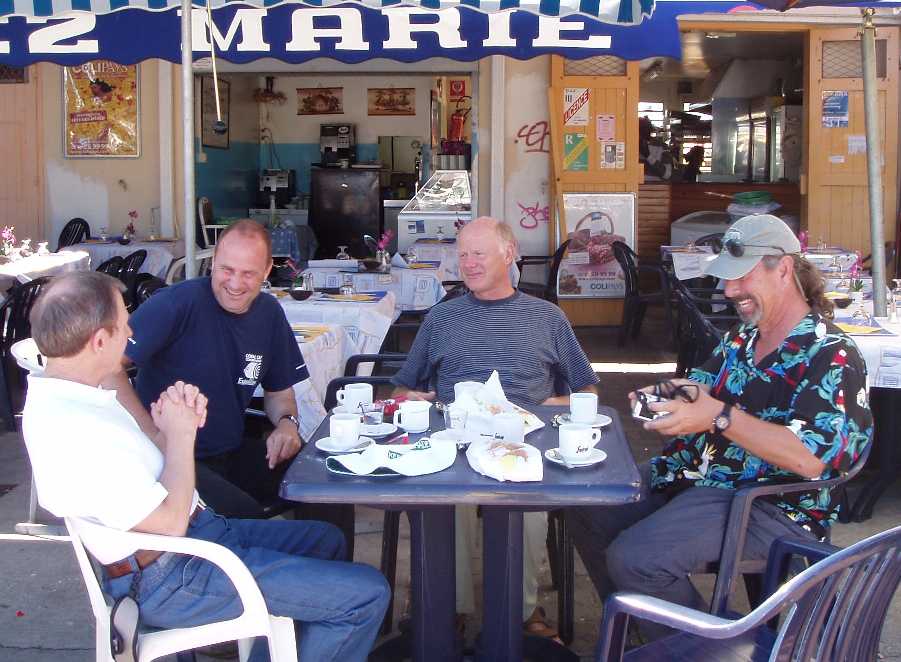 Richard, Pete Raines, Charles and I have coffee down in the marina on Reunion.



Don't ask me. The name sounded interesting. They had really good pizza.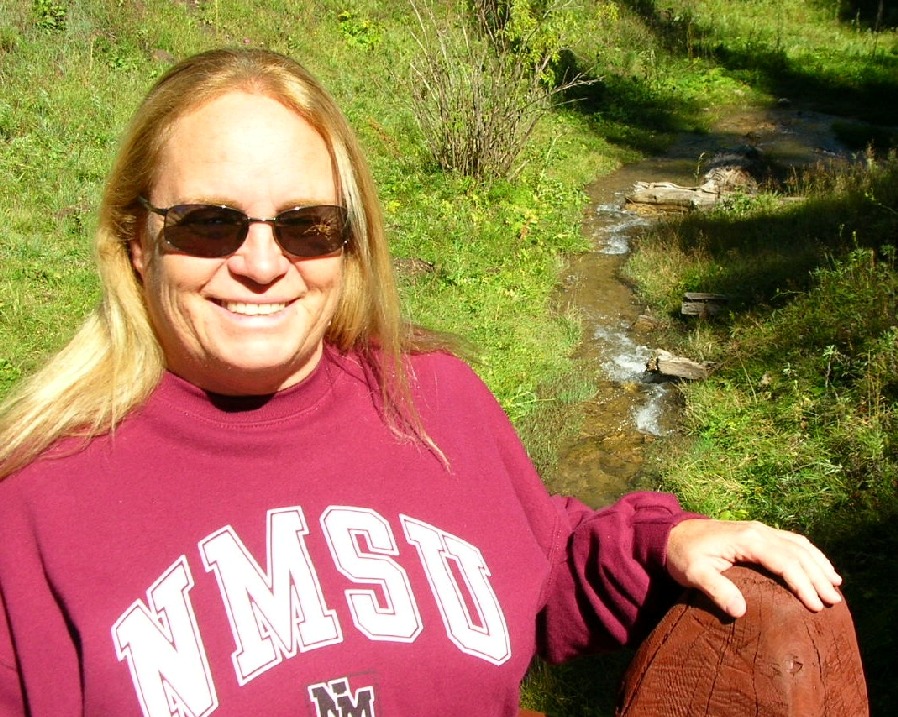 Cathy up in the Sacramentos.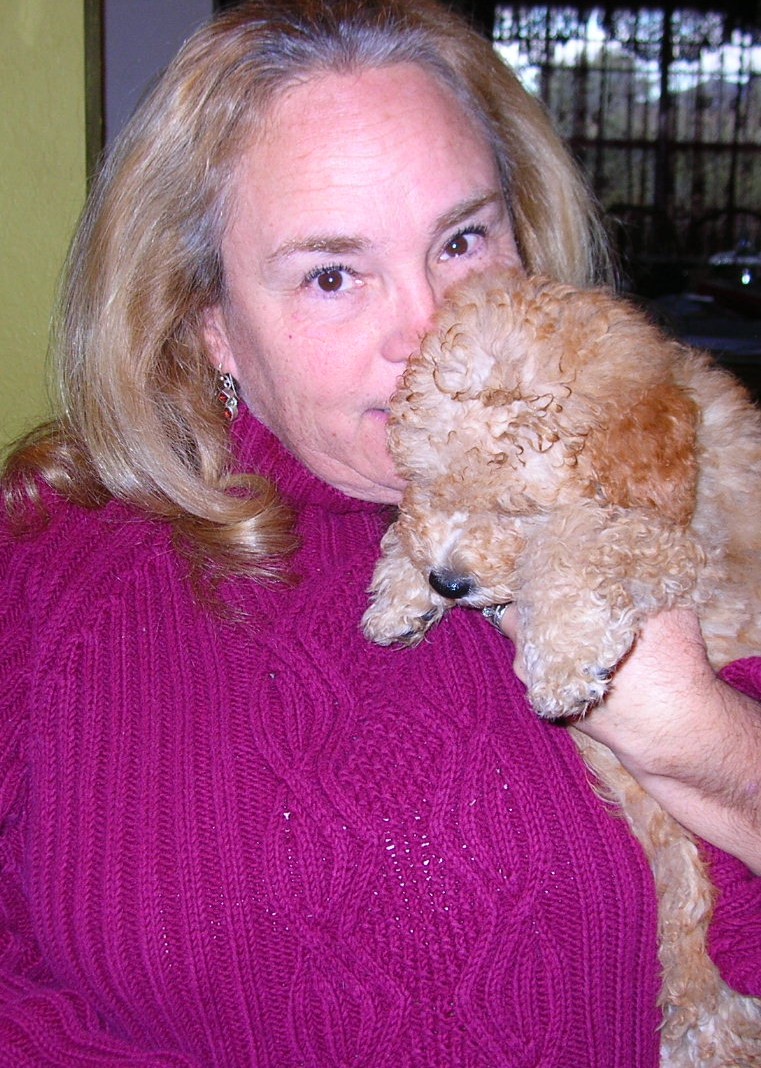 Cathy and Blondie, her new pup.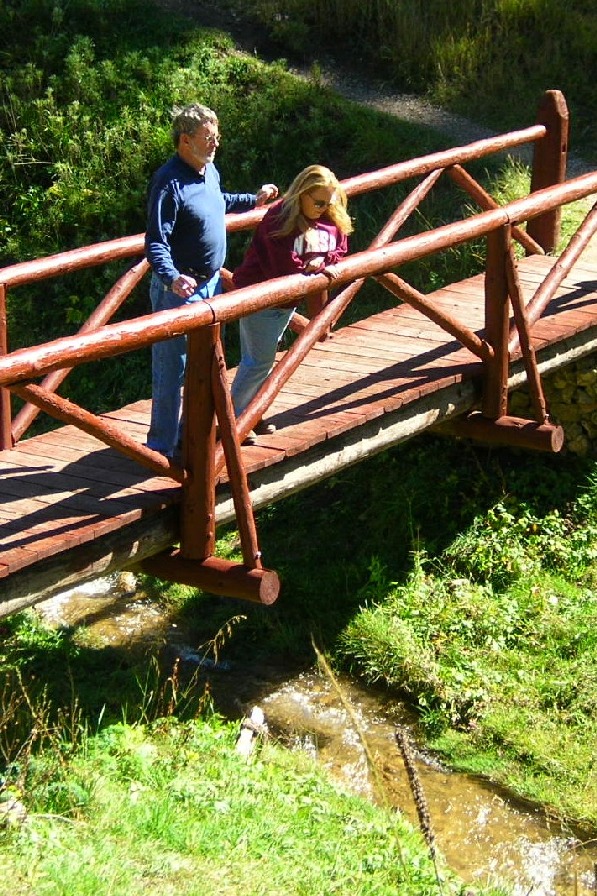 Gary and Cathy up in the Sacramentos.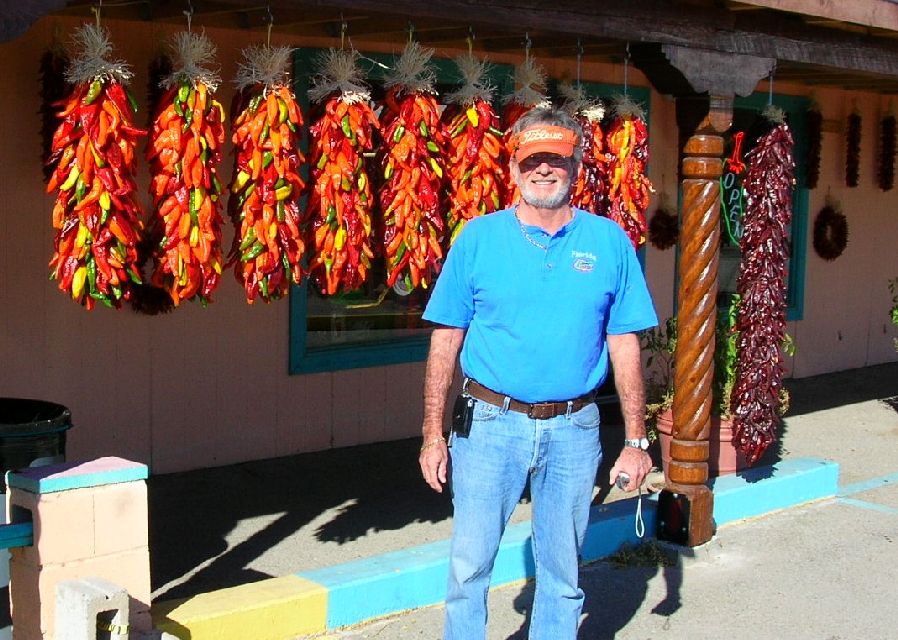 Gary shopping for a ristra.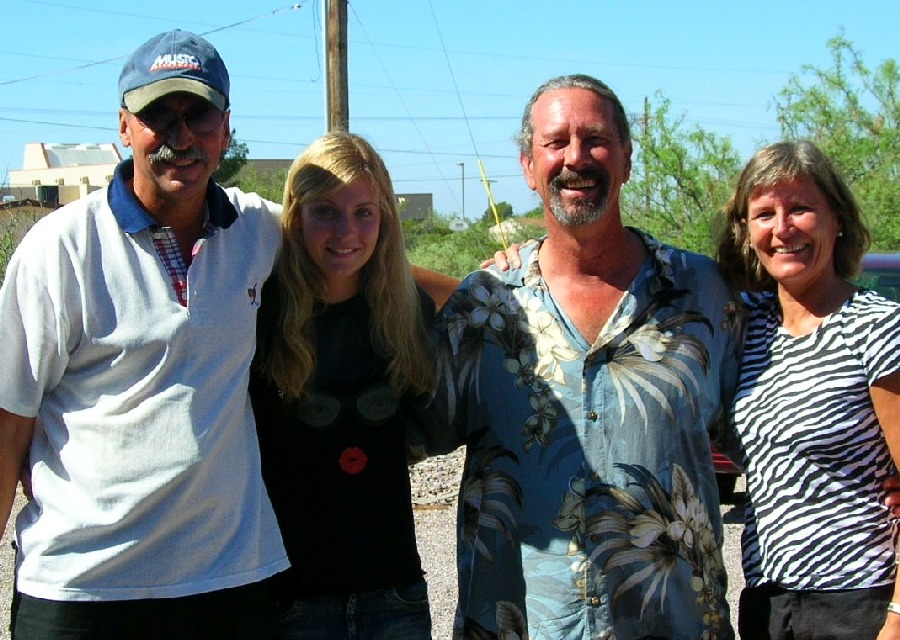 Anders Hansen, Sidse, me, and Jette.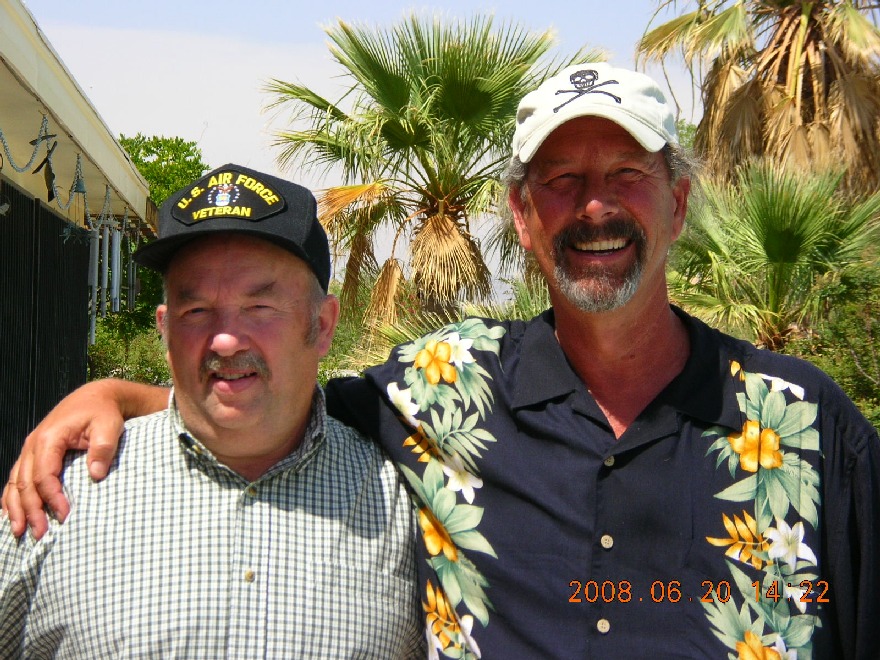 Garry Hedrick and me.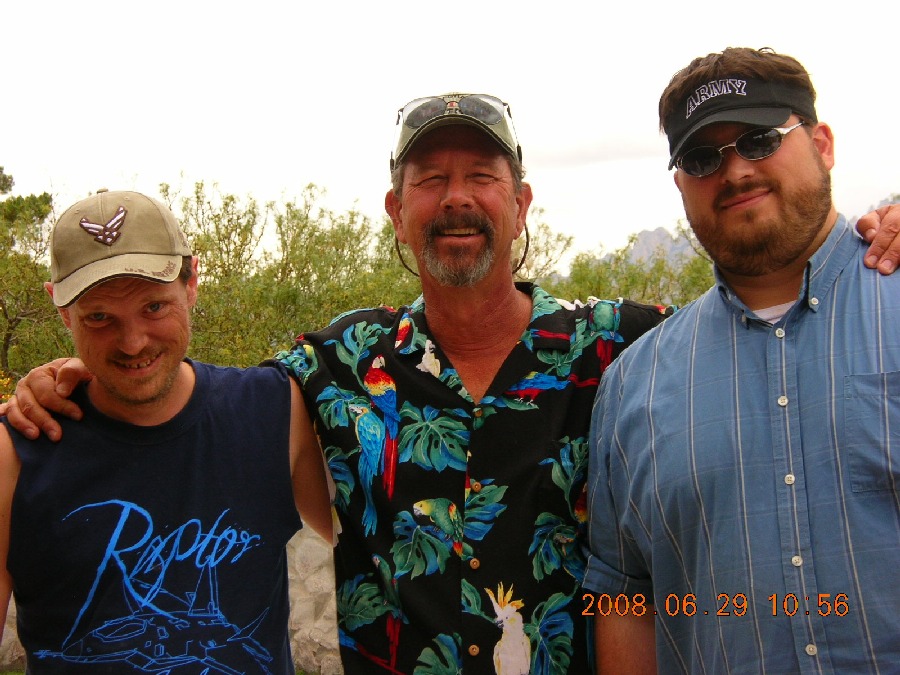 Eric, me, and Chris.


A-duh-bee, a-duh-bee, a duh-bee.
That's all Folks!