As usual, I'm running behind on everything, even though I shouldn't be, now that I'm 'retired' once again. I got back from overseas last spring, and decided that I had been in the wars longer than the US was in WWII, and that was long enough. So I've been goofing off – so much so that I'm almost embarrassed to report I haven't accomplished any measurable thing in quite a while! Officially I'm the 'house husband' but to tell the truth, it isn't working out all that well. I miss Cathy's cooking too much! Oh well, I think of all this free time as recovering from all the unpaid overtime spent defending the good ol' USA from Godless Communists and International Terrorism.
It certainly helped my retirement plans that I'd managed to save enough money over the last few years to pay off the house, buy Cathy a new vehicle, have our kitchen completely redone, tile the floor of the house, get my 32-year old BMW motorcycle operating again, and still put some away in anticipation of 'real' retirement. So now we're trying to live off her salary with the schools, and my pitifully small USAF retirement pay. So far we're making it, and with any luck she'll get a big raise soon! I'm trying to ease into this retirement business slowly – this year I turned 55 and so can now eat off the senior's menu at half the restaurants in town… where I can hand out my "Yankee Air Pirate, Retired" business cards and hope someone hires me to just sit around and tell warstories. If you know of any jobs like that, let me know (if you haven't already taken it).
Being home has allowed me to visit regularly with my folks (who live in town), spend time with long-ignored, but understanding bride, and even see a lot of the boys and the grandkids. Dad and I have gone on a couple trips together (I'm the chauffer) to a reunion in Roswell and to visit his brother in San Antonio. We had Eric home in the summer and then again at Thanksgiving. Greg, Rebekah and Kirstin were able to stop by on their way PCS from Colorado Springs to Hurlburt Field in Florida. Then over the Christmas holiday (just a couple weeks ago) we visited them in Florida, and visited Chris, Janna, Geoffrey and Conner in Atlanta.
Cathy is doing great. She really enjoyed teaching 5th Grade last year, and the reward was to be to the 'reading intervention' instructor at her school. She and her two assistants work with the kids that require additional reading help. She says she would rather be in her own classroom again, but I've noticed she's got a lot more time to herself this year, and think she enjoys that too. Her principal has assigned her to represent the school on a couple district committees, which she enjoys too.
The boys and their families are doing great. Greg has been in the USAF 8 years as of Dec 06, has a line number for Tech Sergeant and is training NCO for his cop squadron. Rebekah retrained from being a cop to 'manpower' – sort of a personnel efficiency expert - and is working on her BA, so she can get a real job. They transferred to Hurlburt last summer after she completed her schooling, where they've rented a house and say they enjoy the winter in Florida a lot more than in Colorado. Kirstin turned 1, and is quite the kid. You should see that little baby with those two monster dogs of theirs – she's small enough that they could swallow her in one gulp, but she crawls all over them and they treat her like their own pup.
Chris is the program/finance manager for all the Army's billeting (the in-word now is 'lodging') in the Southeast US. He says his biggest problem is getting people to believe he's 10 years older than he really is - a lot of the old timers don't want to hear anything a 28 year old has to say. He must be doing good, because he got an outstanding eval in his position, which resulted in a raise and a bonus, so he and Janna are pretty happy. Janna has her own on-line store and sells stuff on e-bay, which keeps her busy while the grand-boys, Geoffrey and Connor, are at school. Connor is going half day, and Geoffrey a full day. Geoff goes into kindergarten next year, but talking to him you'd think he was ready to graduate, or at least take over the Principal's job! Connor goes to speech therapy. He's almost 4 years old and just starting to talk, but seems to be progressing quickly now that he's getting professional help. Chris' base (Ft. McPherson) is on the BRAC list, and Army Lodging (for which he works) is consolidating and changing, so they may be on the move again in a year or two. But meanwhile, they like the Atlanta area and are always busy keeping track of those boys!
My folks are doing great in their new house. Kerry's brood is in the process of heading off to make their mark in the world (well, in Arizona at least). Jon's going to a school in Phoenix to teach him to be a sound studio guru, and Jessie got her MBA here at NMSU and is off this month to Tucson.
Best wishes from Cathy & Ted, Dierdra and Samantha (the dogs), Pokey and Cocoa (the amazons), and Big Red (the macaw).
P.S. Here's the yearly crop of pictures.
Ted with the options he wants on his next truck!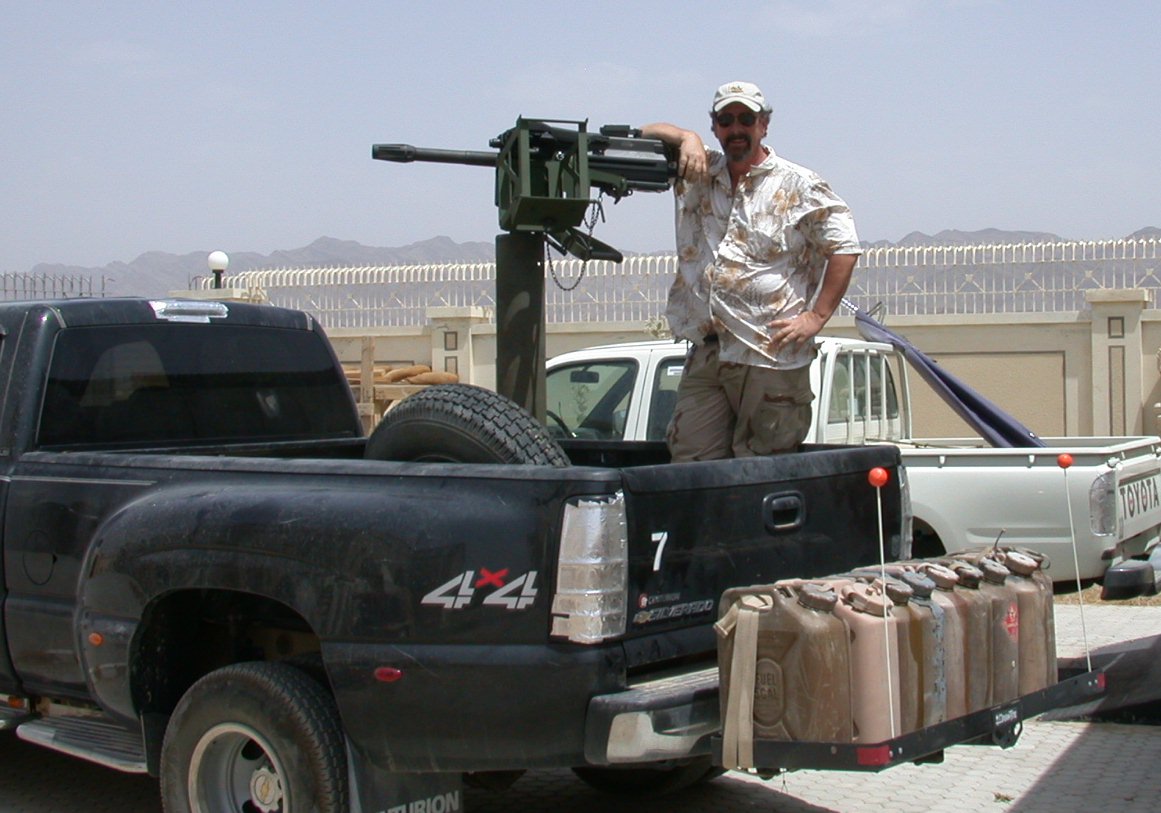 The Kitchen under destruction, er, construction: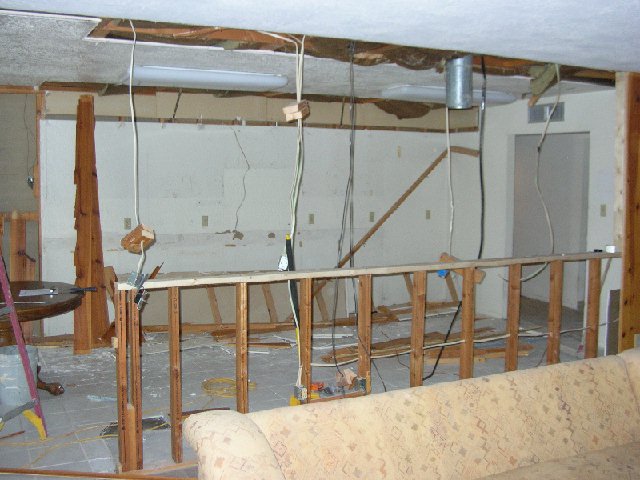 Cathy and Eric in her finished kitchen: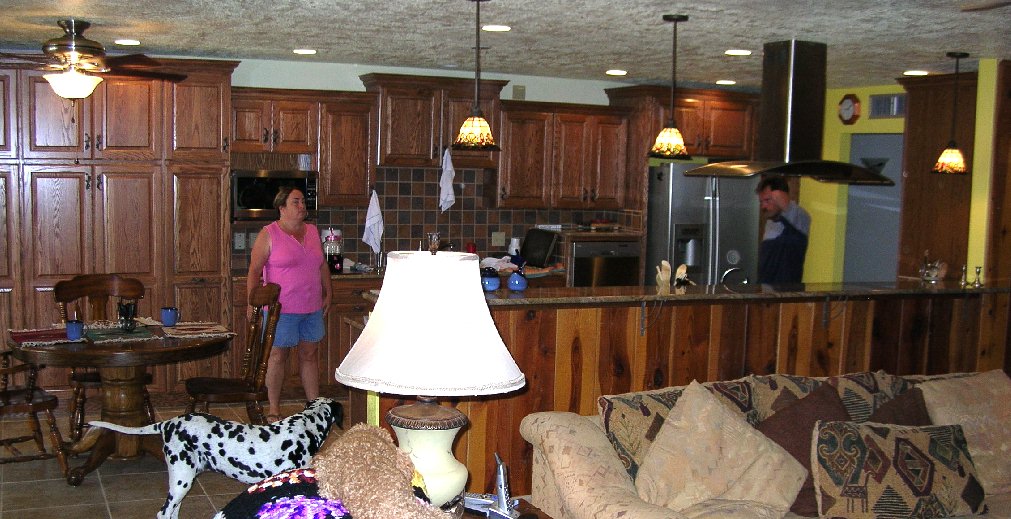 Cathy with her Toyota.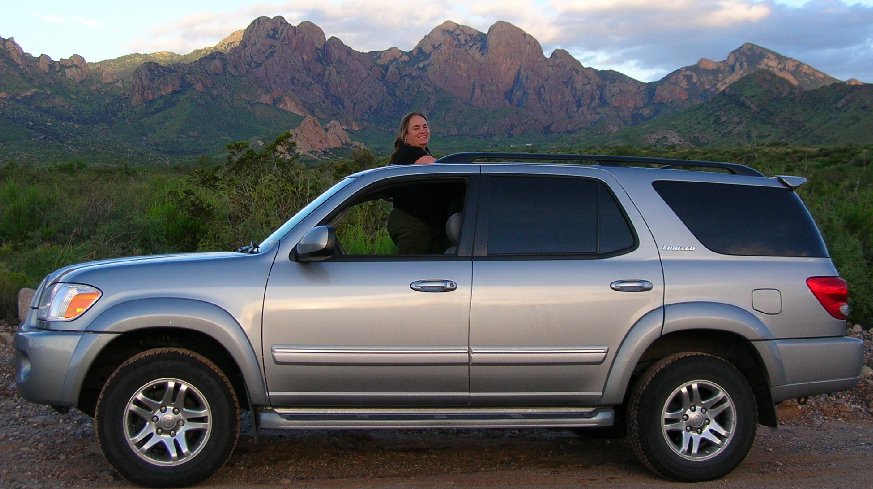 Eric Meets 'Red'. Yes, she really is that big and can do an amazing amount of damage in a very short time with that beak!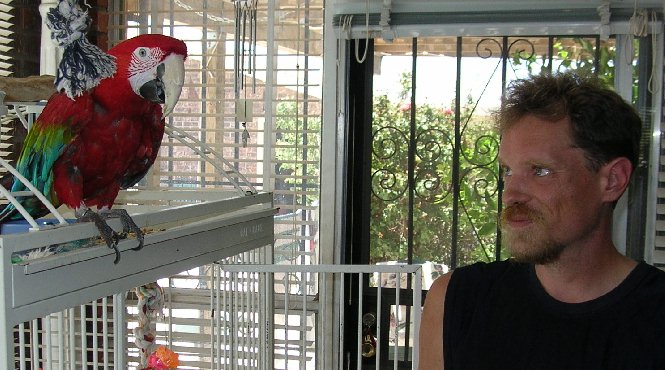 Great Grandma Pat meets Kirstin last summer.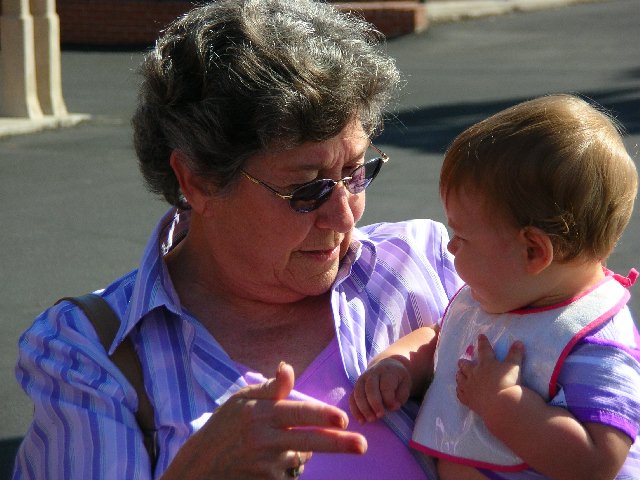 Grandpa, Kirstin, Rebekah, Great Grandpa and Great Grandma.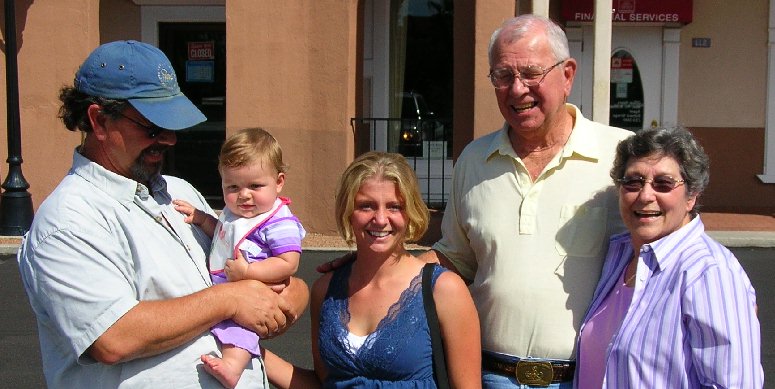 Cathy and Kirstin, Navarre Florida. Christmas 2006.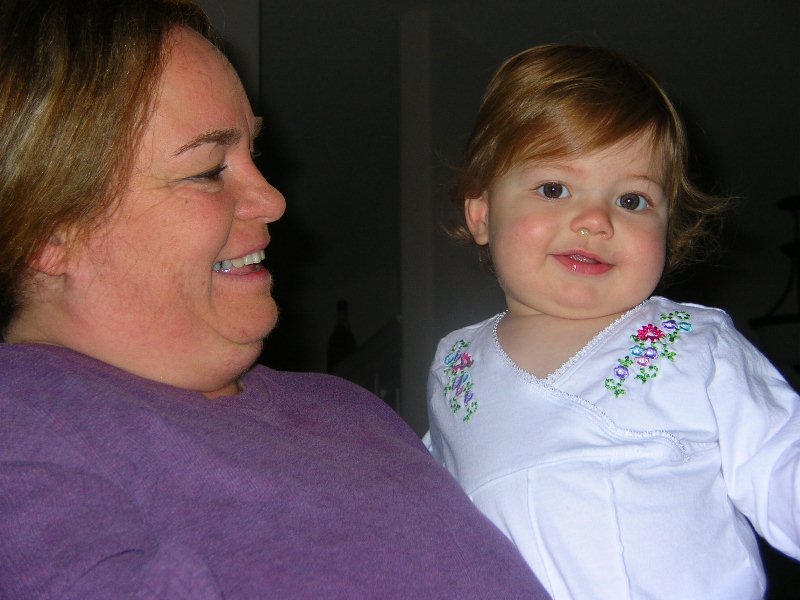 Greg and Kirstin out for a walk, December 2006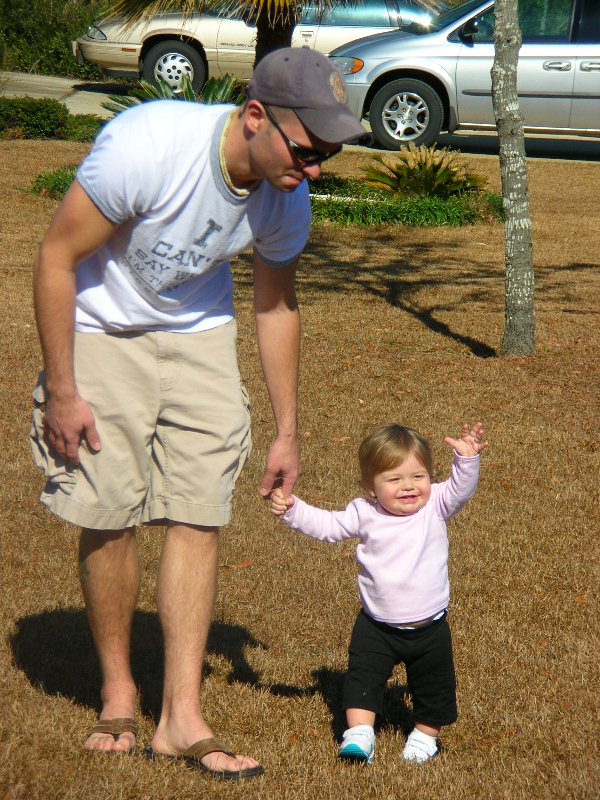 Ted and Cathy chow down at the Crab Shack on Tybee Island, Georgia. If you are ever in the Savannah area, go there!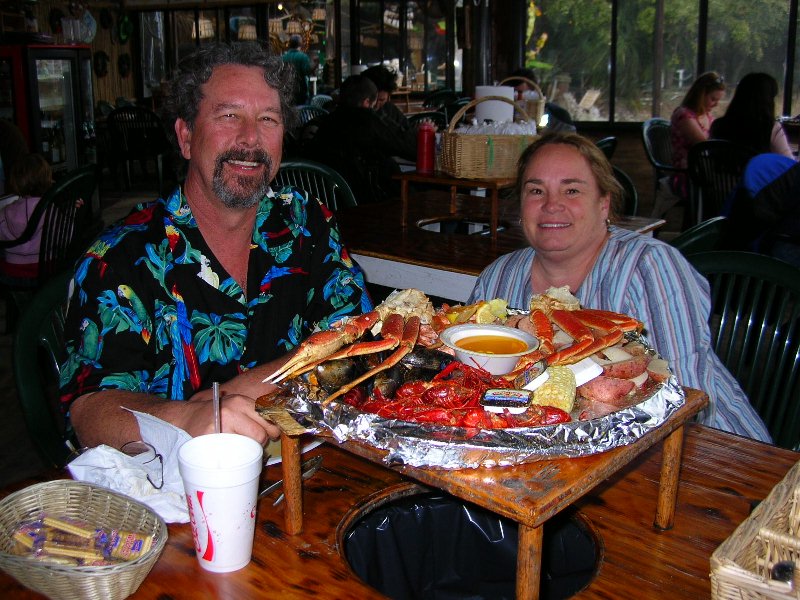 Janna and Connor.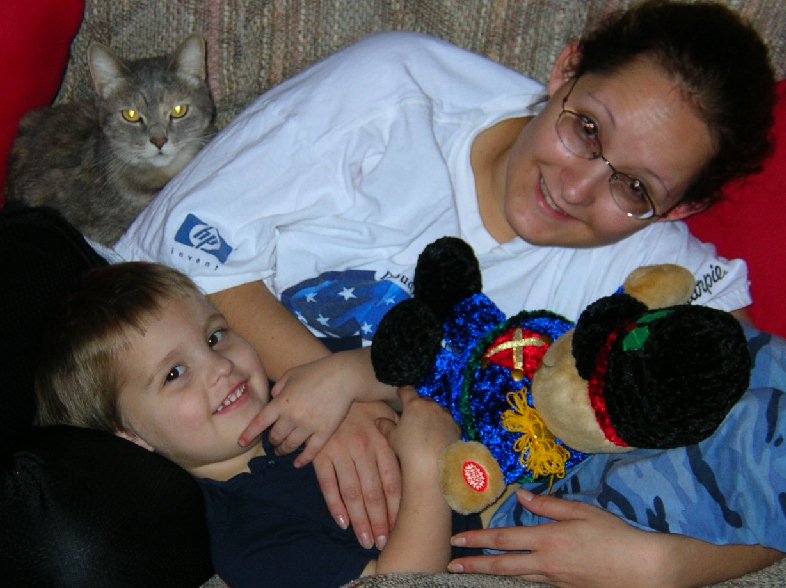 Christopher and Geoffrey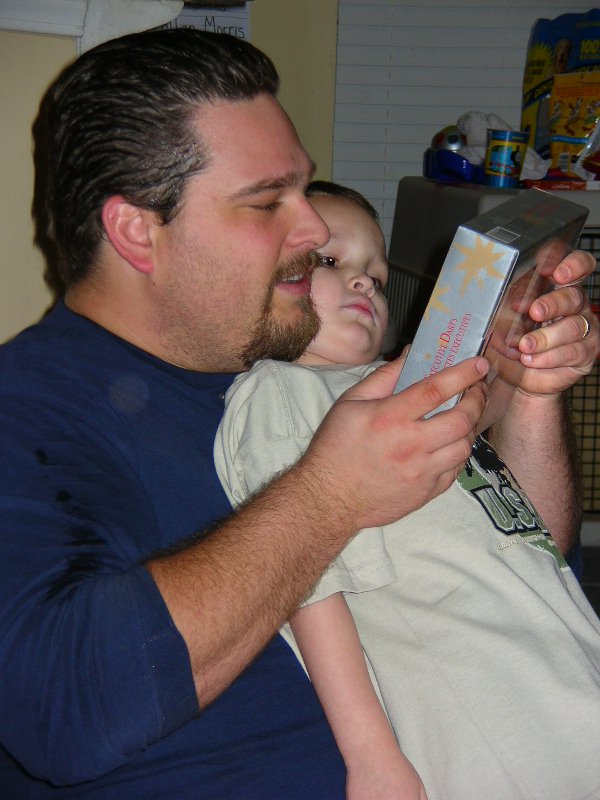 Geoffrey and Connor early Christmas morning.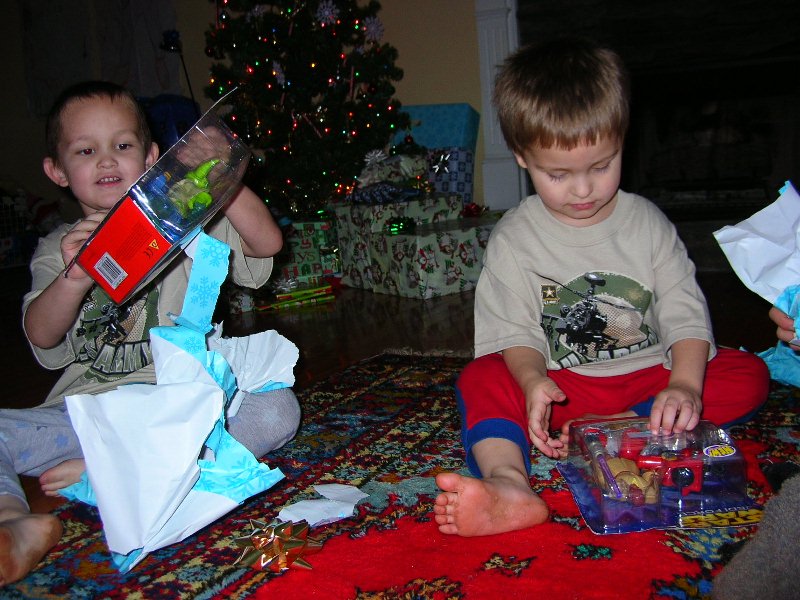 Geoffrey, Grandpa and Connor, later Christmas morning, after the burnout hits!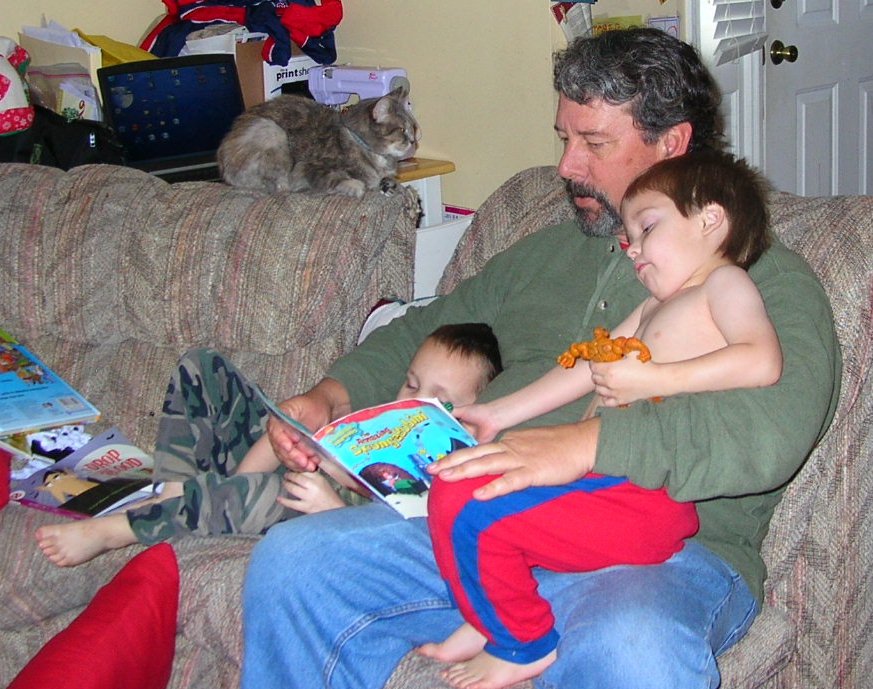 Cathy and the dogs when it snowed here in Las Curses on Jan 6, 2007
A-duh-bee, a-duh-bee, a duh-bee.
That's all Folks!