REFLECTIONS
by Al Maxey
Issue #526 ------- March 19, 2012
**************************
All sin is rooted in the failure of love.
Thomas Merton {1915-1968}
No Man Is An Island

**************************
Must I Be 95% Sin Free?
Before I can ever Benefit from the Sacrifice of Christ upon the Cross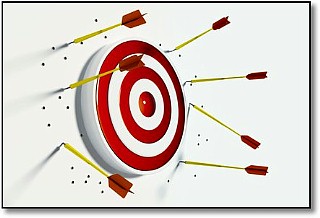 Epicharmus (530-440 B.C.), an ancient Greek poet and playwright, credited with writing more than 50 plays, although only about 35 survive, and also credited with being the originator of Sicilian (Dorian) comedy, observed, "Whoever sins least, he is the best man; for no man is innocent, no one free from blame." Most certainly we are all called to sin less and less in our daily lives, yet, in reality, none of us has ever reached a state of perfect sinlessness. Every one of us "misses the mark" daily, and quite often by a rather wide and obvious margin. Only one individual lived in sinless perfection before God, and the religious elite, with the help of the Romans, nailed Him to a cross. "There is none righteous, no, not one ... all have sinned, and come short of the glory of God" (Rom. 3:10, 23). However, God so loved us that "while we were yet sinners, Christ died for us" (Rom. 5:8). Indeed, "when we were enemies, we were reconciled to God by the death of His Son" (Rom. 5:10). The apostle Paul stated, "Like the rest, we were by nature objects of wrath. But because of His great love for us, God, who is rich in mercy, made us alive with Christ even when we were dead in transgressions -- it is by grace you have been saved" (Eph. 2:3-5). God didn't wait for us to find our way to Him before He embraced us, He sought us while we were still lost; lifted us up while we were still down; befriended us while we were still enemies; sent His Son to die for us while we were still sinners; raised us to life while we were still dead. Salvation is a gift of divine grace; it is nothing we humans deserve, nor anything we could ever merit by our own effort. And yet ... some still try, as incredible as that may seem!
It is always shocking, at least to me, to encounter someone who continues to persist in the perception that salvation is more about what I can give to Him than what He has already freely given to me! Such law/works-based thinking is in total opposition to the grace/faith-based theology of the new covenant. As the words of the old hymn so eloquently state, "Nothing in my hand I bring: simply to Thy cross I cling; naked, come to Thee for dress; helpless, look to Thee for grace; vile, I to the fountain fly: wash me, Savior, or I die" [Rock of Ages by Agustus Toplady]. Or, as Paul phrases it, "For it is by grace you have been saved, through faith -- and this not from yourselves, it is the gift of God -- not by works, so that no one can boast" (Eph. 2:8-9). If there are meritorious acts that I can/must do in order to be saved, then I have basis for boasting in self, but if salvation is a free gift, then my only boast is in my Savior. Paul had ample reason for boasting in his own accomplishments, yet he regarded them as rubbish (literally: dung) with respect to how he was perceived by the Lord (Philp. 3:4f). Our only boast is in the grace, mercy and love of our Lord. "No one may boast before Him, for it is because of Him that you are in Christ Jesus, who has become ... our righteousness, holiness and redemption. Therefore, as it is written, 'Let him who boasts boast in the Lord'" (1 Cor. 1:29-31). Again, how sad ... how tragic ... to see people parading themselves before God, believing that they themselves have something to present to Him that merits their justification and salvation. It is fatal folly.
The belief that our acceptance by the Lord is contingent upon some degree of personal effort is a rather common religious misconception, however. The concept of our God bestowing a free gift by grace is difficult for those indoctrinated in legalism to grasp. Our own inadequacy and total dependency upon Him simply runs counter to the theological tenets of religious institutionalism. Grace is viewed as a form of divine "gap insurance" -- we're required to do the best we're able to, give it our best effort, follow the rules as completely and accurately as we can, and when we fall short of perfection, as we certainly will, then God's grace bridges the gap and saves us. Thus, salvation is perceived as a working partnership between human effort and divine mercy, the latter covering the deficiency of the former. Frankly, I was brought up in a religious movement that was largely characterized by this thinking. Thankfully, my faith-heritage is quickly moving away from this false doctrine, with only the most legalistic among us continuing to promote such lunacy. Indeed, this pernicious perception is dying out so quickly that it now shocks many of us when we find little pockets of it thriving in some dark corner of Christendom.
Let me give an example. This past week I received an email from a native evangelist in Nigeria, Africa who took me to task rather harshly (he later wrote me and apologized, saying, "I am sorry if my email appeared too brash") for my article titled "Approaching God With Freedom" (Reflections #525). He felt I was diminishing the place of human effort (law-keeping, personal righteousness) by emphasizing the sufficiency of our Lord's sacrifice on the cross and the freedom of confident access that sacrifice secured for us into the presence of the Father. It was his contention that "faith in Christ," and being "in Christ," even to the point of "suffering scorn and the taunts of sinful men and women" because of our faith in Him, was insufficient to save us. Indeed, he declared that "such a doctrine will make sure that 60% of all souls will end up in hell." On March 13 he stated his conviction on the matter in the following way: "One must be righteous, at best 95% sinless, full of love for one's neighbor, truthful, kind, pure in thoughts and heart, obey the teaching of Christ, and abide by these and other godly acts before one can ever benefit from the sacrifice of Christ on the cross!" Well, needless to say, I was utterly horrified. Not so much that someone would think this way -- I realize that such thinking exists. What horrified me was that this man was actually preaching and teaching this to innocent men, women and young people in Nigeria. Who knows how many precious souls are being fed such garbage instead of the pure milk and the nourishing meat of God's Word. This is truly disturbing!!
Must I be 95% sin free before I can ever benefit from the sacrifice of Christ on the cross?! If this is true, then we are all lost! I seriously doubt if any person ever achieves that high a degree of sinlessness at any point in their lives. Even the apostle Paul, years after devoting himself to Christ Jesus, declared himself to be the chief of sinners (1 Tim. 1:15). On another occasion he bemoaned his own personal wretchedness (Rom. 7:15f). If 95% sin free is the mark, Paul apparently missed it by a wide margin. I guess we won't be seeing Paul in heaven, for God's grace can only bridge a gap of human imperfection no greater than 5% (according to this Nigerian evangelist and those like him who promote a meritorious works-based approach to divine acceptance). What nonsense!! The blessed reality is -- God's grace bridges the gap 100% between human sinfulness and divine holiness! While we were dead (no life whatsoever) in our sins, Christ bridged the gap at the cross! The dead don't raise themselves. There is absolutely nothing the dead can do to acquire life. Salvation is a free gift, it is not wages earned. It is given to the dead. The only thing men can do with the offer of this gift, if they would have life, is accept it, and that is done solely by faith. Then, as redeemed ones, we, who have been raised up with/in Him, spend the remainder of our lives engaged in daily evidentiary acts of gratitude and praise for His love and grace bestowed upon us. Though you and I will continue to fall short of perfection, the blood of Jesus will continually cleanse us of all sin (1 John 1:7, 9). Thus, we will always be perceived as 100% perfect from the perspective of the Throne, even though the reality is that we stumble daily due to our human frailty. Thank God for His GRACE. If salvation depended upon me, to any degree (much less 95%), I would have absolutely no hope of life everlasting!
I can't help but call to mind the concern of the apostle Paul for those who were still seeking to be right with God by means of a personal righteousness attained through compliance with the dictates of law. "My heart's desire and my prayer to God for them is for their salvation. For I bear them witness that they have a zeal for God, but not in accordance with knowledge. For not knowing about God's righteousness, and seeking to establish their own, they did not subject themselves to the righteousness of God. For Christ is the end of law for righteousness to everyone who believes" (Rom. 10:1-4). Hoping to be "good enough" by virtue of a high percentage of command-keeping is a path leading nowhere! The reality is: those seeking justification and salvation by command-keeping must keep all commands, and they must do so perfectly. If, during the course of one's life, even one command is violated or transgressed, one dies without mercy. Thus, the evangelist from Nigeria is just as lost at 95% as he would be at 1% ... indeed, even 99.9% compliance with law would still not avail; the only percentage that would bring salvation, if law-keeping is the path one chooses to follow, is 100%. No thanks! I'll take GRACE.
***************************
Down, But Not Out
A Study of Divorce & Remarriage
in Light of God's Healing Grace
(A 193 page book by Al Maxey)
Also Available on KINDLE


One Bread, One Body
An Examination of Eucharistic
Expectation, Evolution & Extremism
(A 230 page book by Al Maxey)
Also Available on KINDLE


Immersed By One Spirit
Rethinking the Purpose and Place of
Baptism in NT Theology and Practice
(A 304 page book by Al Maxey)
Soon Available on KINDLE and NOOK

***************************
Readers' Reflections
No Reflections Next Week -- Shelly and I will be at the 2012 Tulsa Workshop all this week and next weekend, so I will not be preparing a new Reflections to mail out next Monday. The next issue will be sent out on April 2nd. I will be teaching a special two class session (with time for questions and discussion) on Thursday morning from 9-11 titled "Healing Grace For Broken Marriages." Friday evening I will be the elder who receives those who respond to Don McLaughlin's keynote address at 7 p.m. in the Pavilion and who offers the prayer on their behalf. Then on Saturday at 2 p.m. I will speak in the Pavilion on the topic "Bridging Our Brokenness," and will be followed at 3 p.m. by Marvin Phillips. This year's theme is "Good News for a Broken World," and I believe it is going to be an awesome week, with thousands attending from around the nation and the world. I look forward to meeting a good many of you there. I'll see you in a few days!!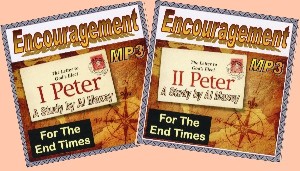 Special Notice: -- I just completed my series of 28 lessons titled "Encouragement for the End Times," and they are now available on a two CD set. This is a study of 1-2 Peter that I taught in my Sunday morning adult Bible class (each session was 45 minutes). It was recorded on high quality MP3 audio files, and may be listened to on any newer CD or DVD player (including those in most cars). One brother said he downloaded the lessons to his IPOD and listens to them during his morning walks. The first CD contains 16 lessons on 1st Peter (presented from Sept - Dec, 2011), with two of the class sessions dealing extensively with the text of 1 Peter 3:21, and specifically the phrase, "Baptism now saves you." The second CD contains 12 lessons on 2nd Peter (presented from Jan - Mar, 2012), with two of the class sessions dealing extensively with Predestination, Predetermination, Foreknowledge & Free Will, and with Man's Nature & Eternal Destiny. I think you will find these lessons challenging, enlightening and encouraging. For information on how to order your own copy of this study (the two CD set is being offered at a reduced cost over the individual CD price) just CLICK HERE and follow the instructions.
From a US Army Captain in Afghanistan:
Brother Al, I haven't quite finished your latest Reflections article yet, but I noticed that you were selling CD's for your class on 1st and 2nd Peter. I was wondering if you have a PayPal account, as I would like to order them, but mail takes weeks to get out of here! I hope all is well on your end. I'll get back and finish your article soon, I promise.
I have known this individual for a number of years, and appreciate so much his sacrificial service to our country and to the cause of freedom. He is truly a hero of this great nation!! Naturally, I would not think of charging him for my CD's ... thus, my set on 1st & 2nd Peter, as well as my MP3 audio Sermon CD's for 2010 and 2011, are being sent to his APO address free of charge, and with my heartfelt gratitude for his service! Perhaps these audio sermons and classes will provide a spiritual lift for this brave captain and his men during their tour of duty in the war zone. May God bless them, keep them safe, and bring them home soon!! -- Al Maxey
From a Minister/Author/Ph.D. in California:
Brother Al, I am thoroughly enjoying your new book Immersed By One Spirit. You wrote, "Nothing should be so regarded as inviolable that it is above inquiry; so sacrosanct that it is above scrutiny. Truth has nothing to fear from in-depth investigation. ... If our quest is for ultimate Truth, and not just the perpetuation of a cherished tradition, then we should welcome such inquiry, uncomfortable though it may be" [Immersed By One Spirit, p. 37]. Thank you, Al, for challenging sacred cows, and for bringing us back to Him who is the Pattern. My father, who preached for 72 years, used to tell the story about the mud roads of Oklahoma. After a rain, when the mud dried hard, he said a sign should be put up by the roadway that said: "Be careful what RUT you get in, because YOU WILL BE IN IT for the next 10 miles." Keep on rescuing us from the ruts, and returning us to the Redeemer!
From a Reader in Georgia:
Brother Al, Your article ("Approaching God With Freedom") was really good. Consistent with your views about "in" vs. "of," I read a very convincing book a few years ago by Oliver E. Rogers titled "The Faith of Christ." The hypothesis of the whole book is to persuade the reader that we owe our salvation to the faith OF Christ rather than to our own faith IN Christ. Click Here to go to his web site. I could not find in the book where Rogers specifically addresses Eph. 3:12, however he offers a whole chapter on Eph. 2:8. Also, he uses many verses similar to Eph. 3:12. I enjoyed the book quite a bit.
From a Reader in Texas:
Dear Brother Al, I read your material with considerable interest. We do not always agree, which I suspect you have already perceived from our exchanges over the years, but that does not reduce my appreciation for what you write. Obviously, your articles are deeply researched, and you have a depth of knowledge not many can duplicate. I am sure part of the reason some preachers attack your points, and sometimes you personally, is that they simply cannot adequately answer your arguments and challenges, and, as a result, they feel threatened. The very best to you and yours.
From a Reader in Arizona:
Dear Bro. Al, I have just finished reading your article "Approaching God With Freedom." Thank You for being so diligent to read and reflect upon the Greek terms involved, and also for searching out the written works of serious students of the Scriptures who have gone before us. I believe the conclusion you offered is correct, and that it provides us greater assurance -- something we all need at various times in our lives. I am really looking forward to meeting you at The 2012 Tulsa Workshop, Al. Your words encourage me and many others!
From a D.Min. in Oklahoma:
Brother Al, I will be praying for your safe travel to and from the Tulsa Workshop. My wife and I will be attending this year, and we pray that the Lord will grant you courage to speak!! Best regards to you!
From a Reader in Texas:
Brother Al, Thanks again for all the work you do in thinking through and studying through such passages as the subject of your latest study ("Approaching God With Freedom"). I especially appreciate your comments regarding the "faith OF Christ," as opposed to our "faith IN Christ." Burton Coffman used to emphasize that same distinction in a couple of his commentaries, and I at first thought his comments were rather "outside the box." Well, they were ... but my thinking at that time wasn't. I have since come to appreciate his insights, and yours!
From a Reader in Australia:
Bro. Al, Just a brief note to let you and Shelly know that I will be especially praying for you as you present your lessons at The Tulsa Workshop. Have a blessed day, my brother!
From a Reader in Louisiana:
Brother Al, I appreciate the Reflections I read just now ("Approaching God With Freedom"). Thank you for your untiring work and keen insight into the Word and will of our God. I can't help but note the statement you quoted from the Pulpit Commentary -- "Christ's sacrifice, as it has given infinite satisfaction to God, is fitted to inspire the soul of the believer with perfect confidence. He sees that nothing more is needed to ensure his everlasting acceptance, and is thus led to tread with boldness the entrance into the sanctuary of God's presence." Oh, how that knowledge makes my heart glad, knowing that I am truly and fully accepted by my holy God. And, how my heart hurts for the masses who labor under the false assumption that somehow, some way, they themselves must merit their justification before God. Yes, Jesus is enough! He is infinitely enough to set a sinner right with God!
From a Reader in [Unknown]:
Brother Maxey, I am a Christian youth considering service in our nation's armed forces. I consider myself a pacifist, but I do not deny the need for lawful institutions like the police and the military. However, I am wrestling with the question of whether or not it is right for me, as a Christian youth, to join the armed forces. I have read your study on this matter (Reflections #232 -- Christians Bearing Arms: May Disciples of Jesus Christ Serve in the Armed Forces?), and it really has influenced my thinking. My dream is to preserve the lives of people through a career in medical technology. I do not desire to take the life of anyone, but am well aware that I may have to if I join the armed forces. The USAF offers a military career in the medical technology field, and I am really wanting to do this. And yet, I know that if the enemy attacks a base at which I am stationed, I will have to take the lives of the enemy. So, my question is: Is it okay for me -- a Christian youth who does not wish to engage in combat -- to join the armed forces in a non-combat position? I salute you, Brother Maxey, for your service to our country in Vietnam, just as I salute our service men today who are fighting for us. No sane man desires war, yet no sane man denies the need for it in the face of growing evil. Tough choices!
As most of my readers know, it is my strong conviction that serving God and country are not necessarily inconsistent with one another. One can do both, and still remain faithful to one's core convictions. What many people may not realize (if they are unfamiliar with military life) is that in our technologically advanced society only a small percentage of military personnel ever actually serve in mortal combat (and this is true even of those forces stationed overseas in war zones). The vast majority of men and women in our military today are support personnel, and thus will most likely never be placed in a position where they will be killing the enemy (most will not even be issued weapons). The real moral challenge for pacifists, therefore, is whether or not they can in good conscience provide support to those who are taking lives. I personally believe that they can. This is a decision, however, that each individual must make for themselves. -- Al Maxey
From an Elder in Oklahoma:
Brother Al, Forgive me for being so behind in my reading, but I have some comments on Reflections #520 -- Sectarianism's C-ism Schism: Upper Case or Lower Case Church? I really appreciate your and Leroy Garrett's writings! You have both enlightened me on many subjects, both through your writings and your speaking engagements. However, Rubel Shelly's book "I Just Want To Be A Christian" is what started me on the road to changing my perception. He was the first one who really made me think about these things of which both you and Dr. Garrett speak. I have come to realize that while we all admit to sinning, we live with the expectation that if we have a penitent heart God will forgive even the sins we commit unknowingly. Some, however, believe that unknown errors of a doctrinal nature are not forgiven, even if we are living as sincere disciples of Christ. This kind of thinking is illogical, and also reflects a very poor perception of a loving God. Grace and peace to you, brother.
********************
If you would like to be removed from or added to this
mailing list, contact me and I will immediately comply.
If you are challenged by these Reflections, then feel
free to send them on to others and encourage them
to write for a free subscription. These articles may all
be purchased on CD. Check the ARCHIVES for
details and past issues of these weekly Reflections:
http://www.zianet.com/maxey/Reflect2.htm