REFLECTIONS
Articles Archive -- Topical Index -- Textual Index


by Al Maxey


Issue #752 ------- July 19, 2018
**************************
How else but through a broken
heart may Lord Christ enter in?
Oscar Wilde [1854-1900]
The Ballad of Reading Gaol

**************************
"We're Not Broken, Only Chipped"
Another Guest Article by Dr. Barry Perryman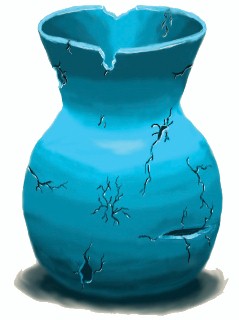 "Do not be afraid, little flock, for your Father has chosen gladly to give you the kingdom" (Luke 12:32). This little verse is sandwiched between Jesus' teachings on covetousness of physical things and what real and true wealth is. It is almost swallowed up in those two great themes. However, it is the underpinning or the foundation on which those themes are constructed, indeed on which the complete Gospel message is founded. Because of His righteousness, the Father has chosen gladly to give us the kingdom. He doesn't give it begrudgingly, He doesn't make it hard or cryptic, in fact He has already given it to mankind. All we have to do is receive it with a broken and contrite heart.
For me, one of the most amazing passages in all of Scripture is the testimony of John the apostle that is found in Revelation chapter 21: "Then I saw a new heaven and a new earth: for the first heaven and the first earth passed away, and there is no longer any sea. And I saw the holy city, new Jerusalem, coming down out of heaven from God, made ready as a bride adorned for her husband. And I heard a loud voice from the throne, saying, 'Behold, the tabernacle of God is among men, and He will dwell among them, and they shall be His people, and God Himself will be among them, and He will wipe away every tear from their eyes; and there will no longer be any death; there will no longer be any mourning, or crying, or pain; the first things have passed away.' And He who sits on the throne said, 'Behold, I am making all things new.' And He said, 'Write, for these words are faithful and true.' Then He said to me, 'It is done'" (vs. 1-6a).
Here John explains that he saw a new heaven and a new earth, for the first ones we live in today were gone, no longer in existence. He then sees the Holy City Jerusalem coming down from God. Then a voice tells us that God is now among men, and He will dwell with them. And because of this, there will be no more tears, death, mourning, crying, or pain. Then the King says, "I am making all things new" … all things. Wow! If we take this into aggregate to get the big picture, we see that the Lord is coming to fix everything that is broken!
When God was finished with the first creation, He gave the benediction that it was good. This was prior to the introduction of sin and its consequences, not only on humans, but the physical creation itself. The apostle Paul even declared that the creation was subjected to futility and longed for the revealing of the sons of God (Romans 8:19). The creation, like man, is also subject to the slavery of corruption. It is broken just like all men and women are broken; just like all of us are broken.
Some of us are broken more than others. Many are broken by their own bad decisions, while so many others have been broken by strangers, siblings, relatives, and even parents. Some have been horribly abused sexually, mentally, and physically. Some have been betrayed so many times that they have come to hate the world; some have been broken in battle, witnessing man's inhumanity to man. Some have been so physically or psychologically abused and raped that they have in turn broken others. It causes many to see a twisted world, instead of the beauty with which it was originally designed.
Disease, defects, and mental illnesses ravage our bodies and cause some to live with almost unbearable physical and mental pain. It distracts them from the kindness and sweetness for which we were created. It injects bitterness into the soul. Brokenness drains us of life force, and the desire and energy necessary for good works. Some lash out in rebellion; it colors their actions, thoughts and speech. Brokenness causes us to search incessantly for relief from the emptiness, pain and anxiety it causes. We search everywhere, even in the darkest places, where we find addictions of food, drugs, murder, and sexual deviancy. The need to deal with the emptiness takes some to places they could never have imagined, like teenagers turning to abusive sex to fill a hole that aches to be healed. It drives some to kill their own unborn children, and to molest and murder others. Some escape to the streets and alleys to find salve for their pain. Even if we don't act out on the emotional pain, we can still harbor the blackest thoughts. Brothers and sisters, it is a broken world we find ourselves in, and we all have contributed to that brokenness. No one is innocent, for all have sinned.
Those who so fiercely want it to be true that they have a role in their own justification are broken with arrogance. Paul explained this in Romans 10:3-4: "For I testify about them that they have a zeal for God, but not in accordance with knowledge. For not knowing about God's righteousness and seeking to establish their own, they did not subject themselves to the righteousness of God." Legalists, like the unrepentant Jewish leaders, refuse to, or have yet to, understand that obedience cannot overcome the brokenness caused by sin, it cannot deal with the deep darkness of evil in their hearts. And it is dark indeed. Legalistic arrogance leads to judgmentalism, hate, racism, gossip, exaggerations, attitudes of superiority, control, persecutions, a lack of concern for others, being disingenuous, and comparing oneself with others spiritually in order to feel elevated above them.
Obedience does not allow you to feel and know the freedom from the evil inside of your deepest self. Obedience cannot make you righteous before God, it cannot heal your brokenness. It cannot renew your heart and mind. If it could, then there would have been no need for a Savior, no need for propitiation, no need for a Great Physician, no need for the Creator to do anything: "I do not nullify the grace of God, for if righteousness comes through law, then Christ died needlessly" (Galatians 2:21). Yes, brothers and sisters, we are all broken by sin, and the depth of that brokenness is deeper than you can ever imagine compared to the righteousness of our Father; and so with this in mind, you can begin to understand the depth of His grace! Our Father has made provision for us through His grace: to gladly give us the kingdom. Law and obedience task us to achieve justification, but grace asks us to receive it. Instead of preaching obey, obey, obey to believers, we should be preaching renew, renew, renew. Brothers and sisters, we don't get to set the expectation for justification, God does. The Father is not obligated to save you because of your baptism or your history of obedience. He knows we cannot do anything that will elevate our righteousness because law and obedience bring nothing but condemnation. We desperately need a way out. This is what Paul had in mind when he wrote, "Wretched man that I am! Who will set me free from the body of this death? Thanks be to God through Jesus Christ our Lord!" (Romans 7:24-25).
Knowing this, it is easier to understand that you cannot boil sin down to a list of things that are wrong, nor can you live by a pattern of worship or any other pattern that will set you apart as righteous or saved. Righteousness is so much more than following some perceived or conjured pattern pieced together from a nineteenth century command-example-inference-silence hermeneutic. Sin is a state of being that is completely and utterly wretched compared to the righteousness of God. Please do not misunderstand, the apostle Paul does not reject the importance of obedience. Rather, he rejects righteousness by works, an attempt to put God in our debt: "What shall we say then? That Gentiles, who did not pursue righteousness, attained righteousness, even the righteousness which is by faith; but Israel, pursuing a law of righteousness, did not arrive at that law. Why? Because they did not pursue it by faith, but as though it were by works" (Romans 9:30-33).
Let's pretend for a moment that you passed away tonight, and stood before God, and He asked, "Why should I let you into the Holy City?" How would you answer? "Father, I followed Your commands as best I could, I am a baptized believer, I am your faithful servant, I worshipped according to the one and only true pattern, I… I…". The foolishness of this response is clearly evident. Again, you don't get to set the terms, God does; and He owes you nothing in exchange for your obedience. A believer would get down on his face and plead for the grace that is promised. Brothers and sisters, this is the key to it all, we are saved by grace through faith because it is the righteousness of God that is on display (Romans 3:21-26). "We believe the promise, …just as it is written, 'Behold, I lay in Zion a stone of stumbling and a rock of offense, and he who believes in Him will not be disappointed'" (Romans 9:33). Because we believe, we will not be disappointed: "Who will bring a charge against God's elect? God is the one who justifies; who is the one who condemns?" (Romans 8:33). Who will condemn a broken and contrite believer before God? Legalistic preachers, so-called brotherhood publications, faculty and graduates from legalistic schools of preaching, and all those that teach that man plays a role in his justification? I do not think so: "For I am convinced that neither death, nor life, nor angels, nor principalities, nor things present, nor things to come, nor powers, nor height, nor depth, nor any other created thing, will be able to separate us from the love of God, which is in Christ Jesus our Lord" (Romans 8:38-39).
Because of sin we humans deserve to die, not just physical death, but a spiritual death as well. We deserve not to be around any more, in any way. Where was your essence before you were born? The Creator formed us from nothing just as David writes, "For You formed my inward parts; You wove me in my mother's womb... My frame was not hidden from You, when I was made in secret, and skillfully wrought in the depths of the earth; Your eyes have seen my unformed substance; and in Your book were written all the days that were ordained for me, when as yet there was not one of them" (Psalm 139:13f). Folks, we do not have immortal souls, we are souls: "And Jehovah God formed man of the dust of the ground, and breathed into his nostrils the breath of life; and man became a living soul" (Genesis 2:7). Nowhere in scripture are humans described as having immortal characteristics, or of possessing an immortal soul. Only God is immortal (1 Timothy 6:15-16).
In death, the Lord keeps us somehow until that great day when He will confer immortality on His children and destroy the wicked. The Lord will keep us safe when we die, He will be our refuge, He will preserve us somehow and in some way, and He will bring us to Himself somewhere in or out of time as a new creature. We trust He will do this very thing because He promised, and His promises are true. This is what He asks us to believe and have faith in, that because of His grace there will be a resurrection and that He will breathe the breath of life into our nostrils once again, and we will be alive with Him in that new heavens and earth. Think of it this way: if our essence exists in the mind of God just as it always has, then what have we to fear in physical death? He will recreate us, with all the attributes and characteristics He desires, just as He wishes us to be.
Because of His righteousness, it is His pleasure to grant us His grace as a free gift: "For the wages of sin is death, but the free gift of God is eternal life in Christ Jesus our Lord" (Romans 6:23). If justification is anything other than a gift, it becomes wages: "Now to the one who works, his wage is not credited as a favor, but as what is due. But to the one who does not work, but believes in Him who justifies the ungodly, his faith is credited as righteousness" (Romans 4:4-5). Grace is only grace if it is received rather than earned. A gift is something free, and it costs nothing for the one receiving it. There is no gift at the top of a mountain, in a cave, or in the bottom of a baptistery that we must labor to retrieve or find. There is no gift-wrapped present that must be opened by our effort. We receive baptism not to be saved, but because God has saved us.
We receive it because we first believed His words and promise. We obey because of salvation, not to get it: "Therefore I, the prisoner of the Lord, implore you to walk in a manner worthy of the calling with which you have been called…" (Ephesians 4:1). Some argue that in Acts 2:38 the act of baptism justifies the candidate, but the argument falls apart when we ask a single question about those recipients of immersion on the day of Pentecost. When did those devout, righteous, Messianic Jews who were following the Law of Moses, suddenly fall from their covenant relationship with God? At what moment were they suddenly lost? Those good people renewed their covenant with God through baptism on the day of Pentecost and began to actually follow the Messiah they had formerly believed was coming. They believed what the apostles were teaching, and as a result they wanted to know what they should do in response to their newly found belief and understanding.
Our Lord tells us what He wants from us: "The sacrifices of God are a broken spirit; a broken and a contrite heart, O God, You will not despise" (Psalm 51:17). This was the legalistic Jews' problem. They refused to admit their own brokenness; they would not submit to the righteousness of God. Consider Abraham's belief. Paul says that Abraham did not continue in unbelief (Romans 4:20), he struggled with it: lying to Pharaoh about his relationship with his wife Sarah; and he was complicit with the scheme to father the promised child by Hagar. You bet he had doubts, but he did not continue in his unbelief, instead his faith eventually became strong enough to consent to sacrifice the very promise he was given. Faith is trust in the midst of doubt, and Abraham was still justified by God in the midst of his doubt, not because he had been circumcised or because he obeyed. He obviously did not obey, and yet his faith was credited as righteousness even before he was circumcised. The apostle Paul emphasizes this point over and over again in the 4th chapter of Romans.
We are not equipped to be good, that is why we need grace. Trying to measure up to God's legal standard is exhausting, a demoralizing road to failure, and in fact: impossible. Legalism begets an obsession with obedience, but God's law actually reveals our need for grace: "The Law came in so that the transgression would increase; but where sin increased, grace abounded all the more, so that, as sin reigned in death, even so grace would reign through righteousness to eternal life through Jesus Christ our Lord" (Romans 5:20-21).
So what of obedience? True, authentic belief and faith are never idle, and our works that result from faith actually refine and perfect it. Brothers and sisters, if we could obey our way to justification and out of our brokenness then we would not need a Savior! We need a Savior because we cannot fulfill obedience, and God knows this because He created us. Obedience is not an effort to appease an angry and intimidating God, like legalists would have us believe. Children of faith obey out of gratitude for the grace God so richly and freely provides. Disciples of Christ have come to understand their utter brokenness. Legalists believe their brokenness is only a small chip that can be fixed by the Lord with a bit of glue and with little effort, since they maintain that they are mostly intact as a result of their circumspect, pattern-oriented obedience. Their acts of obedience raise them so God can reach down and raise them the rest of the way. It is their duty to climb as many rungs on the ladder as possible so that His grace can make up the difference. The problem with that doctrine is that it does not recognize that God's righteousness raises us all the way. Grace plus anything else voids grace. We have nothing to boast about (1 Corinthians 1:29; 4:7). What do you possess that you have not been given by the Father? Name one thing. Even our ability to obey is given to us.
It is my hope and prayer that you will all come to know how the Lord deals with our brokenness by His grace through our faith, and that He will heal us and one day bring our essences unto Himself in that new universe that will no longer groan; where dying and decay is something of the past; a place where we can be at peace and full of His joy. Everything in the creation and in the Gospel story points to Romans 3:21-26, for it is here that the Father's righteousness is on display for all to see, and it is His good pleasure to grant His righteousness and the kingdom to you by grace through faith. God bless!
**************************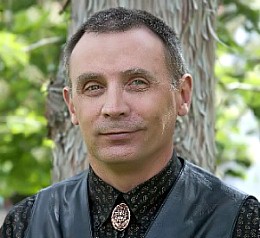 Every now and then I like to step away from the keyboard and present a special guest article from one of the readers. I don't do this often, but there are times when it is nice to take a brief break from my writing ministry. Also, it's good for you, the readers, to have an opportunity to ponder the thoughts of one of your fellow Reflections readers. In this week's issue I believe you will be especially blessed once again by the tremendous insights of a very dear friend and brother-in-Christ who has been a great supporter of my Reflections ministry for quite some time. I said "once again" because this man has written two previous reflective articles for me: Reflections #495 -- July 27, 2011, and Reflections #648 -- February 20, 2015. Dr. Barry L. Perryman, Ph.D. is a professor of Rangeland Management at the University of Nevada-Reno, and he has served for close to 40 years as a Bible class teacher, a song leader, a deacon, and a part-time evangelist. This dear brother is also the author of the powerful book "A Call to Unity: A Critical Review of Patternism and the Command-Example-Inference-Silence Hermeneutic," a fabulous work for which I was given the honor and privilege of writing the endorsement printed on the back cover. Barry further honored me by writing the Foreword for my third book: "Immersed By One Spirit."
Barry's above referenced book was the focus of several of the articles in the June, 2011 (vol. 55, no. 6) issue of Truth Magazine (an issue in which my own work was also attacked a number of times), which was a special issue titled "Hold Fast the Pattern of Sound Words." Barry wrote me at the time, "I guess my book is finally having some effect since they decided a special issue was needed to address it. However, the arguments they used are the same old twisted logic nonsense. It's as if they didn't even read the book because all of their arguments are addressed in it." This is very typical of the hardened legalists. They remind me of what the apostle Paul had to say about such persons: "They do not understand either what they are saying or the matters about which they make confident assertions" (1 Timothy 1:7). When the Contending for the Faith crowd viciously attacked my first book "Down, But Not Out" repeatedly and at length in their 2010 Spring Lectureship (which lectureships they characterized as "Profiles in Apostasy #1"), it became obvious very quickly that they really didn't have a clue what was in my book or what I really believed. The same was true of the other books they reviewed in that lectureship. That very same spirit was evident with respect to Barry's work as it was "reviewed" in Truth Magazine (a publication of the ultra-legalistic and patternistic Non-Institutional Churches of Christ). The above article, which I am featuring in this week's Reflections, is the third I have offered my readers from Dr. Barry Perryman's pen, and I believe you are going to be both challenged and encouraged by his insights. About this current submission, Barry wrote: "Al, as you know, legalism and Gnosticism were the first two doctrinal controversies the church had to contend with, and they are still with us today (especially within the Restoration Movement faith heritage). You have done well in addressing them, and I appreciate the work you have done over the years. I hope your readers will accept my humble attempt to do the same." [NOTE: For a fabulous picture of Barry during a recent trip abroad Click Here. He sent this to me, explaining: "I am in the Tien Shan Mountains of northwest China. That is Tien Shan Glacier in the background, with a Kazakh yerta behind me. The elevation is about 13,500 feet"]. I am pleased to present this new study from Barry for your careful and prayerful consideration. As with my own writings, his above study is designed simply to get you to think; to do some serious reflection. You may agree with what you read; you may disagree. Either way, may each of us embrace and evidence a "Berean spirit" (Acts 17:11). In the words of the apostle Paul, "Examine everything carefully, and hold fast to that which is good" (1 Thessalonians 5:21).
***************************
All of my materials (books, CDs, etc. - a full listing
of which can be found on my Web Site) may now
be ordered using PayPal. Just click the box above
and enter my account #: almaxey49@gmail.com

***************************
Readers' Reflections
From a Reader in Illinois:

Al, please send me the CD collections for your following studies: (1) An In-Depth Study of 1st Corinthians: Christian Counsel for a Confused, Conflicted Church ... (2) The Book of Revelation: An In-Depth Reflective Study ... (3) Law to Liberty: Reflecting on our Journey away from Legalism and into Freedom in Christ ... (4) Encouragement for the End Times: An In-Depth Study of 1st & 2nd Peter. My check is enclosed. Thank you.
From a Reader in Hawaii:

Is it possible to access online your book (Down, But Not Out: A Study of Divorce and Remarriage in Light of God's Healing Grace) or your class notes on the topic of divorce and remarriage? My approach to this question has been very simple, based on 1 John 1:8-9. But, that may be too simple for some. I have looked at various books written by men in the Restoration Movement, but I have always liked your clear approach to biblical subjects, and so would really appreciate reading through your thoughts on this subject. Mahalo.
Over the years I have done considerable research, writing and teaching on this topic, and the fruit of that study may be found in several locations and venues. My book is not online, but it can be ordered online at various outlets like Amazon.com (also available in Kindle format). I have copies of the book (both paper and digital) for sale as well, and ordering information can be found on my Web Site. I have done 18 Reflections articles on this topic, and these are listed on my Topical Index page under the heading "Marriage & Divorce." I have also done a couple of published debates which may be read online: (1) The Maxey-Broking Discussion: A Critical Review and Defense of Down, But Not Out ... (2) The Maxey-Thomas Debate: An Examination of a Proposition Relating to Divorce and Remarriage. I hope this information will prove helpful to those seeking to learn more about the biblical teachings on this very important and relevant subject. -- Al Maxey
From a New Reader in Unknown:

I came across your article titled "The Lunenburg Letter: Campbell's Controversial Correspondence with a Sister over Saints in the Sects" (Reflections #115) when I was researching the controversy surrounding Alexander Campbell's Lunenburg Letter. I would like to be added to your subscription list for your Reflections articles. Thanks!
From a Reader in Mississippi:

Dear Brother Al, my name is ---- and I am from Mississippi. I just want to thank you so much for your work. I enjoy reading your Reflections articles and they lift my spirit so much. If it weren't for you and Max Lucado, and your writings, I would be in a sad state! Thanks for y'all's very uplifting writings.
From a Reader in Arkansas:

Al, I really appreciate the blow you have struck against racism in your latest article: "Christ's Cyrenian Cross-Bearer: A Reflective Study of Simon of Cyrene" (Reflections #751). Racism is such an insidious problem, and it exists in so many places in society. For example, several decades ago I had some Hispanic employees, and I was shocked to hear their racial slurs about Black folks. Not only were the words they used shocking, but the tone with which they were spoken indicated a deep ill-will. Very sad!
From a Minister in Texas:

I love your article on Simon of Cyrene! I have long believed (because I want to, I guess) that Rufus (Romans 16:13) is indeed the son of this particular Simon. When Paul says, "...and his mother, who has been a mother to me," I come to tears thinking that the "cross-bearer's" wife may have filled the gap left by Paul's natural mother, who (in my opinion) disowned her son for his faithfulness to Jesus the Messiah.
From an Author in Arizona:

"Christ's Cyrenian Cross-Bearer" was another interesting and insightful column, Al. Just now got around to reading it. I especially like the following excerpt from your article: "Although the Son of God, Jesus was also a son of man: He was human, and thus subject to the same hurts and failings of the flesh that you and I experience. Jesus simply did not have the physical strength to carry this heavy piece of the cross to Golgotha. Yes, He 'went out," states John, from the place of His sentencing 'bearing His own cross,' but He only had the strength to make it past the city gate. When He collapsed, the guards escorting Him to the site of the execution found someone to carry the cross the remainder of the way. That 'someone' was a man from Cyrene named Simon." Yes, as you point out, our Lord was just as physically human as you and me, although divine. This is why He is able to go to our Father on our behalf -- as our Mediator. He experienced the same aches, hurts, and wounds as we do.
From a Reader in Alabama:

That was an interesting take on Simon of Cyrene. I had never thought of him as being black. I certainly never considered his being chosen to carry the cross as having racial implications. I always pictured him as being a man of strength, and that his physique was the reason he was picked out of the crowd. If he was black, I think it is important that our black brothers and sisters are aware of the impact he had, and that they have a real and viable connection to biblical history. On another note, I love how I always find, in the readers' comments section of your Reflections, mention made of other articles you have written that touch on topics that I have been contemplating or am studying. I consider them unexpected jewels. For example, my daughter and I have been discussing cremation, and as soon as I looked at the comments section I saw a reference to Reflections #72 ("May Christians Be Cremated? In Search of the Biblical Perspective"). Guess where I'll be heading next?! Thank you, Al.
From an Elder in New Mexico:

Al, Thank you for a marvelous study on Simon of Cyrene! I'm very happy to say that the congregation here in ------, NM is quite diverse: a wonderful blend of Indian, African, Hispanic and "Off-White" Christians devoted to God and fellowship with one another. One of the lessons in our VBS last week emphasized that God examines hearts rather than externals. We know that, but sometimes our devotion to the Scriptures opens dilemmas. Here's one to ponder: If only those who have learned about Jesus can be saved, how can the multitudes of people on the planet who have never heard of Jesus be saved? Just how much power does His sacrifice on the cross have? Can that power extend to all people of all eras and ethnicities? I think perhaps we've developed tunnel vision in our legalistic understanding of the Scriptures. It's not the "Good News" that saves, but the gift of God described in that Great News that saves!! And that power is NOT limited only to English speaking Christians. Praise be to the God of all grace!
I completely agree with this dear brother, whom I have known personally for many, many years. Like him, I believe with all my being that our God has a plan in place for ALL peoples, even those who may never have heard of Jesus. Indeed, that is the focus of one of my earlier Reflections: "God's Plan for the Unenlightened: Pondering the Parameters of Divine Acceptance of Human Response to Available Light" (Reflections #158). -- Al Maxey
From a Reader in California:

Brother Al, I was truly moved by this Reflections on our dear friend Simon of Cyrene. I call him "friend" because we don't know for sure if he was a disciple of Jesus, but he was most certainly there for our Lord when needed, and we owe him a debt of gratitude. I think another testimony that Simon was able to give was that he was one of the few "non-involved" people that day who could give a true testimony as to Jesus' physical condition immediately prior to the cross. There were rumors later that He had simply "swooned," or that He had somehow survived the whole ordeal. Simon, however, would have been able to give a first-hand, close-up account of Jesus' condition. He saw how broken and beaten our Lord was, and he knew that there was no way someone could survive this amount of punishment. In addition, he could have been a very legitimate witness to the resurrection. The Scriptures tantalize us with these various accounts because they hint at so much more! If nothing else, it draws us to once again examine the cross of Christ, and to witness anew His spiritual strength during a time of unspeakable horror.
From an Author/Publisher in Nevada:

Interestingly, only one of the church fathers prior to A.D. 325 mentions Simon of Cyrene, and then only in passing, offering nothing of any worth. In contrast, you, in your research, have gathered for us the scattered references to this Cyrenian from commentaries and other scholarly sources, and have then offered us reasoned conclusions about him (and also the eunuch from Ethiopia). You state that biblical references to these men might very well point to a message against racial prejudice, reminding us that ALL people who come to God in faith comprise the worldwide One Body of believers. A new book by Richard Neff ("Simon of Cyrene: The Cross-Bearer's Legacy" -- you can even get it on Kindle) is a story about successes and trials of early Christians. This excellent fictional work traces Simon and his family and friends through many episodes, including a trip to Jerusalem to witness the crucifixion, his acceptance of Christ, to Antioch to minister to Gentiles, and finally to Rome, where the cross-bearer's legacy extends to the next generation through his sons Rufus and Alexander.
From a Reader in Georgia:

Al, I'm going to share this study of Simon of Cyrene with a couple of my brothers-in-Christ at church and get their perspective on the significance of a black man bearing the cross of Jesus. I'm sure they might have a perspective that I might not so quickly arrive at. It's a powerful story that needs to be shared. I hope many discussions will come from it. The South isn't even close to what it was, but it's certainly not what it should be either!! Thanks for sharing this! Love you, brother.
From a Minister in New Zealand:

Thanks for your latest article regarding the "Cyrenian Cross-Bearer." The racial factor is interesting as it could show again how men may have an agenda in doing certain things, yet this plays right into God's hands for a more noble purpose. I am really enjoying reading some of Buff Scott's articles. He is very good. I did a devotional this morning titled, "Don't Let Religion Get in the Way of Jesus." It was based on Romans 3:30 and Luke 17:11f. It makes a good sermon as well, especially when you read Leviticus 14:1ff. I am now three score and ten, and the Lord is still giving me many areas in which to serve. Praise God! Thanks again for your work, and may God bless you.
From a Minister in Texas:

My wife and I were talking about your article on Simon of Cyrene last night while watching the movie "Paul, Apostle of Christ." Fantastic movie, by the way. They made reference to Rufus in the film. Thanks for the great article ... as always!
From a Reader in Arkansas:

WOW! Oh wow!! What a powerful lesson you have given us on Simon of Cyrene. Once more we see God using the despised and disrespected to accomplish what His followers too often refuse to. Why oh why do our noses stay turned up?!
********************
If you would like to be added to or removed from this
mailing list, contact me and I will immediately comply.
If you are challenged by these Reflections, then feel
free to send them on to others and encourage them
to write for a free subscription. These articles may all
be purchased on CD. Check the ARCHIVES for
details and past issues of these weekly Reflections:
http://www.zianet.com/maxey/Reflect2.htm