REFLECTIONS
Articles Archive -- Topical Index -- Textual Index


by Al Maxey


Issue #766 ------- February 22, 2019
**************************
The Work of salvation, in its full sense, is
(1) about whole human beings, not merely
souls; (2) about the present, not simply the
future; and (3) about what God does through
us, not merely what God does in and for us.
N. T. Wright [b. 1948]

**************************
The Outcome of Your Faith
Simon Peter's Salvation Perspective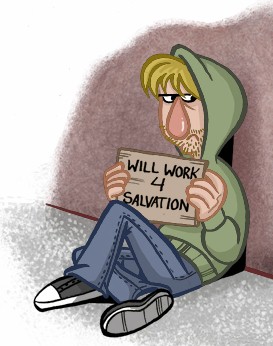 One day, as John was preaching and teaching in Bethany beyond the Jordan, he looked up and saw Jesus coming toward him, at which point he uttered these memorable words, "Behold, the Lamb of God who takes away the sin of the world!" (John 1:29). The primary purpose for which "the Word became flesh and dwelt among us" (vs. 14) was that He might deal once and for all with the "sin problem," and in so doing reflect the love, mercy, compassion and grace of the Father for His creation. "Christ Jesus came into the world to save sinners" (1 Timothy 1:15), declared the apostle Paul, who considered himself not only foremost among sinners, but also one who found mercy at the hands of a gracious God, thus serving as "an example for those who would believe in Him for eternal life" (vs. 16). Yes, Jesus "came to seek and to save the lost" (Luke 19:10), but not all those lost in the darkness of this world were equally receptive to His mission. The self-righteous, self-sufficient, rigid religionists were among the first to reject their Messiah and His message. The American author Brennan Manning (1934-2013) correctly observed, "The sinners to whom Jesus directed His messianic ministry ... were those who had done nothing to merit salvation. Yet they opened themselves to the gift that was offered them. On the other hand, the self-righteous placed their trust in the works of the Law and closed their hearts to the message of grace" [The Ragamuffin Gospel: Good News for the Bedraggled, Beat-Up, and Burnt Out]. By preaching religion rather than a Redeemer, we renounce redemption.
The Jewish philosopher Hasdai ben Abraham Crescas (1340-1411), who was one of the great Jewish leaders of the medieval period, observed: "Salvation is attained not by subscription to metaphysical dogmas, but solely by love of God that fulfills itself in action." This is very much in keeping with the following: "And as Moses lifted up the serpent in the wilderness, so must the Son of Man be lifted up, that whoever believes in Him may have eternal life. For God so loved the world, that He gave His only Son, that whoever believes in Him should not perish but have eternal life. For God did not send His Son into the world to condemn the world, but in order that the world might be saved through Him. Whoever believes in Him is not condemned, but whoever does not believe is condemned already, because he has not believed in the name of the only Son of God" (John 3:14-18, English Standard Version). "God is love," declares the aged apostle John (1 John 4:8, 16), and this divine love motivated our Creator to freely extend to all men the gift of life through the redeeming act of His Son on a cross. This gift is for all who believe. "God, being rich in mercy, because of His great love with which He loved us, even when we were dead in our transgressions, made us alive together with Christ (by grace you have been saved), ... By grace you have been saved through faith, and that not of yourselves, it is the gift of God; not as a result of works" (Ephesians 2:4-9).
It is truly tragic that so many people have been taught throughout their lives that they themselves must be working to acquire their salvation, which often leaves them wondering, "Have I done enough? Have I been good enough? Am I bringing enough to lay before God that will assuage His anger and assure my salvation?" Such thoughts only lead to a life of anxiety, frustration and uncertainty, and the theology reflected in such thinking is, frankly, an affront to the love and grace of God, not to mention the sacrifice of His Son. Salvation is by grace through faith/belief ... period! Yes, there are attitudes and actions that are evidentiary in nature: that manifest the reality of our faith and our salvation, but none of these are salvific in themselves. We show our faith by them, but they are acts and attitudes embraced because we ARE saved, not in order to BE saved! Now, that is Good News "that will preach!" Far too many disciples of Christ are far too much like the poor soul in the cartoon at the beginning of this article. They tend to regard salvation as "wages due," rather than a "free gift" offered by a loving, gracious, merciful God. By preaching the former, they completely negate the latter! "You have been severed from Christ, you who are seeking to be justified by law; you have fallen from grace" (Galatians 5:4). Some among us need to wake up to this reality!
When we consider such great biblical themes as faith, grace, salvation, justification, sanctification, and the like (what some have labeled "preacher talk"), we most often think of the great contribution of the apostle Paul to our understanding and appreciation of these things. However, let's not be so hasty in our praise of Paul's contribution that we overlook the contribution of the apostle Peter. Peter had a lot to say about the who, what, when, where, and why of salvation. And, like Paul, some of his statements have been misused and abused by those seeking to promote a particular personal or party perception and/or practice. I have dealt extensively over the years with several of these:
I could list more, but I think you get the idea. For centuries, some have used, misused and abused the statements by and about Peter with respect to his mission of sharing the Good News. Many traditional dogmas have arisen around some of these passages, and I have tried to deal with a great many of them (as may be seen in the above referenced studies). In this current issue of Reflections, however, I want to notice just a few statements in Peter's first epistle which will supplement and further clarify his position for us on the subject of our salvation. As we begin, I think it is important to note: "Salvation is the major theme of this letter (1st Peter). Peter never allows us to lose sight of the priority of salvation through faith in Jesus Christ. It was this basic message that Peter proclaimed to the Sanhedrin when he and John were arrested for preaching the resurrection of Jesus Christ. Peter declared, 'Nor is there salvation in any other, for there is no other name under heaven given among men by which we must be saved' (Acts 4:12). It is of this salvation that Peter now writes" [Dr. Paul A. Cedar, The Communicator's Commentary: James, 1&2 Peter, Jude, p. 120]. It is also important to note that in the mind of the apostle Peter, salvation is not just "pie in the sky by-and-by." It is also a very present reality. Although our salvation will be fully and finally realized when the Lord returns to claim His bride, it is nevertheless true that we both possess and partake of that salvation even now. This was important information for a persecuted people, for such was the condition of those to whom Peter wrote. Thus, Peter sought not only to give these "saints under fire" hope, but also a sense of assurance. He extends to them an "assured anticipation" of that future reality in the new heavens and earth. Thus, "believers even now 'receive salvation,' though its full 'revelation' is future" [Drs. Jamieson, Fausset & Brown, Commentary Practical and Explanatory on the Whole Bible, p. 1466]. "Salvation is present as well as future. God's elect receive it in various measures now; in its blessed fullness it will be manifested hereafter. It is the end which faith ever holds in view" [The Pulpit Commentary, vol. 22, p. 6].
As can be seen in that last quote, and as most discerning disciples of Christ know and appreciate, "salvation is the goal of faith, and its realization the end or design thereof" [Guy N. Woods, A Commentary on the NT Epistles of Peter, John, and Jude, p. 32]. God has graciously and lovingly extended to mankind the gift of salvation, and that gift was "paid in full" and thus assured by His Son, and it is then received by faith. When we appropriate that free gift by faith, we are filled with a joy, even in the midst of trials, that the world will never know. "Faith is directed toward Jesus Christ and produces love and joy in Christians. Christians do not rejoice because of sufferings but because of the glorious expectation of their future with Christ" [The Expositor's Bible Commentary, vol. 12, p. 221]. This "future" with the Lord begins when we embrace this grace by faith. At the moment of acceptance our salvation becomes a present reality, and we grow in that gracious salvation, in which we stand, until we realize its eternal fullness at His coming! Peter informs believers that as we become more and more enriched by His Word, we thereby "grow in respect to salvation" (1 Peter 2:2). We don't remain infants in faith, forever on the milk of the Word, but grow daily as we feast on more and more substantive truths revealed to us as we journey to the full realization of our hope and faith. Some, sadly, never leave the bottle-fed, diaper-clad stage, which I have discussed in Reflections #570 ("The Bottle-Fed Church: Moving from Milk to Meat").
Our salvation is secured by grace through faith. This is that "living hope" we embrace from our merciful God through the resurrection of Jesus from the dead (1 Peter 1:3). It is a salvation that even now we possess, and in which we grow in our appreciation, and which we show in our daily manifestations of its reality in our hearts and minds. It is also a salvation, says Peter, "reserved in heaven for you, who are protected by the power of God through faith for a salvation ready to be revealed in the last time" (1 Peter 1:4-5). Peter is not saying we are not saved right now, he is declaring that the eternal fullness of that salvation, which includes our own immortality and our everlasting fellowship in the presence of the Lord Himself, is yet future, although fully assured. While we rejoice now in our salvation, the joy we know now by this blessed assurance pales in comparison to the joy we will know then when we "collect the full benefit of our faith" [Dr. J. Ramsey Michaels, Word Biblical Commentary, vol. 49, p. 35]. "In this way, the present joy of the believers leads up to its future culmination, when, in the enjoyment of the heavenly glories, their joy will transcend all human language. ... Thus will the believers obtain the goal of their faith" [Dr. Paul E. Kretzmann, Popular Commentary of the Bible: The NT, vol. 2, p. 520]. The saved will on that day finally experience all the blessed fullness of that salvation. It is this hope, this confident expectation, that Peter uses to encourage his beleaguered fellow believers so that they will remain firm in their faith in the face of the fiery affliction that has come upon them in the present. It's also well-suited for us today, given the reality of the growing darkness that surrounds us.
Peter wrote: "In this you rejoice, though now for a little while, if necessary, you have been grieved by various trials, so that the tested genuineness of your faith ... may be found to result in praise and glory and honor at the revelation of Jesus Christ. Though you have not seen Him, you love Him. Though you do not now see Him, you believe in Him and rejoice with joy that is inexpressible and filled with glory, obtaining the outcome of your faith, the salvation of your souls. Concerning this salvation, the prophets who prophesied about the grace that was to be yours searched and inquired carefully" (1 Peter 1:6-10). There was a lot of curiosity about this salvation by grace through faith; even the prophets wondered and inquired. So too did the angels (vs. 12). This was radical ... this was unheard of ... this was most curious! It was also fabulous GOOD NEWS. It was the GOSPEL. And it was for ALL who believe (have faith). Nothing whatsoever here about works or deeds done to earn/merit this GIFT. Not a word! "Peter here confirms Paul's teaching as to justification by faith" [Drs. Jamieson, Fausset & Brown, Commentary Practical and Explanatory on the Whole Bible, p. 1466]. Polycarp, in his 2nd century paraphrase of this verse makes note of the fact that Peter, in agreement with Paul, is stressing that "salvation is by grace rather than works," which is an important early testimony of a tremendous truth that too many today seem to have forgotten. Let me also note, just in passing, that the use of the word "soul" here is not a reference to the false doctrine of "immortal soulism." It is just a reference to the "being/life" of a person. "No soul-and-body dichotomy of Greek thought is implied. The 'soul' is used in the Semitic biblical sense of 'self' or 'person'" [The Expositor's Bible Commentary, vol. 12, p. 221]. The Greek word used here "is not the 'soul' in distinction from the body (as in much of Greek thought), but rather a person's whole life or self-identity" [Dr. J. Ramsey Michaels, Word Biblical Commentary, vol. 49, p. 35]. For those who might like to study this false Greek perception further, and how it affected Jewish and Christian theology, I would suggest my article in which I examine the holistic (biblical) view of man in contrast to the pagan perspective: Reflections #32 ("What is Man?"). Also, check out my recorded Bible study on this topic: The Nature of Man and his Eternal Destiny.
Kristen Heitzmann, a young, bestselling author from Colorado, made a memorable observation in her psychological thriller "Sweet Boundless." She wrote that Christ Jesus "has accomplished your salvation. But He has not yet perfected your circumstances. Do not be confused in the two." The apostle Peter was well aware that the believers to whom he was writing were experiencing some very difficult, dangerous, and even deadly circumstances. Yet, at the same time, he urged them to rejoice in their salvation, which was very much in their possession, even though it may not always be outwardly visible in their circumstances. Rather than despair, they were to grow in this salvation. They were to evidence it in their daily lives: this was the "out-working of salvation," the visible daily manifestations of their greater reality, as I noted in my previous issue of Reflections (Issue #765). Make your salvation operational; shine like stars in the darkness; bloom where you're planted. As you grow in this grace, rejoice in the blessed assurance that the eternal DAY approaches when the promised fullness of this salvation will be finally realized. "Amen!! Come, Lord Jesus!!" (Revelation 22:20).
***************************
All of my materials (books, CDs, etc. - a full listing
of which can be found on my Web Site) may now
be ordered using PayPal. Just click the box above
and enter my account #: almaxey49@gmail.com

***************************
Readers' Reflections
From a Reader in Texas:

Thank God for the amazing spirit of understanding with which you have been empowered! Every Reflections article seems better than the one before, and I try to spread them around, especially to family. I have also shared copies of your most recent book From Ruin to Resurrection. But, when I try to order more actual paper copies of this book from Amazon, so I can keep passing them out to people, all I am offered are used copies with prices like $200 to $400. What gives?!
Sadly, my publisher for all four of my books suddenly went out of business about a year and a half ago, leaving thousands of their authors (myself included) stranded. They not only vanished from the publishing scene, but also took all of their writers' royalties with them. This leaves me with no way to get these books printed, and several publishers I contacted hesitate to take on any of the authors from this company, for when they vanished they left their contracts with these writers still in force until the termination date of those contracts. Thus, online sites like Amazon do have some copies on hand, but they know that there will be no more coming from that publisher, so they jack up the price. Amazon still has all four books available in the Kindle format, though, and there is an unlimited supply, so they can still be ordered and downloaded to your devices. Personally, I'm glad that they are still available in that format, for a lot of people these days seem to prefer to read books on their devices. The negative in all this for me personally (and I don't intend to make an issue of it) is that I am receiving zero royalties from these sales. The agreement was that such outlets would send the royalties to the publisher, and the publisher would then send them to me. However, with that publisher now no longer in existence, places like Amazon have no place to send royalties for thousands of authors they have in their system. So, somebody is making money, but not the authors. I contacted the Attorney General of Maryland (as have other authors stranded by this publisher) to see if anything could be done, and was informed that there really wasn't. So, I'll just let the four contracts reach their termination date and then seek to find a publisher who can step in and resume printing them again. Until that time, there are options you have. You can still get them on Kindle, and I would encourage you to do so. I won't get anything (financially) from this, but I will get the satisfaction of knowing that these works are still available, in this format, for people who desire to have them. I'm okay with that (for it has never been about the money with me, but rather getting the information out to the public). I also have digital copies of these four books that I am making available to people. You may access that ordering information at Books by Al Maxey. As for the paper copies, although I'm now out of copies of my most recent book, I do still have 6-7 copies on hand of each of my other books (for those who may want signed copies). Information on how to acquire these, and other materials I have, may be found on my Web Site. -- Al Maxey
From a Reader in Texas:

Al, I believe you have taken the wrong path with regard to someone dying in the baptistery prior to being immersed, or prior to his nose breaking the surface of the water on his way up. I believe you were referring to ------'s remark in his sermon when he filled in for you one Sunday (he stated that if one truly believed, had repented, and had confessed Jesus, but died one second before being immersed, then he would still go straight to hell). Personally, I don't believe that will ever happen. I believe that God wants everyone to be saved, and if one is sincere, and is not delaying his obedience, then God will see to it that he lives long enough to complete his obedience. My best regards to you and Shelly.
This is the oft proffered response of those who take a sacramental view of baptism in water. If, as they assert, this event is THE moment when one is saved, then one is eternally lost until such time as that event is completed. Thus, a loving, merciful, gracious God would step in, they insist, and delay the massive heart attack until the nose of that person breaks the surface of the water so as to ensure that person could then be saved (by having completed his "act of obedience"). To even suggest this scenario, however, exhibits to all that the person suggesting it has embraced sacramentalism, and therefore must seek some rationalization, no matter how bizarre, for keeping God from looking like a monster. The inescapable reality, however, in spite of all who may suggest that a loving God would never, ever allow this, is that there ARE many such examples of this very thing happening. For example, I have documented one of them in my published debate with Michael Hughes on this very topic. The Maxey-Hughes Debate was held from September 11 to November 15, 2002. The entire debate is located at the above link, but the place where I provide the documented evidence for what some have declared God would NEVER do, and thus what could NEVER happen, is in the latter part of my Third Affirmative to the First Proposition of this debate. I have listed the name and location of this tragic event (which involved one of the professors at Harding University). So, YES ... it happens. The shock of such occurrences, however, is somewhat mitigated when we realize the true purpose and place of baptism in water in New Covenant theology and practice. It is only when we invest this symbolic act with sacramental power that we place ourselves and our theology in an untenable and indefensible position. In my teaching over the years I have simply sought to return a bit of reason to our biblical study, and to diminish the unwarranted power of many of the human traditions that have arisen within our denomination (that wing of the Stone-Campbell Movement known as "Churches of Christ"). For those who might like to examine further my evolution of thought in this area, I would encourage a reading of my third book Immersed By One Spirit: Rethinking the Purpose and Place of Baptism in NT Theology and Practice. I pray it will prove helpful to those who read it. -- Al Maxey
From a Reader in Washington:

Al, I really appreciate all your hard work. When we left the Church of Christ group, where my husband was an Elder, I felt so lost! It was an ugly split, something that came from legalism at its finest (not sure that legalism is "fine," though). If you want some good material, you should look up on Facebook the page of the congregation we used to attend here, then you will see why the group here split. On their page, by way of example, is a reprint of an article by Tim Kidwell of the Branson Church of Christ in Missouri. It was from their web site dated January 19, 2016, and was titled "Error By Any Other Name Is Still Error." The very last paragraph of this article is just crazy!! They seem to justify the fact that they have so few members because they will be the ONLY ones entering the NARROW gate! Very sad!
I went to this web site and read the article. The entire piece was an attack on Max Lucado and the Oak Hills congregation in San Antonio, Texas. "The Lucado church" is filled with "apostate brethren," according to this attack piece, and the author is glad they have changed their name, as "this will keep those who do not know any better from confusing this counterfeit church with the church of Christ." Pitiful, but typical. Very sad indeed! -- Al Maxey
From a Reader in Washington:
(Actually, this is my sister, whom I love dearly)

Your new article "Making Salvation Operational" (Reflections #765) was very good, as usual. Seriously, you need to get you an agent and get more exposure! Your writing is so good, and you put so much thought and work into what you do, that it is not right that you aren't on the talk show circuit. Maybe you should contact Oprah (even though I don't like her), as she has a book club where she suggests and discusses a different book every month. I love you!
It's nice having my sister (a couple of years younger than I) in my corner. Actually, I did get on television (the talk show circuit) in 2005, which was the year my first book Down, But Not Out was published. This is not a very good picture, but it was taken of the TV station manager, Bill Oechsner, interviewing me on a 30 minute show about my book. In later years, Bill, with whom I developed a good association, filmed my speeches before the Legislative Prayer Breakfasts and aired them on TV. It was all very interesting, as I enjoyed watching the behind-the-scenes activities that went into the making of a televised show. It also made me a bit nervous to know that these were done "live" (thus, no "do overs" if I messed up). I doubt if I'm ready for "prime time" or Oprah, though! (LOL) -- Al Maxey
From a Reader in Georgia:

Al, you did an awesome job in Reflections #765 ("Making Salvation Operational") refuting the incorrect understanding and application of the phrase in Philippians 2:12 - "work out your salvation." It seems there are a good many translations that could use an overhaul to get them to properly translate the Greek into English. Thank you for showing us the importance of careful study!
From a Reader in Ottawa, Canada:

Al, many thanks for this article. It is refreshing to find someone who will point out the fundamental challenges with a translation. Someone told me once that all translations essentially serve a political purpose: to define and support particular doctrinal stances beloved by their more conservative adherents. I started learning Koine Greek in grade school in England (along with Latin). When I can, I try to read from these. Apart from the language, when reading from the original text, we also have to cross a cultural barrier. We, as members of the modern world, do not conceive of ourselves in the same way that the people to whom the Bible was originally written do. My dad was an OT Bible scholar (his work was devoted to biblical Hebrew linguistics, and his was the work that translators use, and as such it was extremely technical). His favorite Bible version was the Jerusalem Bible. Coming from a family of teachers, I was lucky enough to also have an aunt who taught Middle English (think: Chaucer), and many of those strange old KJV expressions are familiar to me. The KJV language has cadence, metre, and a subtle beauty of its own, but it is essentially a foreign language to us. In fact, even at the time, the language was consciously dated.
From a Reader in Barbados:

Al, sometimes when I read your Reflections all I can say is: AMEN!! This is one of those times! AMEN to your study on "Making Salvation Operational."
From a Reader in Arkansas:

Outstanding article, Al. The Mark Twain quote at the beginning very nicely set the stage for the thoughts you so ably presented.
From a Reader in Colorado:

As I read "Making Salvation Operational" I was reminded of this well-known quote from Saint Francis Assisi: "Preach the Gospel at all times. When necessary, use words." Thank you, Al, for sharing your studies with me, and with all those who are yearning to dig deeper and grow closer to our Lord and Savior.
From a Minister in New Zealand:

Greetings, Al. GREAT article! I like your emphasis on the plurality factor: i.e., that verse 15 states the purpose that collectively we may demonstrate our light in a dark world. Another interesting verse I was thinking of is 1 Peter 2:2 where we are told to "grow in respect to (or: grow up to) salvation." God bless you.
From a Reader in Texas:

My father, following the conservative Church of Christ line, wrote a pamphlet many, many years ago (back in the 70s) called "Work Out Your Own Salvation" (I can still see it in my head; it had a devil holding a pitchfork). In it he detailed how we work toward our salvation. This, I believe, was not understanding the text and context (as you noted in your article), and was instead an interjecting of our false "Church of Christ" understanding: that works = salvation! We do not work to be saved; we work because we are saved. By basing our salvation on works, instead of grace, we are trying to earn our own salvation; thus, God's gift of grace becomes something we feel we can earn, or that we somehow deserve, by our own effort.
From a Reader in Utah:

I was just reading an article from Robert Waters on why you are "leading people astray!" Who is this Robert Waters?! What a Looney Tune! I would love to know why some people who attend a church with the sign above the door that reads "Church of Christ" feel they have the corner on salvation?! And this is coming from a woman who went to the above church for 40 years! These people just don't "get it." They never think for themselves, and it just blows my mind! Like I told you in a previous email, we left that group because of people like this Robert Waters. It is not required by God that I believe exactly like Mr. Waters. I know whom I serve, and He knows me by name. Because of His sacrifice, I will do all to serve Him. We don't have to be puppets; we don't all have to think the same! Thank you, Al Maxey, for having a brain!!
Robert Waters has been a devoted critic of my ministry, and of me personally, for decades. He has written extensively over the years (and these writings can be easily found on the Internet by simply typing "Robert Waters on Al Maxey" in any search engine) in an effort to prove I am a disciple of the devil. He has even likened me to the terrorists of 9/11. "Al Maxey is not one of us. He is a wolf in sheep's clothing ... he is an enemy of Jesus." There was a time, many years ago, when I sought to engage this individual in reasoned dialogue. It soon became evident, however, that this would never happen. Therefore, I simply moved on, while he has continued to spew forth his vitriol. These days I don't waste my time on such people. The apostle Peter suggested that by continuing to do that which is good and right, we "may silence the ignorance of foolish men" (1 Peter 2:15). Some, it seems, are harder to silence than others, but the principle is none-the-less valid. I've found the best course to follow is simply to leave such people in the capable hands of God. He will deal with them as He sees fit. In the meantime, I'll keep sharing His message of grace with those whose hearts are still receptive and whose minds are still open to following a Savior rather than a sect. -- Al Maxey
********************
If you would like to be added to or removed from this
mailing list, contact me and I will immediately comply.
If you are challenged by these Reflections, then feel
free to send them on to others and encourage them
to write for a free subscription. These articles may all
be purchased on CD. Check the ARCHIVES for
details and past issues of these weekly Reflections:
http://www.zianet.com/maxey/Reflect2.htm