REFLECTIONS
by Al Maxey
Issue #559 ------- December 13, 2012
**************************
All about me may be silence and darkness, yet
within me, in the spirit, is music and brightness,
and color flashes through all my thoughts.
Helen Keller (1880-1968)

**************************
Victory in Jesus
The Life and Work of
Eugene Monroe Bartlett, Sr.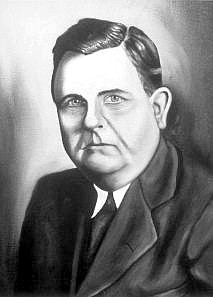 Titus Lucretius Carus, a Roman poet and philosopher, a source of great information with respect to ancient Epicurean physics, who died about 50 years before the birth of Jesus, made the following astute observation in his six-book Latin hexameter poem De Rerum Natura (On the Nature of Things), "Look at a man in the midst of doubt and danger, and you will learn in his hour of adversity what he really is. It is then that true utterances are wrung from the recesses of his breast. The mask is torn off; the reality remains." There is an old maxim to the effect that adversity not only shapes character, but also reveals it, which is precisely what the poet/philosopher Lucretius suggested in his epic work. There have always been men, women and young people who have risen above adversity and shown a depth of character that has inspired those around them. One such man was Eugene Monroe Bartlett, who, in 1939, penned both the words and the music to one of the most beloved Christian hymns of all time: Victory in Jesus. Let me introduce you to this devoted disciple of Christ.
On Christmas Eve of the year 1885, in the little town of Waynesville, Missouri, Eugene Monroe Bartlett was born. His parents did not stay long in Missouri, however, but soon relocated to Sebastian County, Arkansas where they raised their family. As he grew and matured, both physically and spiritually, young Bartlett developed a love for music, and realized he had quite a talent in this area. It became obvious very early on that music would play a major role in his life. So also would Christ Jesus, and he dedicated his life to the Lord at an early age, and he never faltered in his faith or devotion to Him, even when facing some very challenging circumstances and trials. Eugene received his education at the Hall-Moody Institute in Martin, Tennessee and the William Jewell College in Liberty, Missouri. He was trained in music and education, and because of his natural abilities in these areas he became a much sought-after music teacher. In 1917 he married Joan Tatum, and they would have two children together. Although he and his family remained in Arkansas, he would nevertheless spend a great deal of time traveling all over the South holding singing schools in which he trained singers and musicians in conducting, sight reading (using "shape" notes), and vocal technique. People came from far and wide to attend his schools, which always had a Christian spirit to them, and he was thus quite influential, through his own work and the work of his many students, in the development of "church music" in the South during the early decades of the 20th century.
One of Eugene Bartlett's talents was song writing (both the lyrics and the music), and over time he became very prolific in this field, both secular songs and spiritual hymns. Over the course of his life he wrote more than 800 songs, including one of the favorites of the many Gospel campaigns and church conventions being held across the country -- "Everybody Will Be Happy Over There." He became the editor of a music magazine known as "Herald of Song," and also published a book of hymns, many of which he wrote himself, which sold 15,000 copies the first year alone. The money he was earning from his song sales, his teaching, and his book sales he decided to invest in a company of his own, and so in 1918, a year after he was married, he established the Hartford Music Company, which would become "one of Southern gospel's first significant publishing companies" [The Encyclopedia of Arkansas History and Culture]. He considered this not only a business, but a personal ministry. Many of his songs would be made popular by groups such as The Statesmen and The Stamps Quartet (part of the noted Stamps-Baxter Music Company in Dallas) and The Blue Ridge Quartet and The Blackwood Brothers. Some of his songs were rather light-hearted, such as "You Can't Keep A Good Man Down" and "Take An Old Cold Tater And Wait," which was a hit for Grand Ole Opry great Little Jimmy Dickens. He also, through the power and influence of his music company, was able to help a good many writers, singers and musicians get their start in Gospel music. One such man was Albert E. Brumley, the man who wrote "I'll Fly Away" and "Turn Your Radio On." I wrote a tribute to Bro. Brumley in Reflections #508 ("Albert Edward Brumley: The Dean of Gospel Songwriters"), and the following is an excerpt from that article:
In 1922, one of the traveling singing school instructors came through the area where the Brumleys lived and Albert attended it. This exposure to a musical education "set me afire," Albert would later write, and it was from that moment he made the determination to spend his life in this vocation if he could possibly find a way to do so. He wrote his first song at this time, while still just a teenager ("I Can Hear Them Singing Over There"), but it would be several years before it was accepted for publication. In 1926, at the age of just 21, Albert decided to take a huge leap of faith, and he left home to pursue his dream! He left Oklahoma with only the clothes on his back and $3 in his pocket. He paid 50 cents of that to buy a bus ticket to Hartford, Arkansas where he had hopes he would be able to enroll in the Hartford Musical Institute. When he arrived in Hartford, Albert looked up Eugene Monroe Bartlett, who was the director of this prestigious institute, and also the owner of the Hartford Music Company. He introduced himself, and then said, "Mr. Bartlett, I hear that you'll teach a fella how to sing and how to write music. I've come to learn." Bartlett asked him if he had the $5 for the tuition, to which Albert responded, "No, sir!" He asked if he had money for room and board. He said, "No sir, Mr. Bartlett. I don't have any money period." Eugene Bartlett looked him up and down for a few moments, then told him he could stay in his house free, and that the tuition would be free also. That began a friendship between these two that would last for the rest of Bartlett's life (who died in 1941). Albert would remain a student at this institute until the year 1931.
In the year 1939, when Eugene Bartlett was only 54 years old, he suffered a massive stroke which left him largely incapacitated and unable to speak. Indeed, he would spend the vast majority of the remainder of his life (two more years) bedridden. Although broken physically, he was far from broken spiritually or emotionally, and was determined to make use of whatever abilities he had left (which were very minimal) to help others and glorify God. As he lay prone in his bed day after day, month after month, he spent much time thinking and praying. Though some might have become depressed and given up, Bartlett spent his time of paralysis in praise of God. The words and music of a hymn began to form in his mind, and with painstaking effort he managed, over a period of many weeks, to write this hymn down letter by letter, musical note by musical note. As one biographer wrote, "Dying, he spent almost a month writing this last song, when most of his hymns were written in a few minutes. Although broken in health, and unable to speak, he wanted to demonstrate that his faith had not cracked under suffering." Today, that hymn, while most of his other hundreds of hymns are largely unknown to the public, remains one of the most beloved hymns in the world. It is titled: Victory in Jesus. Notice the words to this inspiring hymn:
I heard an old, old story,
How a Savior came from glory,
How He gave His life on Calvary
To save a wretch like me;
I heard about His groaning,
Of His precious blood's atoning,
Then I repented of my sins
And won the victory.

CHORUS:
Oh, victory in Jesus, my Savior, forever,
He sought me and bo't me with His redeeming blood;
He loved me ere I knew Him, and all my love is due Him,
He plunged me to victory, beneath the cleansing flood.


I heard about His healing,
Of His cleansing pow'r revealing,
How He made the lame to walk again
And caused the blind to see;
And then, I cried, "Dear Jesus,
Come and heal my broken spirit,"
I then obeyed His blest commands
And gained the victory.


CHORUS

I heard about a mansion
He has built for me in glory,
And I heard about the street of gold
Beyond the crystal sea;
About the angels singing,
And the old redemption story,
And some sweet day I'll sing up there
The song of victory.


CHORUS
This hymn has been sung by millions over the years, and it has been listed #6 among "Texas Baptists' Top Ten Tunes" of all time [William Reynolds, Baptist Standard, Oct. 29, 2001]. "This hymn belongs to a waning theological stream and musical style that was prominent during the revivalist era in the decades after 1860. It is a product of Southern revivalism and Southern Baptist piety. ... It is still a favorite of many Southern Baptist congregations, large and small. It meets all the criteria for a gospel song, including a stirring refrain, a focus on Christ's substitutionary atonement, the salvific story of the gospel message, and the hope of heaven -- ending on an eschatological note. The hymn is steeped in biblical witness, especially references in the second stanza to the healing ministry of Christ." Although largely paralyzed and bedridden, though unable to speak, this disciple of Christ penned an anthem of praise that will live on forever within the hearts and upon the lips of the children of God. Eugene Monroe Bartlett, Sr. died on January 25, 1941. He is buried at the Oak Hill Cemetery in Siloam Springs, Arkansas. "Posthumously, Bartlett was inducted into the Gospel Music Association's Gospel Music Hall of Fame in Nashville, Tennessee, in 1973" [The Encyclopedia of Arkansas History and Culture]. "Thanks be unto God who gives us the victory through our Lord Jesus Christ" (1 Cor. 15:57), and, in the prophetic words of Bro. Bartlett, "some sweet day I'll sing up there the song of victory." AMEN!
***************************
Down, But Not Out
A Study of Divorce & Remarriage
in Light of God's Healing Grace
(A 193 page book by Al Maxey)
Also Available on KINDLE


One Bread, One Body
An Examination of Eucharistic
Expectation, Evolution & Extremism
(A 230 page book by Al Maxey)
Also Available on KINDLE


Immersed By One Spirit
Rethinking the Purpose and Place of
Baptism in NT Theology and Practice
(A 304 page book by Al Maxey)
Also Available on KINDLE

***************************
Readers' Reflections
PLEASE NOTE -- This week a reader in Texas returned my two CD set on The Nature of Man and His Eternal Destiny, saying that the CDs were blank; that there was nothing on them. He said he had tried them in two different CD players, and they wouldn't play in either, therefore the CDs must be either blank or defective. This somewhat surprised me, as I always personally test every CD before I send it, making sure that the material is on the CD and that it works. So, I immediately took the returned CDs and placed them in my car CD player ... and they played perfectly! The problem this reader had (and he is not the first person to experience this -- a couple of other people have returned CDs for the same reason) is that he was attempting to play these CDs on an older CD player, one not equipped to read the more up-to-date formatting used these days by most digital recording devices. That is why I have the following note on my web site where my CD sets are advertised: "They are formatted to be listened to on your computer, newer car CD players, DVD players, and higher quality portable CD players." I have also had a couple of people return my CDs on A Study of Revelation, saying that they put the CD in a CD player and "no sound came out." That's because the Revelation slides are PowerPoint presentations, not audio files. Hopefully, this information will help prevent any future confusion.
From a Reader in Texas:
"Thank You" is NOT big enough to express my thoughts about how you and Shelly bless my life, so please accept the enclosed check as a token of my appreciation for your work. May our gracious God give you many more years of service (a selfish thought on my part, I know). Thank you, thank you, thank you!!
From a Reader in Texas:
I would like to order an autographed copy of your book One Bread, One Body for a very dear friend of mine. I would also like to order a signed copy of Immersed By One Spirit for my husband and me. A check is enclosed. Brother Al, I have been so blessed by your Reflections, and I am thankful for the day that ----- ------- told us about them. God's blessings to you and your family.
From a Reader in Scotland:
I just wanted to let you know that I enjoyed listening to your discs immensely (the ones from your Bible class on The Nature of Man and His Eternal Destiny). They have cleared up most questions I had on this subject except for one: I'm a bit confused regarding Satan's final destination considering his immortality. Can God destroy the immortal? Sorry for the question, but this is all so new to me, and it is so difficult to shake off all the old teaching.
The apostle Paul informs us in 1 Tim. 6:16 that the Lord "alone possesses immortality." Thus, Satan is not immortal. He is a created being. Paul, in speaking of Christ, states, "by Him all things were created, both in the heavens and on earth, visible and invisible, whether thrones or dominions or rulers or authorities -- all things have been created by Him and for Him. And He is before all things, and in Him all things hold together" (Col. 1:16-17). Since Satan was a created being (most feel he was an archangel that rebelled against God), he is not inherently in possession of the divine quality of immortality. In other words, he can be destroyed, and, indeed, will be in the lake of fire. For those who would like to read more about this evil figure, I would refer them to Reflections #312 -- "A Study of Satan." -- Al Maxey
From a Minister in [Unknown]:
I have been reading your articles on your web site for some time now, but your last one has finally spurred me on to write to you (although I'm sitting here shaking a little and getting sweaty as I write to you). I suppose this is a response of emotions from being silent for so many years about my own thoughts and experiences, and now realizing that I must finally speak out about them, knowing that our church heritage will not be happy with my spiritual walk. Al, in my book, you hit the nail on the head every time in your writings. God has truly blessed you and given you to us at this time in our movement's history to open our eyes a little wider and challenge us to study a little deeper. Please keep up the great work.
From a Reader in Georgia:
Thank you for tackling the subject you did in "The Faith and Fangs Debate" (Reflections #557). I recently saw on YouTube a preacher who was speaking out against the Twilight saga. I was only able to listen to about two minutes of it before I had to shut it off. It sounded as if he had not read one single word of any of Ms. Meyer's books. I find it ironic that the same people who are against books/movies like Harry Potter and Twilight will not hesitate to take their children to a Disney movie or take them to Disney World or Disneyland. All of the classic Disney movies have magic, and most have some sort of witch or wizard. Mickey Mouse even played the part of a wizard on the big screen. I've even heard people condemning The Lion, the Witch, and the Wardrobe as being anti-Christian because it had a witch in it. This person was later surprised to learn that this was written by the famous Christian author C. S. Lewis. Hopefully he learned a lesson. Thanks again, my friend and brother, for a much needed "fair and balanced" approach to this topic.
From a Reader in [Unknown]:
"Mystery of the Folded Napkin" (Reflections #558) was a great article. This is the first time I have ever read a commentary on this that gives those passages in John 20 real meaning. Thanks!
From a Reader in Oklahoma:
Your article on the folded napkin in the tomb was interesting and educational. I learned something and was edified, which, unfortunately, doesn't happen very often in our assemblies and classes.
From a Reader in Barbados:
Thanks for your article on "the folded napkin." Very interesting. I just thought I would send you the following quote. It is from a very respected commentator who was once the presenter of the "Back to the Bible" radio program. He wrote: "What did the men see in the tomb? They saw the burial wrappings lying in the shape of the body, but the body was gone! The graveclothes lay like an empty cocoon. The napkin (for the face) was carefully folded, lying by itself. It was not the scene of a grave robbery, for no robbers could have gotten the body out of the graveclothes without tearing the cloth and disarranging things. Jesus had returned to life in power and glory and had passed through the graveclothes and the tomb itself! John 20:8 tells us that the men believed in His resurrection because of the evidence that they saw" [Wiersbe's Expository Outlines, e-Sword]. I believe this is precisely the point that you have made in your article. I do agree with you, however, that the word "folded," as used by many, may not convey the actual picture of the state of the burial clothes.
From a Reader in New Mexico:
Your latest article ("Mystery of the Folded Napkin") was a fascinating commentary on John 20:7. It prompted me to check several references to learn more. Thanks for your insight on this. It would indeed be amazing to find burial garments looking as though the body were still in them, especially in view of John 20:9.
From a Reader in Canada:
I have always pondered why the grave clothes were mentioned as being worthy of observation. God never reveals anything without a purpose, and you have explained it wonderfully -- "The grave clothes were left as if Jesus had passed right through them. The headpiece was still rolled up in the shape of a head, and it was at about the right distance from the wrappings that had enveloped Jesus' body." Thank you!
From a Minister in Georgia:
I have used this same text in John 20 to refute the "Shroud of Turin" hoax, as that is just one piece of cloth, while the biblical text clearly shows that there were at least two: the wrappings around the body, as well as the separate piece around the head.
From a Reader in [Unknown]:
I have a good friend who was raised in the Church of Christ. I have read your own personal testimony and it sounds just like his, except for this important point: you are a Christian, and he is the total and complete opposite. His grandpa was the preacher, so he and his siblings got their doctrine brainwashed into them from birth, and all of them today hate all religion and compare the Lord to some mythological creature (like a fairy or unicorn). How do I show him the love of God? How do I convince him that Jesus is real? I am so scared for all of them. Every time I try to speak with him about this, he gets very defensive. I know we can't change everyone's mind, but perhaps you may have some ideas here since you too were brought up in this church. Thank you for your time.
NOTE: Below is the email I sent this past Sunday morning to the person who wrote the above (and the above is only a small portion of the letter that was sent to me, yet this portion shared reflects the basic question and concern the reader had). -- Al Maxey
Good Morning -----,

Your situation is a classic example of what too often happens when some are indoctrinated with a systematic religion, rather than simply introduced to a spiritual relationship. It's the old pattern over Person and law over love dilemma. When we have the former pounded into us, rather than being shown the power of the latter in the daily lives of those around us, we can easily become hostile toward anything to do with God and church. The problem, of course, does not lie with either God or the church, but with the warped view of each of these realities by some who then insist upon imposing their personal/party perceptions, preferences and practices upon everyone around them, and then condemning those who won't submit to their will and their whims.

How do you change a lifetime of damage at the hands of such religionists? It isn't easy. Some may well be so bitter against who and what they perceive God and Christianity to be that they may never be reached. They certainly won't be reached by arguing with them over the matter. That only makes them angry. They won't be reached by making them feel guilty for "turning away from God and the church." That only makes them defensive, and may even lead to attacks against both ... and against you.

The solution, in my view, is to show them, by your daily actions and attitudes, what a disciple of Jesus really looks like. The goal, contrary to what you may have heard or been taught, is not to get them to "go to church." The goal is to get them to accept and love you ("friendship evangelism") as you simply live Jesus before them. In time, they may come to see that you are simply an honest and legitimate reflection in daily living of Him. The joy and happiness that you have found in relationship with Him (not the self-righteous, self-serving self-satisfaction found in the keeping of religious traditions and party patterns) can be contagious.

I have had people like your friend tell me about their disgust for God and the church, and I have shocked them by telling them, "If that is truly what God is like, and if this is truly what the church is like, and if that is truly what He expects of us, then I am just as disgusted as you are!!" The God too often portrayed by religionists is a blasphemous caricature. We need to show them who He really is, and we do that by showing forth His love and grace in our daily lives; we do not do it by trying to impose our religious denomination's or sect's traditions and dysfunctions upon others. Show them a better God (the one truly depicted in Scripture) by your life lived in loving relationship with Him, not the "God" depicted by too many "churches."

This is a difficult thing to do for most people, because they are too tied to a particular denomination and tradition (or some faction or sub-sect thereof), which group they too often equate with "the one true church," and whose doctrines and practices they too often equate with eternal truth. Frankly, the only Truth and the only Way is JESUS, just as He is the only Pattern. The "one true" CHURCH is merely made up of ALL those who are walking daily with Him in love and faith. What too many call "church" today is most often little more than a religious club with volumes of rules and regulations; a club filled with partisans more intent upon warring and wrangling with their fellow believers than with sharing Jesus with a lost and hurting world. More and more people are rejecting such a perception of "church" ... and rightly so.

In many ways, your friend is in a good position to be reached, for he has rejected the sham of religiosity and sectarianism. Such people are quite often simply looking for something spiritually meaningful and personally fulfilling, although they may not realize it, and most likely would not admit it. Patiently and lovingly show them that "better way." Don't invite them "to church" in the hope of converting them to your traditions, and don't argue "religion" with them. Rather, invite them into your embrace just as they are and love them all the way into relationship with the One whom you love. You don't do that with words, you do it with the living example of your own relationship with Him evidenced daily in your attitudes and actions.

I hope this helps, -----. May God bless you, and I'll be praying for both you and your friend.
********************
If you would like to be added to or removed from this
mailing list, contact me and I will immediately comply.
If you are challenged by these Reflections, then feel
free to send them on to others and encourage them
to write for a free subscription. These articles may all
be purchased on CD. Check the ARCHIVES for
details and past issues of these weekly Reflections:
http://www.zianet.com/maxey/Reflect2.htm