REFLECTIONS
Articles Archive -- Topical Index -- Textual Index


by Al Maxey


Issue #709 ------- December 5, 2016
**************************
A Brother may not be a Friend, but
a Friend will always be a Brother.
Benjamin Franklin (1706-1790)

**************************
Tribute to Dr. Don Givens
Reflecting on a Friend and Brother,
and Sharing Don's Final Reflections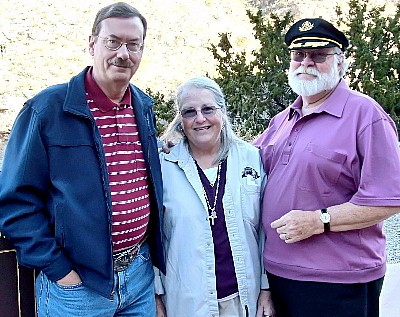 Ralph Waldo Emerson (1803-1882), in one of his essays, wrote, "A friend is a person with whom I may be sincere. Before him, I may think aloud." The great philosopher Aristotle (384-322 B.C.) characterized "a friend" as "a second self." As rare as it may be in actual experience, there is an inspiring truth expressed in Proverbs 18:24b -- "There is a friend who sticks closer than a brother." Such genuine friends, who are very much like one's second self, and with whom one may truly be sincere and think aloud without fear of condemnation and castigation, are rare indeed. But, when one is found, it is a lifelong loving relationship sent forth "as a good and perfect gift from above, coming down from the Father" (James 1:17). Such a friend, such a gift from above, was my brother-in-Christ: Don Givens (with whom I am pictured, along with his wife Miriam, in the photo to your left; a photo that was taken during their last visit to our home here in New Mexico). Shelly and I have known Don and Miriam for 25 years, and we count them as some of our dearest and closest friends.
That is why it is so hard to share the following news: On the evening of Thursday, December 1, 2016, my dear friend and brother, Don Givens, very suddenly passed from this life as a result of a massive heart attack. He had just sat down in his home to eat supper and watch the NFL football game, and in less than a minute was gone. His passing has left a hole in the hearts and lives of many, many people, for Don and Miriam, through their work for the Lord over the decades, have touched the lives of countless thousands. Don was an author who penned several books on biblical and Christian themes. His most recent was titled "Storms of Life," with the Foreword being written by country music legend Randy Travis. I was honored to write the endorsement for this book that appears on the back cover. Don was also a great minister of the Gospel, having preached for the past 56 years in many diverse locations, including several states, three Canadian provinces, and 13 years in the Hawaiian Islands. Don was already preaching on the island of Oahu when I took the job as the new minister for the Honolulu Church of Christ on Keeaumoku Street (just a mile from Waikiki Beach). During the next six years, he and I worked closely together in the islands, becoming lifelong friends. At the time of his death a few days ago, Don and Miriam were living in California, and he was still serving as a minister for a congregation of believers, helping them grow spiritually and sharing the Good News with those unbelievers who had yet to grasp the goodness and grace of a loving God. In talking with Miriam the morning after his death, she indicated that he was ready to go be with the Lord, and had been talking a lot about Heaven, yet she was sure he would have loved to have just a few more years to share the Word with others. God, in His wisdom, however, called Don from this life, and now we all await that great reunion: an endless day during which we will not only meet our Lord "face-to-face," but during which we will also be reunited with our loved ones who have preceded us. Precious Lord, hasten that day!!
A few days before his death, Don sent me the following article, which he had just written, and he asked me if I would be willing to share it with my readers as a "Guest Reflections." It was something, he said, that had been on his heart in recent days. I told him I would be happy to do so. Little did either of us know that it would be his final piece of writing, and that he wouldn't live to see it published in my Reflections. In light of the thoughts he shares in this article, one almost has to wonder: did he know, in some way, that his time on earth was almost complete? If so, then this serves as his departing appeal to those who have yet to come to that saving faith in the Lord. It is an honor for me to step back this week, and to give my friend and brother this forum to share his final thoughts. May what he says touch the hearts of those who read it, for these final words truly come from his heart, and are the reflections of a man who sought only to live in a way that reflected God's glory and radiated His love. I love you, Don, and will miss you. Until we meet again, brother!!
God Has Planted Eternity Within Our Hearts
by Dr. Don Givens
I am writing this article for someone who is hurting. I know you are out there. I know you are searching for something that you can't quite seem to find. I firmly believe that we, who teach, need to remember that in every audience there is someone with a broken heart. It is to you I am writing. You may have tried to find peace and fulfillment in many different things, but each path seems to lead to the same place: an existence filled with loneliness, depression and disappointment. A job promotion lifts you temporarily, but eventually the same nagging thoughts about a need for change, and a seeking for "greener pastures," returns. A party may help temporarily, but the very next morning you find something is still missing in your life, and so you start planning for the next weekend and the next party. A new car feels great at first, but all too soon the brake pads begin to go, a spot of rust appears, and you begin to think about the newest model ... again! You may be diligent in your diet, in exercise, and all the latest supplements, determined to keep your fitness and youthful appearance, but in spite of all your efforts, the wrinkles, gray hair, and old bones begin to take over anyway. And inside of you is a young person screaming, "What happened?!"
The temporal cannot satisfy the eternal. It's impossible. In order to find what you seek, you first have to understand that you will never find true peace and fulfillment in this world. This is a very difficult, but necessary, pill to swallow. This world is not your home. Everything this world has to offer is temporary, yet you were designed for eternity. This is the core reason why everything you have tried eventually comes up short. A fish may live in a beautiful aquarium, but no matter where the fish swims, it eventually bumps up against hard glass. Fish are designed to swim unencumbered in an open river, lake or ocean. In the same way, you have been designed for the infinite, the eternal. God has planted eternity, or a sense of the eternal, in your heart (Ecclesiastes 3:11), and He designed you to serve Him fully and freely and unencumbered. It is for this you are created (Ecclesiastes 12:13).
Some people like to think of themselves as gods, but we humans are mortal. "Man in his pomp and arrogance will not remain: he is like the beasts that perish" (Psalm 49:12). Yet God has placed this sense of the eternal in our hearts, and there is therefore this deep longing within us for something more, something better, something everlasting. Nothing can calm the storms of life, both external and internal, except the "fear of the Lord" -- i.e., a deep reverence of the Almighty who alone gives peace to our souls. This is the point of Ecclesiastes in a nutshell; the same lesson Job learned sitting in the dust and rubble, Solomon learned sitting in a palace wrapped in finery: that we humans cannot capture that abundant, eternal life on our own. Try as we might, we can't exercise enough, or go to enough parties, or climb higher on the corporate ladder, or make enough money to find true and lasting fulfillment and supreme happiness in life. The temporal cannot satisfy the eternal. It's impossible.
Your ultimate purpose, your total happiness, and your complete fulfillment are totally dependent on your relationship with God through His Son Jesus Christ. Between birth and death, what is our purpose? Why are we breathing, eating, and sleeping? Solomon tried every pursuit to find happiness, and he came up short, finding only misery and vanity. Life under the sun is meaningless without God in your life. "God has put eternity within our hearts and there is this deep longing within the souls of mortals for something more, something better, and something everlasting. Nothing can calm the storms of life except the fear of God who alone gives us peace of soul" [Storms of Life, p. 54]. You were not designed to live, grow old, and die. You were designed to live forever, bathed in God's eternal light and love. This is why death is so deplorable and unfathomable to us. This is why it hurts so much to place a loved one in the ground, and to walk away. We are not designed for the temporary.
This is why Jesus Christ gave His life for you. He knew that you could not find your own way back to your true purpose. He knew that you were designed for eternity, but that you live in a broken world where you can never, ever restore that connection with deity or save yourself. He knew you were completely lost without Him. So, He walked this earth and ultimately died for you. He paid a price that you could not pay. And He did so because He loves you. It's not about manmade religion. It's not about manmade buildings. It's not about manmade rules and doctrine. It's not about personal or party preferences. It's about a deeply personal relationship with the One who designed you and gives you good things. "You may know the lyrics of your life, but if you have forgotten the music of the Master, you cannot sing the song of the soul" [Storms of Life, p. xvii]. It's about a one-on-one relationship with the One who loves you perfectly and eternally. "For God so loved the world that He gave His one and only Son, so that everyone who believes in Him will not perish, but have eternal life" (John 3:16).
Ask Jesus for forgiveness. Ask Him for healing. He will begin to change your heart, and your life, in ways that you could never imagine. What do you have in your life that is better than an eternal, loving relationship with the Lord of all? God has given us good things in this life to enjoy, and with which we may be brought closer to Him. God has given us so many blessings! Do we love Him with all our hearts, souls and minds? He has put His love into this world to help us find the path back to Him. But, once again, the temporary and temporal nature of this broken world cannot satisfy the inner desire for the eternal (a desire He has placed within us). "I am here for a reason. So are you. I am here for an eternal purpose. So are you. Someday I will die. So will you. Someday my heart will stop. So will yours. Stop. Over. Done. But for now, I see beauty in an ugly world, purpose in a trivial world, eternity in a transient world, and love in a hateful world" [Storms of Life, p. xv].
The only rational response to reality is one of reverence for the Almighty God resulting in a life that is focused on His will. The God whom we serve is good, and He showers grace on those who believe so that we may live to His glory. Our ultimate happiness lies with the One who created us. Our ultimate peace lies with the One who designed us. Jesus said, "I am the way, and the truth, and the life. No one comes to the Father except through Me" (John 14:6). What will you do with Jesus today? You don't need a priest, or a fancy building, or a perfect life in order to ask Him into your heart. He is patiently waiting for you to confess Him and live for Him ... whoever you are, wherever you are. HE is the only one who can give meaning to your life, and who can one day take you home to be with Him. I didn't write this article to get a bunch of "likes." I wrote it to get a response. I wrote this for you. Are you drawing closer to God day by day? Whoever and wherever you are, give your life right now to the Lord Jesus Christ, and remember: you are made for eternity!
***************************
Specials for Readers
2016 Book & CD Offers
Click on the link above for a listing of the
books and topical studies and audio sermons
and new Bible classes by Al Maxey, and for
information on how to order these items.

***************************
Readers' Reflections
From a New Reader in Nevada:

I am interested in purchasing an autographed copy of your new book From Ruin To Resurrection. Please let me know ordering details. Thank you! Dr. Barry Perryman, who wrote the Foreword to your book Immersed By One Spirit, is a good friend, and I have become acquainted with your ministry through him. Thank you for subscribing me to your Reflections and for all the good work that you do!
From a Reader in Kentucky:

I have a friend who wants to know if your book Down, But Not Out is on a CD or DVD, or even somewhere on the internet, where it can be watched or listened to. I didn't think it was, but he wanted me to ask. Thanks.
My books may be ordered from a number of sources and outlets, but none of these provide either a video or audio version. The closest thing to that would be the Kindle version, and each of my books are available through amazon.com for download on a person's Kindle device. -- Al Maxey
From a Reader in Texas:

I am requesting a signed copy of your book One Bread, One Body. My check is enclosed. In an earlier conversation with you I mentioned my "One Cup, Non-Exception" background. I wanted you to know that I have now left the One Cup Churches of Christ brotherhood. However, I still have close family who are in that group. I know I'm going to have some difficult discussions about my stance on the One Cup issue, and so I've ordered your book so as to prepare for an intelligent discussion with them that may lead them to an understanding of the One Flock having many folds. This will be a challenging time in our relationship, and I pray we find a loving and peaceful solution to fellowshipping one another in our family in spite of our differences on this. Thank you, Bro. Maxey, for your work!
From a Reader in the Netherlands:

I have recently been reading online a number of articles and "controversial" pieces of information regarding some of your written works. Two of your books especially, One Bread, One Body and Immersed By One Spirit, generated numerous comments by people online. So, I sought out your writings and found your work quite eye-opening! I was born and raised in South Africa, was baptized in a mainline Church of Christ, and graduated summa cum laude from the Athens, Greece branch of Sunset International Bible Institute. After a few years, however, it started dawning on me that the mainline Church of Christ as we knew it seemed more of an institutional denomination than we were being led to believe. As time went on I read books by F. LaGard Smith and Frank Viola. In each of their books it was rather intriguing for me to see that Smith challenged the Church of Christ denomination with virtually the same issues with which Viola challenged the evangelical churches. From 2008 onwards I started pursuing the organic expression of Christ and His body. Indeed, I had come to the conclusion at the time that the organic expression of Christ seemed a major threat to upholding the existence of the institutional church system itself. In fact, I had lost a lot of fellowship with others, and even endured a familial divorce, partly because of my decision to no longer serve within the institutional church system anymore.
From a Reader in Unknown:

I have studied, and continue to study, your essays on death, and as I studied them I began to realize that our traditional concept of death lessens Christ's resurrection by placing His resurrection in not so critical a role for the Christian (maybe even unnecessary?!). That is: if it be true, as the traditional view teaches, that our "souls" (some conscious, immortal part of us) actually return to God at the point of the death of our physical bodies, and we are rejoicing in His presence, then the resurrection of the body is really not that big of a deal. Technically, judgment and eternal life would already have been granted without the need for a future bodily resurrection. When this realization hit me, it brought me to tears because all of my life I was not aware of what the resurrection of Jesus actually meant to me and how critical it is for our spiritual lives! Jesus having been raised from the dead, and we in like manner to be raised from the dead, is the Central Point of it all, and our very spiritual lives depend on it. How can Jesus be truly glorified in His bodily resurrection without this greater realization, and how can anyone have a genuine hope in the resurrection while holding on to the old traditional view?! Further, if "eternal death" means "perpetual torment," as the traditional view teaches, then God must be keeping damned souls alive (giving them eternal life), and the fire burning forever, for the purpose of torturing them without end. Thus, "destruction" is not really destruction; it is a continuation of life in a continual state of torment. Frankly, the traditional concept is more bizarre the more I think about it. Just some thoughts I wanted to share with you, and also to thank you for your exceptional ministry.
More and more believers are coming to realize that the traditional view of the nature of man and his eternal destiny is not only false doctrine, but there are aspects of it that are truly blasphemous in nature. I have dealt with this in great depth in a number of places and formats. My new book From Ruin To Resurrection looks at this topic in great detail and depth. For those who may wish to listen to a class I taught on this subject, I offer a two CD set titled The Nature of Man and His Eternal Destiny which consists of 20 lessons (in MP3 format) taught to a Sunday morning adult Bible class from June to October, 2012. I also have a published debate on this topic (The Maxey-Thrasher Debate) which may be read in its entirety online at the link provided. In addition, there are 27 Reflections articles I have done on this, and they may be found and read online at my Topical Index page under the heading "Conditionalism." I hope the reader will find these studies enlightening and encouraging! -- Al Maxey
From a Minister in Tennessee:

Al, I have a couple of questions, after reading your article "Pondering 42nd Cousin Theology" (Reflections #707), that perhaps Hugh Fulford could answer: 1) Was Alexander Campbell really a Christian? 2) Which one was "the one true church of Christ" -- the Jewish church or the Gentile church? 3) Did the eunuch establish a "one true church of Christ" when he got back home, or did this man return to the synagogue to worship? 4) Which part of Sardis [Revelation 3:1-6] was the REAL "one true church of Christ"? Was it only the ones Jesus commended? If so, what were those in the "dead" church called? Wouldn't they also be Christians? Just some thoughts for some to consider.
From a Minister in New Zealand:

I am preaching this weekend on this subject: "Acts of Faith or Faith in Action." I recently came up with the following thoughts that I felt you might be interested in: Faith is a lifestyle, not a list of independent and isolated acts; one is from the heart, the other is an attempt to win God's favor by the perception of meritorious obedience. One is a response in love, the other is a diminished understanding in partial giving to appease God by a set of laws which can never take away sin. It is almost akin to the pagan religionists attempting to keep their gods happy and entreating them for prosperity. The sacrifice of Christ necessitates a continuation of living under grace, and precludes any place for meritorious activity through conformity to an external patternistic system. I trust you are having a great week, brother!
From a Reader in Unknown:

Brother Maxey, I want to THANK YOU for your web site!! I don't attend a Church of Christ congregation, but I have recently stumbled upon some of the legalistic teachings of the ultra-conservative patternists that you mention in your writings. After listening to them, I was immediately terrified that I had perhaps been "wrong" my entire life, and this put me into a state of immense fear! Praise God that He led me to your web site; it has calmed and encouraged me more than you will ever realize, and I can't wait to fellowship with you in Heaven and share my thanks to you personally. I may disagree with you on some of the finer points on some things you've written, but you have approached every topic with a degree of grace and brotherly love that I believe we all could benefit from exhibiting in our lives. In my opinion, you embody the original spirit of the Campbell-Stone Movement. May God bless your efforts!
From a Staff Member at Harding University:

Dr. Maxey, thank you so much for accepting my Facebook request and "friending" me. I was born and raised in a very legalistic Church of Christ in Nicaragua. Some of your writings have changed the way I think about such things, and I thank you for that. I am enjoying reading your book on baptism (Immersed By One Spirit), and now, for the first time, I believe salvation is attained not by submission to metaphysical dogmas, but solely by love of God that fulfills itself in action. I recently sent you an email, and I thank you for how quickly you responded and how approachable you are to your readers.
From an Elder in New Mexico:

Your article "Regulating the Redeemed" (Reflections #708) may well be one of my favorite articles you have written. Tolstoy is an unsung hero of the Kingdom who exposed the religionists of his day with his mighty pen. There is a reason that the restored garden paradise in Ezekiel 47 and Revelation 22 includes the Tree of Life, but not the "Tree of the Knowledge of Good and Evil." The latter tree can be clearly identified with Law (and the Adversary), for it bears fruit unto death (Romans 7:5). The misguided religionists of Jesus' day were as coiled around the Law as was the serpent around the tree in the Garden of Eden. The Neo-Pharisees (misguided religionists of our day) are now the very Adversary of God's eternal purpose to free mankind from the ghastly triplets of Law, Sin and Death. Let not the "sons of perdition" bind us to written rules, the end of which is to be pruned off and cast into the consuming fire. Godspeed in your continued efforts to expose the fatal deception of legalism, and to free those trapped in bondage and despair (Leviticus 25:10).
From an Elder in Texas:

Your writings keep reminding me that at the age of 80 I'm still not too old to learn! Thank the Lord! You have been a great blessing to me for many years, and, I pray, for many more! I cannot thank you enough for all you do, but I know you have plenty of rewards for your work. God bless you and Shelly handsomely!
From a Reader in North Carolina:

In your last Reflections you wrote: "Life is not to be found in the written word, but rather in the divine Word that became flesh!" I'm "stealing" this line from your article, brother -- it's a gem! Would that every man, woman, and child would grab hold and not let go of the Word that became flesh and dwelt among us! Grace and peace for the journey, my brother!
From a Reader in Alaska:

It's not possible for me to count my blessings without thinking of your thoughtful, Scriptural, and spiritual work in researching and writing your Reflections over the years. So, consider this email a "Thank You!" My best to you and your help-meet.
From a Reader in Georgia:

Paul wrote continuously about our inability to save ourselves by our own merit, but he did mention examples of behavior that would help us to be the kind of people Jesus would want us to be. Self-disciplined, focused, intentional, action with love ... these don't earn us salvation, but they are part of the "Owner's Manual" that guides us into greater enjoyment of the abundant life we have. Thanks for another encouraging Reflections (Issue #708 -- "Regulating the Redeemed: What is Paul's Intent in 2 Tim. 2:5?"). I also notice that Hugh Fulford has taken his KJV and gone home!! ... but not without first declaring himself righteous and you not!! I always love reading the parting words of one scorned by Truth.
From a Reader in California:

Brother Al, as I read your latest Reflections article (Issue #708), I saw once again how the legalistic patternists have put themselves in a trap intellectually. The best answer to them is: "You win. Paul teaches that an athlete competes 'according to the rules,' therefore we must all follow the rules. Now that I've fully conceded to your view, please let us all know what the rules are so we can properly honor God through our compliance!" I'm sure when you ask them this you'll hear crickets chirping!!
Indeed you will. I have asked the legalistic patternists for decades to please, please just give me the list of required acts/patterns that must be followed if one is to be saved. They won't provide it!! Indeed, they become very angry the more one asks for it, yet they declare one can't be saved unless one submits to these patterns! You would think they would have it printed up and on them 24/7 so they could pass it out to everyone they meet. But, NO ... you will never find one who will provide it; instead, like Hugh, they will run and hide, and lob grenades at you (figuratively speaking) if you come too near the cave in which they are cowering. I have documented my decades long quest for this elusive list of patternistic particulars, and you may find these articles on my Topical Index page under the heading "Requesting Legalism's List." -- Al Maxey
From a Reader in Oklahoma:

"Regulating the Redeemed" was a great article, brother! Thank God for men like you who open the eyes of blind puppets who follow the mind-numbing laws/doctrines of sectarian churches. I have always believed that the Church of Christ church evidenced the epitome of arrogance in its belief that of the 7 billion souls on earth, only they were saved. God is truly using your writing abilities to refute this and to expound Truth in an undeniable fashion! Unfortunately, there will be many, like Hugh Fulford, who are so steeped in man's tradition and dogma that they will never perceive Truth. It is sometimes very hard to show love to such people who are doing everything possible to destroy you! Keep up the great work, brother!
From a Reader in Halifax, Nova Scotia:

Brother, I really want to thank you for this week's article ("Regulating the Redeemed"). It shows to us all, your readers, the great depth of love you have for the Lord and His Family. I personally have always been a fighter, and so my response to Hugh Fulford, and those like him, would have been harsh, but you have shown the love of God, which dwells within you, in your response to him. How is it that so many miss this very simple truth: God is Love! He is not some Star Wars Invader determined to destroy another world. He is the God of Love. While we were yet sinners He loved us. When we are faithless ones, He is the Faithful One. Love your neighbor; do good to one another. How can people read this year after year and still come up with a God of LAW?! ... a God just waiting to throw us all into some burning Hell so He can torture us forever and ever (for praising Him with a piano, or eating in a church building?). Al, I don't know how to express to you just how sorry I am that some people (like Hugh Fulford) have behaved so arrogantly toward you. Truly, the only thing that exceeds their arrogance is their ignorance (of both God and His Word). I don't always agree with you, but I have never over the years found you to be either arrogant or unloving. Man oh man, brother -- I love you more and more with each article you send my way. God is always good!!
From a Reader in Ottawa, Canada:

Your article "Regulating the Redeemed" should be broadcast to members of every church in Christendom!! GREAT presentation on living our lives according to the creed of the Lord Jesus in Mark 12:28-34. Thank you for all you do in the Lord Jesus.
********************
If you would like to be added to or removed from this
mailing list, contact me and I will immediately comply.
If you are challenged by these Reflections, then feel
free to send them on to others and encourage them
to write for a free subscription. These articles may all
be purchased on CD. Check the ARCHIVES for
details and past issues of these weekly Reflections:
http://www.zianet.com/maxey/Reflect2.htm